What would you say to a beach ride into warm Caribbean waters on horseback? I'm saying "Please, pinch me." Swimming with horses is a beyond incredible adventure. It's UNREAL!
If I didn't have photos or videos as proof, I might have thought that this was just a dream.
Ever since I was a child, I've dreamt of riding a horse on the beach. I had no idea that this particular bucket list experience could be even more incredible. Until I found myself in Jamaica's glittering turquoise waters, clinging to my swimming horse's mane.
How can I even describe the experience? It is such a surreal excursion. A dream come true and reality escape. It is a paradise adventure you just have to experience for yourself.
To give you a better idea of how it is to swim with horses, I've put together this short video ↑ (mainly of shaky GoPro and iPhone clips – but I hope you enjoy it nevertheless).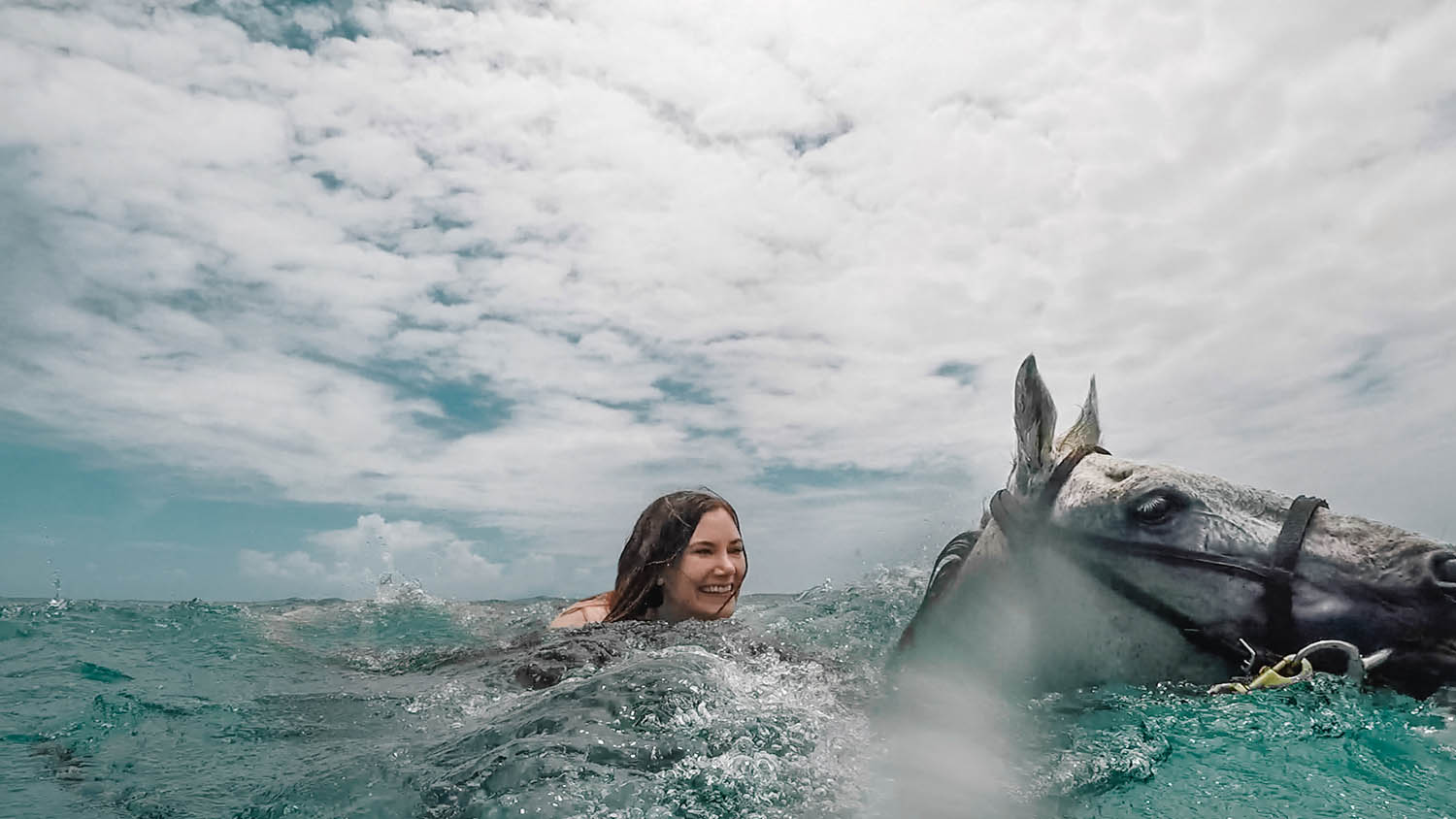 The Surf & Turf Experience
Surf & Turf

Suits both experienced riders and beginners

Length: approximately 1 hour and 45 minutes
Restrictions: Riders must be over 10 years old and under 230 lbs (104 kg).
Essential wear: long pants/jeans and shoes/sneakers with swimsuits underneath.
Times: 8:30 am or 10:00 am
Price: $120

Helmets and life-belts are provided and are mandatory.
Swimming with horses is not an uncommon thing in Jamaica. Many horses love to swim, and I guess the Caribbean waters must be just as tempting for them as it is for us on a hot summer day.
There are, in fact, several different Horseback riding excursions to choose from in Jamaica. We did the Surf & Turf Experience at the same hotel where we stayed, the luxury Half Moon Resort. It was the best morning I've had in my life (I just wish I could have shared it with my fiance!). Before I went swimming with horses, we had an outdoor yoga session in paradise, got a totally ahh-mazing in-room massage and enjoyed breakfast with lots of tropical fruits. I know. I'm kind of jealous of myself.
This morning was too good to be true.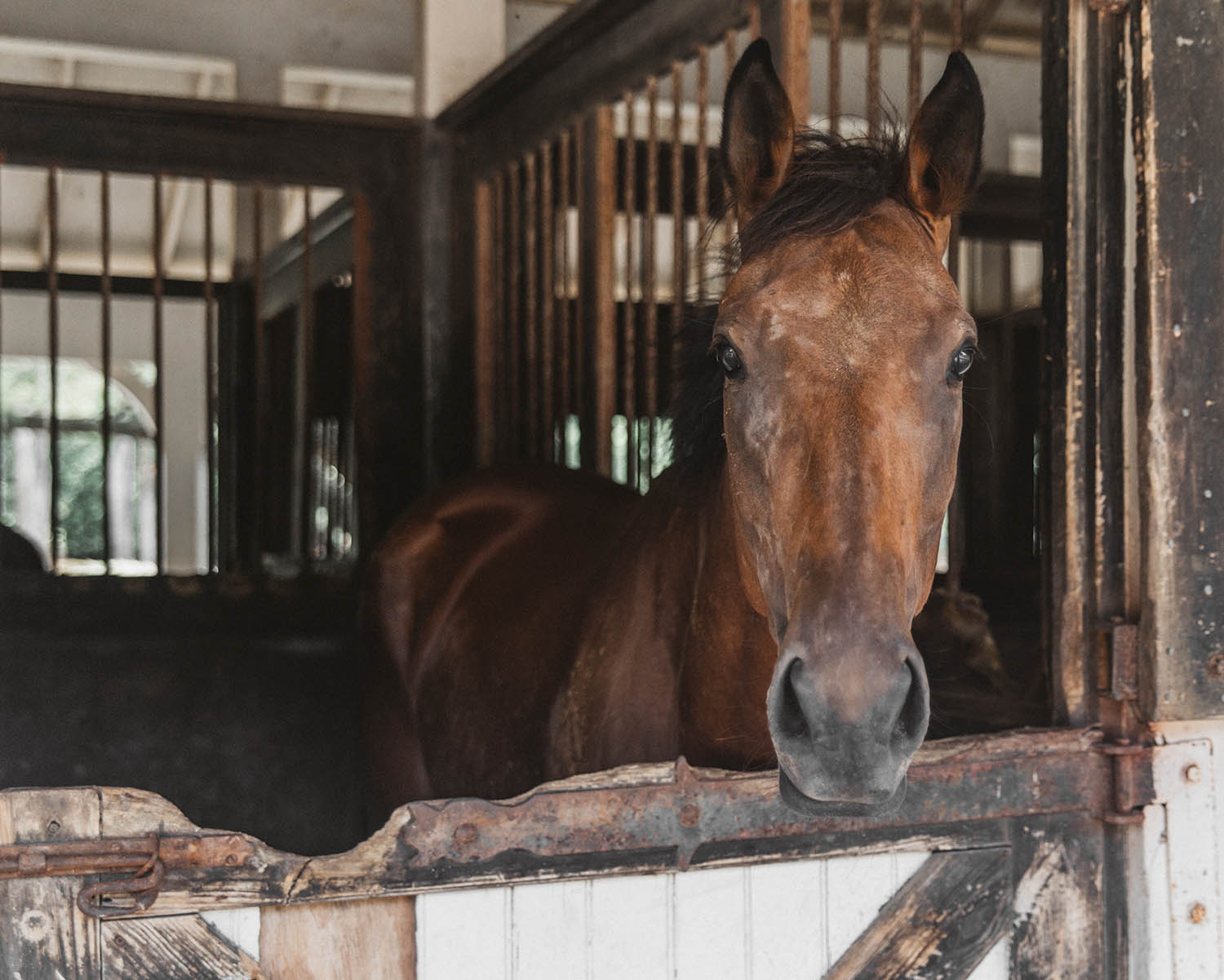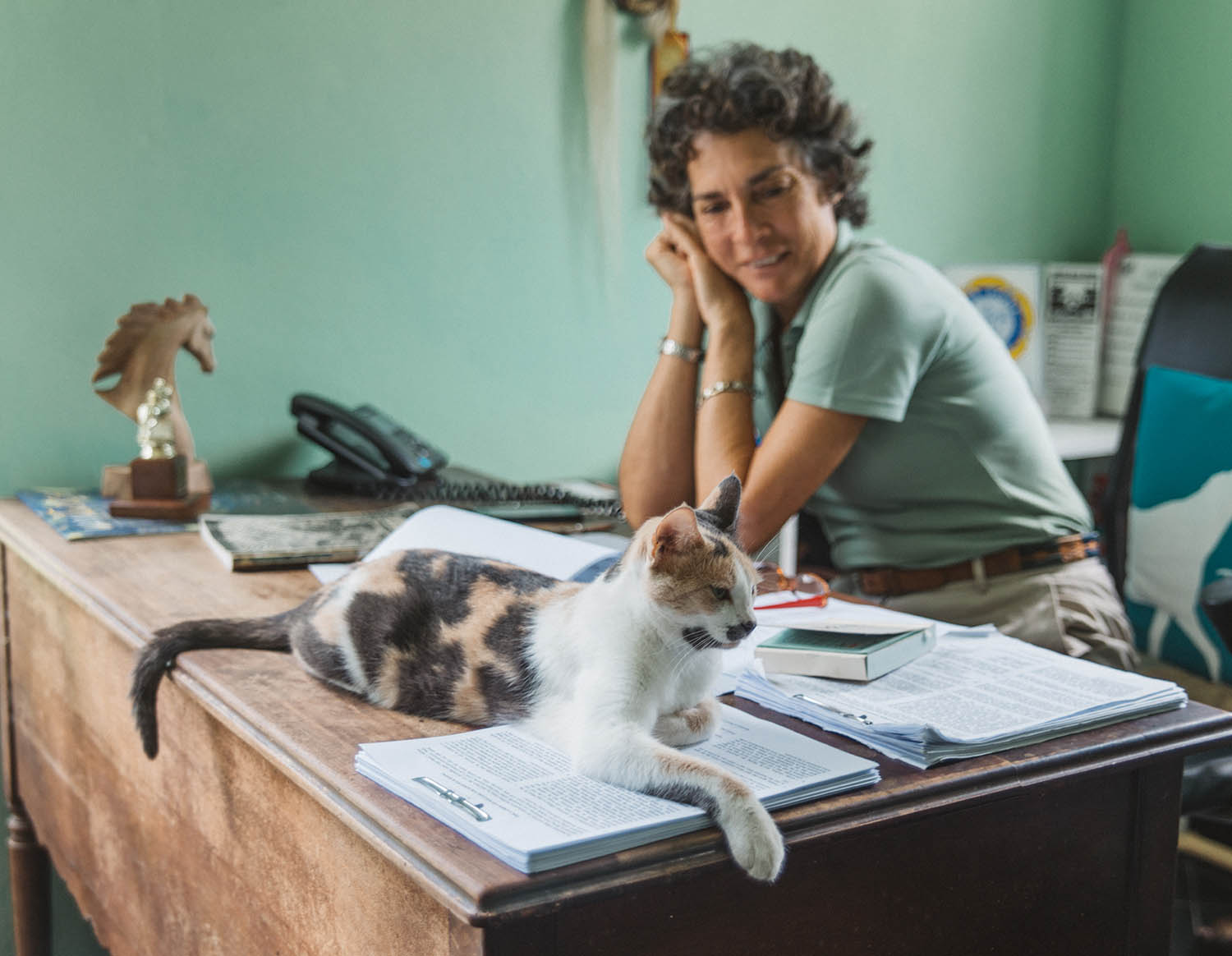 When I stepped into The Half Moon Equestrian Centre's office, I was not only surprised by the number of trophies standing on shelves but also by all the dogs and cats occupying the little room. Three dogs were sleeping on the floor, a cat was resting on the desk, and another cat was sleeping soundly in a chair.
Trina DeLisser, the founder of the Equestrian Centre, told us that they do not only rehome injured, strayed and abandoned horses but also dogs and cats. She explained how the animals healing abilities help people find solace, just by being here.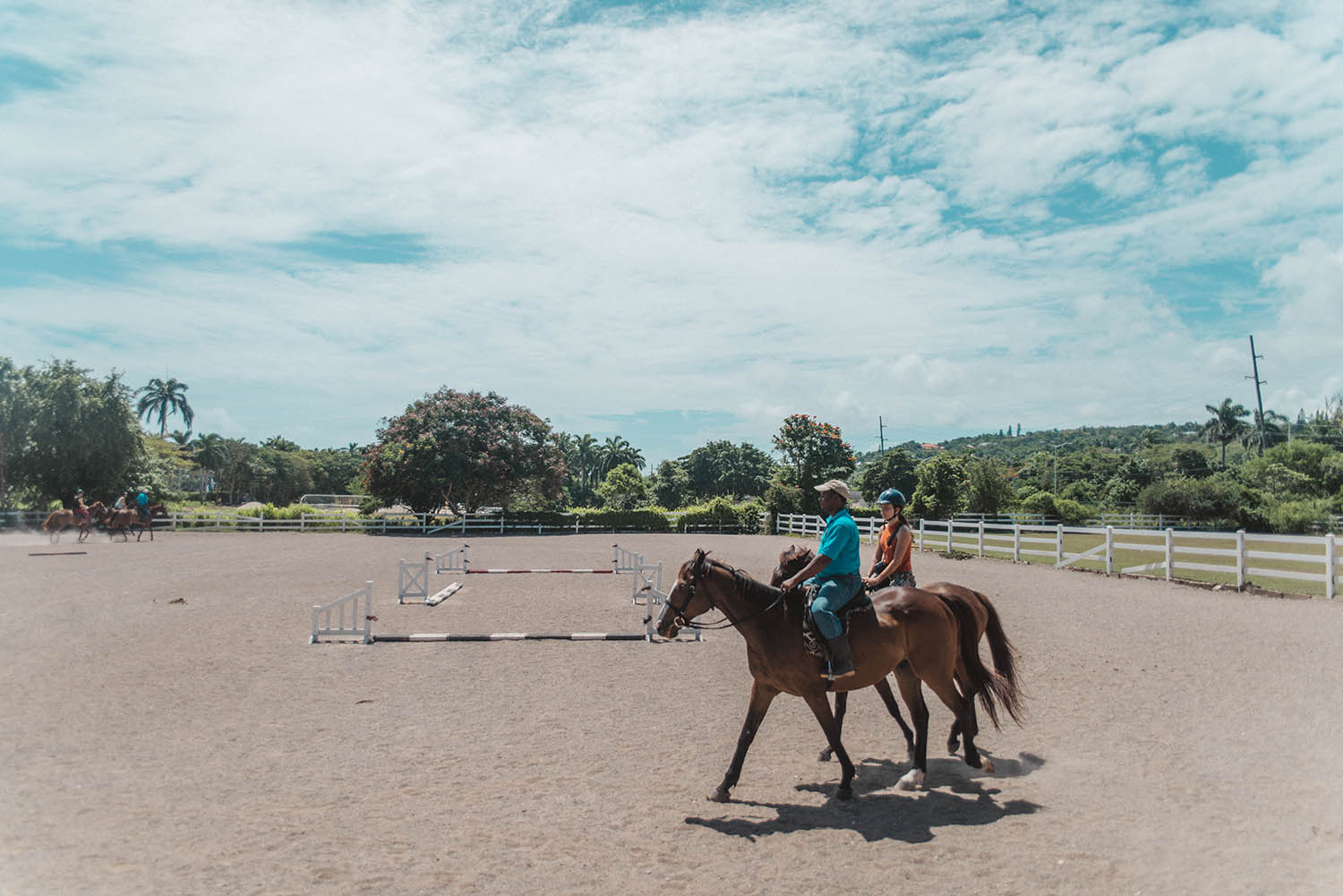 The Surf & Turf Experience last for around two hours and is for both experienced riders and beginners. As I'm unfortunately still in the latter group, I was happy to get to know my horse a bit and do a practice run at the arena before we headed out to the beach.
Horseback riding on the beach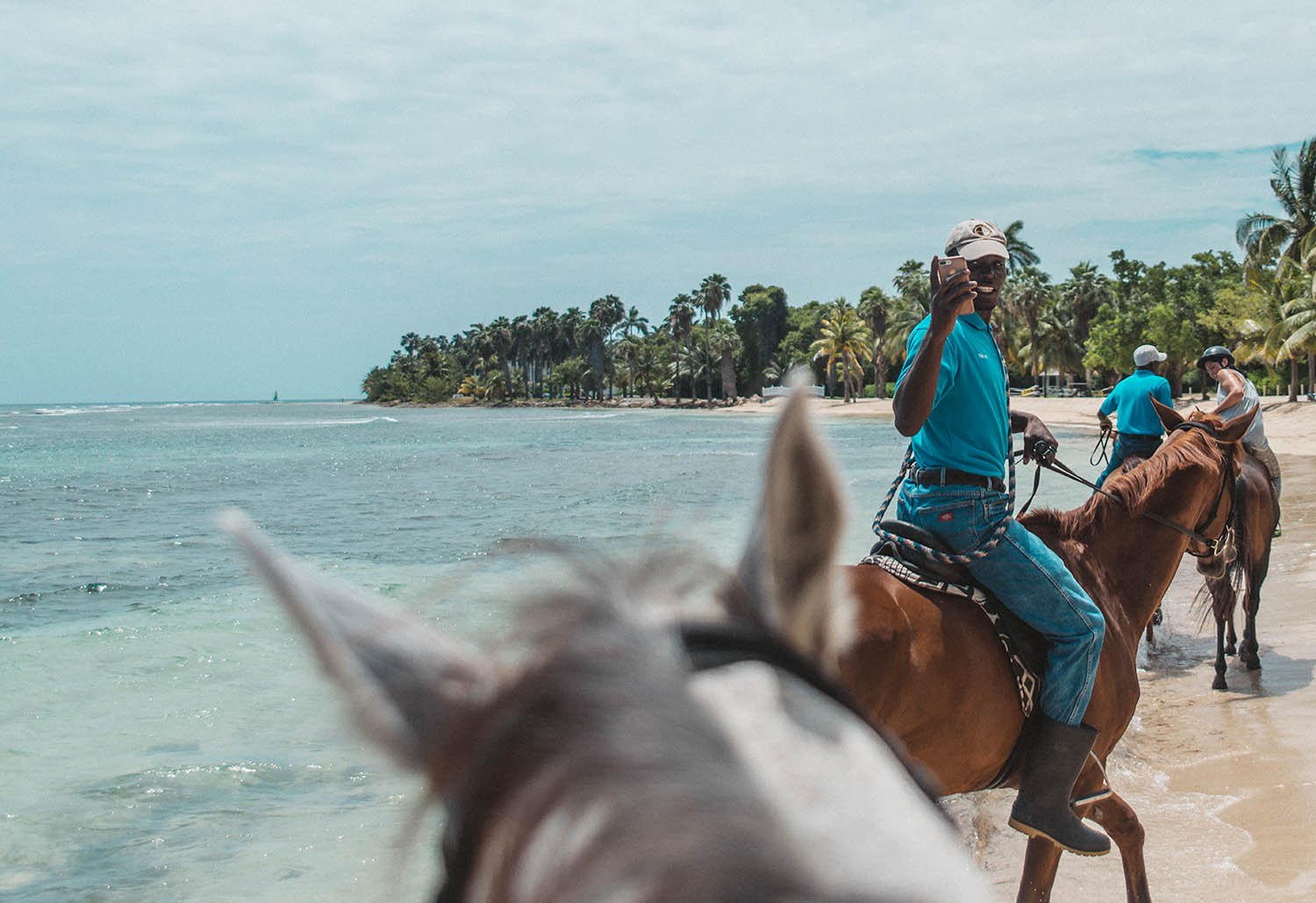 As soon as we rode out through the main hotel complex and I saw the white sand beach, palm trees and inviting turquoise water, I felt my heart fluttering. As I've said, I've always dreamt of riding a horse on the beach. But I hadn't even imagined a paradise setting like this.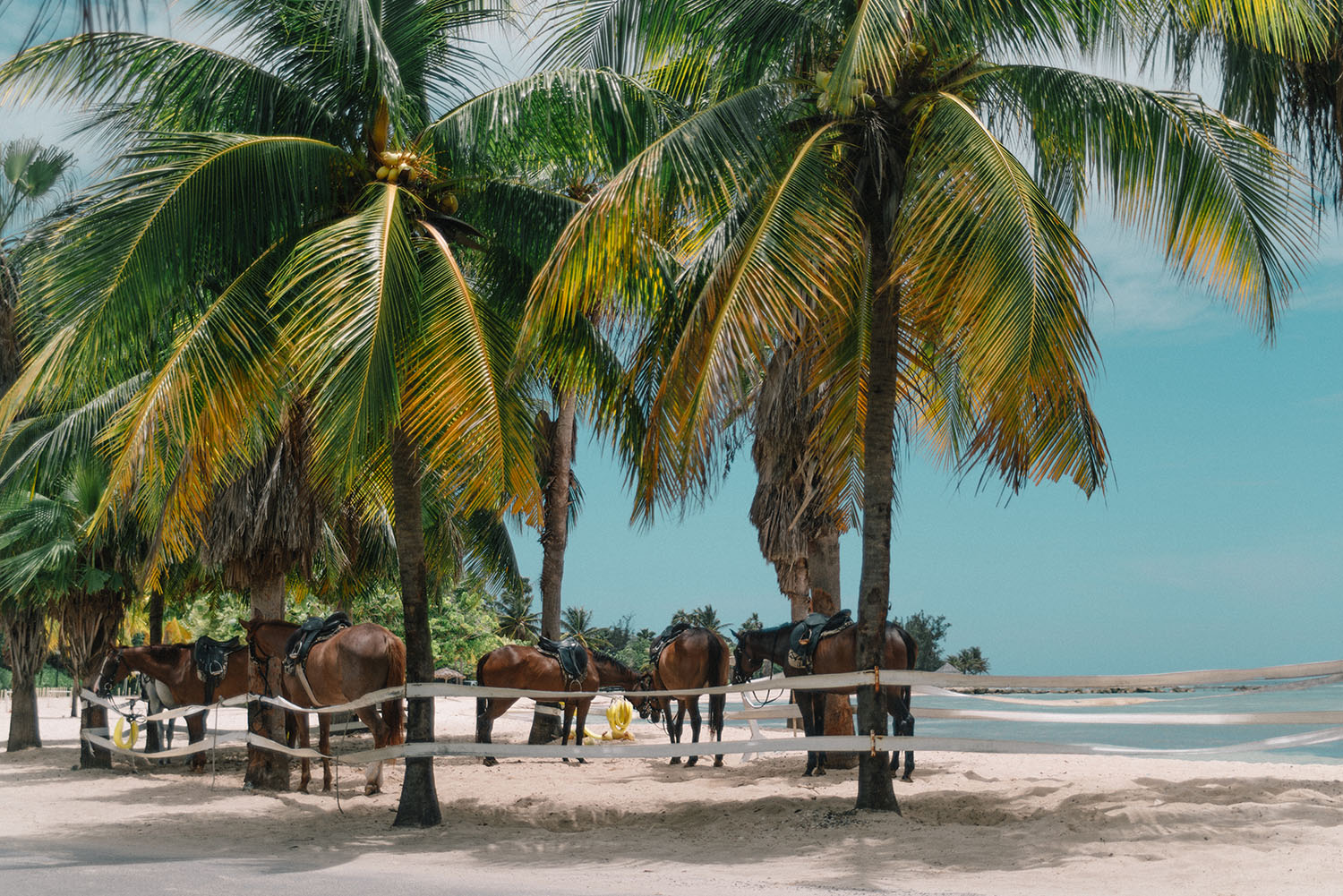 We led our horses to the shade under the palm trees, while we had some time to take in the beautiful surroundings. And enjoy fresh coconuts that our guides climbed up the palm tree to give us.
Our guides were merely put amazing. They were so friendly, funny and helpful. They swim with horses almost every day and know how to make the most out of the experience (as well as how and where to take the best photos).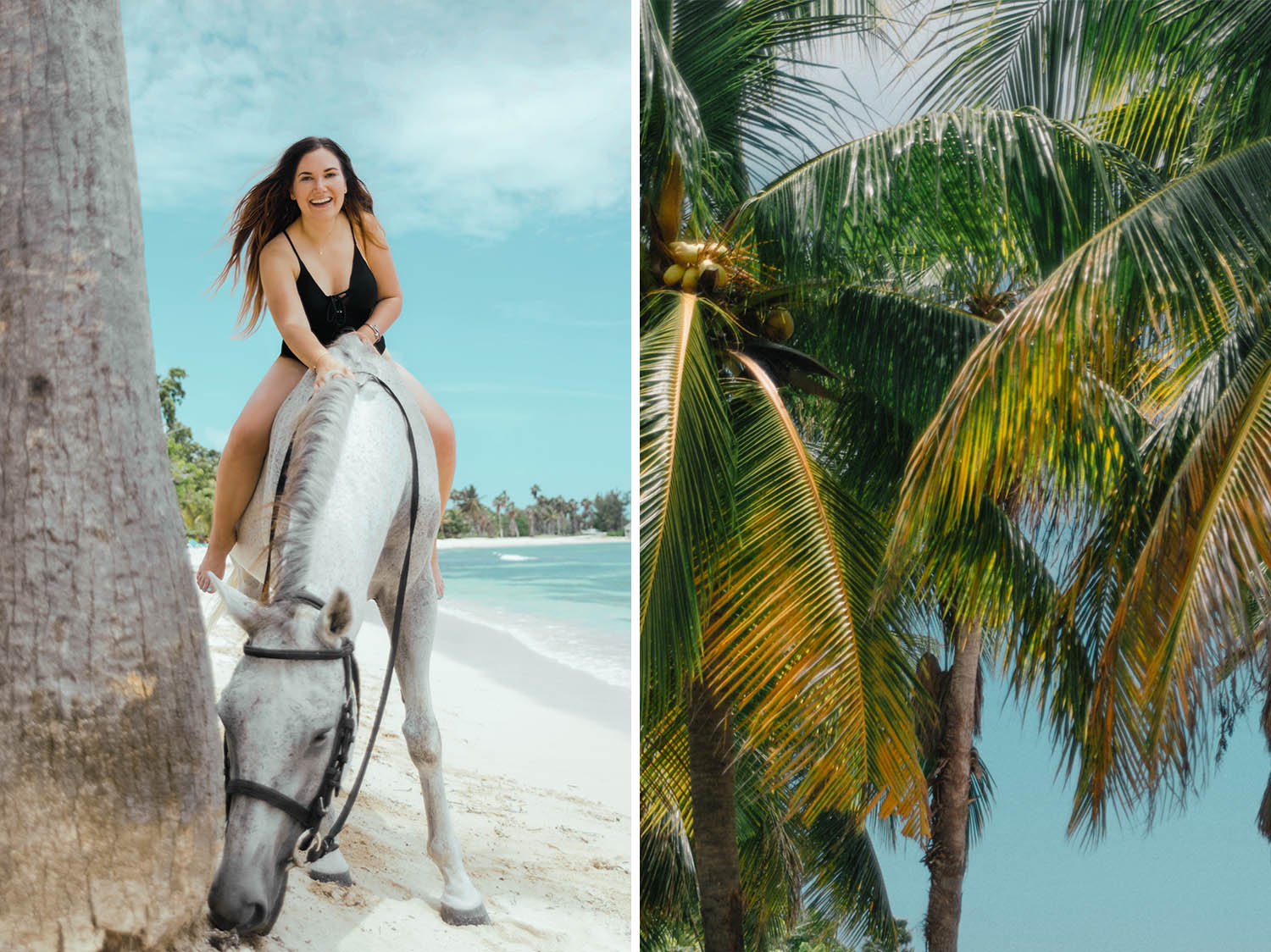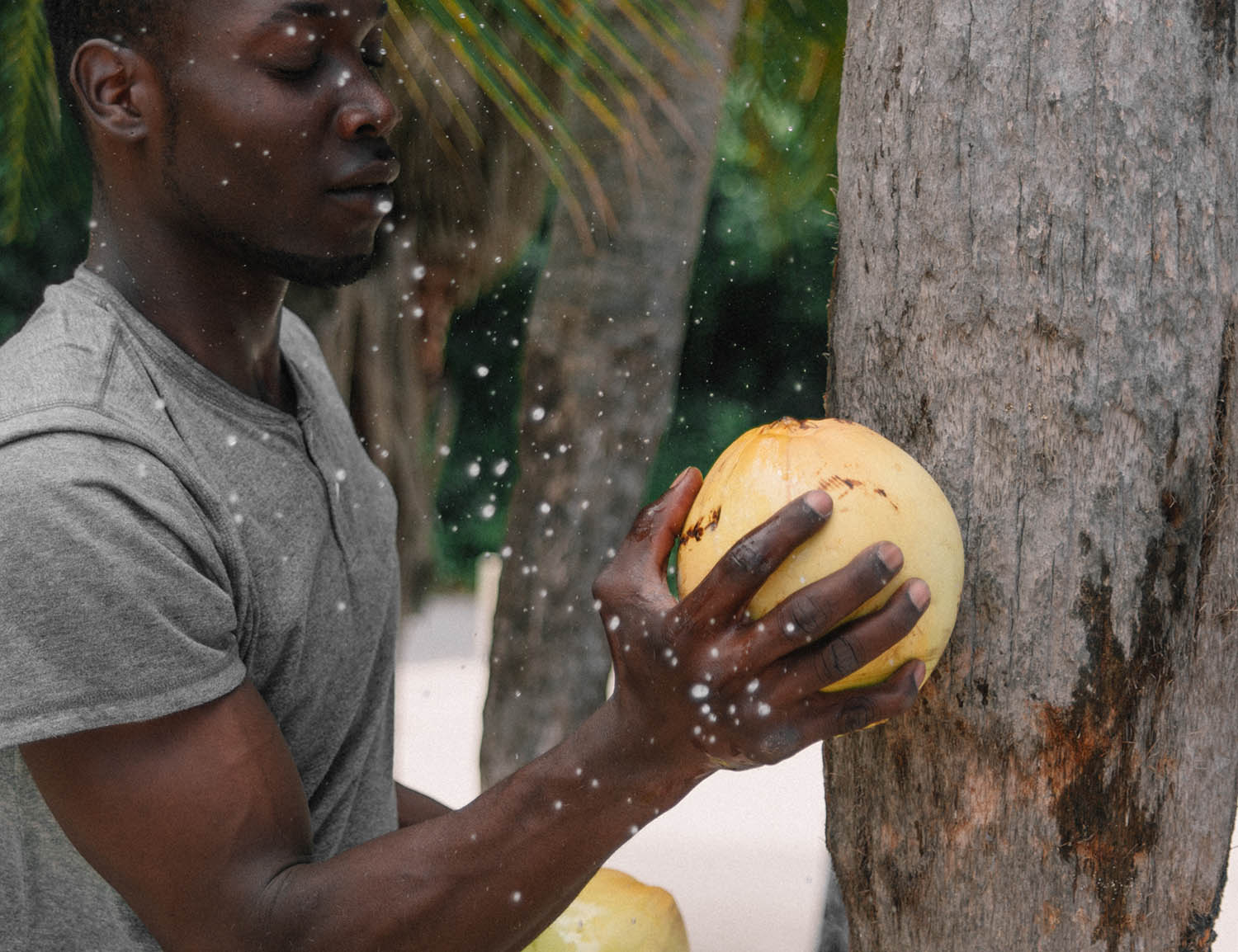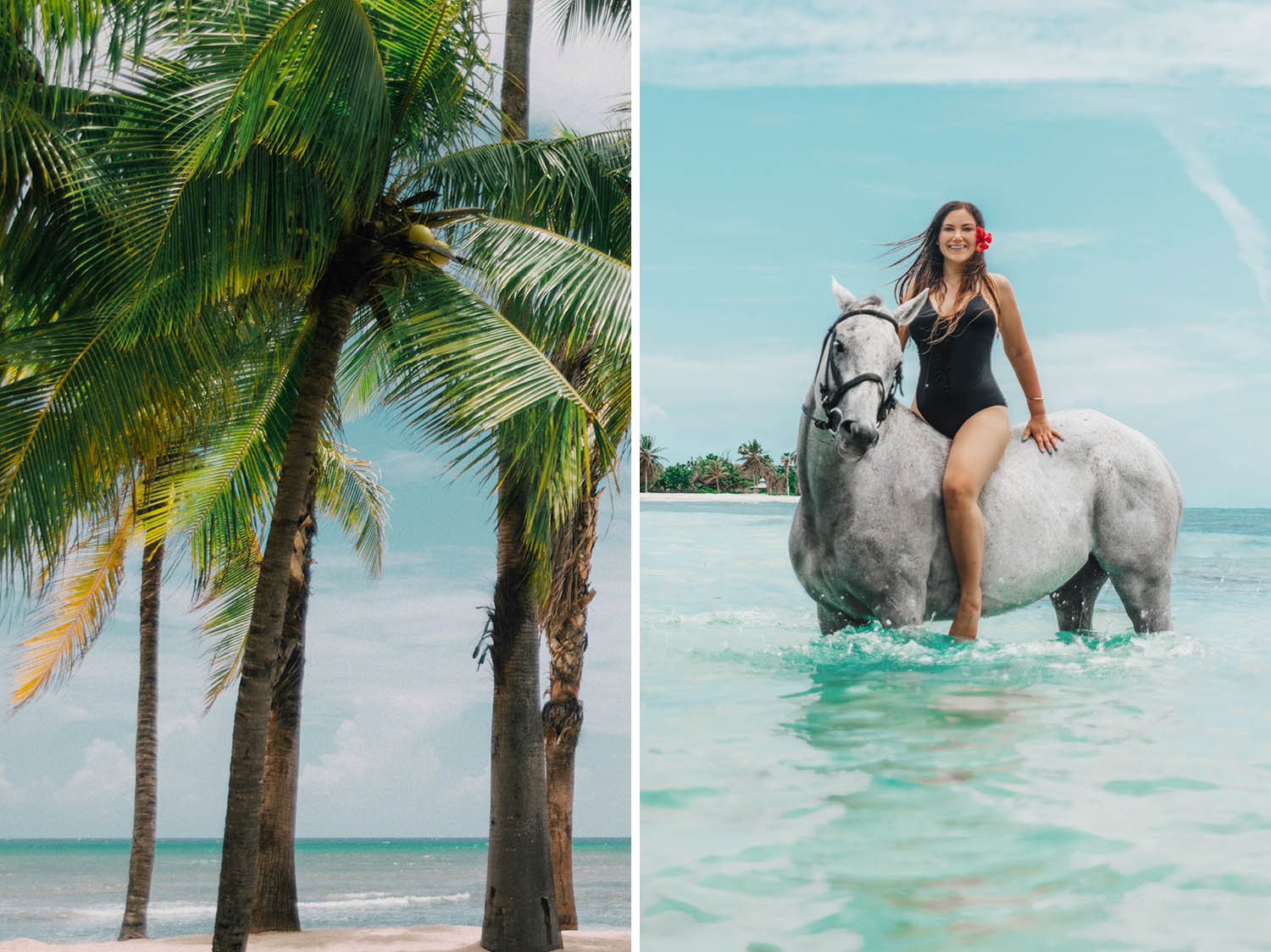 "When someone told me I live in a fantasy land, I nearly fell off my sea horse".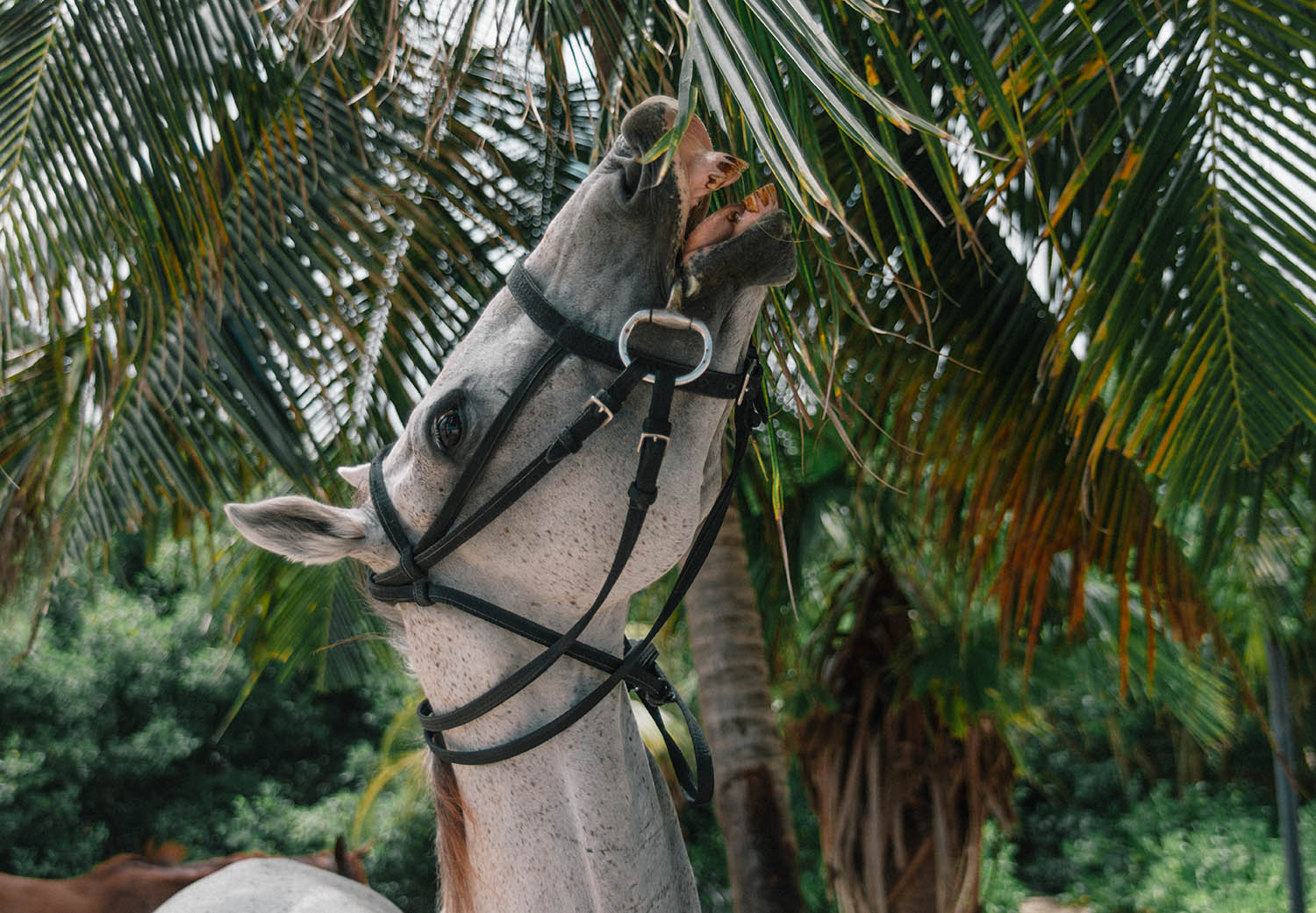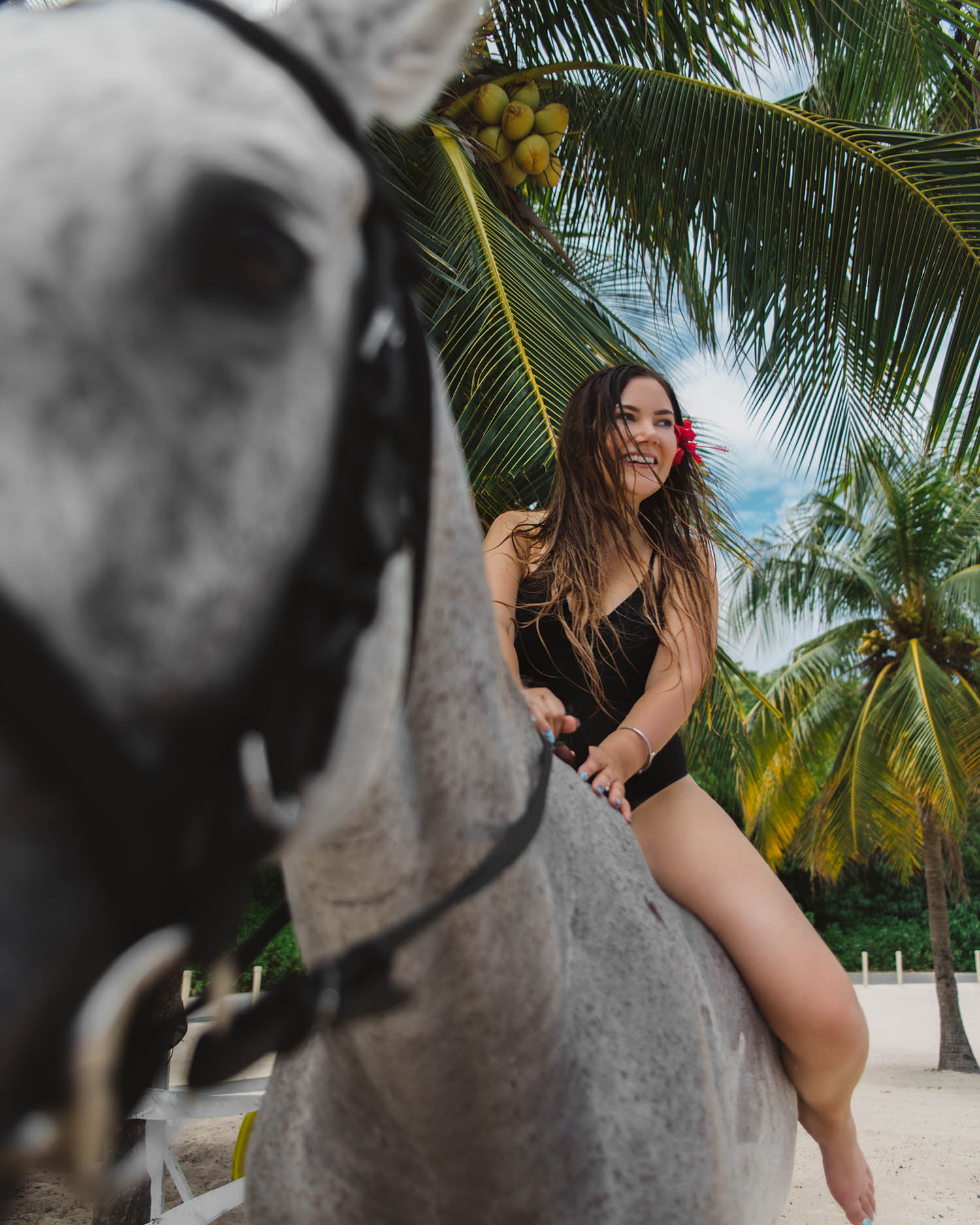 What it's like swimming with horses
After a refreshing coconut drink, and a little photo shoot we put on our life vests and rode bareback into the Caribbean Sea. The horses didn't need to be told where to go; they just strolled into the water. When the water was up to the horses' chests, our guides instructed us to let go of the reigns and hold onto the horse's mane.
I instantly felt how slippery my horse got under the water, so all I could do was clinging to his mane as he started to swim. And swim he did. And laugh I did as I kind of floated along above him. There is something extraordinary in swimming with such a magnificent creature that you otherwise only see on land.
I just had a moment's hesitation when my guide told me to let go of the mane, slide off my horse and grab the tail. But I didn't have to worry about being kicked. As soon as I caught the tail, my horse seemed to swim even faster. Just pulling me along and making me feel like a lucky mermaid.
It was so surreal. Swimming with horses is a jaw-dropping, incredible, exciting and beautiful experience all at once.
It doesn't matter if you're an experienced rider or a beginner, young or old. This is an unforgettable adventure for everyone.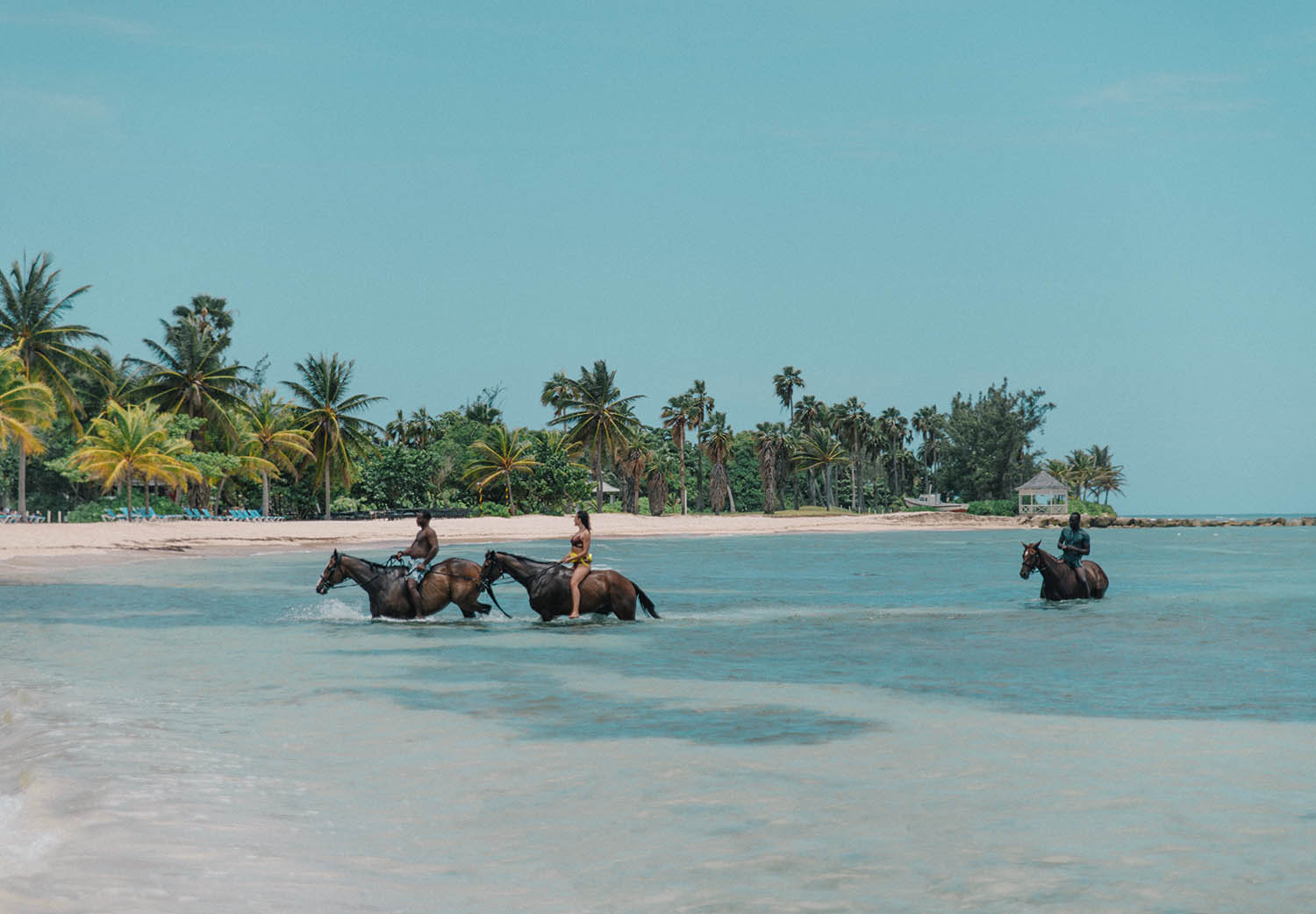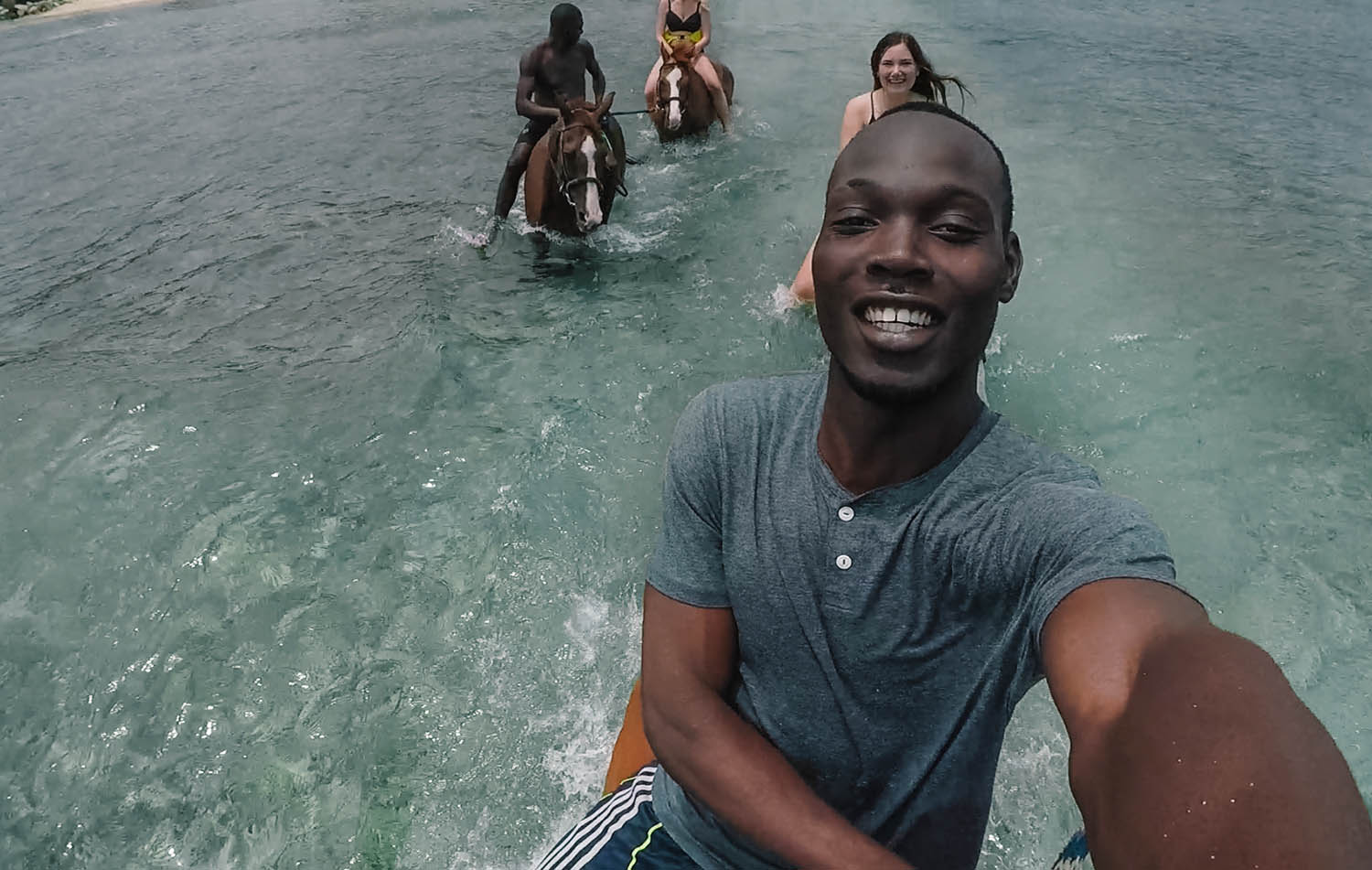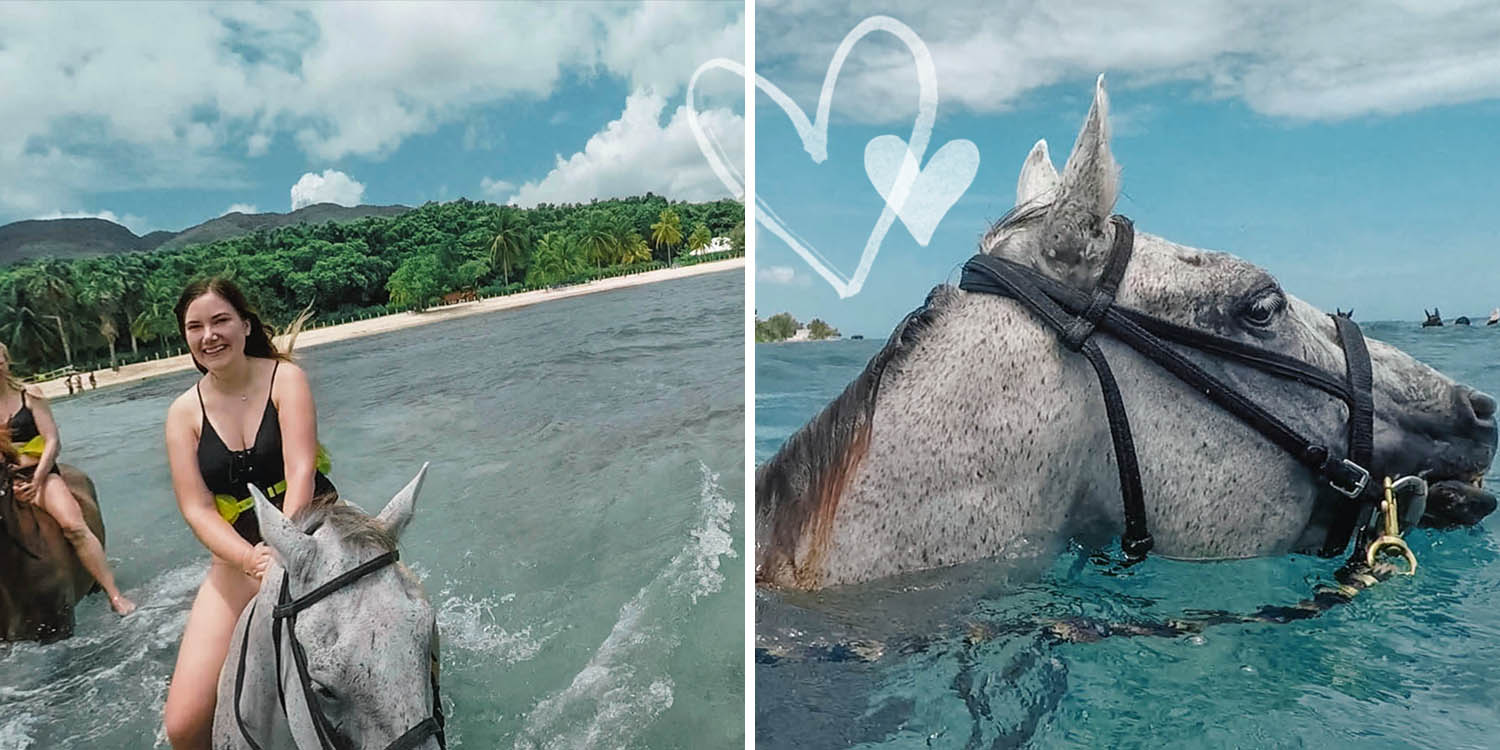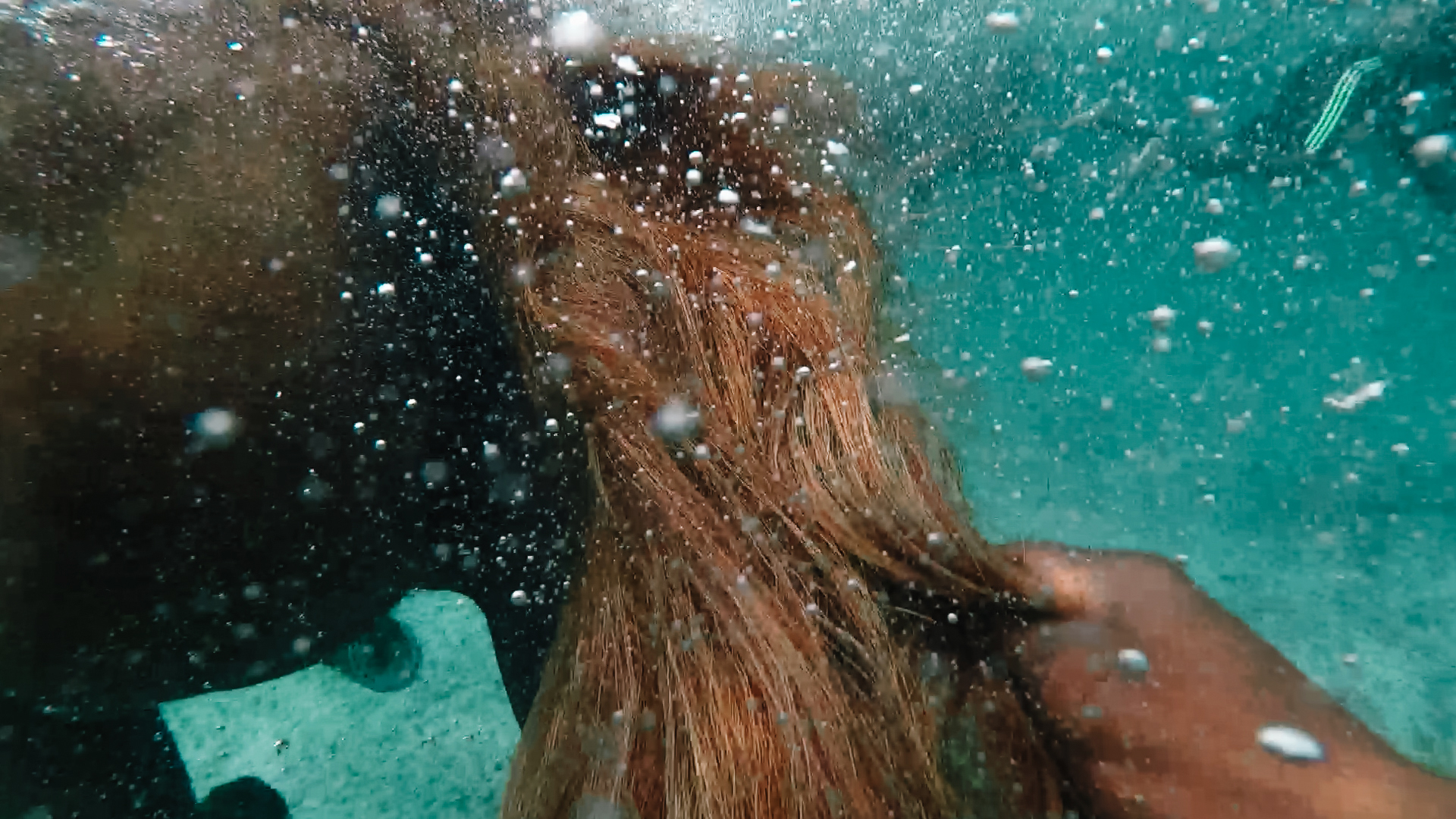 I had no idea how well horses swim and how much they seem to enjoy it.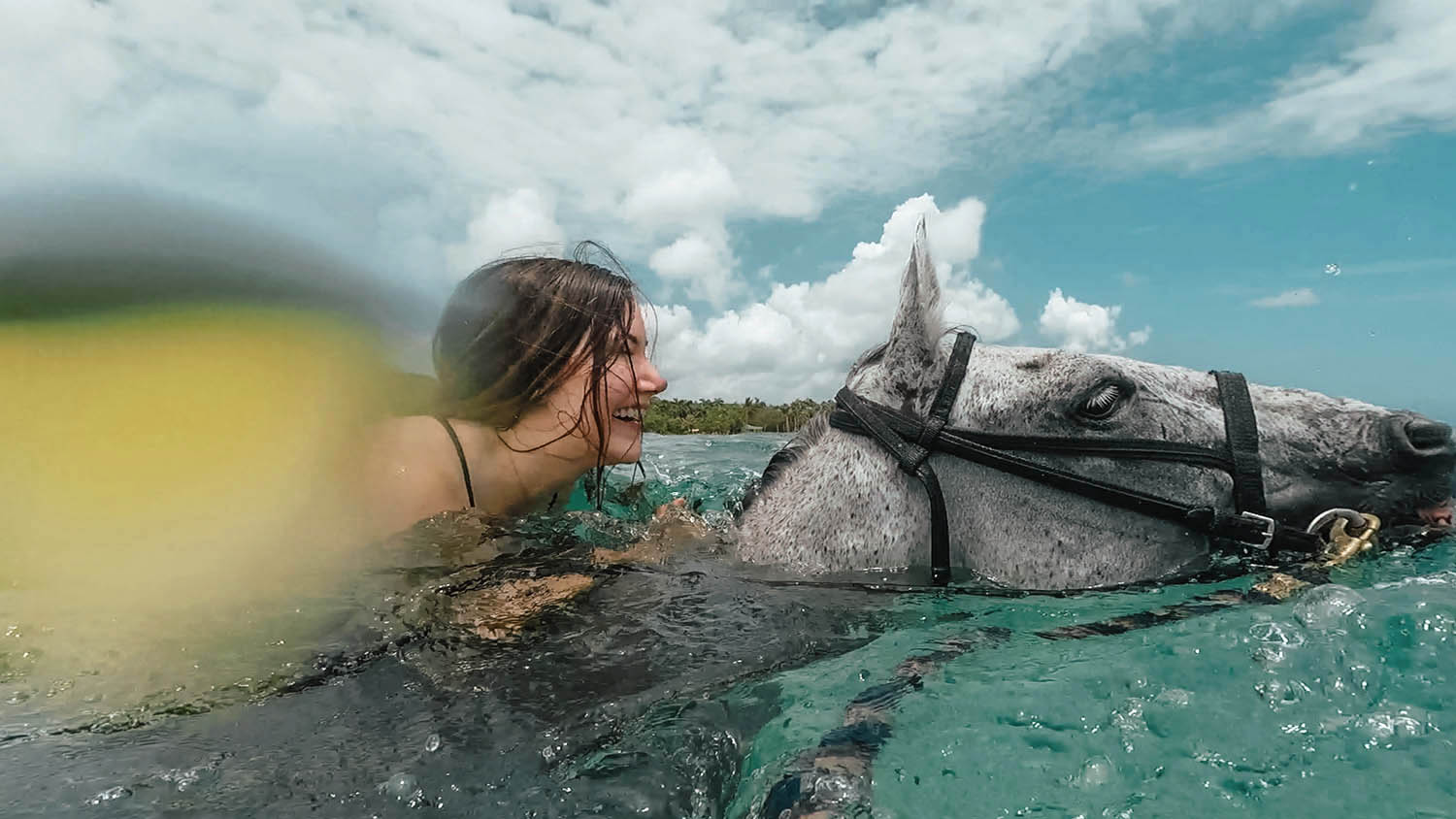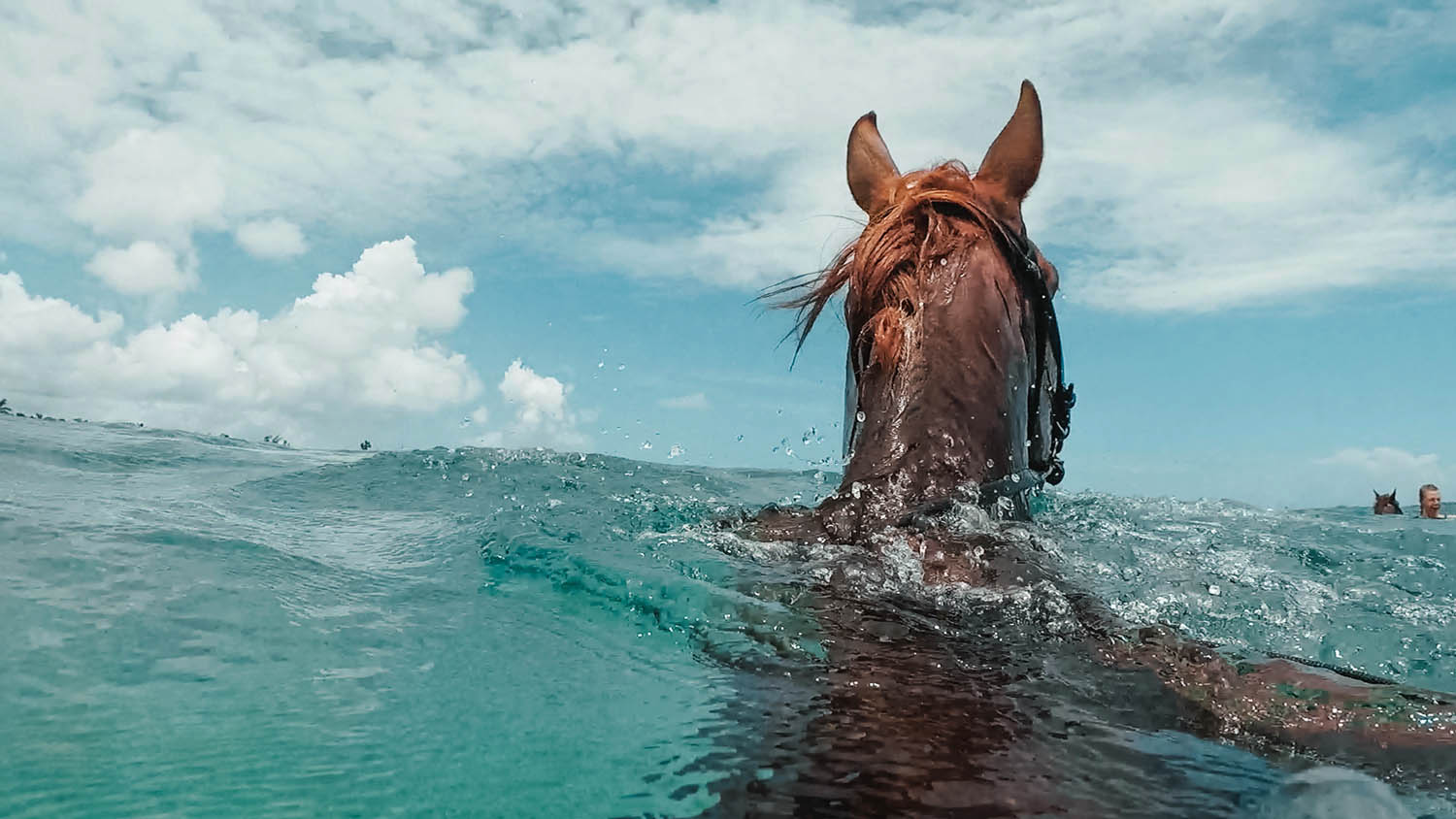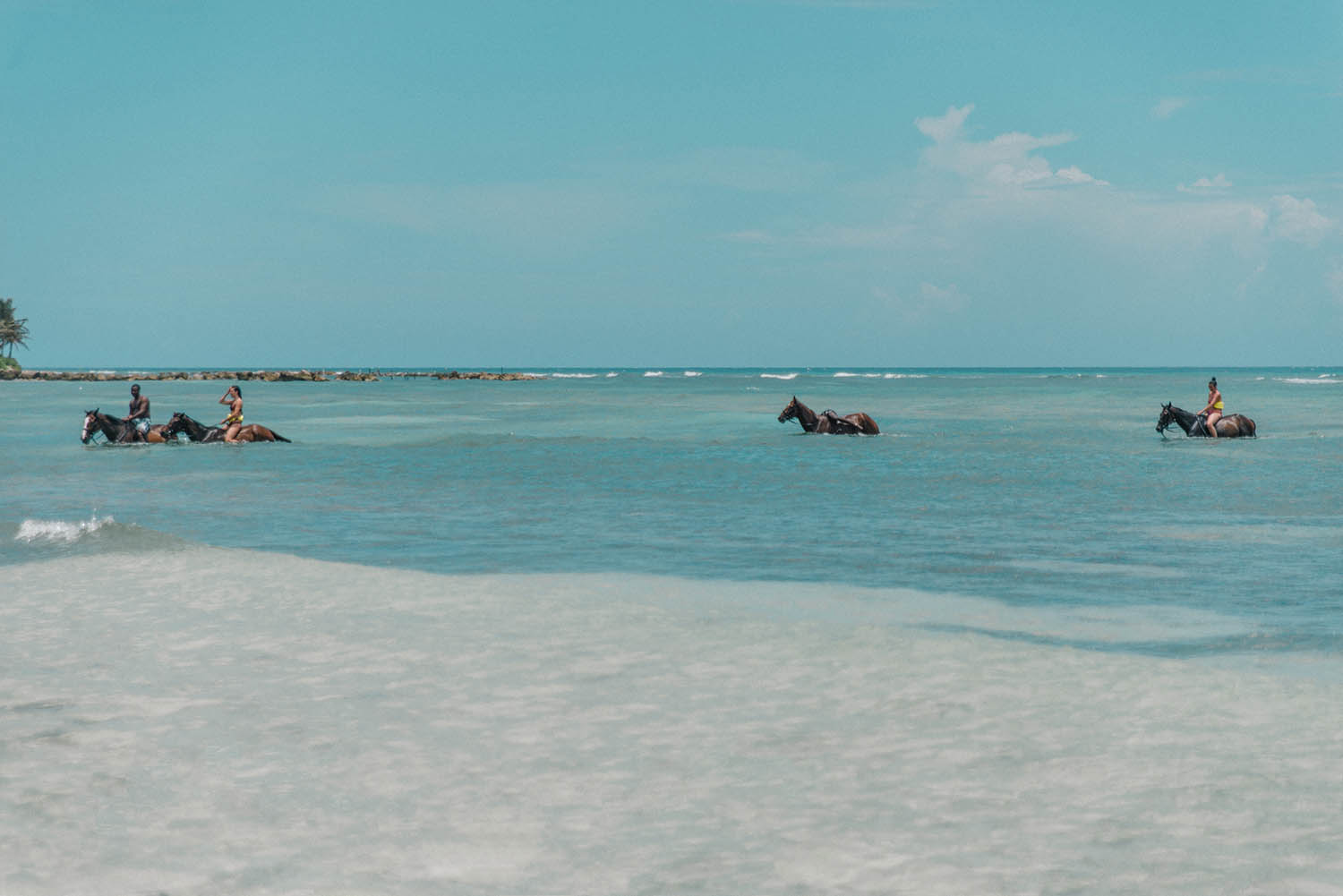 Preparing For Your Beach Horseback Ride
Shop the Post

GoPro Hero 6
Swimsuit, Hunkemöller
I would say that the most important thing is to bring a waterproof camera. This adventure NEEDS to be captured! I'm so glad I had bought a GoPro before this trip. Our guides were so kind and helped me filming with mine when I was swimming with the horses (as I needed both my hands to hold on). But I would recommend bringing either a head or chest strap to capture this.
Regarding clothes, we had to wear long pants over our swimsuit and closed shoes (not flip-flops or sandals). I just put my loose pants over my swimsuit and in lack of a more fashionable option I grabbed my water shoes (which I also had when I climbed the waterfall Dunn's River Falls).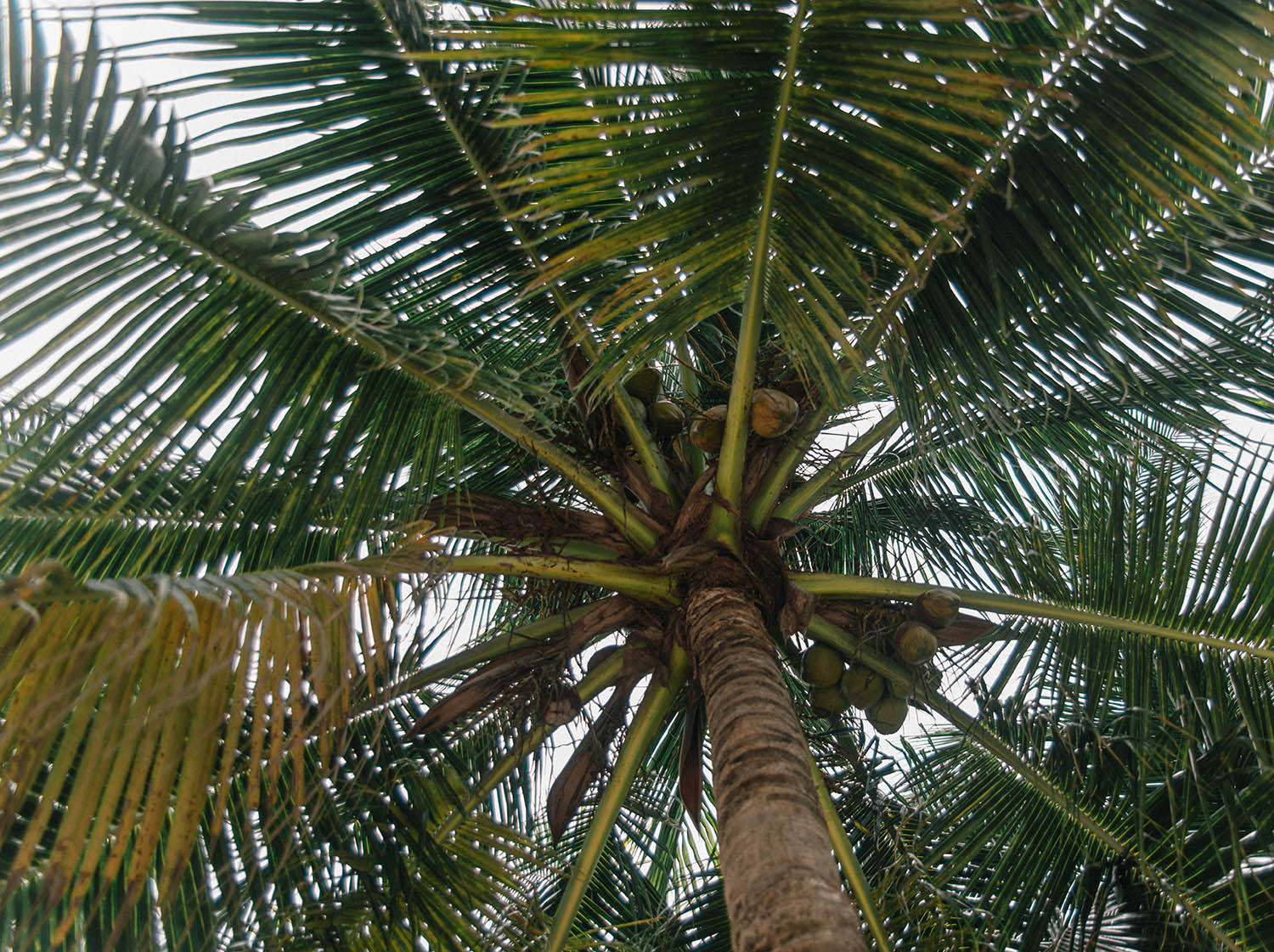 Have you ever tried swimming with horses or what do you think of this adventure? Let me know in a comment!
---
*Thank you to Visit Jamaica and Half Moon Resort & Half Moon Equestrian Centre for hosting this unforgettable experience.