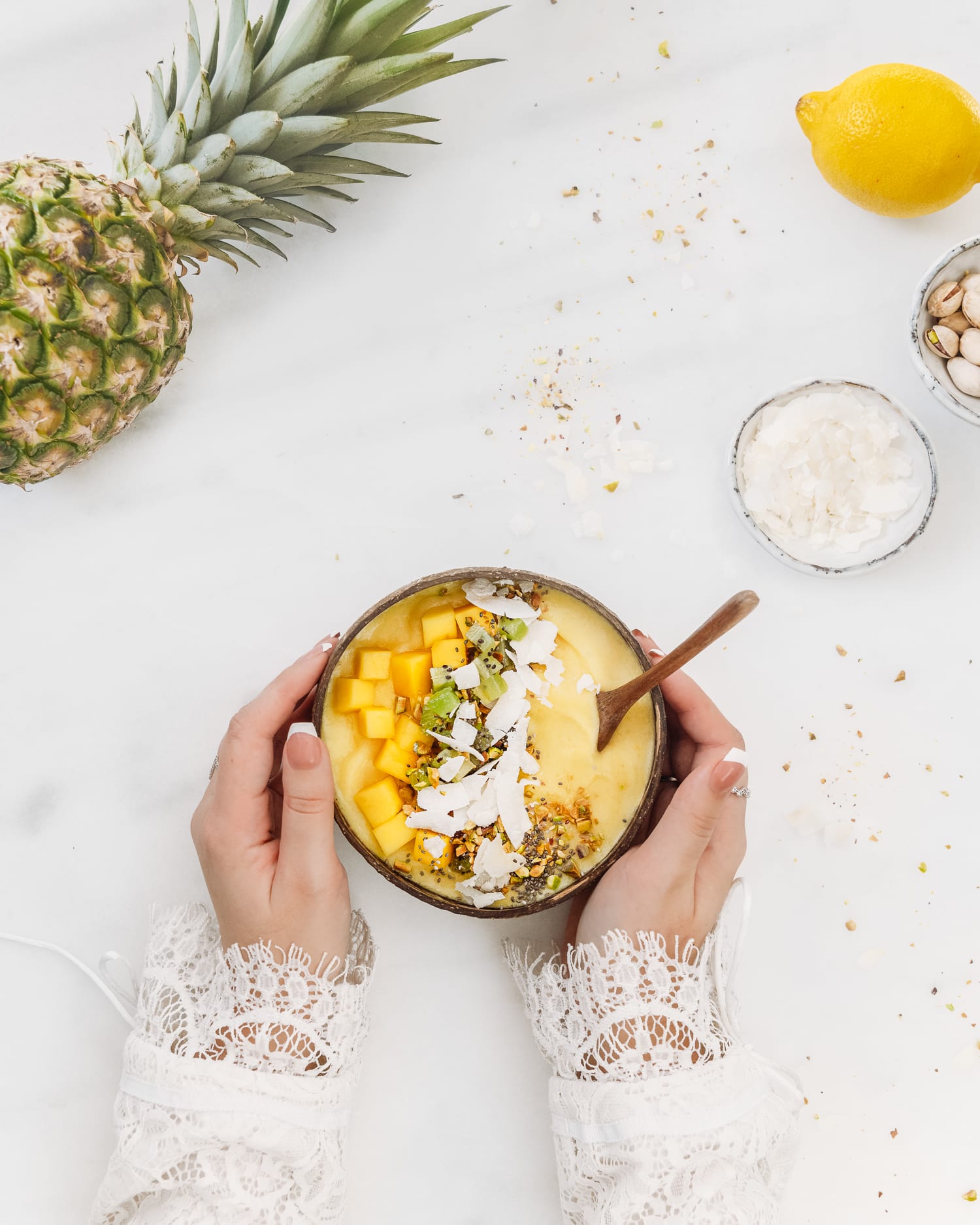 When you can't go on vacation, bring the vacation to you! This uplifting and vegan tropical smoothie bowl brings the Hawaiian vibes to you with its refreshing flavors of pineapple, mango, and coconuts.
Aloha summer! This piña colada-like smoothie bowl is bursting with tropical flavors. It's topped with fresh diced mango, kiwi, coconut flakes, crunchy pistachios, and chia seeds.
You can't help feel like you've been whisked away to a tropical island resort.
This healthy tropical smoothie bowl is great for an energizing breakfast, as an afternoon snack or even dessert. Customize your bowl by adding your favorite toppings.
Tropical Smoothie Bowl with Pineapple, Mango & Coconut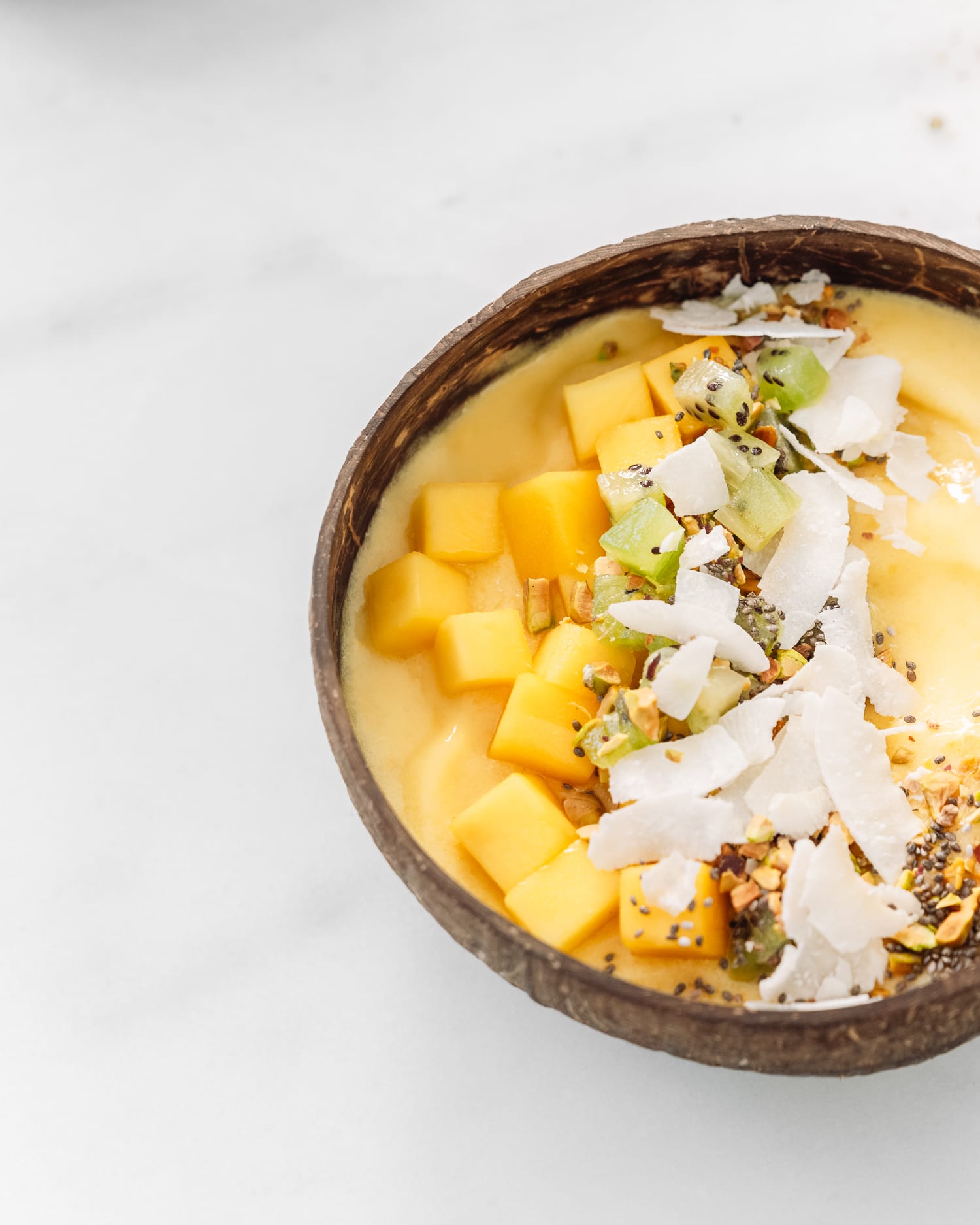 This delicious pineapple and mango smoothie bowl is not only a feast for your senses, but it's also a brilliant vegan breakfast packed with antioxidants and several vitamins.
With only four main ingredients, it's easy to make in just minutes. It's made of frozen pineapple, frozen mango, frozen banana, and coconut drink. We also added some lemon zest for an extra touch of brightness.
Worth mentioning is that we added only half a banana to this smoothie bowl because we didn't want the taste of banana – just the creaminess it brings. Add the rest of the banana for a fuller breakfast meal or to add even more creaminess.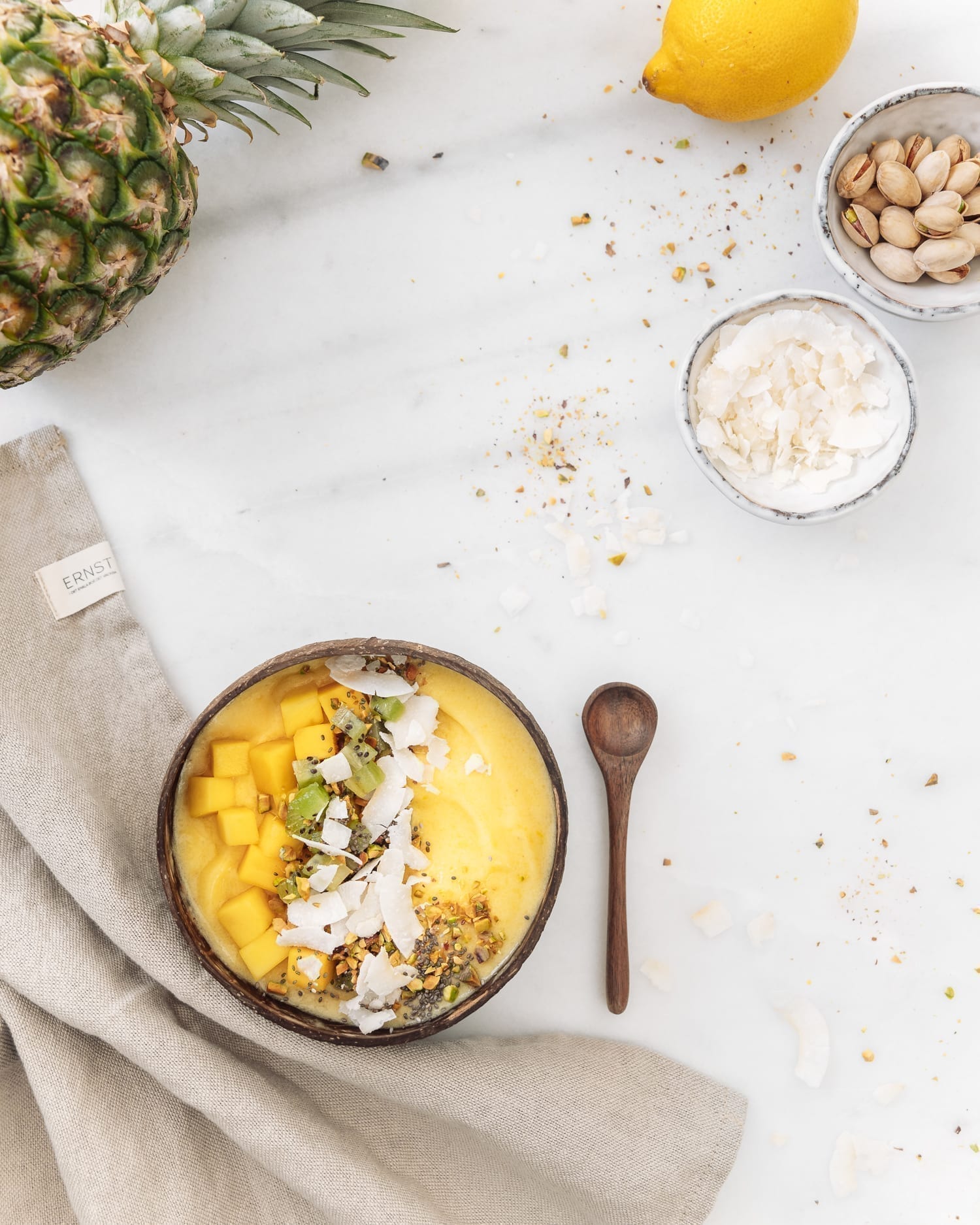 This smoothie bowl is:
Vegan
Thick and creamy
Naturally sweet
Fruity
Satisfying
Quick to make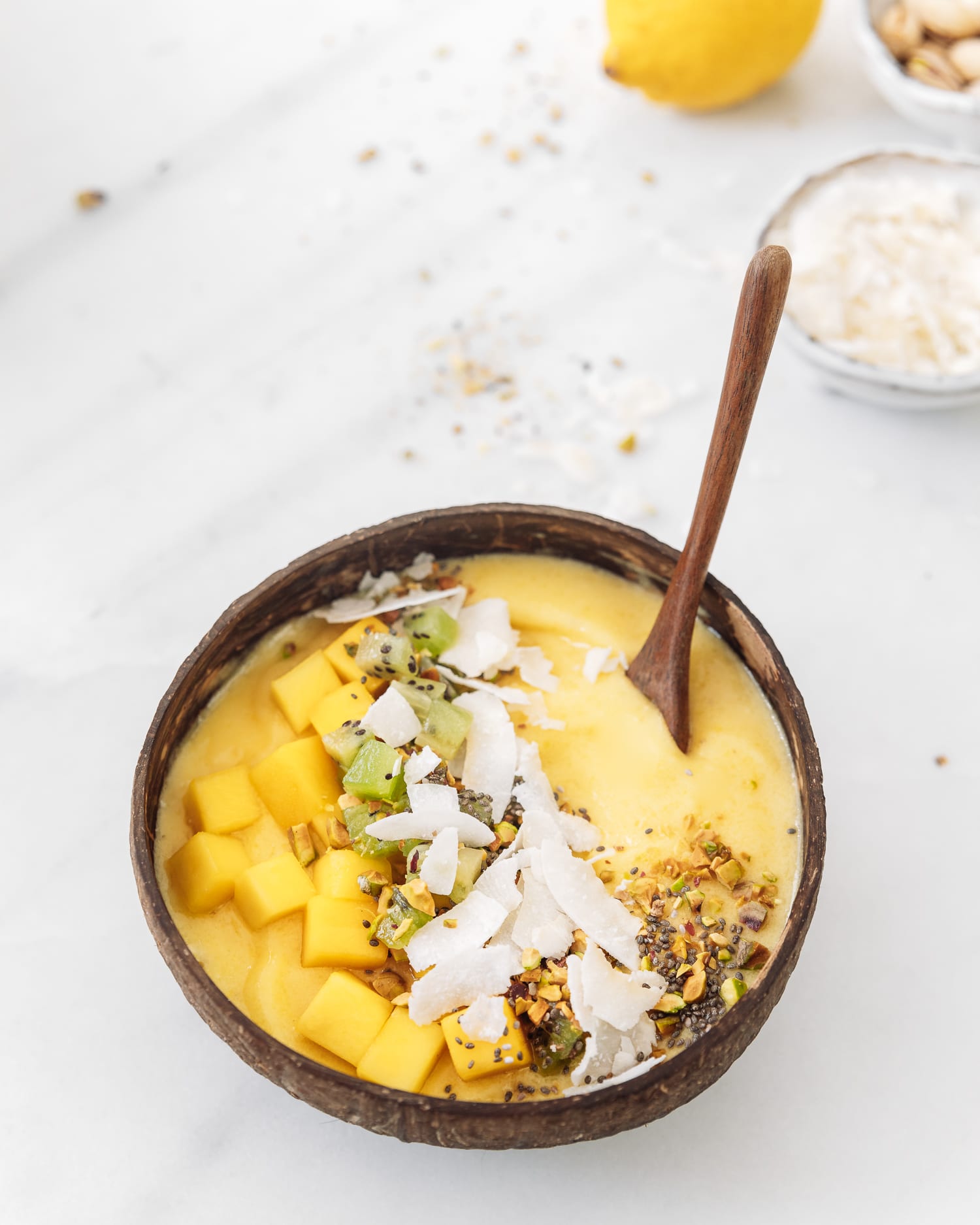 Toppings
It's time to go coco and nuts with the toppings! To make this smoothie bowl even more tropical, we added fresh mango and diced kiwi on top. The coconut flakes and pistachios bring texture and crunch while the chia seeds add more nutrients, fiber, and protein.
More delicious topping ideas for this smoothie bowl
Nuts & Seeds: Almonds, macadamia, cashews, walnuts, flaxseed, hemp seeds
Fruits: Bananas, starfruit, dried fruit, pomegranate
Berries: Blueberries, strawberries, raspberries, dried cranberries
Oats or Granola
Shredded coconut
Add a little cocktail umbrella for extra vacation feelings.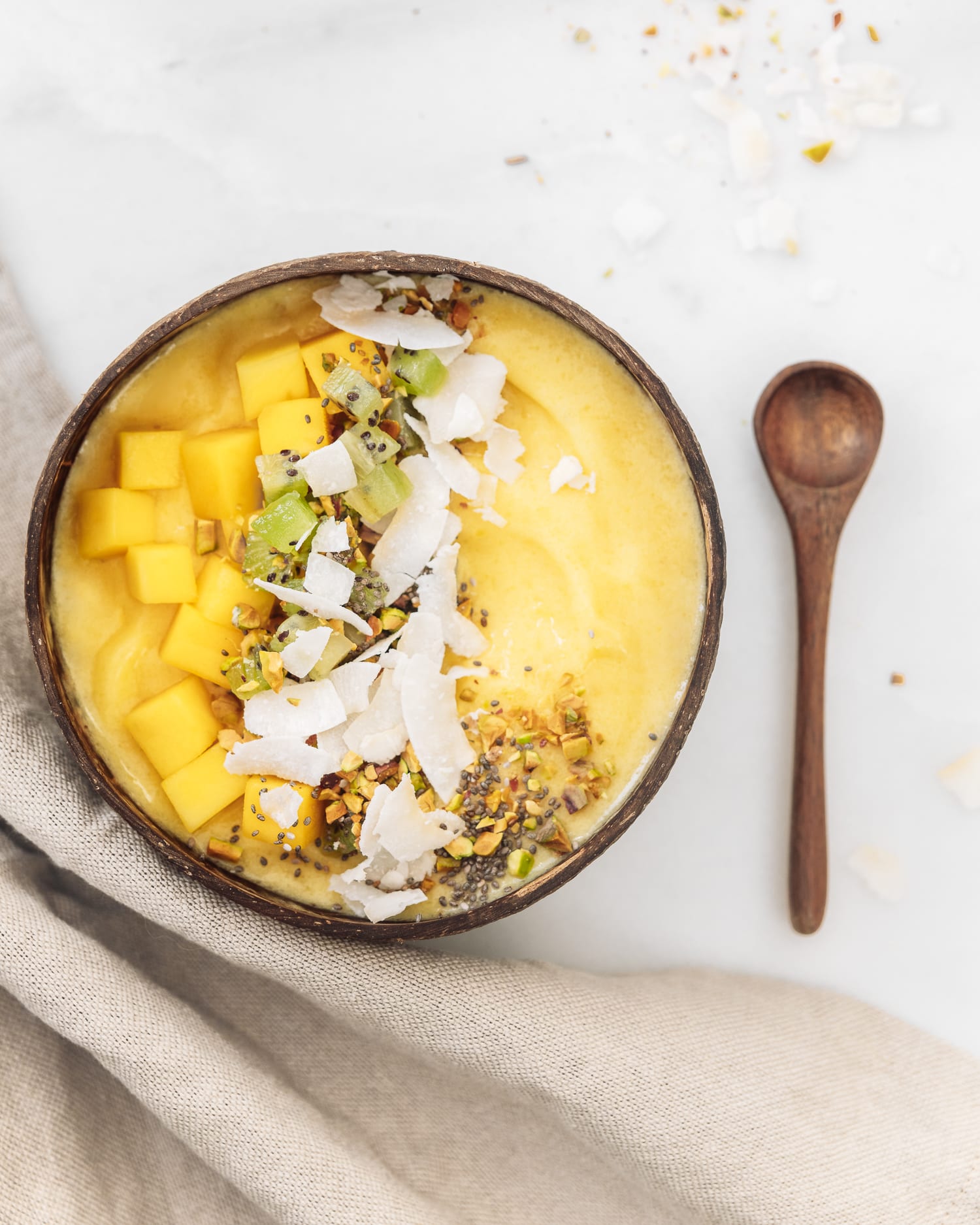 Recommended products

If you try this bowl, please tell us what you think! Leave a comment, rate this recipe, and tag a picture #adarasblogazine on Instagram. We would love to see your smoothie bowls in action.
In it to Pin it? Save this tropical smoothie bowl recipe for later!