A blessing or a curse? Working from home doesn't come without its challenges. The flexibility is the best, but you might have a hard time staying focused, disciplined, and productive. Or maybe you feel isolated? Here's how to overcome these common issues.
Whether you are working from home by choice or because of the coronavirus pandemic, it's important to ensure that you are set up to be efficient. It's crucial to get things done and even more crucial to stay healthy (mentally and physically).
As a digital nomad, I've been working from home for years, which many days haven't been easy. Especially since we moved to a compact house on an island outside of Stockholm, about two years ago.
Not only did I struggle with loneliness, getting up from bed, keeping up routines, and staying focused – but our house was far from blogger-friendly. We didn't have reliable Internet, had power outages almost every week (which resulted in hard drive failures), and our entire kitchen was a work in progress. Working alone in the middle of a renovation project, using my phones poor internet connection, and trying to ignore everything needed to be done around me was hard.
But you know what? Whatever your situation looks like, don't be discouraged. Do the best of the situation.
With my experience as a digital nomad and countless hard-learned lessons, I hope I can inspire you to accomplish your daily goals and stay motivated.
To help you with this, let's look at some common problems with telecommuting and how you can overcome them.
---
WORKING FROM HOME:
7 Common Challenges & How to Overcome Them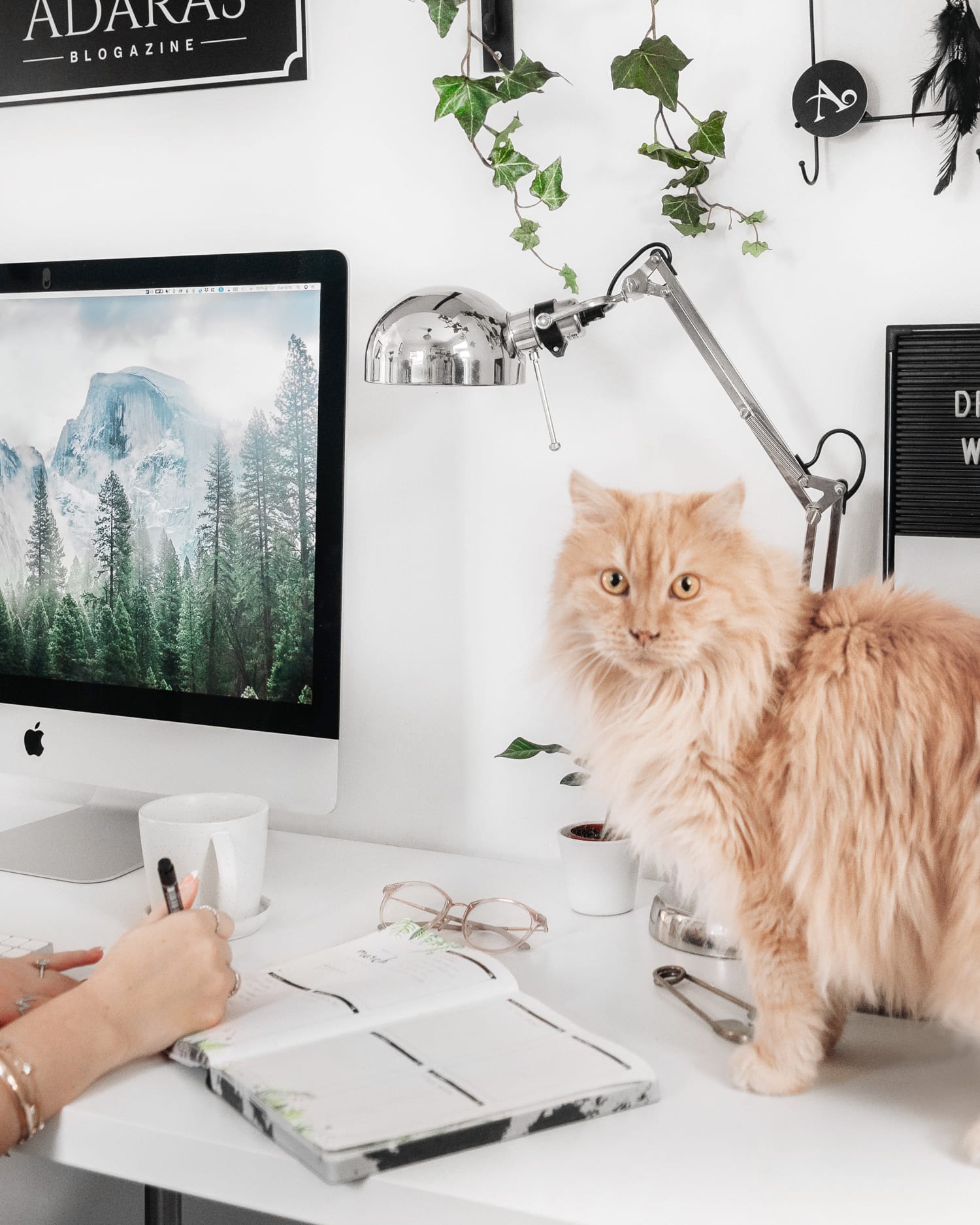 1. How to Avoid Distractions?
Working from the comfort of home can be an appealing idea. Especially with the flexibility in hours, custom environment, zero commuting, and economic savings.
Not to mention that you can work in cozy clothes, decorate your office however you like, be a night owl, bust those samba moves during the break and answer emails while sipping a strawberry daiquiri a Friday afternoon.
Creating your own schedule and not having to waste time commuting to work through rush hour traffic is priceless.
On the other hand, the comforts of home come with many distractions. From the TV and social media notifications to the next load of laundry, needy pets, children, spouses, roommates, and of course, the ever-present lure of the kitchen snack-closet.
Create a dedicated workspace
Distractions lurk around every corner, and my best tip on avoiding distractions is creating a dedicated workspace. The ideal is having your home office in a separate room with a door to close, but even a small desk in the living room works excellent. You can fit your office wherever it fits in your life.
All you need is a functional and private space for you to work – including a comfortable chair and all the necessary accessories to complete your job. To officially reserve a space for work will help you create boundaries between your work and personal life.
Put your phone on 'do not disturb' and, if needed, invest in noise-canceling headphones to muffle out unpleasant sounds and help you focus.
Also, tidy up and organize your workspace at the end of each day so a distraction-free office can welcome you when you get up.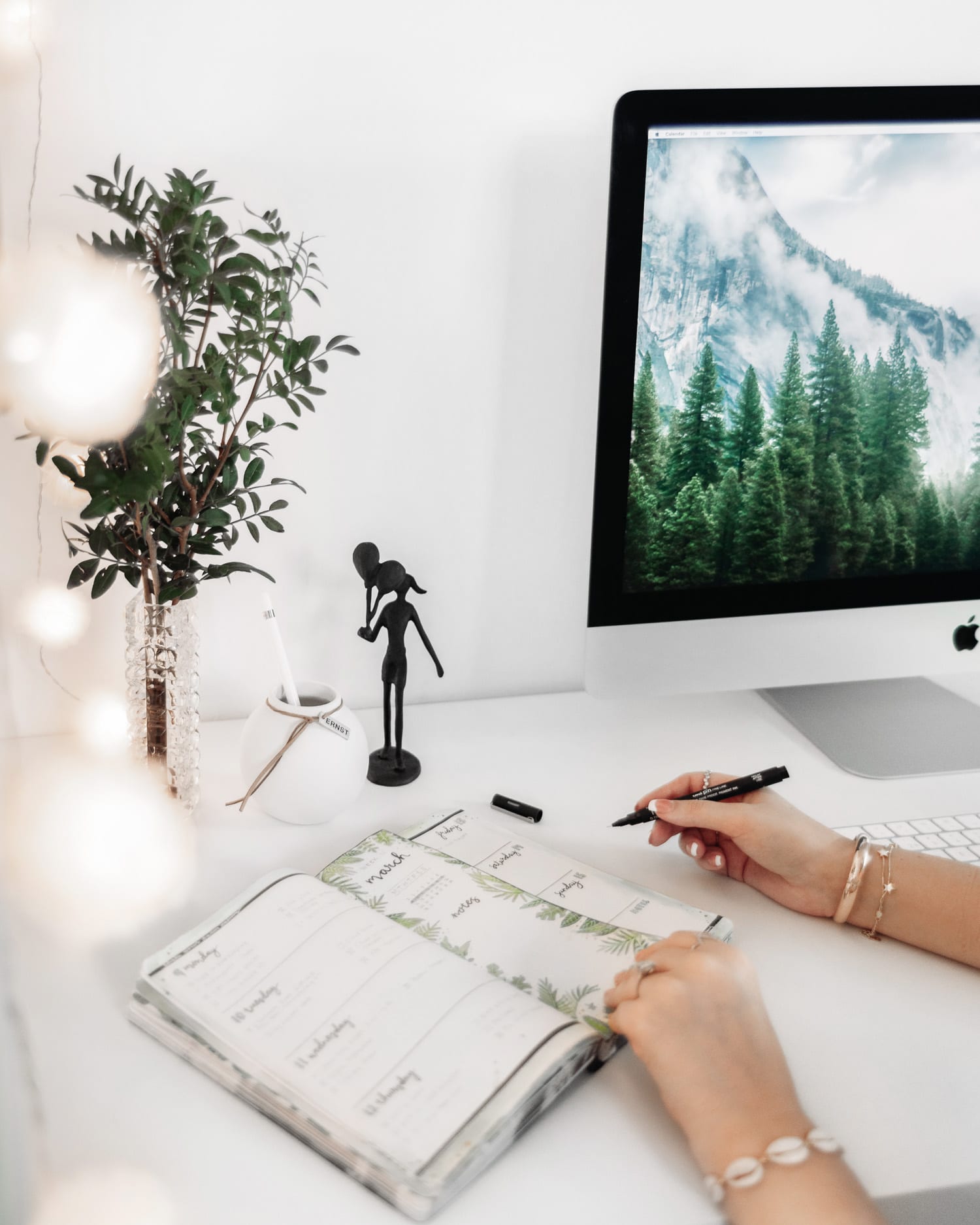 2. How to Stay Disciplined?
One of the biggest challenges for many people is struggling to stay focused on the task at hand. To help you stay focused, there are a few techniques that you can try.
Create a daily to-do list & get into the right mindset
First, set-up a daily to-do list. Setting priorities is infinitely important when working from home. Without a boss peering over your shoulders, it's up to you to put your to-do list in order. This is a toughie, but it will help you stay on track and avoid feeling overwhelmed.
You should also make sure to get into the same mindset that you have when you are working in an office. Put on a suit or smart dress or what you would wear if you were going to the office. This can help you get into the right work mode and stay disciplined for the rest of the day.
The number one rule to remember when telecommuting is to NEVER work in PJs (as your brain will stay sleepy). I mostly opt for comfy but stylish co-ords. I also like to put on a little makeup just to feel more ready for the day.
Alternatively, you might want to try to set up your environment to be as professional as possible.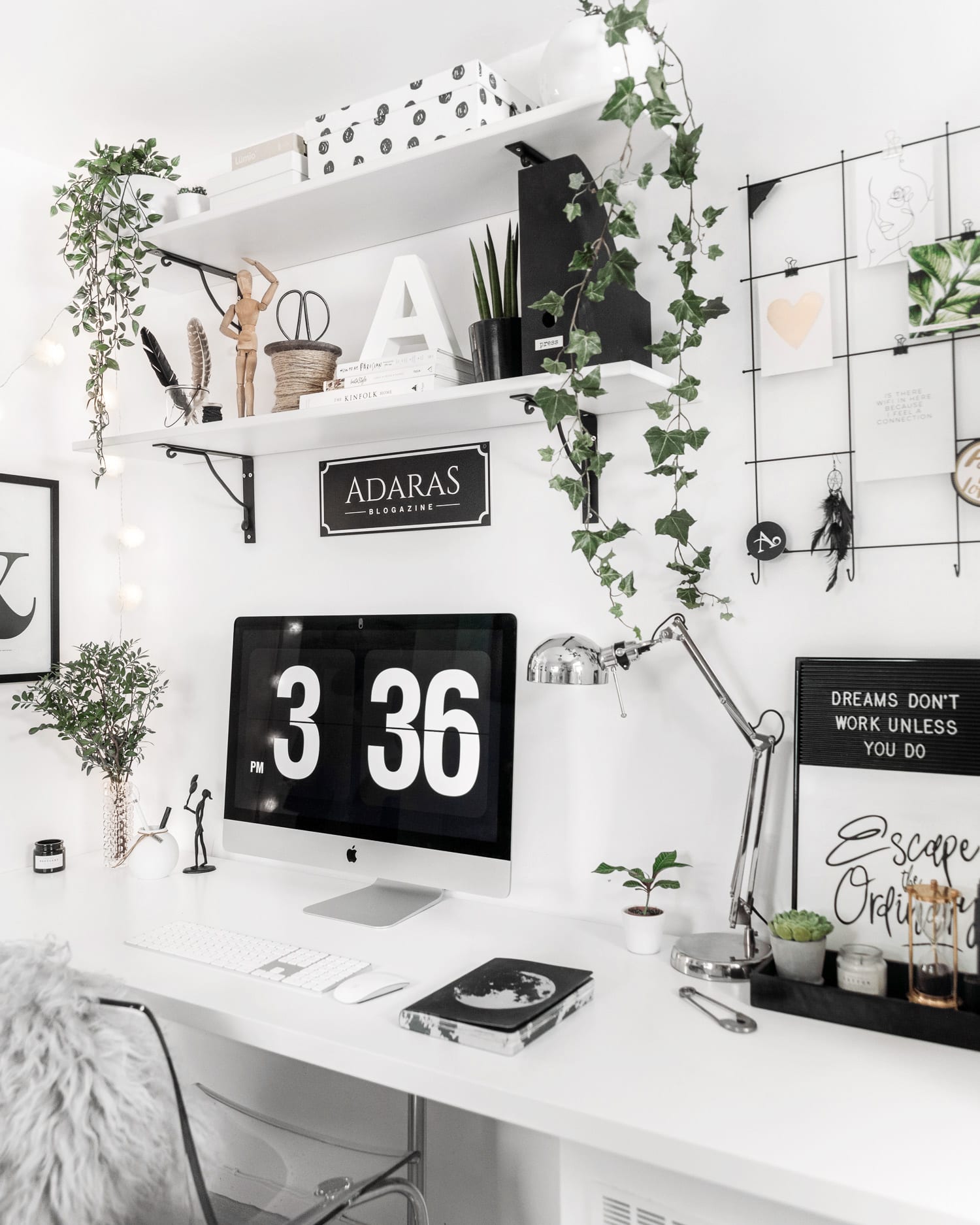 3. How to Stay Productive?
Another common issue is the loss of productivity during the day. Again, this goes to the mindset that you have developed. There are a few simple steps you can do to address this.
First, you might want to make sure that you have someone available to keep you accountable. For example, you might want to set a goal each day, agreeing to submit certain documents. If you don't meet that goal, your friend or family member will be able to ask you about it, making sure that you are sticking to your desired workload.
Try the Pomodoro technique
You might also want to try using the Pomodoro technique. This works by breaking down your work into chunks of 25 minutes. For those 25 minutes, you focus solely on that task, ignoring all distractions. At the end of the session, you will be able to spend 5 minutes stretching, grabbing a cup of coffee checking your phone, social media accounts, and email. After four sessions, you can take a longer break of 10 to 30 minutes. Then, start it all over again.
And if you can, I cannot recommend enough going outside for a walk or a run. Getting some fresh air and a bit of exercise between your tasks can do wonders. Or, if you need to stay inside, try a 7-minute workout on Youtube.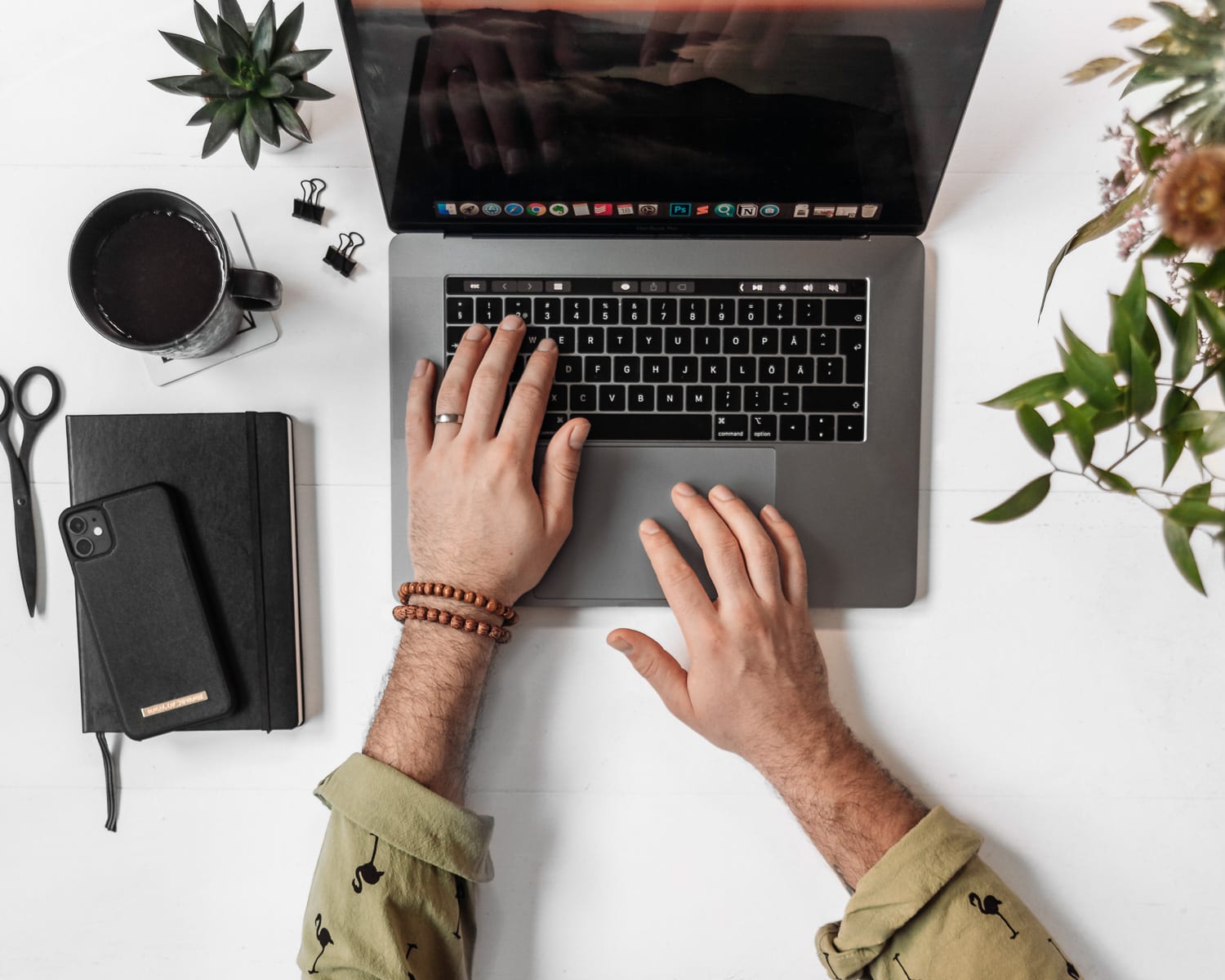 4. How to Stop Hitting the Snooze Button?
Without the need to get into the office by 9 am, it can be tempting to hit the snooze button and have a longer sleep in.
But you know what they say, if you snooze, you lose! Don't waste more time snoozing. Get up and get things done instead! To prevent snoozing from turning into a bad habit, there are a few techniques you can try to get out of bed on time.
Design your perfect morning routine
First, you should move your clock, making it harder for you to reach. This will force you to get out of bed to turn off the alarm. If the standard alarm doesn't do anything for you, try something different! There are so many alarms out there: From evil alarms like Alarmy, which will force you to solve math problems, play a memory game, take a picture of a barcode or shake your phone for 30 seconds, to kinder alarms like Sleep Cycle, which will gently wake you up when you're in your lightest sleep phase.
However, the best thing you can do is establish a morning routine. Get your booty out of bed the same time each day, exercise, meditate, eat breakfast, drink your coffee, and get ready for the day.
Find your ideal morning routine and stick to it. Humans are creatures of habit, and we can learn any habit.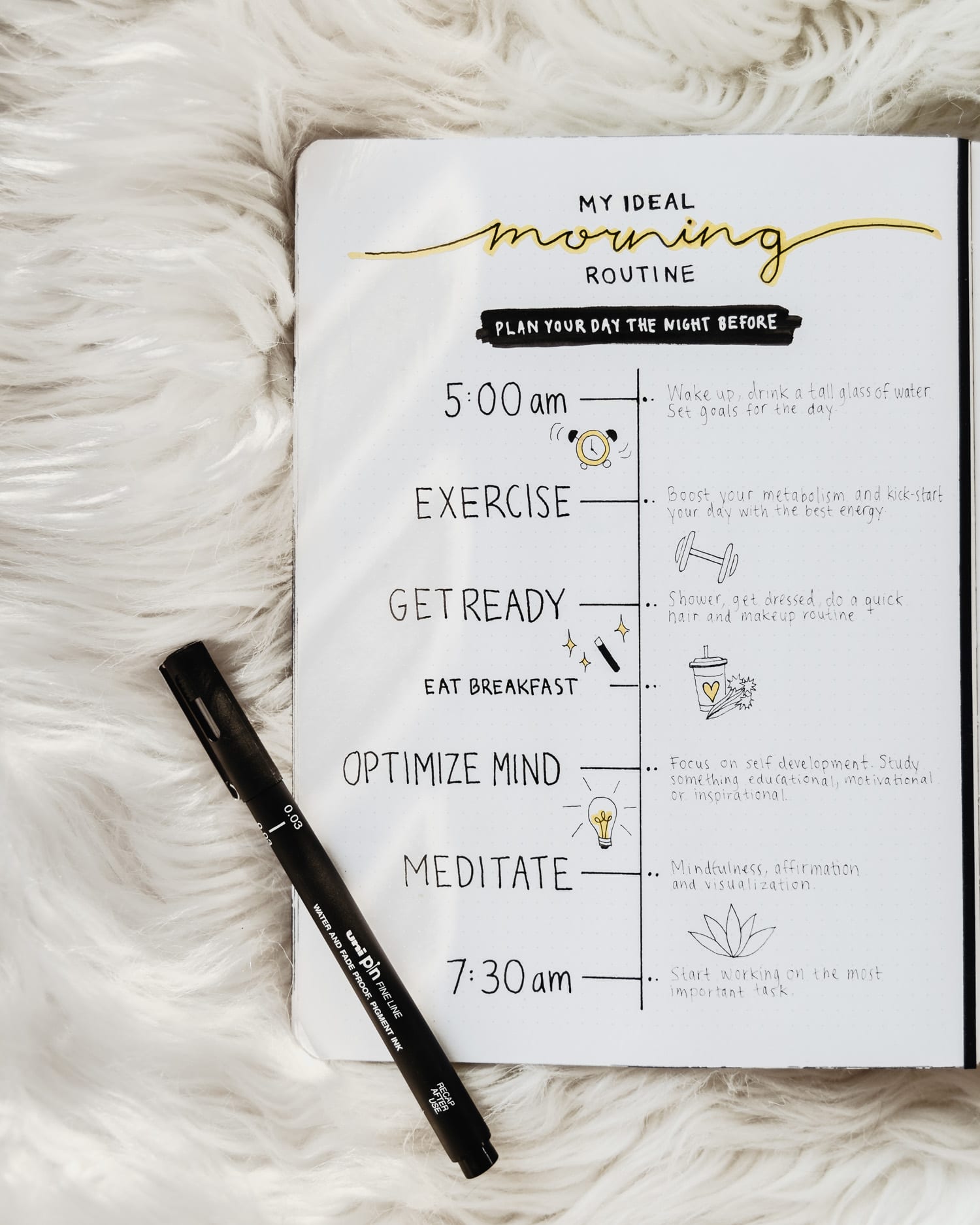 5. How to Stop Procrastinating?
Prioritize! Stop pursuing low-value activities and focus on what matters.
The most valuable tasks are often the hardest and most complex – and the ones we are most likely to procrastinate on.
"Eat that frog"
The key to improved performance and productivity is to develop the lifelong habit of tackling your major task first thing each morning. Or as Brian Tracy will tell you: "Eat that frog."
Mark Twain once said that if you eat a live frog each morning, you can go through the day with the satisfaction of knowing that is probably the worst thing that will happen to you the rest of the day. Your "frog" is your biggest, hardest, and most important task.
Discipline yourself to begin immediately on this primary task. Then persist and work single-mindedly until the task is complete before you go on to something else.
What is your "frog"? What activities and tasks will make the actual difference to your company or career?
Read also: How to Start a Bullet Journal in 8 Easy Steps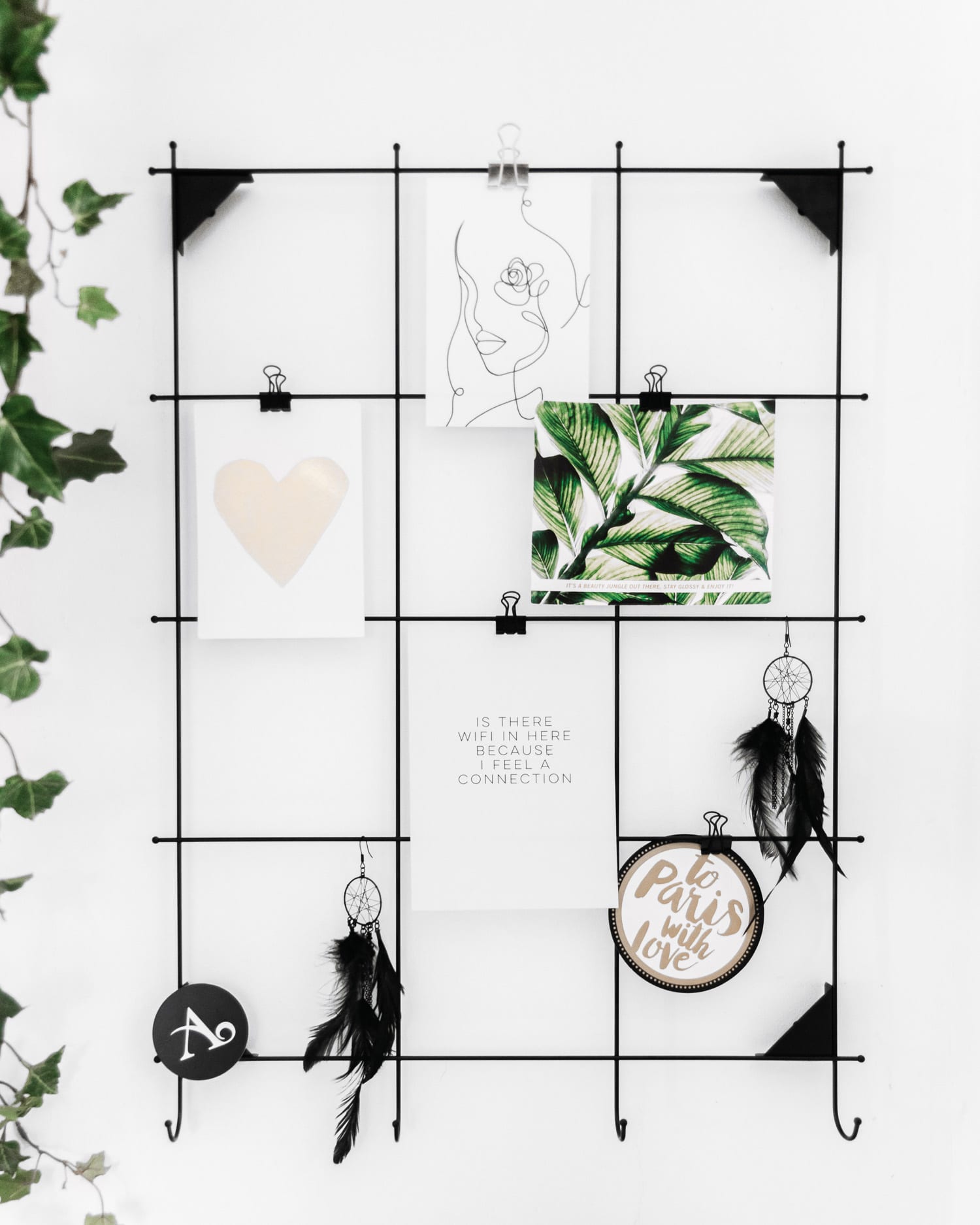 6. How to Achieve a Work-Life Balance?
When working from home, it can be difficult to know when the workday ends and social time begins. Let's look at a few ways you can overcome this.
Set a schedule and stick to it
First, you should make sure you are setting hard boundaries. For example, set a schedule and stick to it. Working designated hours, and then stopping when those hours are up, will give your brain time to work and time to rest.
I can't even count how many days my work and personal life have blurred together. Truth be told, I haven't minded it at all. I love my work! But in the long run, at-home workers must create boundaries between work and personal life. It's needed to achieve a work-life balance and stay healthy – both mentally and physically.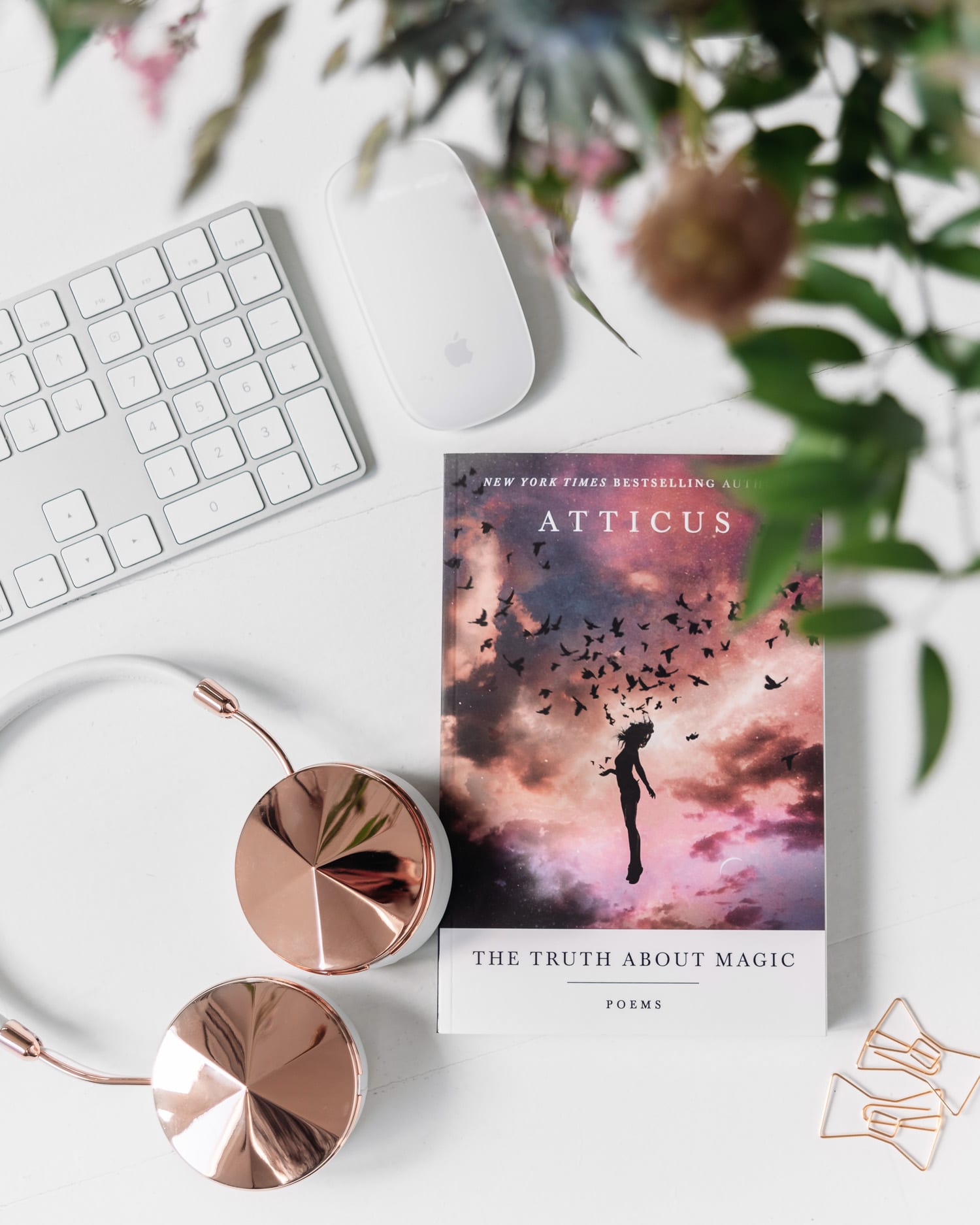 7. How to Avoid Feelings of Isolation?
One of the most appealing things about working from home may also be one of the most unpleasant things about it. If you live alone, the feelings of loneliness and isolation may be a huge issue.
Especially during these trying times with self-isolation and self-quarantining. While the COVID-19 pandemic continues, we will have to change how we live and interact with others for a significant period of time.
Plan more daily social interactions
While it's hard to come to terms with being increasingly cut off from society, we are at least fortunate that technology has given us unlimited tools to communicate, socialize and collaborate with others while working in solitude.
Plan more social interactions and connect with people you care about as much as possible. Talk face-to-face over FaceTime, attend virtual meetings, brainstorm with strangers, connect with friends via social media, or play social games.
Last, if you are working in solitude, it can also be relaxing to have something in the background. When I edit pictures, I love to listen to an audiobook, a podcast, music, or just having the television on.
When I write, I often use the app Tide, which helps me to stay focused in blocks of time – while providing different free soundscapes (like inspiring and mindful tracks, café, and library sound scenes, rainforest, ocean, rain and much more).
Just having something on in the background can help you feel less alone.
It's crucial to focus on your mental health and not be overwhelmed by loneliness. If you need help, please seek professional support early and activate your support network.
---
Get the look

---

Do you have more tips on how to effectively work remotely? Please, let us know in a comment! We would love to hear your thoughts.
In it to pin it? Save these working from home tips for later!