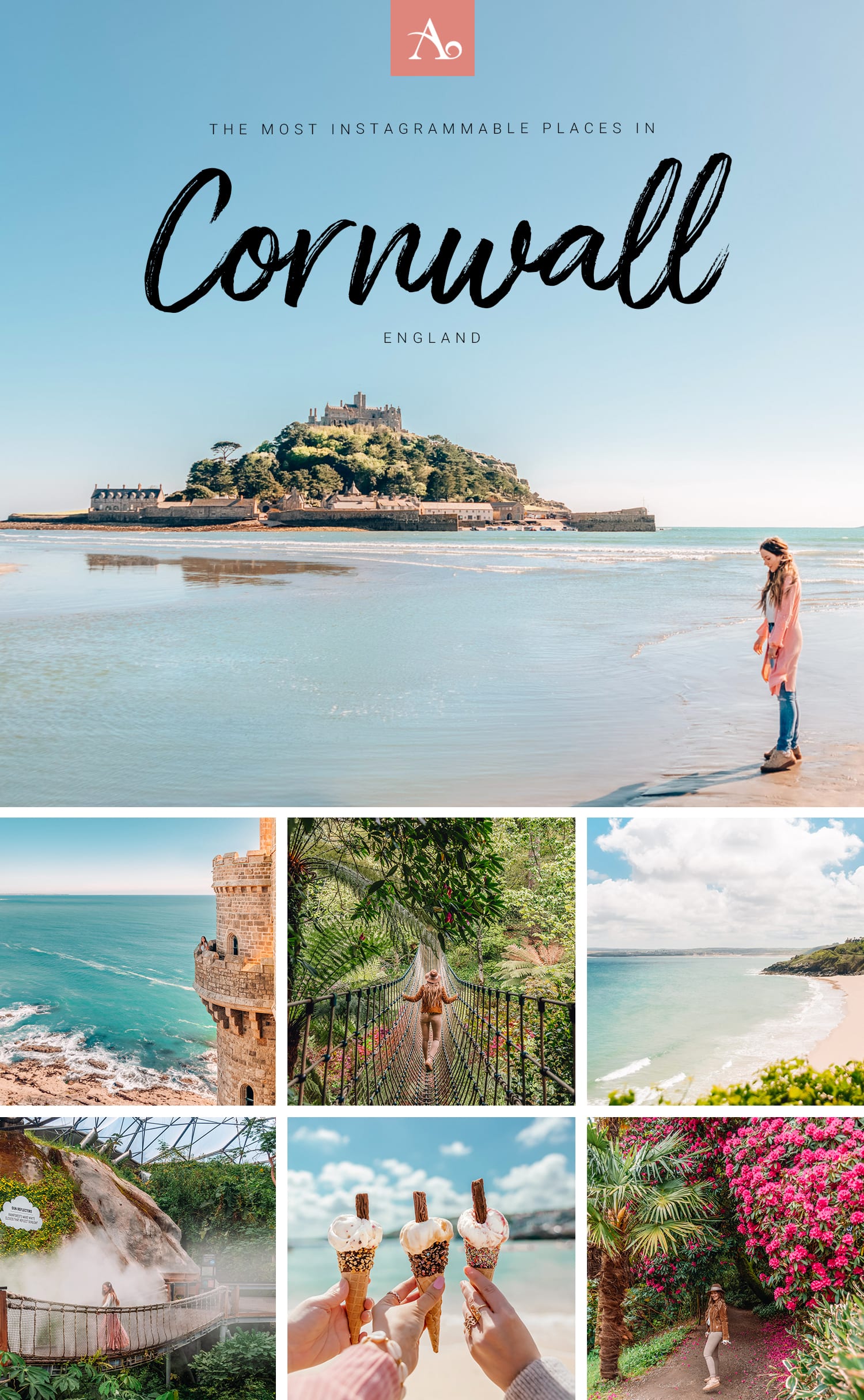 With a glorious coastline, miles of sandy beaches, tropical gardens, castle ruins, and pretty seaside villages, it's easy to find Instagrammable places in Cornwall – wherever you look. To narrow it down, I've listed some of the most beautiful spots to photograph!
Thanks to its mild and sunny weather in South West England, the county of Cornwall offers something totally different in Britain.
It proudly presents everything from over 400 beaches and swaying palm trees to the legendary Tintagel Castle, picturesque fishing villages, rugged moorland, magical woodlands, and coves.
In short, it's a photographer's paradise.
So charge your camera batteries and get ready to explore.
This is a ridiculously photogenic destination!
GUIDE: THE MOST INSTAGRAMMABLE PLACES IN CORNWALL
The Lost Gardens of Heligan
– Enchanting gardens in Cornwall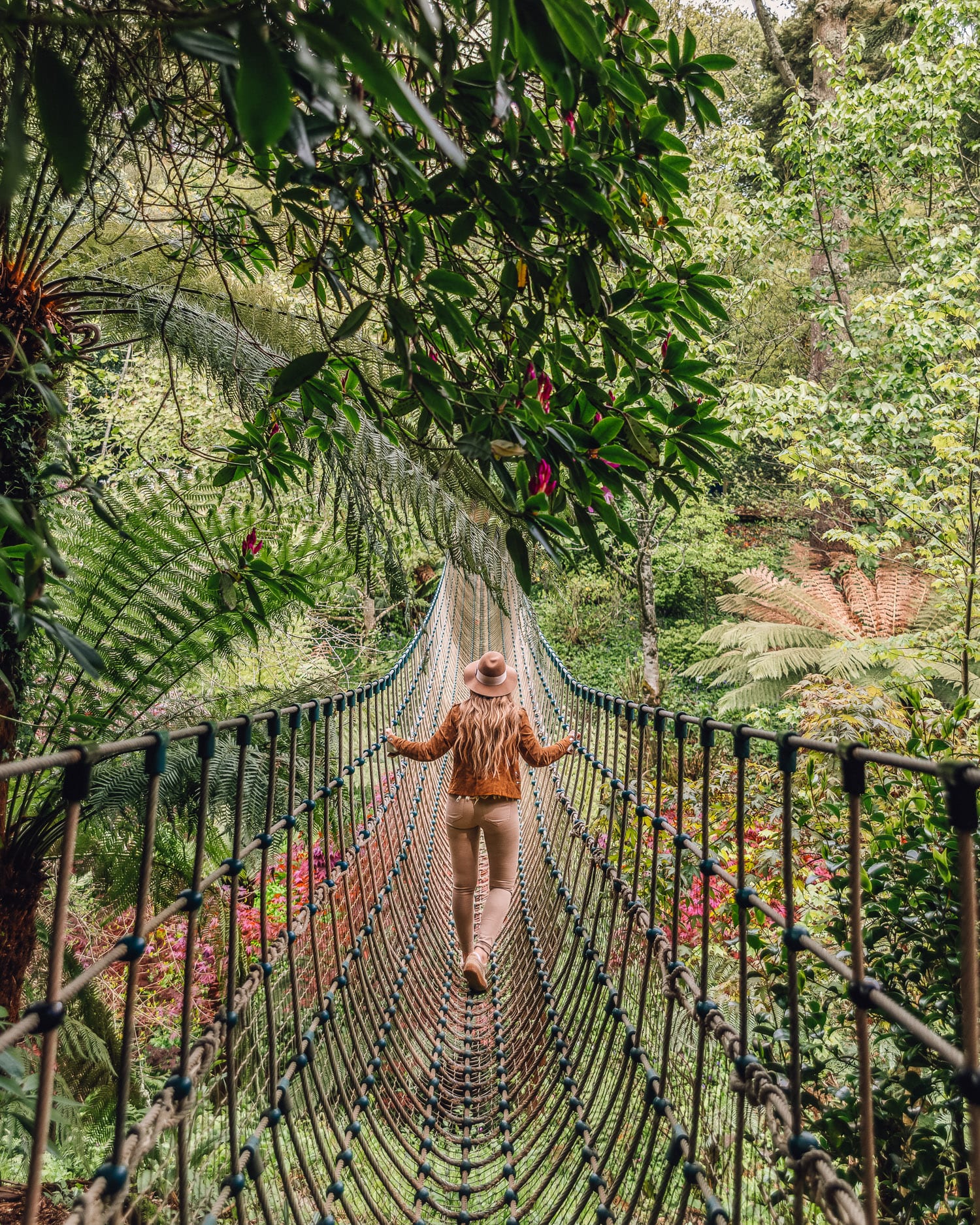 History, mystery, and romance! One of the best things to do in Cornwall is exploring The Lost Gardens of Heligan. This famous botanical garden is a breathtaking escape to nature – with endless photo opportunities.
It's hard to imagine that the Heligan's impressive historic gardens were lost and forgotten for decades. After the First World War, the gardens were hidden beneath a dense undergrowth of brambles and ivy.
Luckily, The Lost Gardens of Heligan was rediscovered about 30 years ago by Tim Smith, the man behind the famous Eden Project. It became Europe's largest garden restoration and is, today, back to its former glory.
Most fascinating when exploring Heligan's gardens and estate is the Jungle experience, where you can find the remarkable Burma Rope Bridge (not to be missed for impressive Instagram shots), exotic plants, gigantic rhubarbs, banana plantations, bamboo tunnels, and palm trees.
For something totally different, walk along the Woodland Walk to discover the wonderful sculptures Mud Maid, The Giant's Head, and Grey Lady. This is like a forest fantasy world!
Head to the Productive Gardens for photo-friendly greenhouses, colorful flowers, apple arches, a melon yard, and vegetable gardens.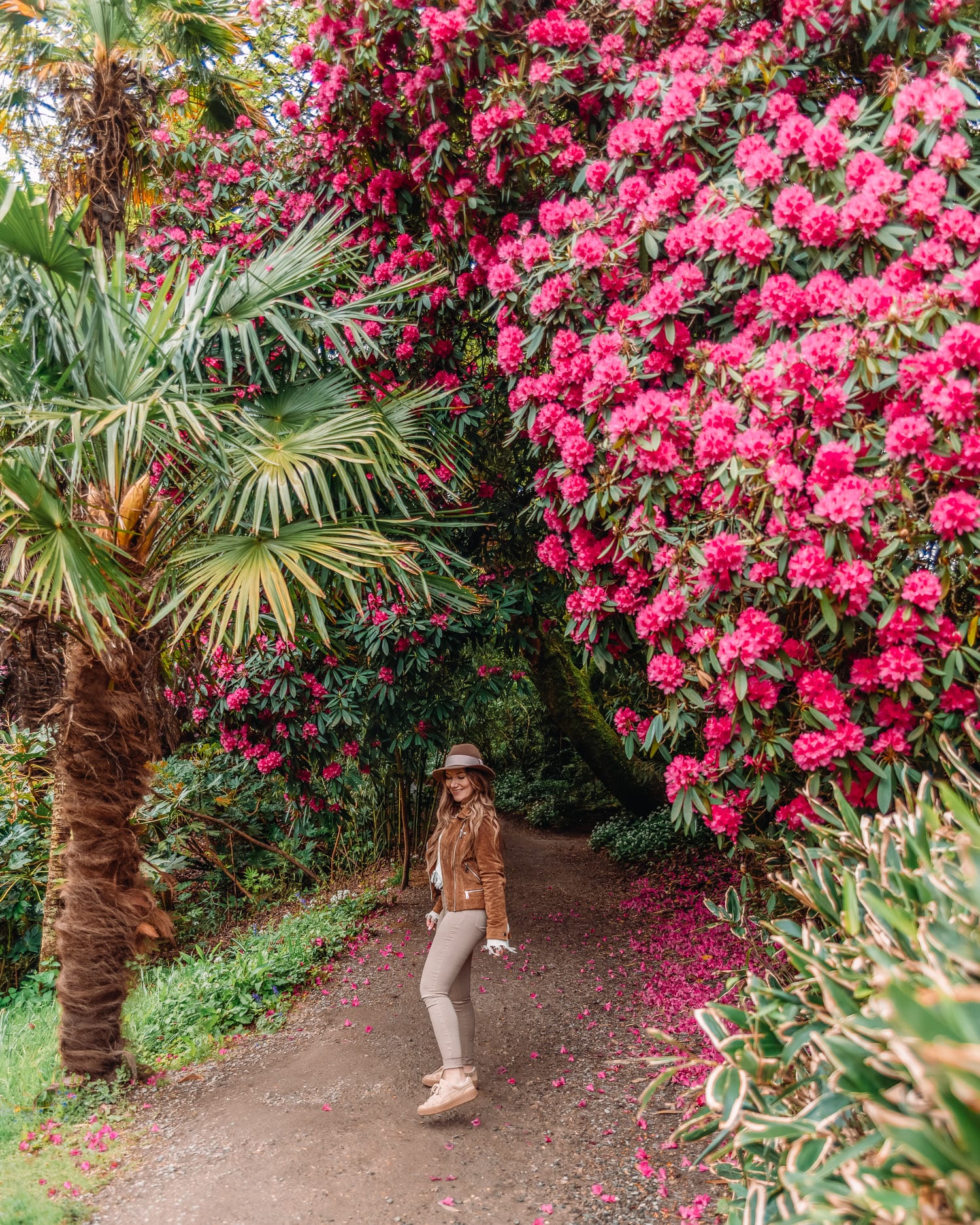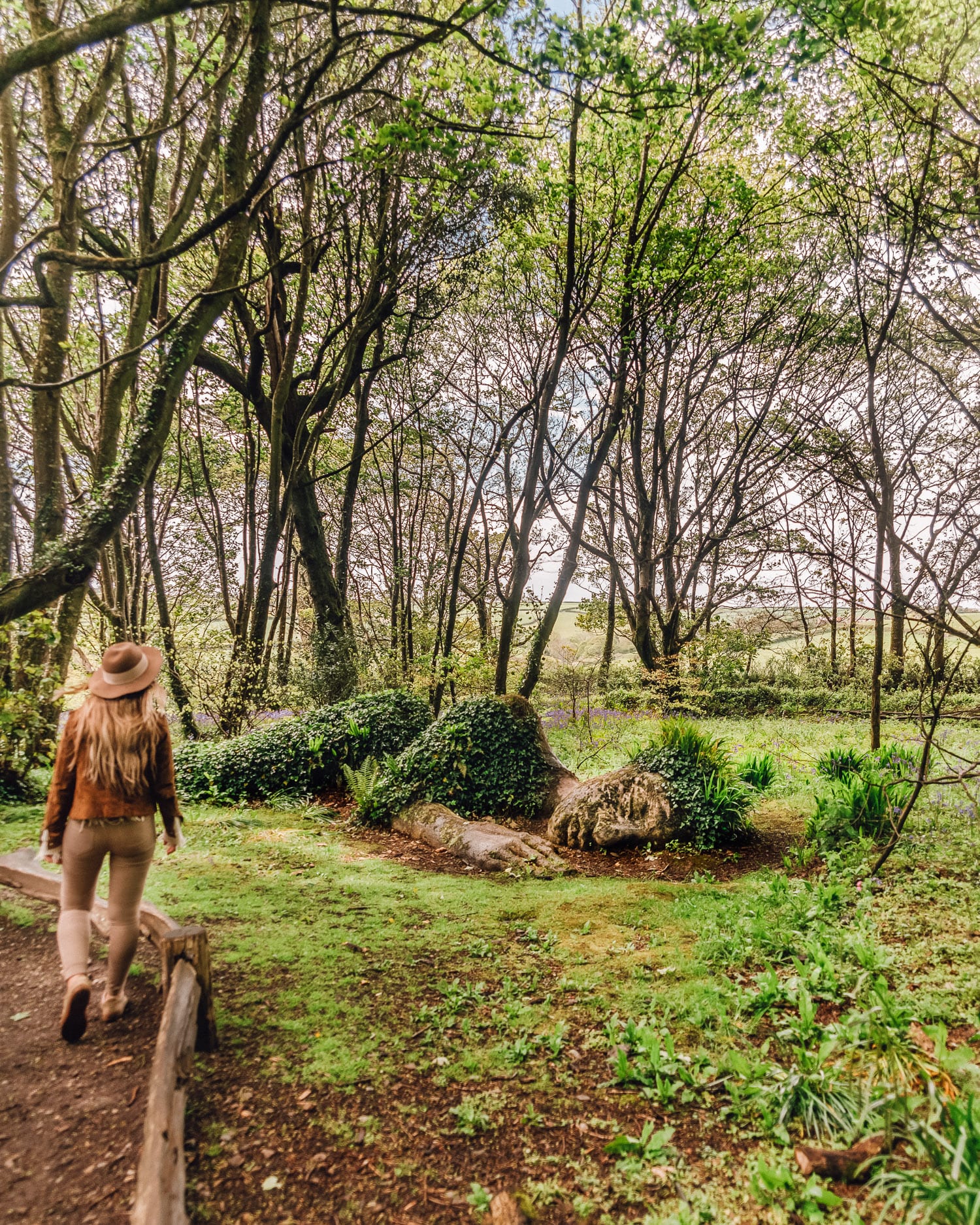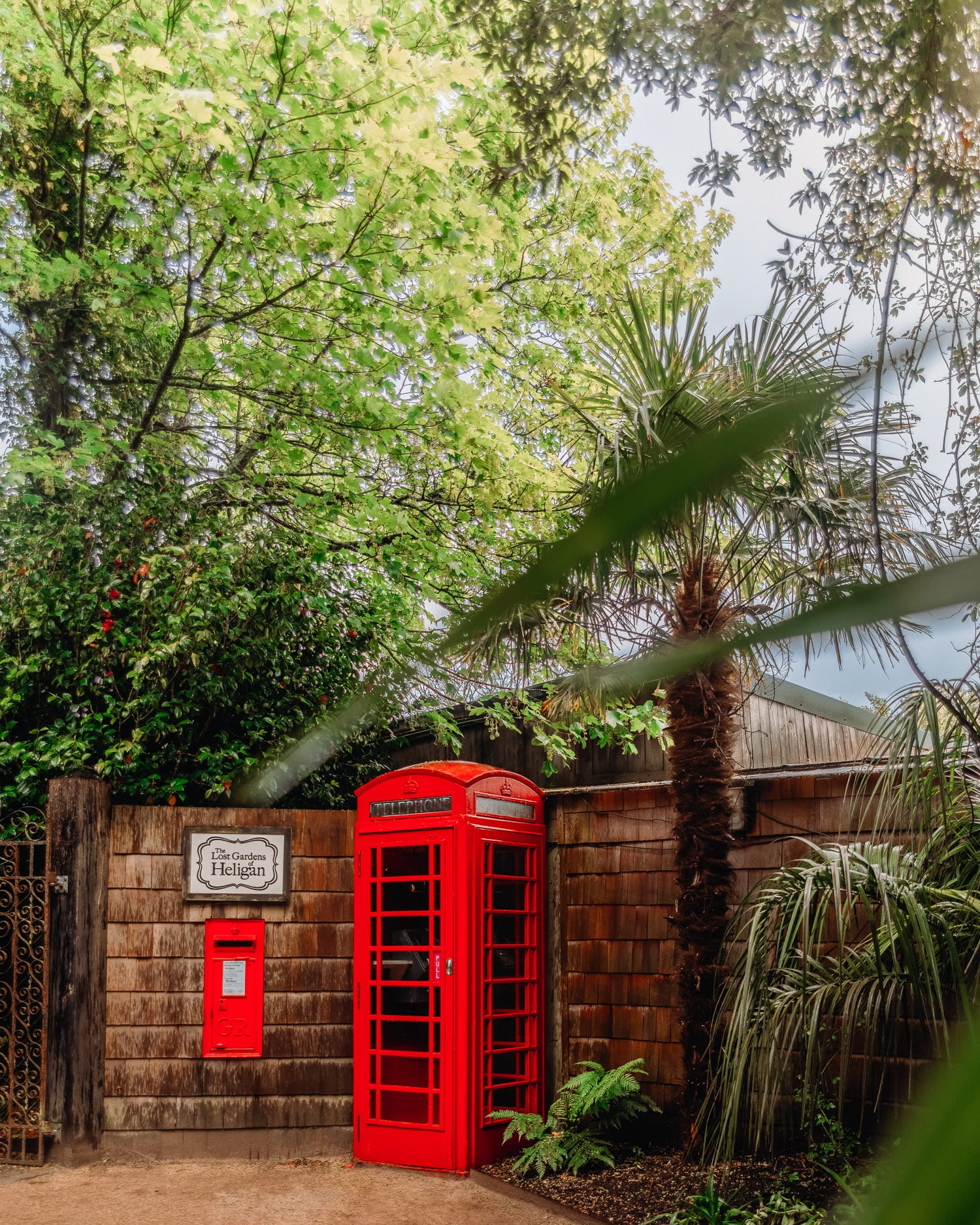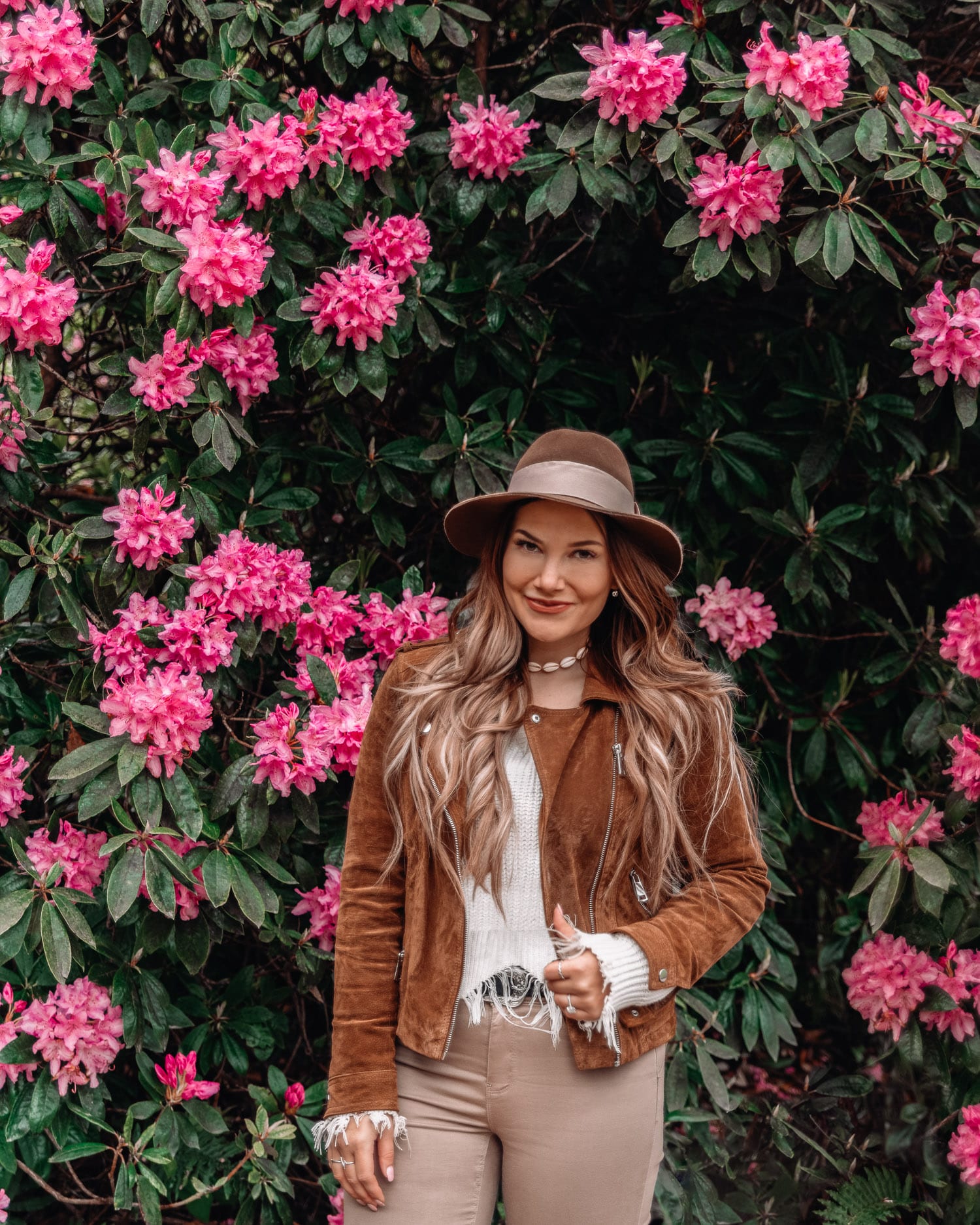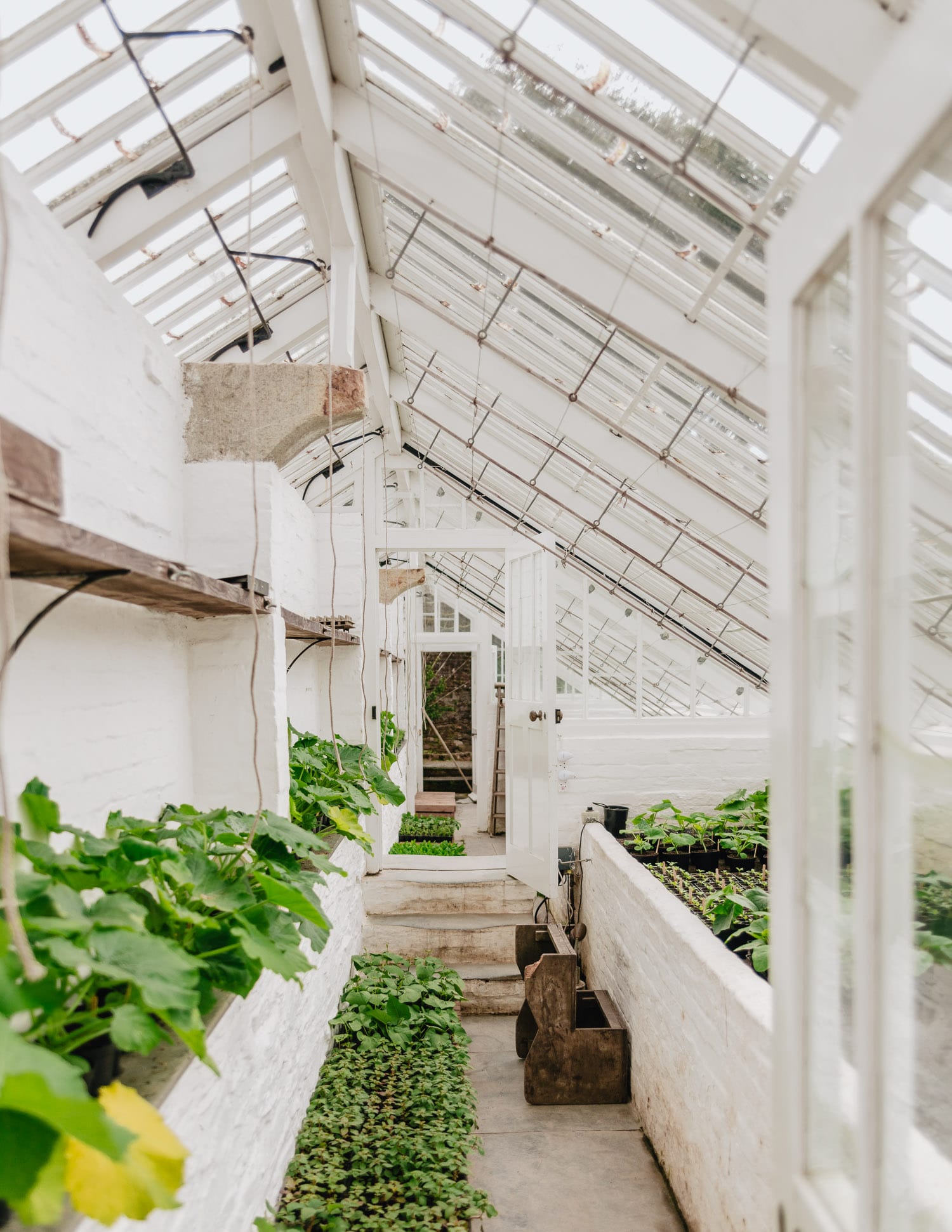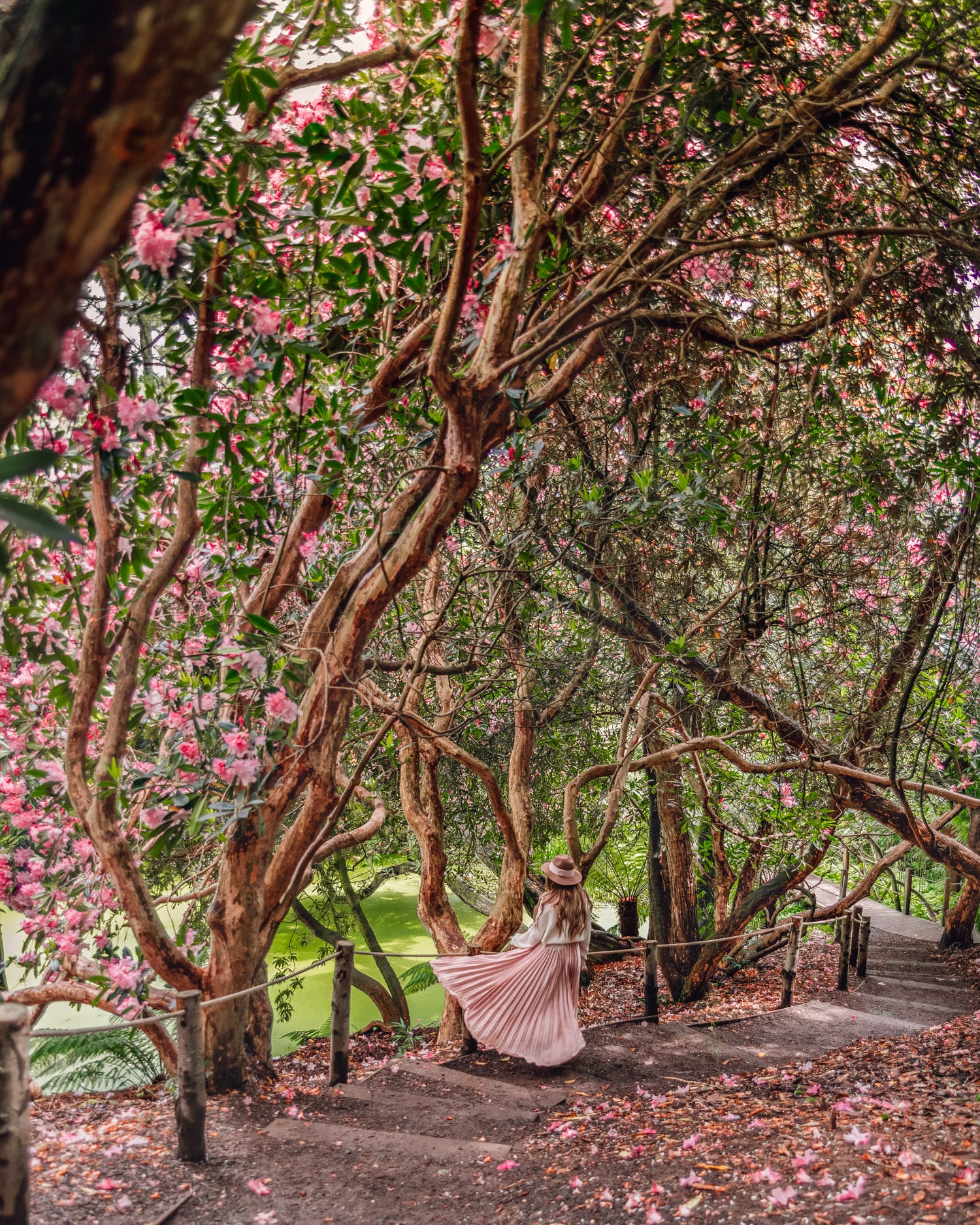 Instagram hack
Bring a lightweight maxi skirt or two in your handbag, and you can change your outfit in seconds! I pulled this pink skirt on top of my jeans to take this (and more) photos in this article.
Moomaid of Zennor
– Legendary Cornish ice cream in St. Ives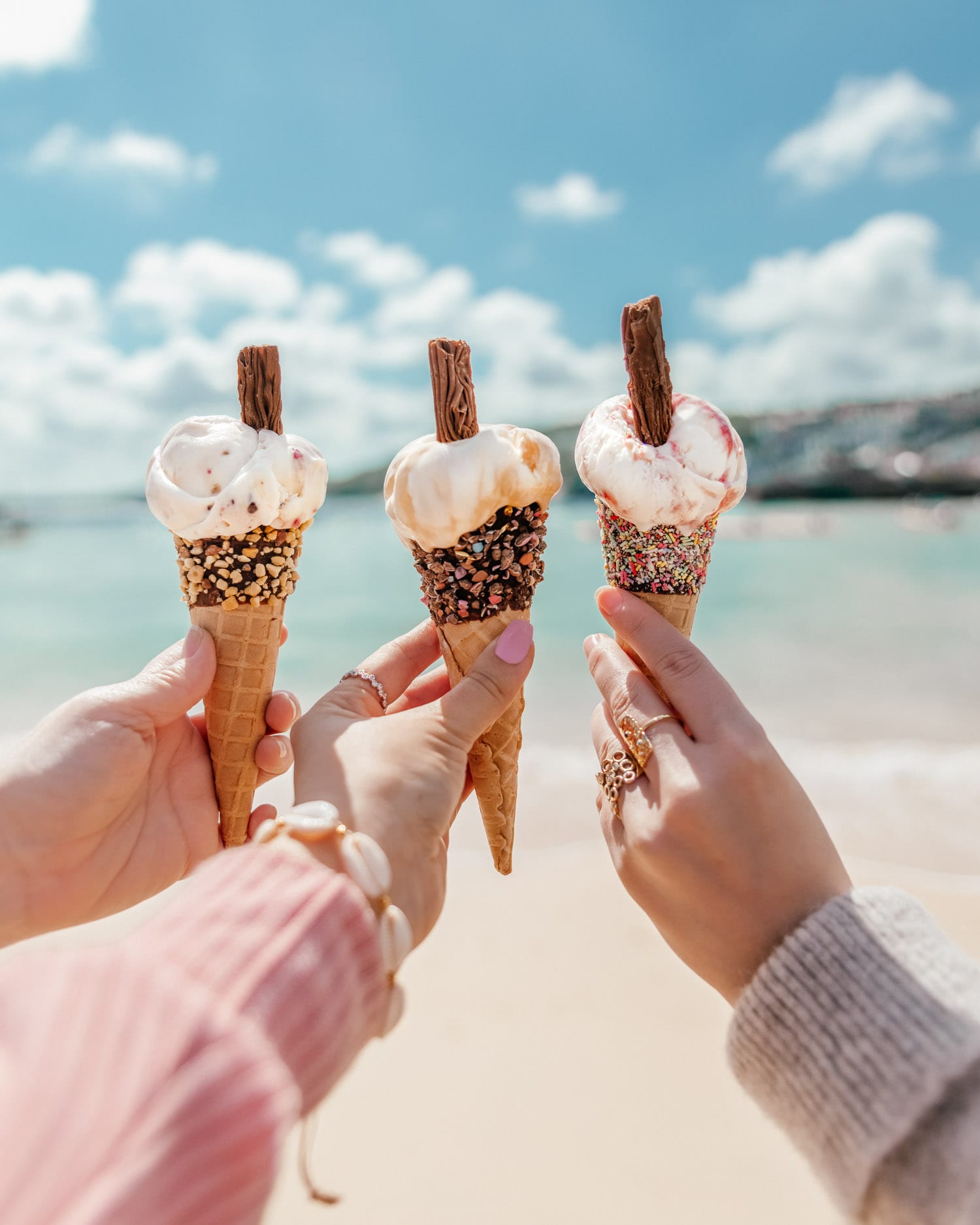 The best (and most Instagrammable) ice cream in Cornwall is probably found at Moomaid of Zennor. This cute ice cream parlor in St. Ives is known for its luxury and legendary Cornish farmhouse ice cream.
Choose between 35 different flavors, pretty cones, and lots of add-ons. Also, the taste is AMAZING! I could probably travel here just for a scoop of the bestseller flavor, "Shipwreck."
Worth mentioning is that the shop is located by the harbor, so you only need to step outside to get a beautiful background to your ice cream shot.
St Michael's Mount
– Cornwall's most iconic landmark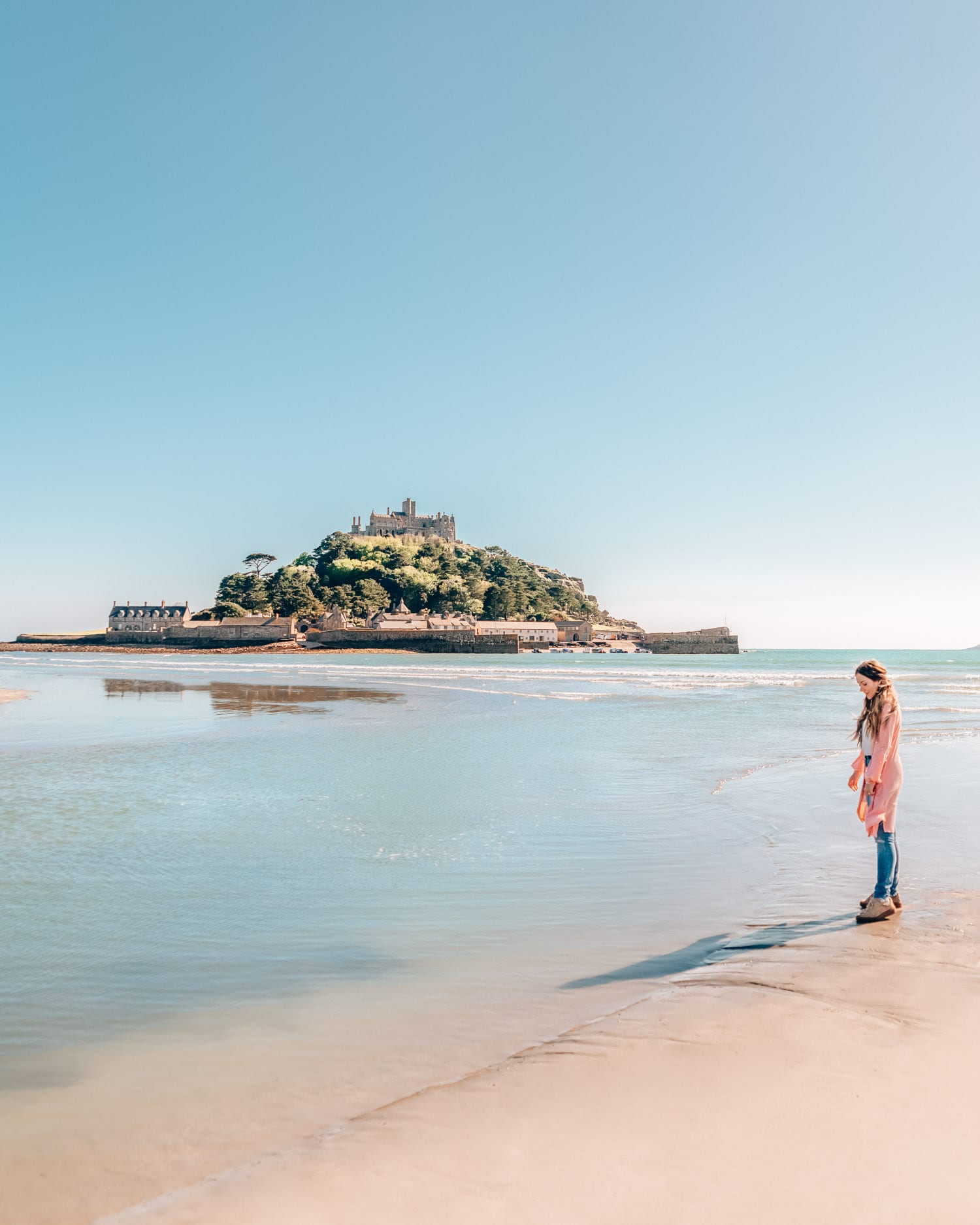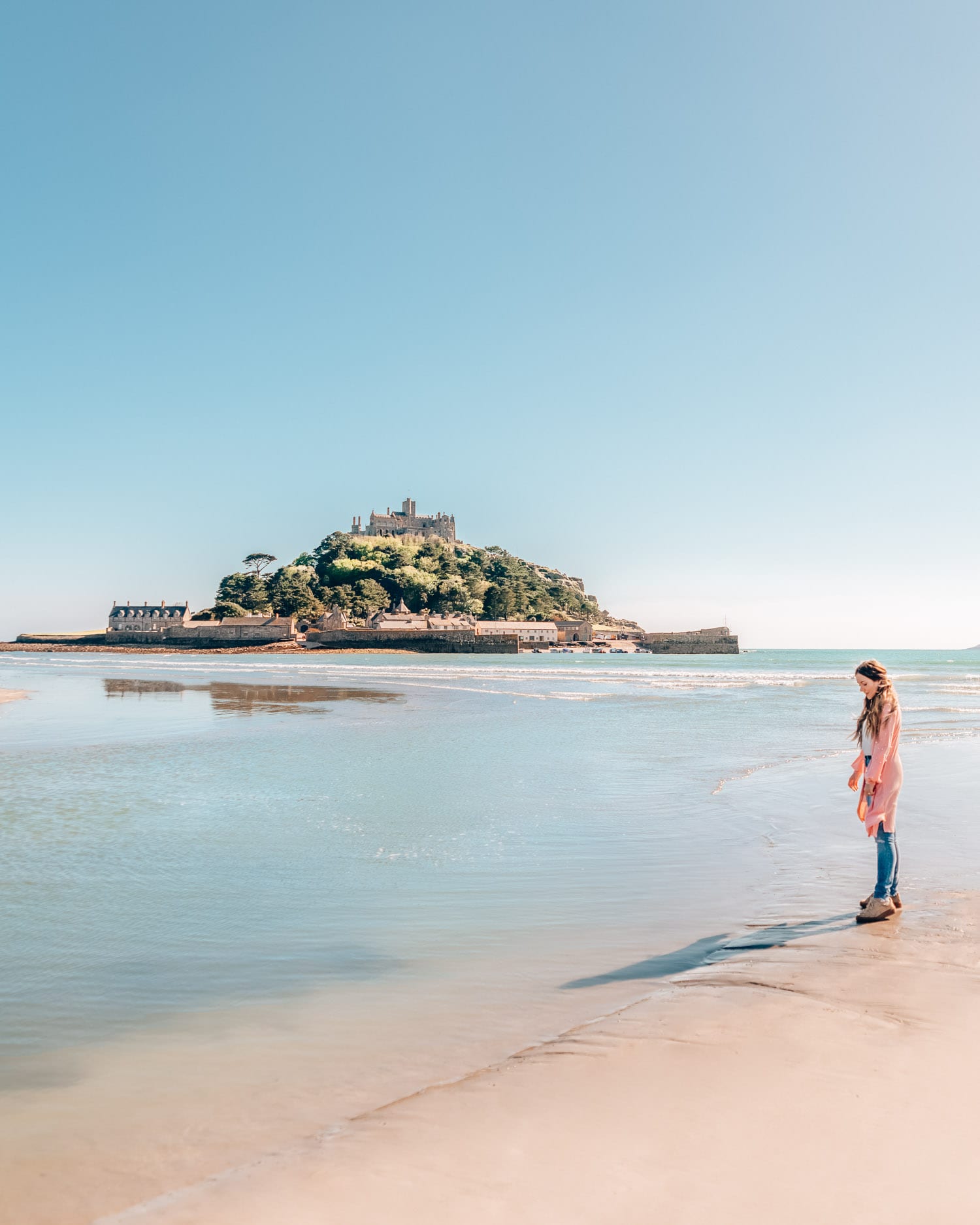 One of the best attractions and most Instagrammable places in Cornwall is St Michael's Mount.
It's a tidal island in Mount's Bay, crowned by a medieval castle and church. During mid and low tide, you can reach St. Michael's Mount on foot. It takes just minutes to cross the ancient cobbled causeway where a legendary giant once walked.
At high tide, the causeway is submerged, and you can take a boat across the water to the island. If you want to snap some epic shots for the gram, take photos when the pathway is halfway underwater (this looks so stunningly dreamy!).
Climb to the castle, explore the sub-tropical gardens, and admire the glorious views.
St. Michael's Mount is a must-see in Cornwall.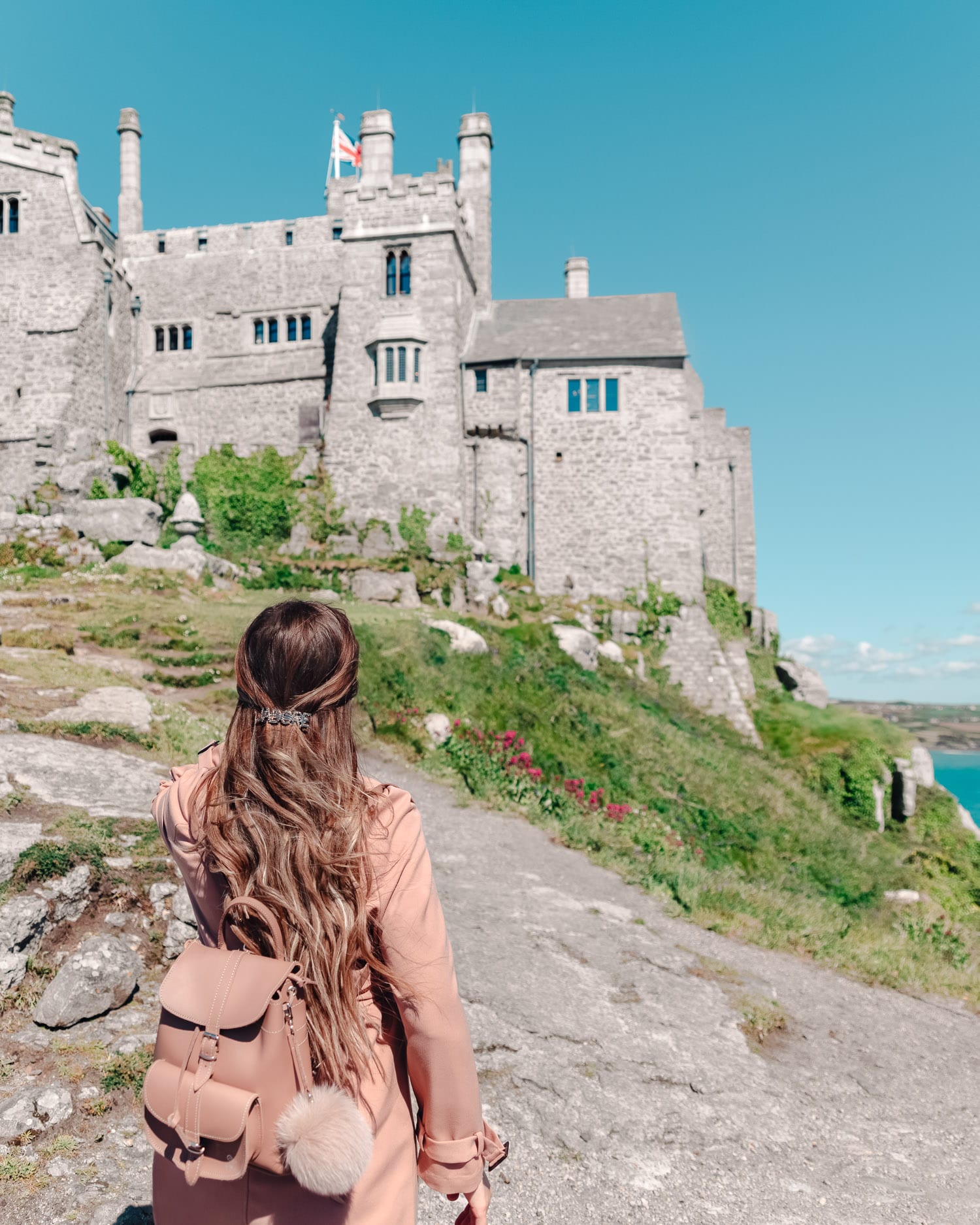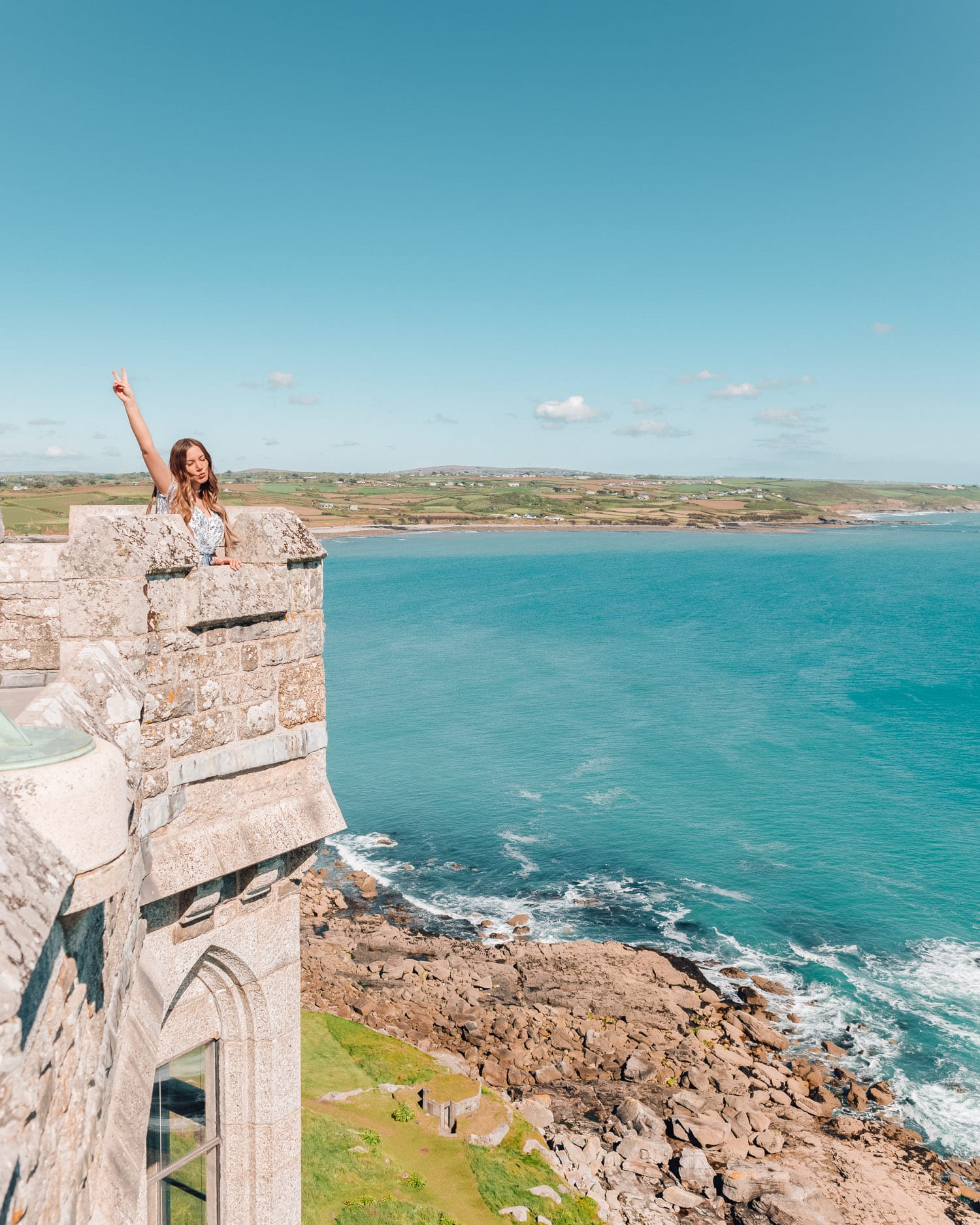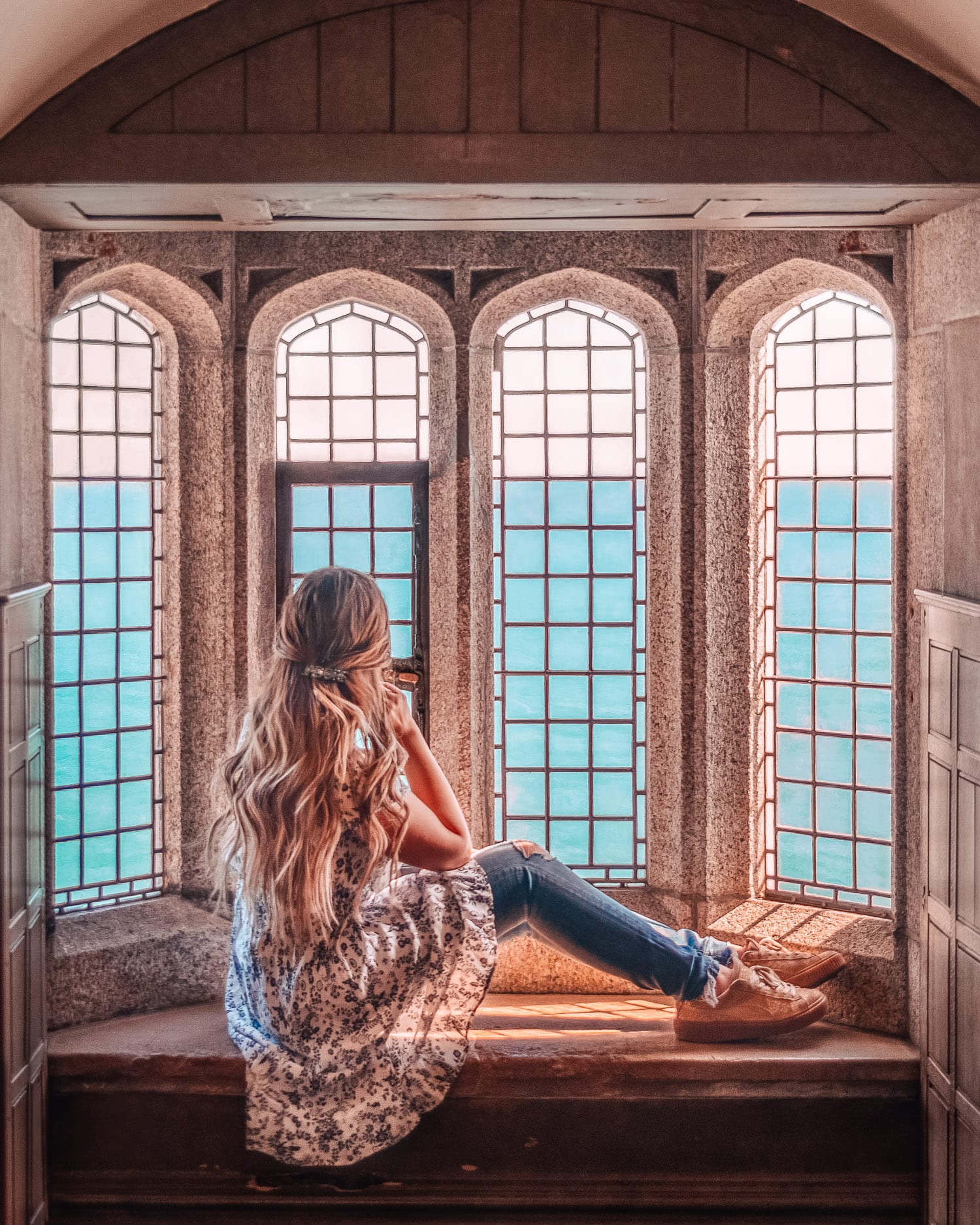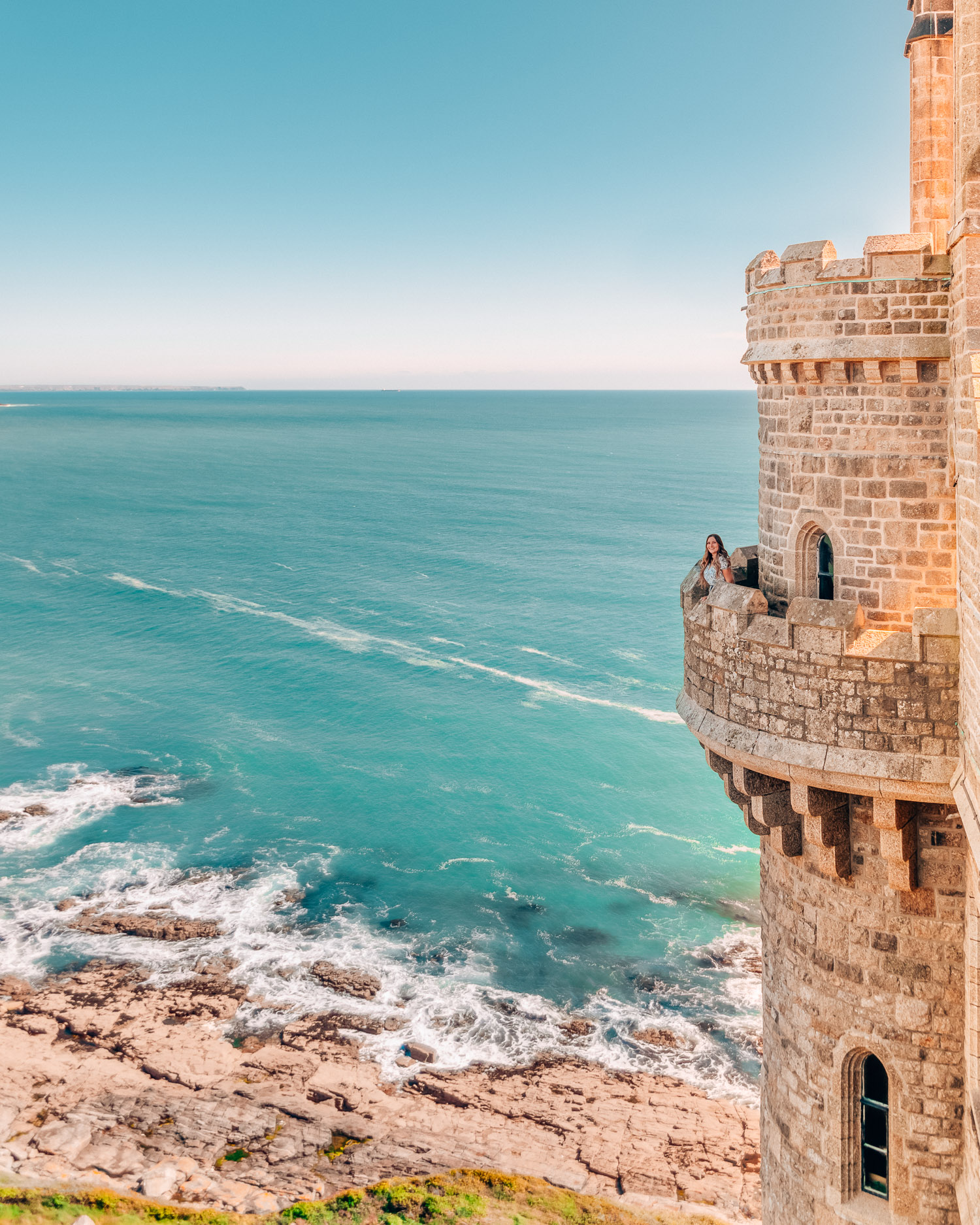 St. Ives
– "The dazzling jewel in Cornwall's crown"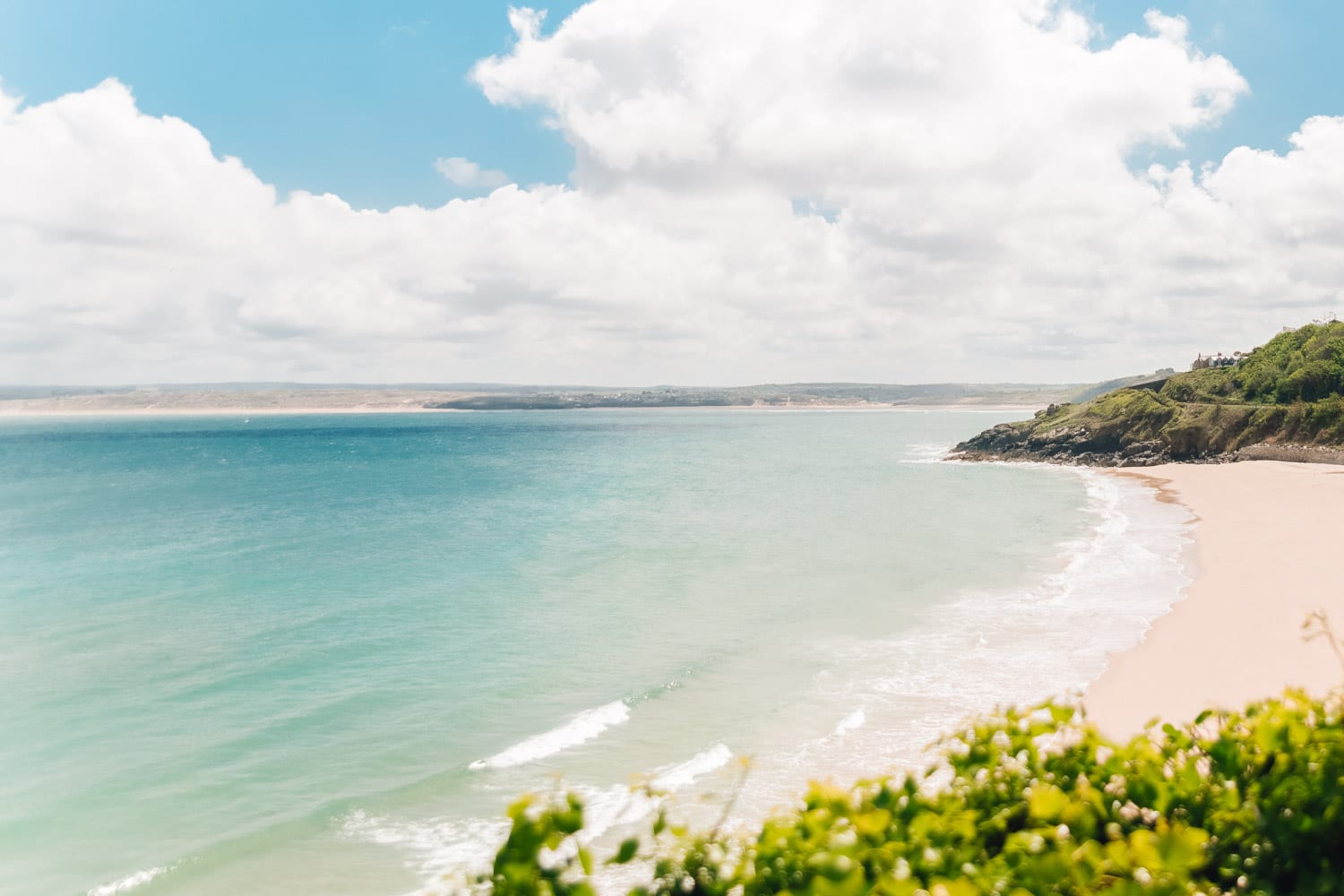 How pretty isn't this view? No wonder St. Ives has been named the Best UK Seaside Town more than once.
You might have to remind yourself that you are in mainland Britain and not on a Mediterranean island paradise.
Besides boasting with a quartet of golden-sand beaches and Cornwall's best surf spots, St Ives seaside town is charming and full of character.
There's a maze of narrow cobbled streets, fisherman's cottages, cute independent shops, award-winning restaurants, cafes, cozy pubs, and many galleries and exhibitions.
Book a trip to Cornwall here (compare cheap flights, trains & buses)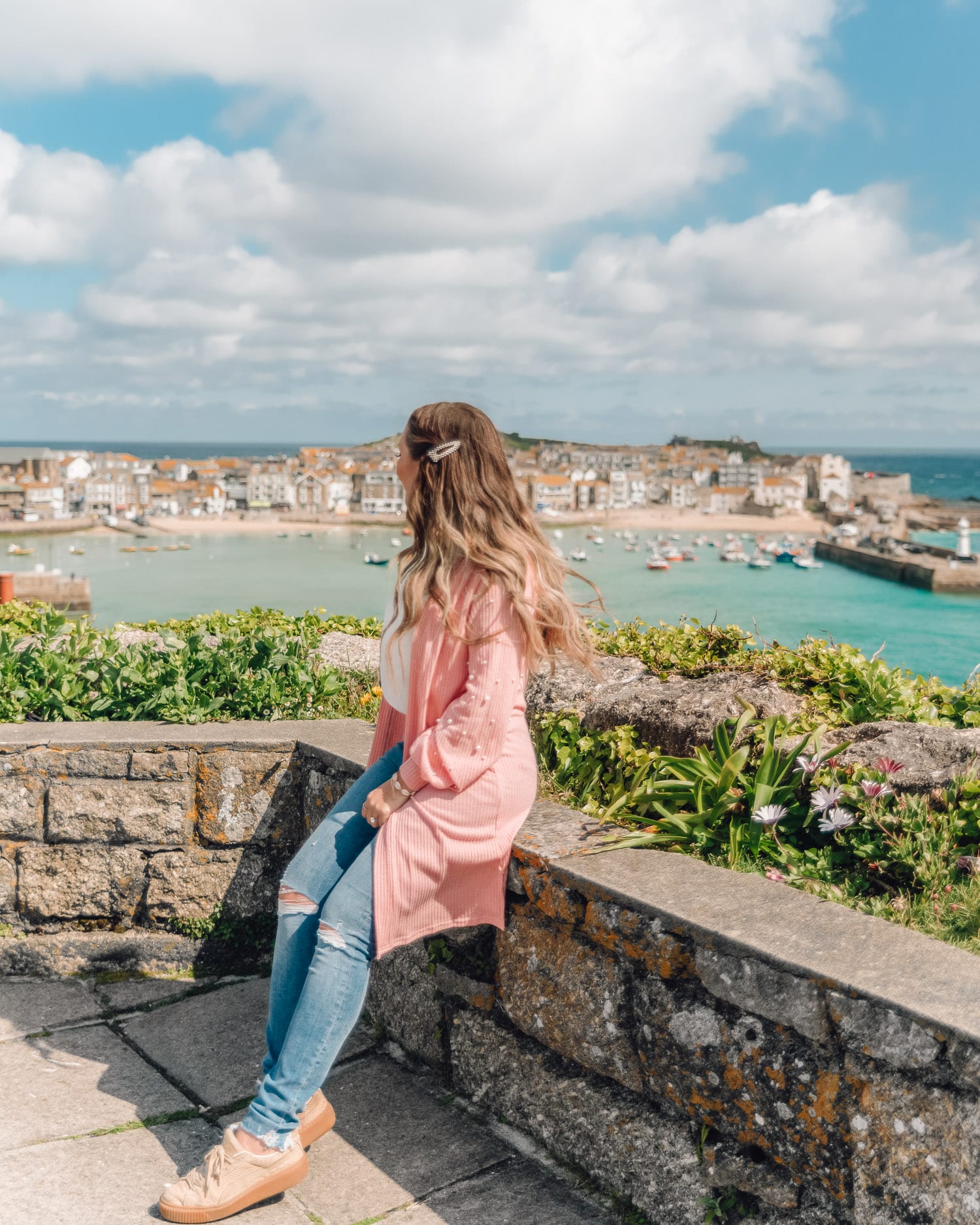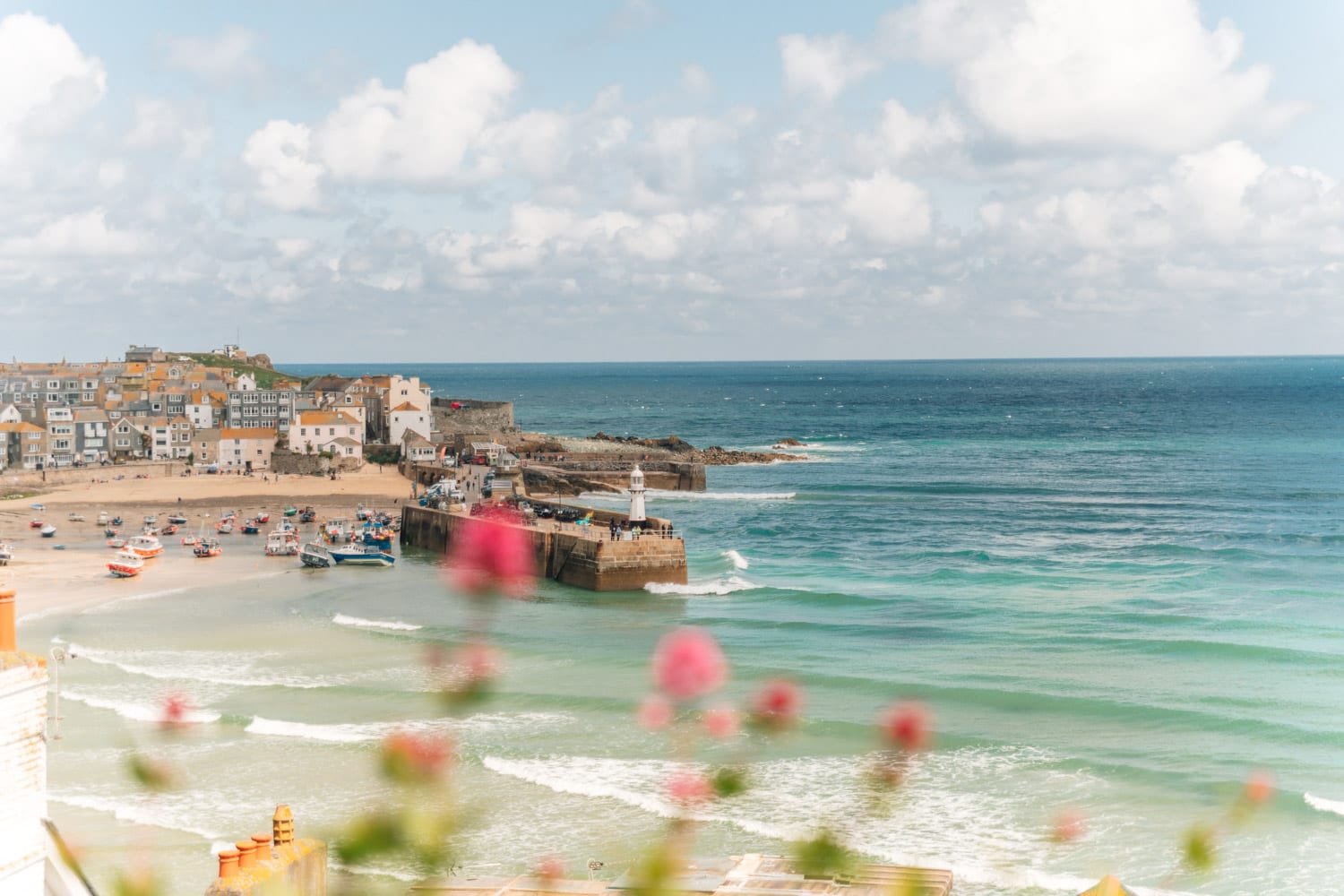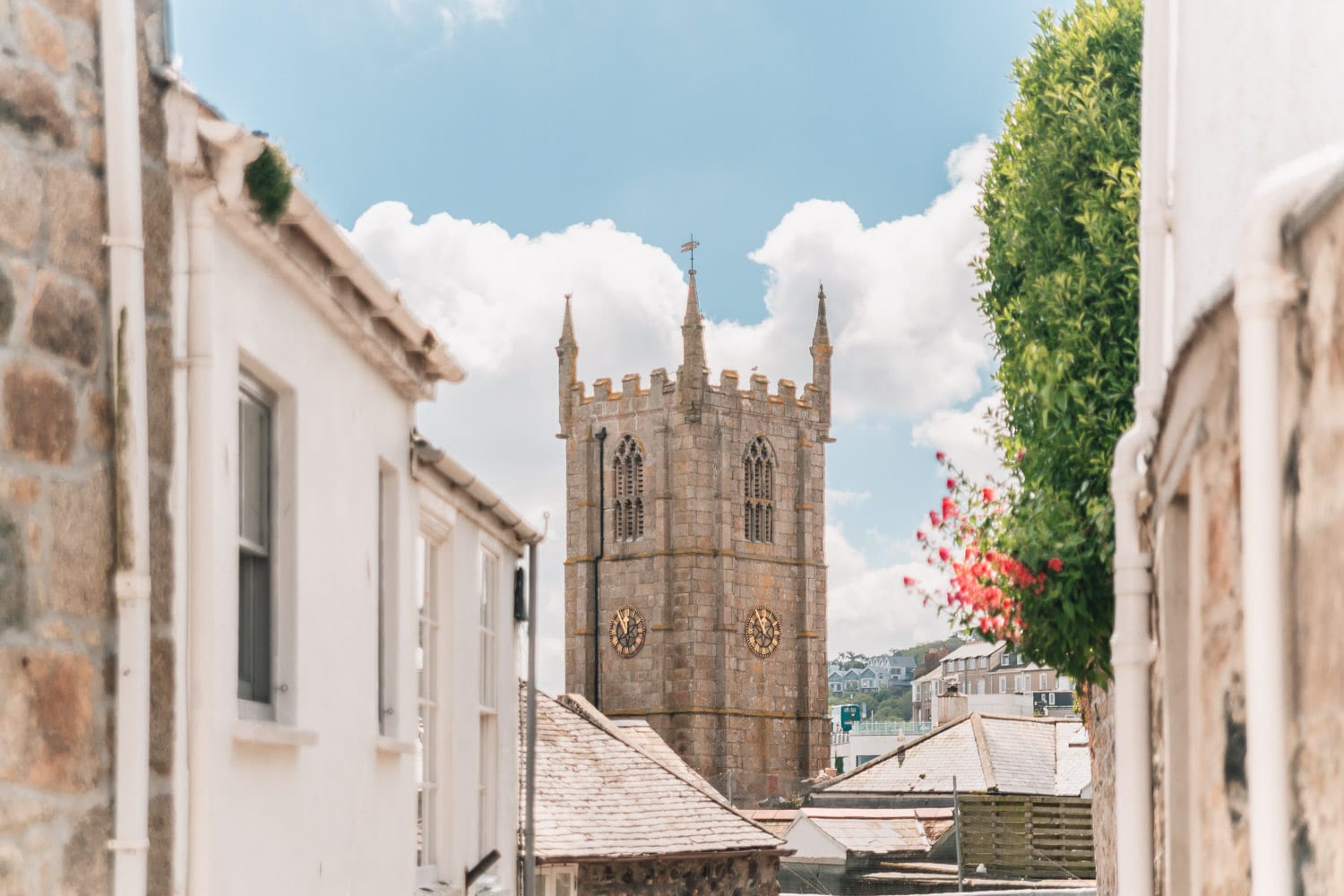 Eden Project
– The world's largest greenhouse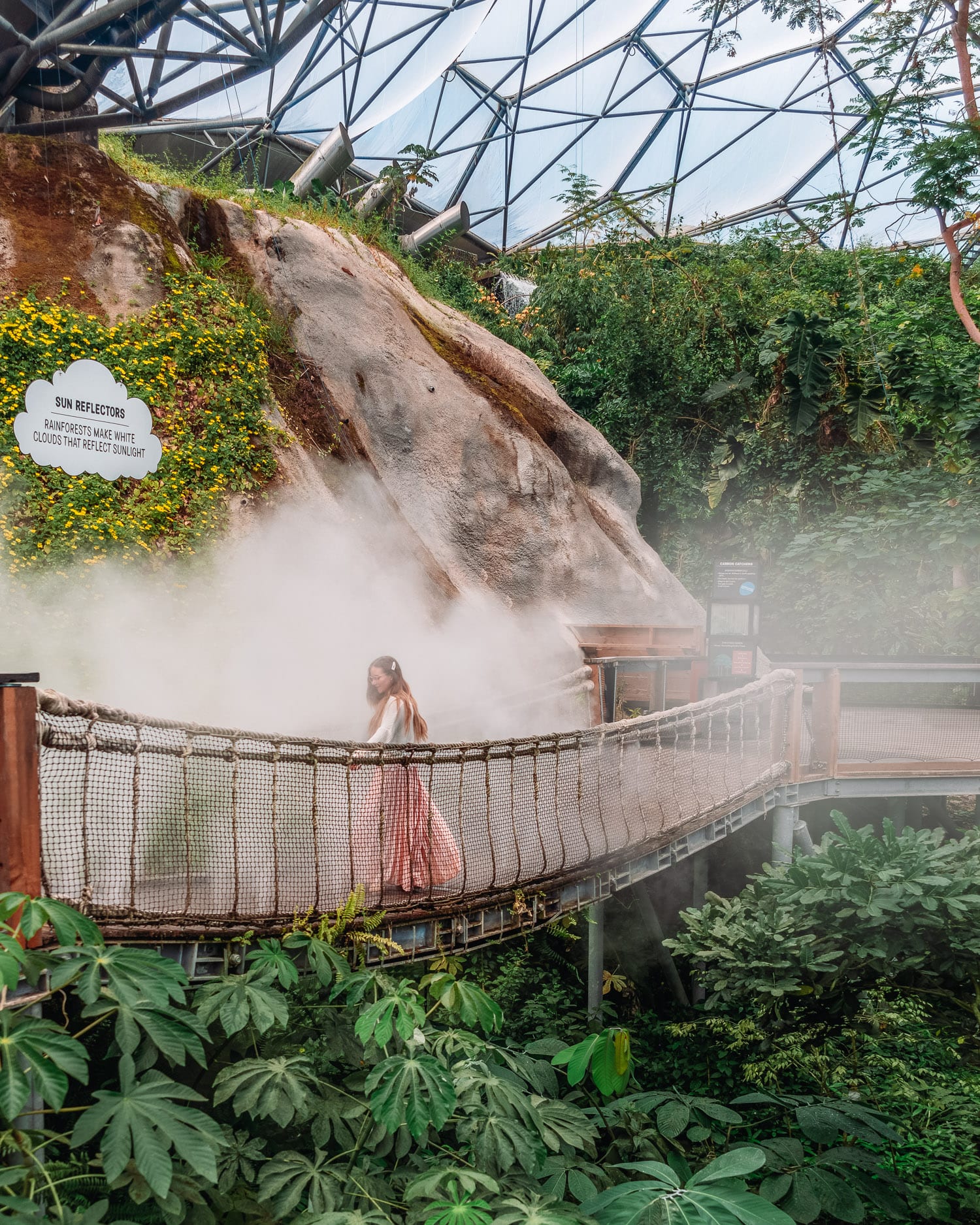 Exploring the Eden Project is one of the top things to do in Cornwall. It's the world's largest greenhouse!
What's more, The Eden Project is a breathtaking and refreshing green attraction with a focus on sustainability and fun, educational, and family-friendly activities.
With three climatic zones and nearly two million plants, there's a lot of natural beauty to discover.
Most impressive are the two famous biomes bubbles, one simulating a rainforest environment – with everything from steamy jungle to a waterfall inside, and the second a Mediterranean environment. There's also an outdoor garden where you can see hemp, sunflowers, and other plants.
Depending on when you visit, it might be quite busy, but if you are patient and have some extra time, you can get awesome shots in different environments – looking like you've traveled all over the world.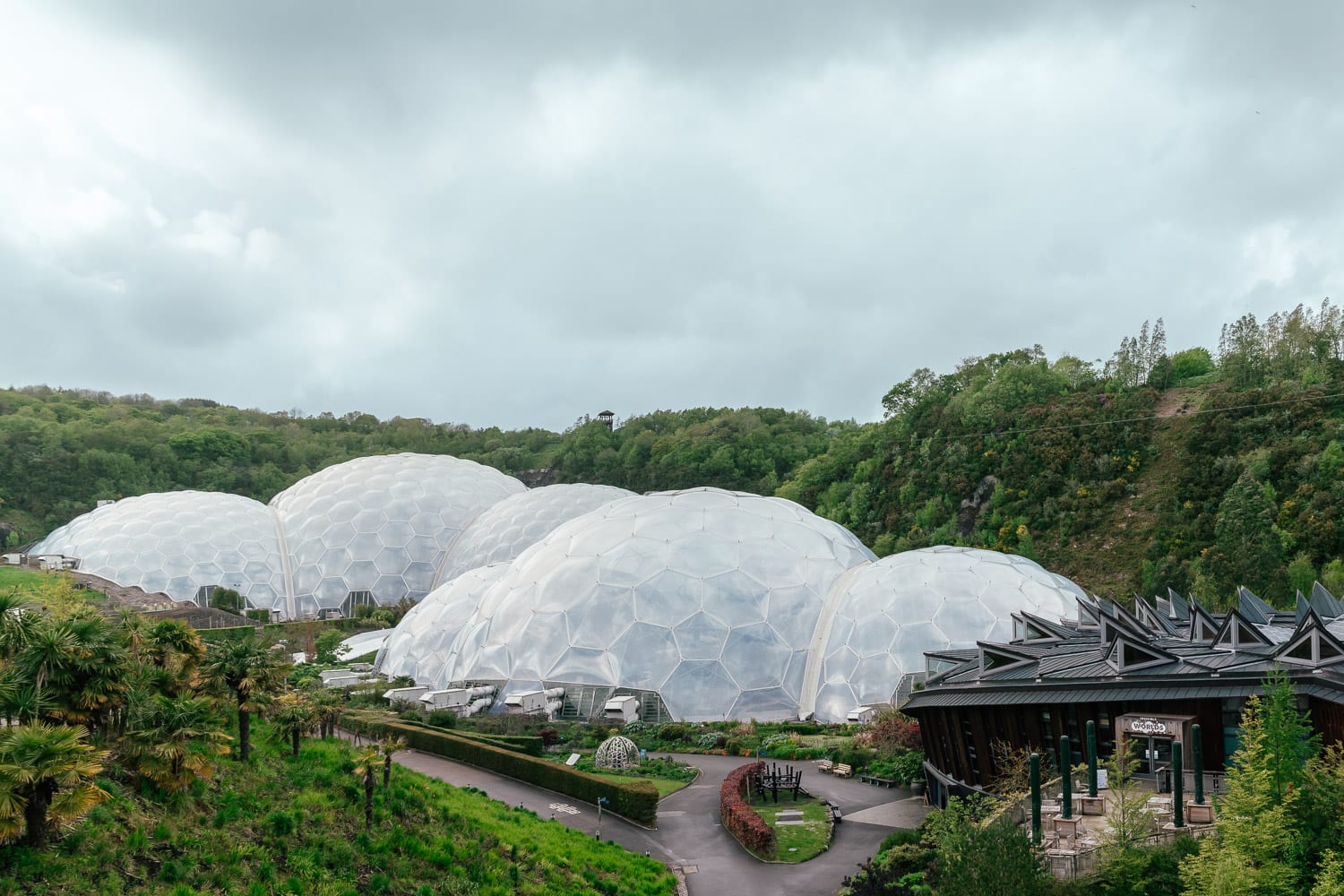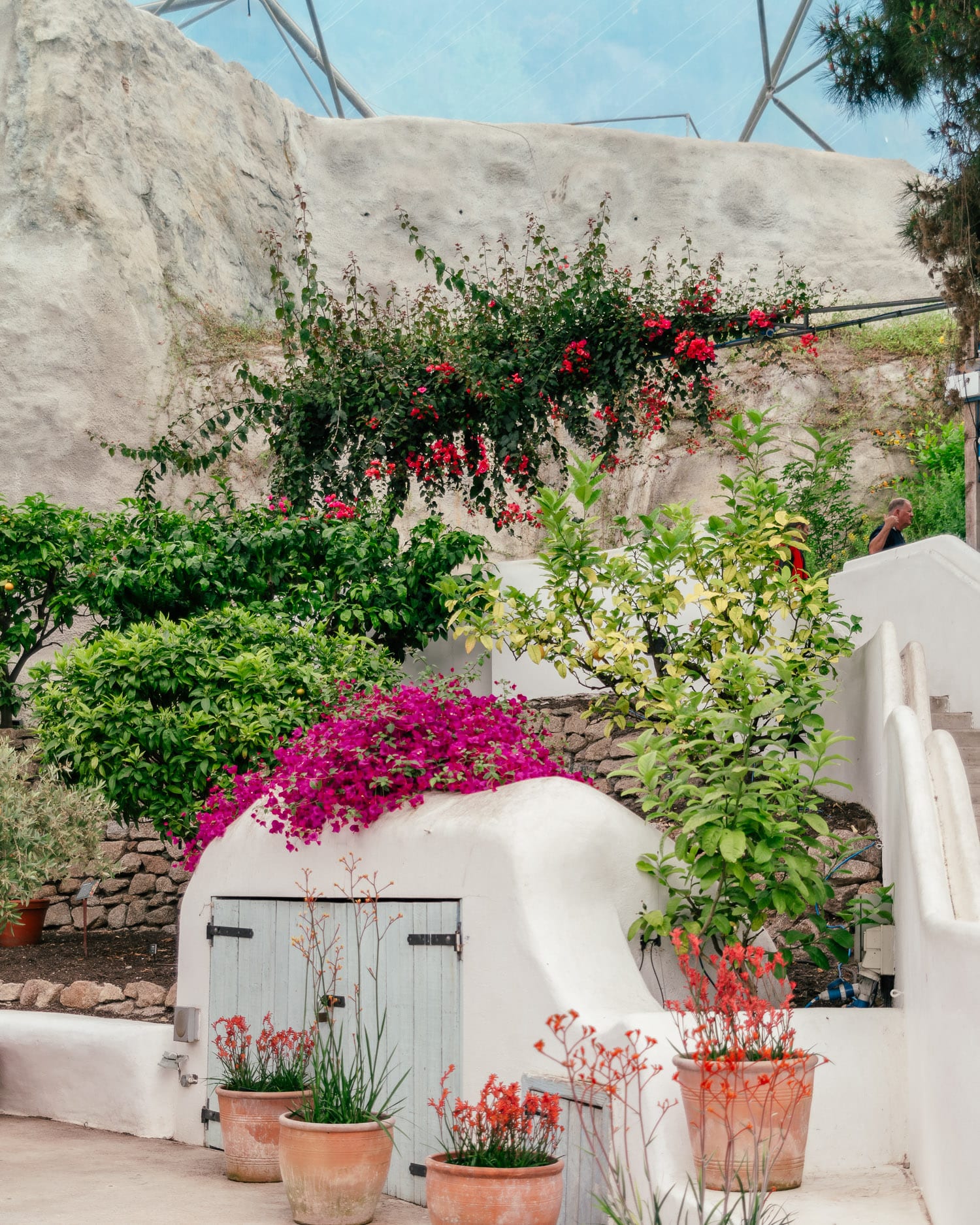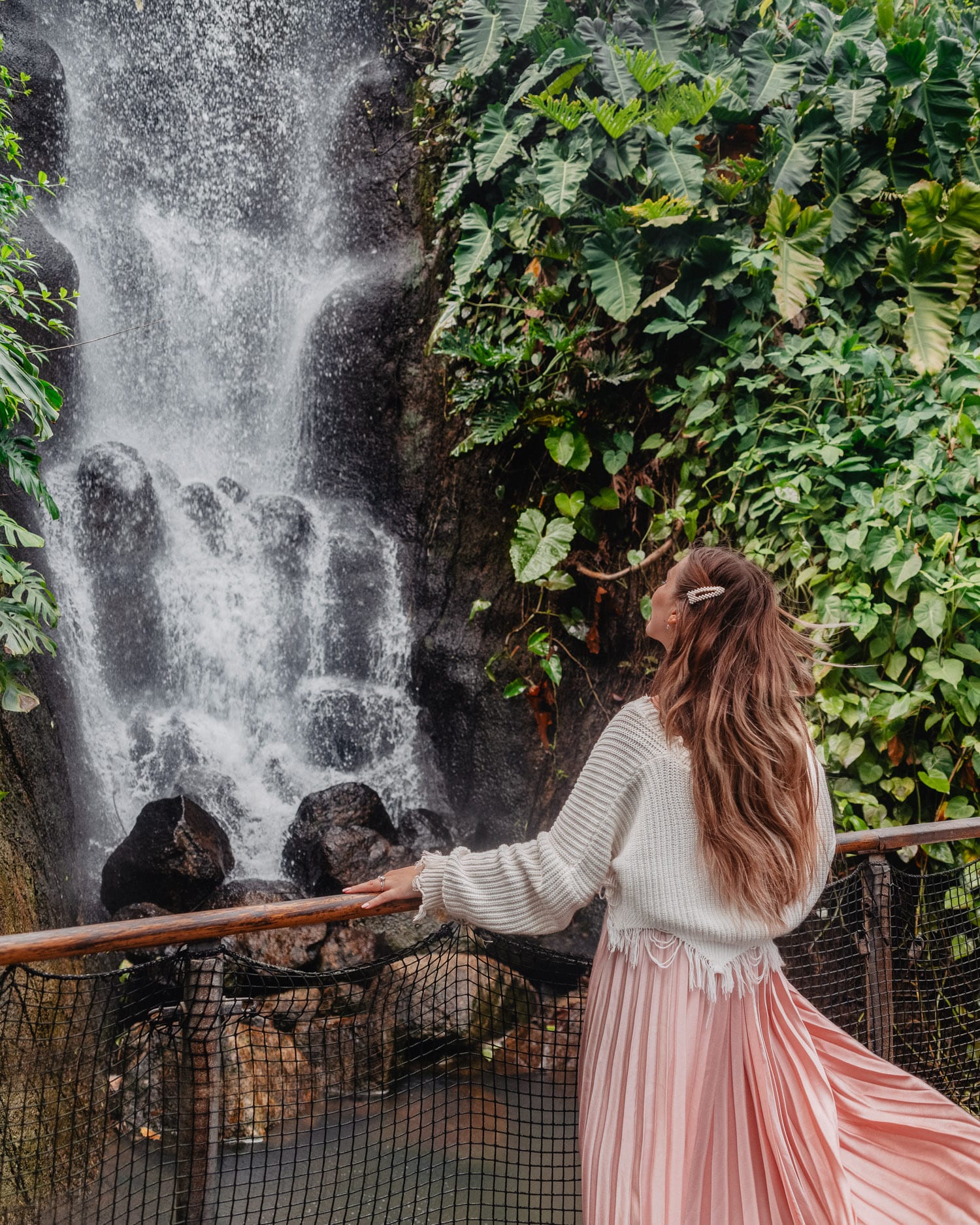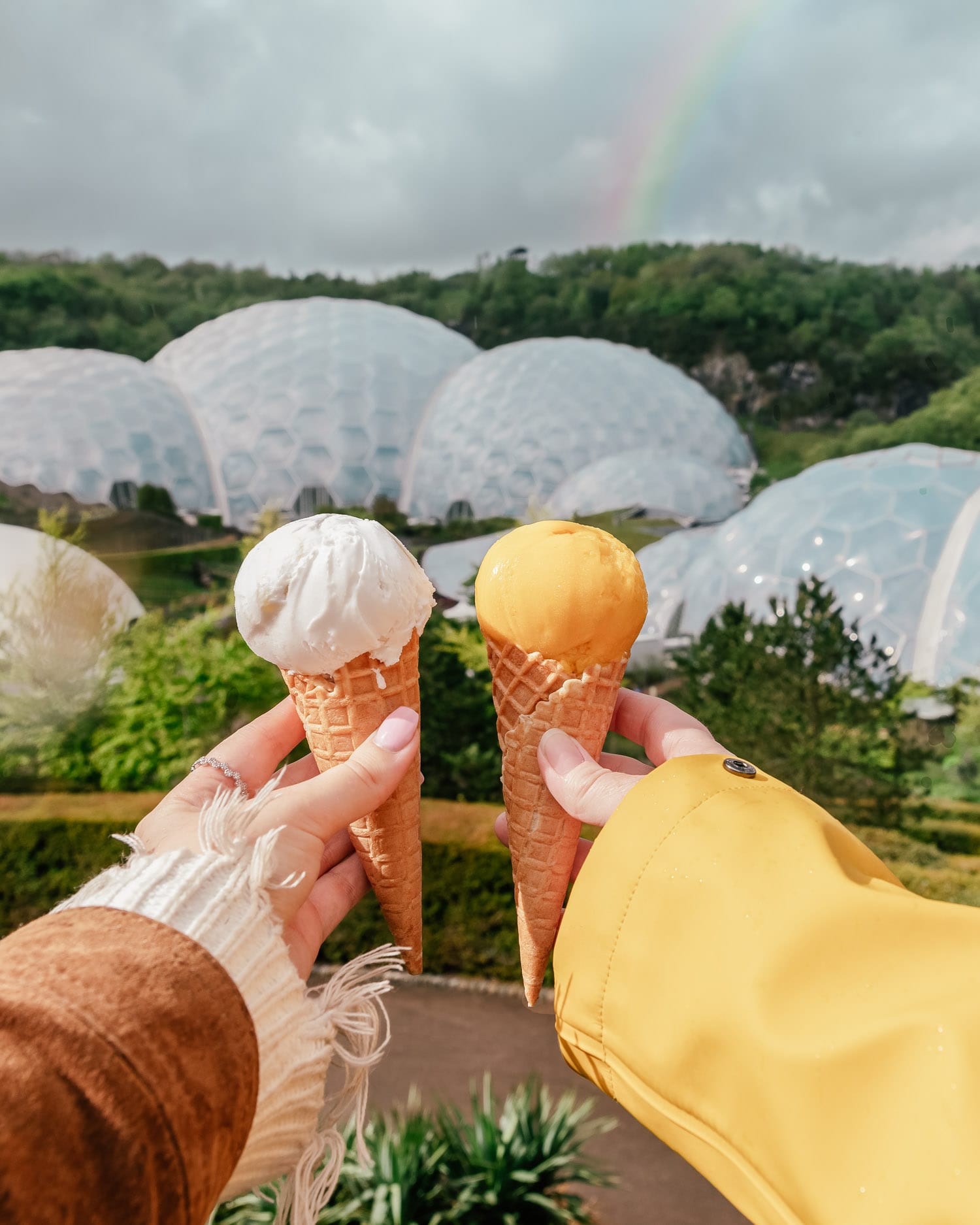 The Alverton Hotel
– A romantic escape in the heart of Truro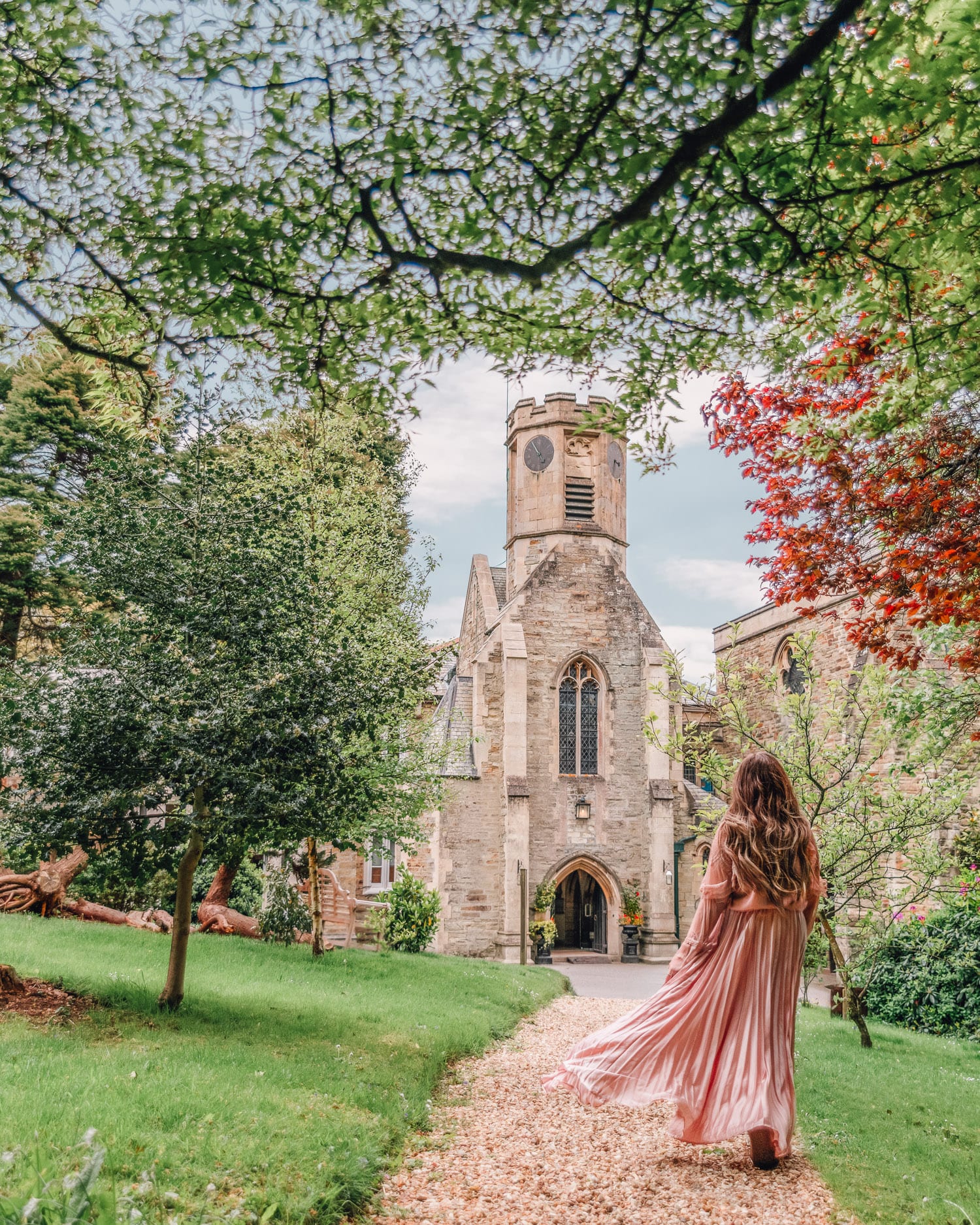 If you're looking for a beautiful place to stay, you're in luck! There are many incredible-looking hotels in Cornwall. From castle and Cornish beach hotels to luxury spa hotels with clifftop hot tubs.
I stayed at the gorgeous The Alverton in the heart of Truro. It's so romantic!
This 4-star hotel is in a Grade II listed building that has stood on its lush green hillside setting since 1830. It's a hotel full of character with historic charm, contemporary design, and laid-back luxury.
The hotel rooms are very Instagram-worthy, just like the charming private gardens, the lovely manor house, and the food and drinks. From the award-winning breakfast to cocktails on the terrace.
For more wonderful hotel options, check out my picks below!
More Photogenic Places to Stay in Cornwall
Click here to see the latest prices and availability for accommodation in Cornwall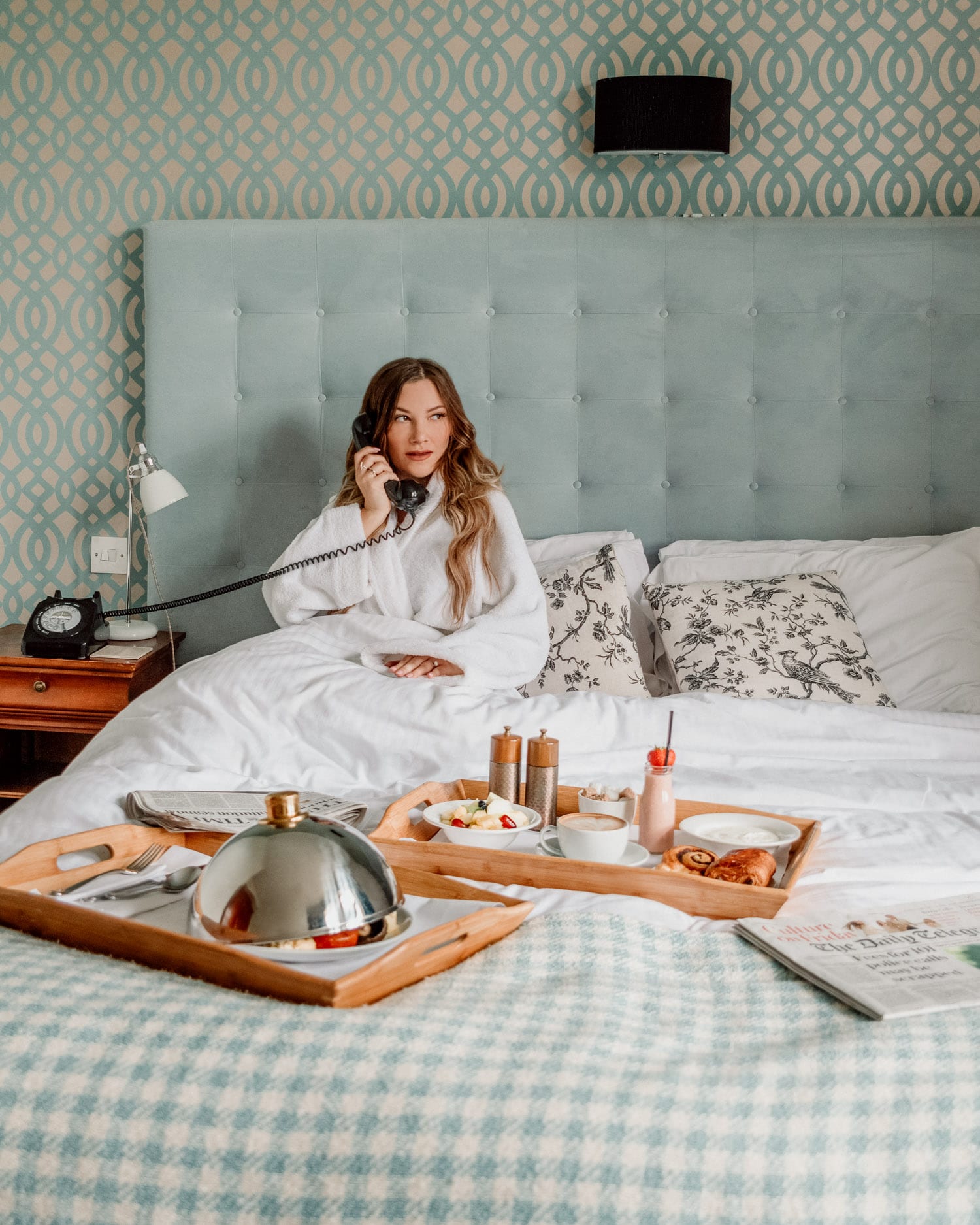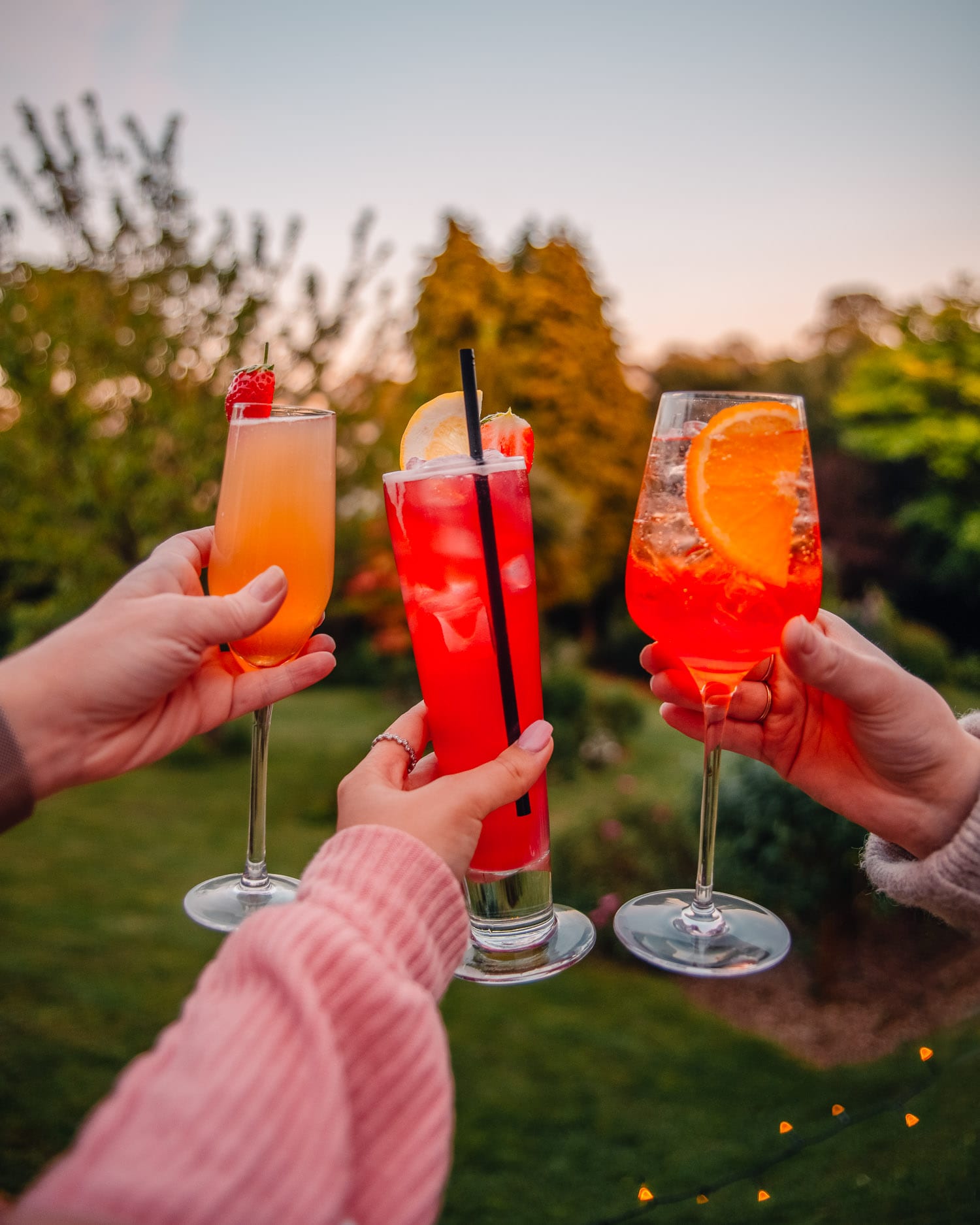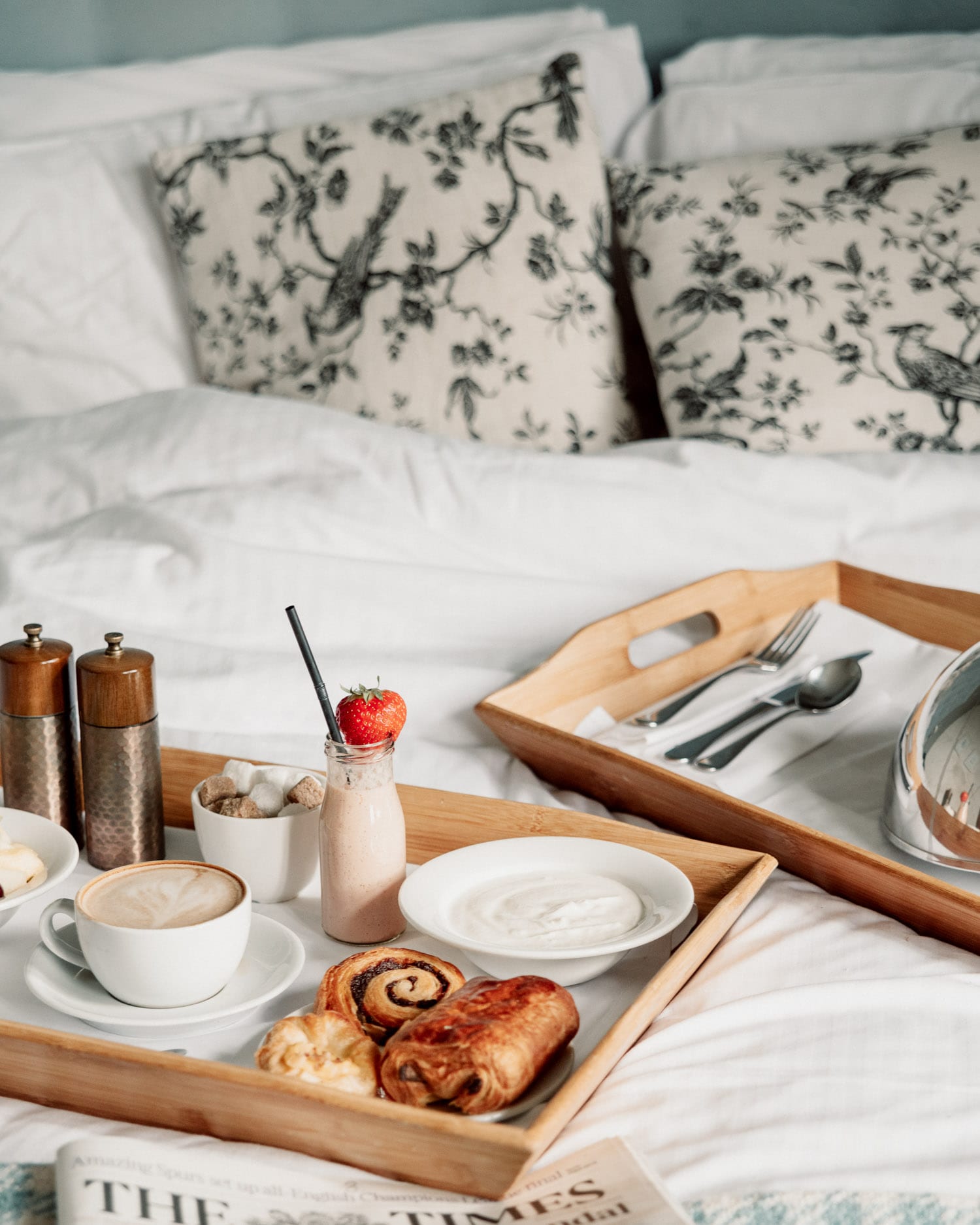 Read more: The Most Instagram-Worthy Spots in San Francisco
The Cornish Barn
– Rustic restaurant in Penzance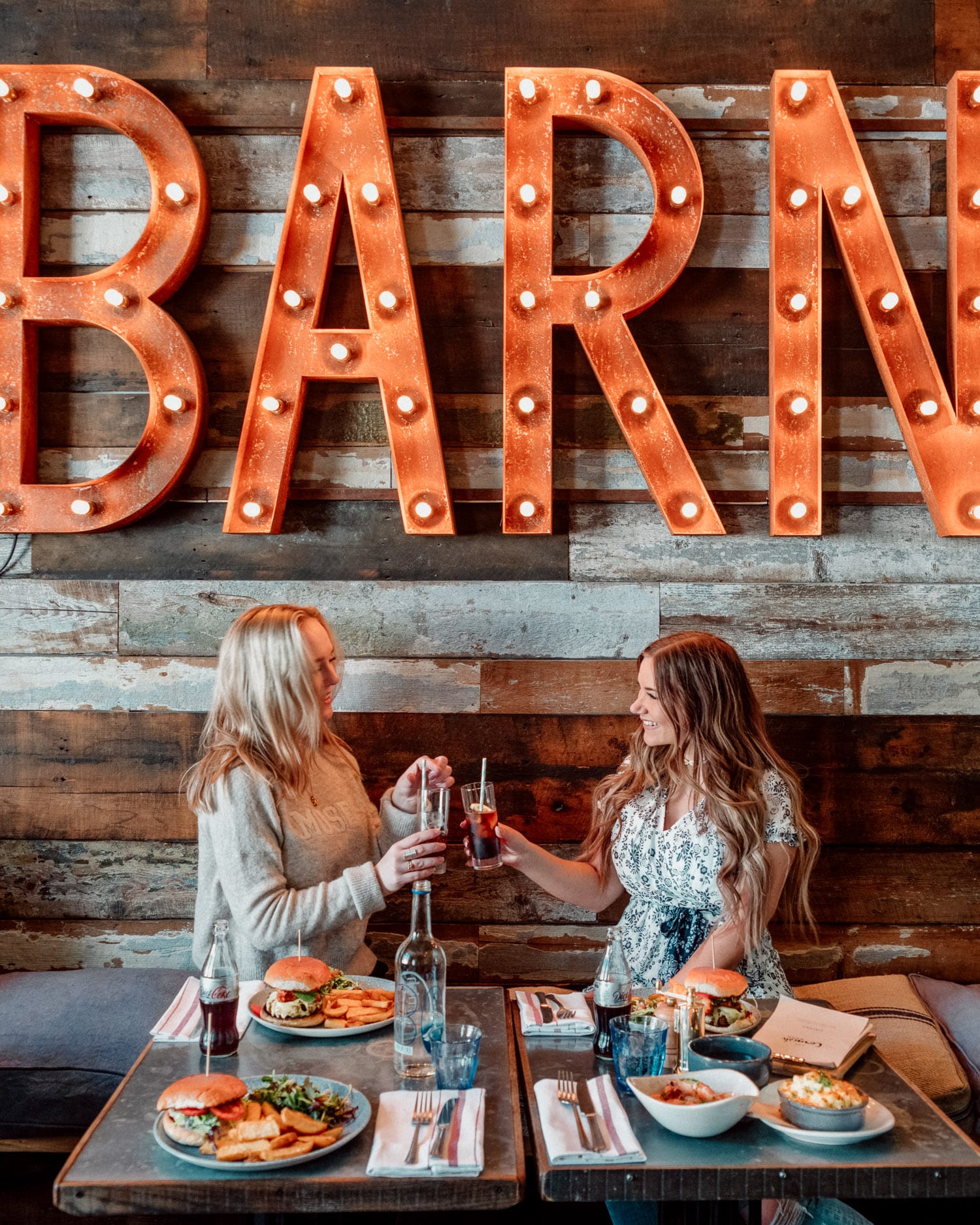 For an Instagram-friendly restaurant in Cornwall, check out The Cornish Barn in Penzance. It's a rustic restaurant, smokehouse, bar, and lounge with a cozy and laid-back atmosphere. Adding to the rustic theme are a huge neon sign, lots of plants, wooden boards on walls and floors – and rustic food to match.
The wholesome menu focuses on fresh Cornish produce.
I had a tasty veggie burger for lunch, which was a treat after a day of exploring Cornwall.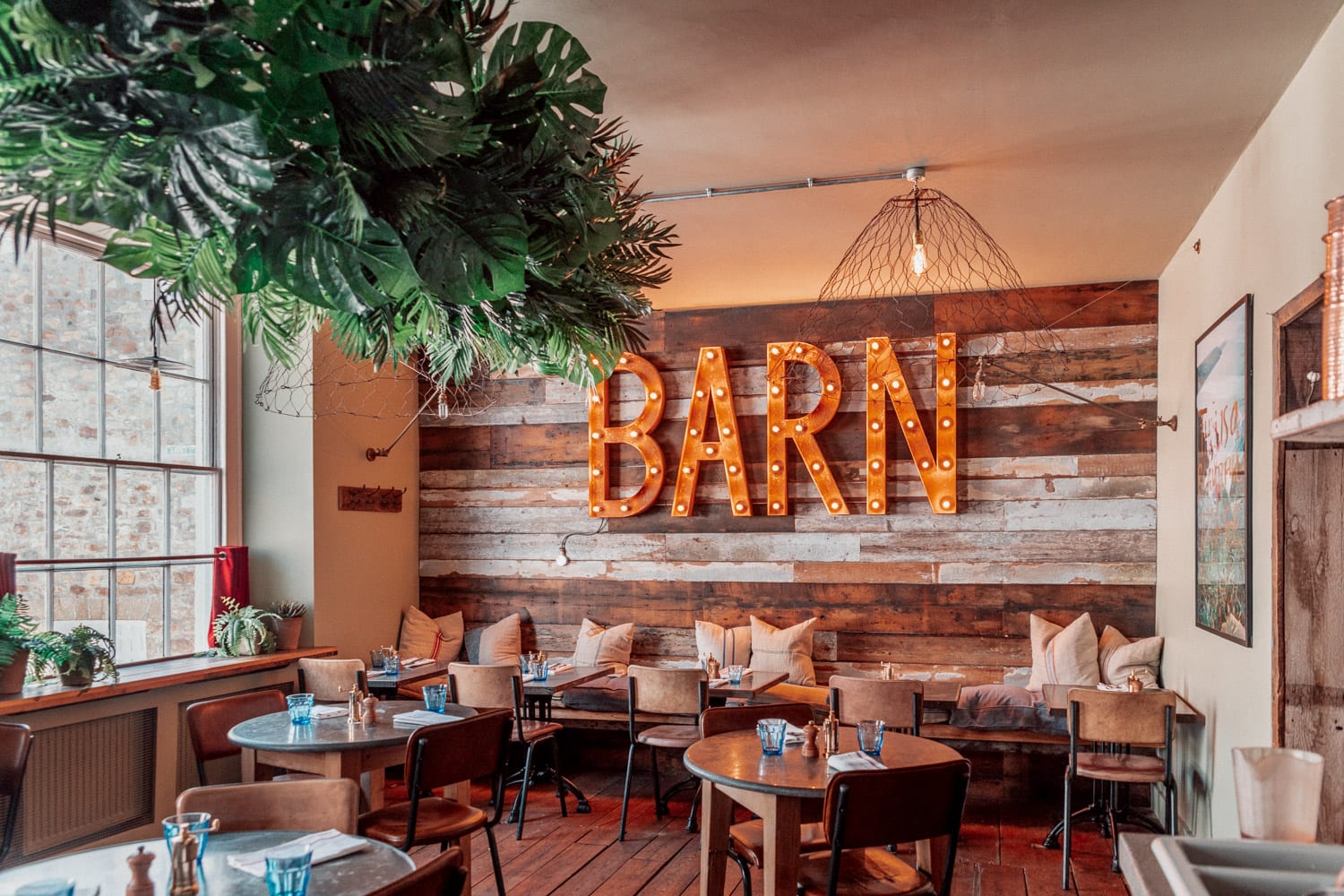 Truro Cathedral
– Cornwall's impressive cathedral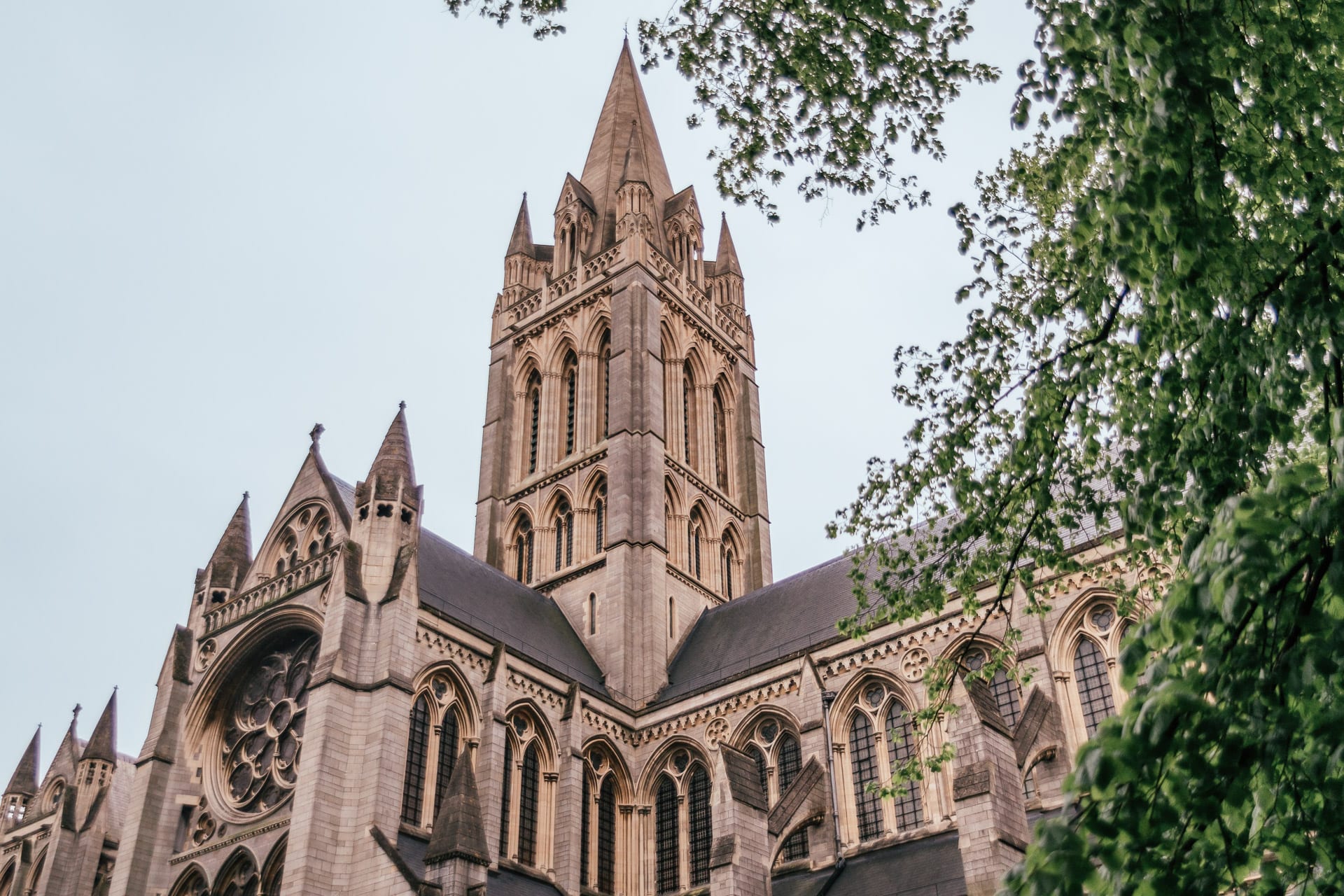 Something you literally can't miss if you are near Cornwall's capital Truro is Cornwall's cathedral. With its three high spires, Truro Cathedral is soaring above the surrounding rooftops and totally dominating the skyline.
The gothic revival architecture is a show-stopper (just like I've heard the stained glass windows inside are).
With more time on my hand, I would have loved to take some street shots with this grand cathedral in the background.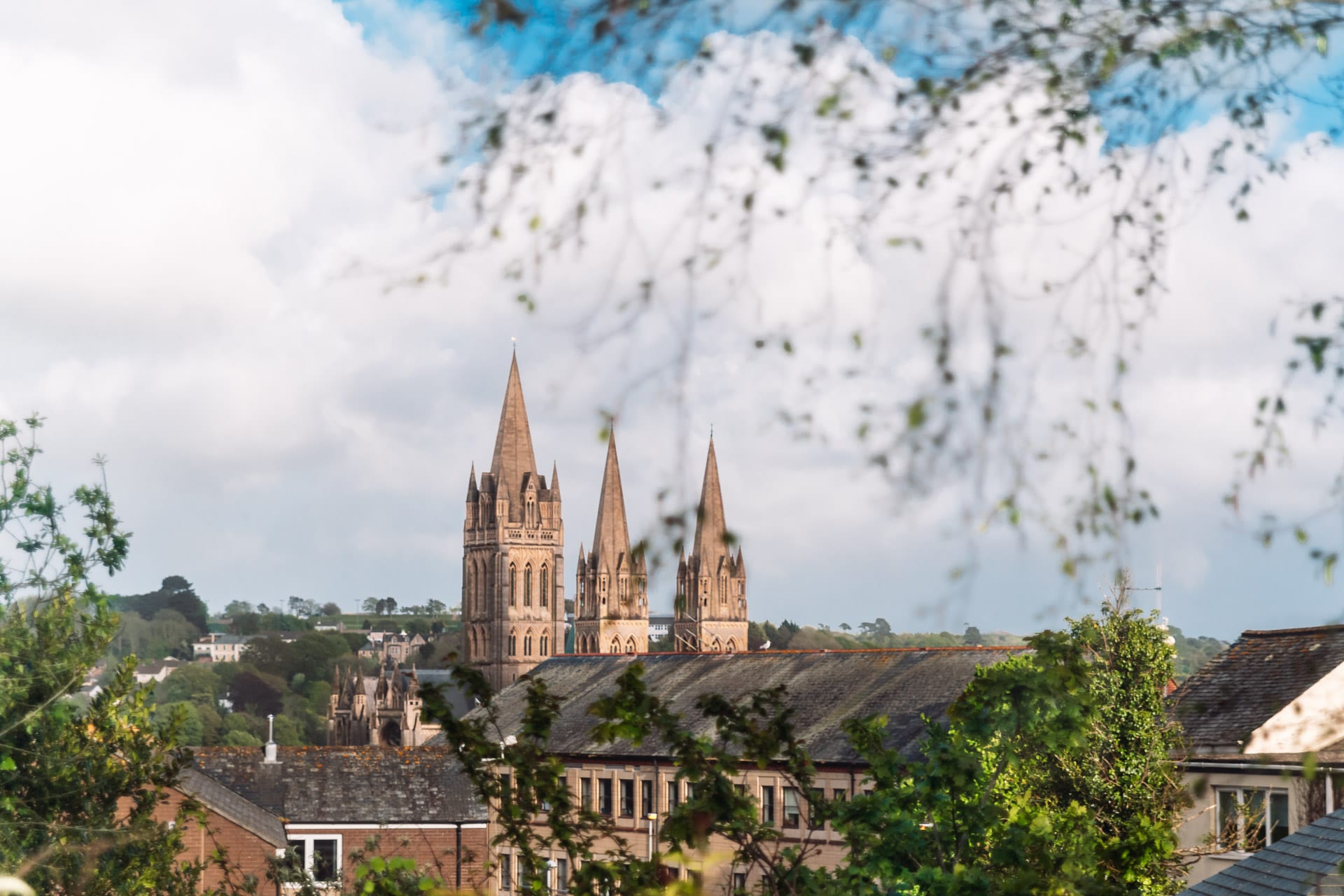 More Instagrammable Places in Cornwall
All pictures in this article are shot with a Nikon D850 and a Sigma 24-70mm f/2.8 lens.
Outfit ideas for Cornwall

Conclusion
To summarize, Cornwall is an enchanting and charming vacation spot! I've traveled a lot in Britain and discovered many mesmerizing places in England, Wales, Scotland and Northern Ireland.
With all these places in mind, I think Cornwall is amongst the most photogenic destinations in the UK. It's simply magical!
Do you have more tips on beautiful places in Cornwall? Please let us know in a comment!
---
In it to pin it? Save these Instagram-worthy spots in Cornwall for later!
Disclaimer:

I visited Cornwall on a press trip organized by Visit Britain.
As always, all opinions are my own.