Start a Bullet Journal and organize your entire life! I'll teach you all I know about becoming a successful Bullet Journalist in this step-by-step guide for beginners and beyond.
We're all on the lookout for ways to improve our lives, whether it's eating healthier, getting fit, making a career out of a hobby, learn a new language, or just generally crushing every life goal you've ever had. You know, simple stuff.
The first step to making any of this a reality is to GET ORGANIZED.
That's where the Bullet Journal (or BuJo for short) comes in. It's a method to track the past, order the present, and design the future.
This notebook-organization system boosts your productivity and mindfulness. It can change your life! And the best part? If you have a pen and notebook, you can do it!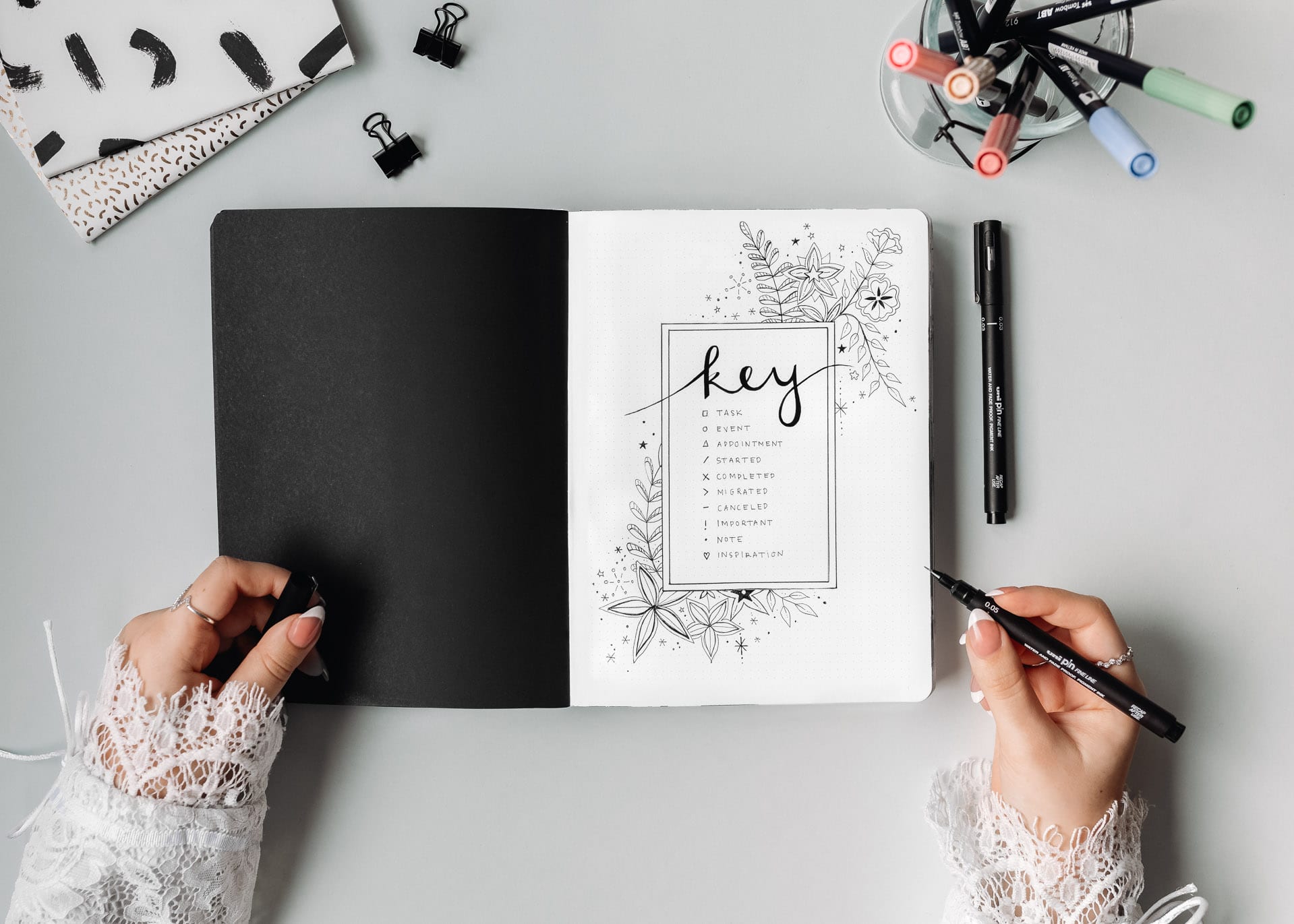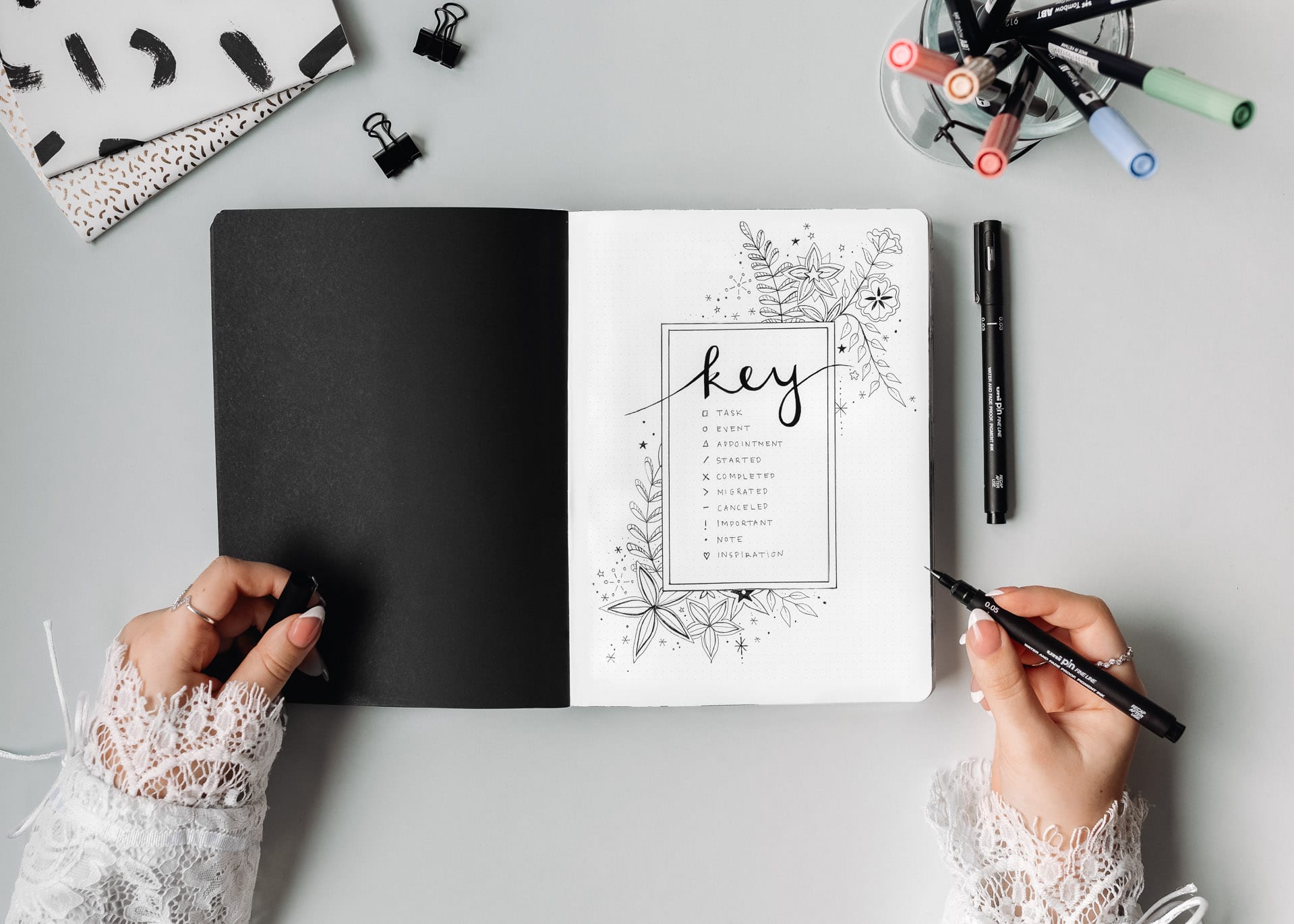 What is a Bullet Journal?
The Bullet Journal is a flexible, journaling system that helps you track short- and long-term goals. You set up your journal into sections by yearly, monthly, weekly, and daily logs to help you be more productive.
Form there, you can track what you need to do, what you should do, and what you want to do.
Ryder Carrol, a Brooklyn based digital designer, introduced the Bullet Journal method in 2013. He calls his system an 'analog system for the digital age.'
His simple and effective method has turned into a viral concept and a cult trend.
Once designers, artists, and other creatives got their hands on Ryder's idea, it went from as minimalistic as possible to a creativity explosion with themed monthly spreads, calligraphy titles, Dutch Doors, stylized borders, Washi tape decorations – and you name it!
But don't worry or get overwhelmed. You can make your Bullet Journal as minimalistic or over top as you want.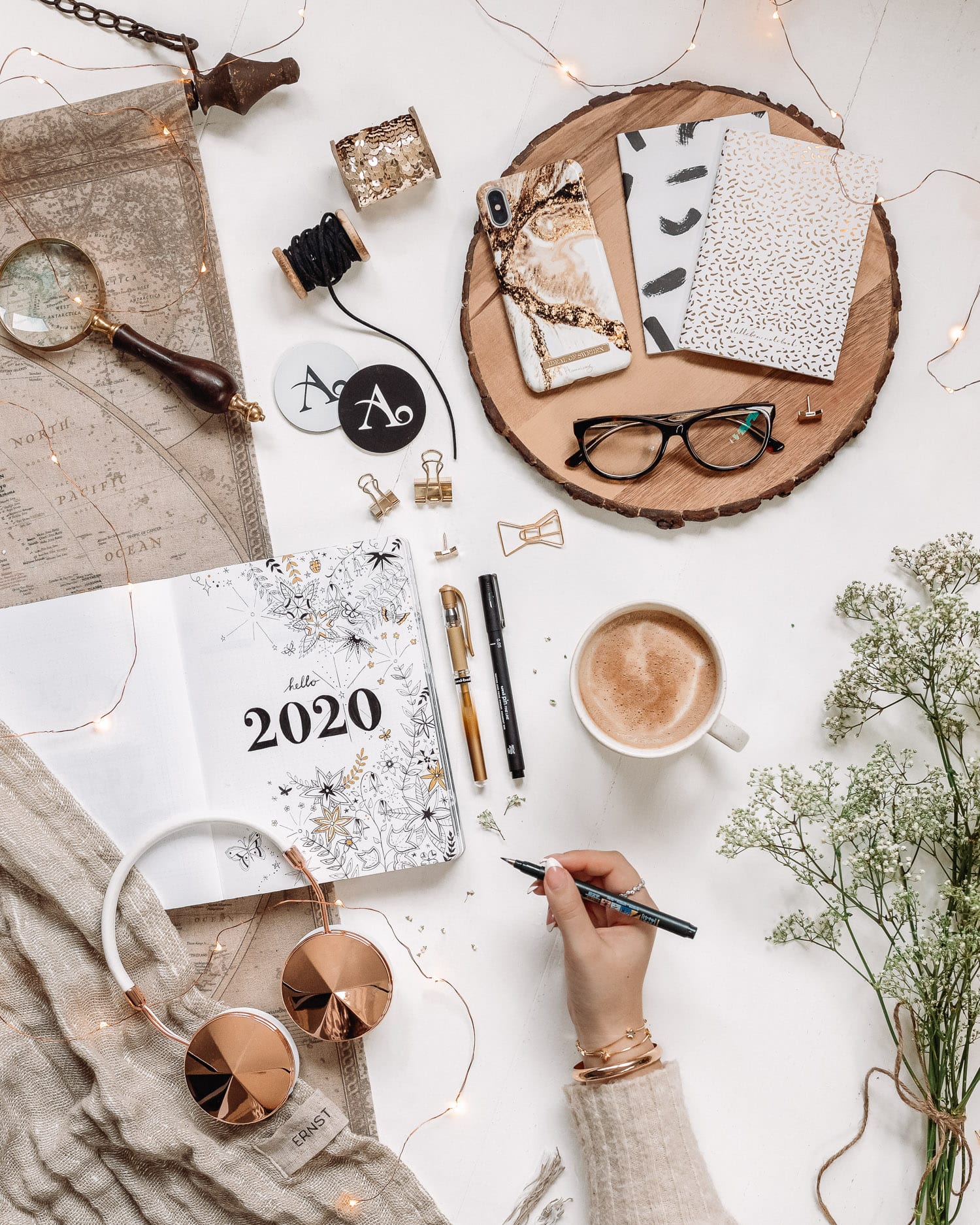 Why Use a Bullet Journal?
In short, it can help you organize your entire life – in a fun, creative, and artful way. It's terrific if you want to declutter your mind, remain focused, and accomplish more.
It doesn't come without effort, though.
You need to turn Bullet Journaling into a habit. Even if it's just five minutes a day, review your Bullet Journal before you get started in the morning and before you go to sleep.
I started using a Bullet Journal because I desperately needed more structure in my life. I wanted to stop procrastinating, turn dreams into plans, and stay motivated.
Not only has BuJo skyrocketed my personal productivity, but it has also made me fall in love with drawing again.
Tip: You can start at any time of the year
With Bullet Journaling, there is no specific time or date to start. You can start a BuJo in the middle of the year, middle of the month, or even the middle of the week, or today.
Since you are starting with a blank notebook, it's all up to you.
WHAT YOU NEED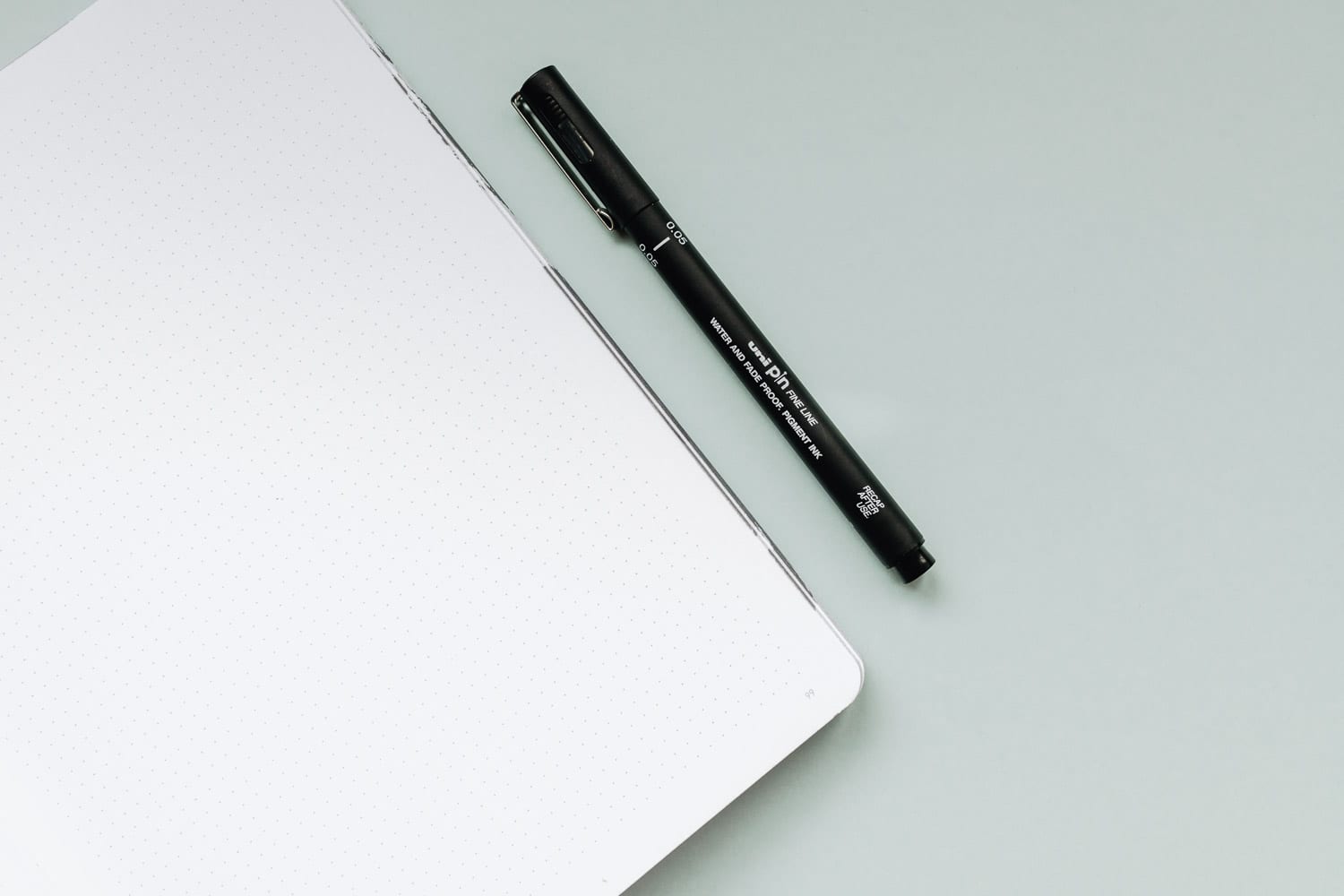 All you need to start a Bullet Journal is a blank notebook and a simple pen.
Even though you need nothing fancy to get started, having the right supplies can help you stick with it. I would recommend going for a dotted A5-sized notebook with thicker pages so the ink doesn't bleed through. And getting some different pens.
Some of the most known Bullet Journals are Lechtturm1917 and Moleskine Classic Notebook. I use a NUUNA Graphic L Notebook with a moon cover. It is equipped with a thick premium paper (120g) and has a grey dot grid with page numbers. I just love the design!
NUUNA has many extraordinary notebooks with colored book edges to match the cover. You can find notebooks bound in recycled leather, vegan materials, or jeans label material with a solid thread-stitching for a lay-flat behavior.
---
HOW TO START A BULLET JOURNAL
The Bullet Journal Setup
The Index helps you find your content.
The Key is a quick reference guide for Rapid Logging.
Future Log keeps all of your future events in one place. It's also great for setting your purposes and big goals.
Monthly Log helps you organize your month and break down your future goals into smaller goals that you can strive to achieve within a deadline.
Weekly Log helps you organize your week and divide your goals into daily steps.
Bullet Journal Collections make the bullet journal yours.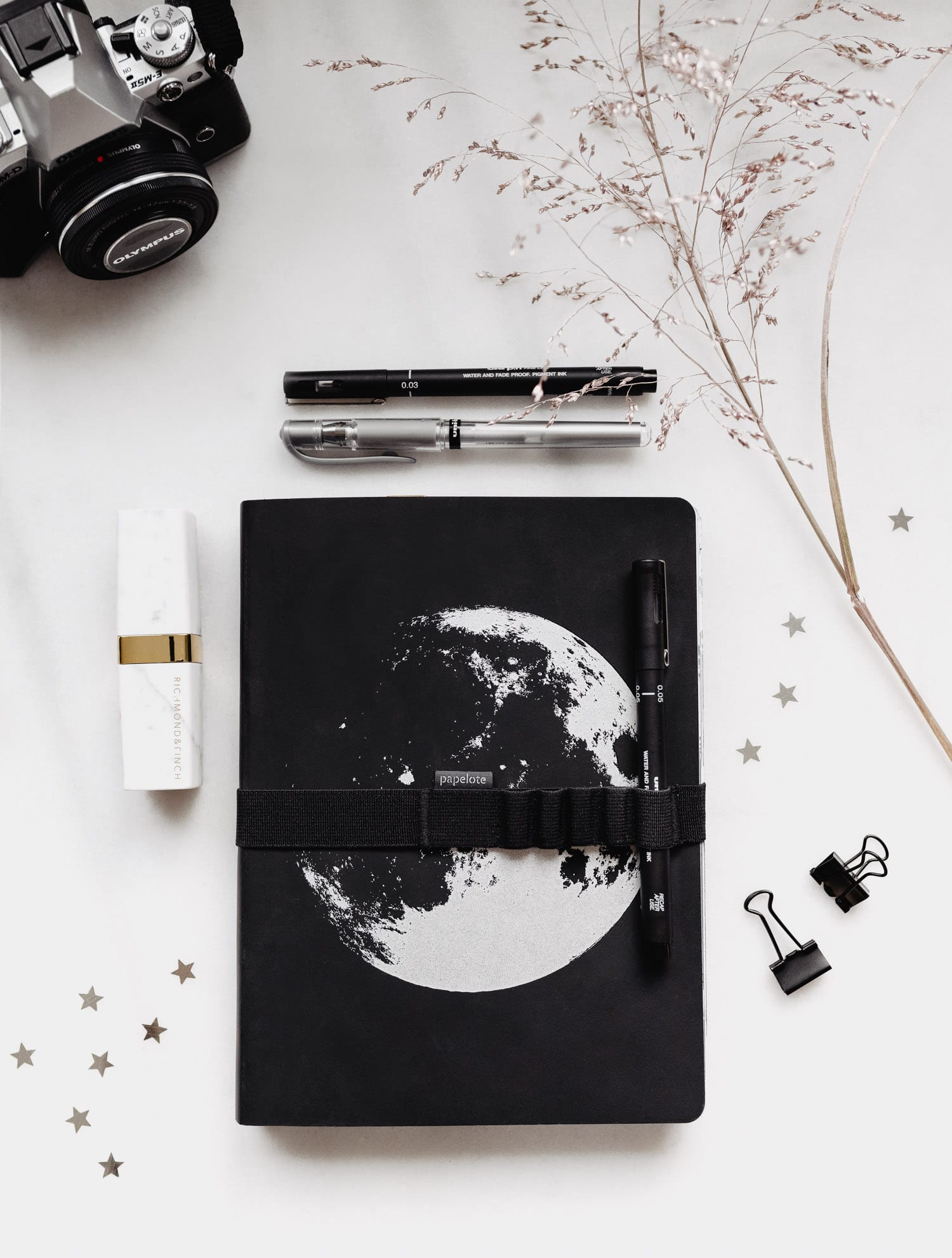 1. Get inspired! Find out what's YOU
First things first, before you create your Bullet Journal setup, one of the best things to do is find some Bullet Journal inspiration. Find out what you like, how you want to use your BuJo, and what style you want to go for.
Do you want a minimalistic design, a more artsy look, or something else?
What pages do you want to include? What kind of trackers, planners, or lists can help you in your daily life or career?
You can find a TON of inspiration on Pinterest, YouTube, and Instagram. Save your inspo and get ready for the next step.
TIP! Check out the Bullet Journal queen Amanda Rach Lee on YouTube and my new Instagram BuJo account, @adarasbujo. Or check out my friend Elin Kero's journaling account @journelin and my Pinterest board 'Bullet Journal Ideas' for lots of creative inspiration.
Two completely different styles. To the left is my sister Elin's Bullet Journal cover, and to the right is my floral cover inspired by Johanna Basford's Secret Garden illustrations.
2. Create your BuJo Key
"Rapid Logging" is the language in which the Bullet Journal is written in.
It's a system of bullets and signifiers that will help you stay consistent with your notes. The Key is simply a page for you to keep track of all the different symbols you use in your BuJo and what they mean.
There are symbols for tasks, notes, events, and additional symbols to show when a task has been completed, scheduled, moved to another section, or deemed irrelevant.
Use the original BuJo Key, or create your own. Don't be afraid to experiment and try different systems and ideas. You can't make a mistake.
I've created my own Key, as seen below: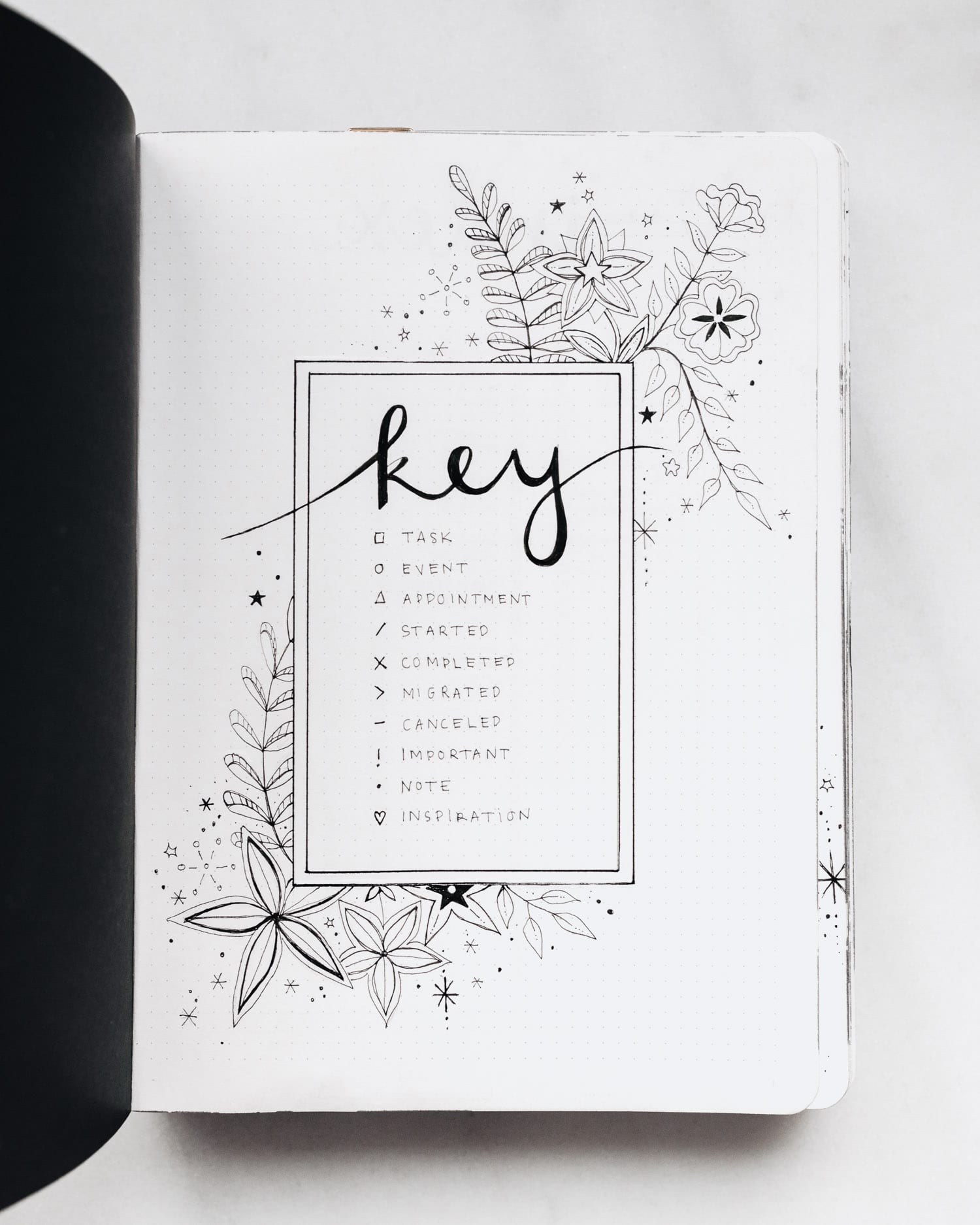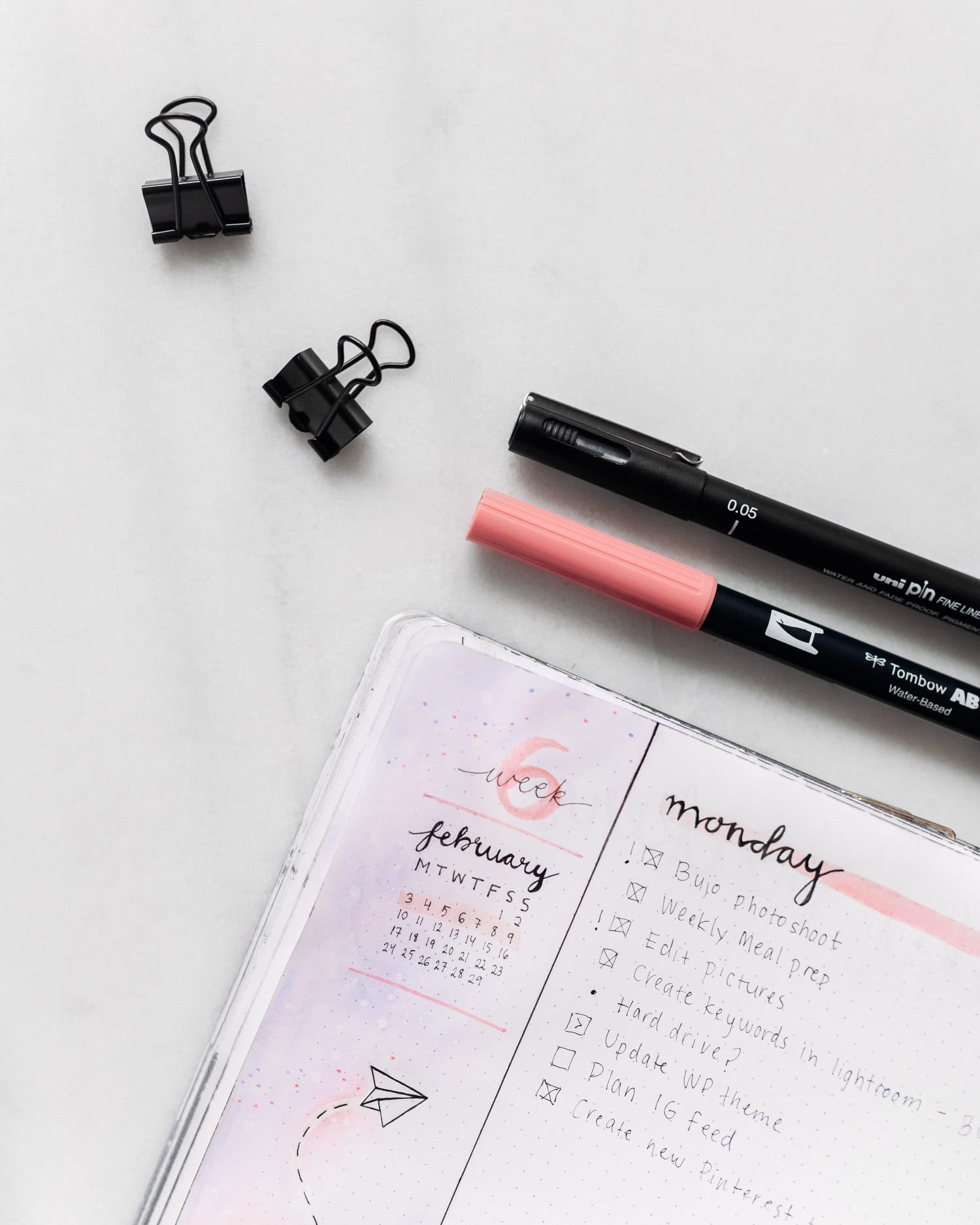 3. Create your Index
The Index is where you keep track of all the pages you include in your Bullet Journal.
There are many ways to create an index. One of the most basic ones is just creating two columns, writing the 'specific page' in one column and the 'page number' in the other column.
I wrote all the page numbers in my Index, just because I thought it would be easier. Also, because I wanted many blank pages (for planned collections) before my first Monthly Log.
If your notebook is not pre-numbered, I recommend you take the time to write the page numbers in the corner on every page. Just sit down with your favorite TV Show and get to it! Numbered pages are a must.
TIP! Your Index only works if you keep it updated, so make sure to go back and include new pages you've created.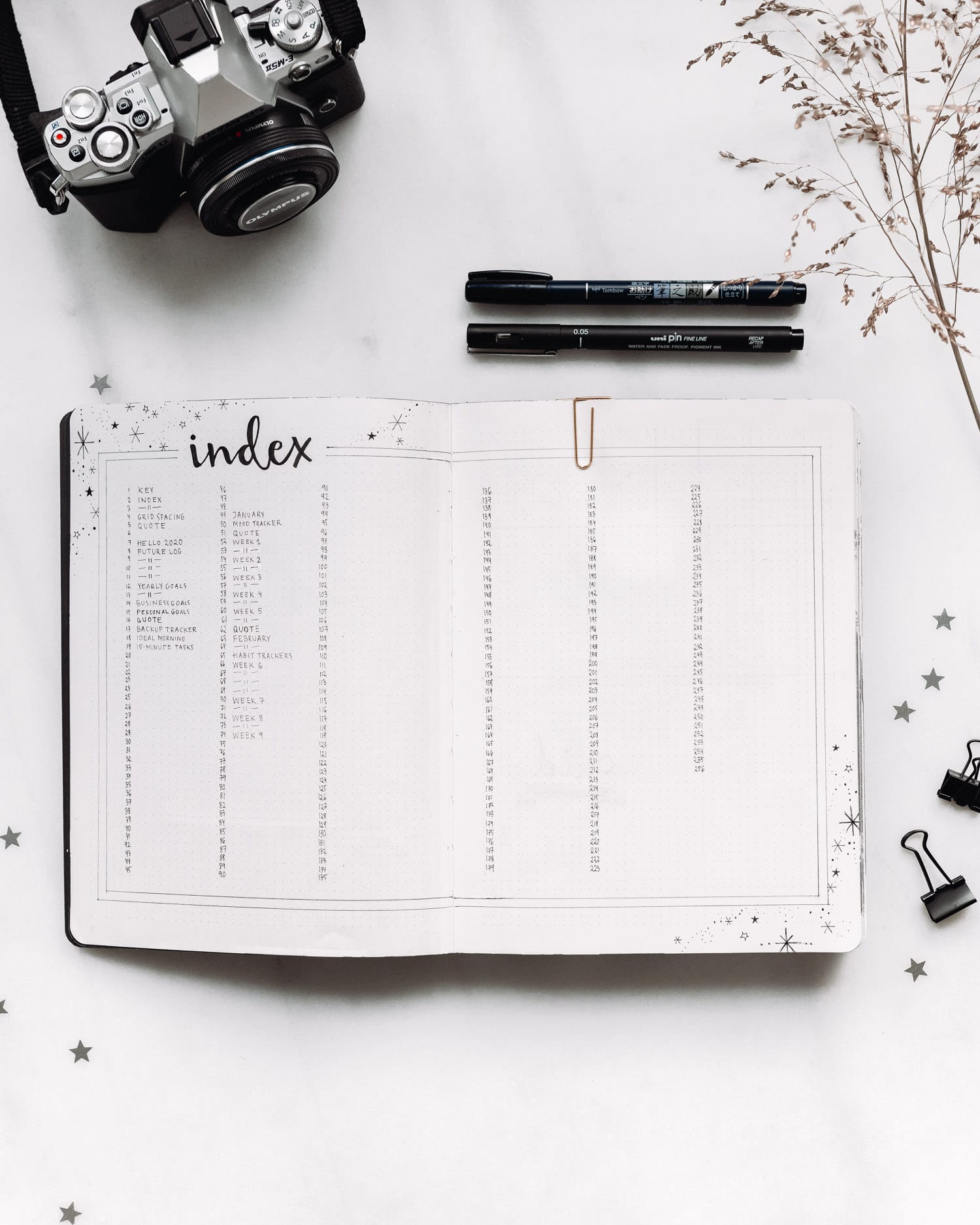 4. Create your Future Log
The Future Log is a great way to see the year at a glance.
Here you can log things like major milestones, birthdays, big project deadlines, important dates, fun events, and upcoming trips.
You want to set up your Future Log as one of the first pages in your notebook, along with the Index and Key spreads. This way, you will have all your future tasks close by for every time you need to revise it.
The Future Log is also a great place to set big goals and visions for the year. I created a separate spread with my business goals and personal goals in this section.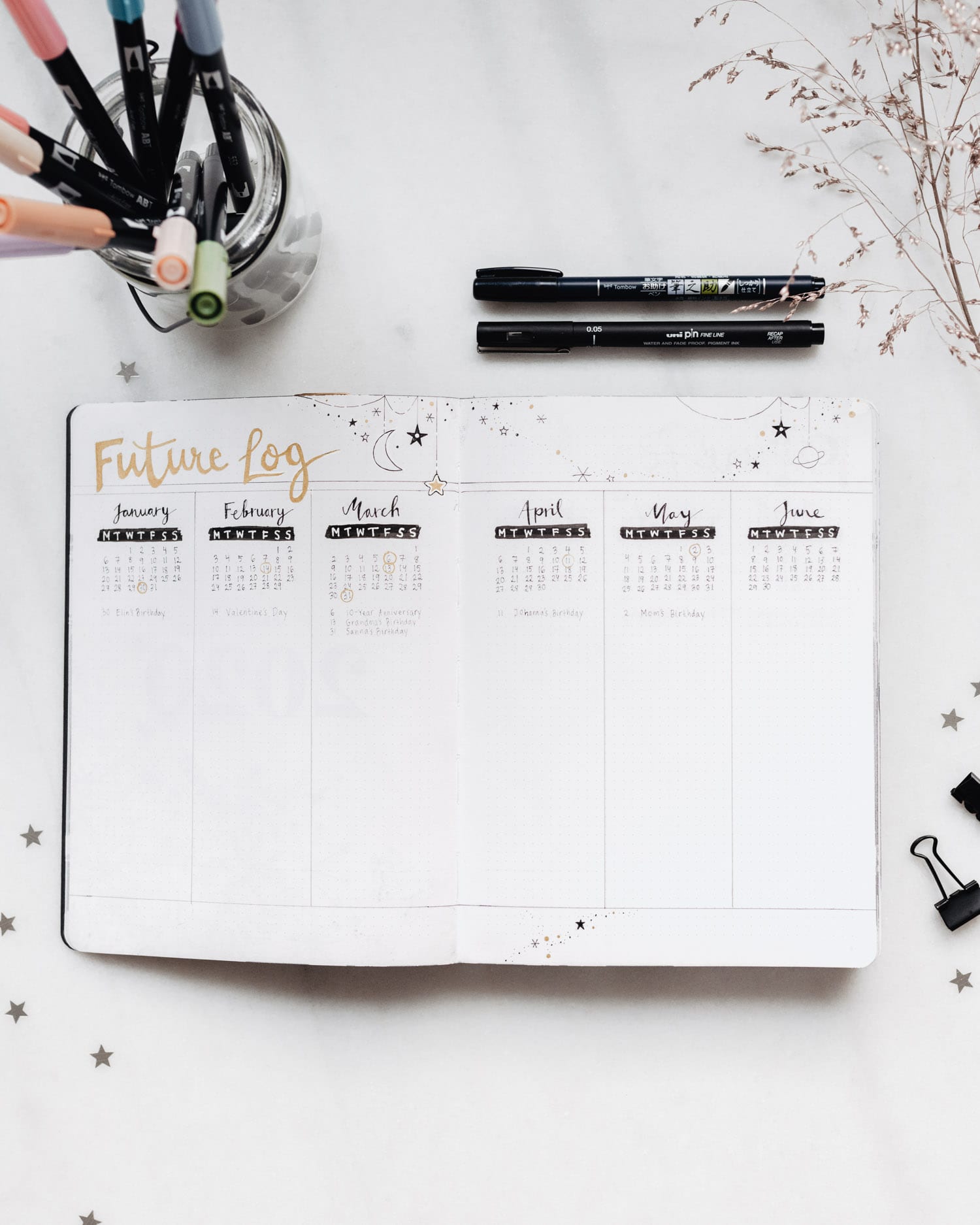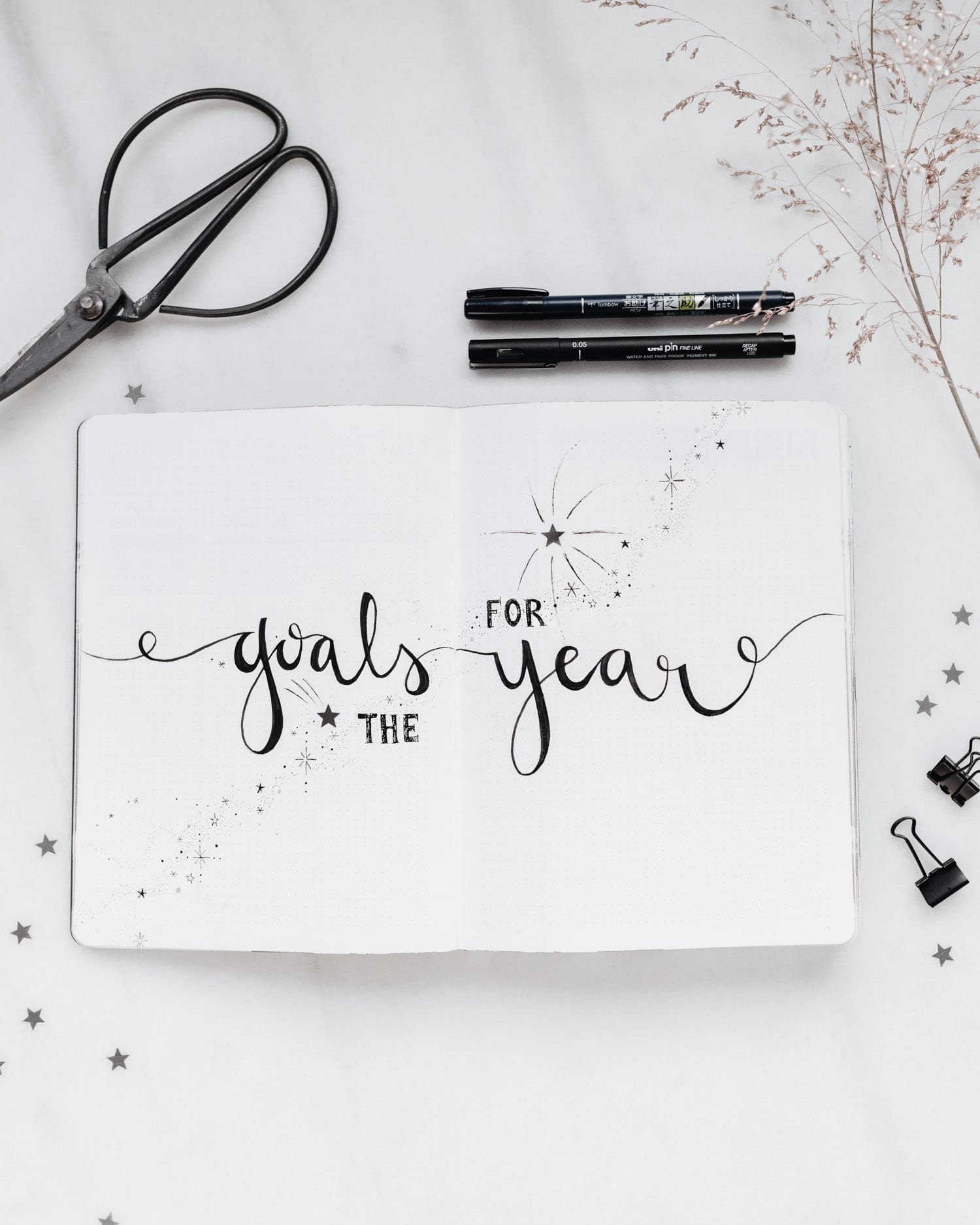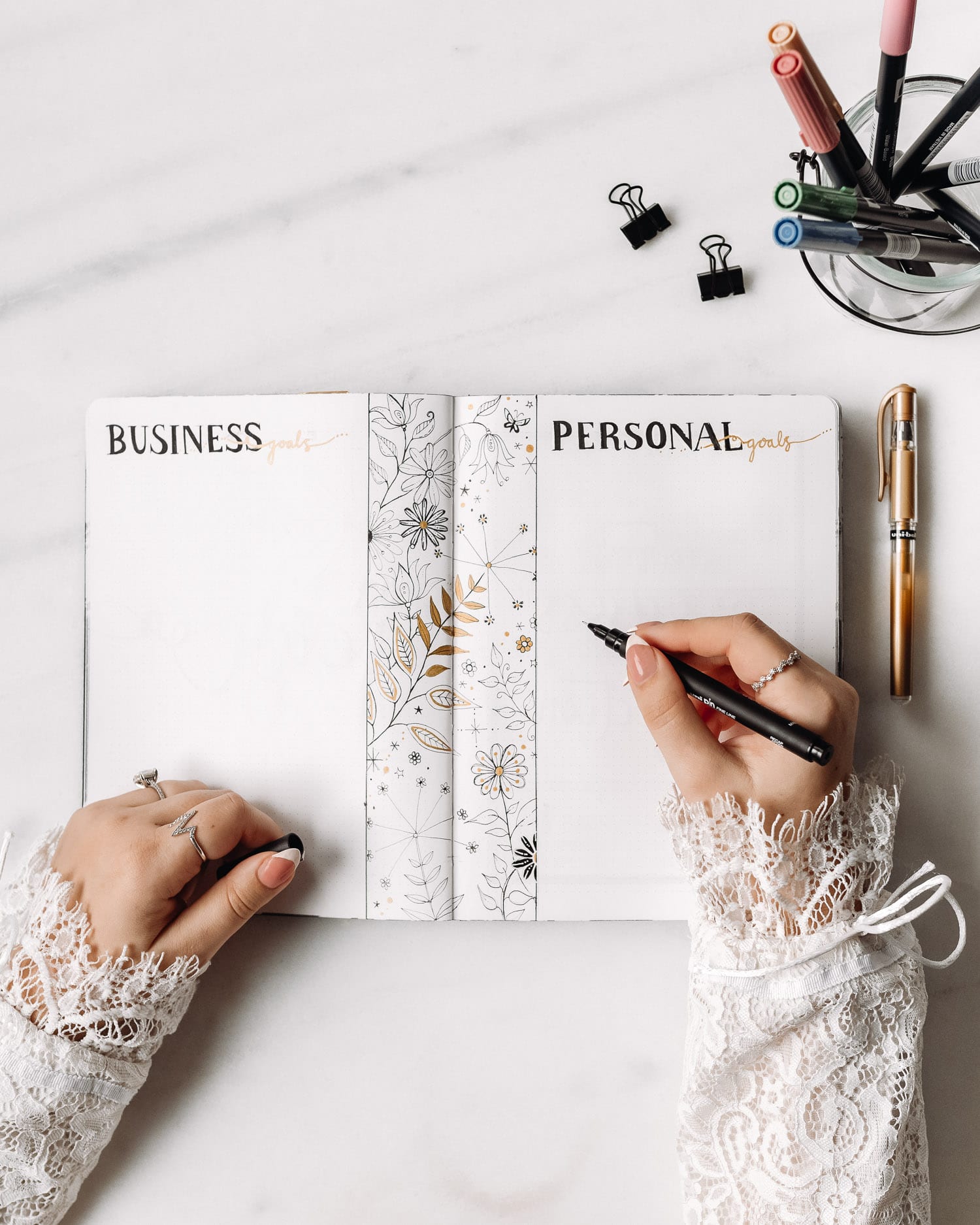 5. Create your Monthly Log
Next, you want to create your first monthly spread.
In the Monthly Log, you can break down your goals into actionable steps and tasks that you strive to achieve within a deadline.
Some common things included in a Monthly Log besides the monthly goals are important dates and milestones of the month, notes or thoughts. Here you can also place trackers for anything you feel compelled to track: workouts, mood, sleep.
Creating your monthly spread can be as straightforward or as complicated as you like. Personally, I love creating a specific theme for each month and jazzing up these pages with hand lettering, artwork, and colors. It just makes it more fun for me and helps me stay motivated each time I open my Bullet Journal.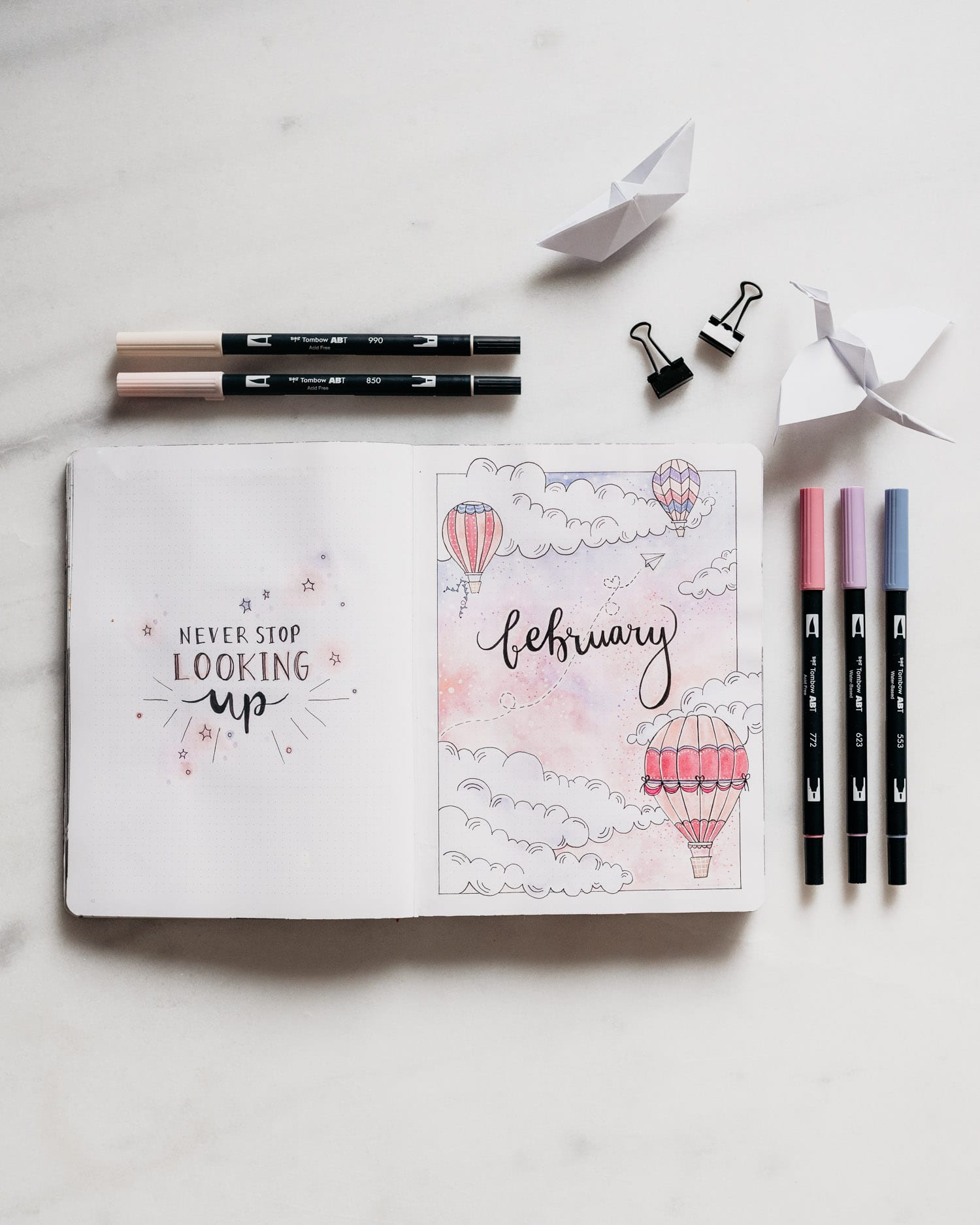 You definitely don't need to go all out like this. You don't need to create a cover page or specific theme for each month, I just love it.
My theme for February 2020 is hot air balloons and paper planes. For January, my theme was lights and fireflies.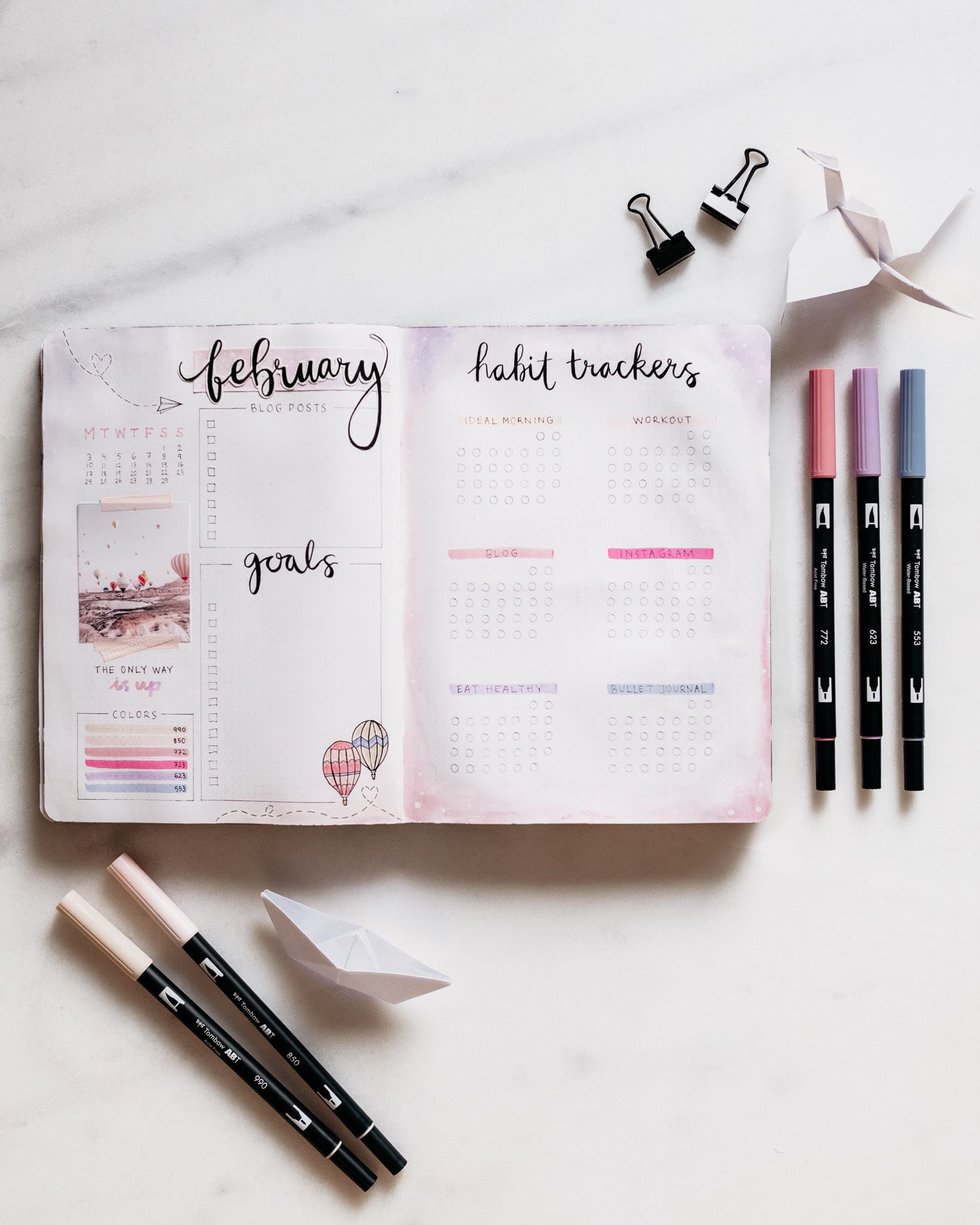 6. Create Weekly and/or Daily Logs
Weekly and Daily Logs are the heart of any Bullet Journal. What they look like can vary significantly from person to person. You can have a spread for each week or a page for each day. It's totally up to you!
In short, this is the place where you write down all your daily to-do lists, day-to-day notes, scheduling, and task management.
There are a million different ways to set up the weekly/daily logs, so it's a matter of trial and error to find the one that fits you the best.
Weekly Log Examples: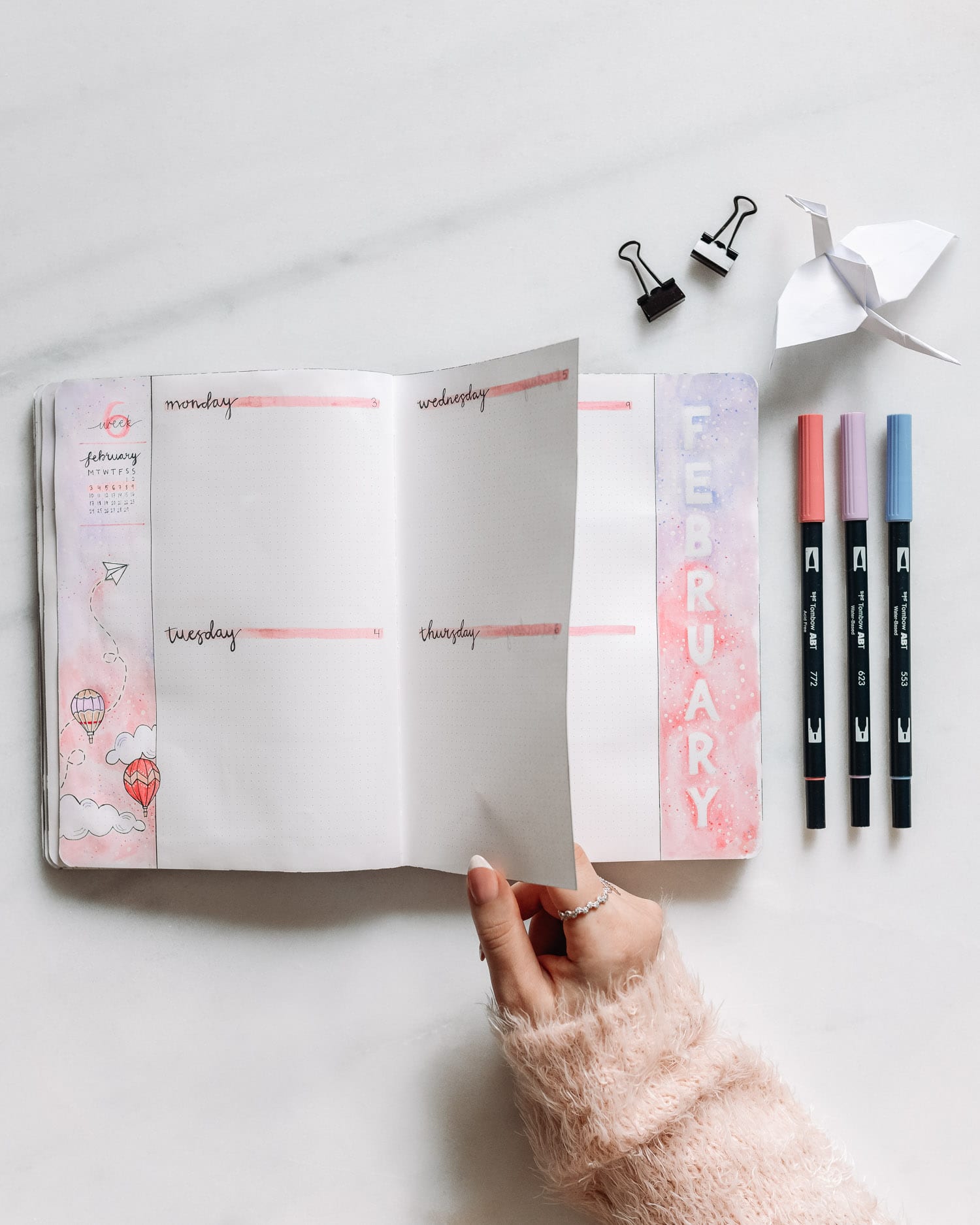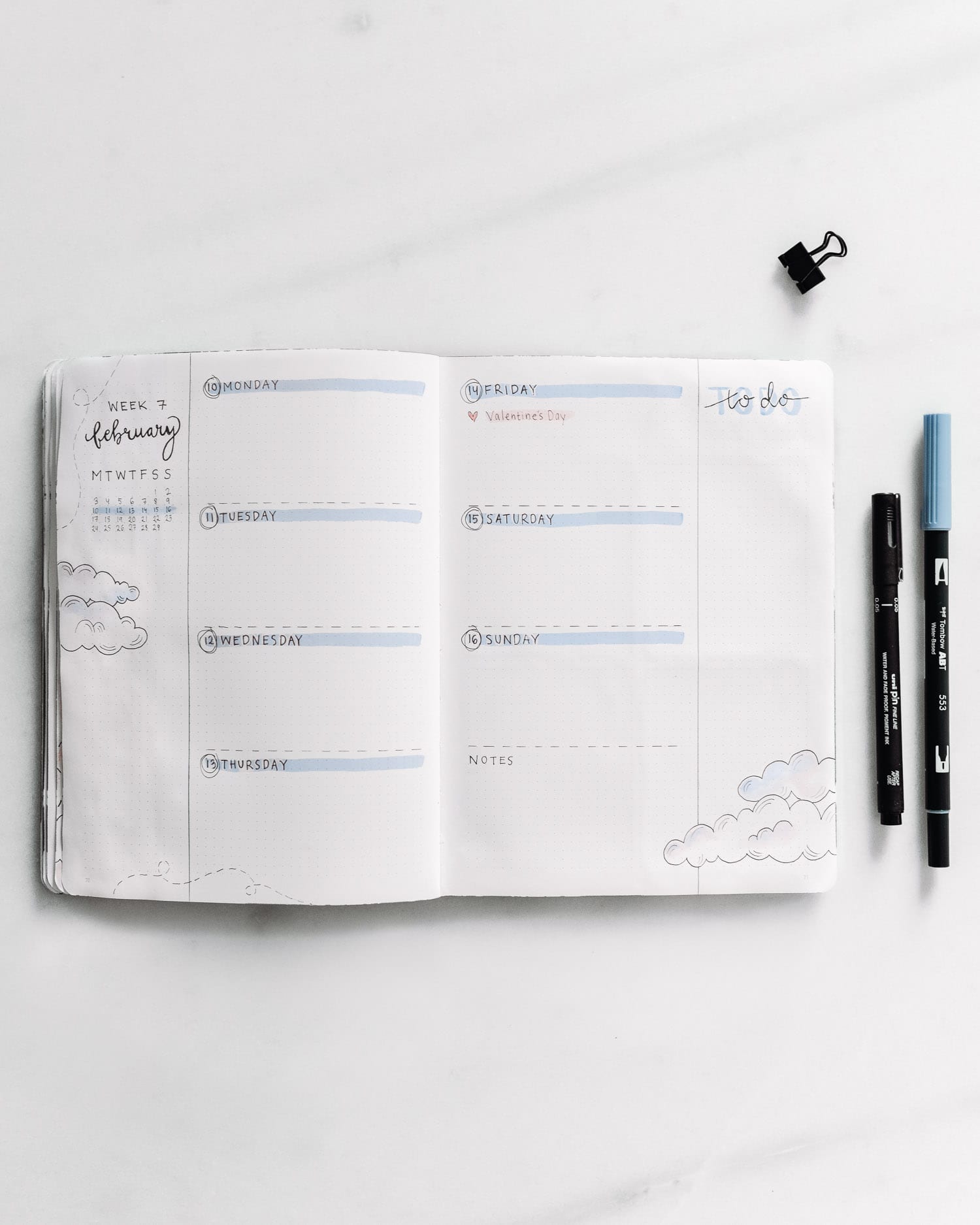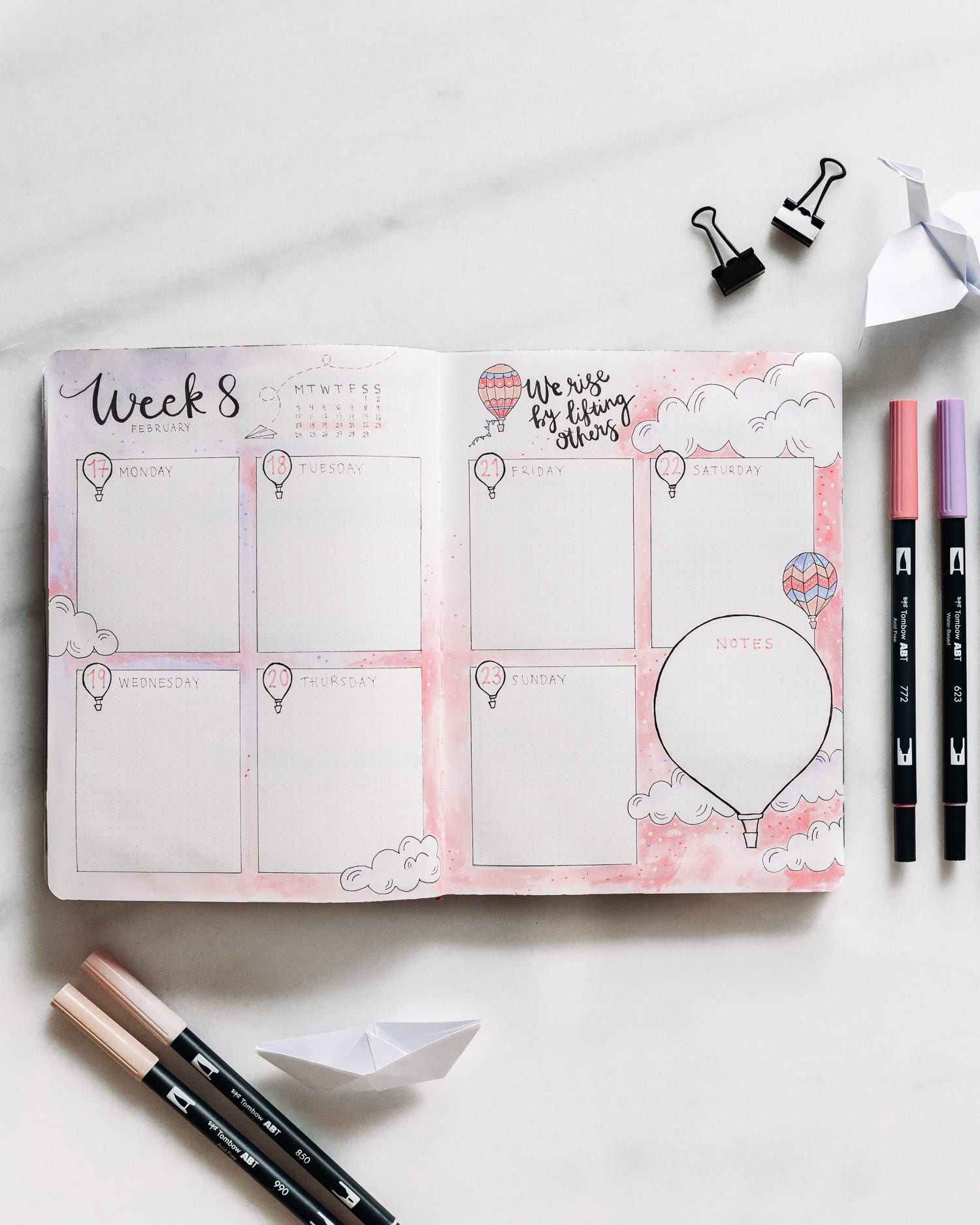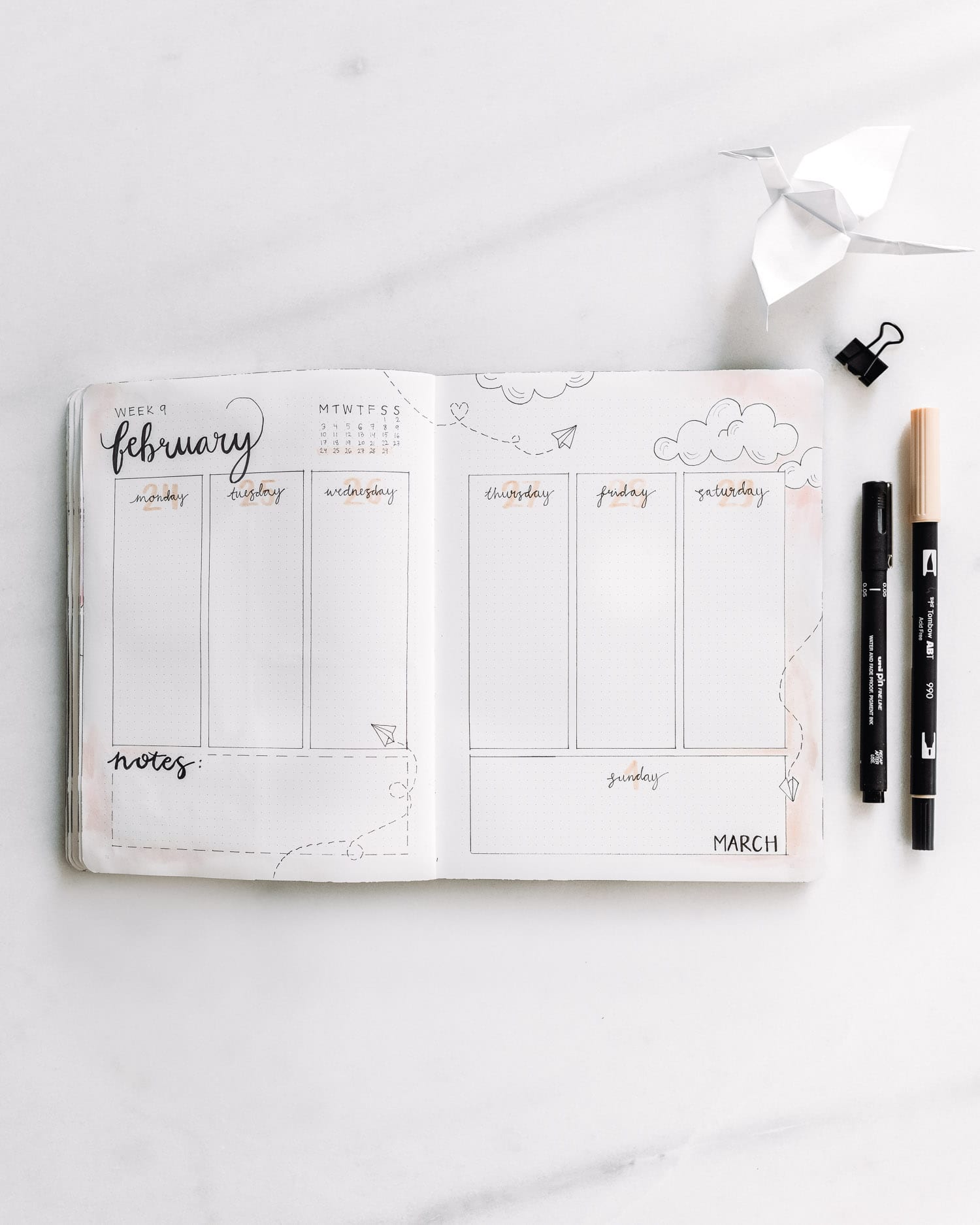 For a more minimalistic Bullet Journal, check this out:
7. Customize your Bullet Journal
Once you've set up your monthly and weekly spreads, it's time to explore the wonderful world of collections! This step is what truly makes your Bullet Journal yours. There are endless possibilities to customize your BuJo. It just depends on what you want and what you need.
To just give you an idea of what the collections can do, I've listed several page examples below.
I created many of my own collection pages, like a Backup Tracker, My Ideal Morning Routine, 15-minute Tasks, Blog Post Ideas, YouTube Ideas, a Vision Board, and more. These are pages that will help, inspire, and motivate me to accomplish more every day.
What kind of pages would help you?
One of the best things about the Bullet Journal is how flexible it is. Adjust it so it fits your needs.
Bullet Journal Collection Examples:
Financial planner
Vacation planner
Gratitude log
Affirmation log
Wedding planner
Health tracker
Books to read
Movies to watch
TV Shows to watch
About me
Un-Do list (break bad habits!)
Brain dump
Bucket list
Memories collection
Youtube ideas
Blog post ideas
Home repairs to make
Lettering styles/combinations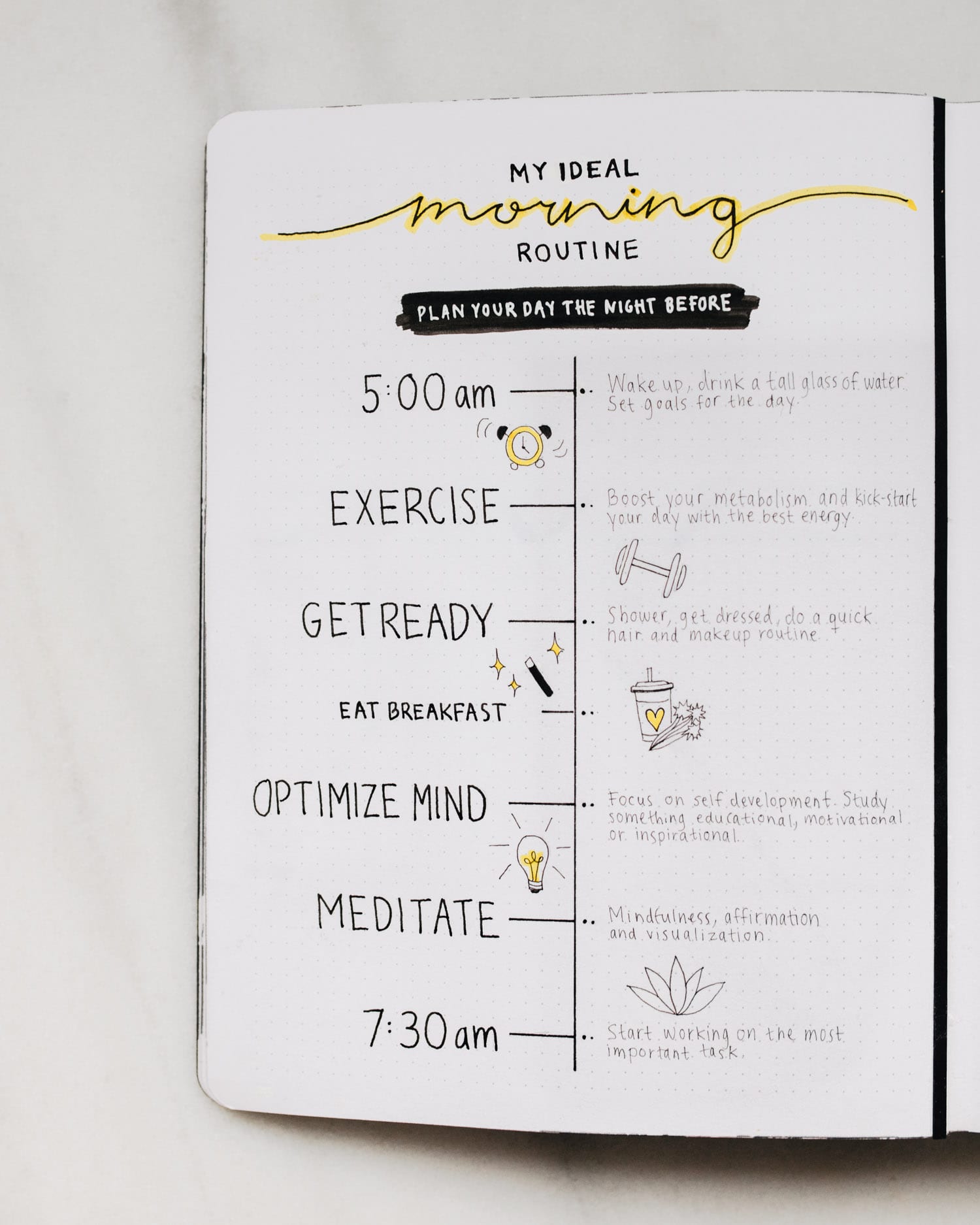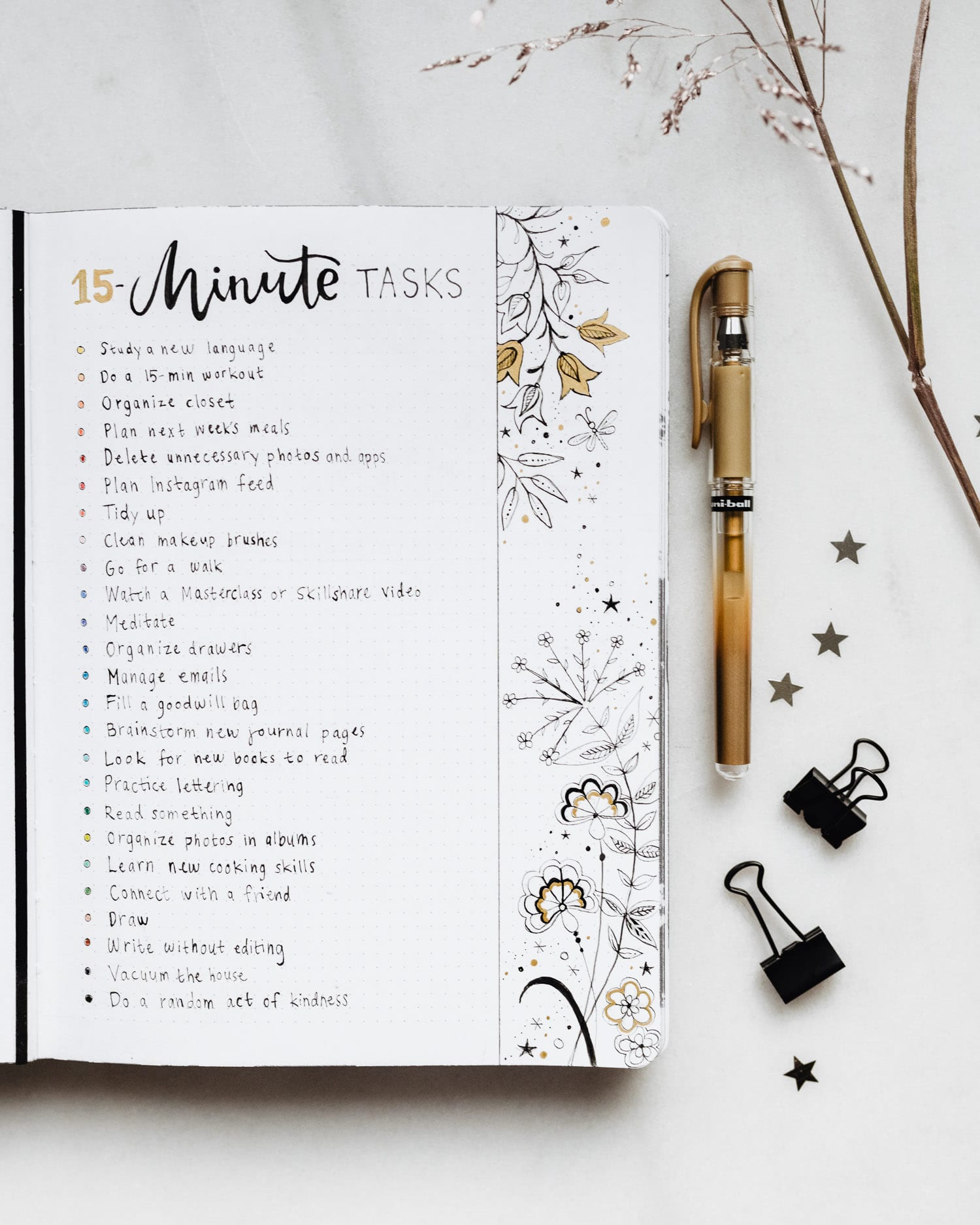 8. Use Your Bullet Journal Daily
The key to becoming a successful Bullet Journalist is to make it a habit.
You need to use it daily and be sure to keep it updated. Carry your Bullet Journal wherever you go, write in it every day, and it can definitely help you stay focused, accomplishing your goals, and fulfilling your dreams.
Ready to start a Bullet Journal?
Optional: Grid Spacing Cheat Sheet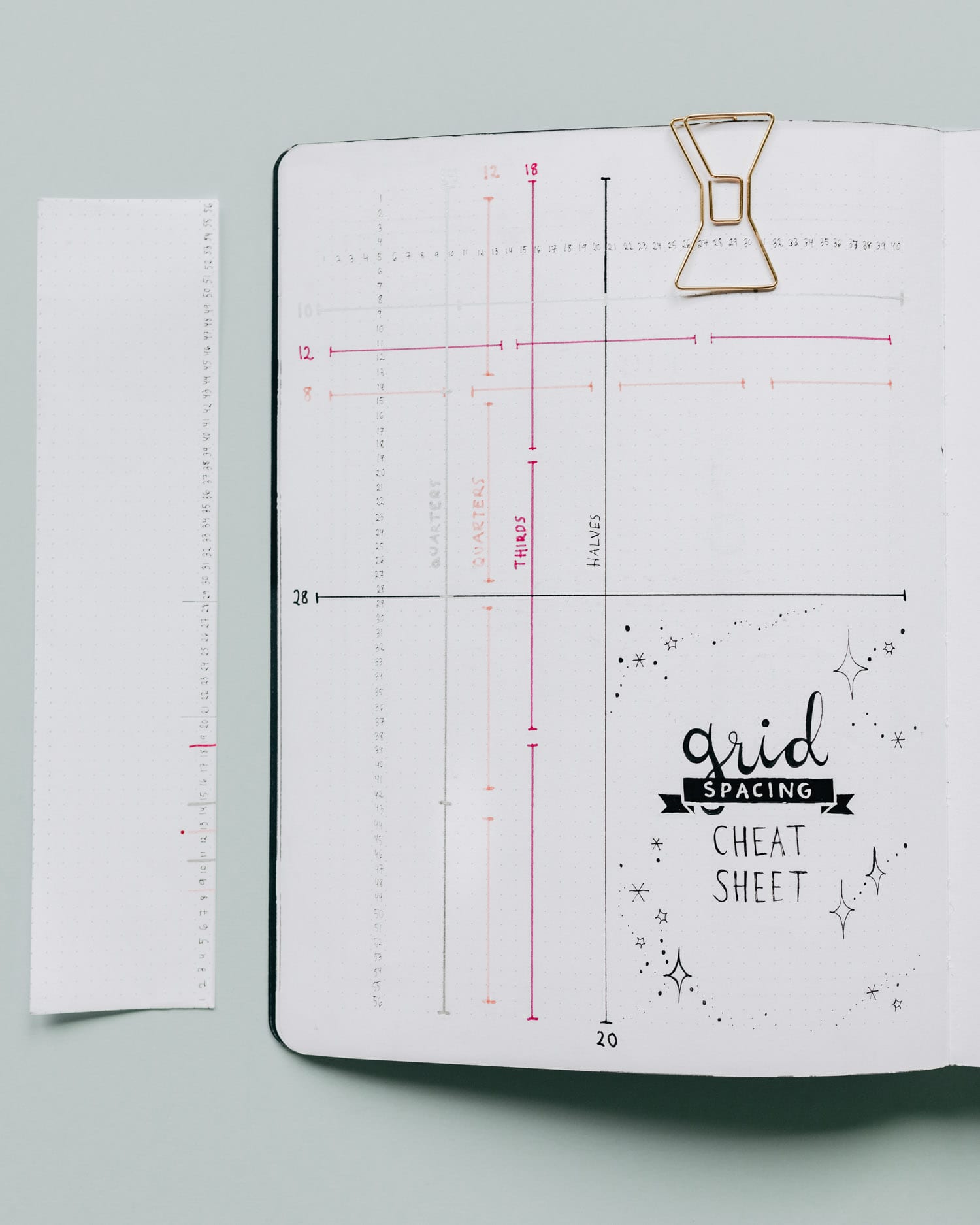 If you have a dotted notebook, a Grid Spacing Cheat Sheet is a must, if you ask me.
This guide will save you so much time when you want to divide your page into different columns. With just a glance, you can see where the middle of the page is, or how many spaces are needed per column to divide the page into halves, thirds, or quarters.
A great tip is also making your own Bullet Journal ruler from a cut-out page, so you don't have to count the spaces between the dots every time.
---
8 of My Favorite Pens for Bullet Journaling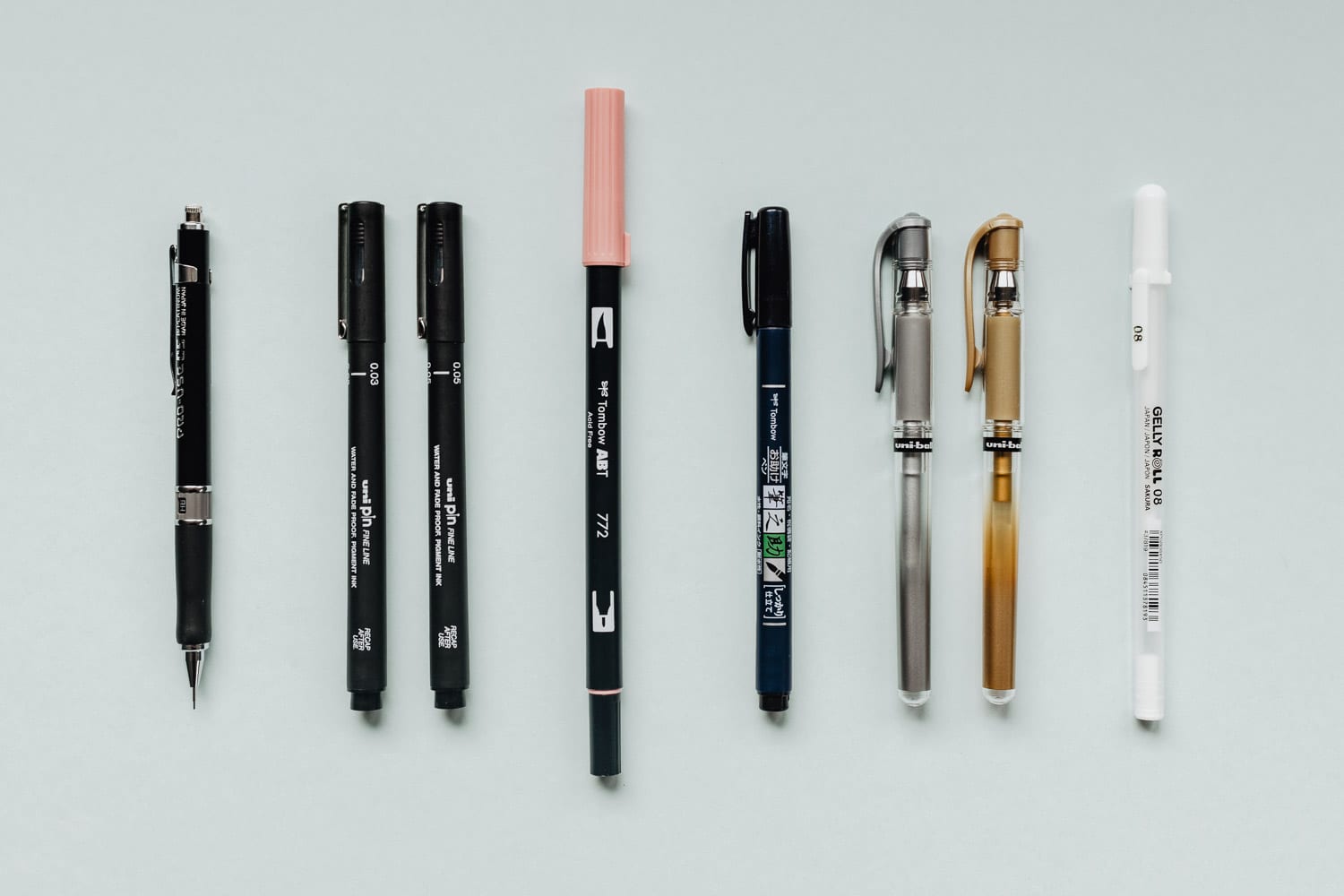 Even though you don't need a fancy pen to start a bullet journal, I think pens do a lot in keeping you motivated in making Bullet Journaling into a habit.
Here are eight of my favorites. If you only want to go for one of these pens I would recommend the 0.05 Fineliner or the Tombow WS-BH Fuedenosuke (if you want to try calligraphy).
---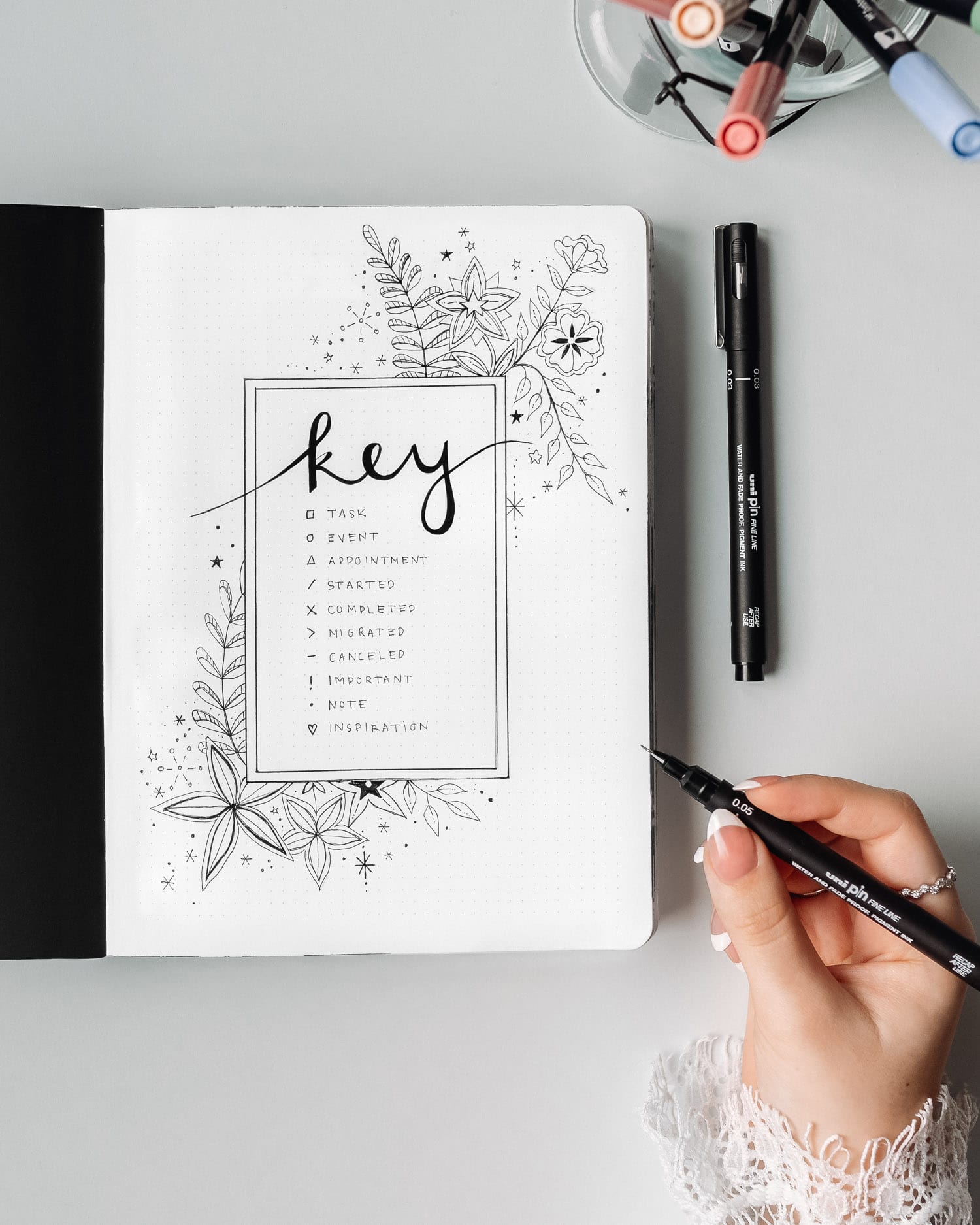 Tip: Stive for progress, not perfection
Being a perfectionist it took me some time to get into the Bullet Journal method. At first, it horrified me when I made mistakes in my BuJo. I wanted to cry or cut out the entire page and start from the beginning. But with numbered pages that ain't happening.
You are going to make mistakes and you know what? It's okay. Done is always better than perfect.
Just let it be or get friendly with flex rollers, white gel pens, and Tipp-ex.
Whether you are a perfectionist or not, don't complicate things too much. Adjust your Bullet Journal after your needs and wishes and I hope you will fall in love with it just as much as I have.
Good luck and happy journaling! ♥
---
In it to pin it? Save my guide on how to start a Bullet Journal for later!