What happens when you marry a trendy Dalgona coffee with a red velvet latte? You get a Dalgona beetroot latte! Our fluffy vegan drink packs a punch. It's pretty in pink, has a refreshing taste, and plenty of health benefits.
We took the best from two trends to make this delicious beetroot drink. Dalgona coffee, the unofficial drink of quarantine, quickly became a viral sensation on TikTok and Instagram.
We love the traditional Dalgona coffee, made with instant coffee, sugar, and water, whipped up into a luscious foam that's spooned atop your favorite milk. However, it's a lot of sugar in the traditional recipe and not something you can enjoy guilt-free every day.
That's why we created our own recipe by combining the healthier beetroot latte with Dalgona coffee. The result is one good looking and tasty quarantine drink.
Our beetroot version is a perfect alternative to your average cup of Joe that you can make in less than 10 minutes and with only a few ingredients.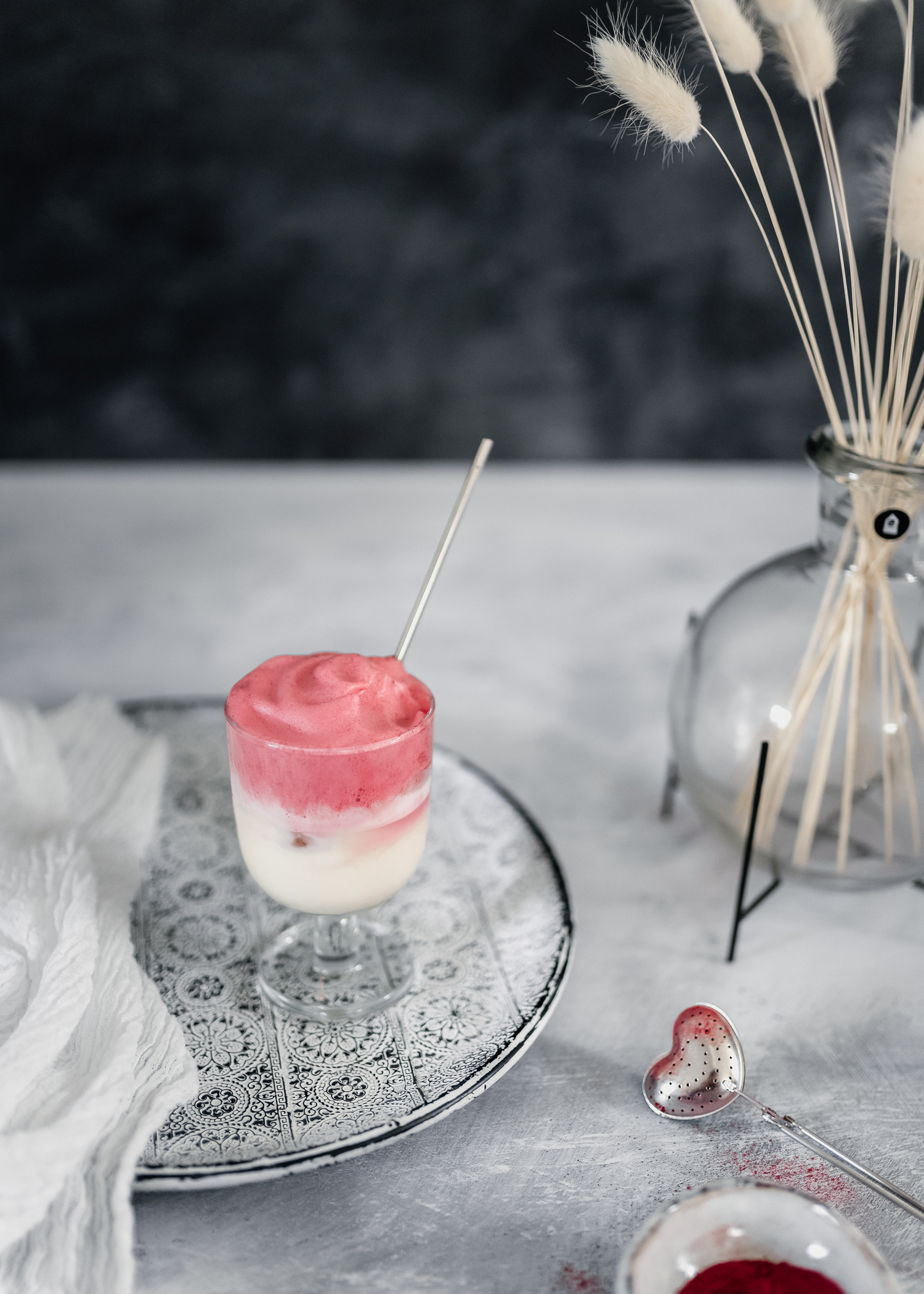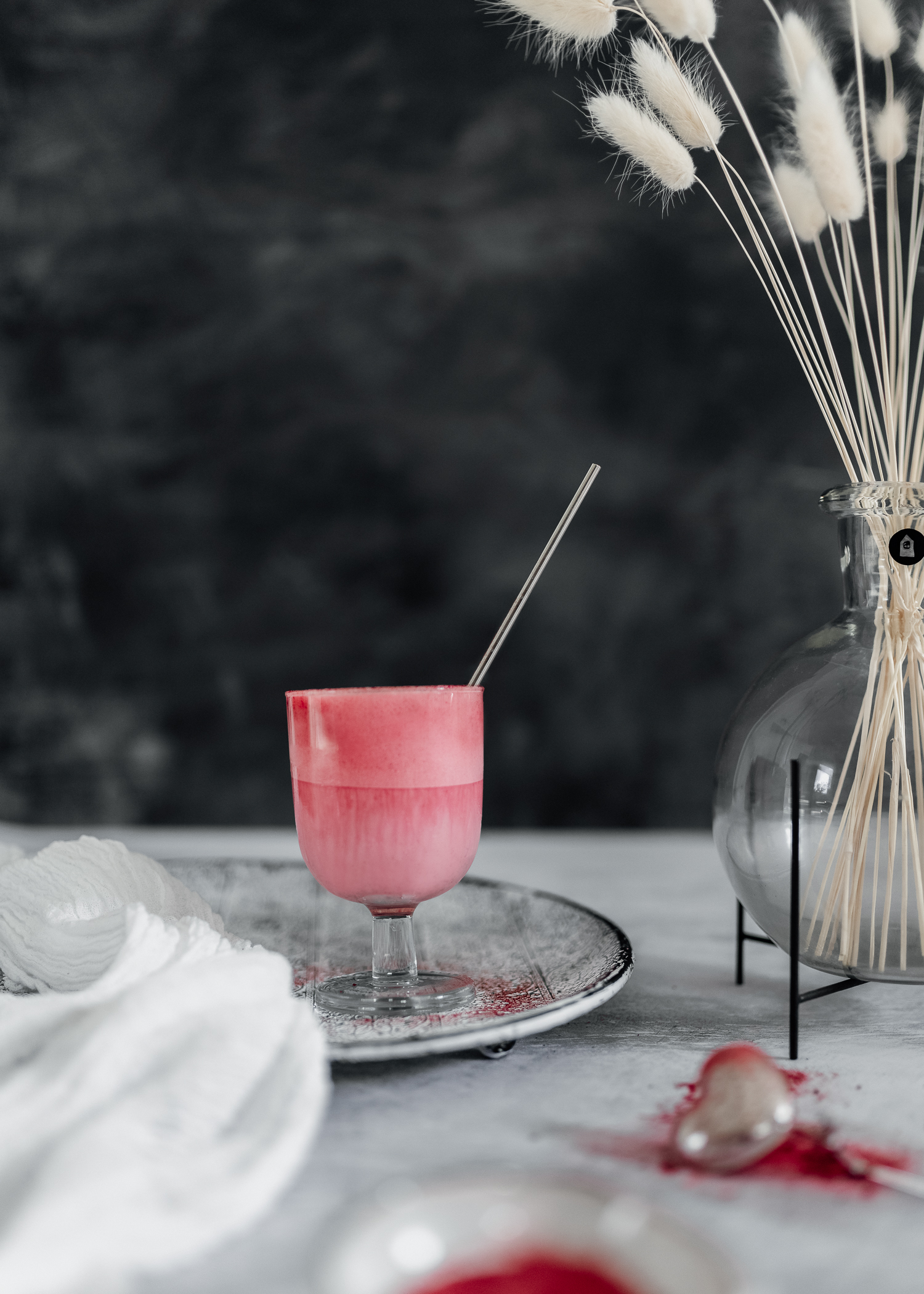 ---
Hot or Cold Dalgona?
We served this fluffy Dalgona beetroot latte cold, just like the traditional Dalgona coffee recipe. But you can easily enjoy it hot as well. Just save the ice for warmer days and heat the milk to make a hot latte version.
When serving it chilled, you have a refreshing drink. If served warm, you will have a hearty and warming drink. The taste between this hot and cold brew is quite different. Try both and find out which one you like the most.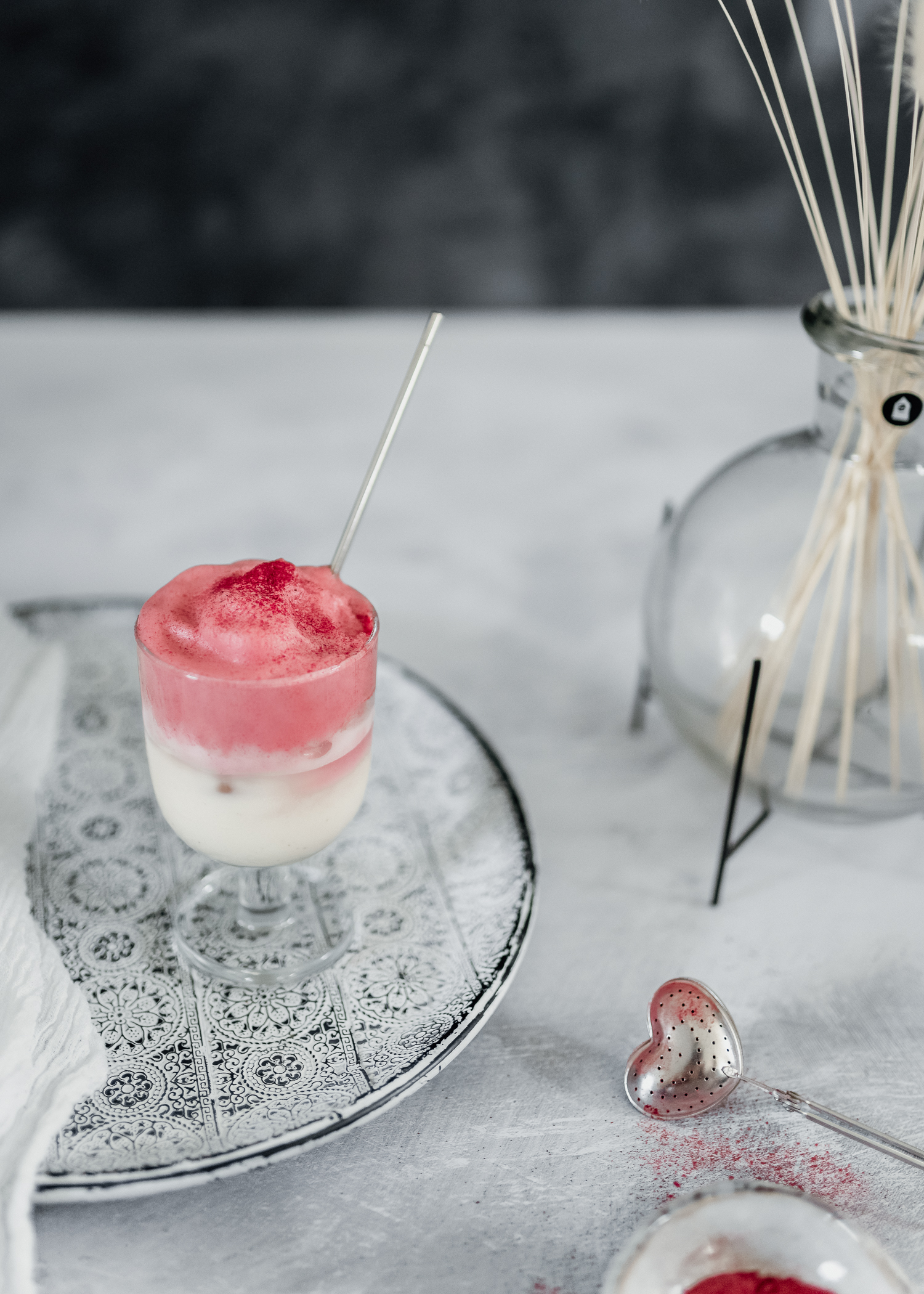 ---
Health Benefits of Beetroot
The power of the beetroot is incredible. This superfood is a pink health elixir full of goodness.
You might not realize it, but the modest beet is full of antioxidants, vitamins, minerals, and substances that support your health across the entire body.
Besides being having a fantastic color, it also has a bunch of health benefits. Some of them are:
Boosts brain power
Increases exercise endurance
Help keep your blood pressure in check
Supports liver health
May help fighting inflammation
We all want more alternatives to coffee in our lives, and this makes for a delicious caffeine-free Dalgona coffee alternative.
Although the taste of beetroot may not be for everyone, try it before you knock it.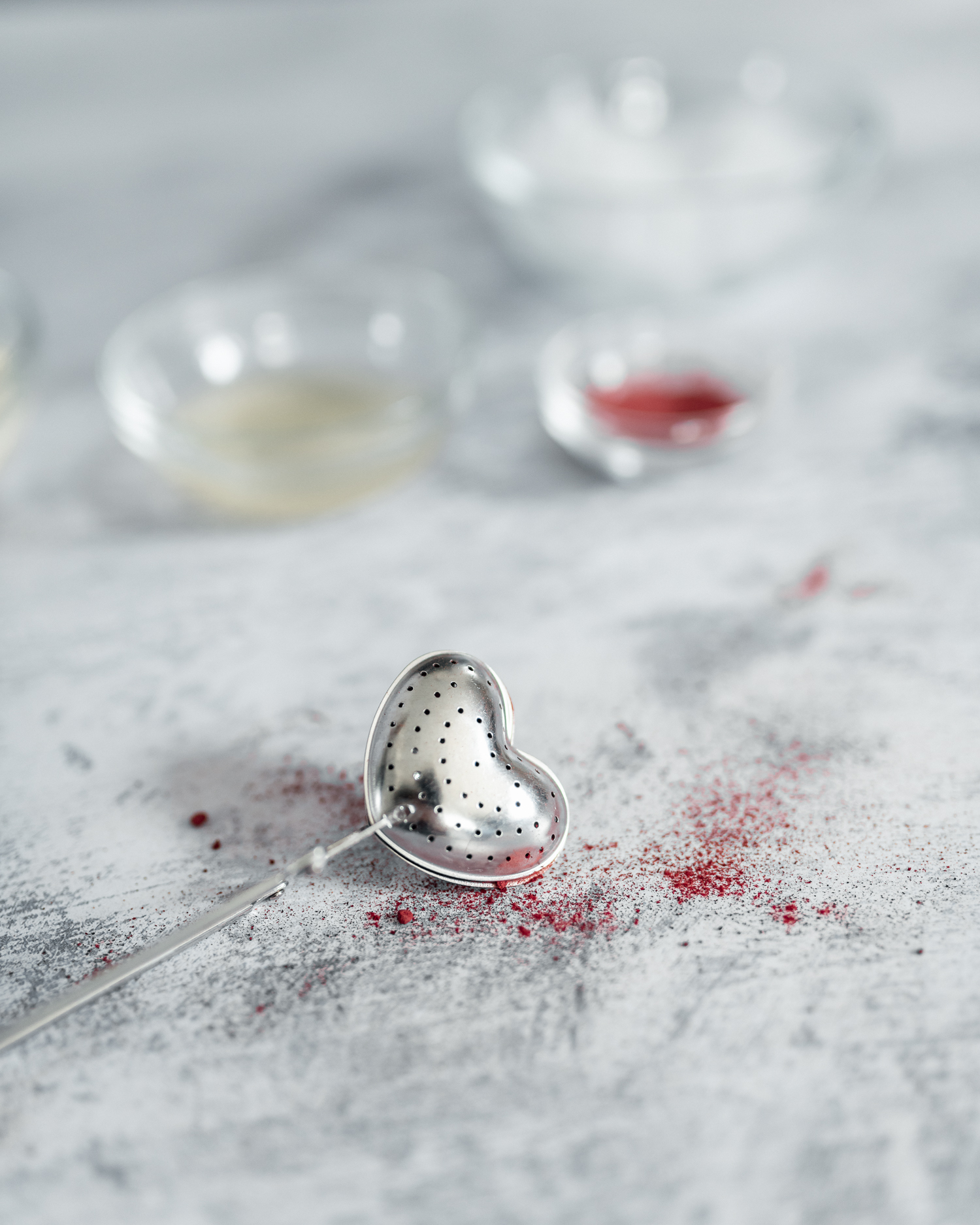 ---
What is Aquafaba?
Aquafaba is the liquid leftover from cooked chickpeas. Whipped chickpea juice sounds quite disgusting, but the chickpea water is a godsent byproduct, especially if you are vegan or vegetarian. That's because aquafaba is an incredible replacement for egg whites.
In this recipe, the aquafaba helps you stabilize the famous Dalgona fluff without any table sugar. We did, however, add 1 tsp agave syrup as a sweetener to balance the taste (which is a lot less sugar than the 2 tbsp of sugar in the standard recipe).
To make aquafaba, drain a can of chickpeas into a bowl and whip the liquid until it fluffs up. We only used 2 tbsp of aquafaba for one serving of Dalgona beetroot latte, but you can keep the leftover chickpea liquid in the fridge for 3-4 days.
Tip! If you just use the aquafaba, put the chickpeas in the oven and roast them together with some paprika powder, salt, and olive oil. Then you will then have a tasty snack waiting for you later.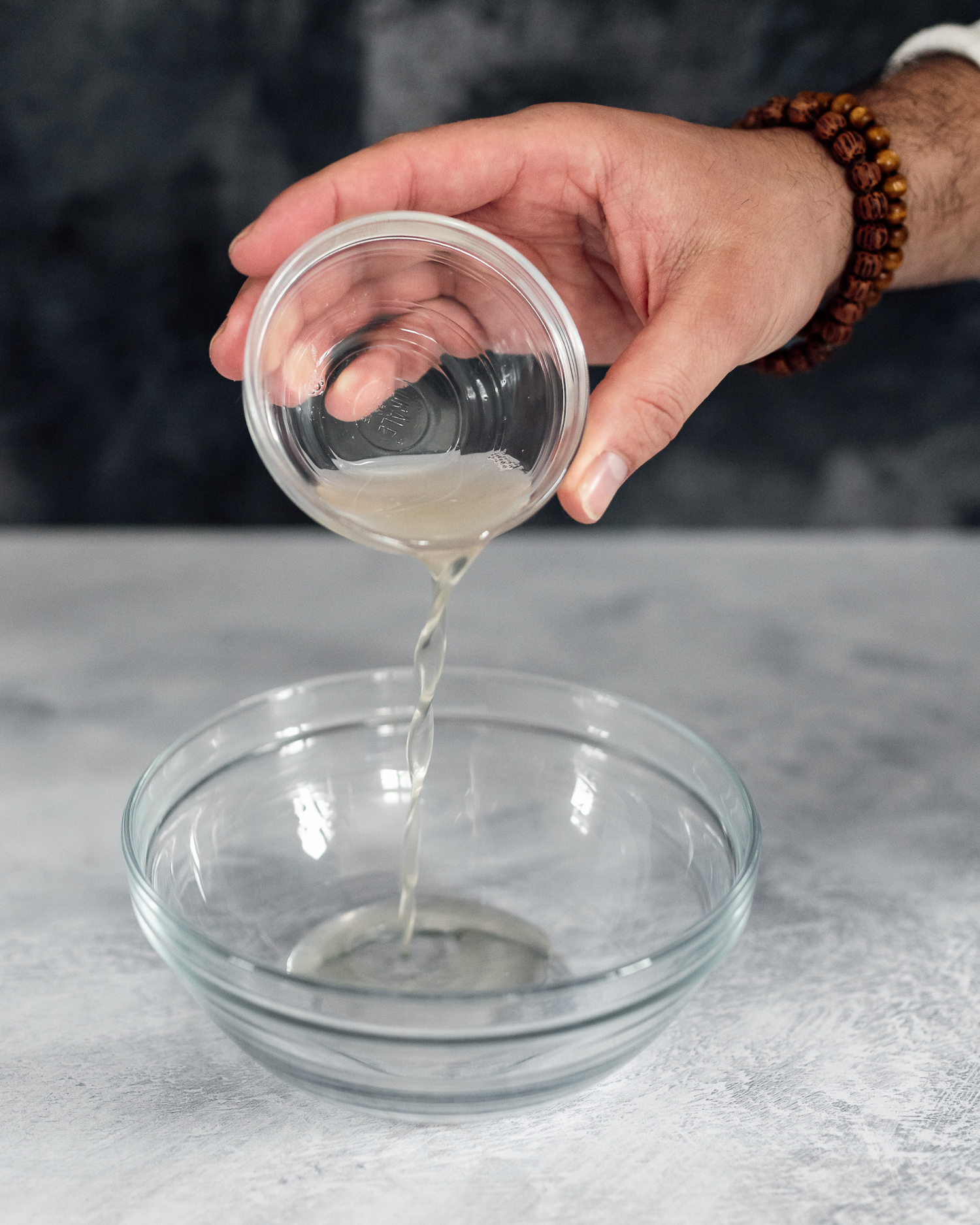 ---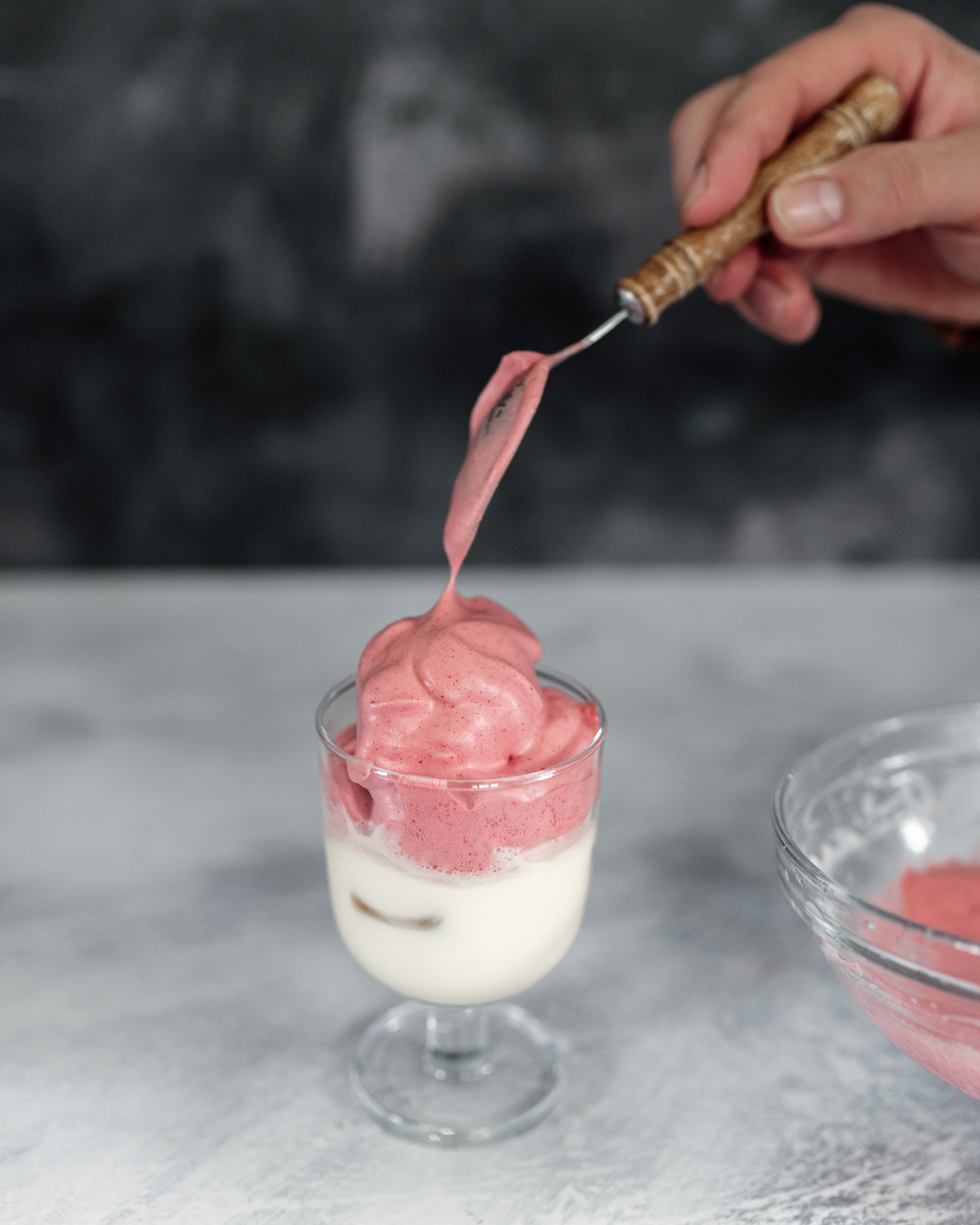 How to make whipped Dalgona Beetroot Latte
To make this delicious drink, you need beetroot powder, agave syrup, hot water, aquafaba, vanilla extract (optional), ice, and soy milk.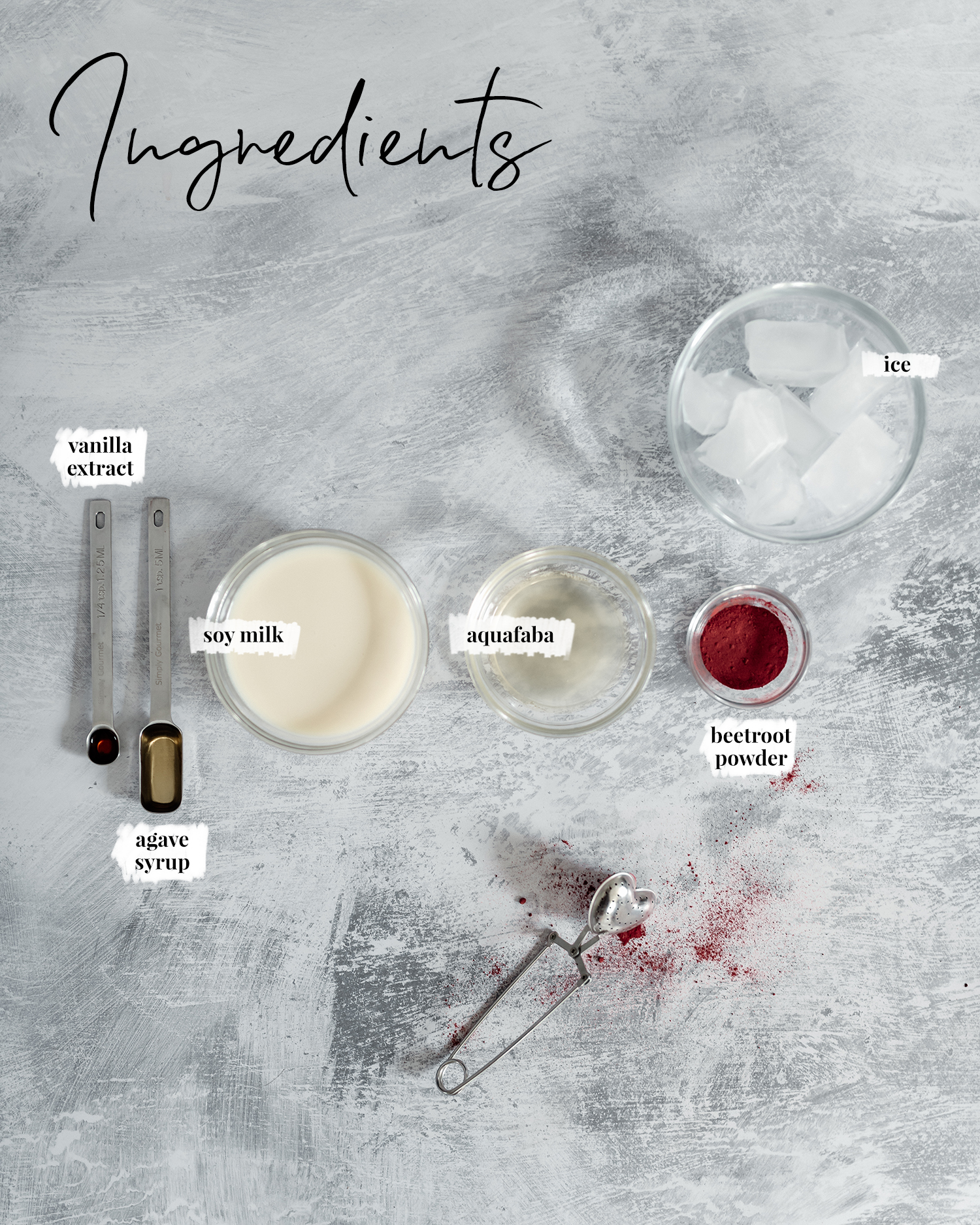 STEP ONE
Mix the beetroot powder, agave syrup, and hot water into a smooth and lump-free paste.
This is an important step and will keep your latte from becoming powdery. It also makes the syrup easier to mix in.
STEP TWO
Next up is the aquafaba, whisk it until it forms stiff peaks. It's done when you can turn the bowl upside down without leaving a mess.
STEP THREE
Mix the beetroot paste and aquafaba foam together and watch as it transforms into a lovely pink foam right before your eyes.
STEP FOUR
Optional! Add the vanilla extract and mix it one last time. It helps to even out the flavors and leaves a hint of vanilla.
Now you are finally done with all the whisking!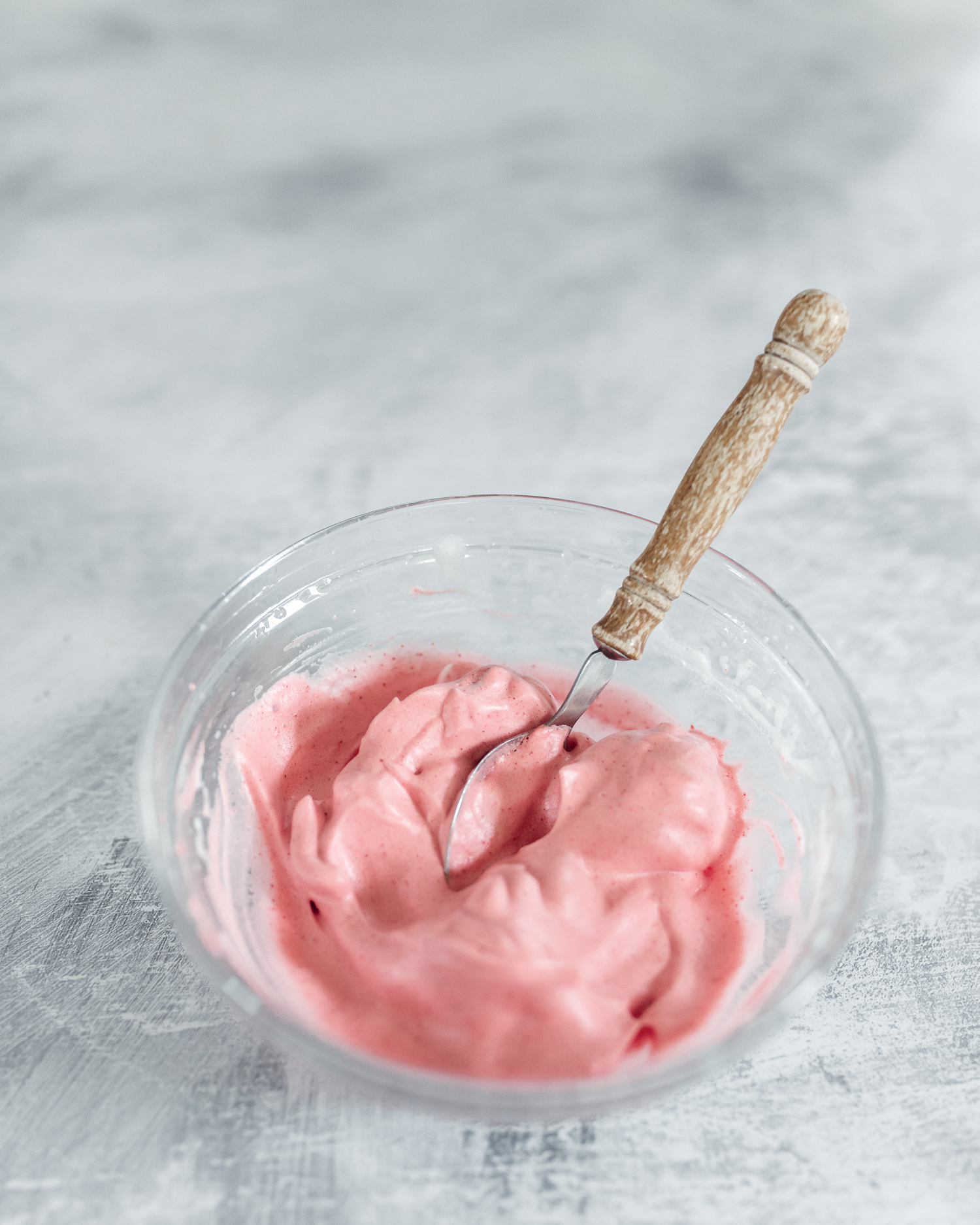 STEP FIVE
Put some ice into a glass and pour in cold milk. The glass should be filled to two-thirds of the glass. If you want to make a more traditional version, just skip the ice and heat the milk.
STEP SIX
Scoop some of that delicious pink foam on top of the milk.
STEP SEVEN
Sprinkle some beetroot powder on top of the foam, or why not try some of the other toppings I mentioned?
STEP EIGHT
And Voila, you are done! Now it's time to serve it.
You have just made a beautiful Dalgona Beetroot Latte in less than 10 minutes. This drink is the best of two worlds. Believe me, it's as pretty to look upon as it is tasty.
---
Topping for your Dalgona Beetroot Latte
There are a bunch of toppings you can put on this delicious drink. Make it even more pretty than it already is by topping it with something that will enhance the flavor.
Optional topping ideas:
Beetroot powder
Shredded white chocolate
Cinnamon
Cardamom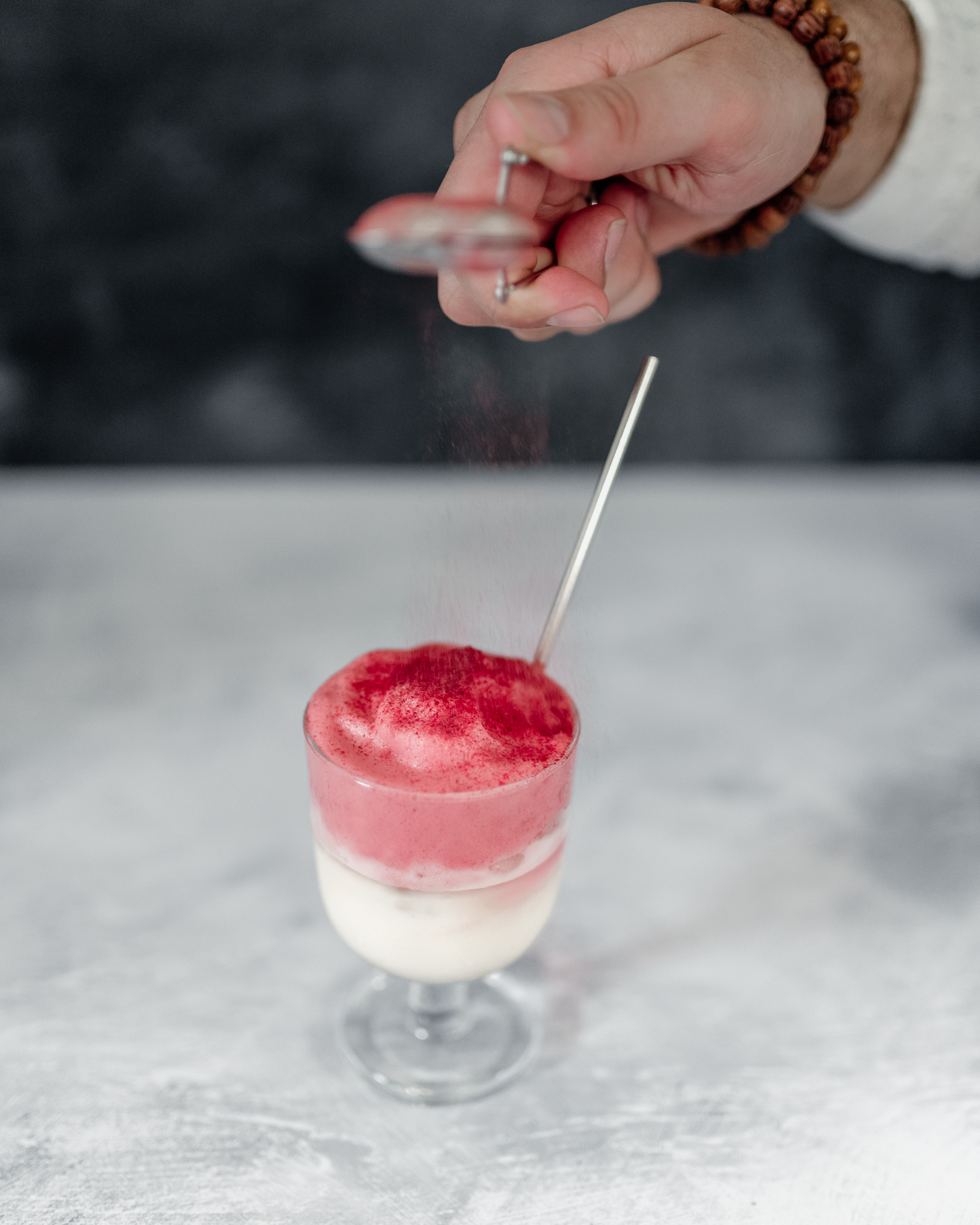 ---
The Dalgona Challenge
The ancient tradition of hand whipping is a test of endurance and one hell of a powerful arm. With Dalgona, there is no exception. If you plan to do it with a regular whisk, you need to have patience.
Take on the challenge and whisk it 400 times by hand.
If you are lucky enough to have a hand mixer or a blender, you can kick back and relax while the electric whisk does all the work. It takes around 2-3 minutes.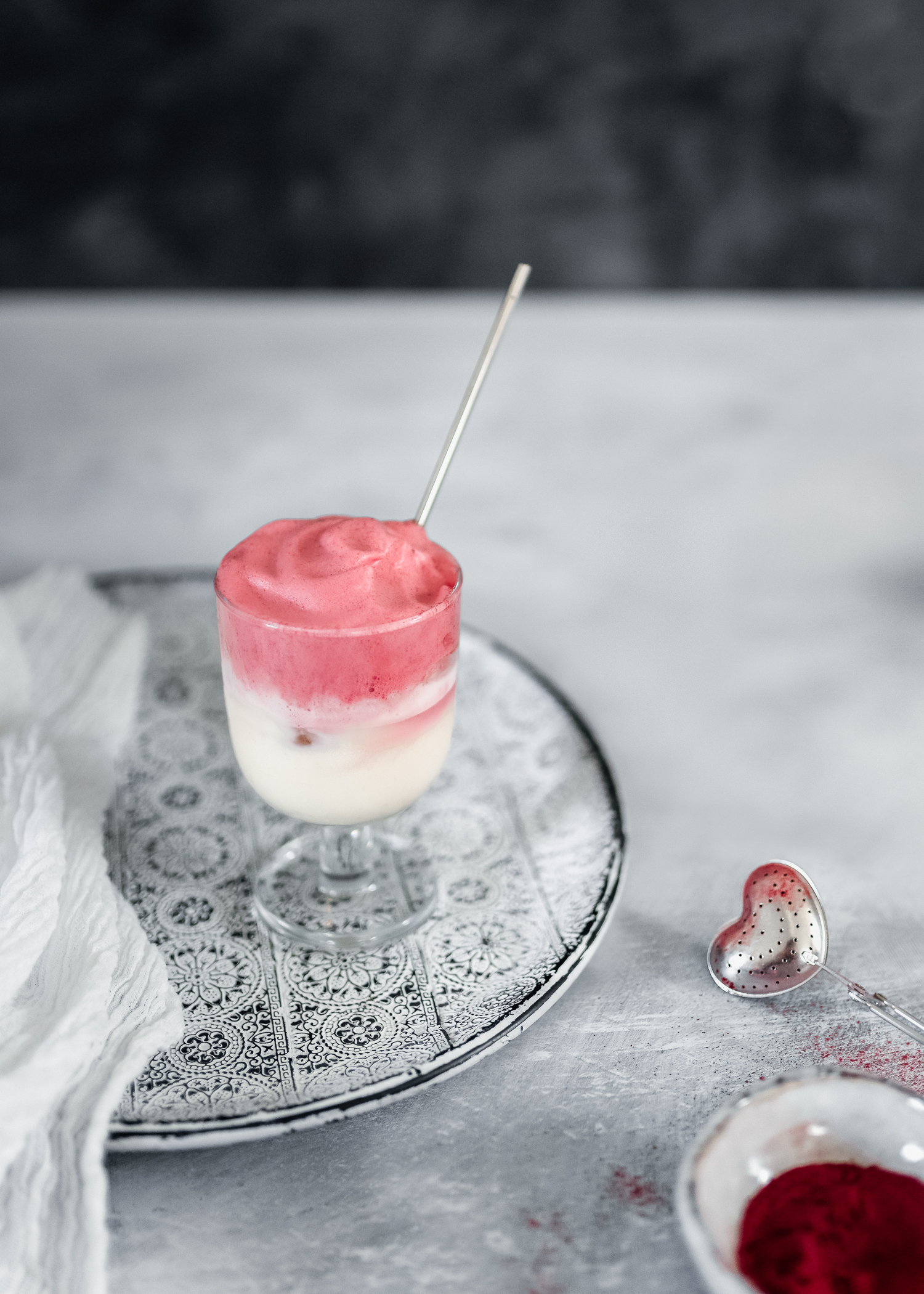 Read More: Tropical Smoothie Bowl with Pineapple, Mango & Coconut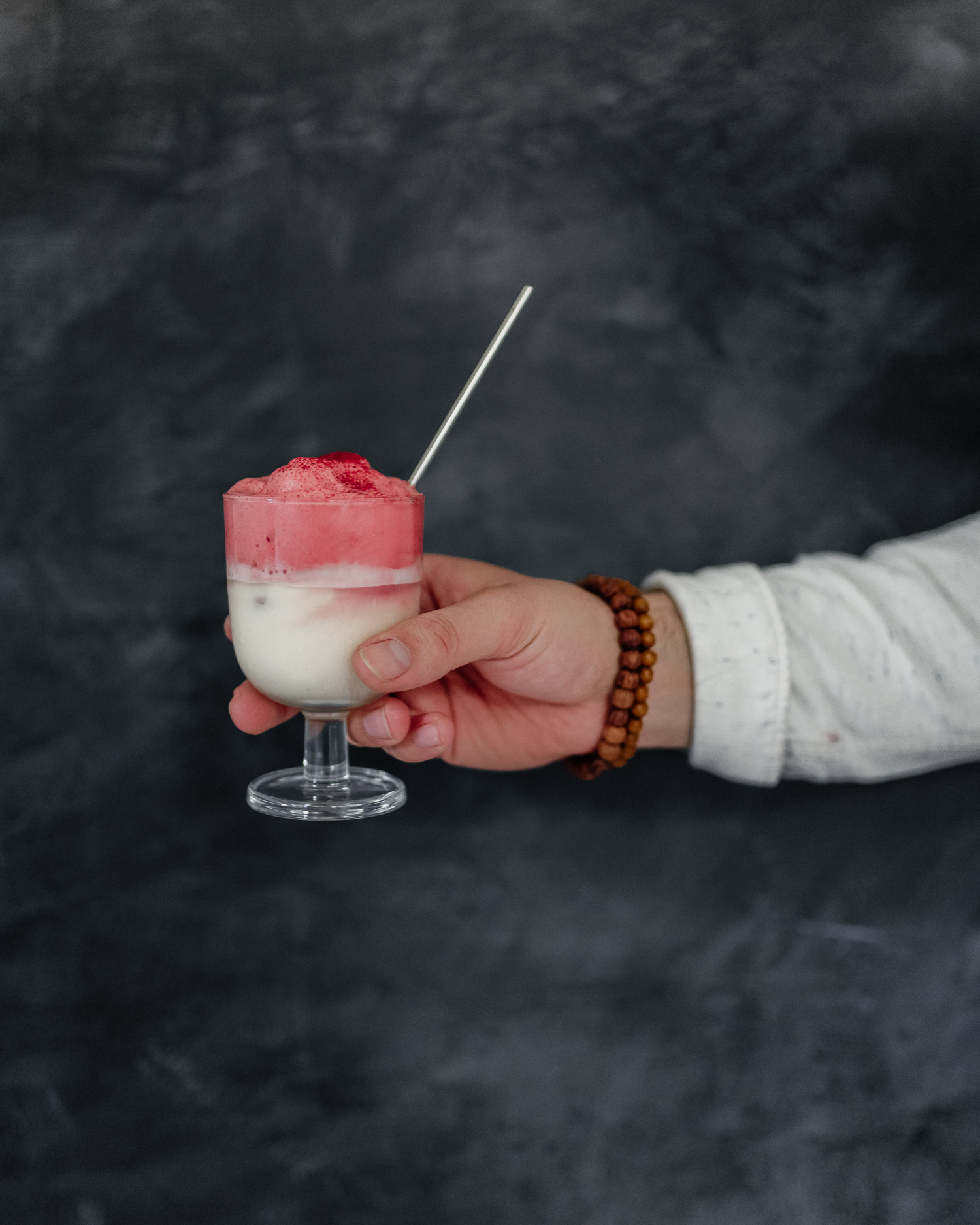 ---
Conclusion
Beetroot and aquafaba have a unique taste to it, and like many things, it's not for everyone. If you liked it and made it, you will have a healthy drink to enjoy in your self-quarantine.
What did you think about our whipped Dalgona beetroot latte? Please let us know in a comment. Have fun whipping!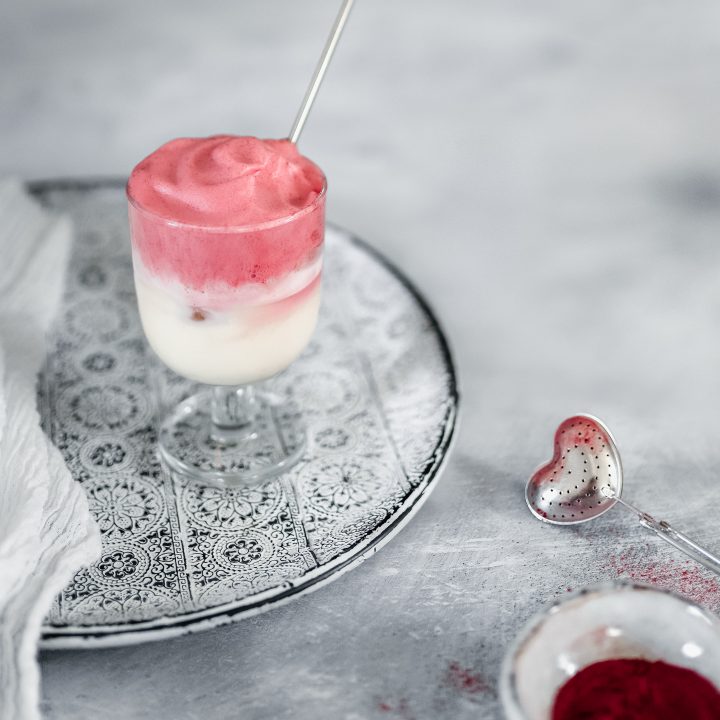 Dalgona Beetroot Latte
Colorful, tasteful, and packed with antioxidants that are good for you. This trendy drink is flavored with beetroot, agave syrup, and vanilla extract.
Ingredients
1-2 tsp beetroot powder
1 tsp agave syrup
1 tsp hot water
2 tbsp aquafaba
¼  tsp vanilla extract
ice cubes
½ cup soy milk
Instructions
Mix the beetroot powder, agave syrup, and boiling water into a lump-free paste. Set aside.
Start mixing the aquafaba for about 2-3 minutes or until firm peaks have formed.
Add the beetroot paste to the aquafaba and mix it for a couple of seconds until the two are blended well.
Pour in some vanilla extract and mix it all together one last time.
Add a few ice cubes into a glass and add the milk.
Spoon over the velvety smooth beetroot cream on the top of your drink.
Add the topping of your choosing.
Serve and enjoy! Don't forget to stir vigorously to swirl the fluff into your milk.
Nutrition Information:
Yield:

1
Serving Size:

1
Amount Per Serving:
Calories:

90
Total Fat:

2,5g
Saturated Fat:

0,3g
Trans Fat:

0g
Unsaturated Fat:

0g
Cholesterol:

0mg
Sodium:

0mg
Carbohydrates:

11,6g
Fiber:

1,7g
Sugar:

9,4g
Protein:

3,5g
*Nutrition information is a rough estimate calculated without toppings.
In it to Pin it? Save Our Vegan Dalgona Beetroot Latte for Later!