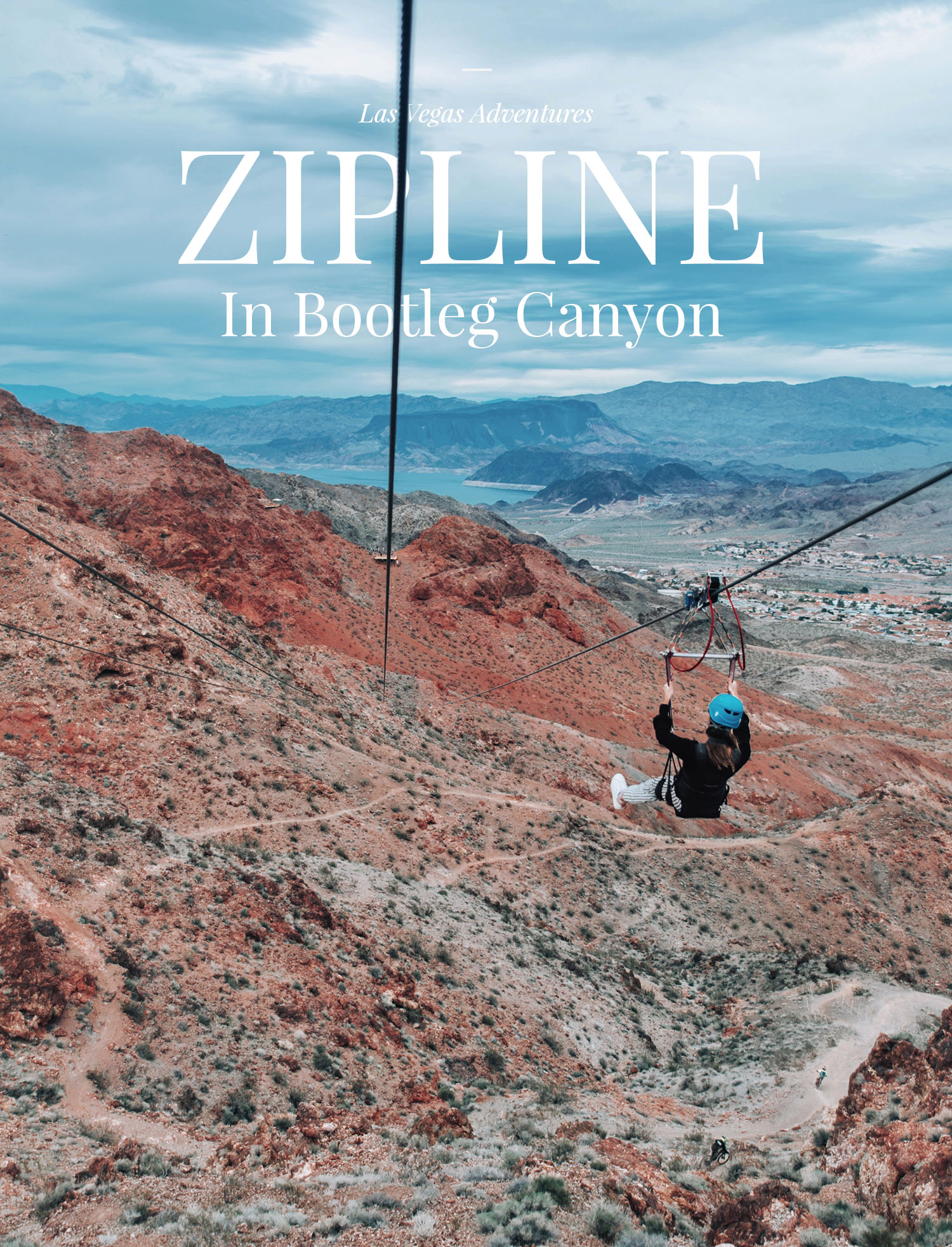 Looking for something different to do off The Strip in Las Vegas? Just 30 minutes away you can zipline down the Red Mountain in Boulder City at speeds up to 60 mph.
If you enjoy fast-paced adventures, want to experience a different side of Las Vegas or just want to see what Nevada can offer ziplining over the Mojave Desert is an experience not to be missed! We visited Flightlinez, located in Bootleg Canyon, about 25 miles of the Las Vegas Strip and about 10 minutes north of the Hoover Dam.

With four different zipline runs this is a fantastic 3-hour adventure where you get a great adrenaline rush from the speed and at the same time can enjoy the spectacular view of the Mojave Desert from above.
Getting started with Flightlinez
We began with a safety class indoors before going on the van ride up the mountain. The nice guys from Flighlinez were just hilarious and made the atmosphere so relaxed and chill – even though I started to get a bit nervous about remembering what to do.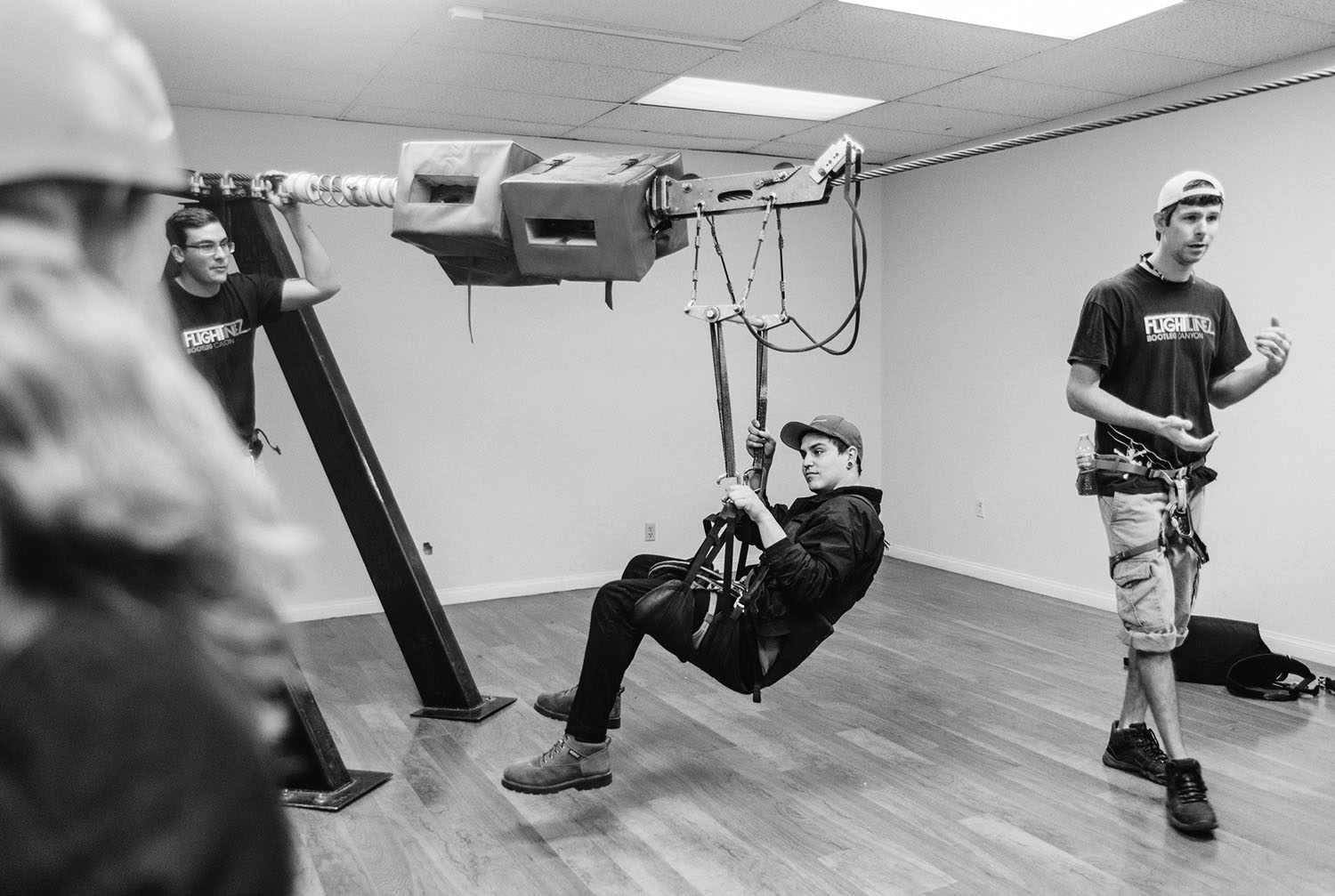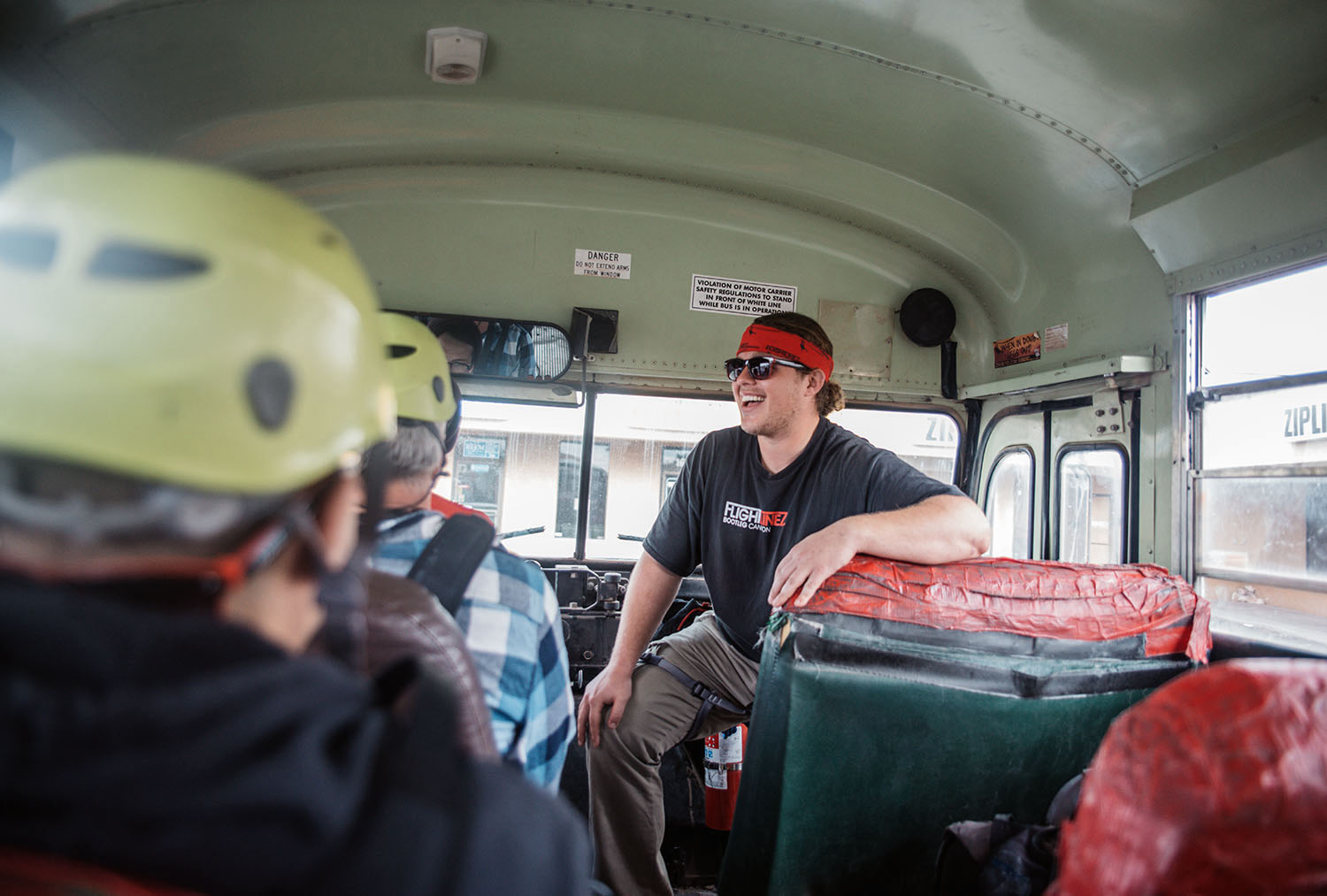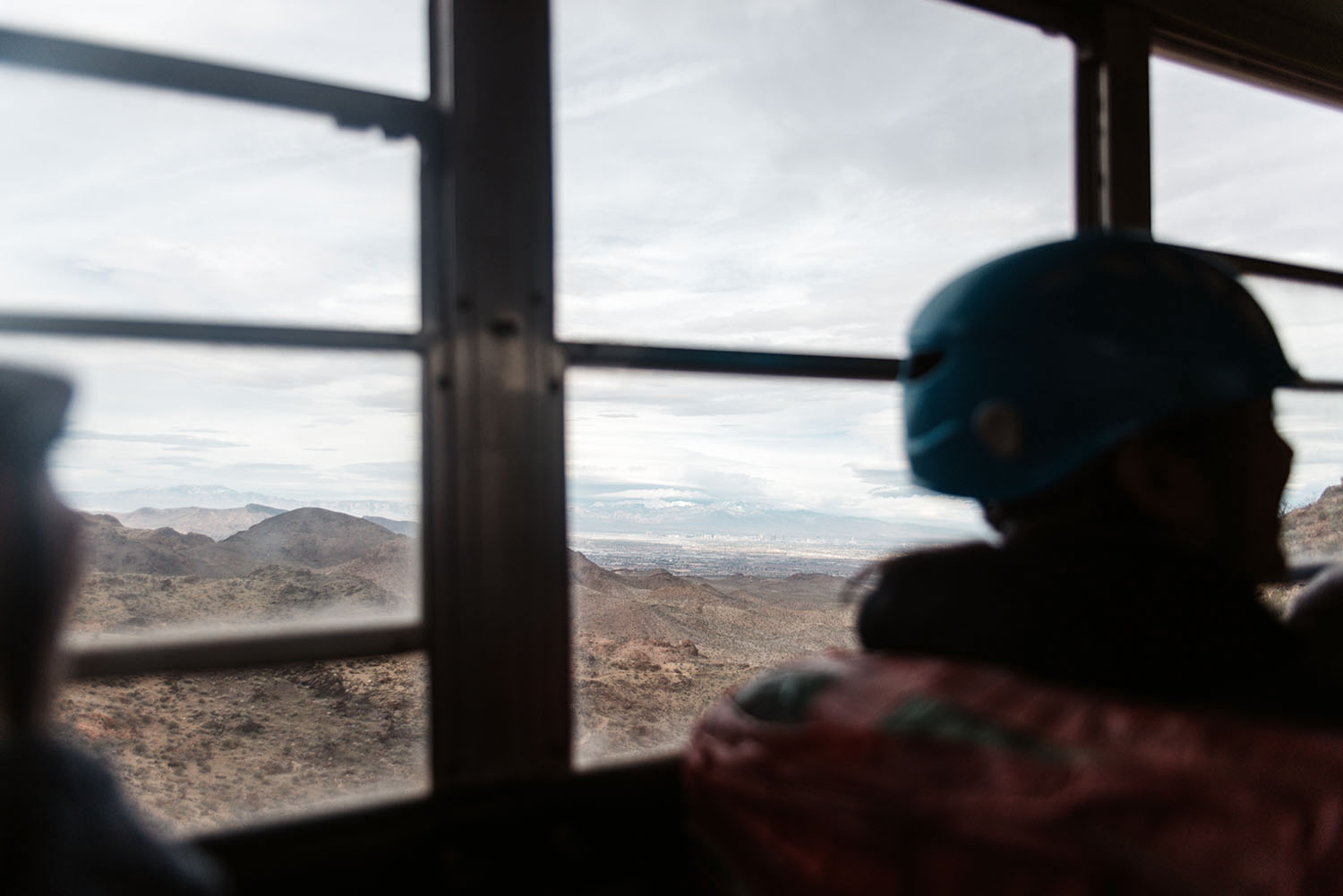 Discover the Mojave Desert and Bootleg Canyon
Mountain air and lovely surroundings. The Bootleg Canyon, the Red Mountain, and the Mojave Desert, are so beautiful!
I actually can't stop being surprised about how much amazing sceneries and breath-taking views that are so close to Las Vegas. Death Valley, Hoover Dam and Red Rock Canyon. Then we have not even mentioned Grand Canyon, Horseshoe Bend and Antelope Canyon that are truly must-see places only a couple of hours drive away. There is much to discover, and it's well worth hiring a car in Vegas to explore the places. Depending on when you go ziplining in the Red Mountain there is a chance of spotting wildlife and seeing bighorn sheep as you fly over the desert ground.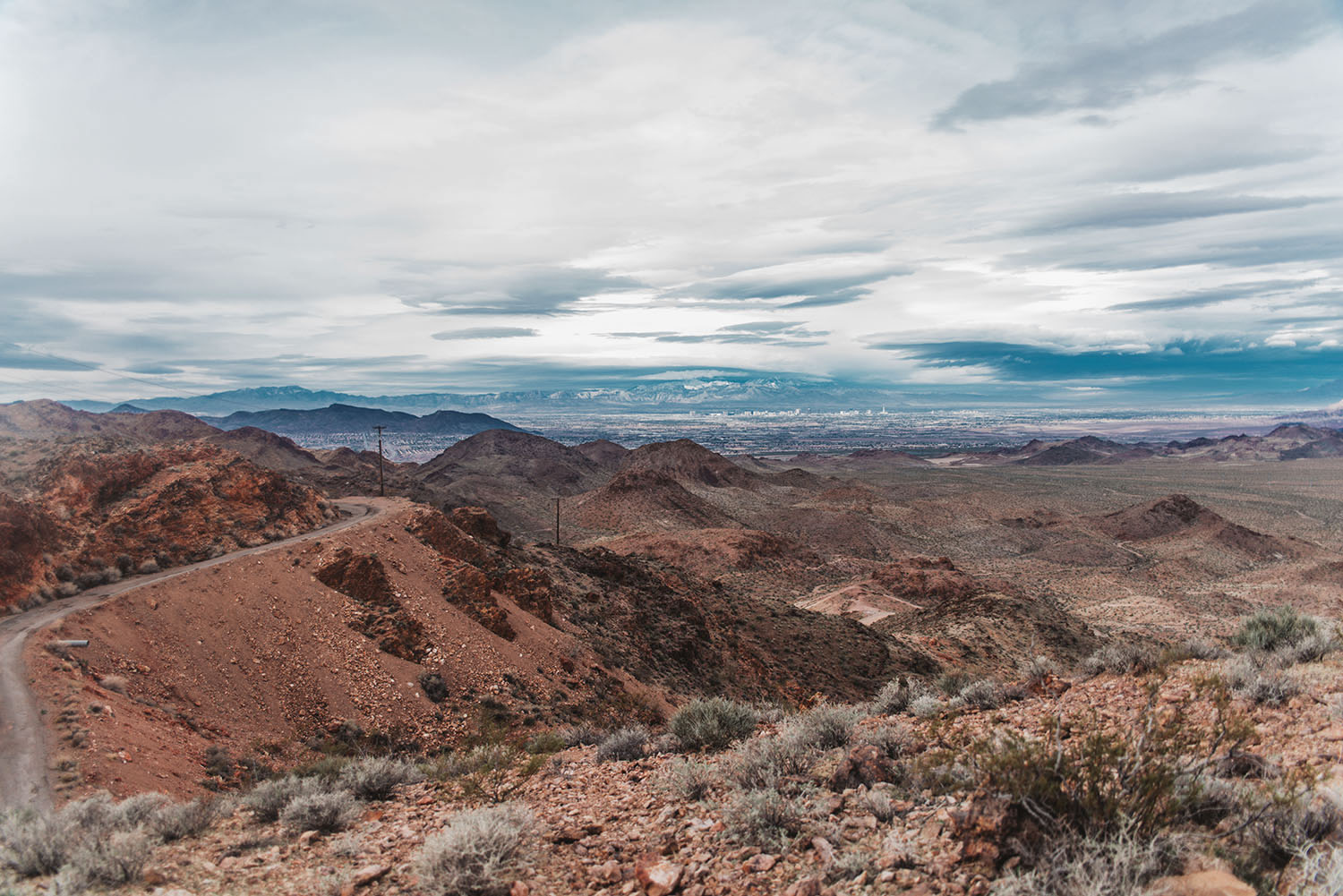 Although this was a cloudy day in February the view of the Mojave Desert was just stunning. Can you spot The Strip's skyline in the picture above?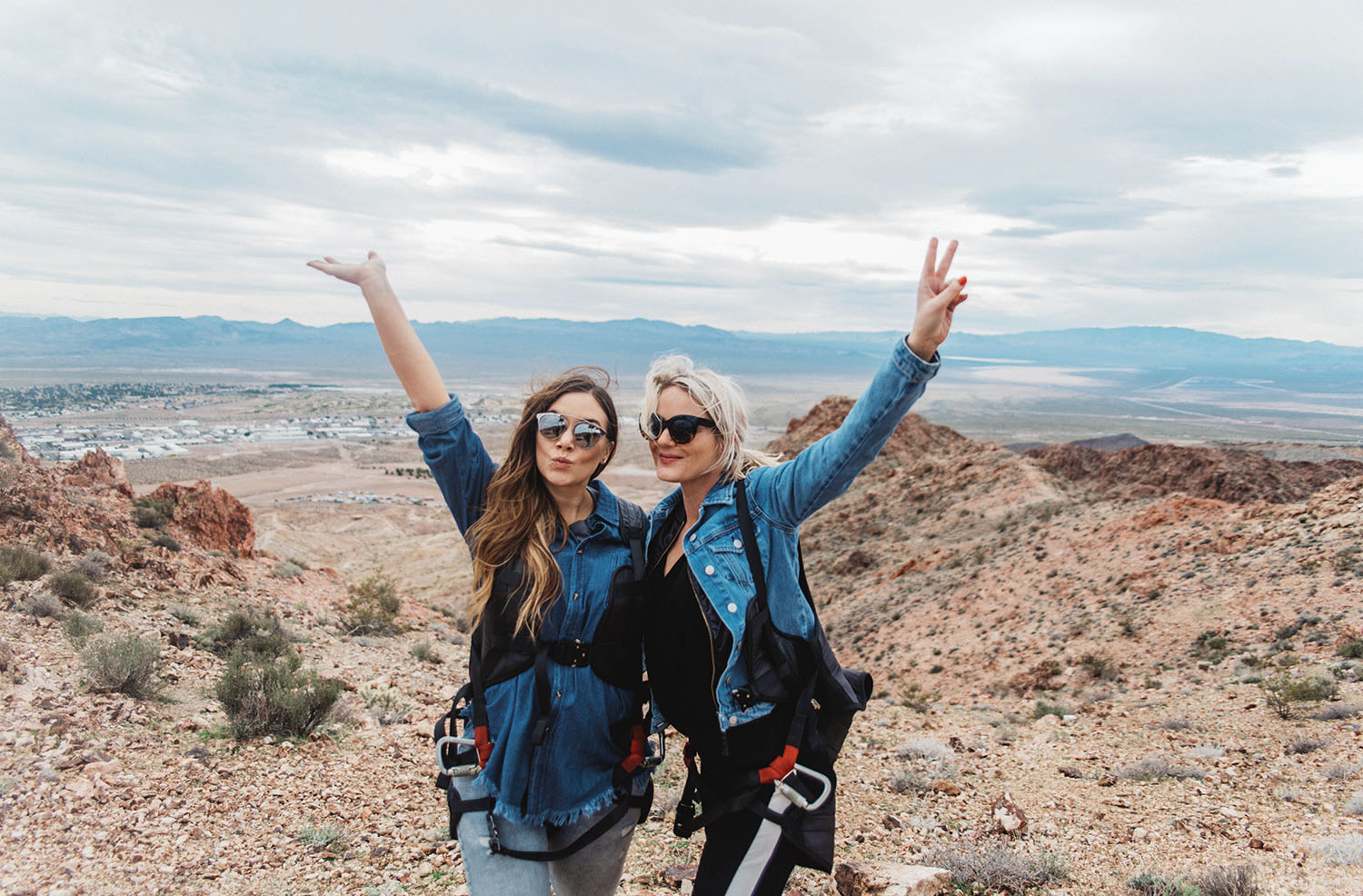 My sweet blogger friend Julie Von Lyck and I. We got to know each other in Madeira.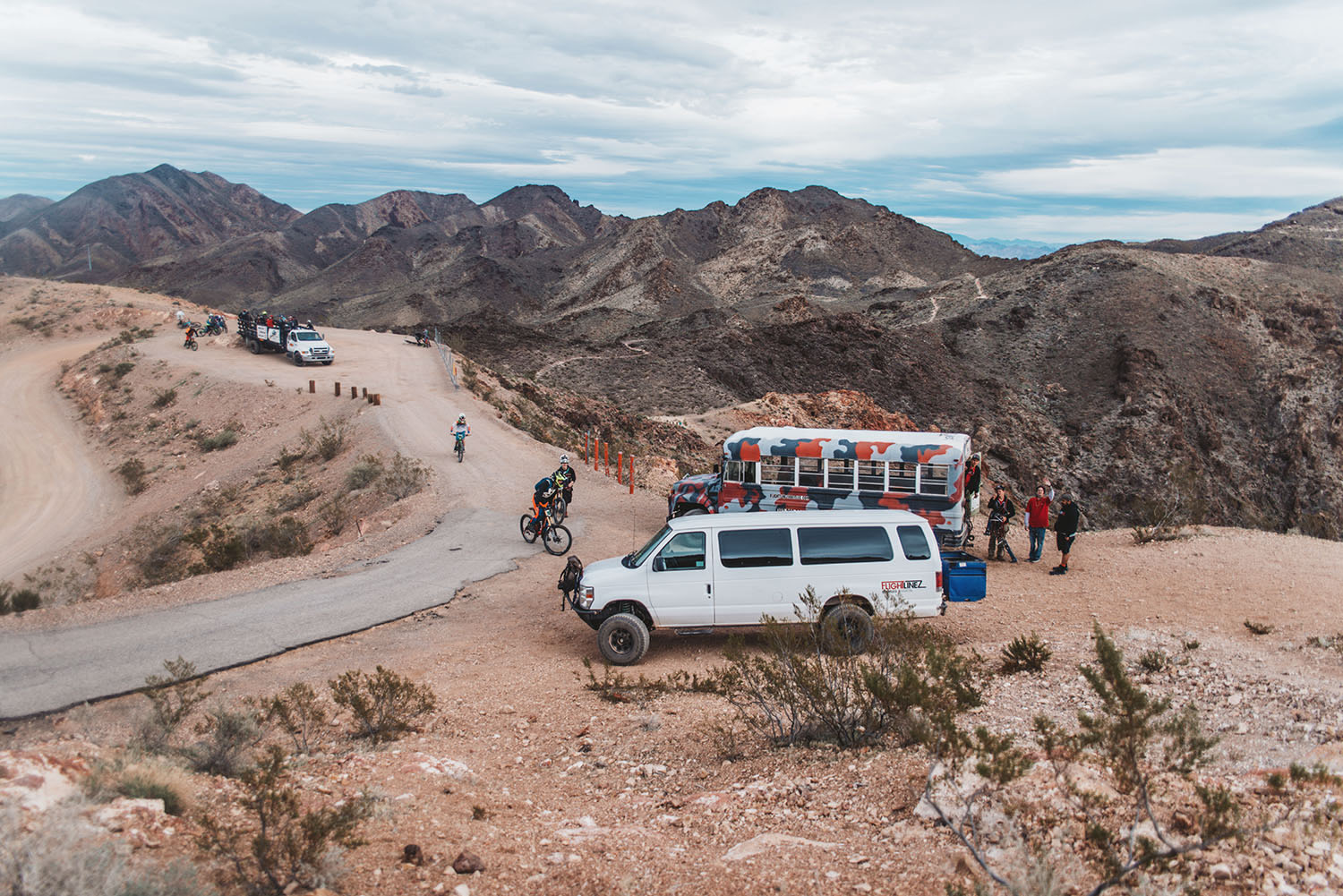 After the van ride, it was time for a 10-minute hike up to the first zipline platform, and the fastest zipline run.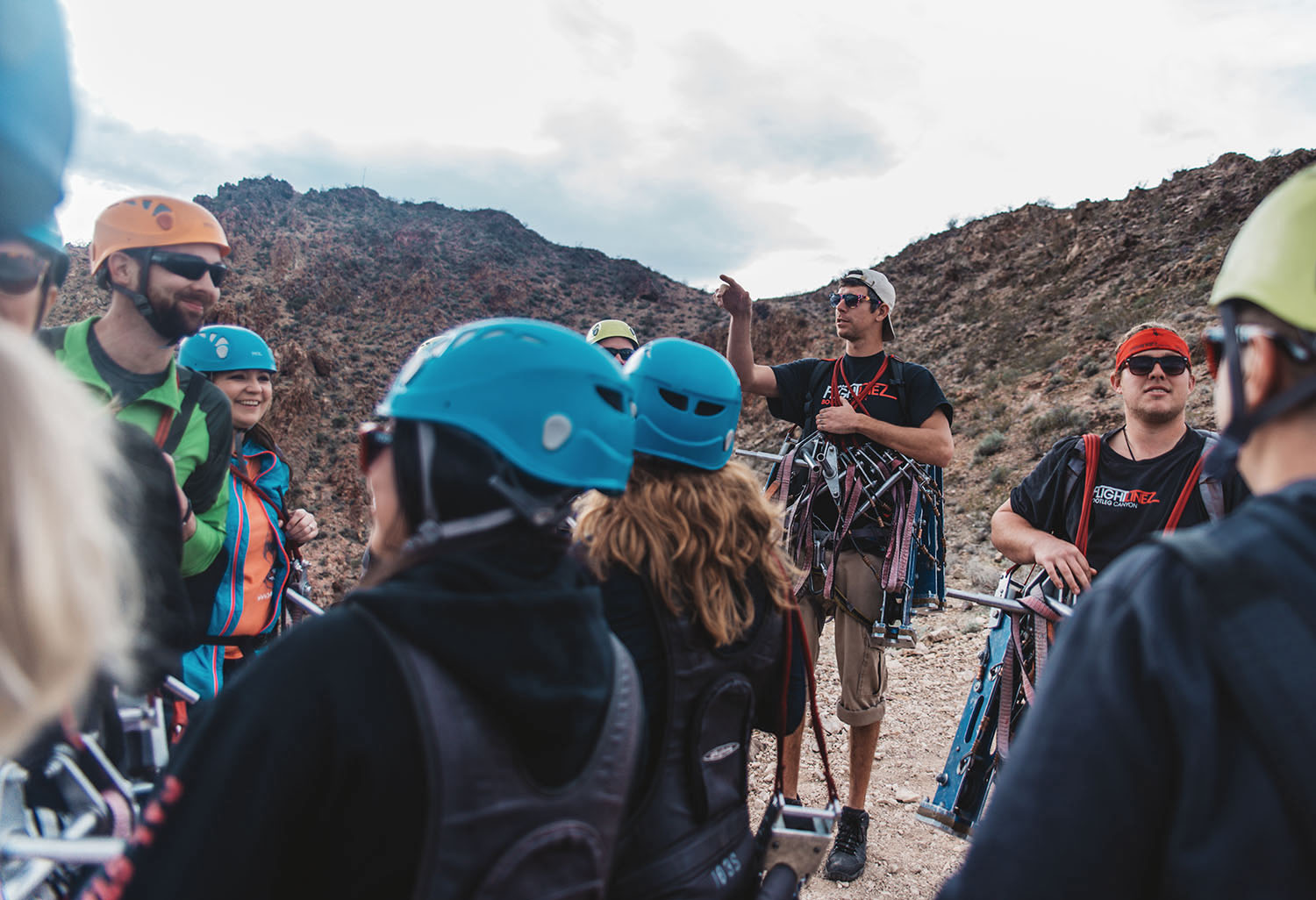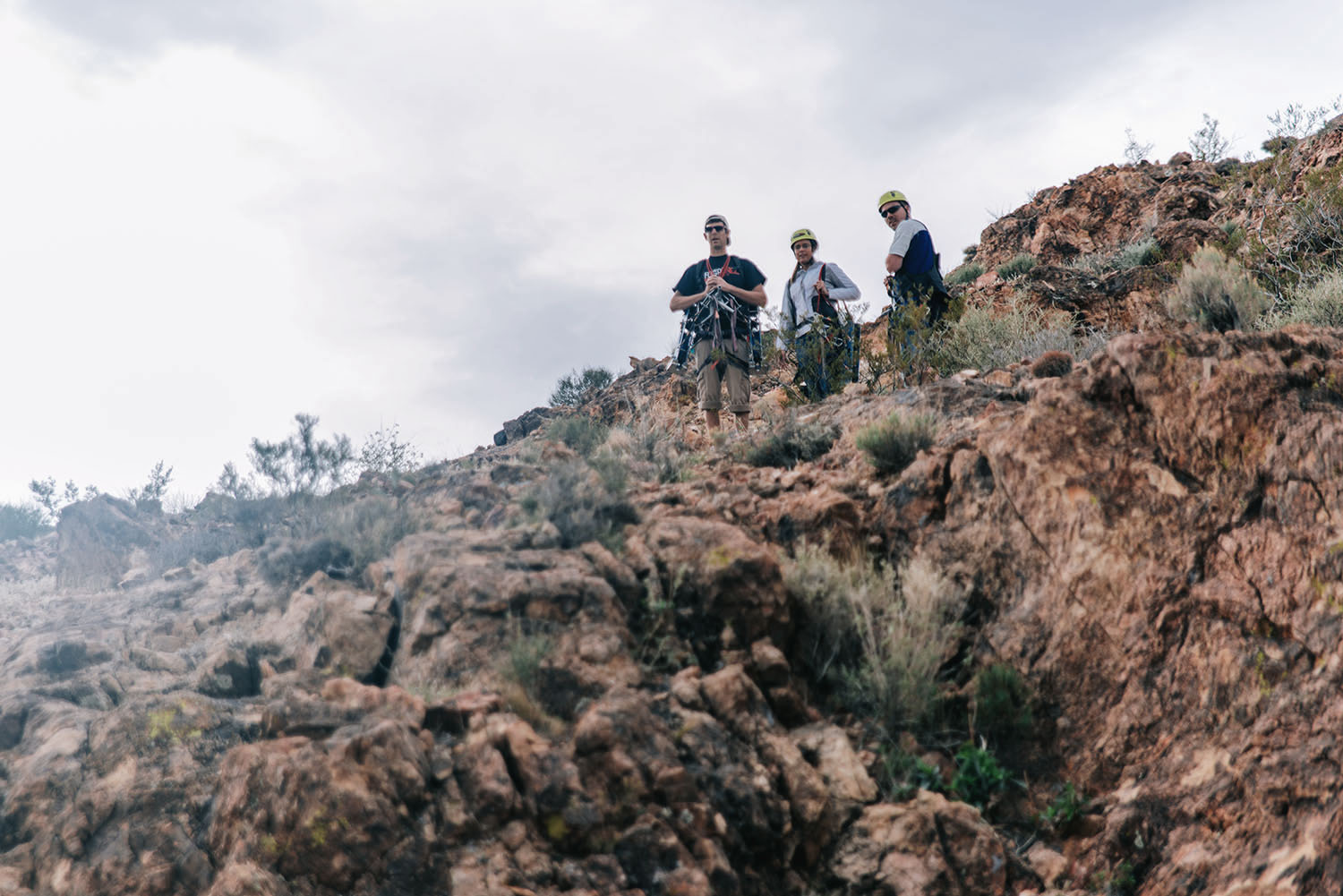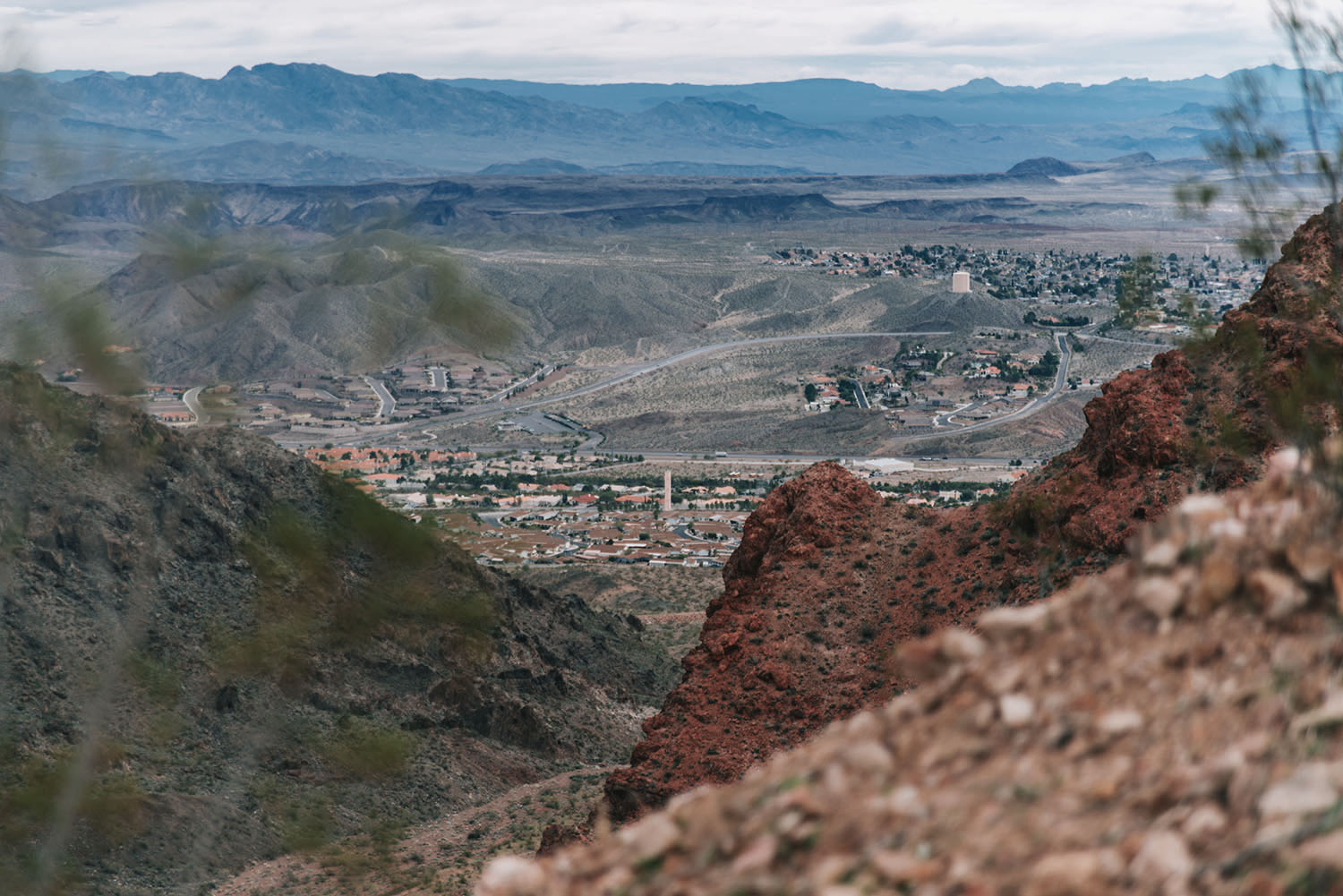 Let the Las Vegas Zipline adventure begin!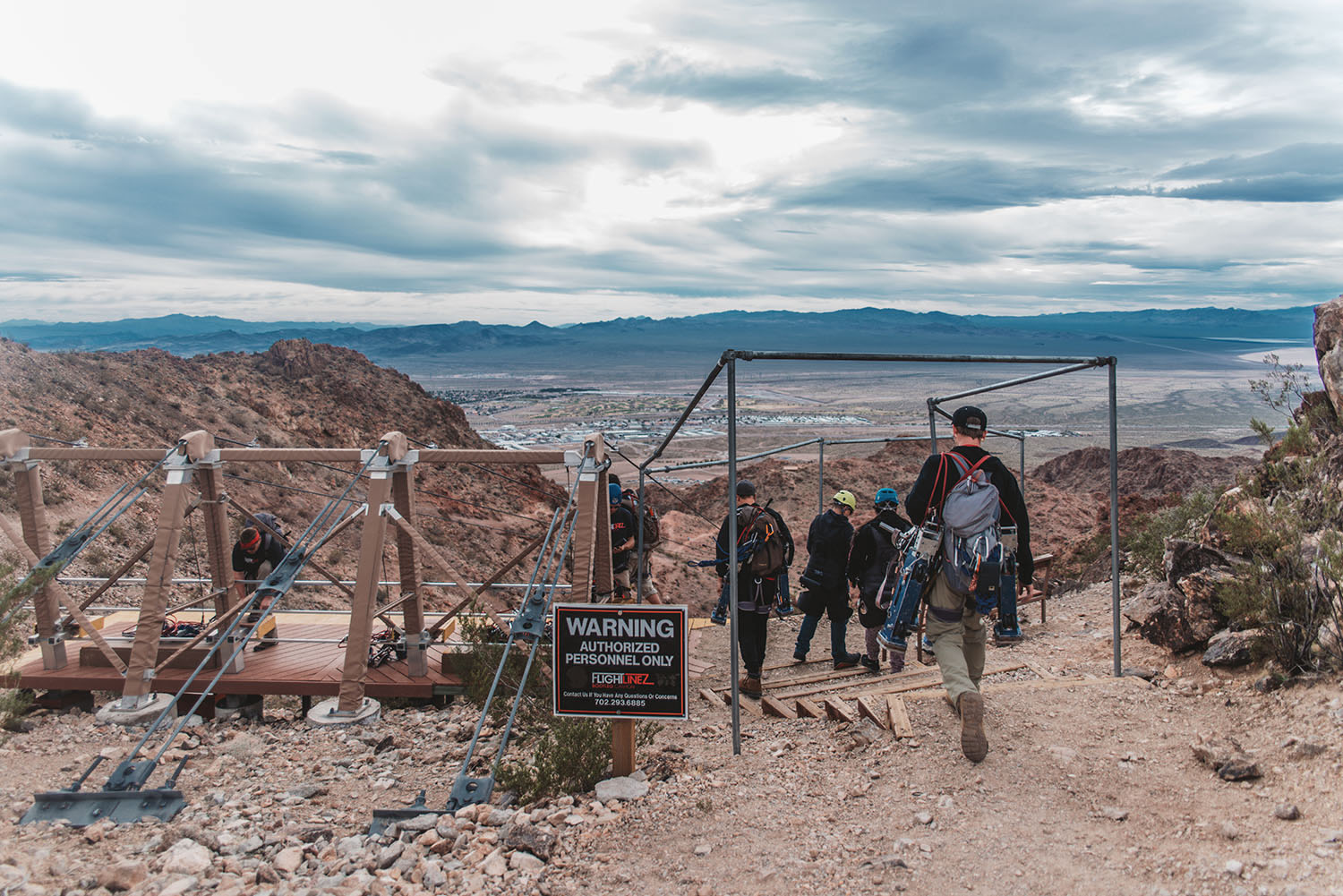 Once you reach the top of the Red Mountains, you are about 3 800 feet above sea level. The first zipline run is 1 852 feet long and has a 400-foot drop that can get you up to speeds of 60 mph.

I have to admit; it's easy to experience the rush when your feet are dangling above the desert ground. Flightlinez guides made sure that we were safe and comfortable before they let us off, one by one.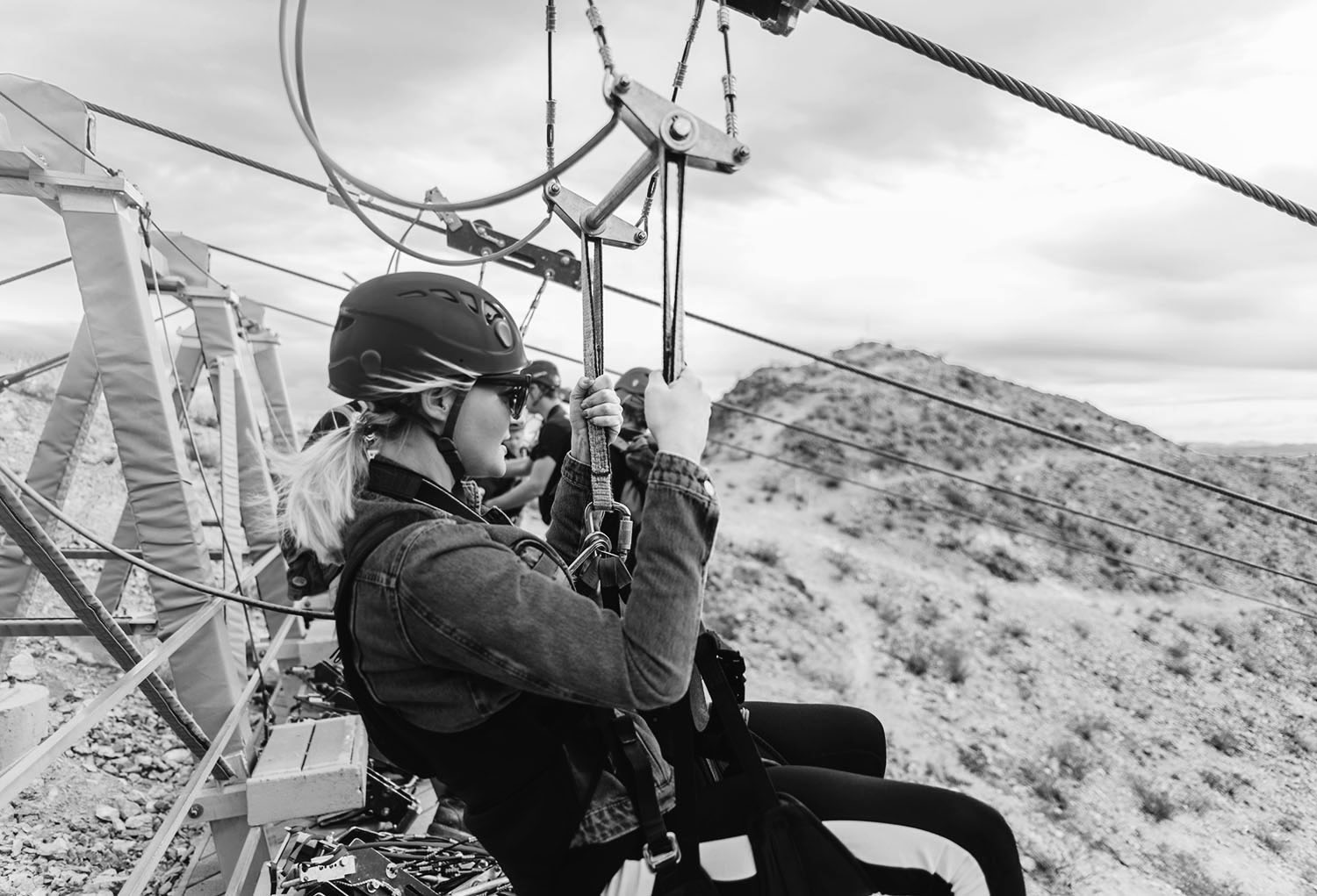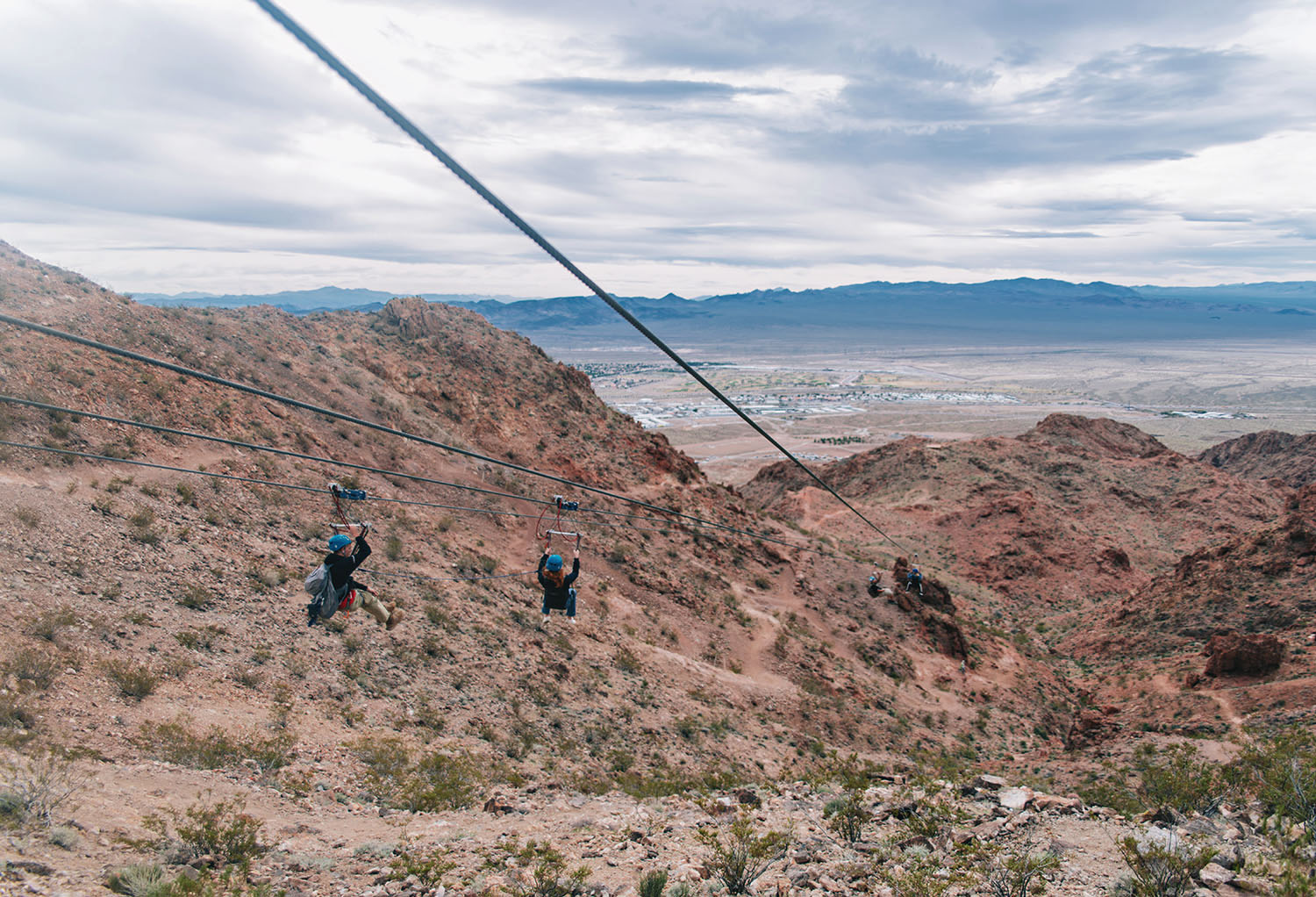 … And it was so much fun!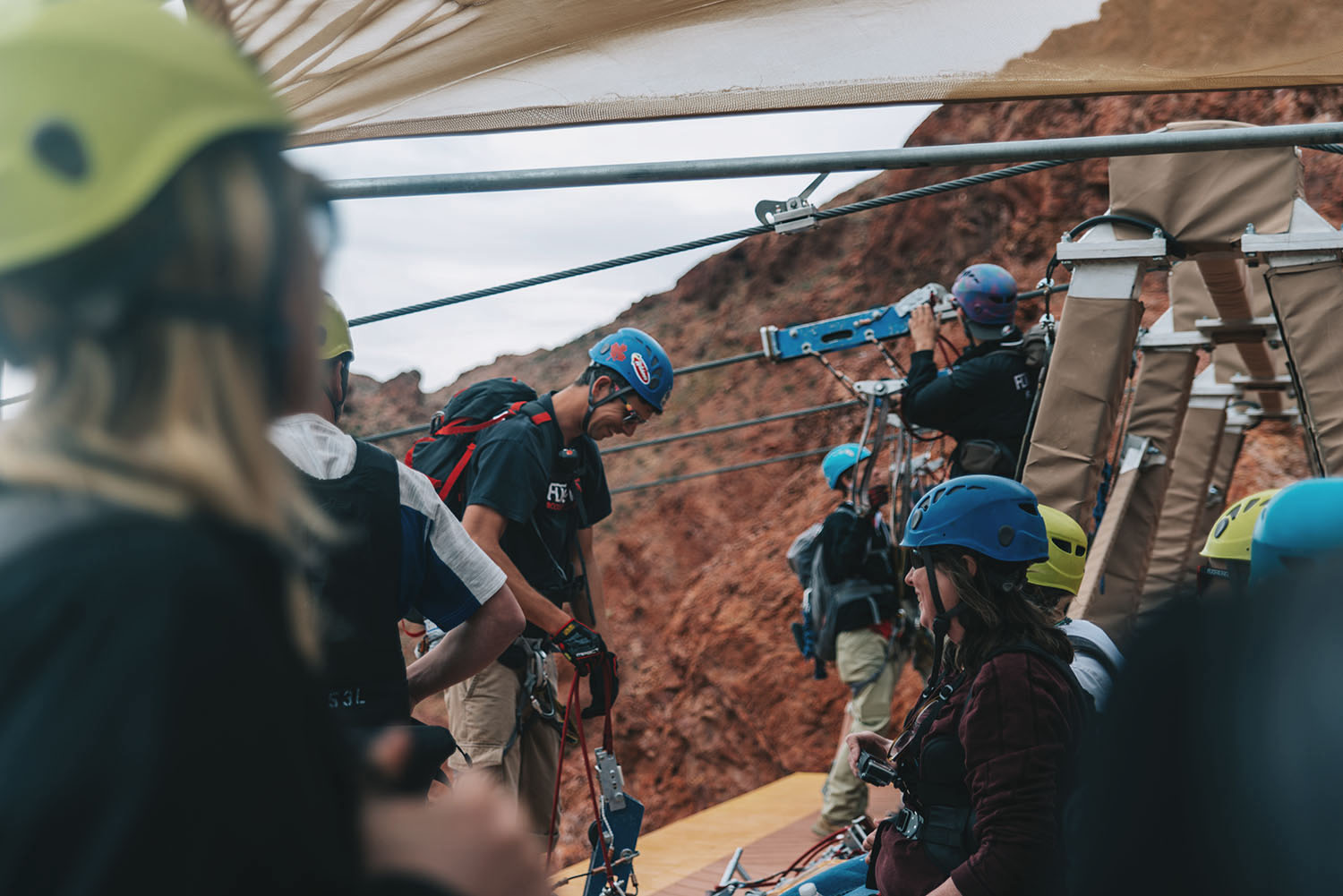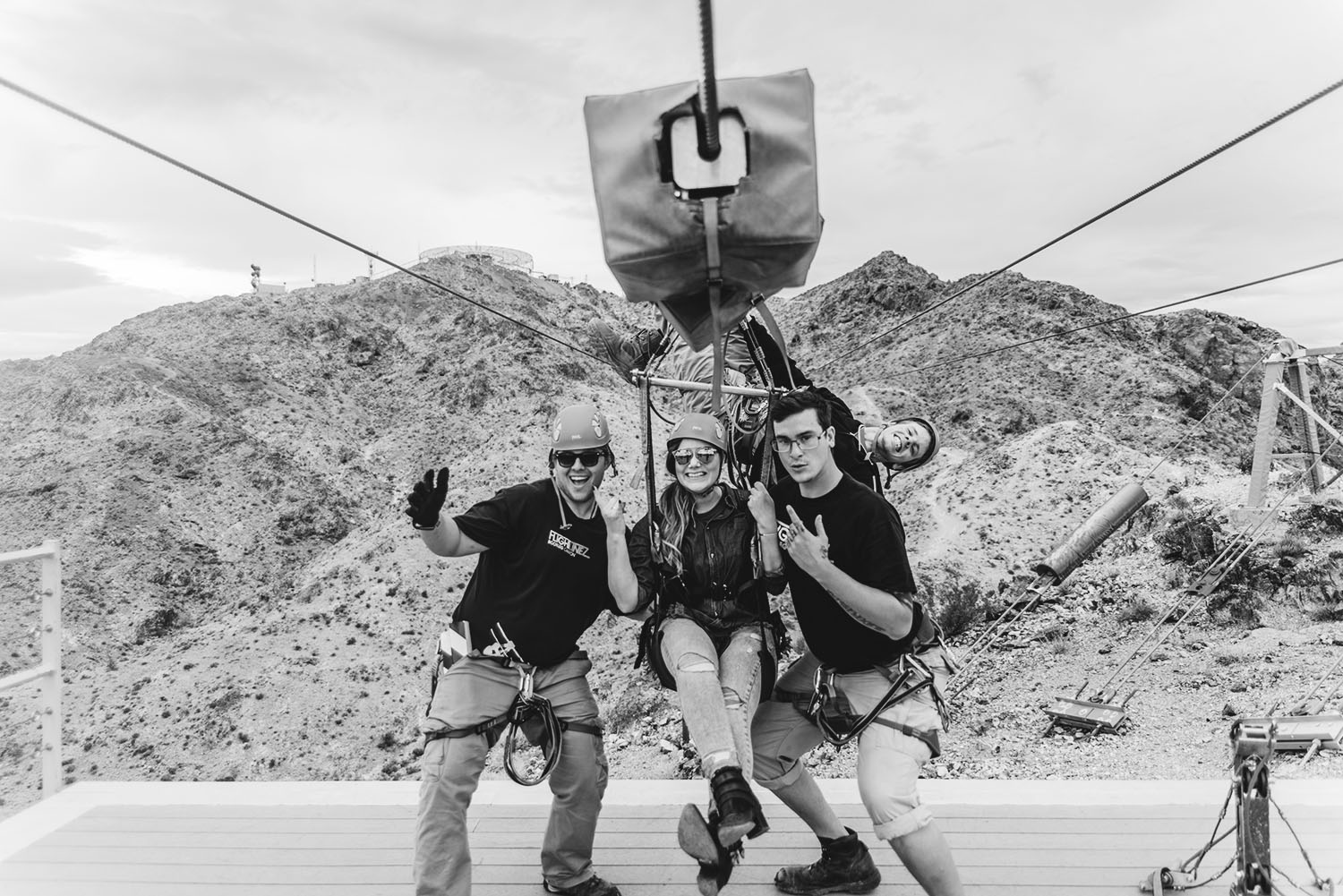 I was this happy after having experienced my second zipline run and having reached the finish line.
If you are worried about not making it to the landing platform and getting stuck, you don't have to worry. If you don't have enough speed or the wind is blowing against you, there is a chance you may get stuck. In this case, one of the trained guides will come out and "rescue" you. They are prepared!
The entertaining guides were even prepared for my quick photo. How one guy managed to get up that fast behind me to pose for a photo is a good question.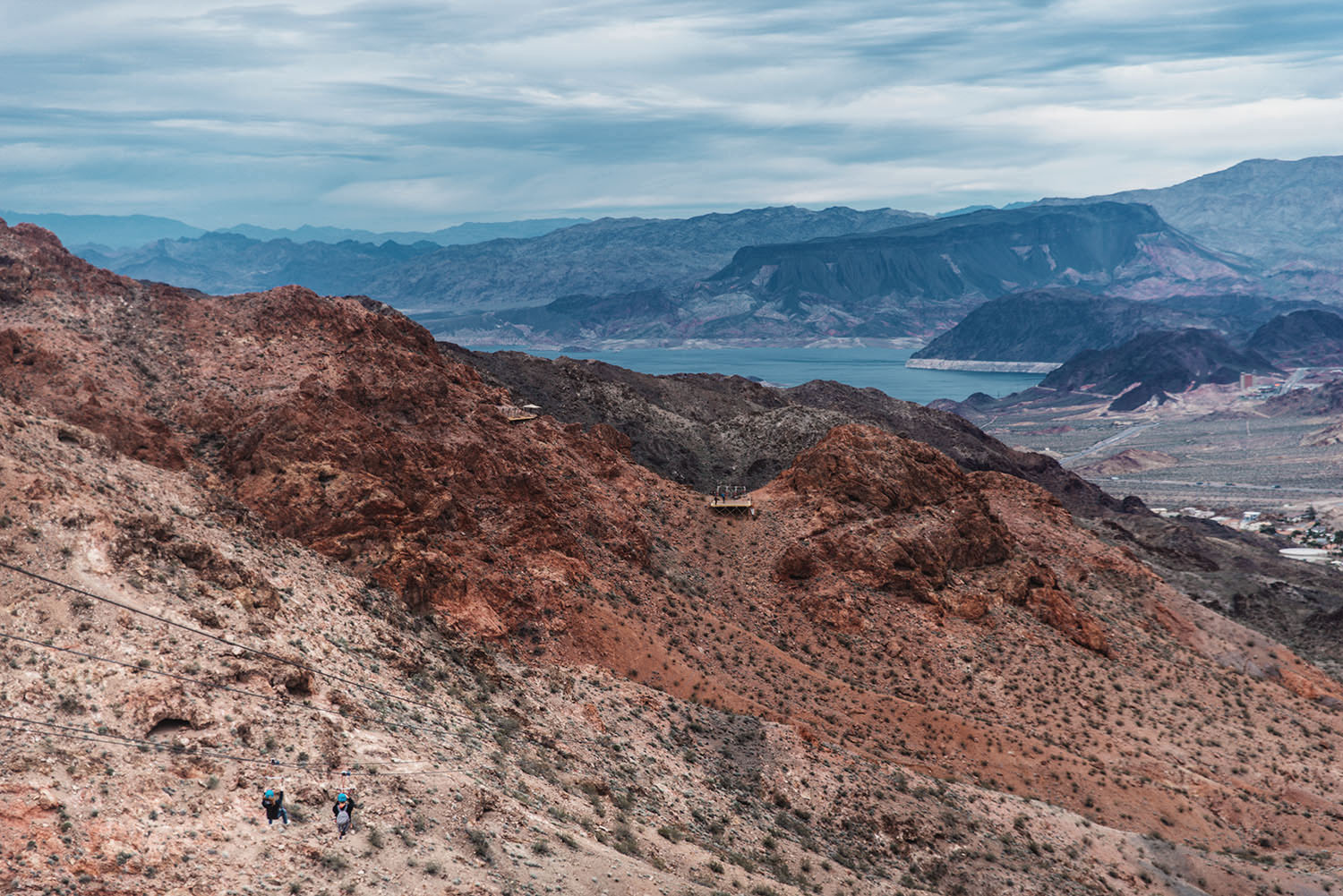 Desert landscape in the foreground and Lake Mead in the background. How beautiful? Can you spot the two people ziplining in the photo? It is easy to feel small in these magnificent surroundings.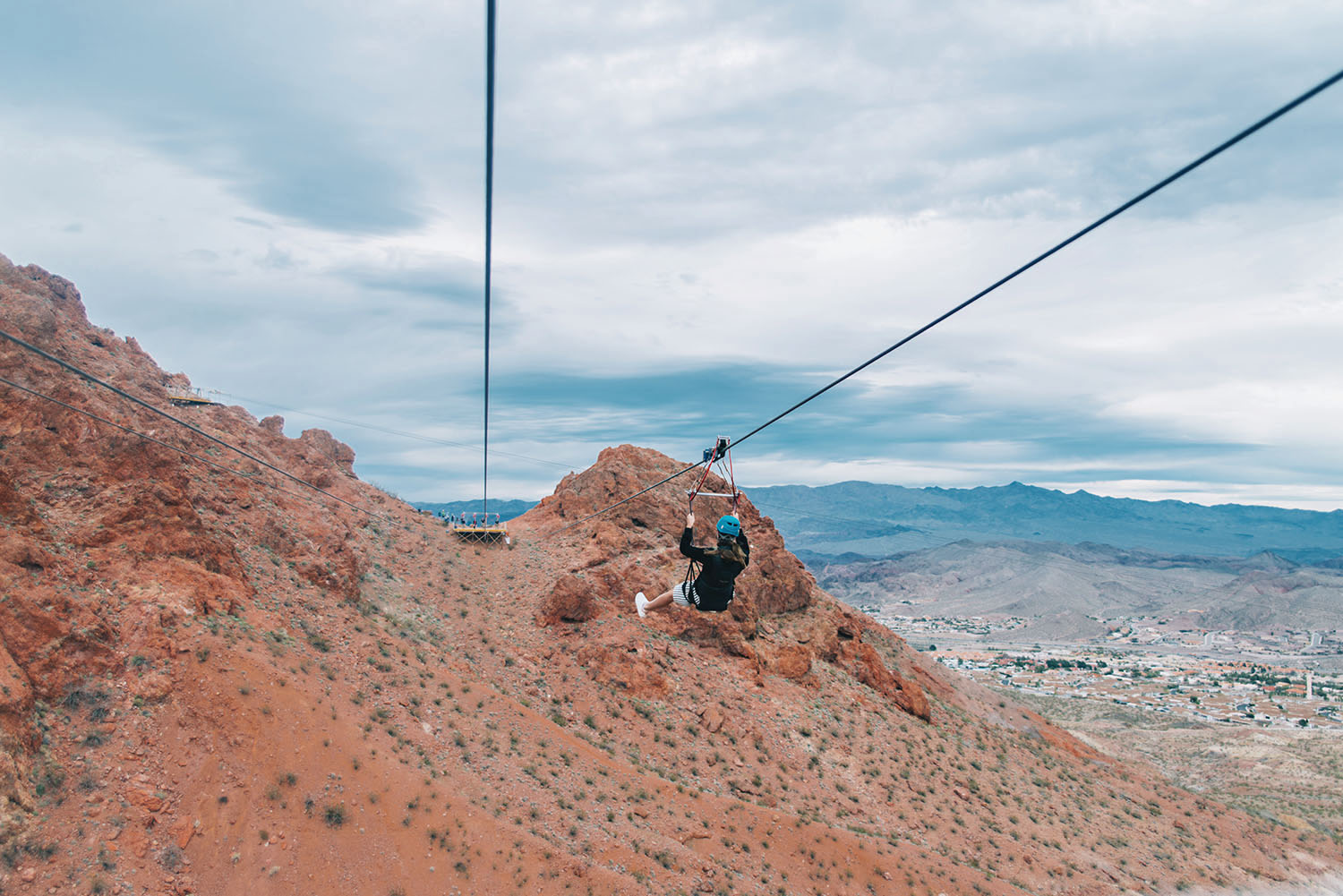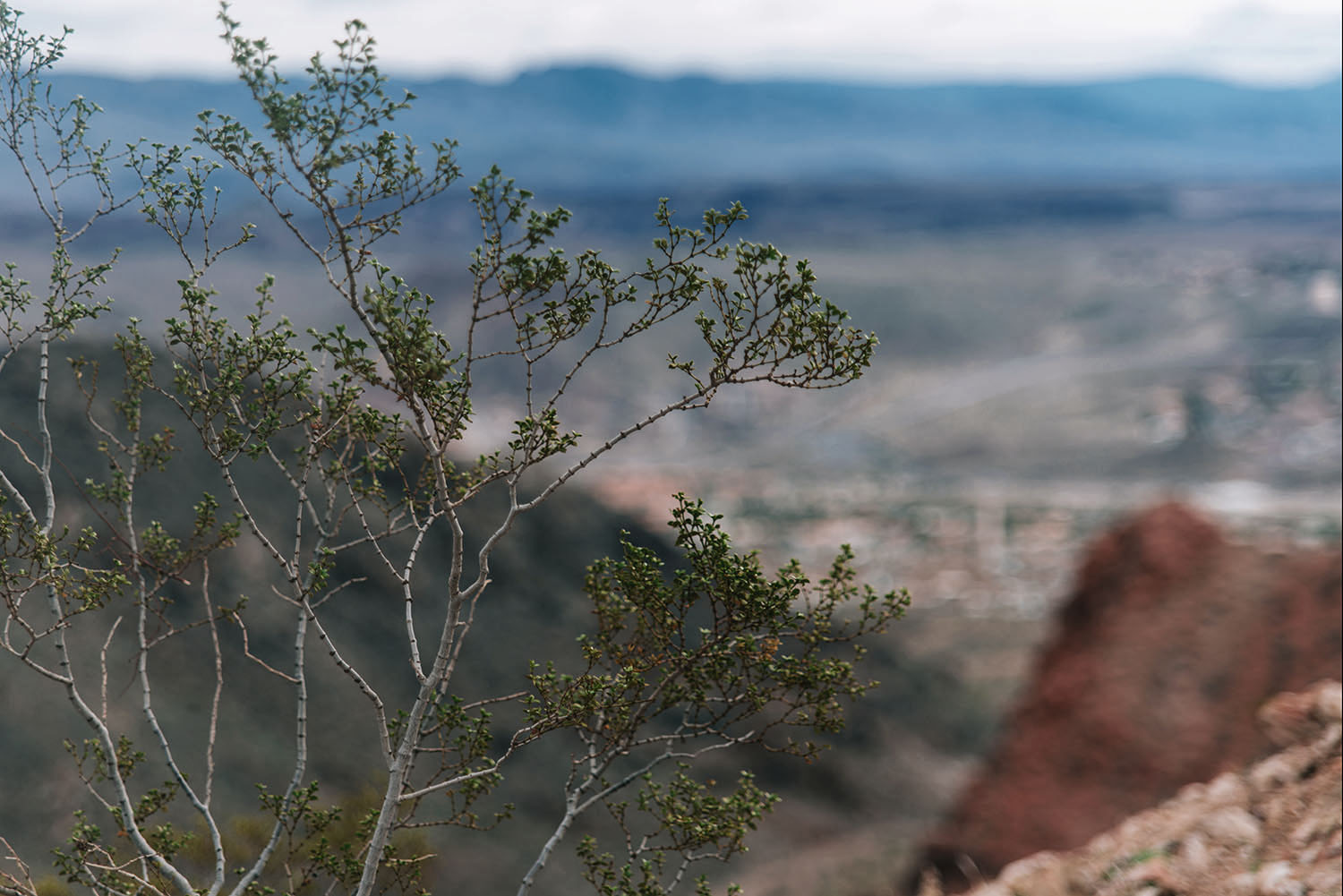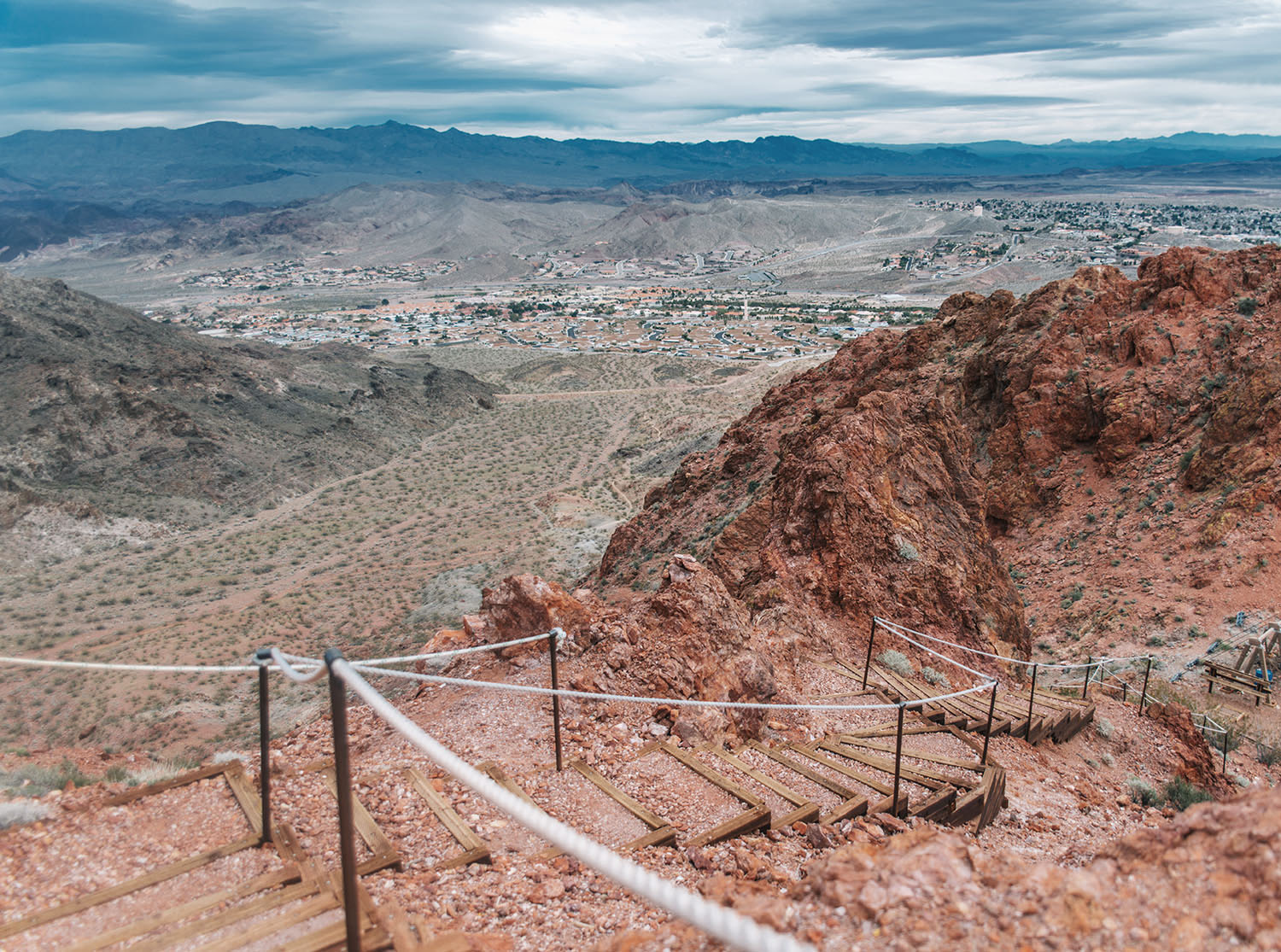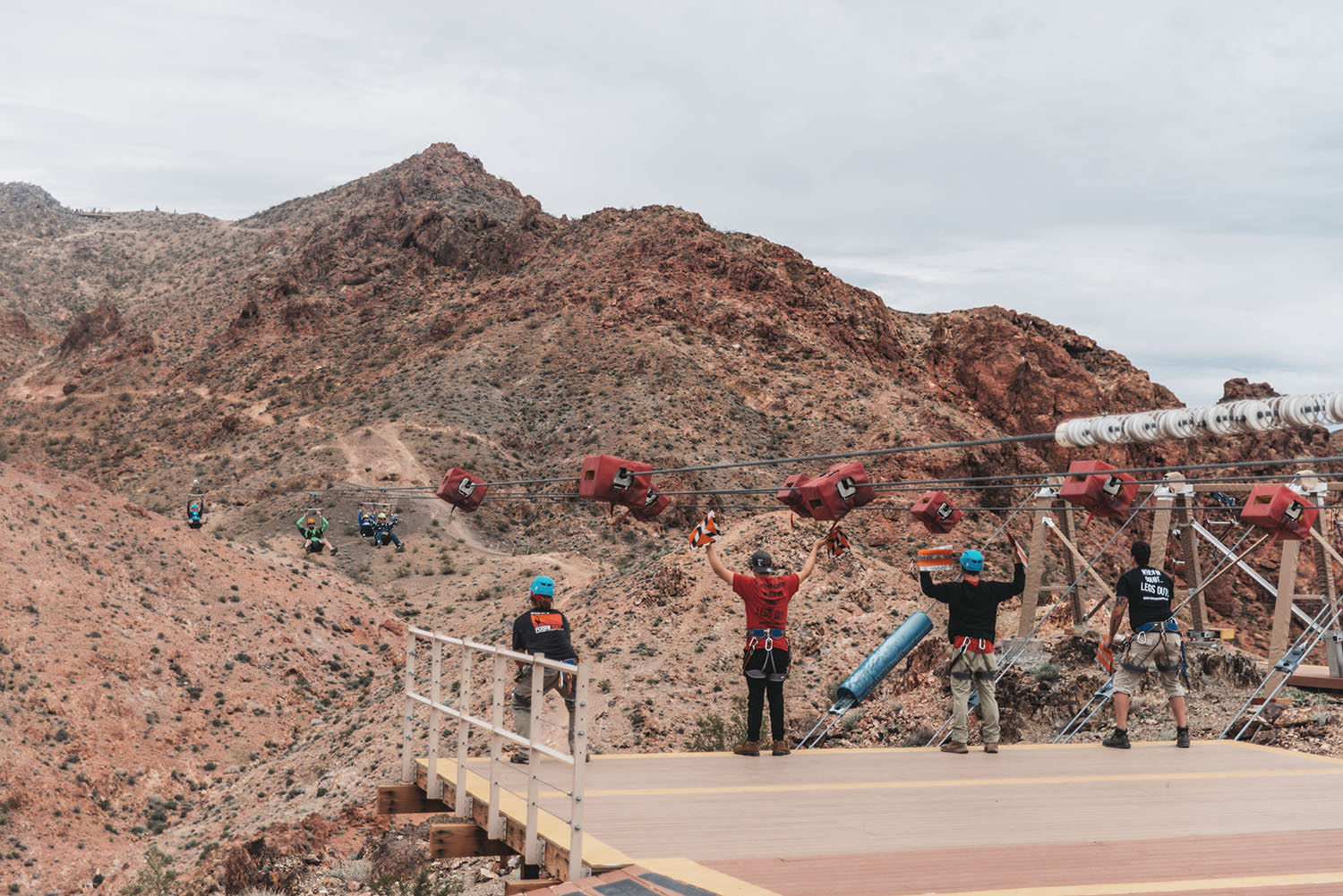 "When in doubt, legs out!"
You should keep your eyes on the guide in front of you to see if you need to slow down, release the brake or spread your legs to not collide with the stop pad. Flightlinez motto is "When in doubt, legs out!". That was an easy safety instruction to remember!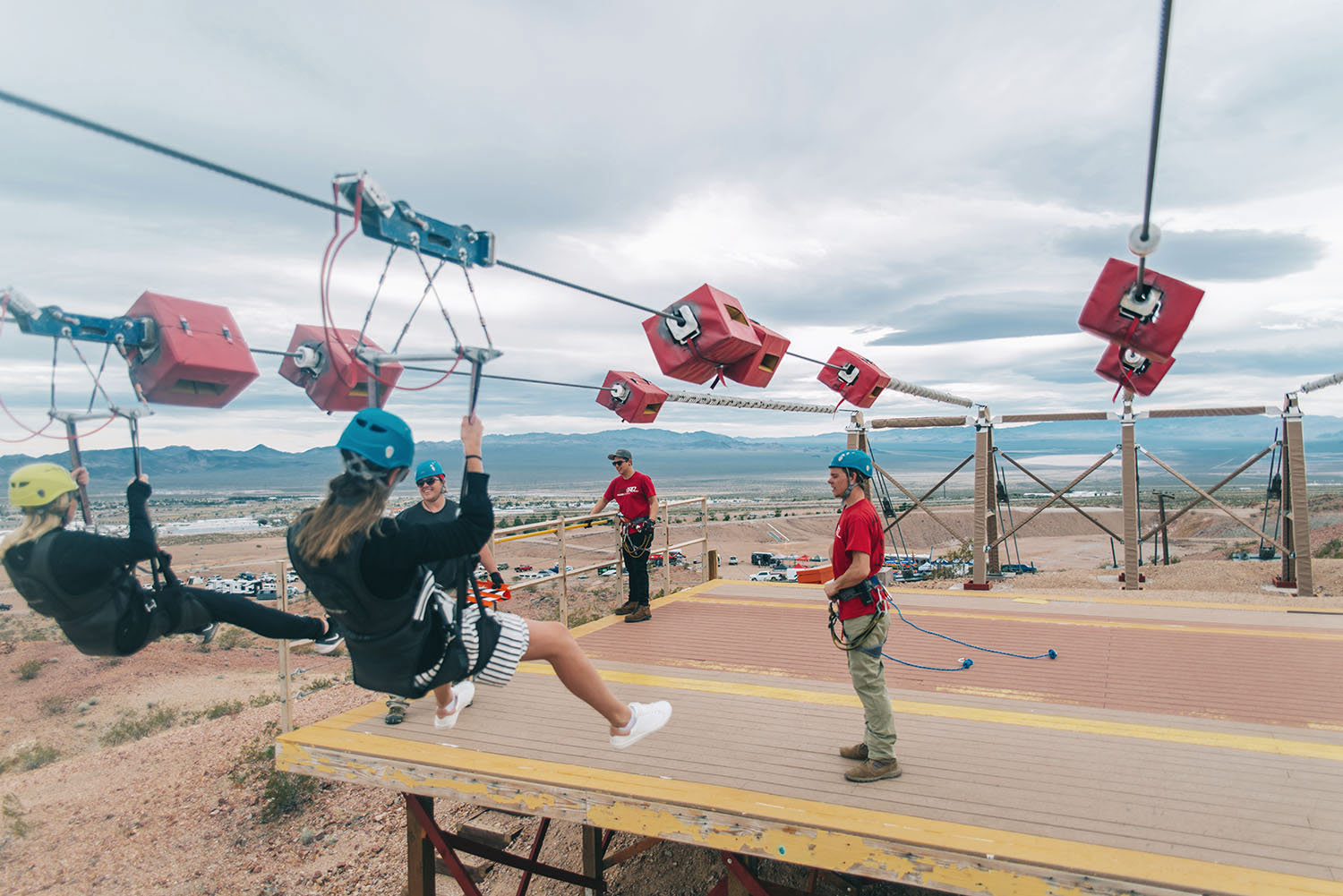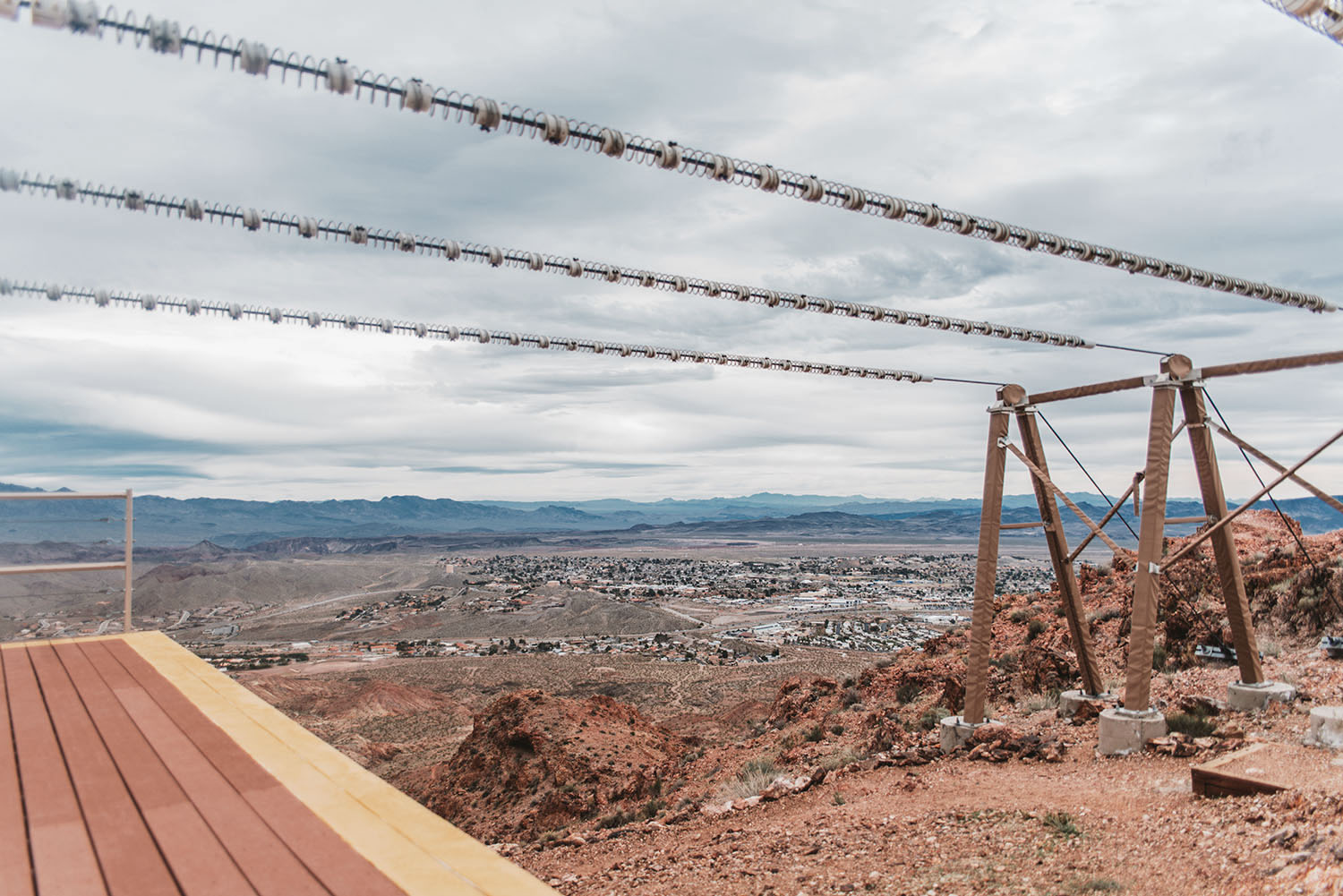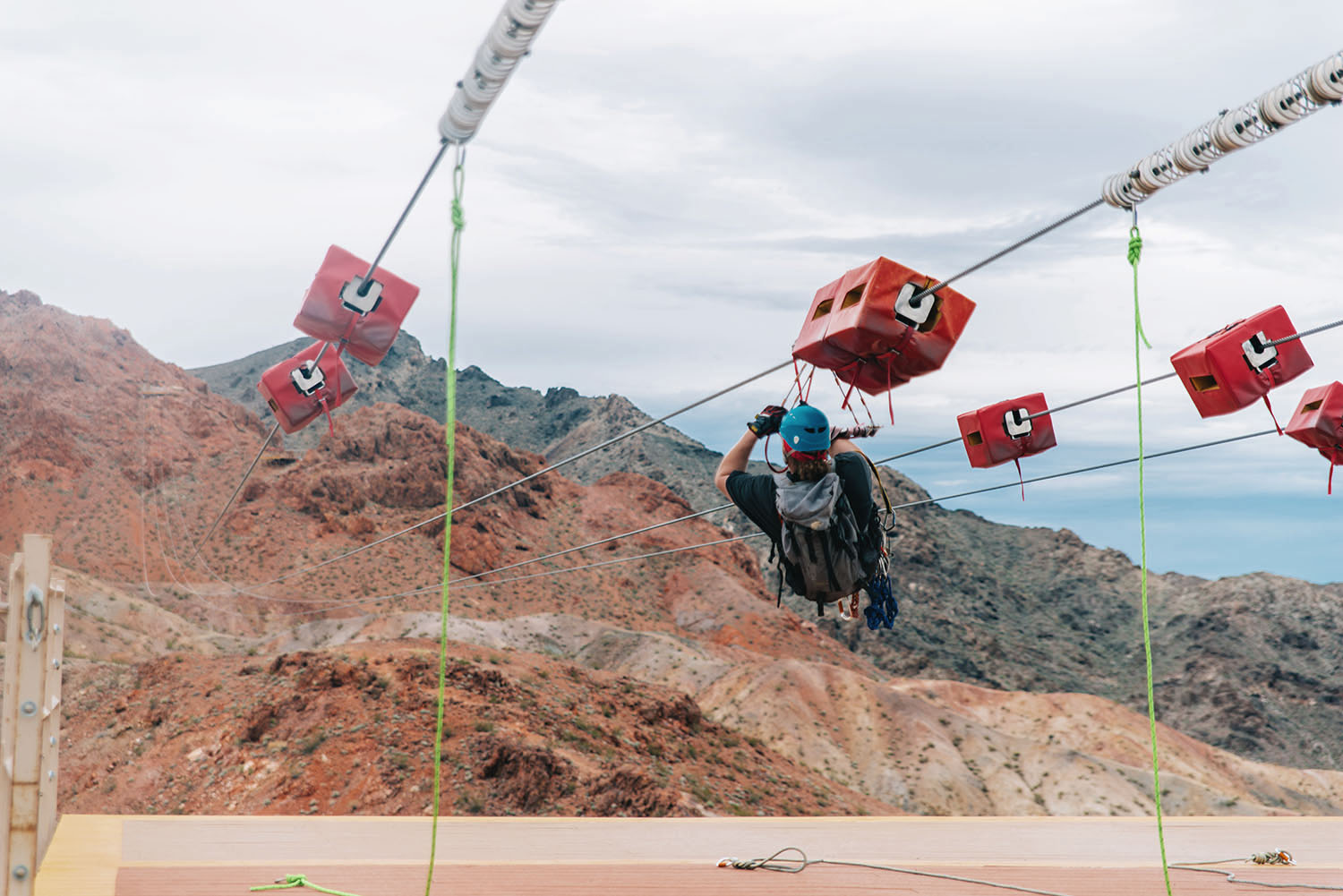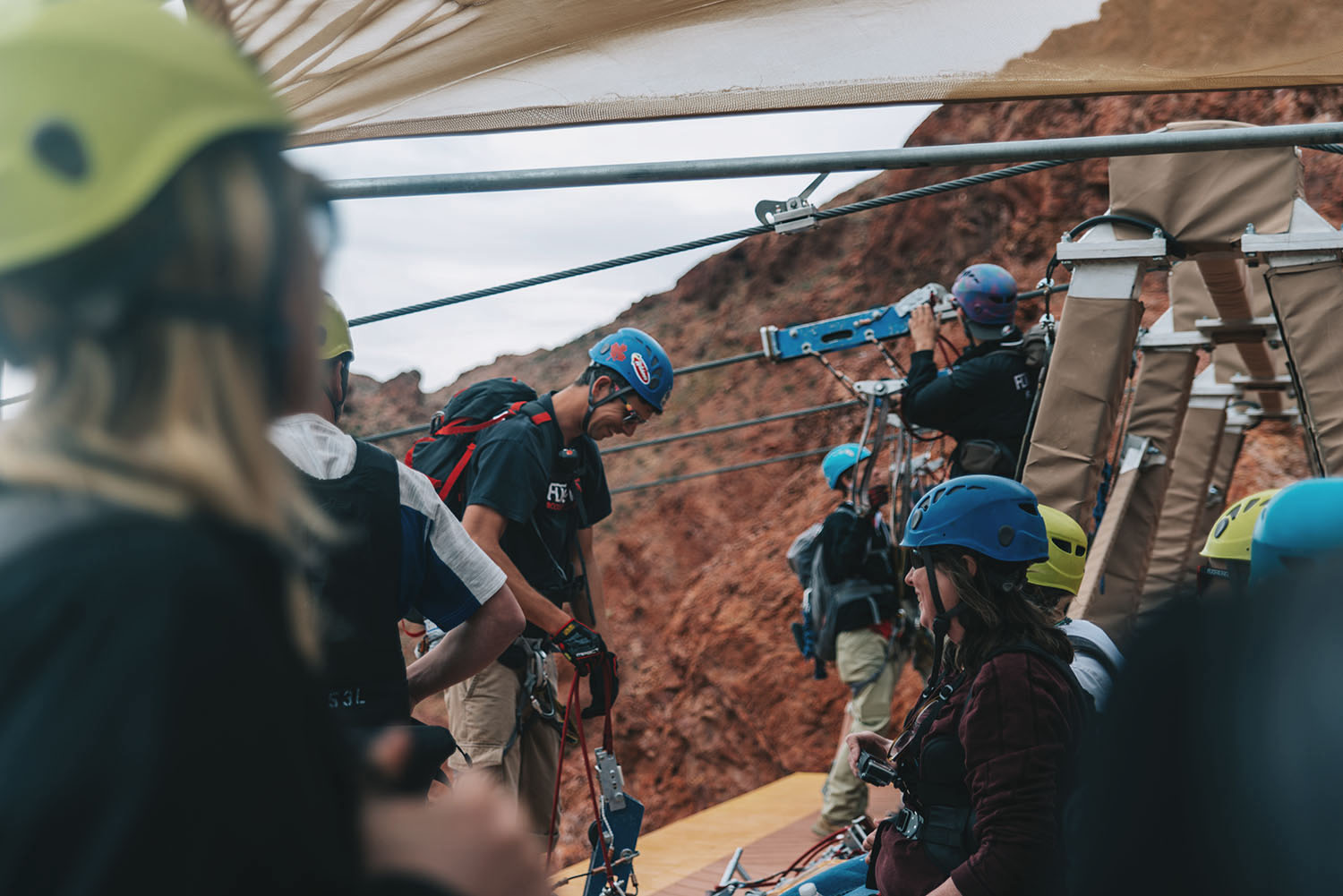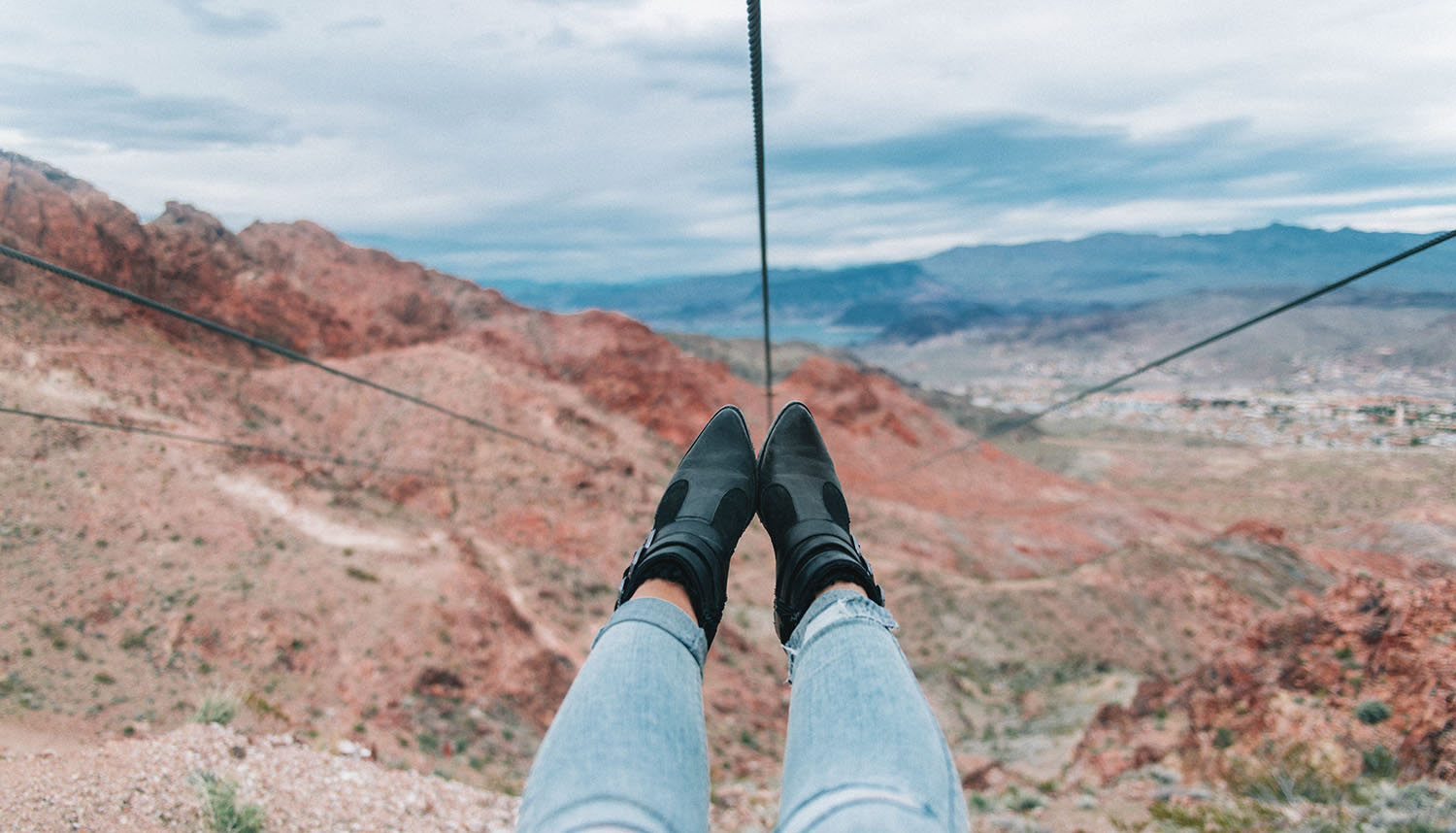 How to Dress for Zipline Experience – don't make my mistake!
On our Las Vegas itinerary, zipline was not a planned activity. I did not have any comfortable sneakers with me, just comfortable boots (and heels). Not the perfect choice, even for a short hike in the mountains.
Wear:
Comfortable sneakers (you MUST wear shoes that cover your toes completely and are secure to your feet)
Shorts, pants or jeans
Sunglasses
You should dress appropriately for the weather. Do not wear a skirt, dress or a hat.
Bring (optional):
Camera or GoPro
Sweater or jacket depending on weather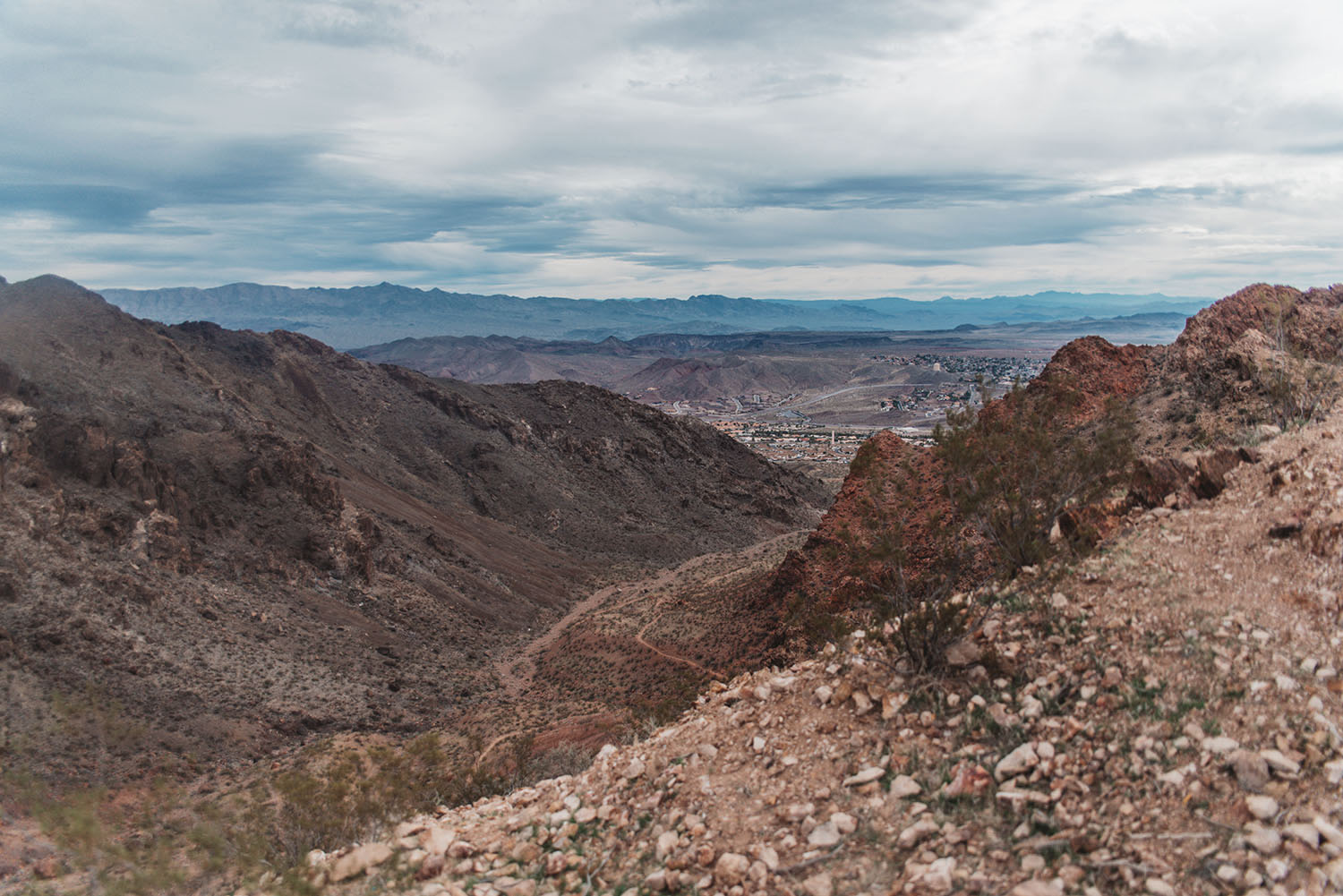 Good to know before you book a Flightlinez adventure
If you come in over 250 pounds or under 75 pounds, you are not allowed to fly for safety reasons
If you are younger than 17 someone over the age of 18 has to accompany you
Afraid of heights? Then this will be a challenge
If you need any medications, bring them!
Prices from $159
---
I traveled to Las Vegas together with Visit Las Vegas. As always, all opinions, tips, and reviews are my own.