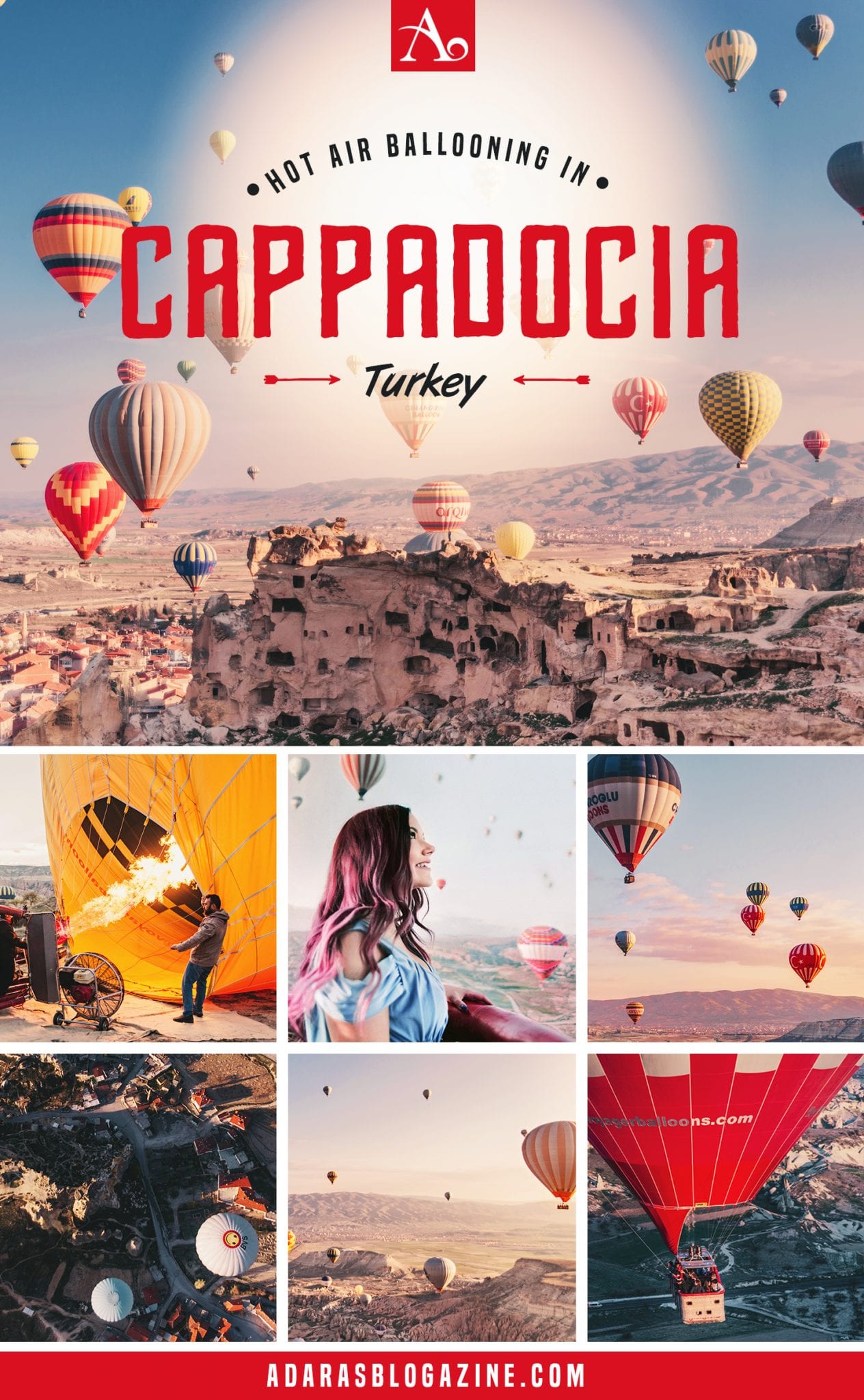 If you are looking for a jaw-dropping and magical adventure, look no further. Hot air ballooning over Cappadocia's surreal landscape in Turkey is an experience not to be missed.
I am usually the one getting excited and happy just by seeing one air balloon in the sky. Think how I felt when I was suddenly standing in a hot air balloon basket, seeing the whole sky filled with hundred other balloons – and soaring to the sunrise beams over Cappadocia's unforgettable scenery. It's a feeling that is hard to put into words. It's a dream come true, a fairytale and something I'll always remember.
Even if this adventure only lasts for an hour in the sky, it is worth the 7-hour drive from Alanya and waking up at 04.00 am.
In our guide:

• What to expect
• Ready for takeoff
• I could not believe my eyes
• What if you are afraid of heights?
• When to fly?
• How high does the balloon fly?
• How much does it cost?
• Which hot air balloon company should I choose?
• What to wear?
• ADARAS Cappadocia tips
First of all, Cappadocia's landscape is worth a visit in itself. I have never seen a landscape like this anywhere else and with its fairytale chimneys, underground cities, history, pigeon valley, and impressive stone formations – it looks like it's a place from another planet. Add do that – up to 150 hot air balloons taking off each morning to the sunrise.
It can't be more magical.
Cappadocia is known around the world as one of the best places to fly a hot air balloon. Just a glimpse of Cappadocia in Göreme makes it easy to understand why.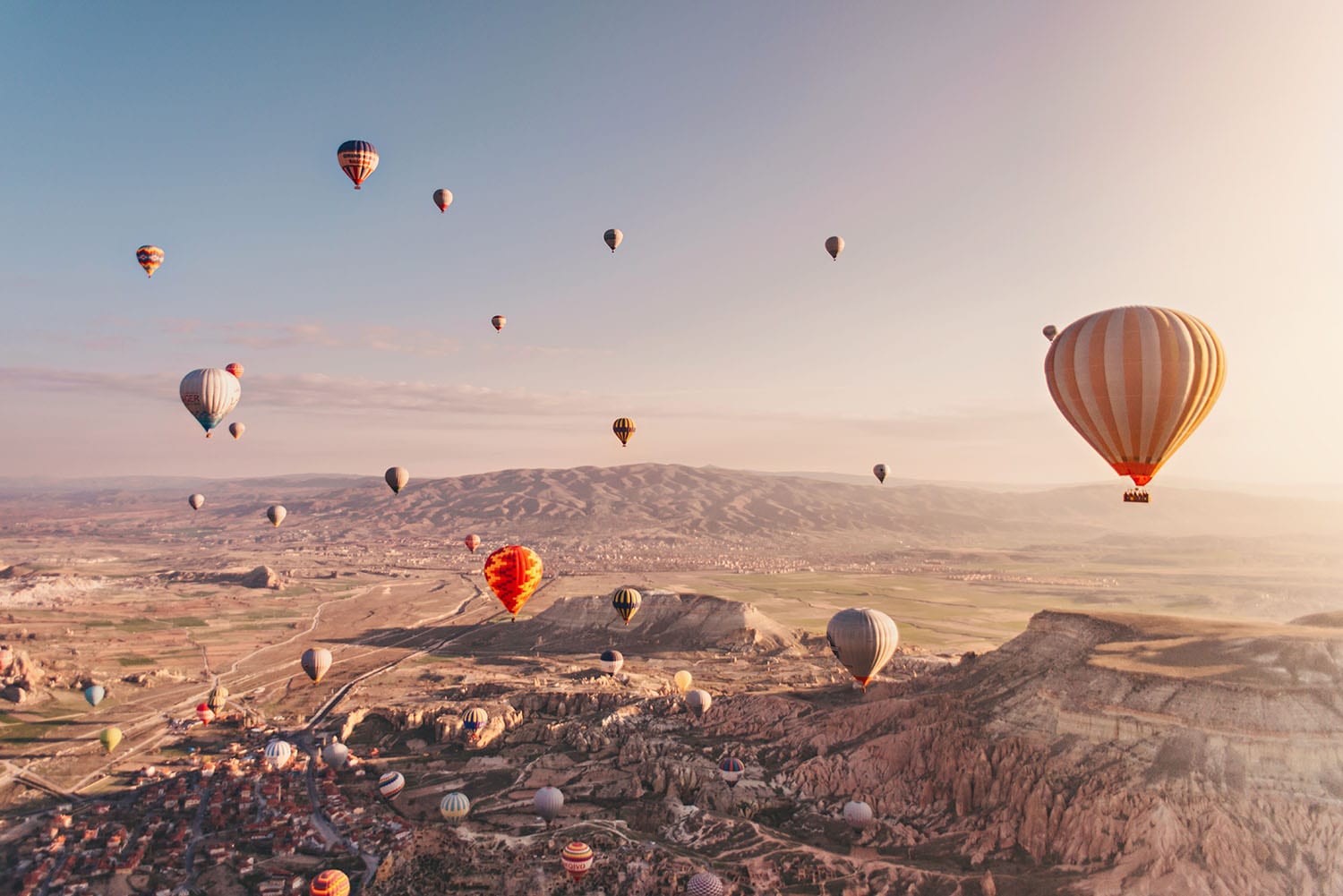 This is my sister Sanna's and my guide to this majestic adventure. Add this to your bucket list and prepare to be hypnotized, mesmerized and stunned.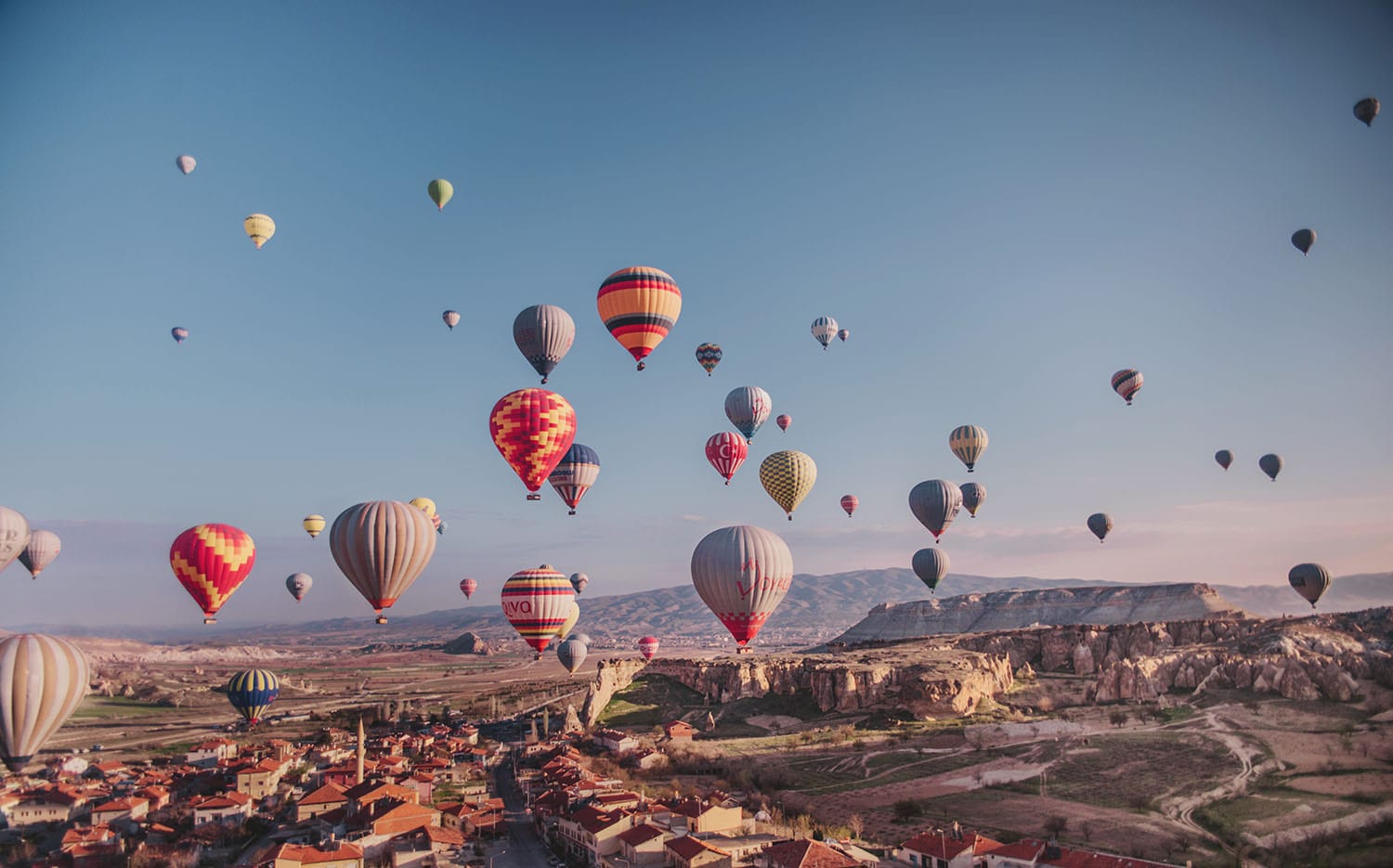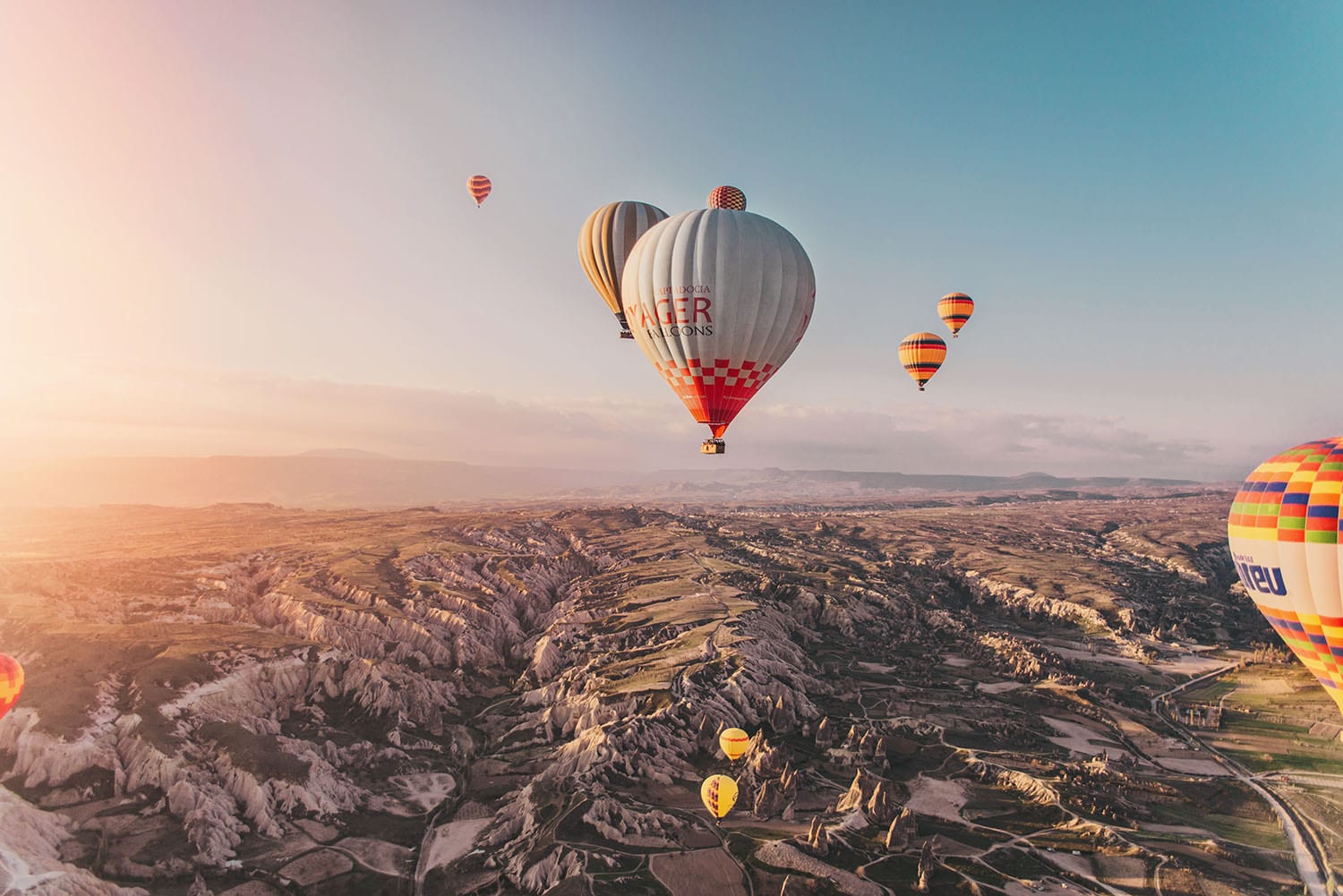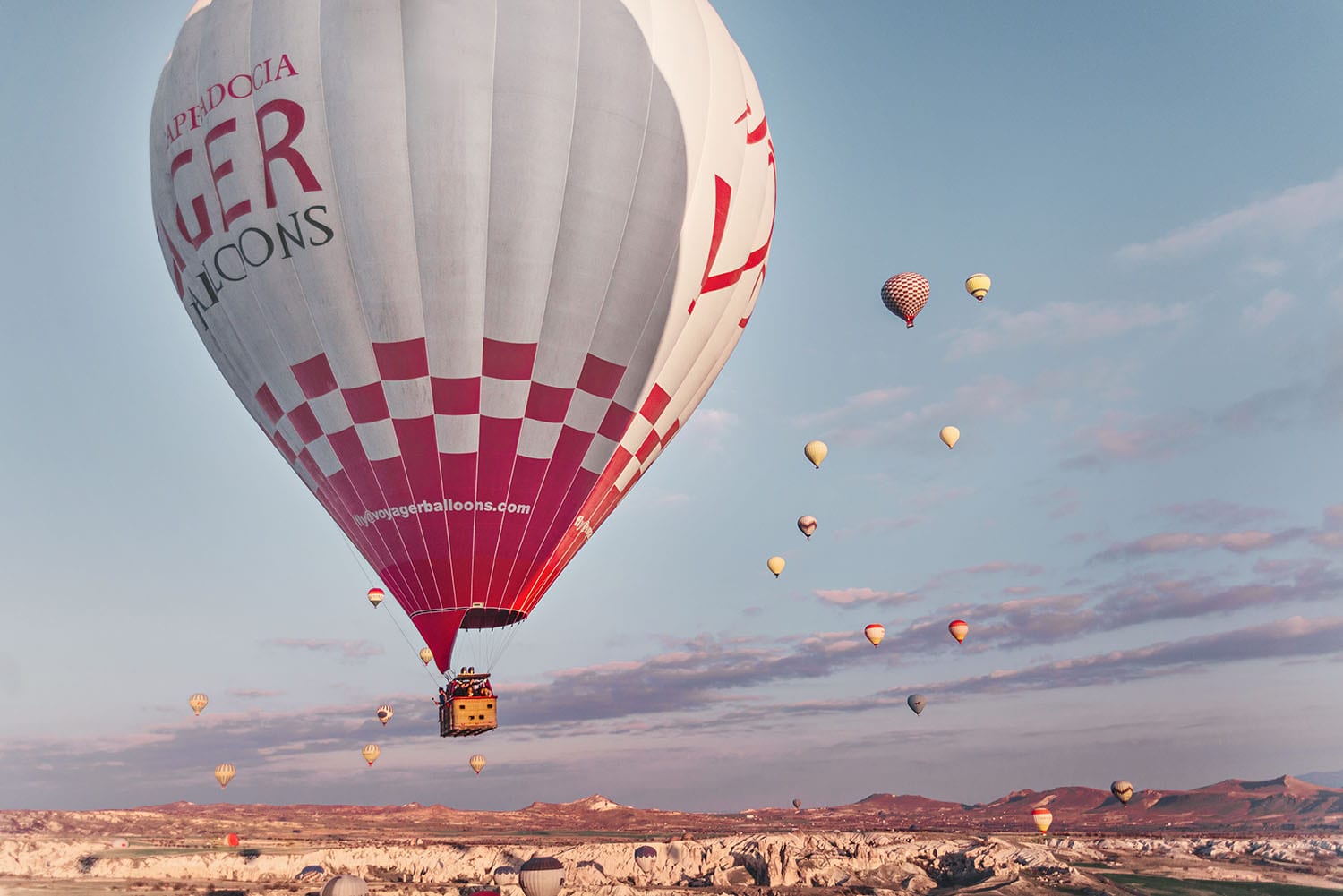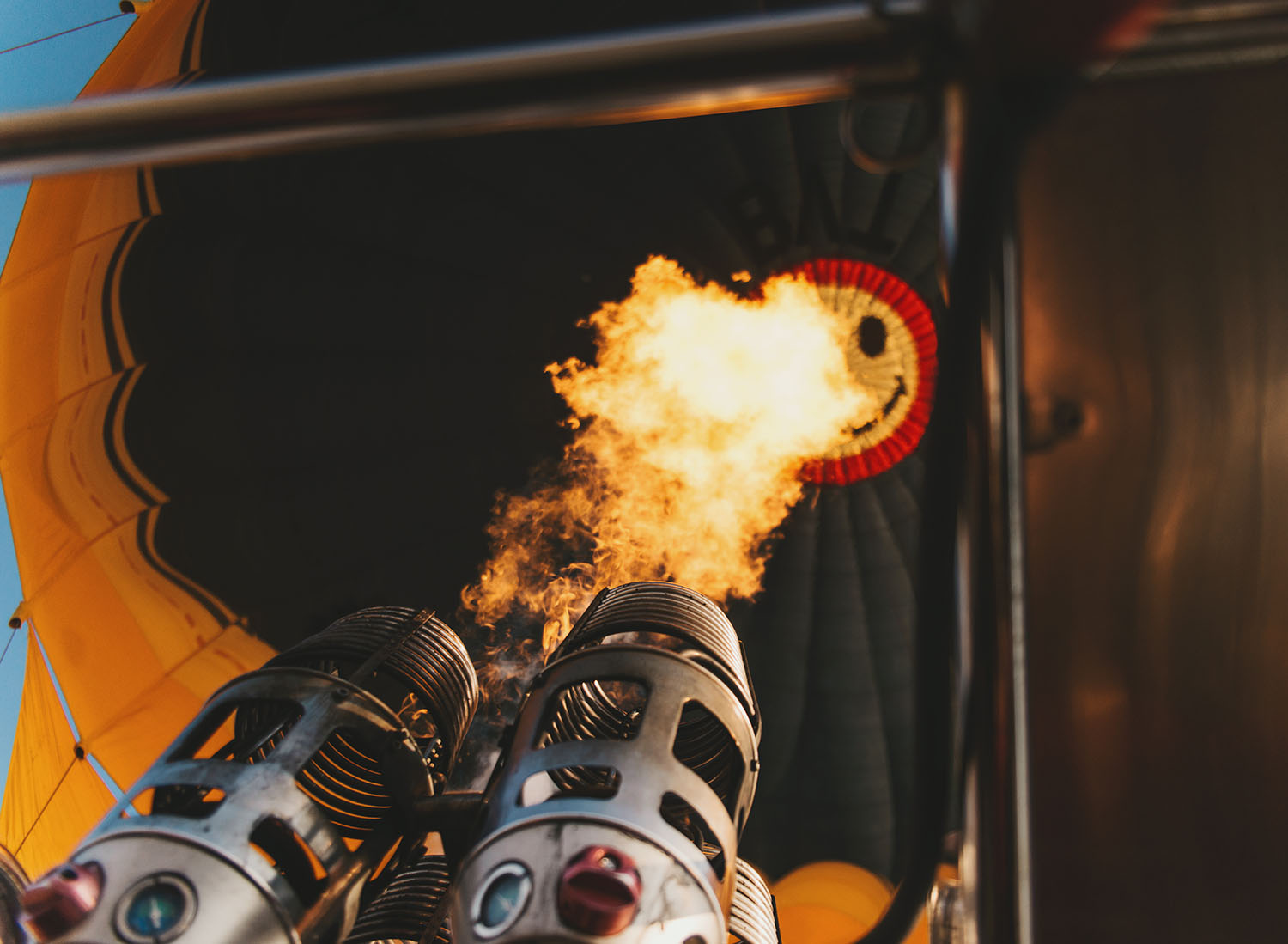 What to expect when going on a hot air balloon ride in Cappadocia
Even though the hot air balloon flights take place every day, all year round, you have to keep in mind that this activity depends on good weather. If the ground wind is faster than 10 knots, if it's raining heavily or it's too foggy, the flight will be canceled.
That's why it's a good idea to stay at least 2 or 3 nights in Cappadocia and schedule your hot air ballooning flight the first morning. Then, if your flight is canceled, your tickets can be transferred to another date – or if you are leaving you will be fully refunded.
You also have to expect to get up really early as the hot air balloons depart before sunrise. We were picked up at 05.00 am from our hotel by Voyager Balloons. We started the day by having some light buffé breakfast in their restaurant. Neither Sanna or I couldn't relax, as we didn't know if the balloon ride was going to happen or not (that particular week was quite windy). But we couldn't do anything but keeping our fingers crossed.
Book a trip to Cappadocia here (compare cheap flights, trains & buses)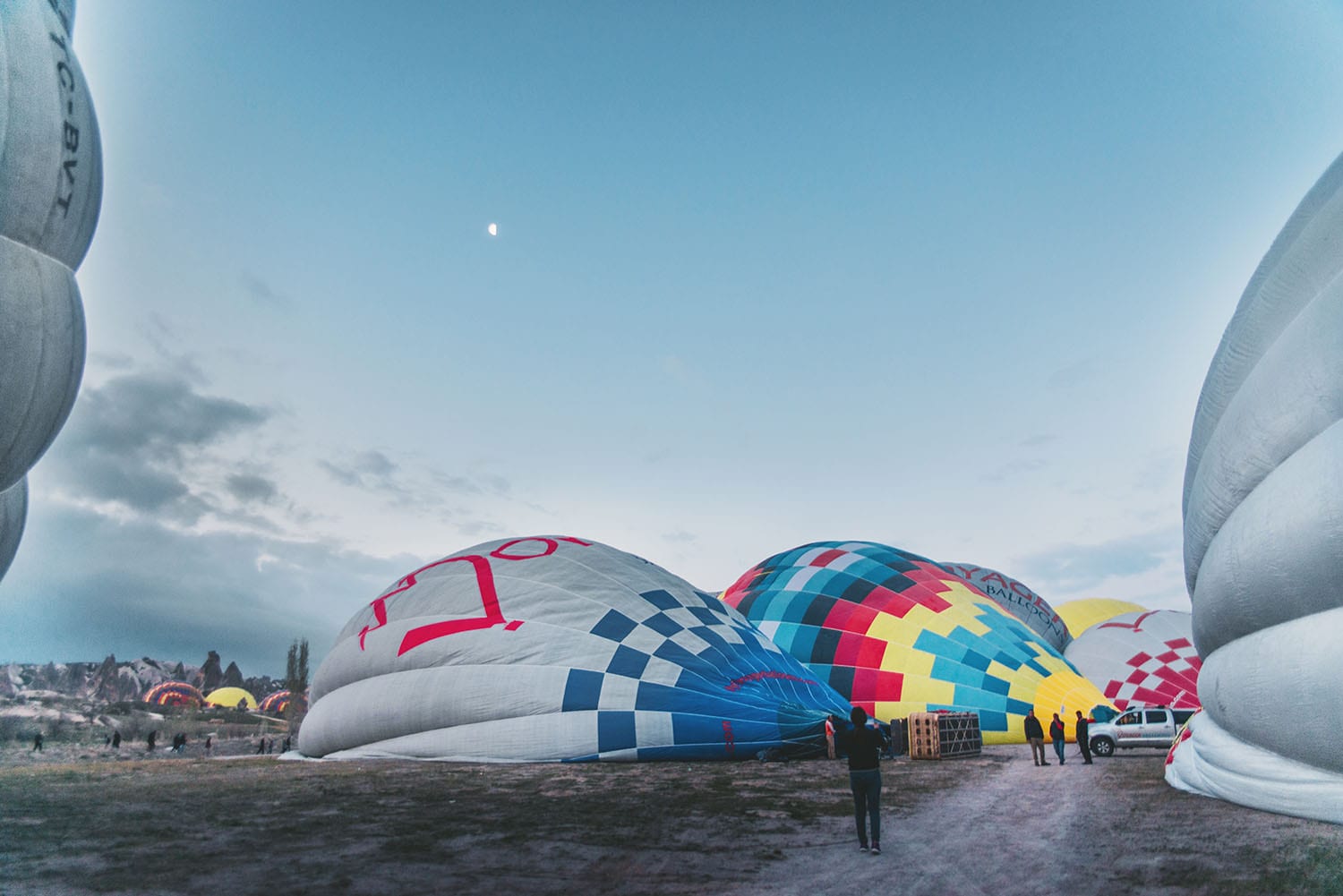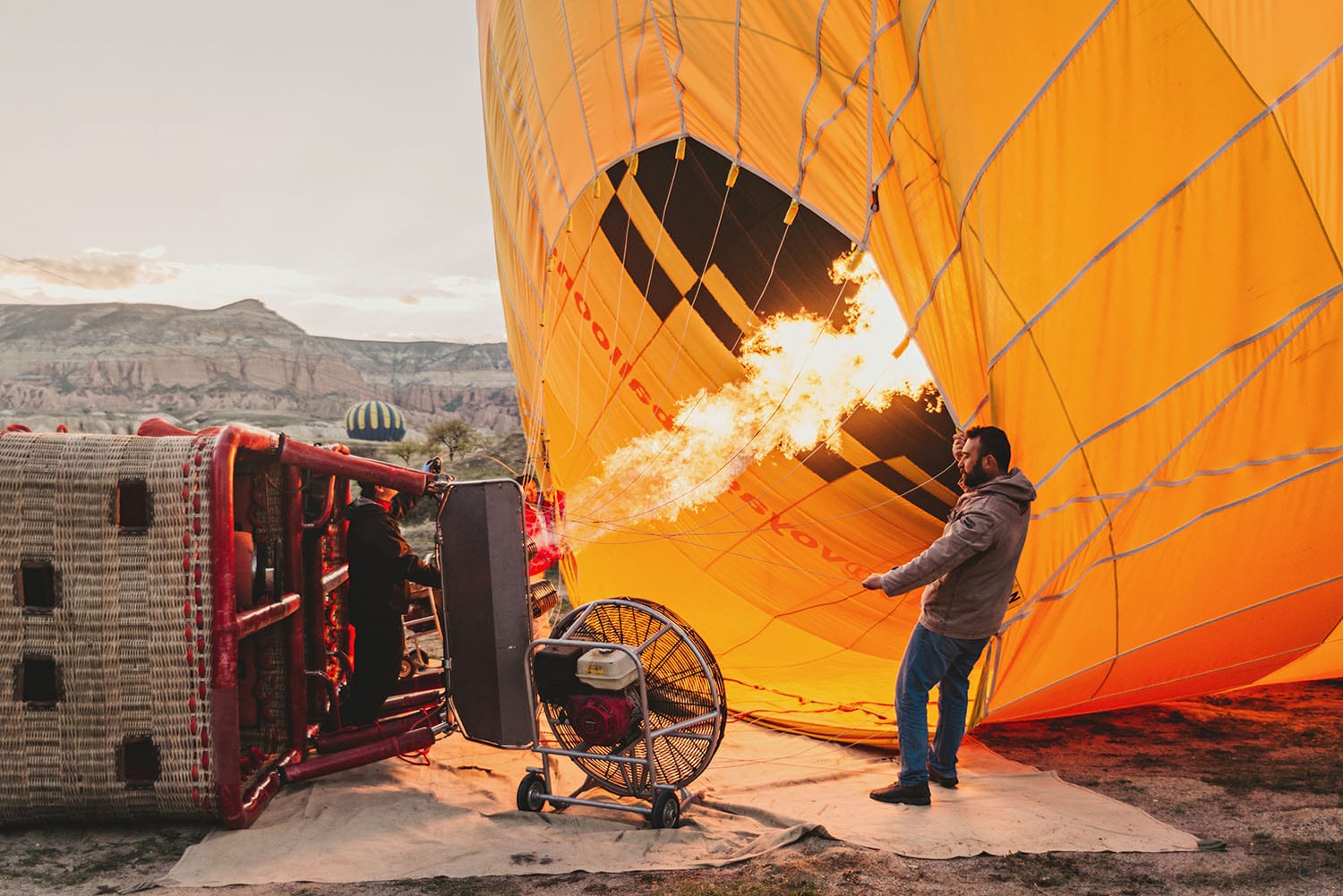 Ready for takeoff
When we finally got the green light to go out in a minibus to the launch and landing site our hopes went up. I could barely believe what I saw through the bus window. Balloons were scattered all over the field in every direction. We could feel the morning chill creeping through our clothes once we stepped out of the van, could hear the sound of the noisy burners being fired up and the quite talking in different languages all around us.
This is an adventure bringing people from all over the world together. A Japanese girl was doing a vlog, and an older American couple were taking a selfie in front of an awakening balloon.
Sanna and I finally started to realize that our dream was going to become true this day. When our pilot finally called to us to step into the basket, I had to pinch my arm. This magical moment was finally taking place.
---
Read also: ADARAS guide to Alanya
---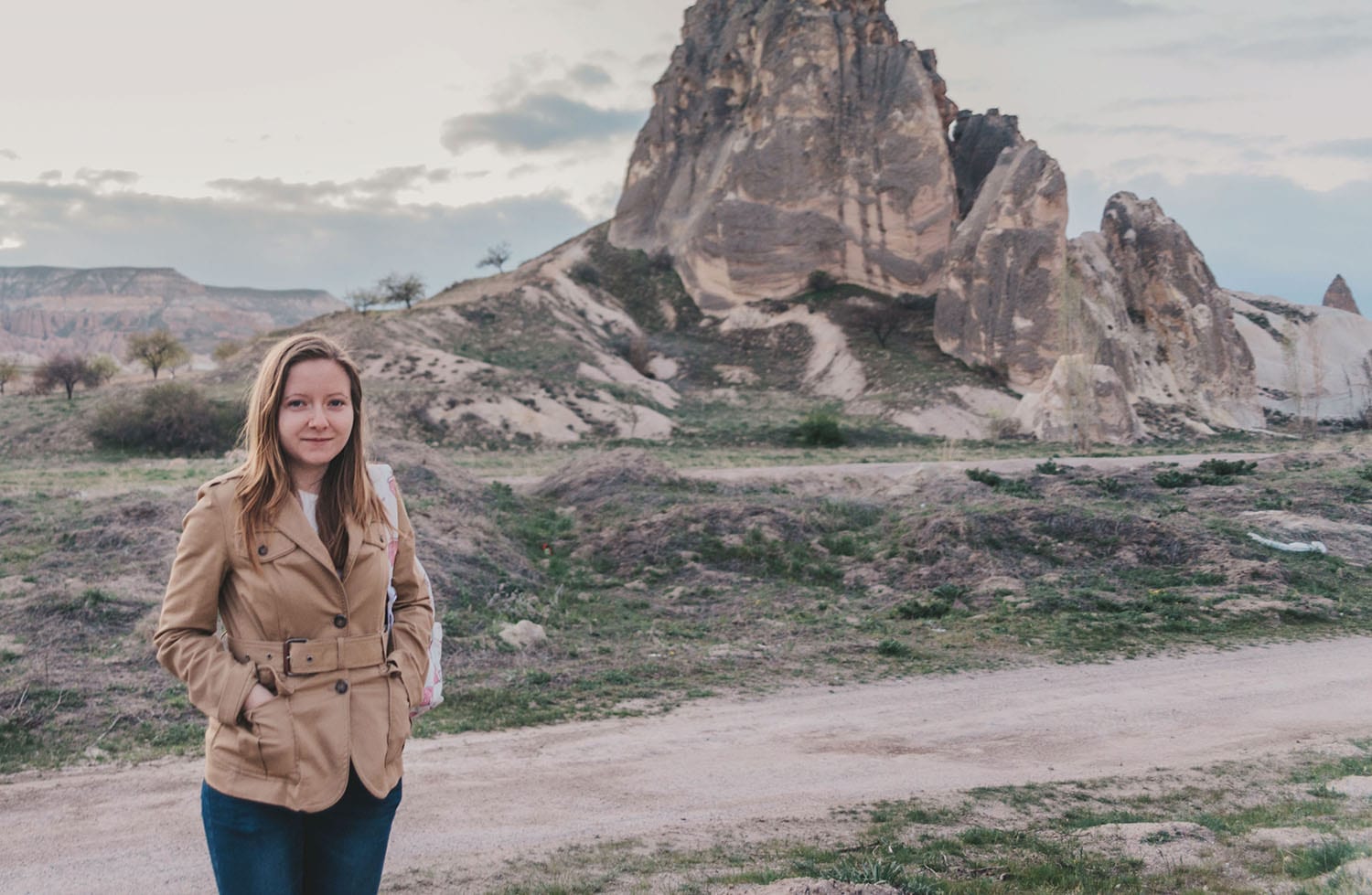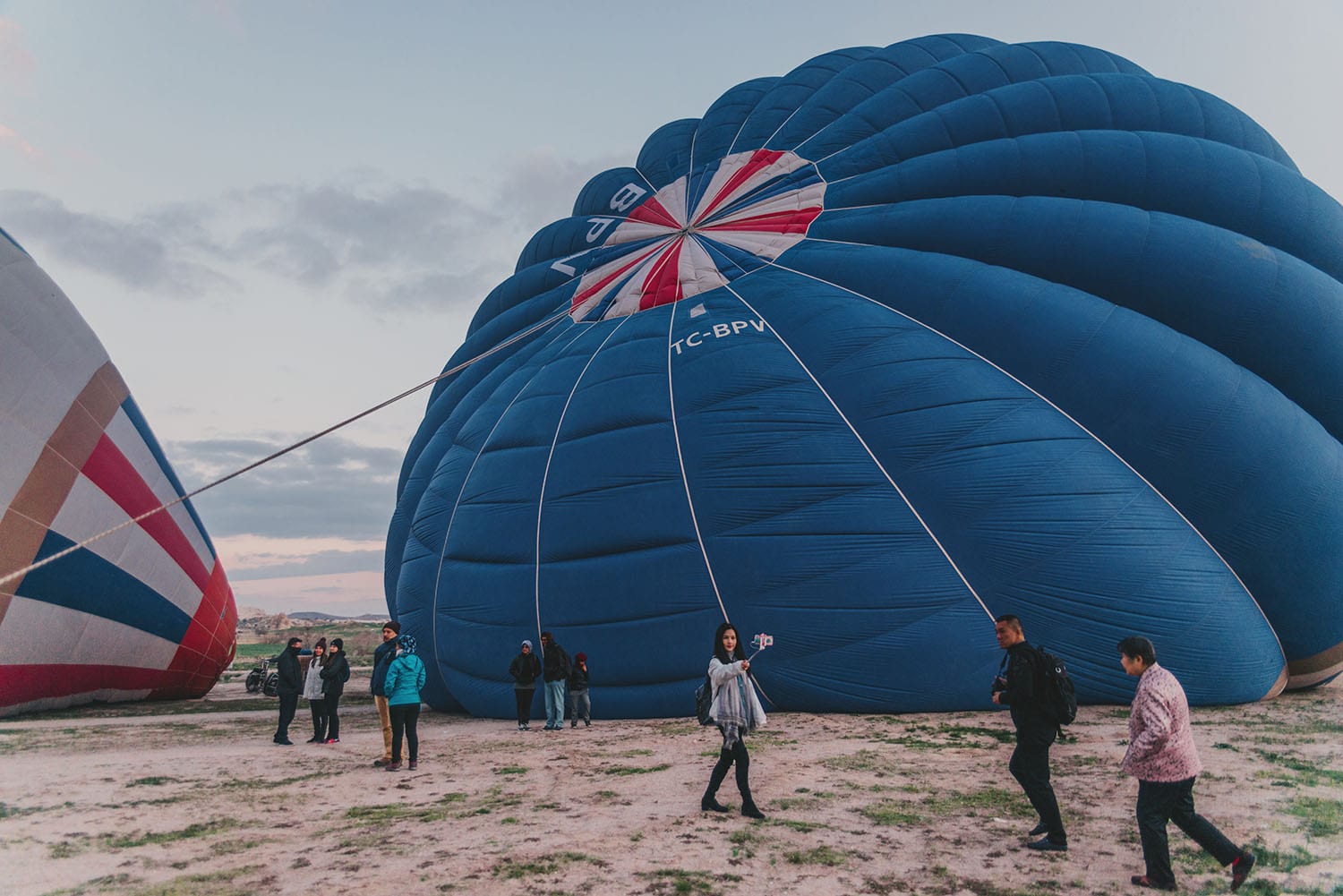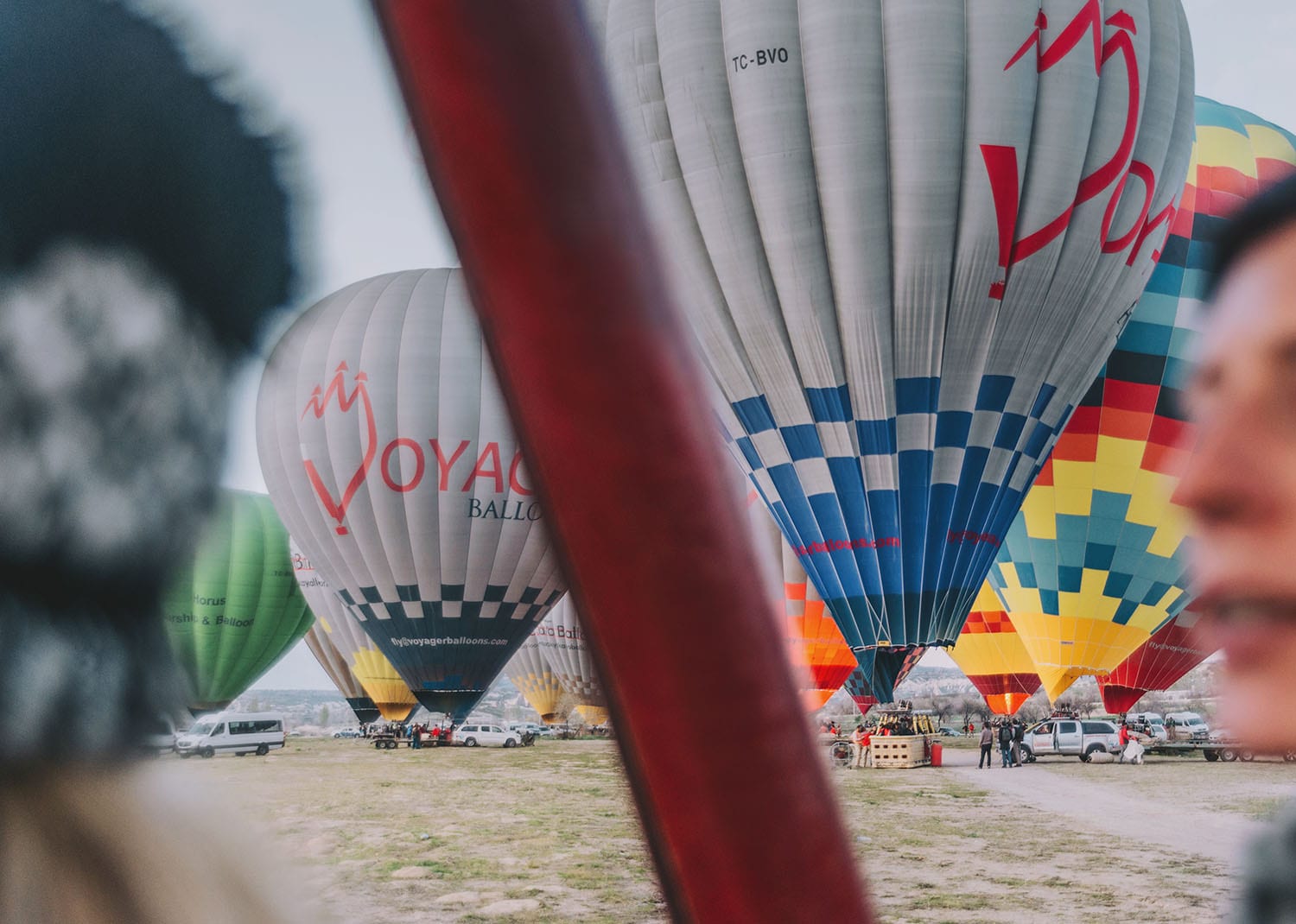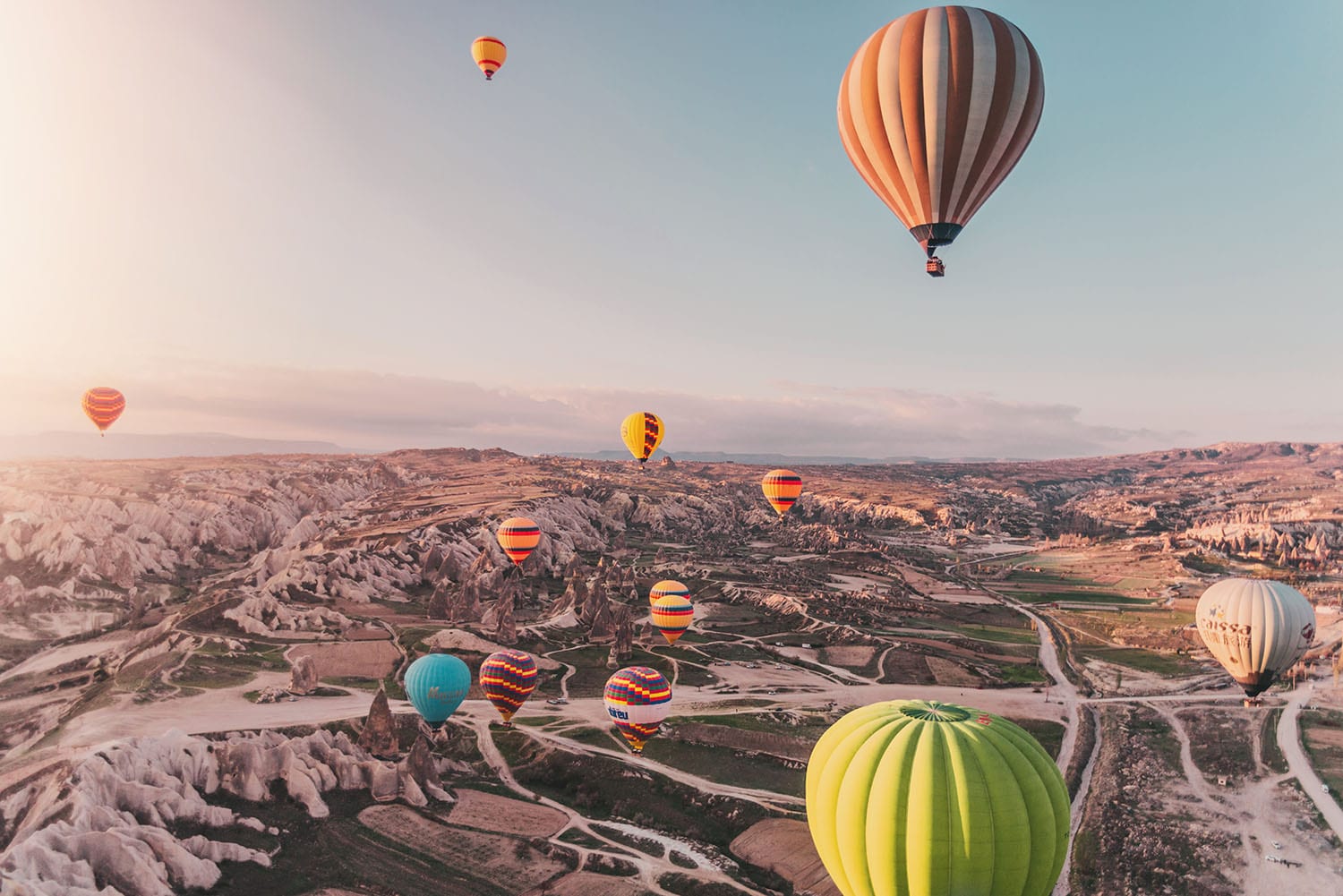 I could not believe my eyes
Rising up over Cappadocia and seeing the mysterious, unique and mesmerizing landscape from above is breathtaking.
Gazing out over what seems like hundreds of colorful balloons decorating the beautiful sunrise sky leaves you stunned. The only thing you can wonder is:
Is this for real?
When the burners rest, the scenery is a silent wonder.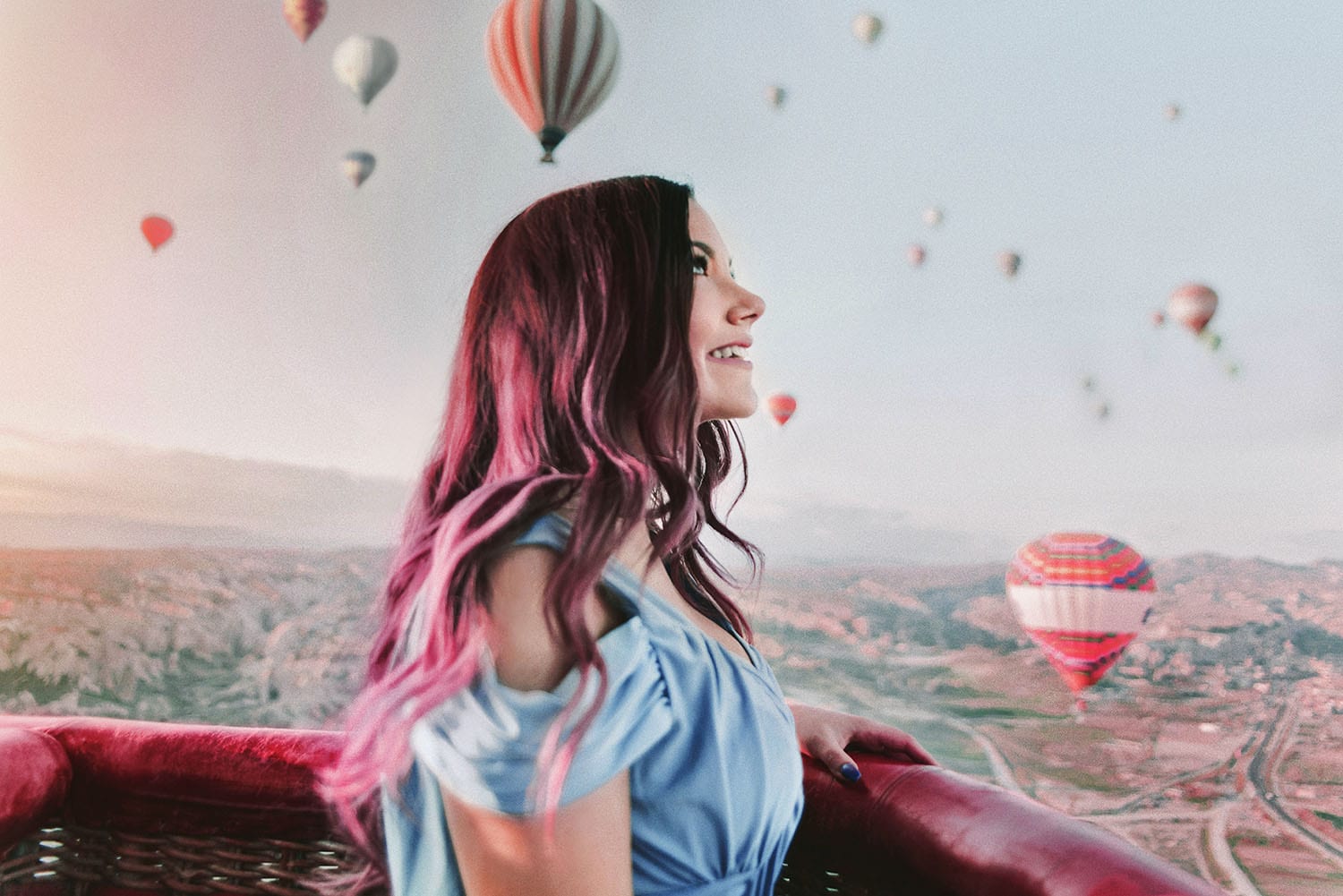 "What if I fall?
Oh darling, what if you fly?"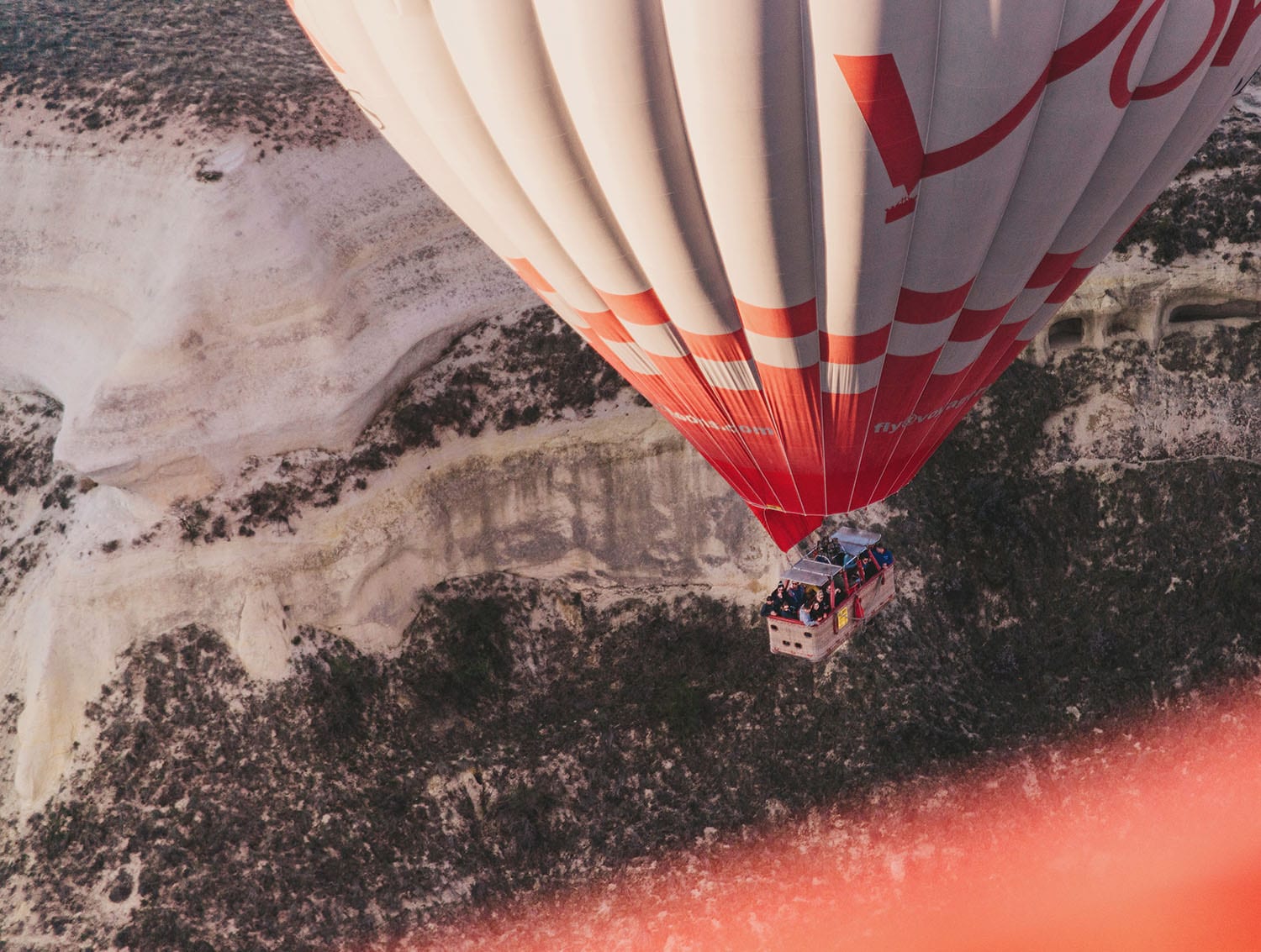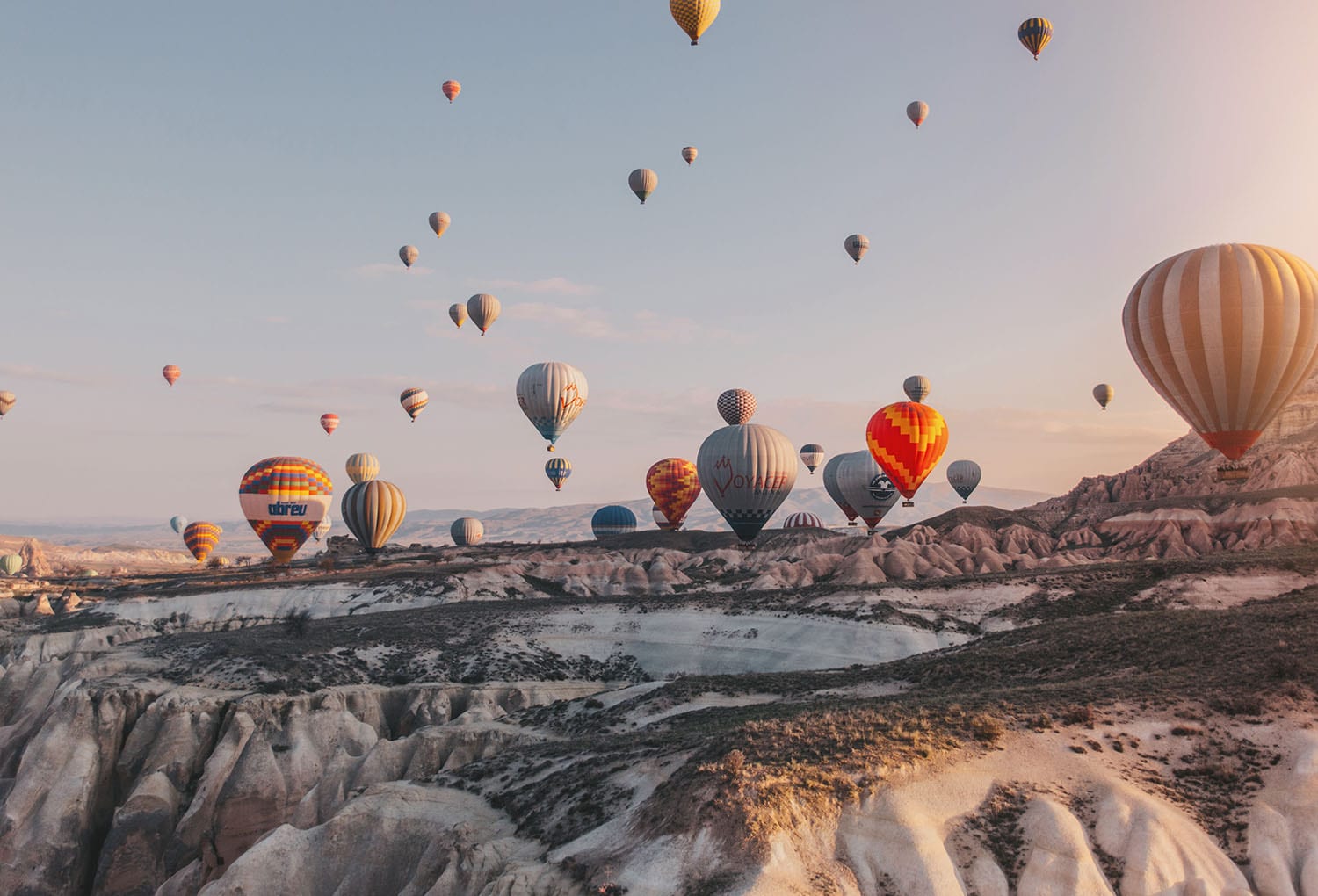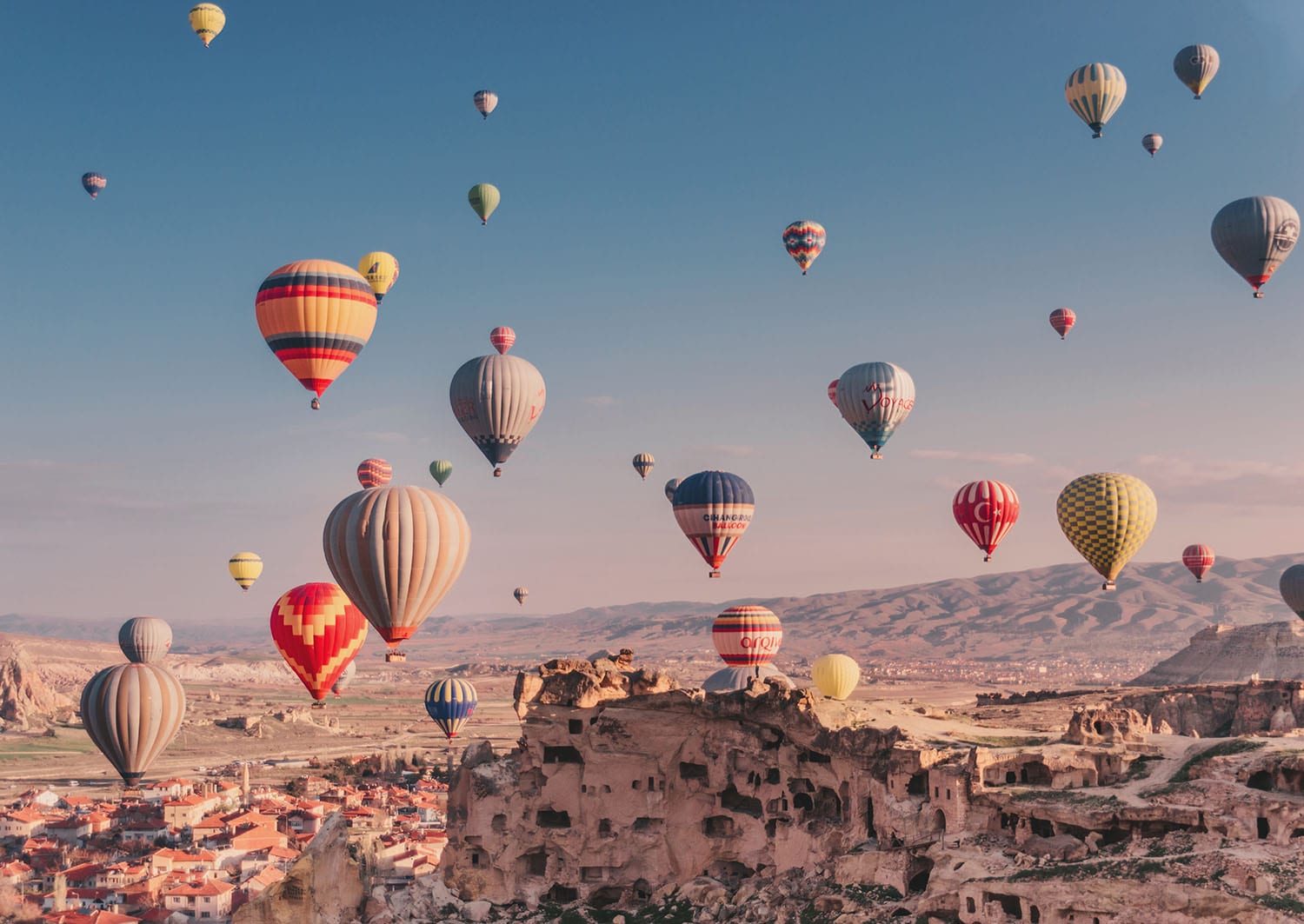 What if you are afraid of heights?
My sister Sanna is very scared of heights and saw the whole experience with mixed emotions. She was relieved that the balloon basket was higher than she thought and that she would not possibly be able to fall out.
Though, 3000 feet above ground, she had to sit down and gather herself. Even though she felt scared when we were at the highest altitude, she thinks this is an experience even people who are afraid of heights should dare to try. It's an unbelievable adventure and if you get the opportunity, step out of your comfort zone and jump onboard.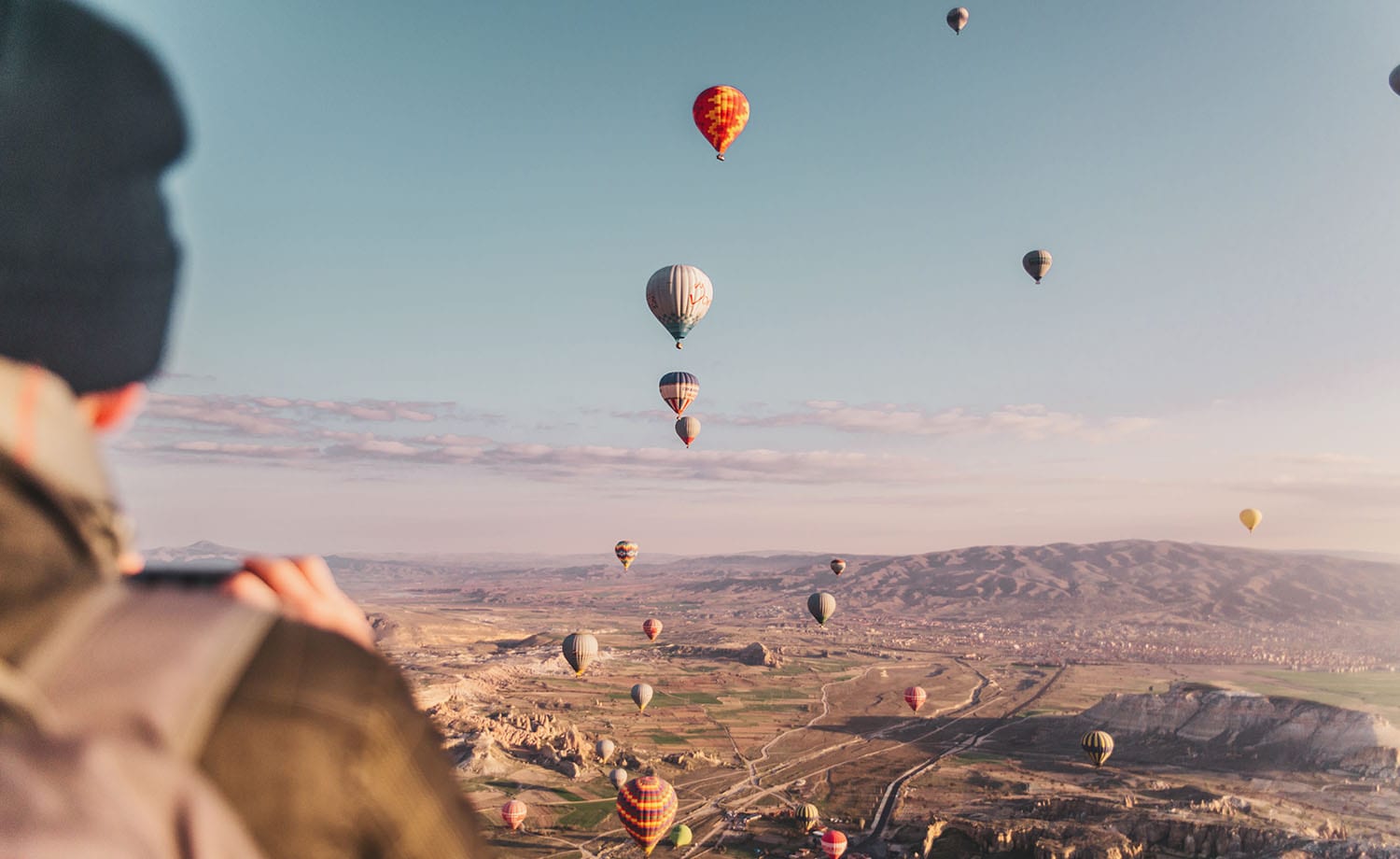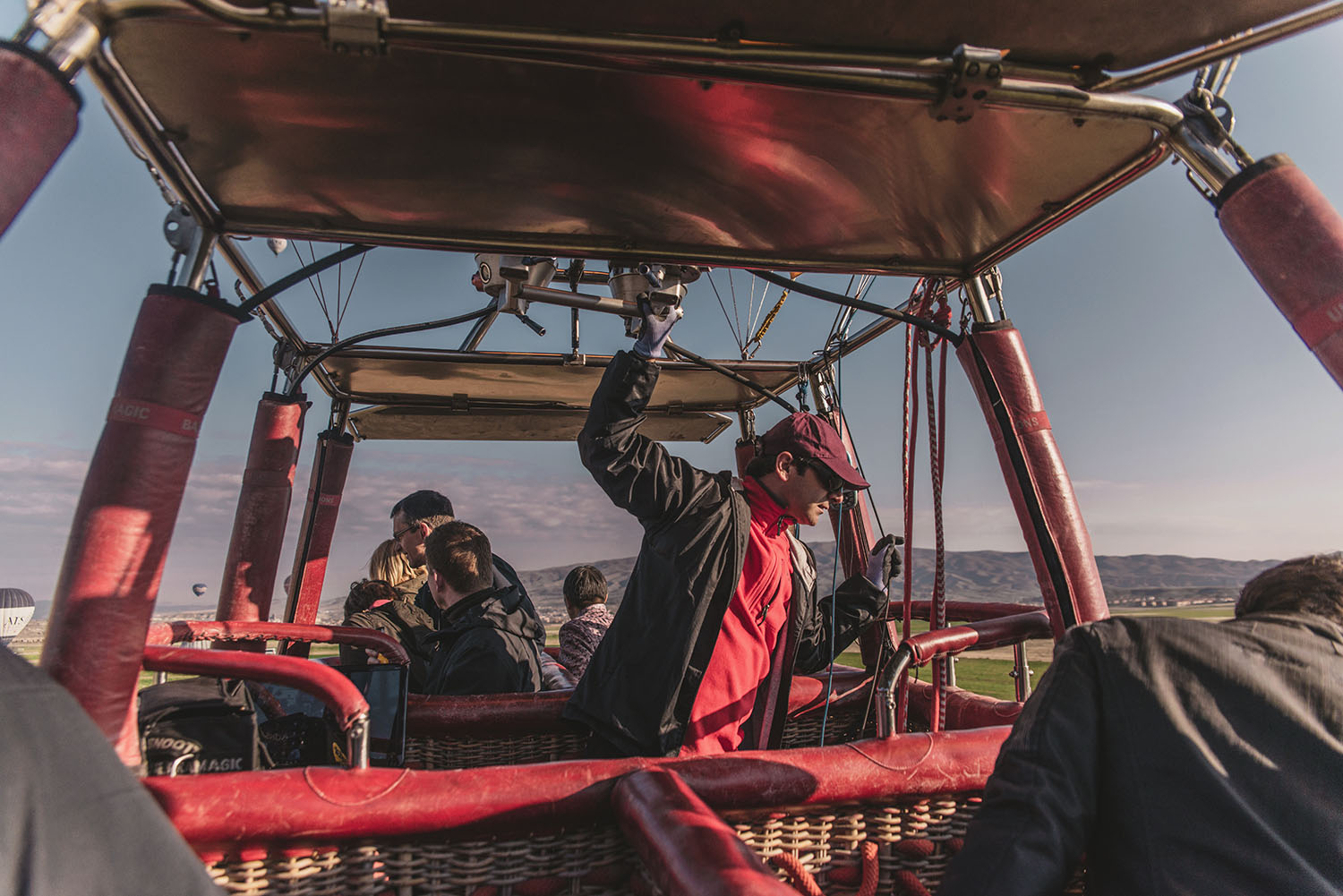 When to fly?
The best time for hot air ballooning in Cappadocia is from April through October when the skies are clear and the winds light at dawn. But some companies fly in winter as well. Though the rest of the year you have to be prepared for more cancellations.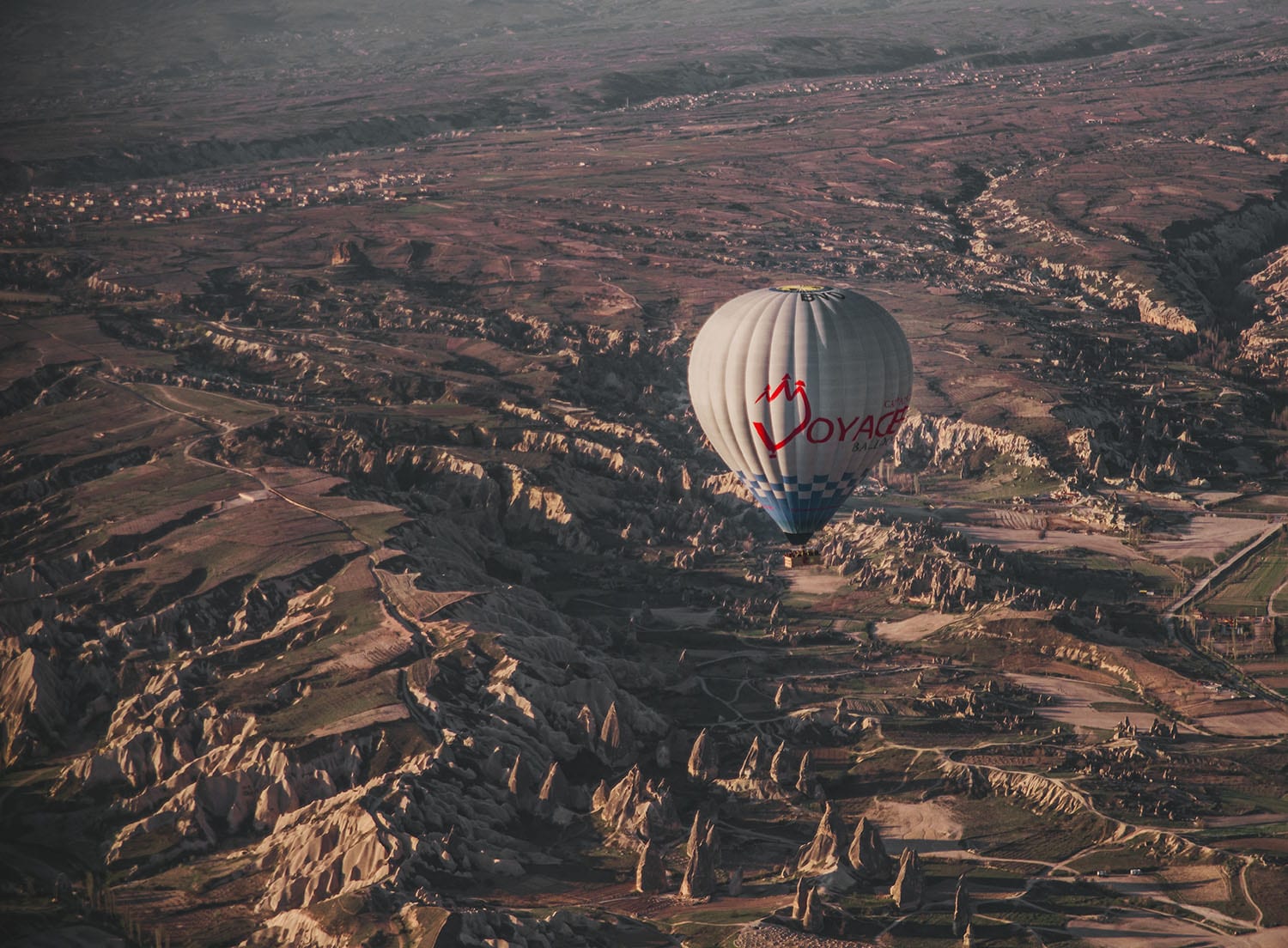 How high does the balloon fly?
The balloons will fly from ground level to three thousand feet above ground level, depending on wind direction and speed. The max altitude is 6000 feet (it is limited by Turkish Civil Aviation).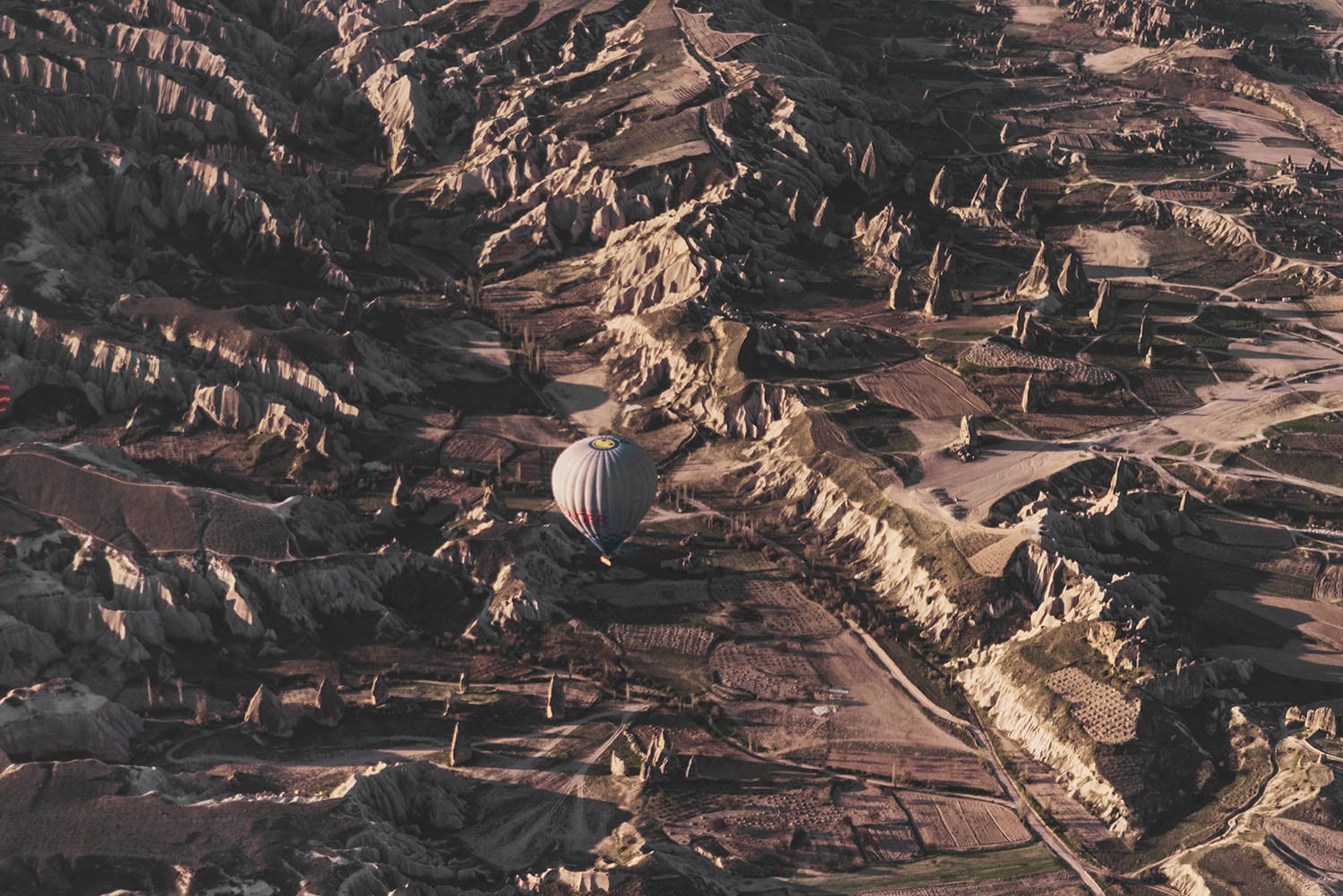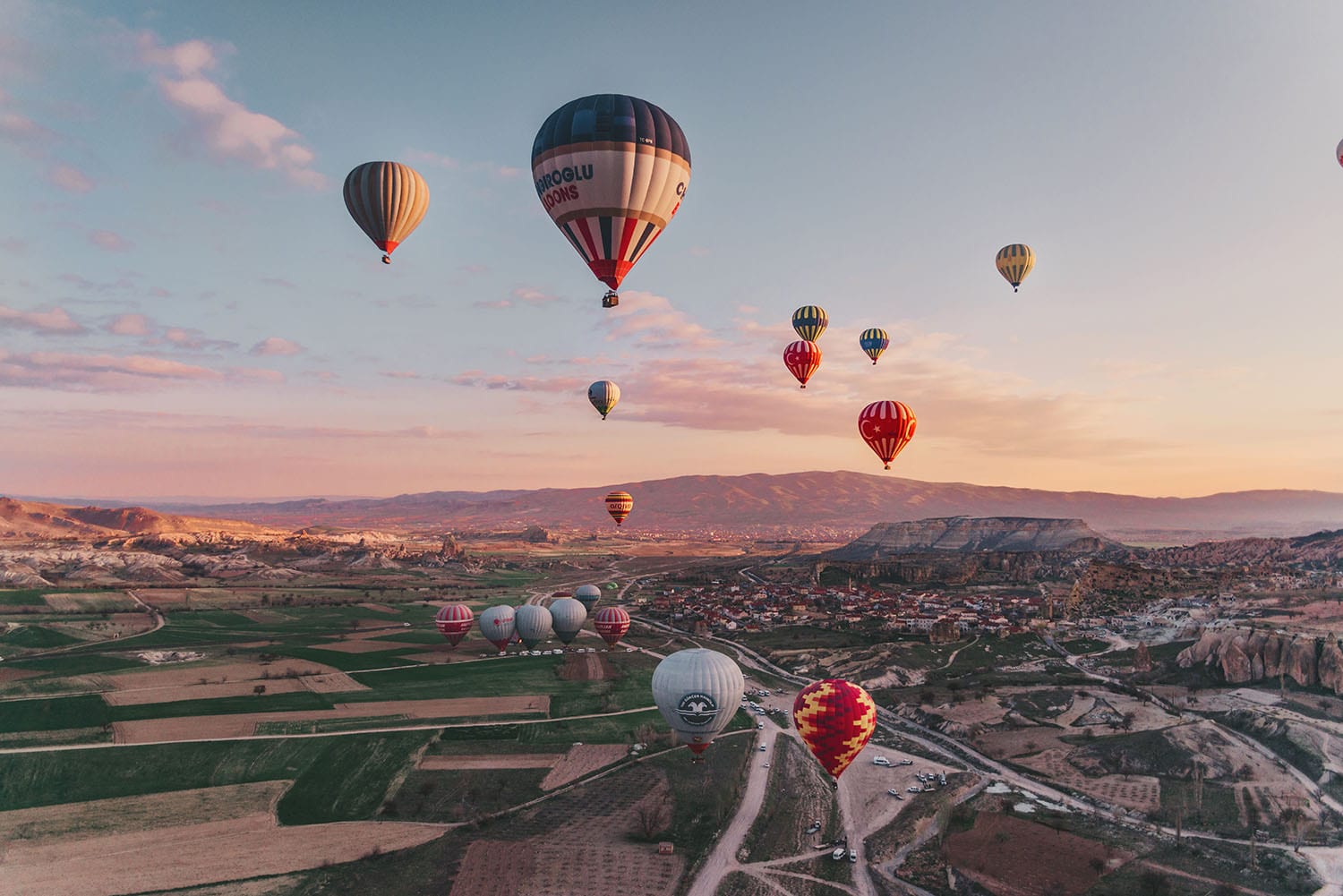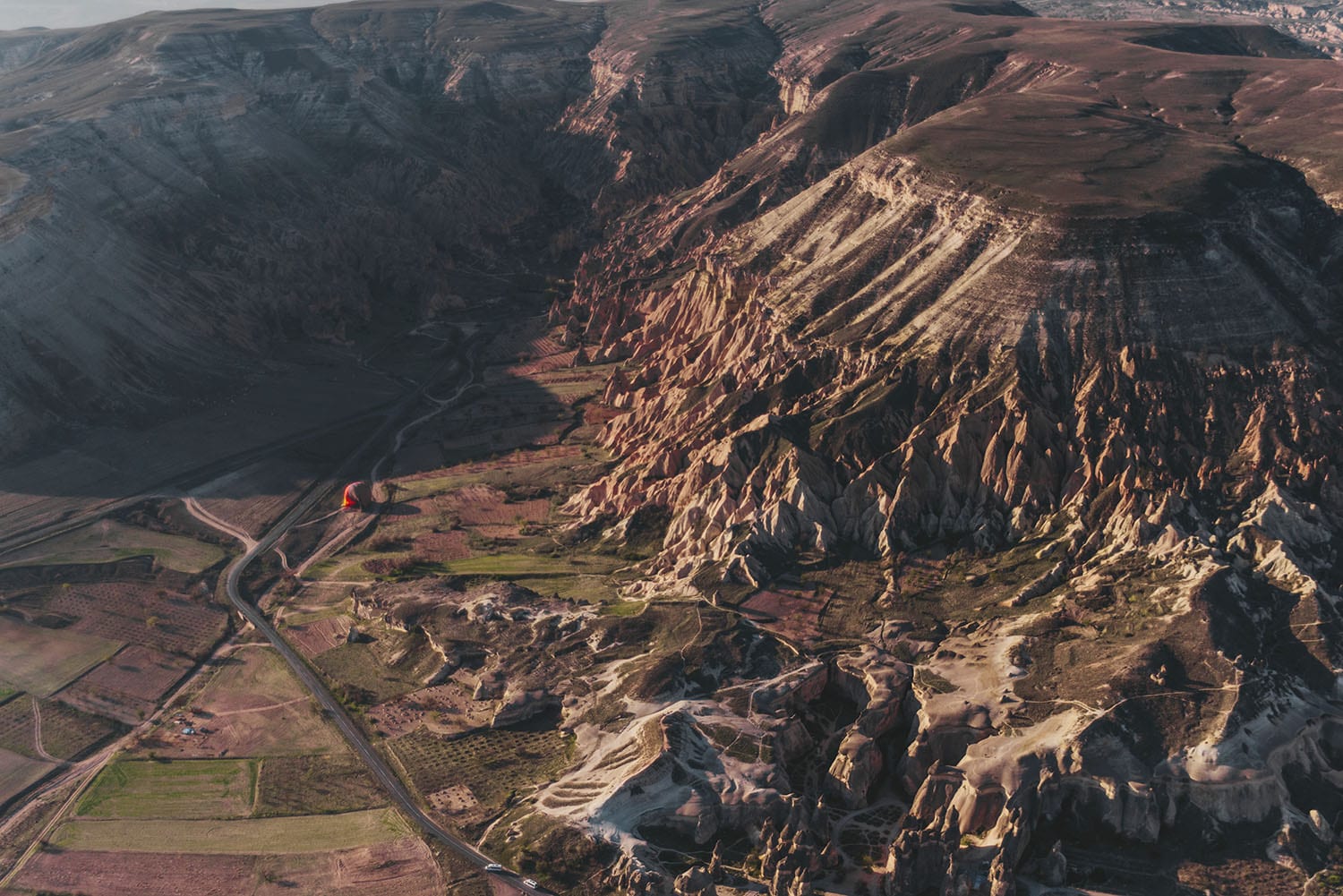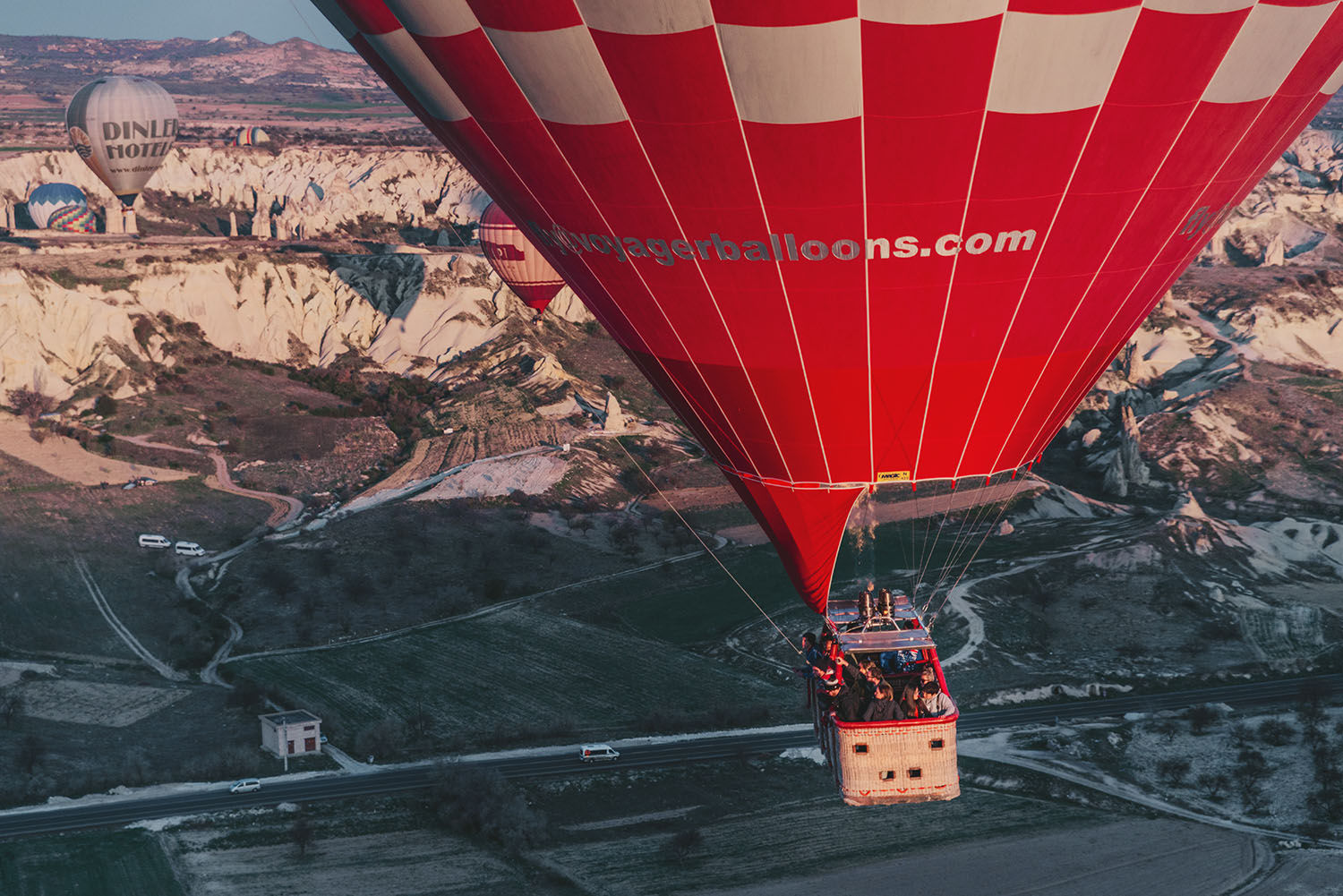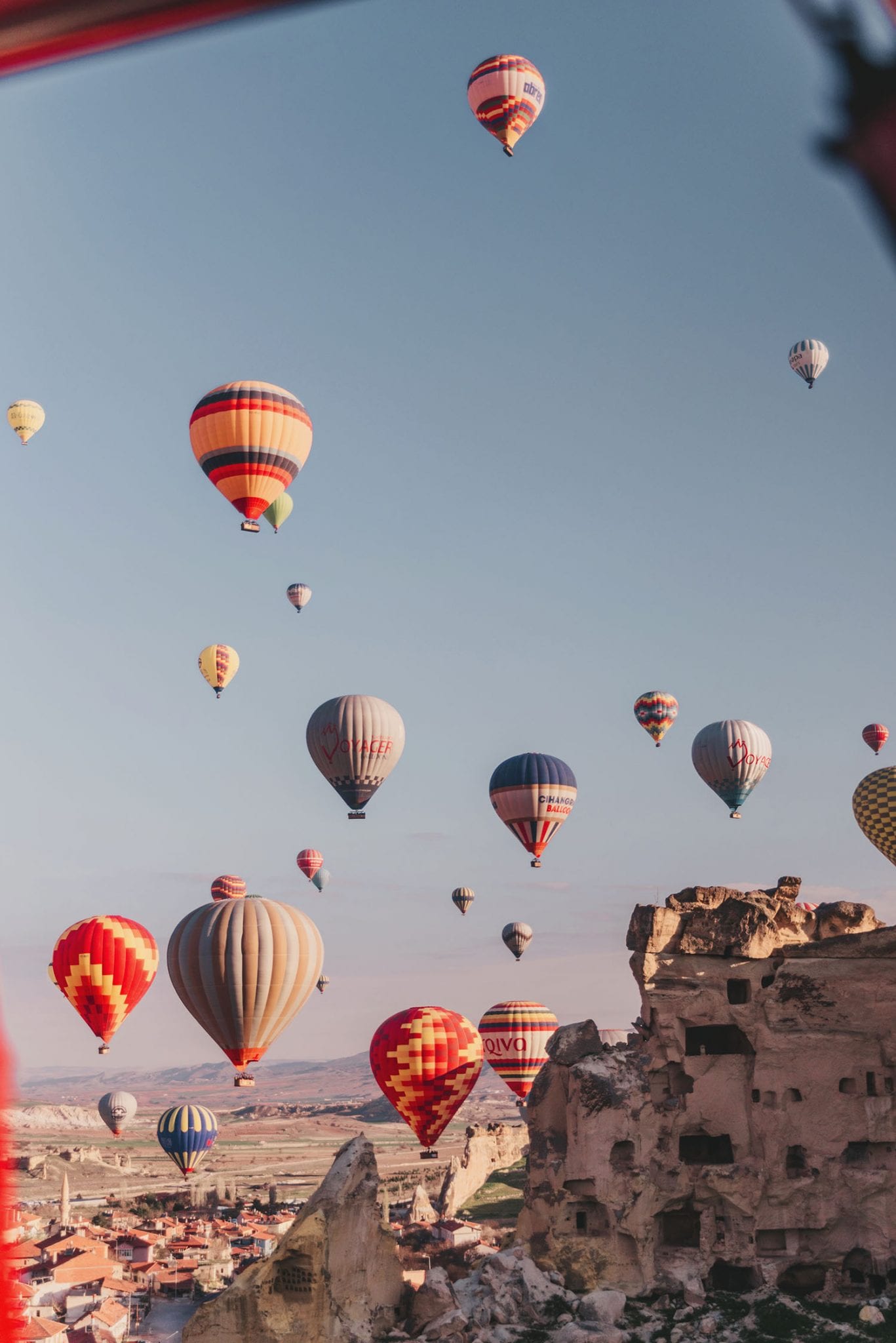 How much does it cost and what does it include?
The price depends on what balloon company you choose, but it will at least be 75€ for a 1-hour standard flight. In the price is often transfer to and from your accommodation included as well as breakfast and passenger insurance.
Here is some general information and prices:
STANDARD FLIGHT
Cost: 75 – 175 €
Flight time: ca 1 h
Balloon capacity: 16-24 persons
DELUXE FLIGHT
Cost: 176 – 250 €
Flight time: ca 1,5 h
Balloon capacity: 10-16 persons
EXCLUSIVE FLIGHT/SPECIAL OCCASIONS
Cost: 500 – 1150 €
Flight time: ca 1,5 h
Which hot air balloon company should I choose?
There are currently 24 different tour companies in Cappadocia with different price lists and services. Some hot air balloon companies have very experienced pilots, and some have not. It's definitely worth to pay extra to go with a more experienced company and feel safer.
Some companies are for instance renewing their equipment yearly, and some are using second-hand equipment. Before you pick a tour company, it's a good idea to read their reviews.
We went with Cappadocia Voyager Balloons which has 18 years experience with flying over Cappadocia, experienced pilots, an excellent reputation and is only working with new equipment. We had a indoor breakfast before departure and celebrated the magical event with champagne and certificate afterwards.
Other highly rated companies are, for example, Royal Balloon (ranked nr. 1 on Tripadvisor) and Kapadokya Balloons (ranked nr. 2 on Tripadvisor).
Click here for more attractions, tickets, and tours in Cappadocia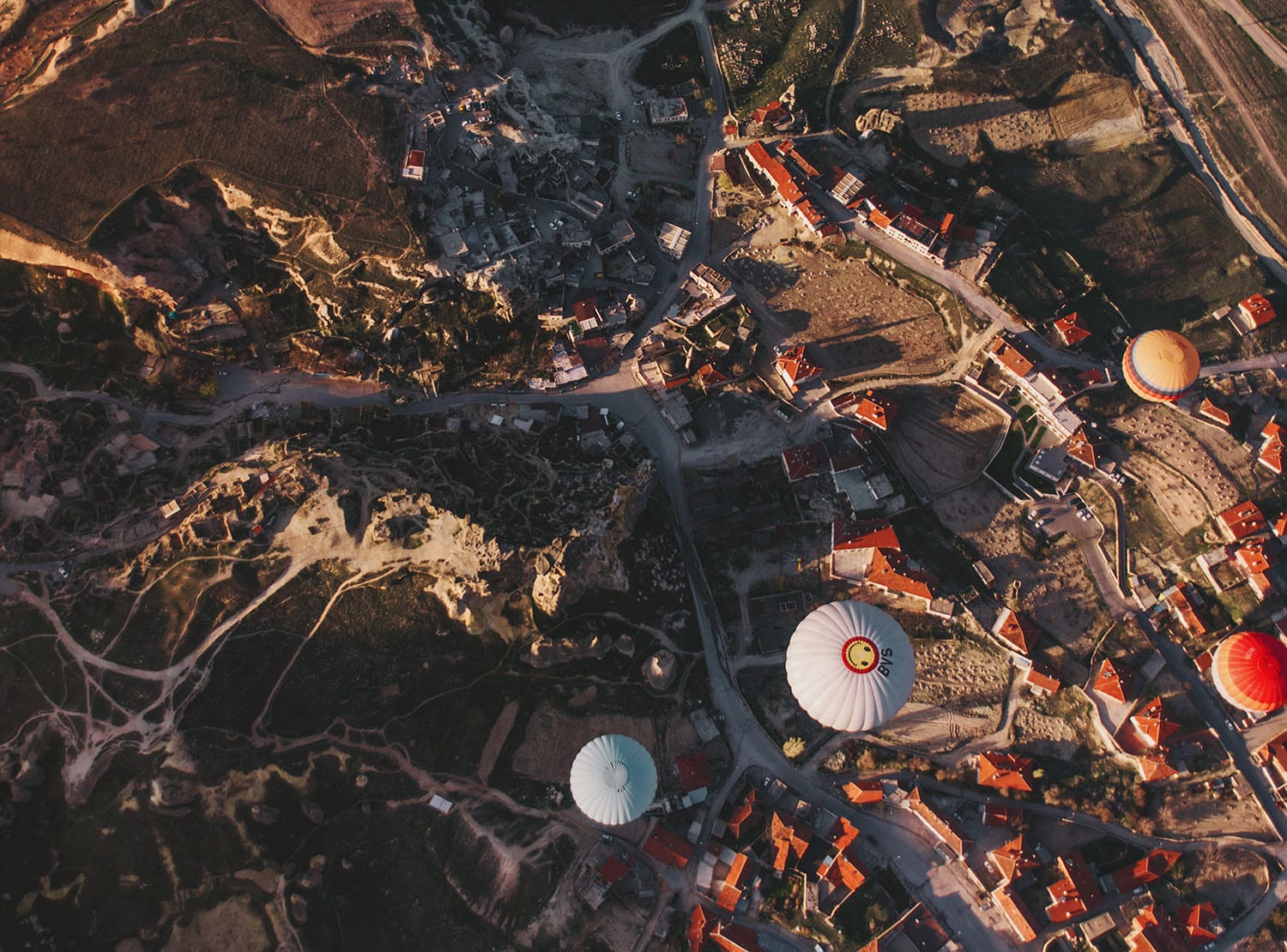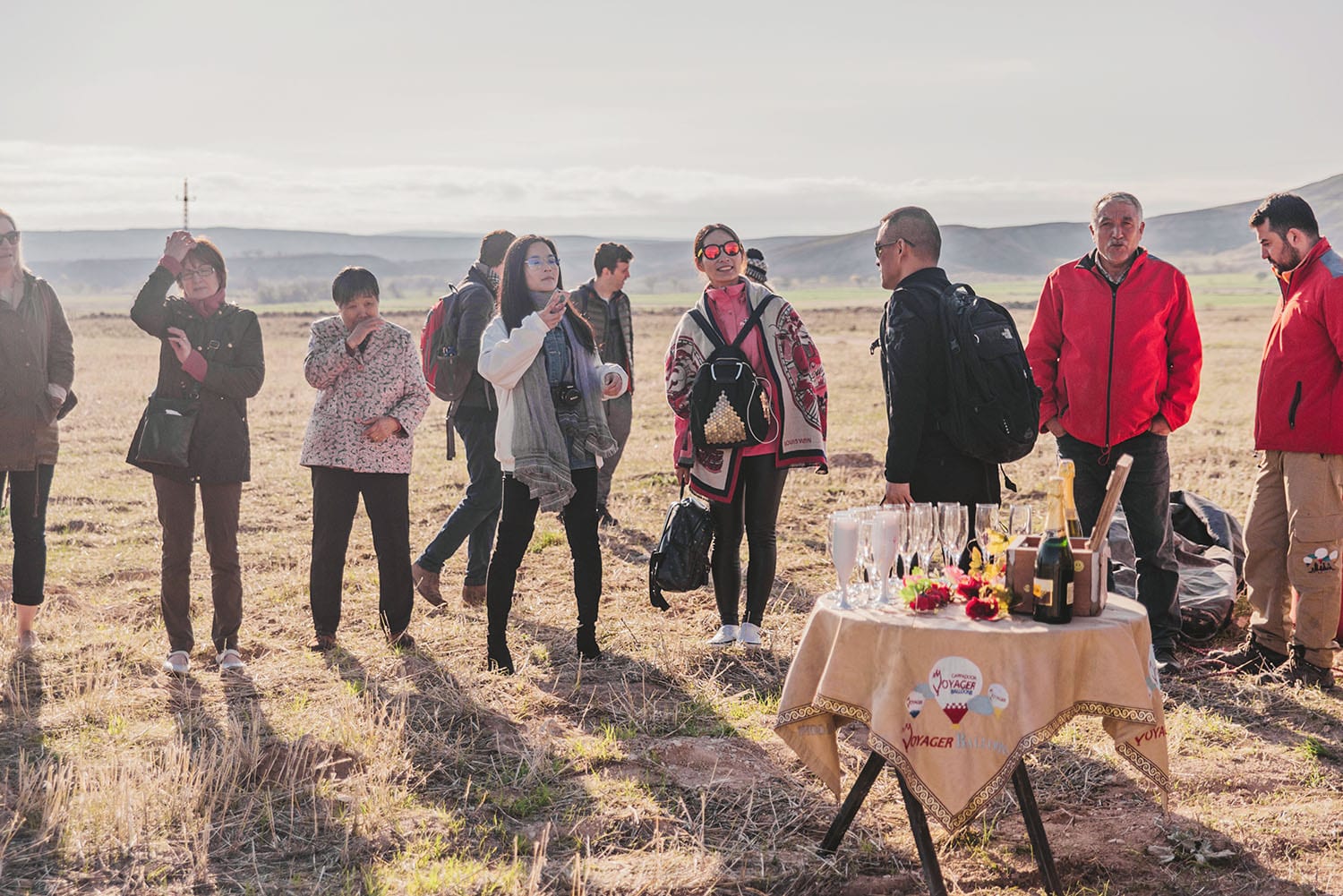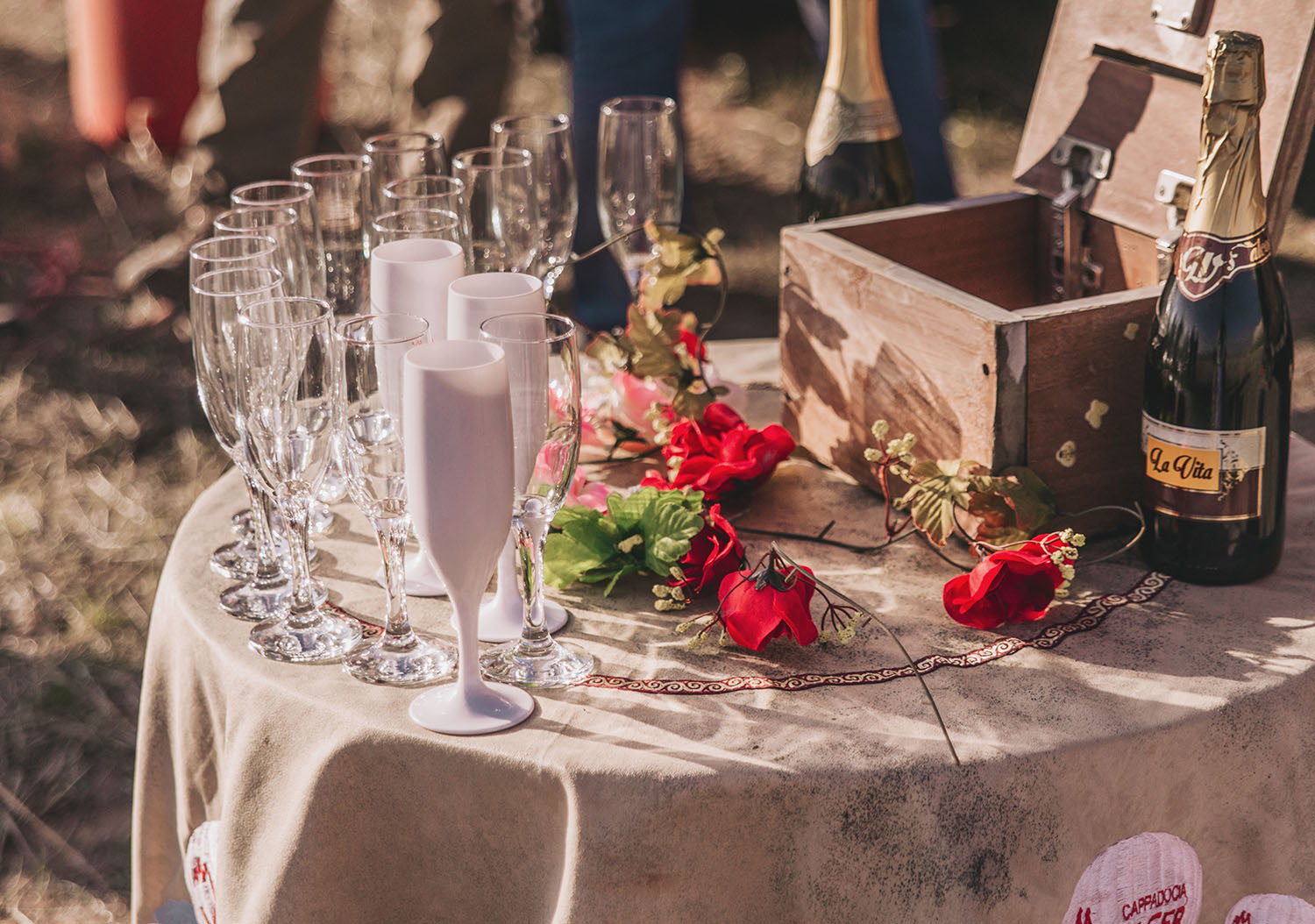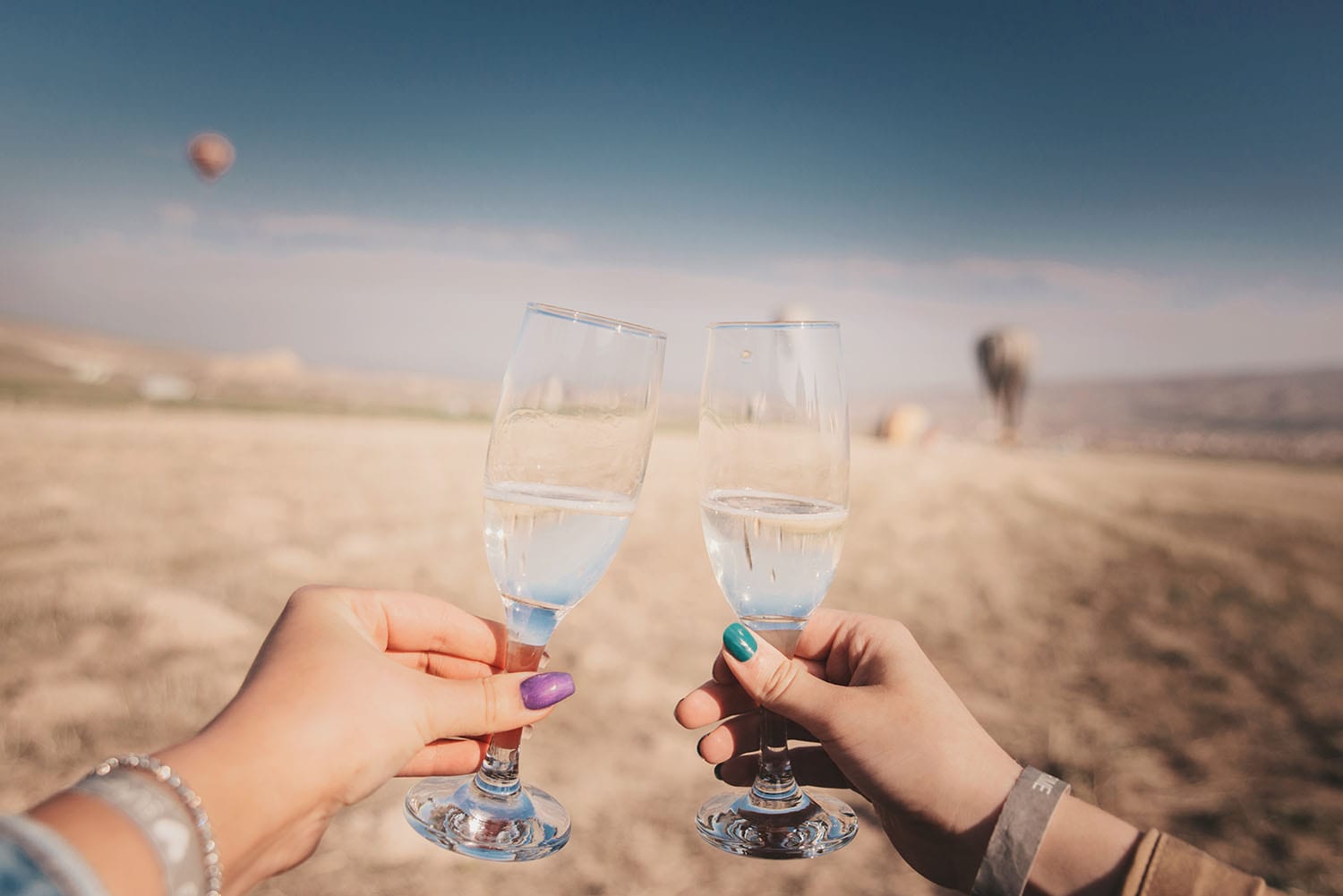 What to wear?
Wear comfortable flat shoes and dress in layers! Before the sunrise, it's super cold, and later in the morning and afternoon, it might get really hot during the late spring and summer season. At high altitude, it's of course also colder than ground level, but the pilot regularly uses burners which spreads heat around itself and will make you feel warmer. Dressing in layers is the best.
I was probably the only one wearing a long dress (but then I'm from the north of Sweden too). And it wasn't so cold with my jacket over – though I got some strange looks. If i went back though I would probably wear loose sitting pants, and have maybe a knitted sweater or cardigan over a t-shirt and bring a cute dress to put on afterwards.

ADARAS Cappadocia tips
Bring an extra camera battery – I can usually last at least a day with my camera battery, but I was so happy I bought an extra with me for this. I took so many photos!
It might get tricky to take pictures of yourself in the basket – so a good idea is to bring a GoPro Camera or selfie stick. Wide-angle lenses are also perfect for capturing the landscape and as many hot air balloons as possible.

Book a tour guide after your hot air balloon flight to explore Cappadocia. It's so much to see and do and with a guide who can tell you about the history and guide you to the best spots you'll definitely get the most out of your day. After our flight, Sanna and I had the most fantastic day with our guide Özay Onur. He is a private tour expert and gave us an even more unforgettable day.
Stay at least one day at Sultan Cave Suites to be able to enjoy a magical breakfast with the hot air balloons in the distance. Unfortunately, the hot air balloons were canceled when Sanna and I stayed there, but we still enjoyed the magical view from their roof terrace (see a sneak peek of our magical morning).
Click here to see the latest prices and availability for accommodation in Cappadocia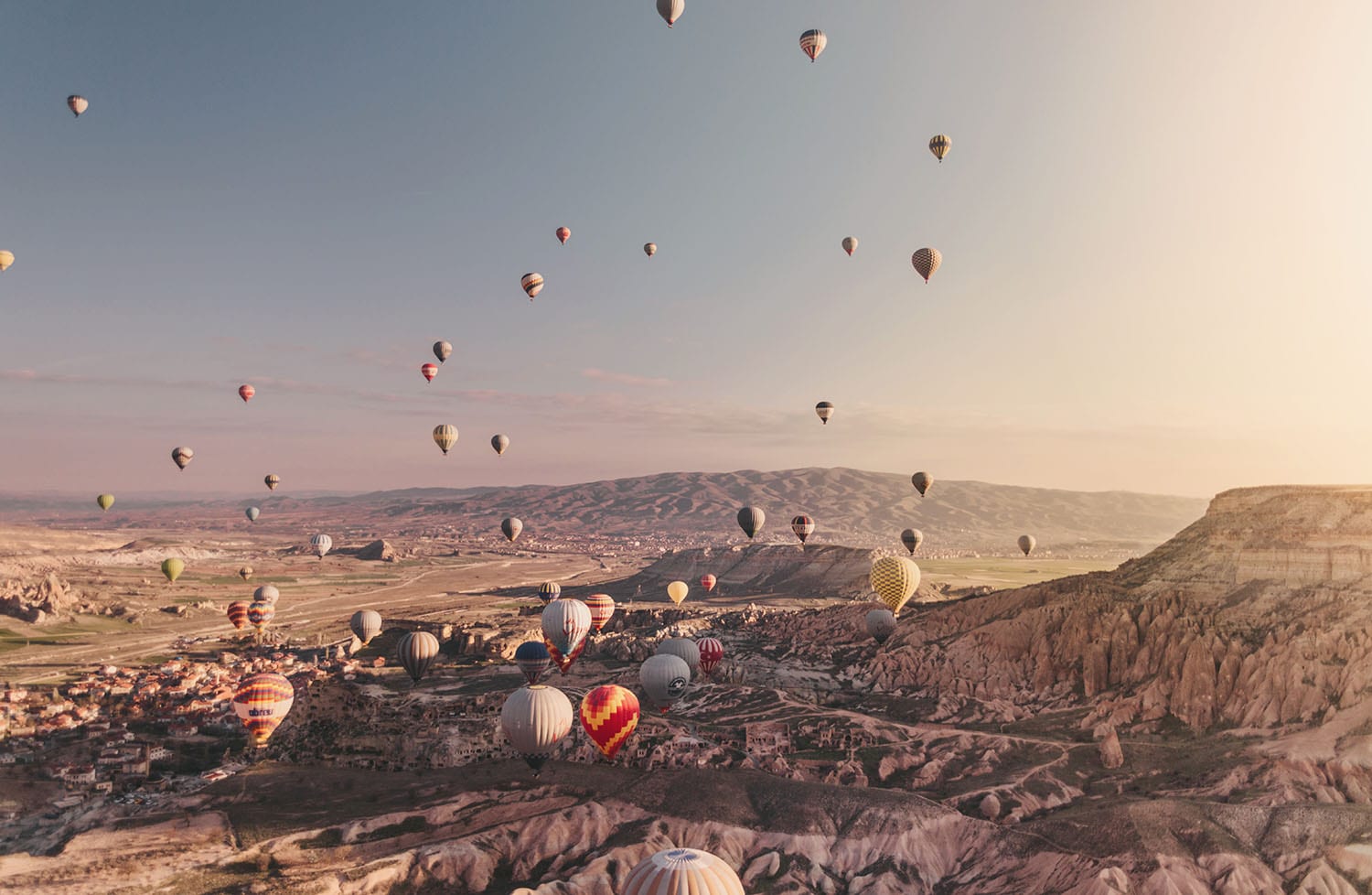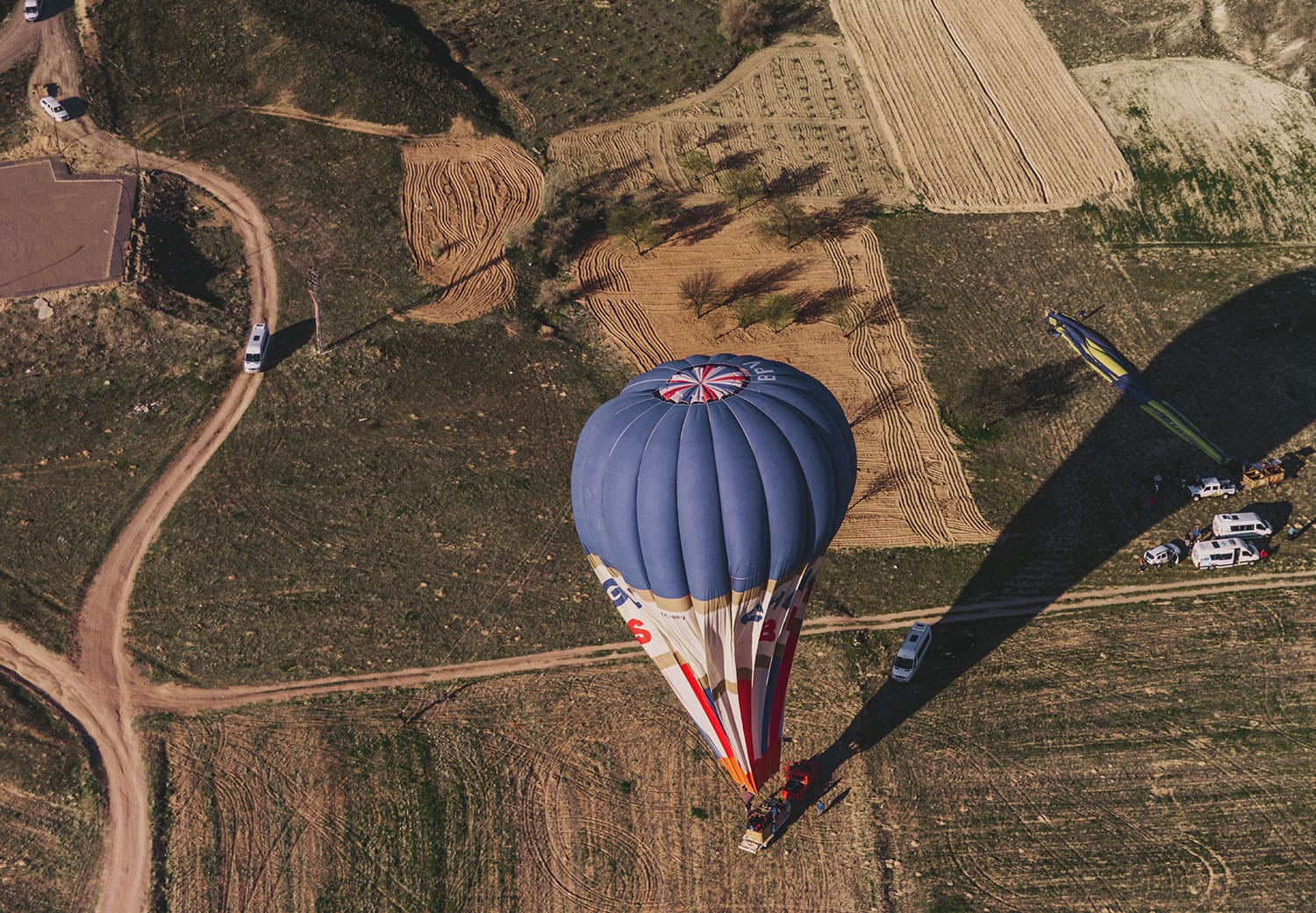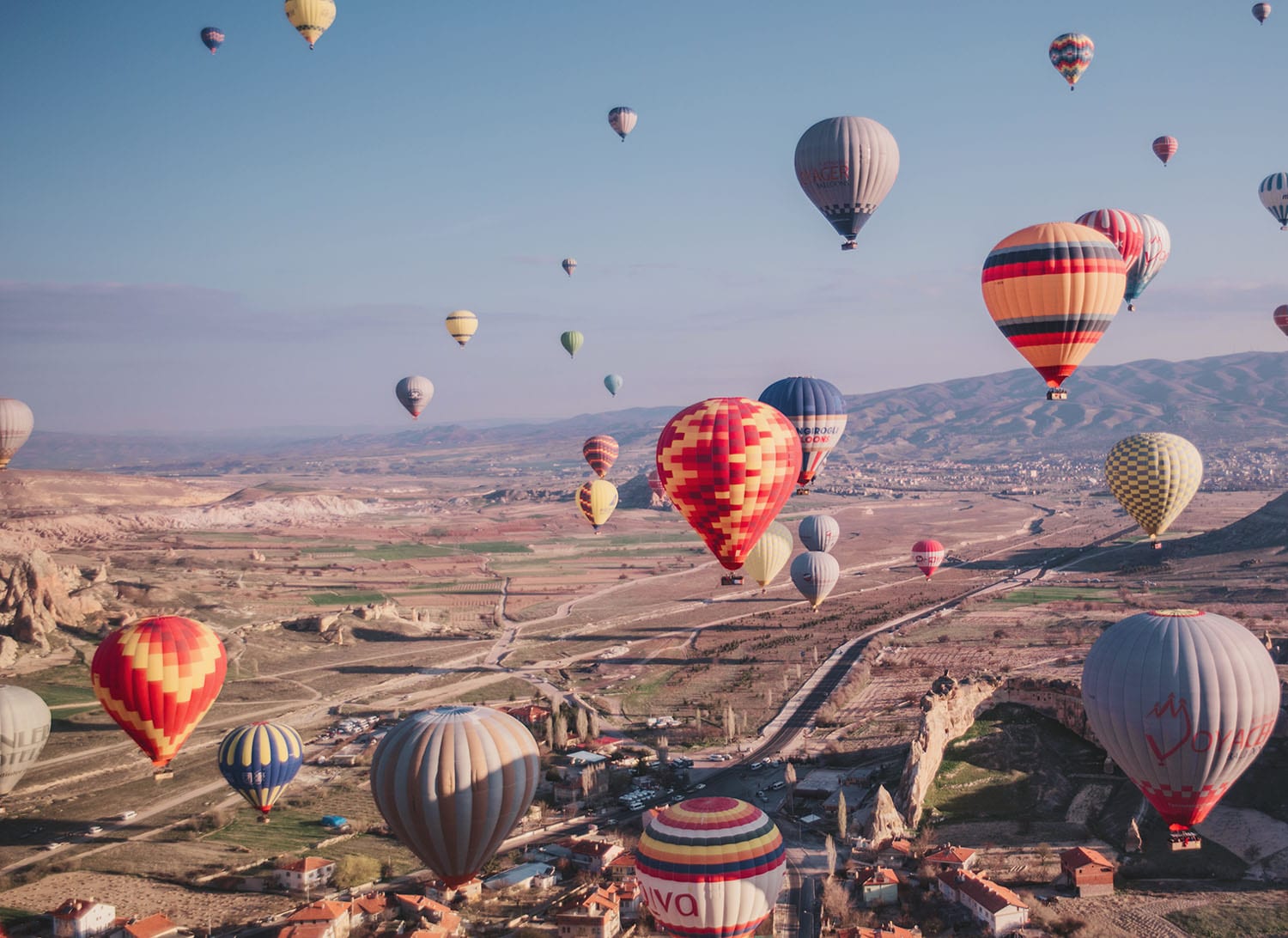 Pin our Hot Air Ballooning in Cappadocia Guide for later
---
Disclaimer: We went to Turkey in cooperation with Kultur och Turism Ministeriet i Turkiet, Turkiska Ambassadens Kultur och Turisminfo, Alanya Tourism & Promotion Foundation and Sunprime C-Lounge Hotel. All opinions and tips are, as usual, my own.