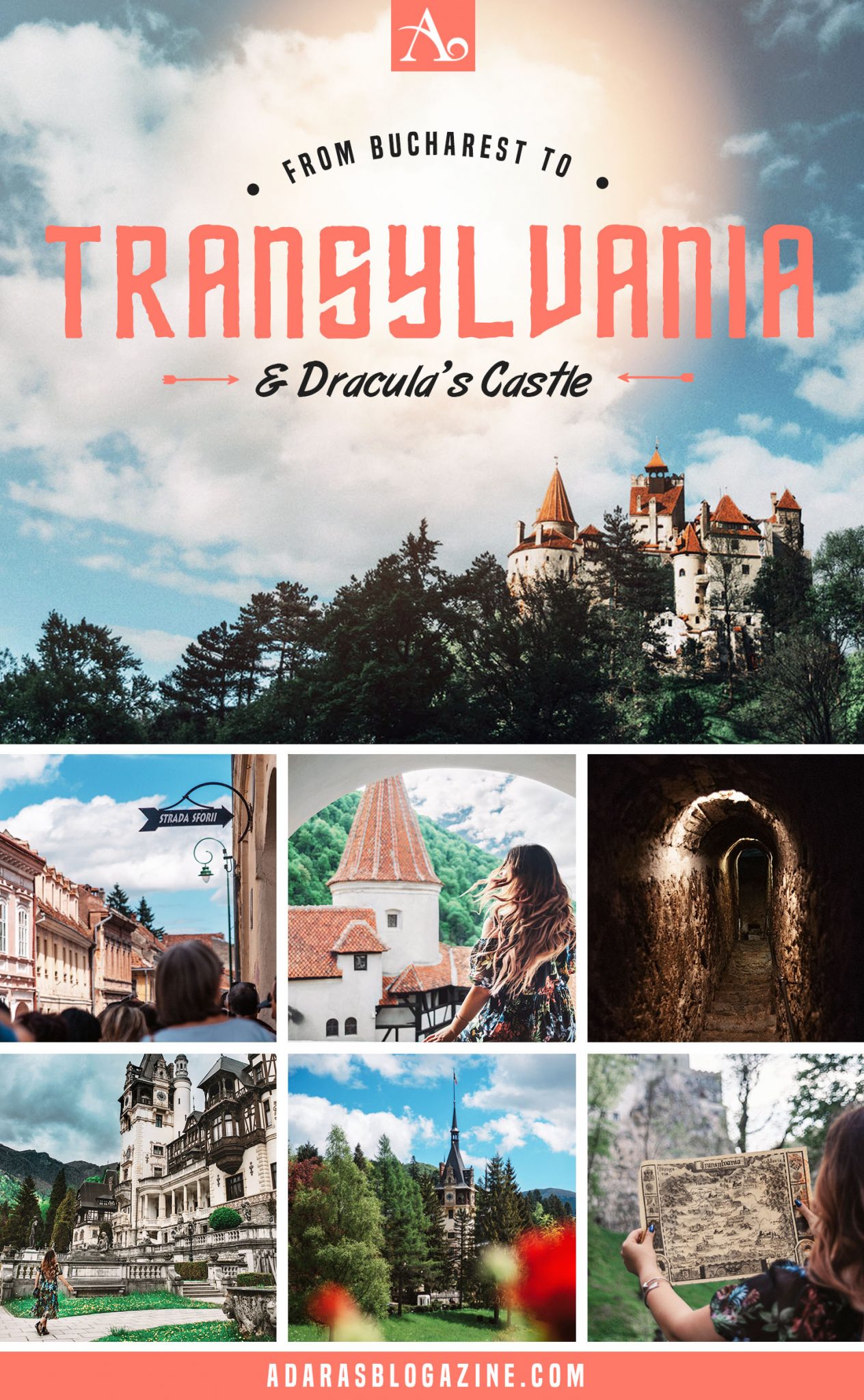 If you are spending a long weekend in Bucharest a day tour to Transylvania and Dracula's Castle is, of course, a must! This bucket list experience is only a 3,5-hour drive from Romania's capital – and there is a lot to see on the way.
From the stunningly green Transylvania scenery to one of the world's most striking castles (that seems to come straight out of a fairytale) and a picturesque medieval town with its own Hollywood sign.
Helena, I, and five other bloggers went on a full-day tour to Transylvania with Authentic Romania. We had an incredible day and tour with our guide Alina. But you can easily explore the sights on your own with a rental car.
Even though only a day in Transylvania might seem way too little (it is!), you'll be surprised by how much you can manage to see and do in just one day.
So, pack your garlic, cross and get started to explore the myths and mysteries that shroud this beautiful region.
---
A full day tour from Bucharest to
Dracula's Castle in Transylvania
---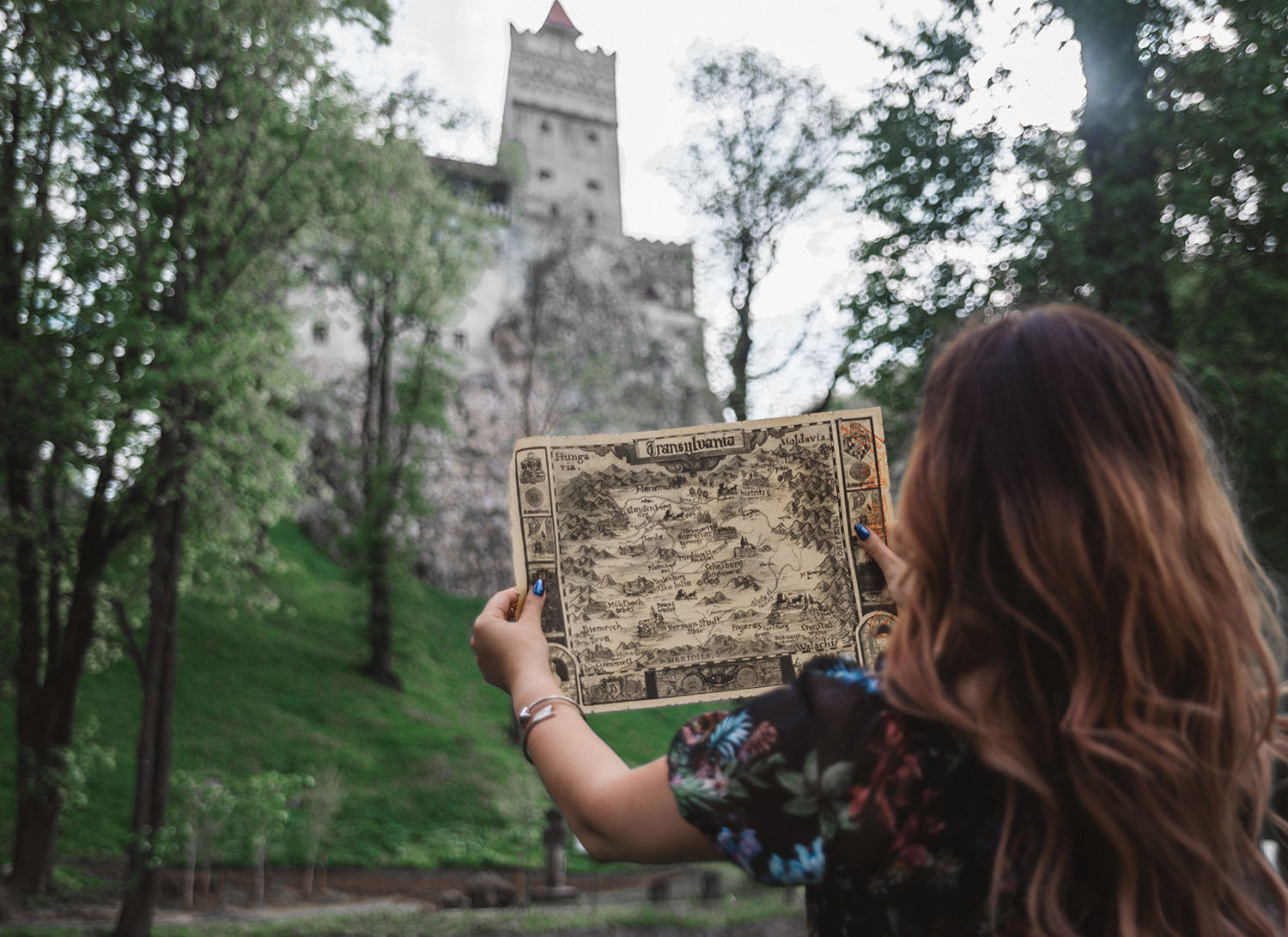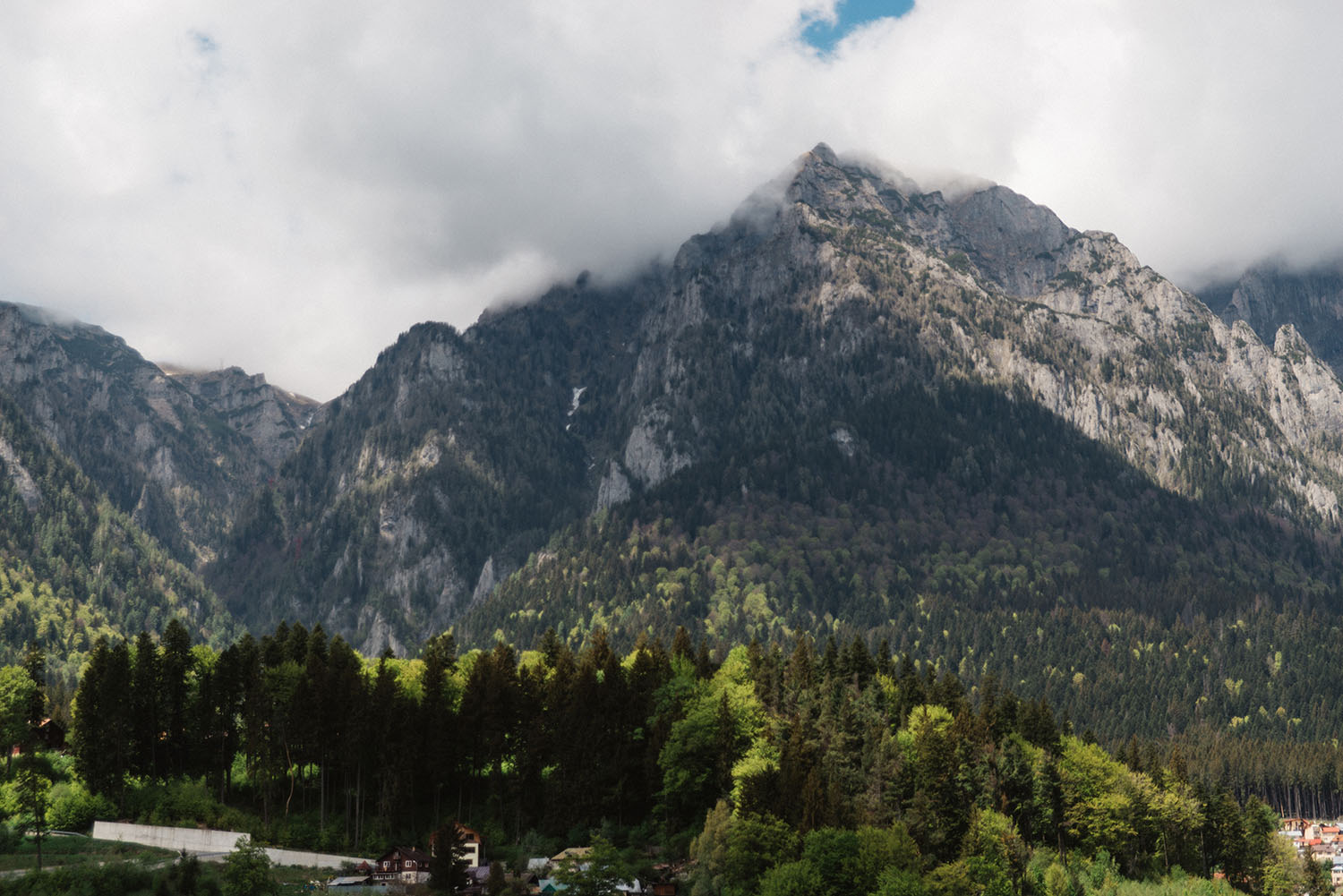 Make your first top in Sinaia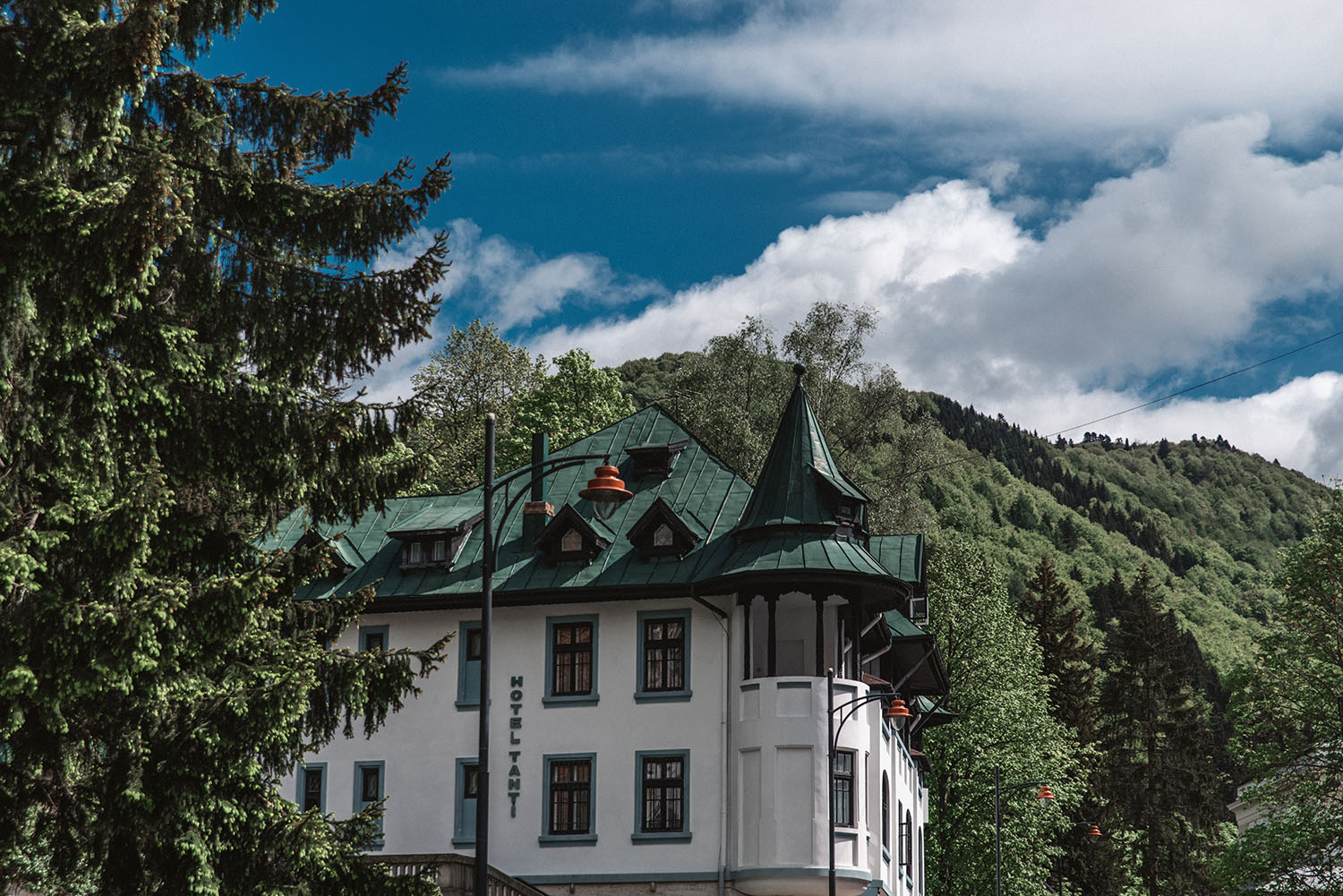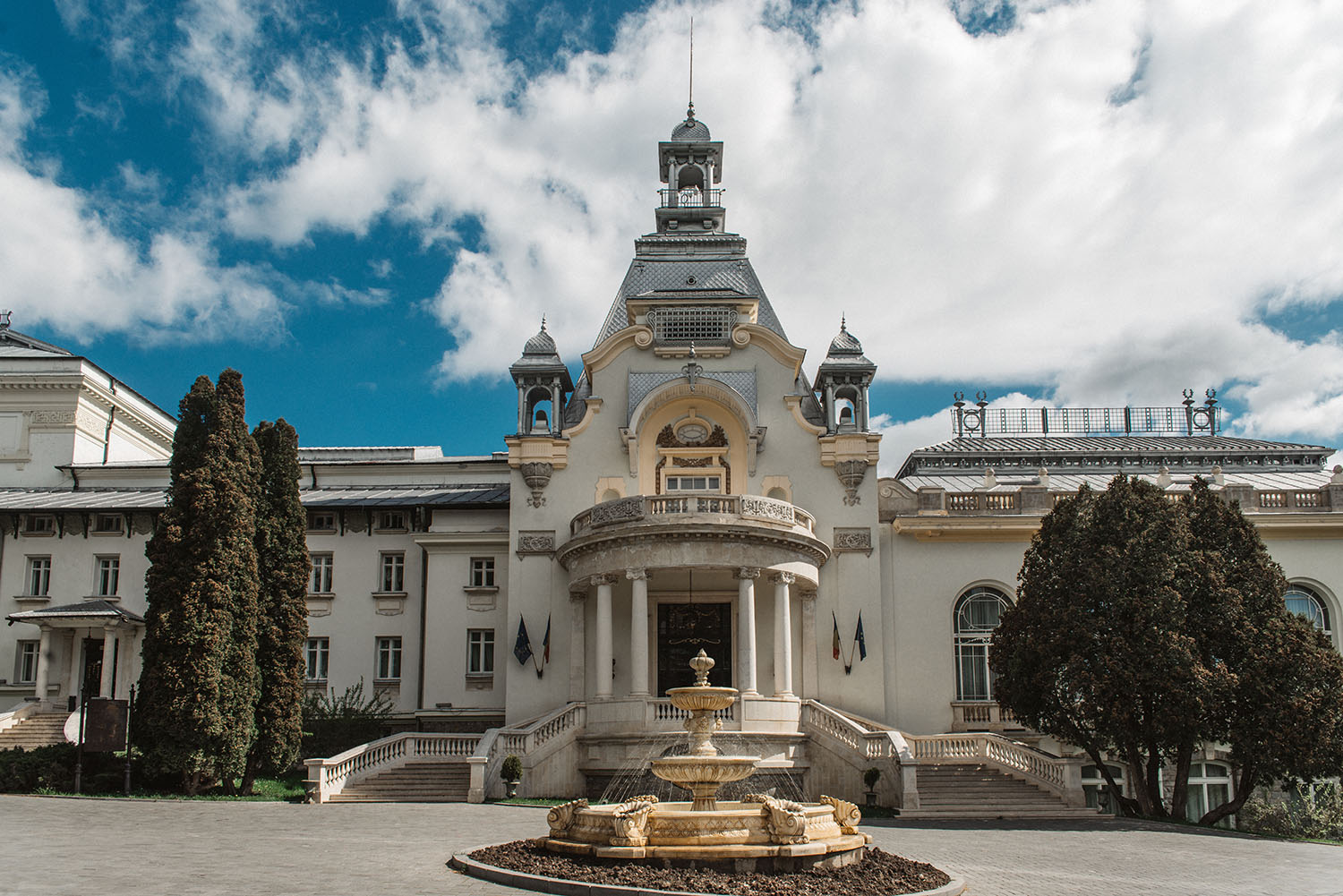 A Monday morning at 08.00 we set off on our tour in a mini-van. Our first sightseeing stop was the mountain resort Sinaia, which is about a 2-hour drive from Bucharest. It's a beautiful town and well-known ski and hiking destination that is nestled in a valley in Prahova County.
The beautiful architecture against the mountain backdrop is almost worth a visit in itself. But you also have a lot to see in Sinaia, like Peleș Castle (which is a MUST to visit!), Pelișor Castle and Sinaia Monastery.

Let's take a look!
Read also: How to Spend a Weekend in Bucharest
Admire the details at Sinaia Monastery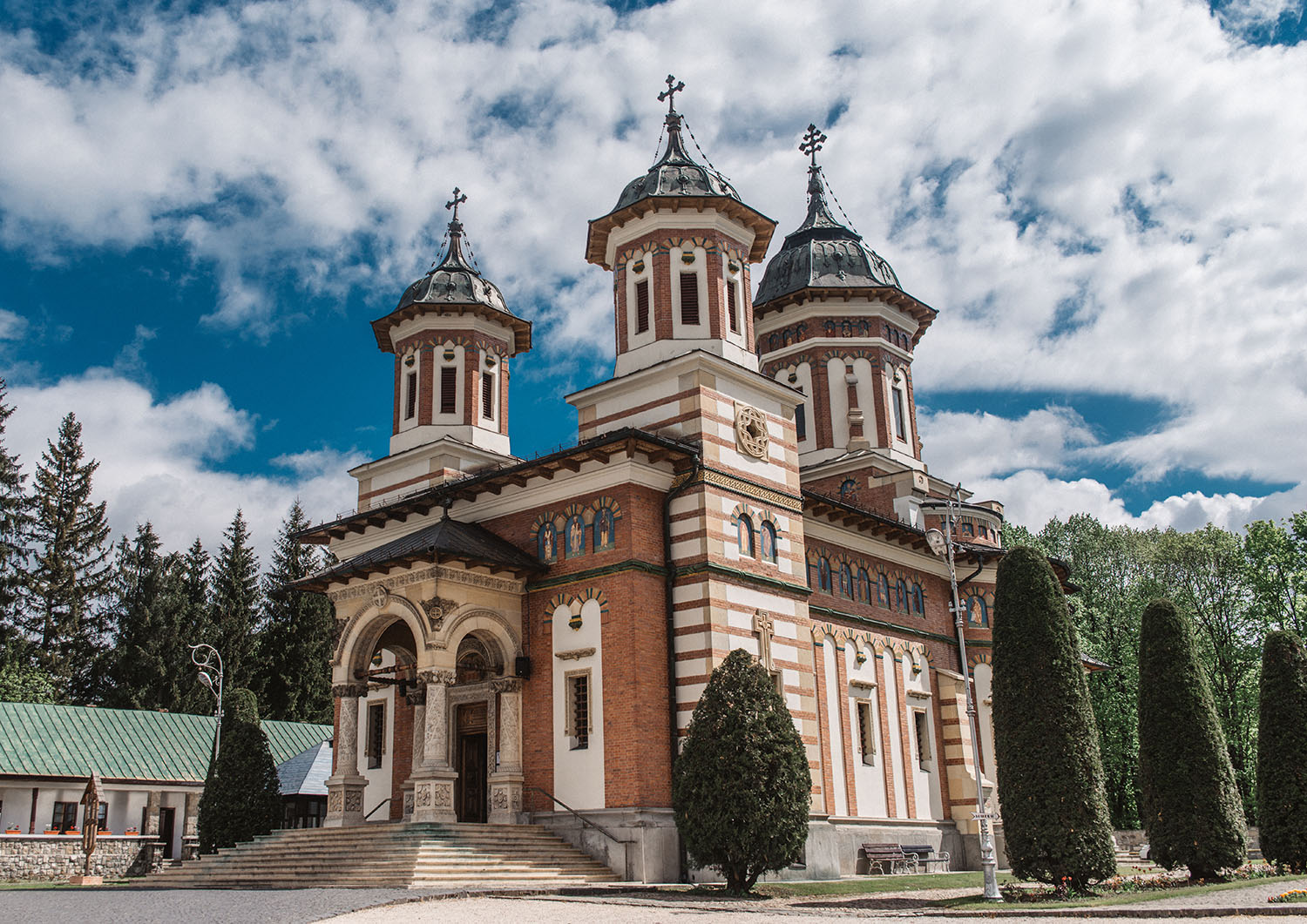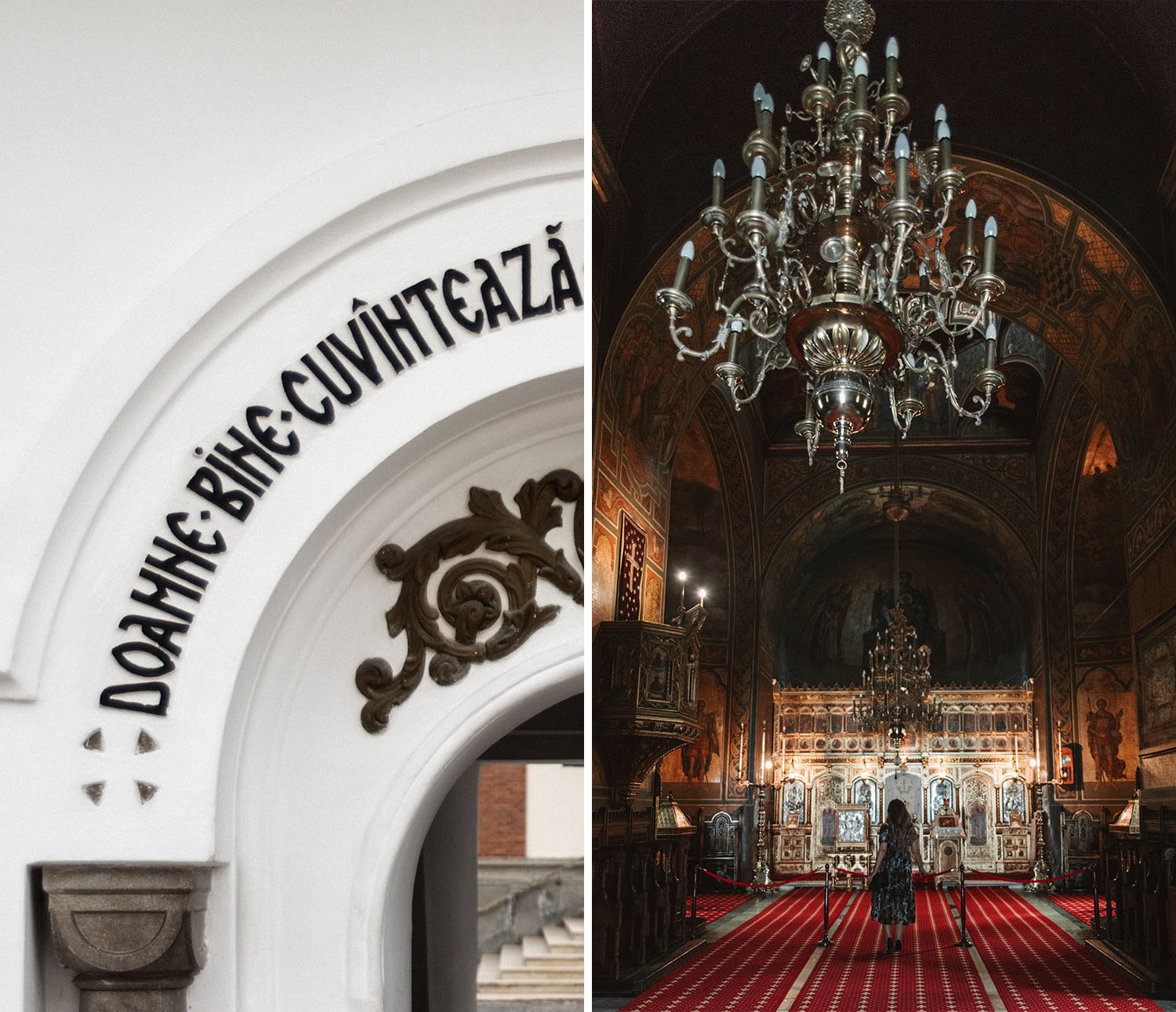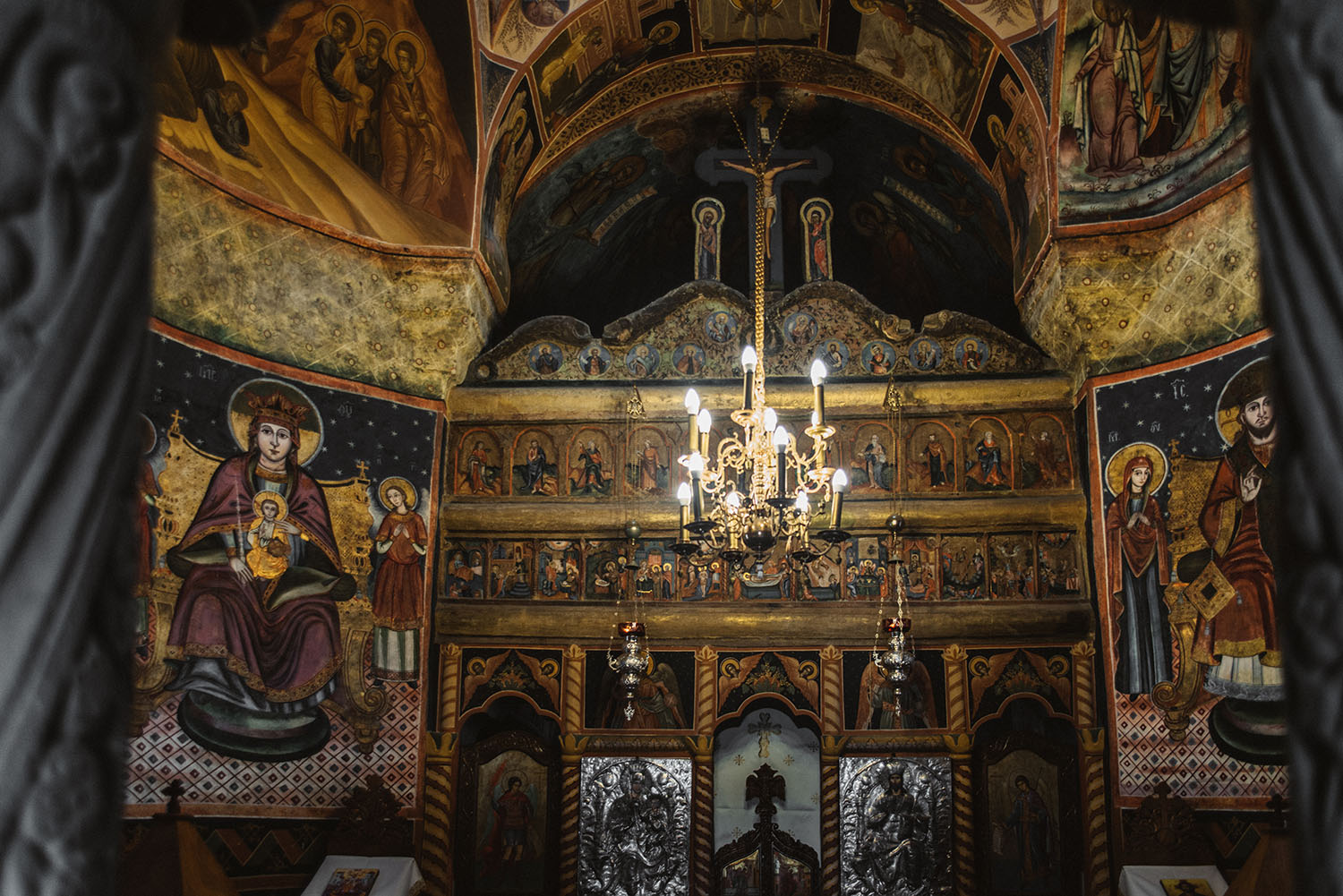 The town Sinaia is named after Sinaia Monastery, which is said to be one of the most beautiful monasteries in the country. It's worth to stop here just to admire all the astonishing details inside and outside.
Founded by Prince Mihai Cantacuzino in 1695, the site consists of two churches (The Great Church and The Old Church) and the first religious museum in Romania. It doesn't take much time to explore the monastery, but it will leave you feeling like you've discovered a hidden gem among the mountains.
Entrance fee: 5 lei
Peleş Castle – Swoon over Romania's fairytale castle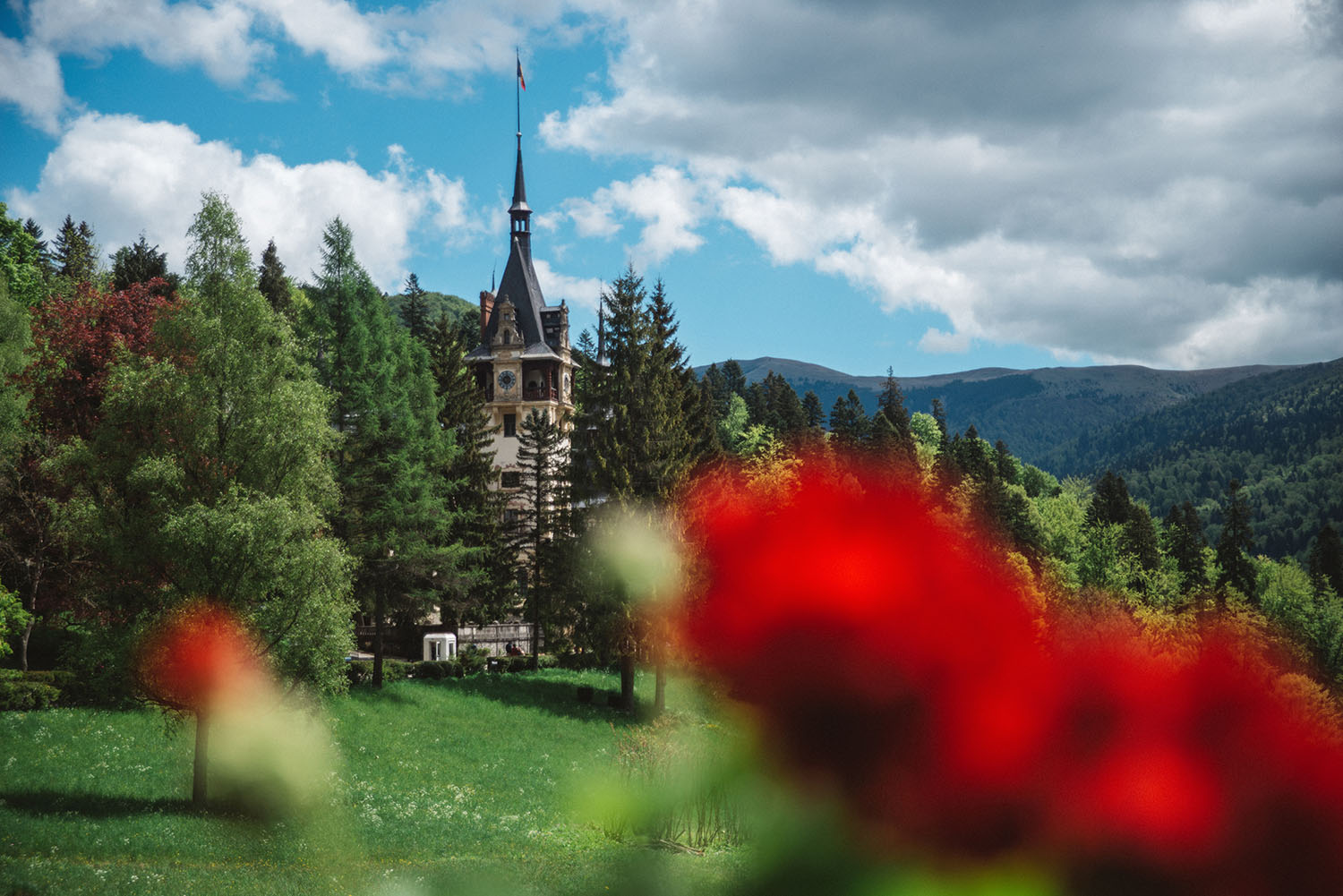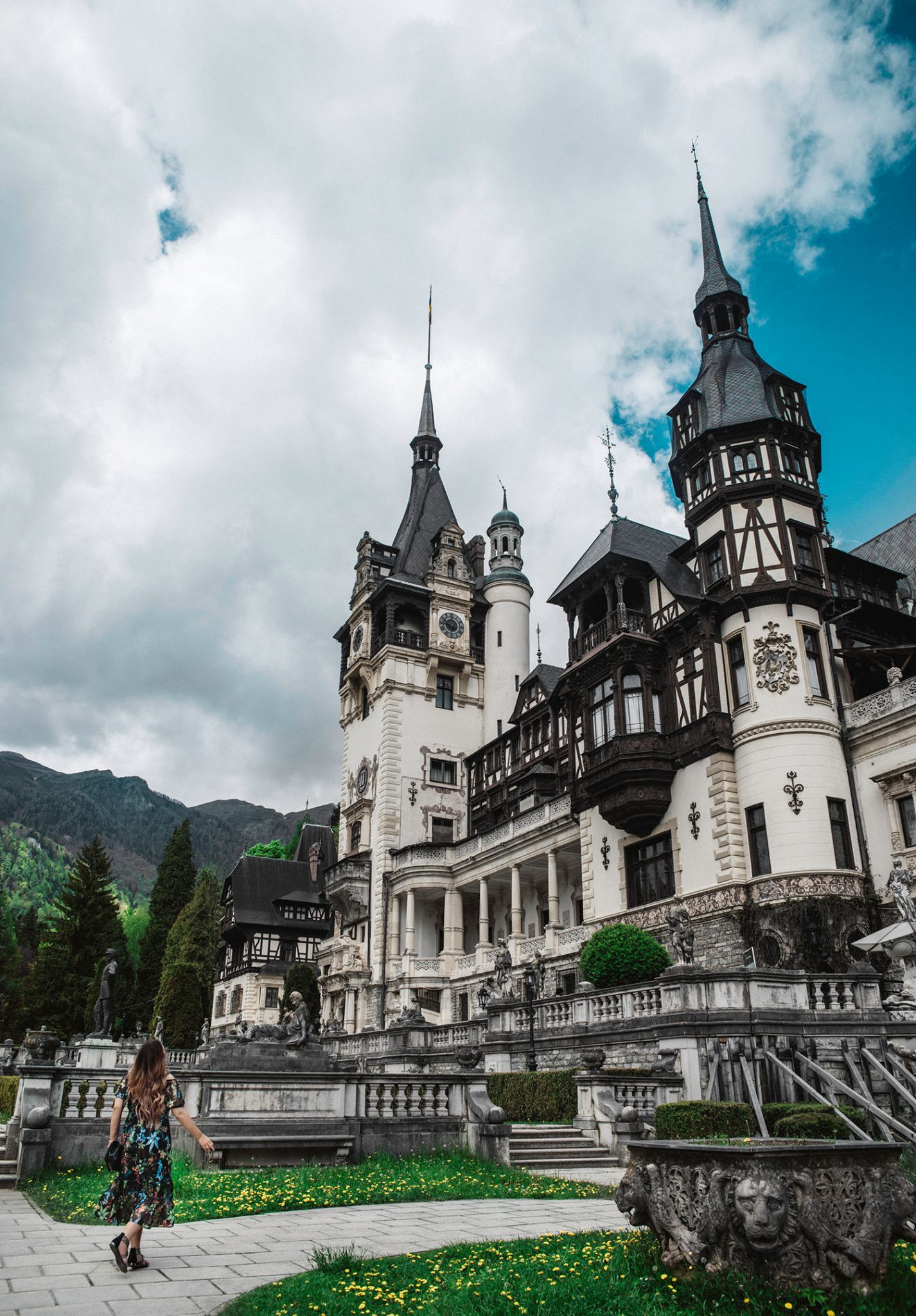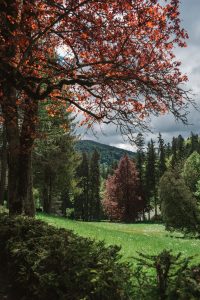 If you are going on a Transylvania tour from Bucharest, it would be a crime to miss Peleş Castle (even if this is located in Prahova County!). Once home to Romania's first king, Carol I, Peleş Castle is a dream to visit. It's considered to be one of the most stunning castles in the world – and only seeing a glimpse of this castle made me believe that too.
This 19th-century castle seems to come straight from the pages of a fairytale.
It's has a stunning German New-Renaissance architecture, pointed towers, Cinderella turrets, classical statues, hidden passageways and is surrounded by acres of green meadows. The castle also features over 150 lavishly decorated rooms with crystal chandeliers, leather-covered walls, and stained-glass windows. It also hosts one of the most valuable collections of art in the country.
The castle is unfortunately closed on Mondays so we couldn't see the interior, but I felt like a princess walking up to the castle. Just admiring the outside was worth the 2-hour trip. But as you might be able to tell, I would love to go back and explore the rooms too.
Entrance fee: 30 lei (general exhibition) | 50 lei (optional tour)
There is an extra fee for taking pictures inside the castle.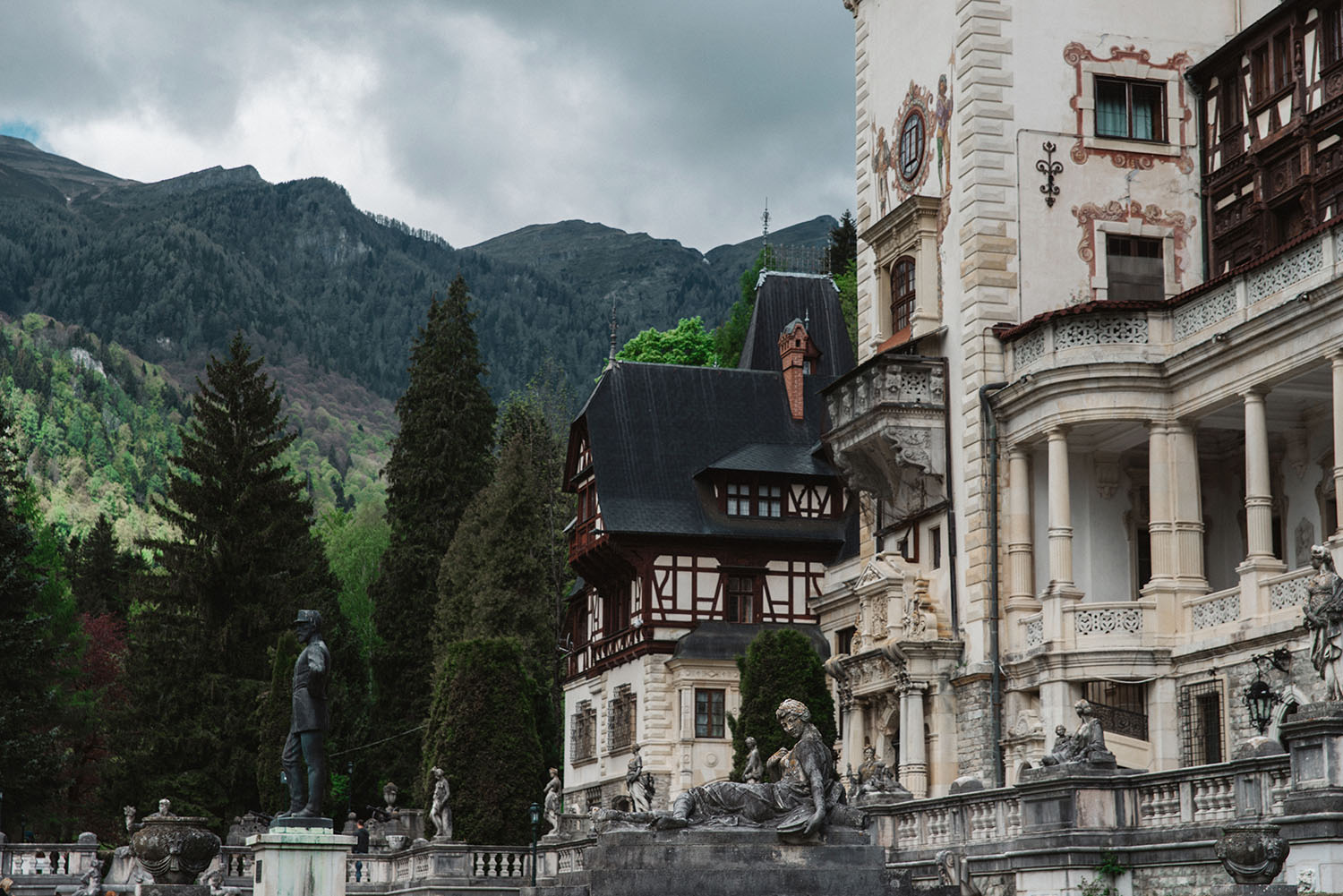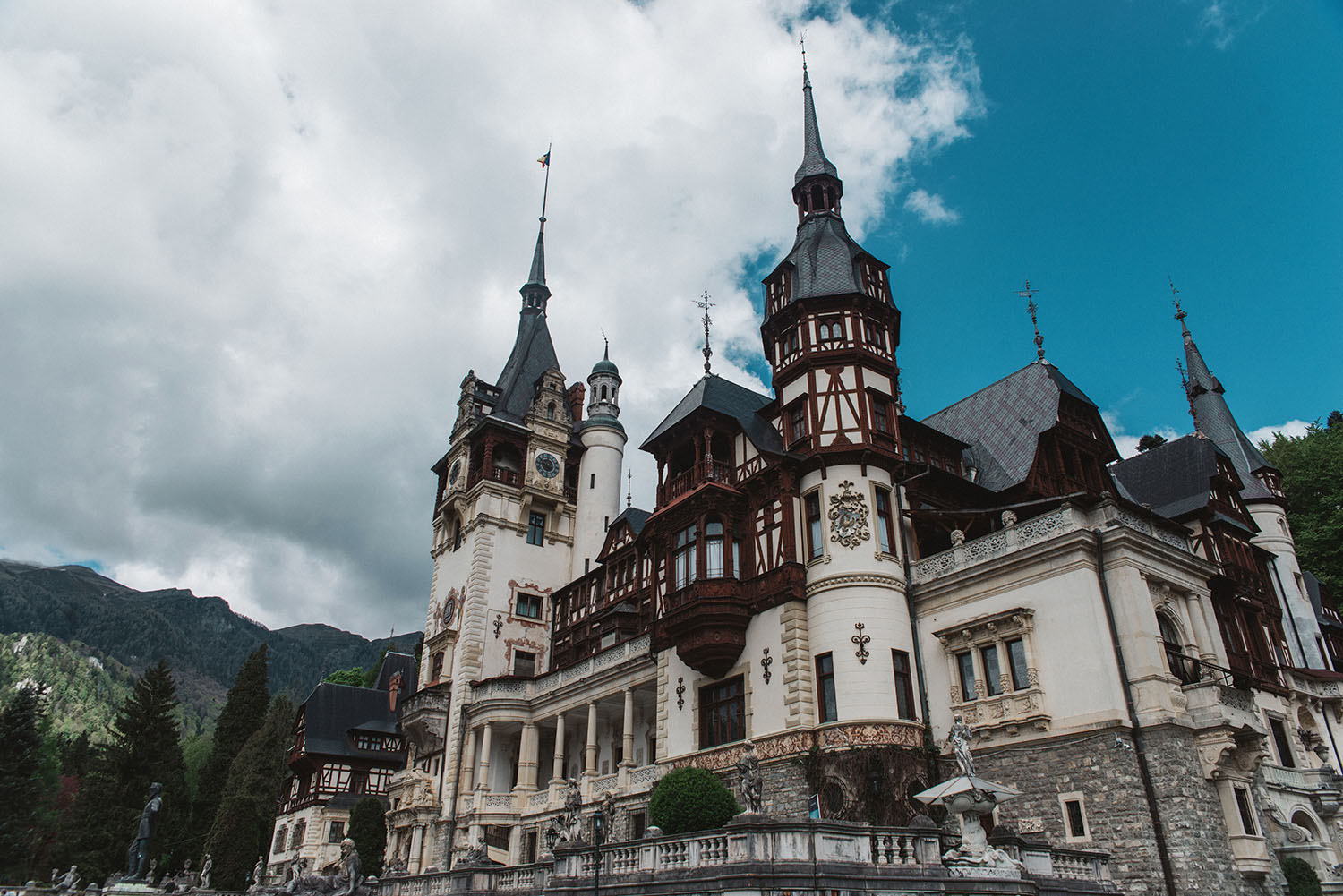 Don't forget to see the Pelișor Castle next door


Just some minutes walk away from the stunning Peleş Castle, is Pelișor Castle, which was built at the turn of the 20th Century for King Carol's nephew, Ferdinand. Compared to Peleş this castle is MUCH more modest in both scale and decor. But Pelisor is still beautiful and very Instagram-worthy.
Just next to this castle you'll also find a Hobbit-like entrance and Harry Potter-like street lamps. Talk about magical!
Entrance: 20 lei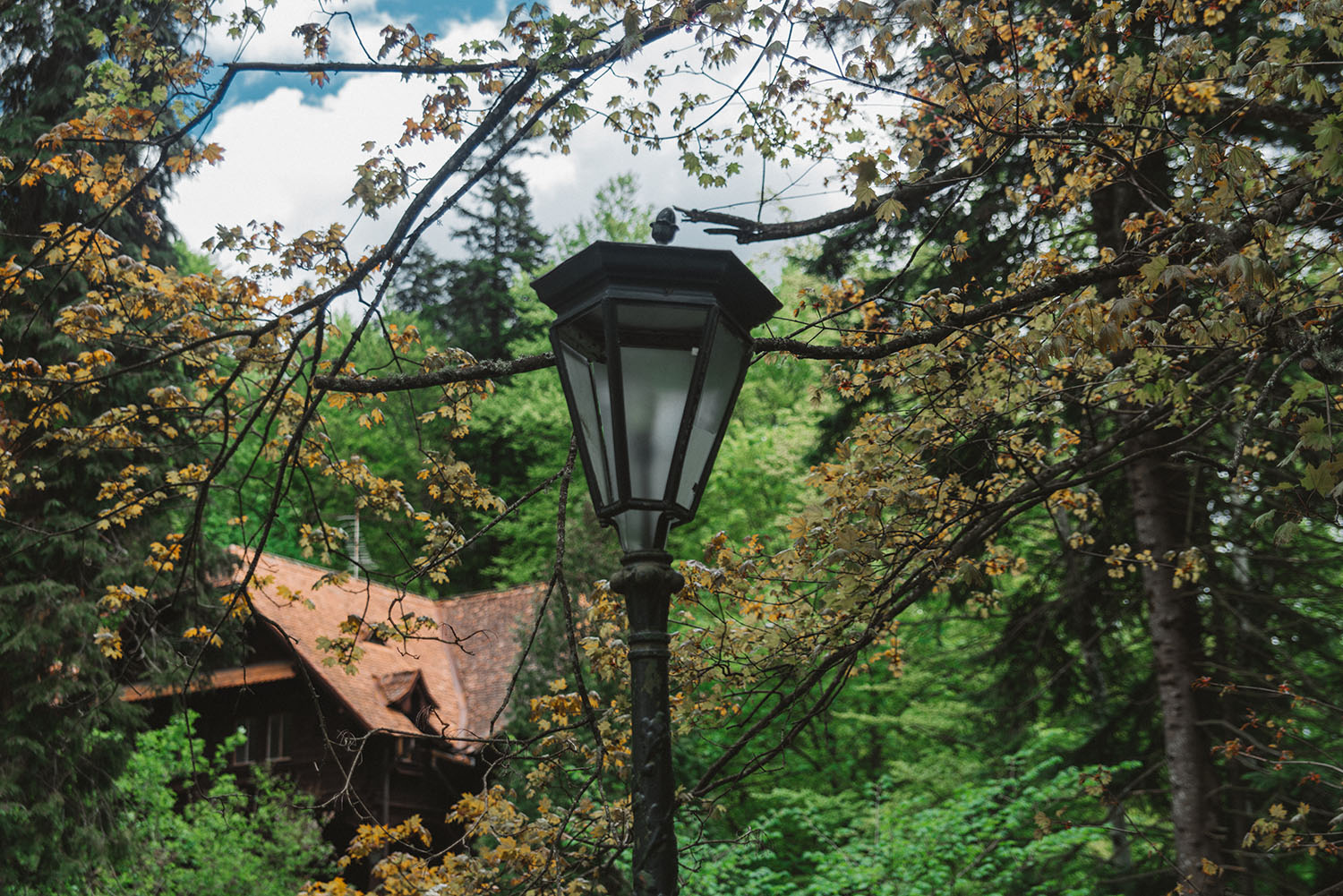 Go for a lunch break in Braşov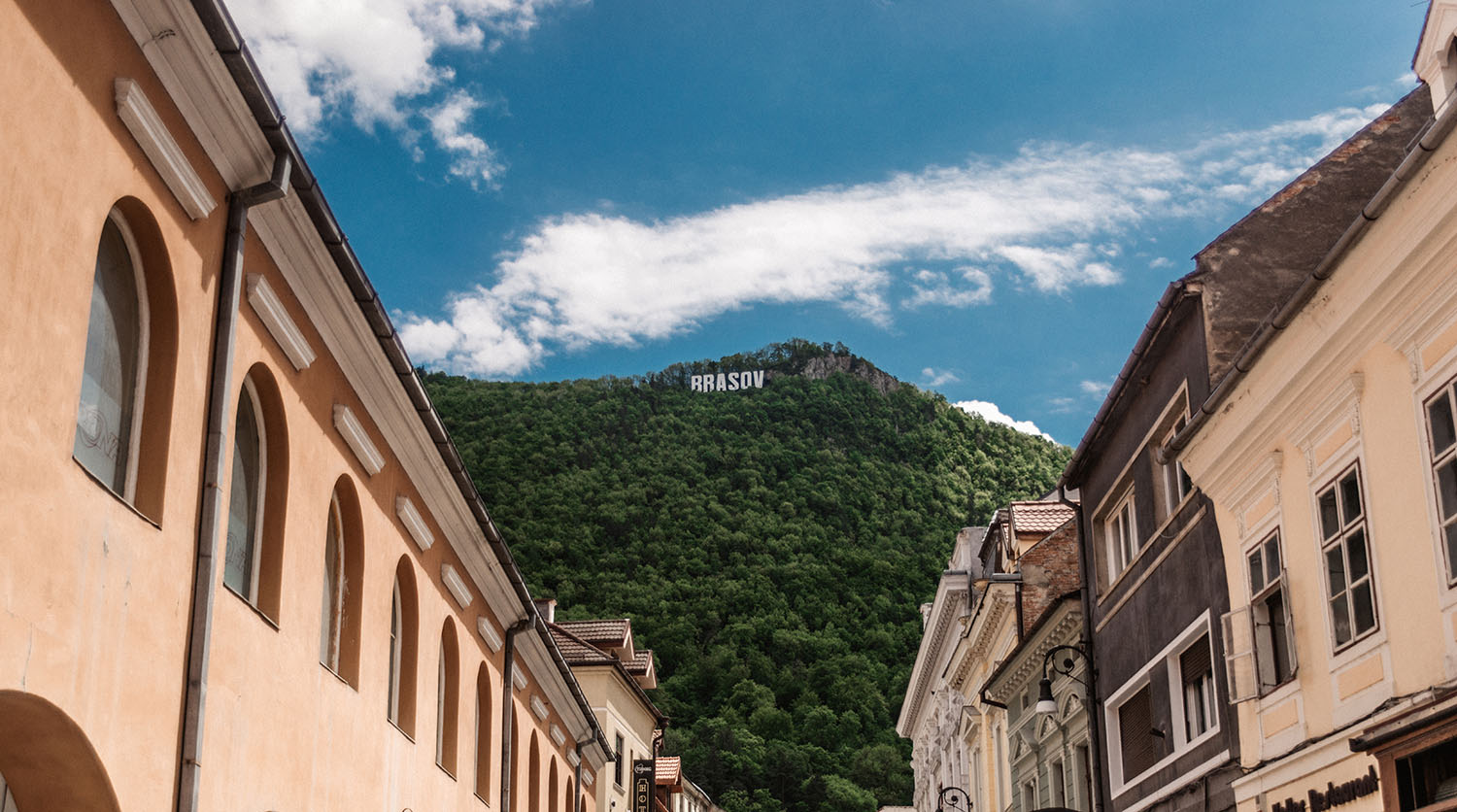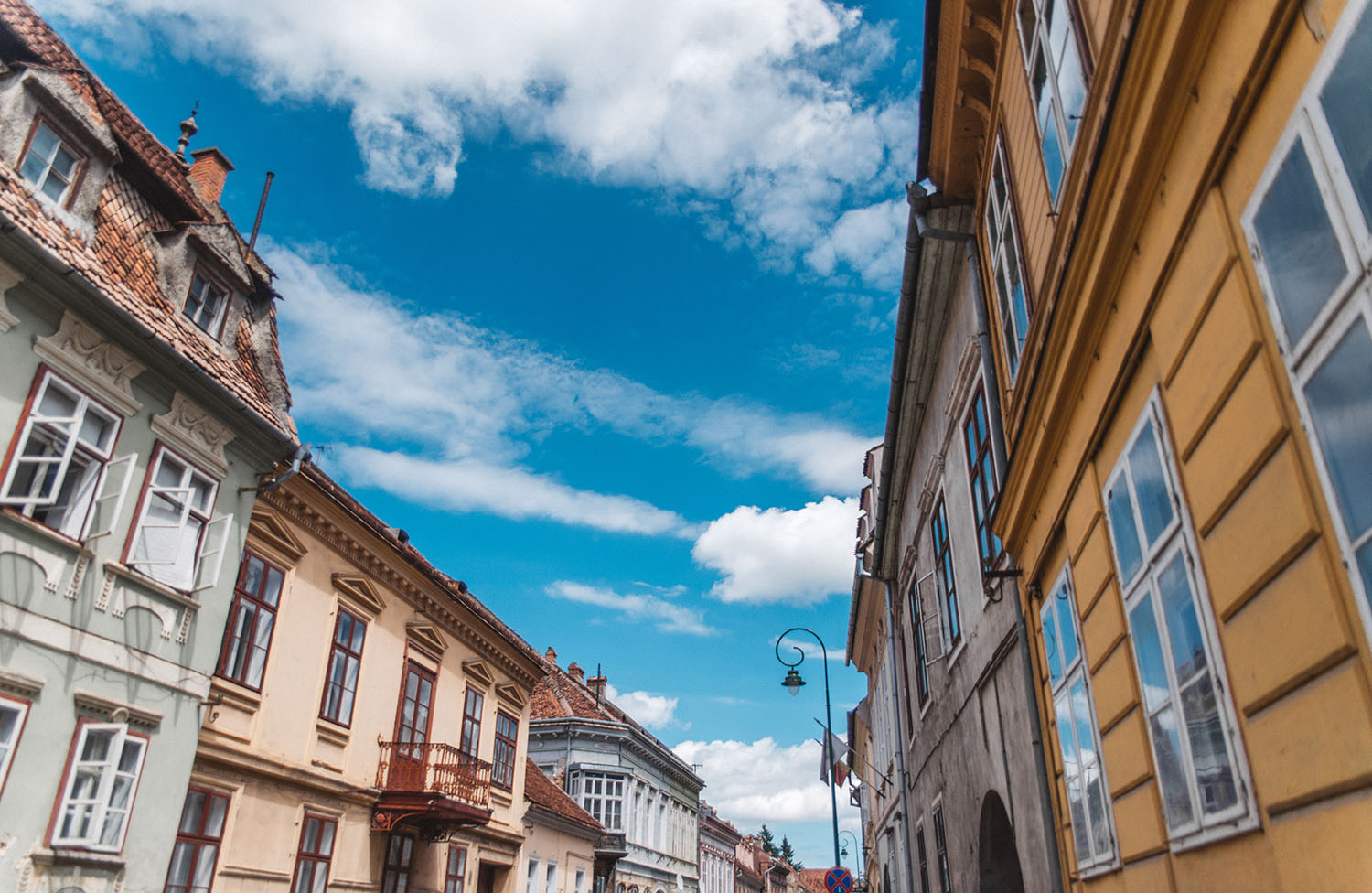 With its own Hollywood sign on the mountain, cute buildings, narrow cobblestone streets and a lovely atmosphere, the medieval town Braşov is the perfect place for a lunch break.
Braşov is the gateway into Transylvania and one of Romania's most visited cities. You can easily walk through the center and see all the major sights as they are just next to each other.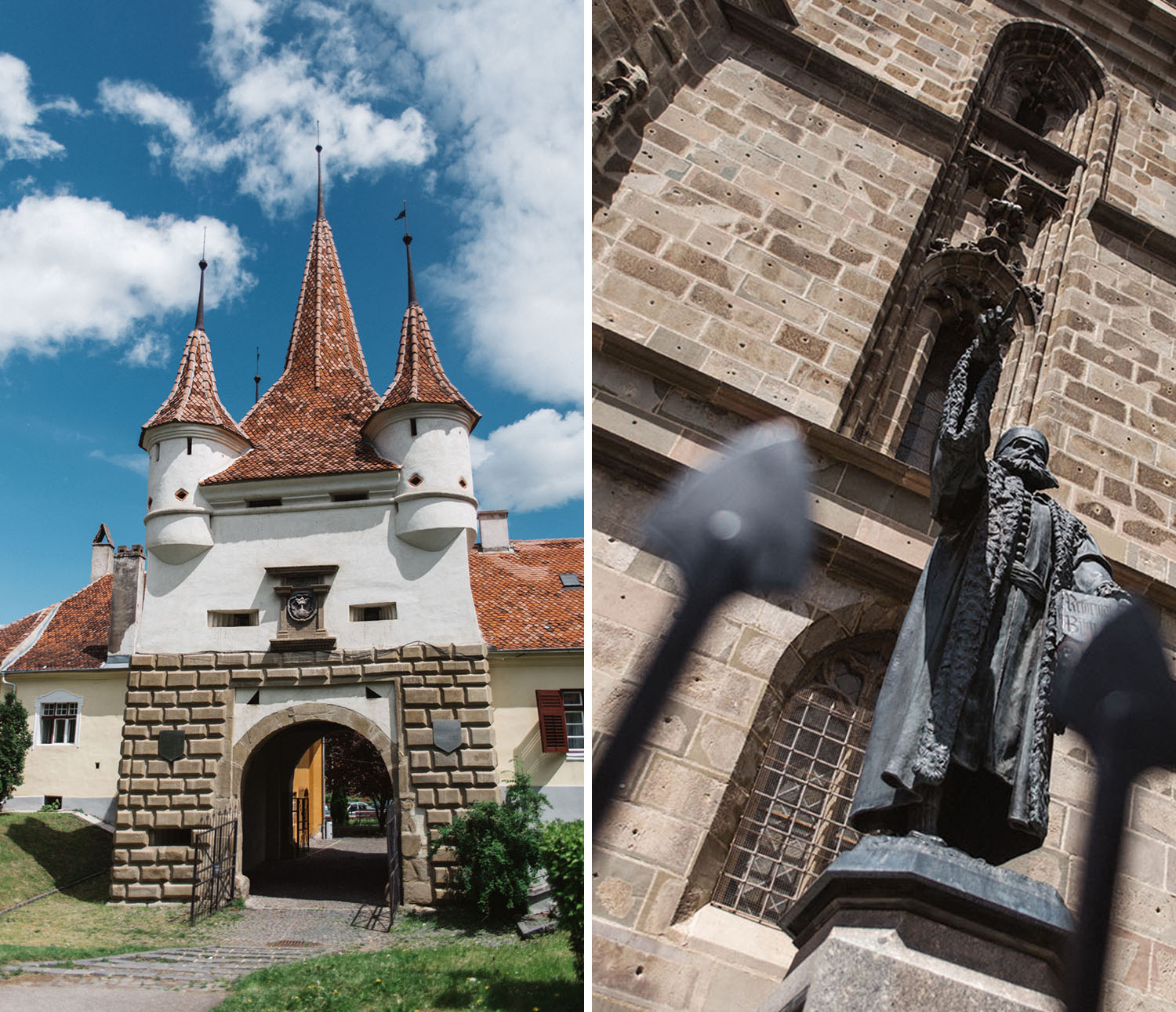 Take a photo at Strada Sforii

At first, I had no idea why so many people had gathered on the road ahead, just looking to the right. Then, our guide Alina told us that they were looking at Strada Sforii (The Rope Street). It is approximately four feet wide and is one of the narrowest streets in Europe.
It's also a great place for some photos!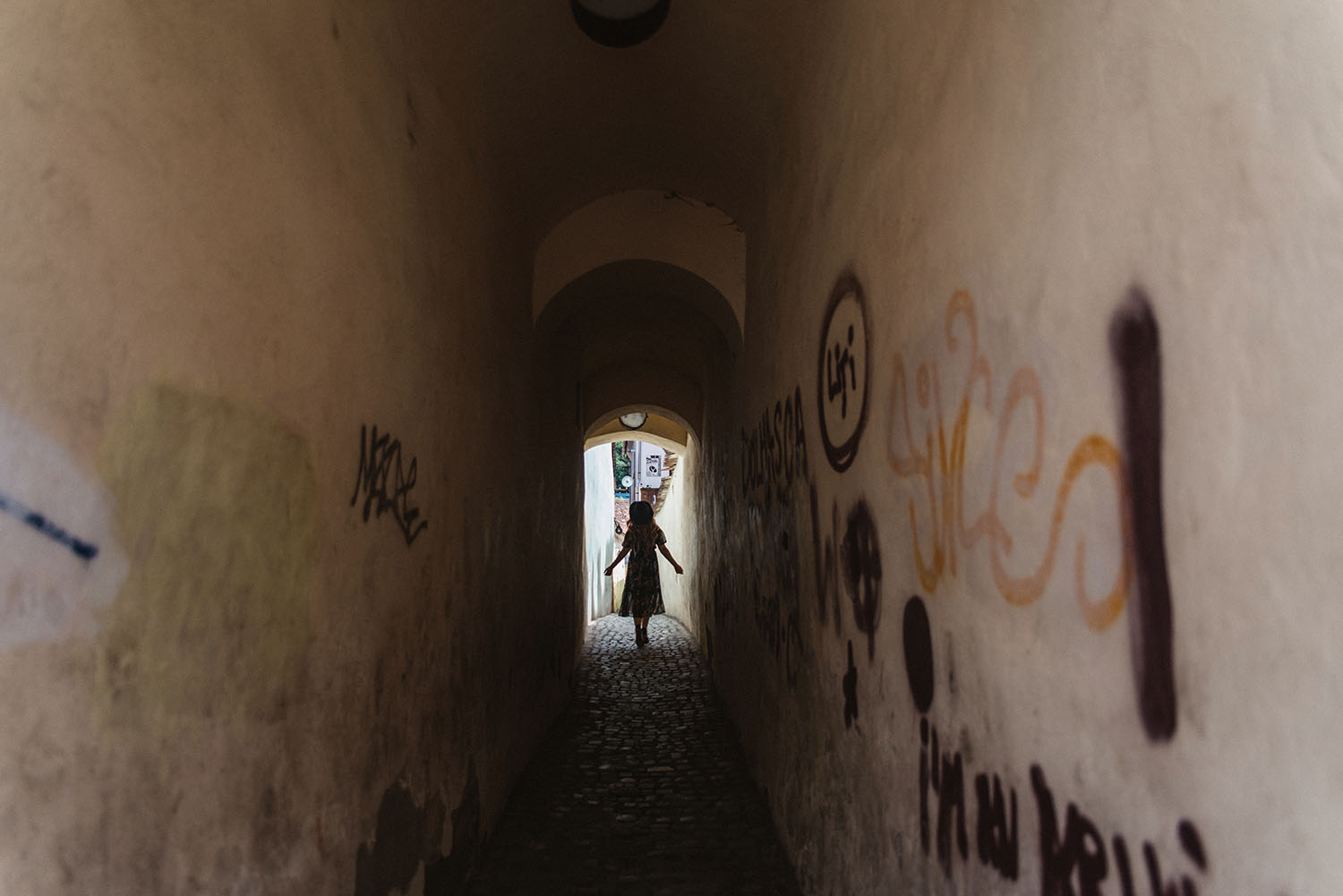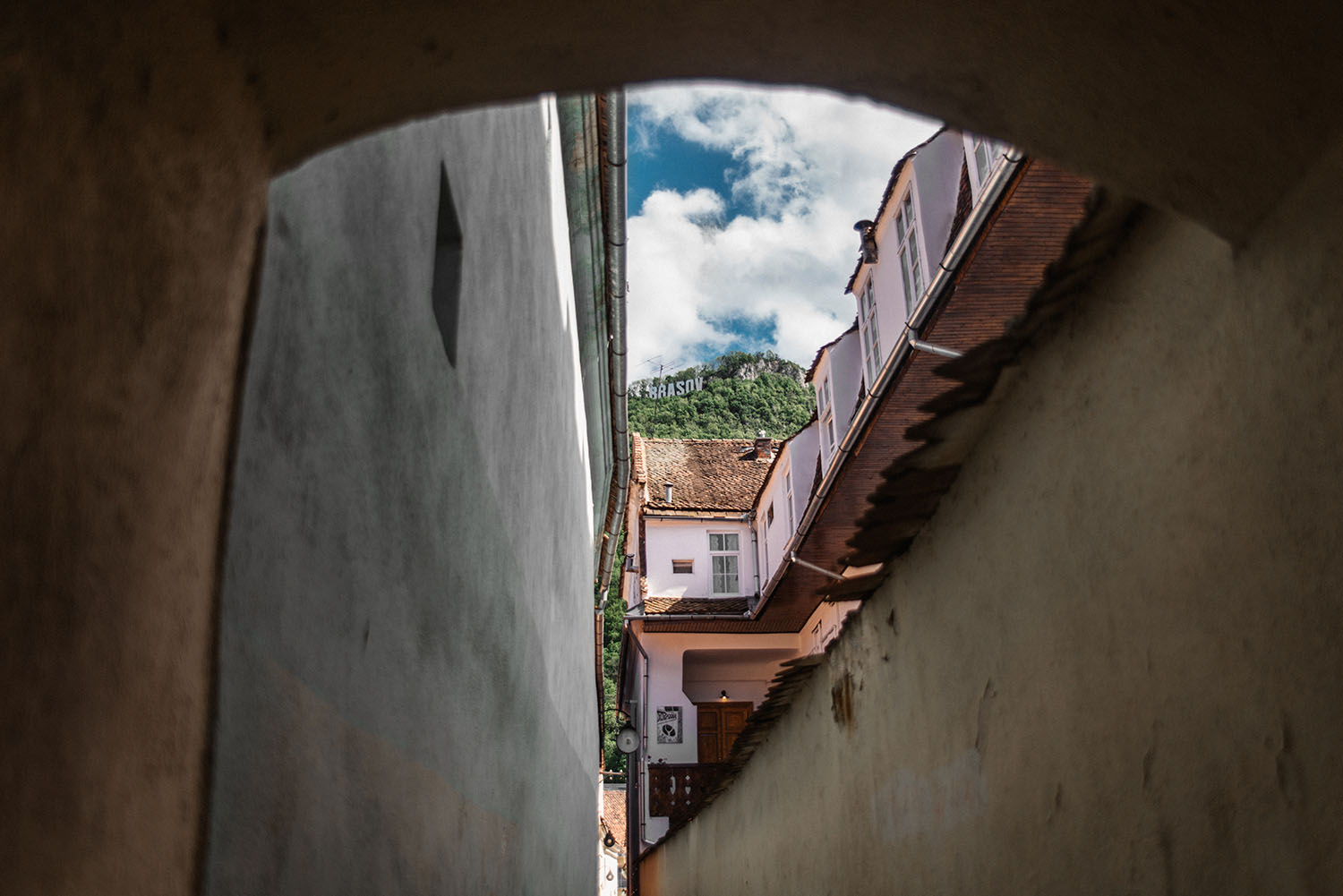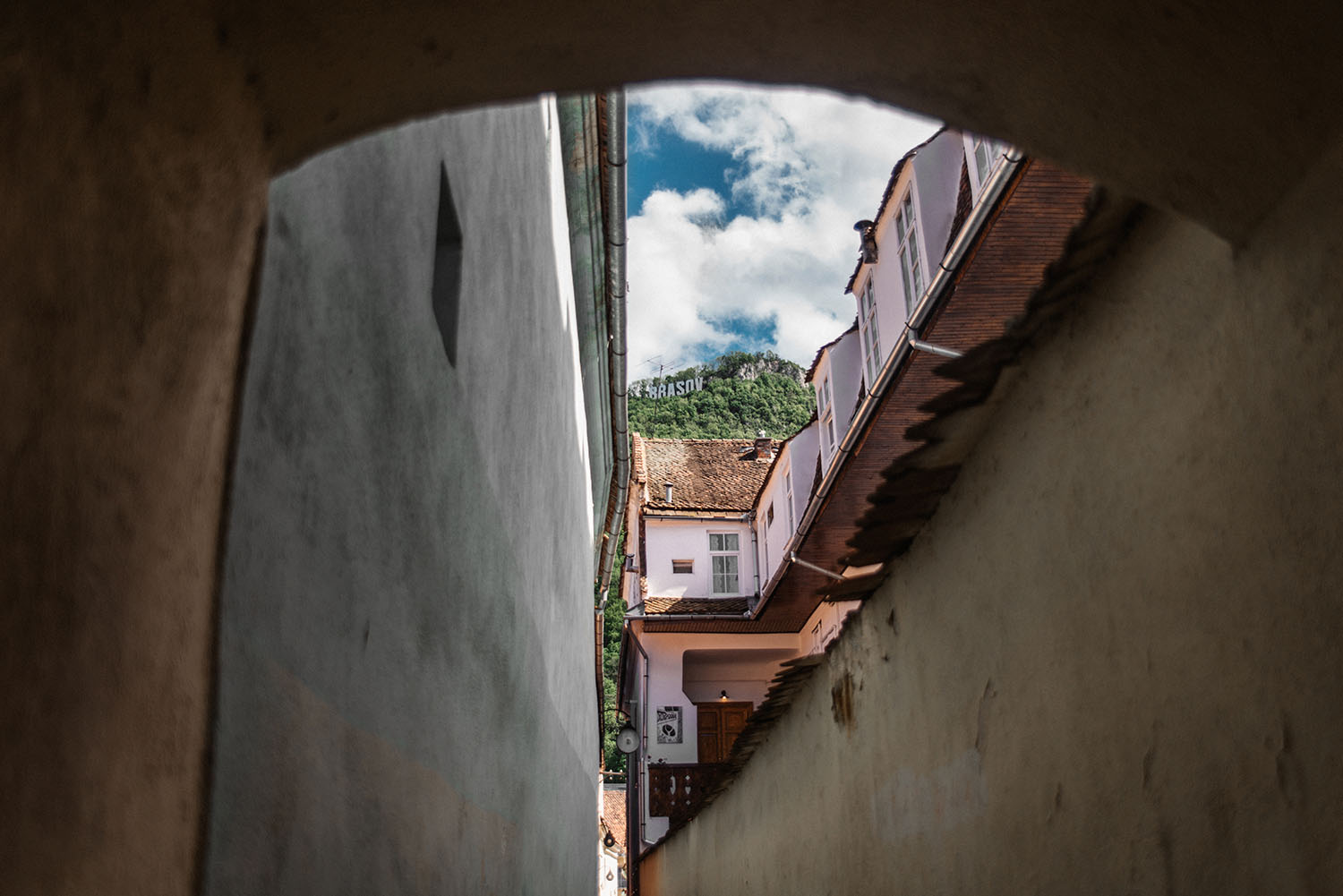 Enjoy the buzzing square Piața Sfatului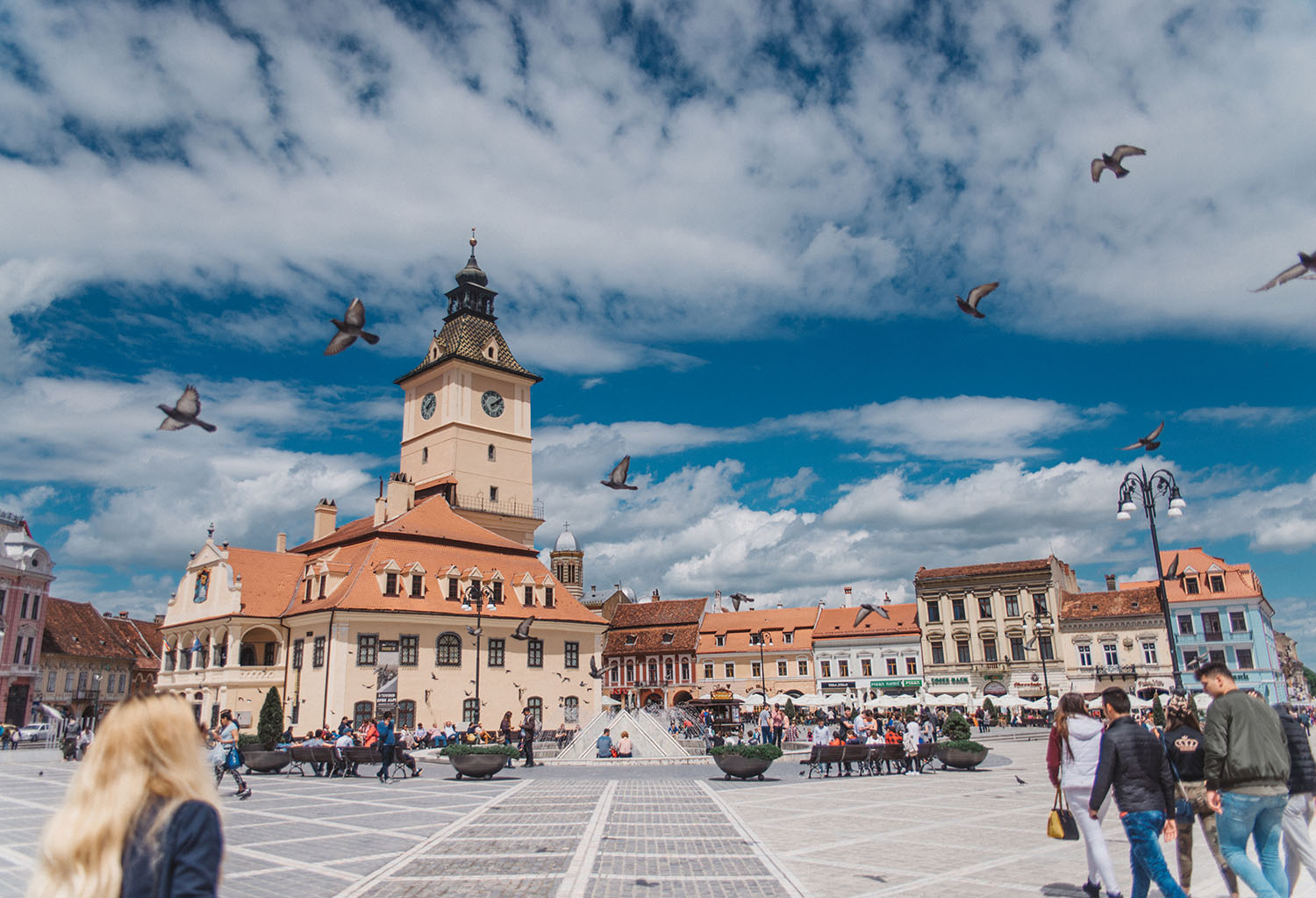 Another very charming place in Brasov is the town's square, Piața Sfatului, in the heart of the old town. The clock tower from the 13th-century town hall chimes every hour and the square is filled with the sounds of the dancing water fountain and the buzzing and clinking of glass from the lively colorful cafes and outdoor restaurants nearby.
Here you'll also find small shops, sweet-smelling carts offering everything from the cake Kürtőskalács to delicious Brasov-styled pancakes.
You can just pick and choose what restaurant or cafe you are in the mood for. The picturesque scenery is the perfect place for a nice lunch and some people-watching.
Click here for more attractions, tickets, and tours in Brasov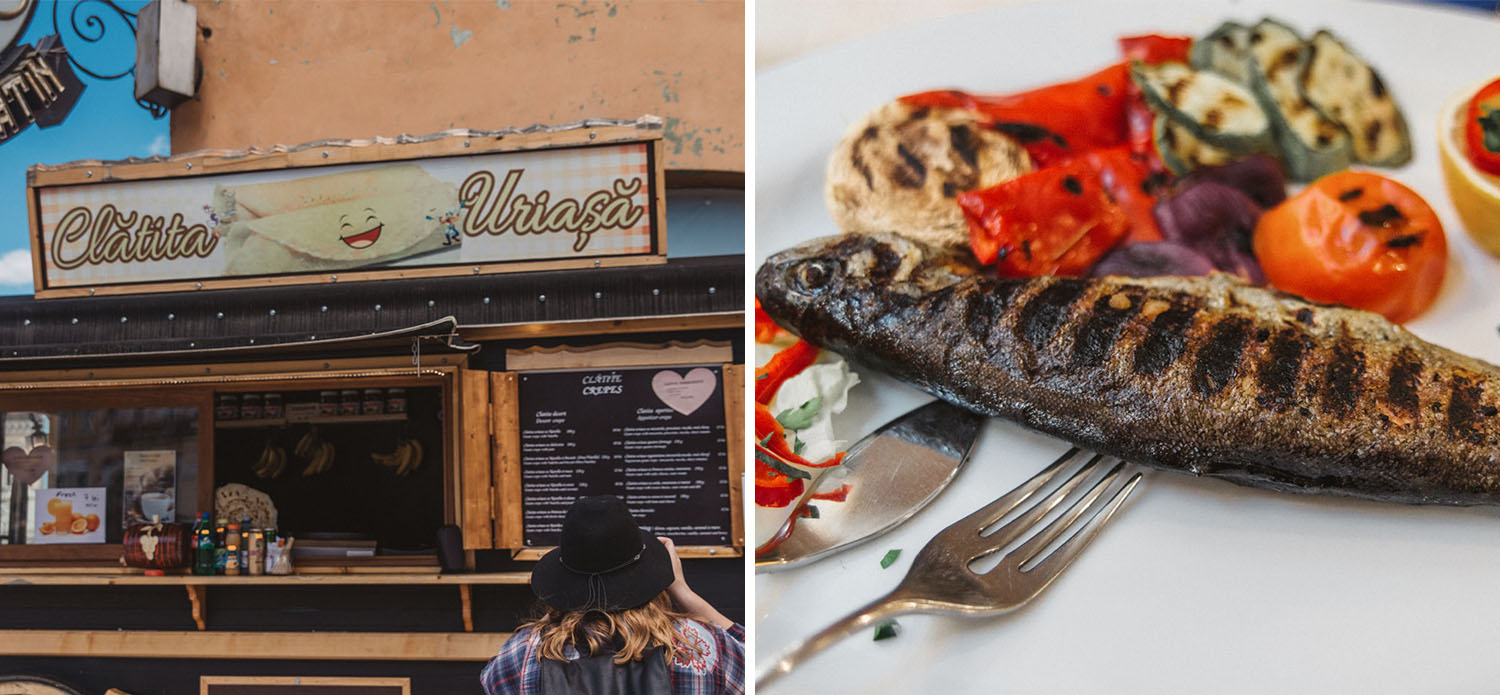 Stop by The Black Church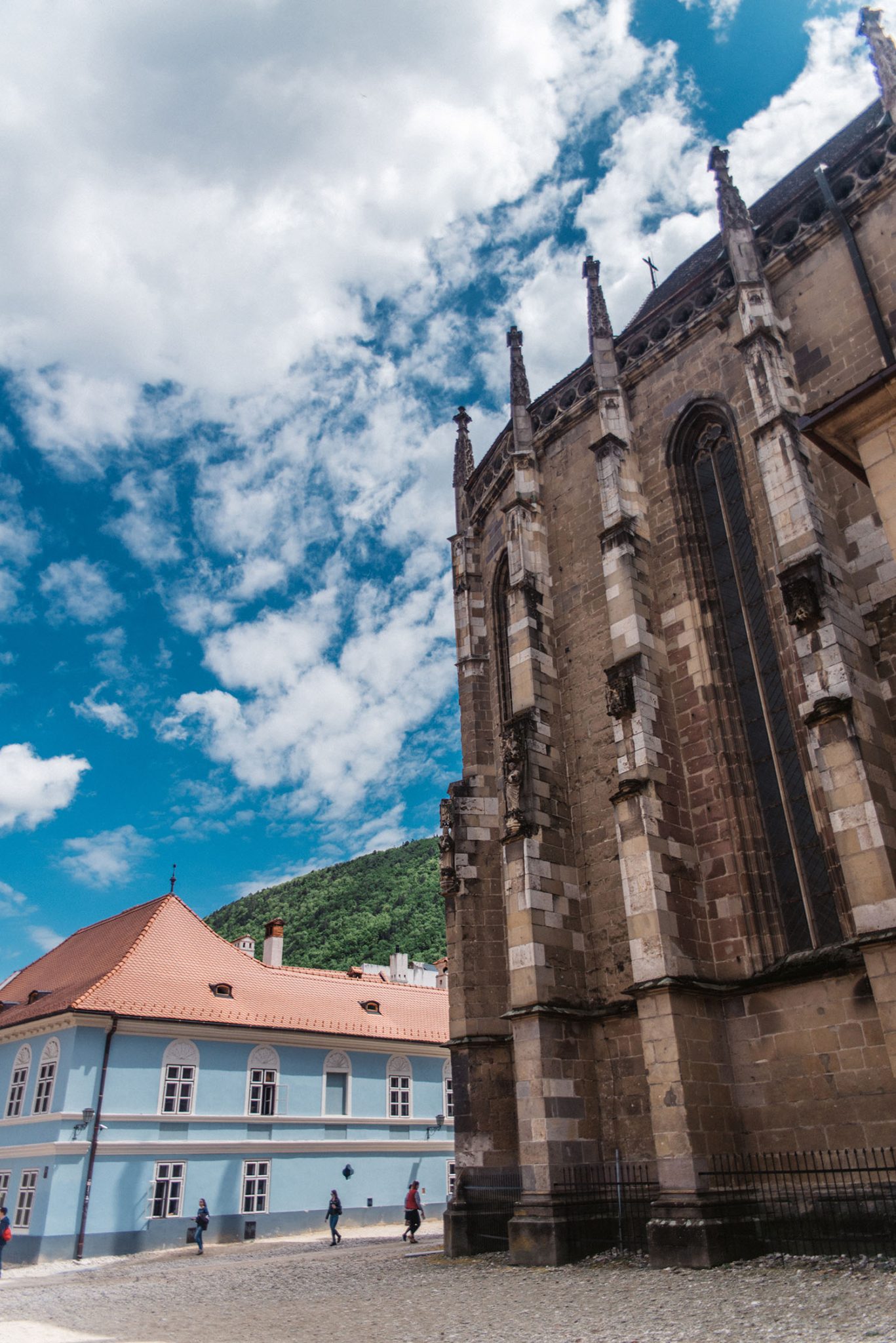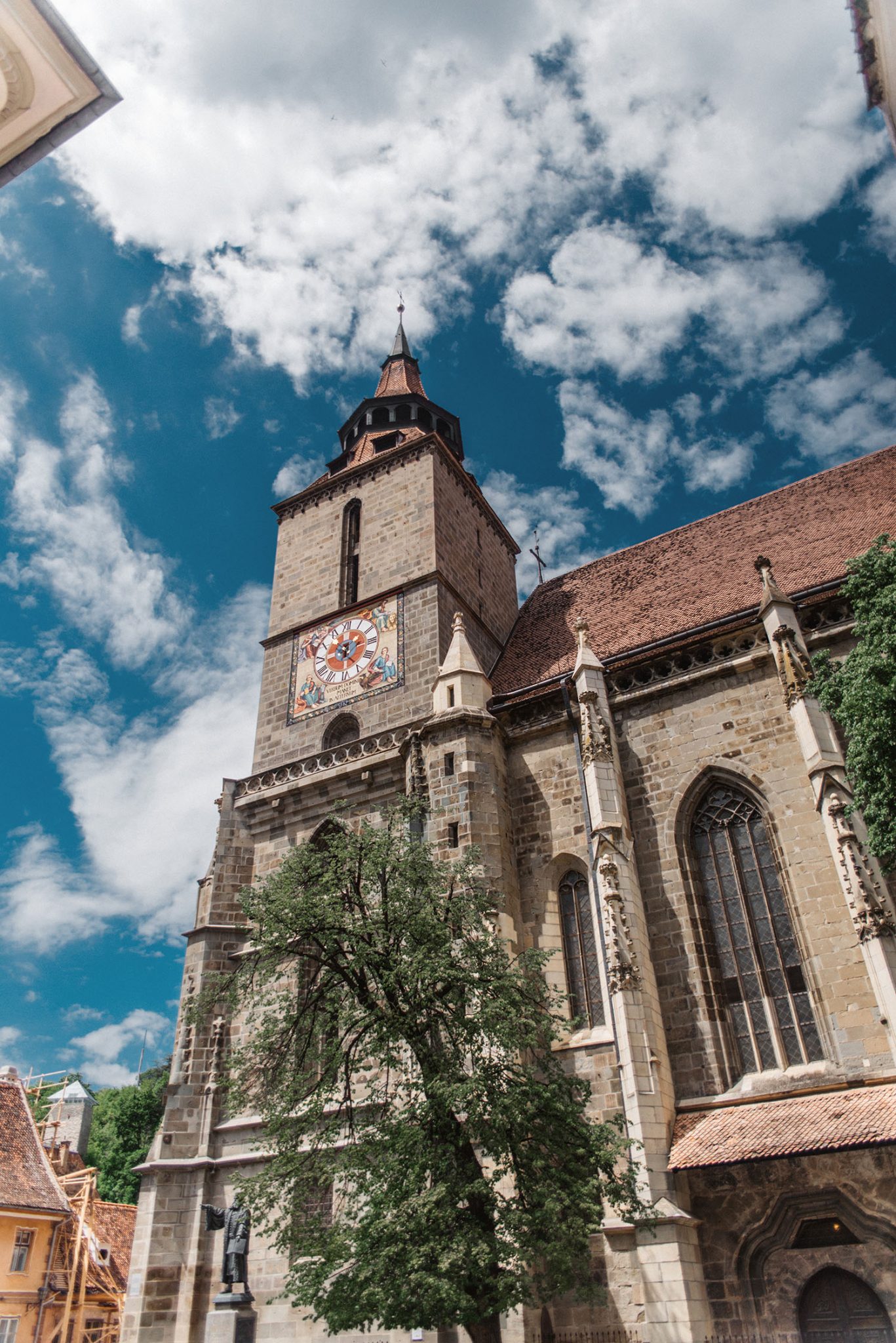 One thing you literary can't miss in Brasov is the Black Church next to the town's square. it is the largest Gothic church in eastern Europe and stands out as a quite dramatical piece next to the cute pastel-colored buildings. The Black Church was originally named Saint Mary's Church, but in 1689 a fire destroyed the interior and blackened the walls – giving the church its new name.
The Black Church was originally named Saint Mary's Church, but in 1689 a fire destroyed the interior and blackened the walls – giving the church its new name.

Exploring Bran Castle – Dracula's Castle in Transylvania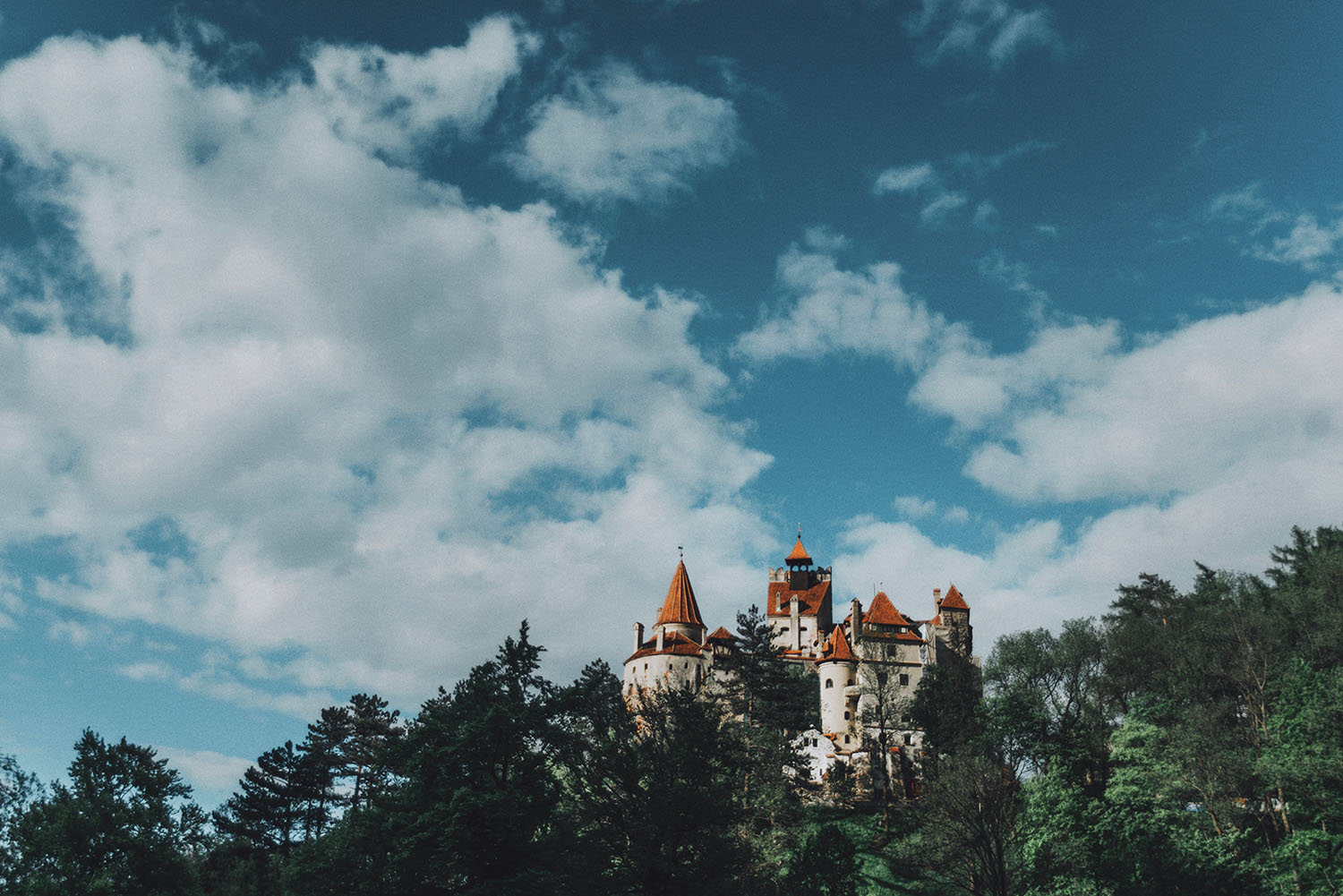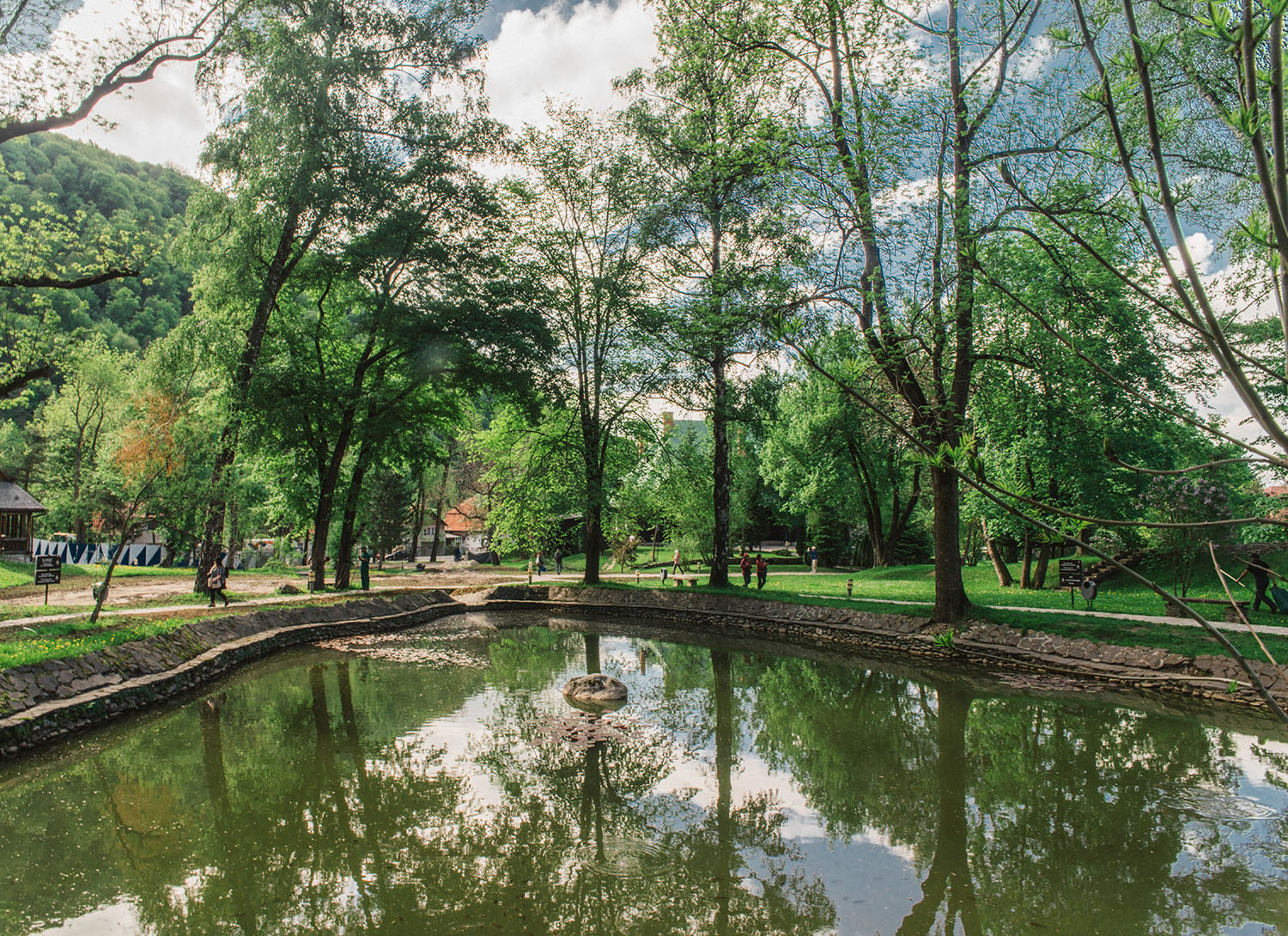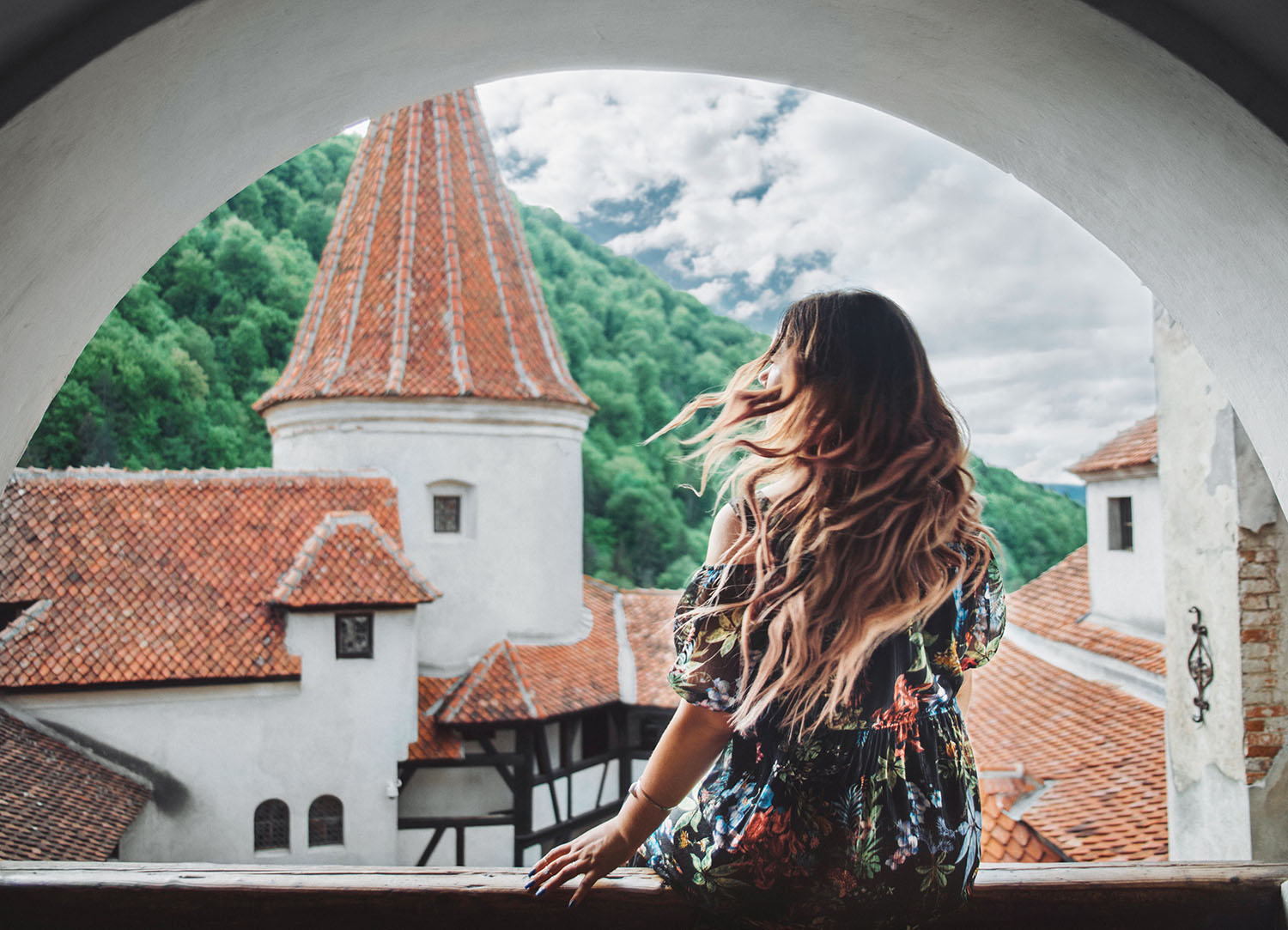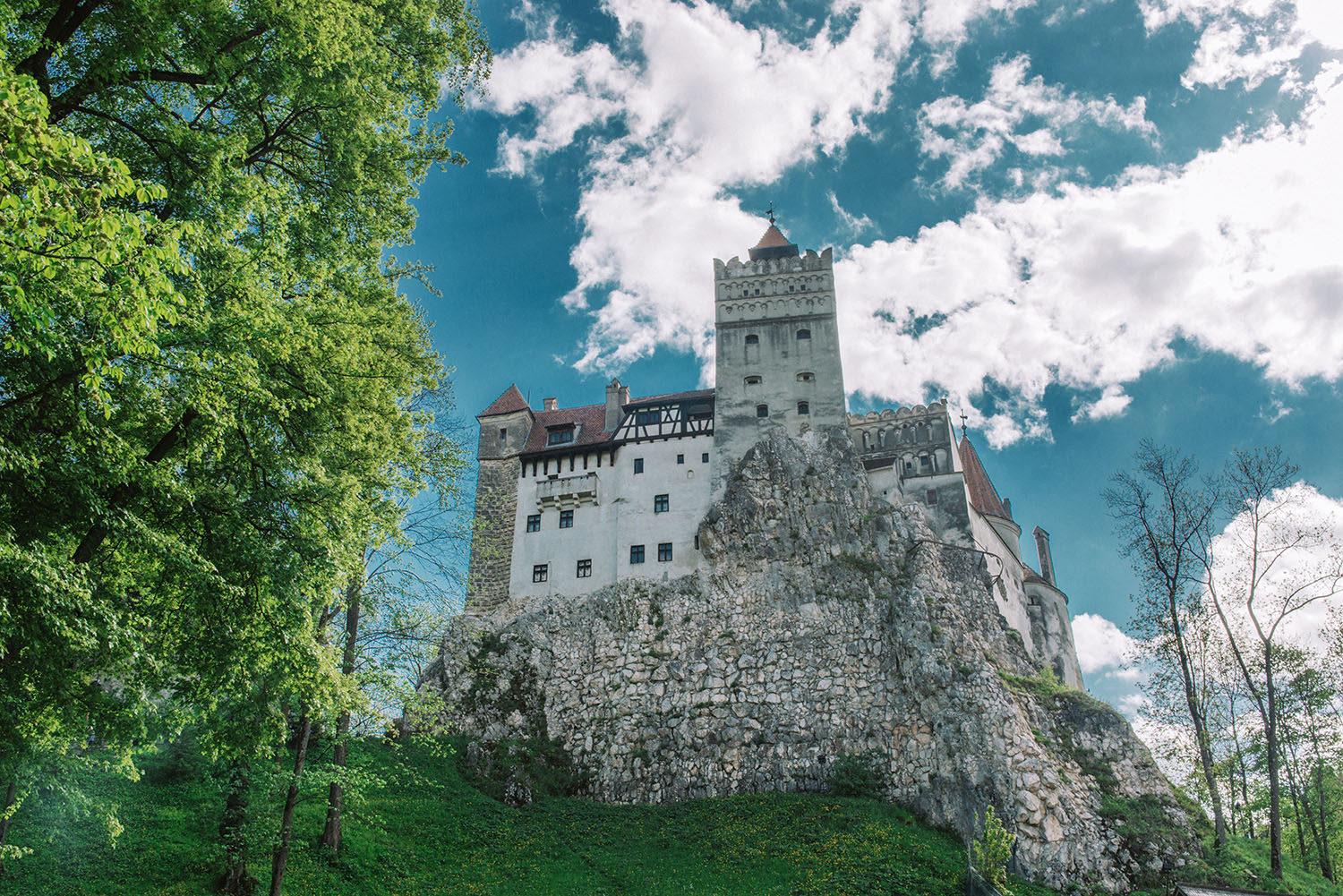 And now … I bid you welcome to Bran Castle – or in other words Dracula's Castle! It is truly something special seeing this legendary home to Count Dracula.
Even though the real-life Dracula's (Vlad the Impaler) connections to this castle is vague, Bran Castle is the only castle in Romania that fits Bram Stoker's description of Dracula's castle in his classic horror novel from 1897.
Bran Castle was initially built as a border fortress on the Transylvanian and Wallachian border 1212. It is perched high atop a 200-foot-high rock and can look very scary in the night or extremely haunted in the morning fog (I did my Instagram research!).
When we visited the castle a sunny and warm summer day, it looked quite romantic. In front of the castle is a peaceful lake and lots of green trees. And in the background are the beautiful forested Carpathian Mountains. Just outside the entrance to the castle is also a market that is buzzing with life and where you can find traditional Romanian craft, clothes, souvenirs, and trinkets.
Fangs, howling wolves, and bats feel very distant.
Even though, this castle is a legendary and mysterious place to visit – no matter what the weather is.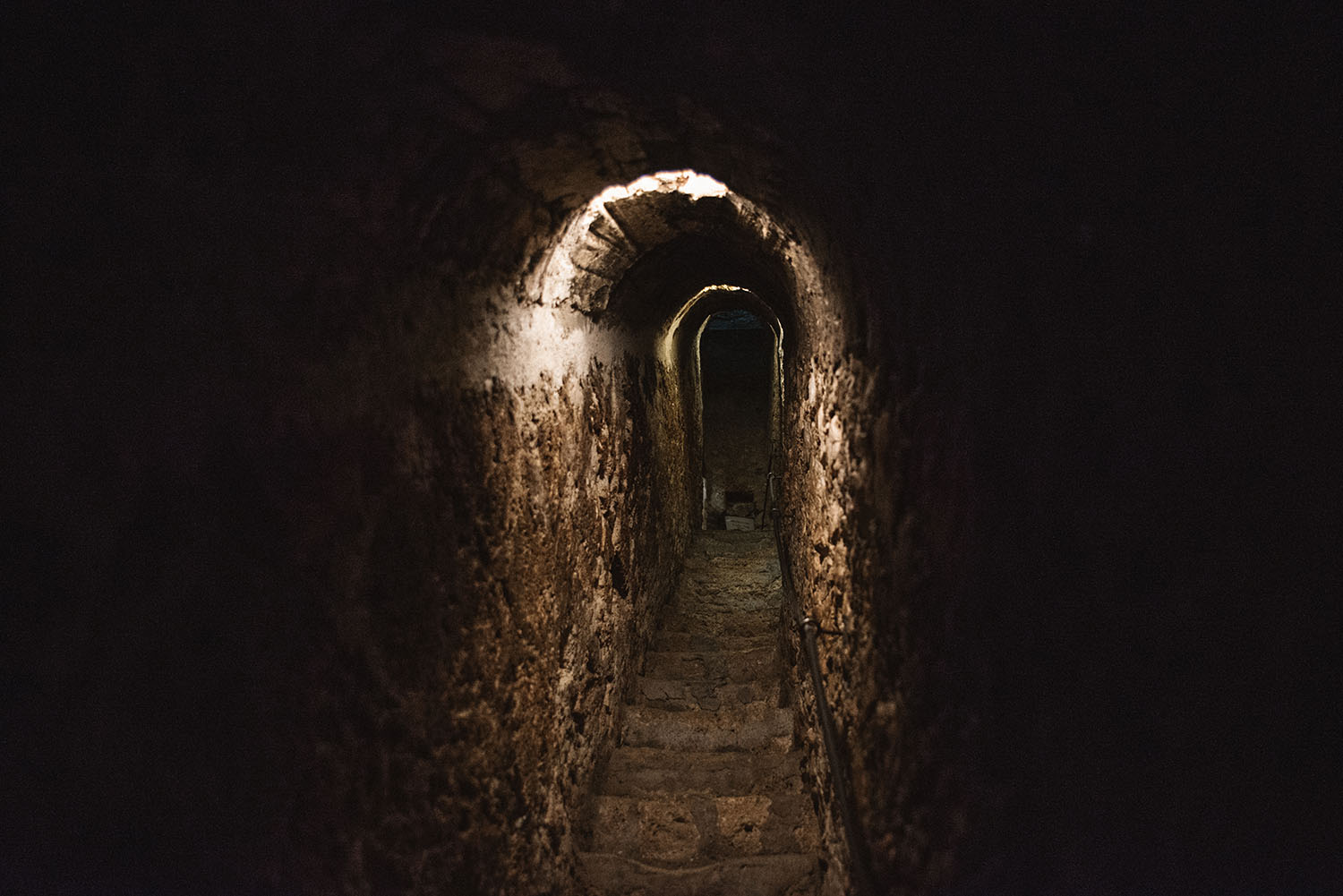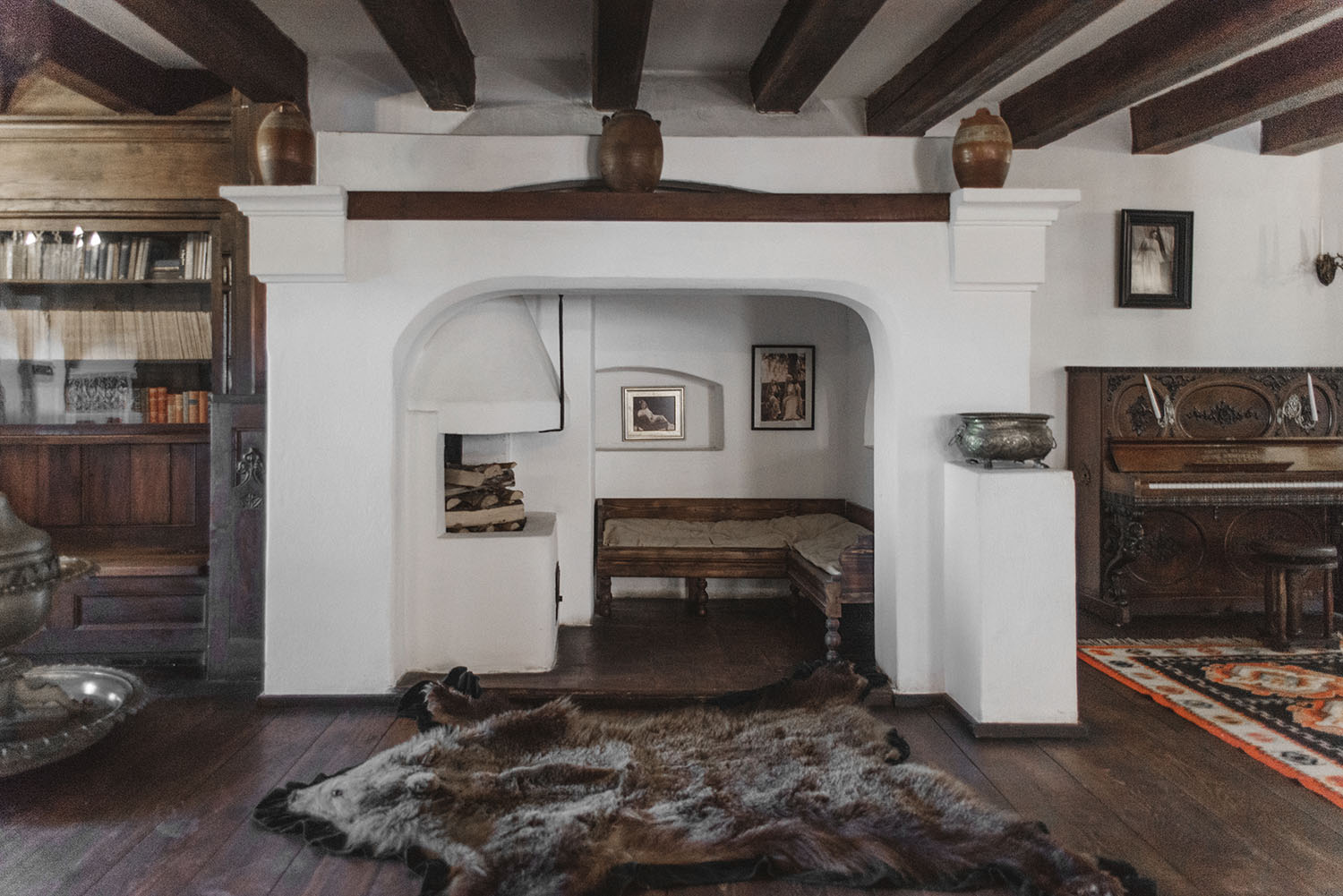 Inside the castle, you can walk the narrow winding stairways and through some 60 rooms which house collections of weapons, armor, and furniture – and old pictures.
Ticket price: 35 lei (Adults)

Dracula's Castle – The Legend

Though Dracula is pure fiction, Stoker named his infamous character after a real person in what is now Transylvania, who happened to have a taste for blood: Vlad Tepes, Prince of Wallachia or — as he is better known — Vlad the Impaler or real-life Dracula.

The name Dracula comes from his father's surname, Vlad Dracul, and means "the Devil" in Romanian.

Vlad Tepes impaled over 20 000 people in his lifetime. His only connection to Bran Castle is that his army passed through Bran several times.

As for the Irish author, Bram Stoker never visited Romania. He depicted the imaginary Dracula's castle located high above a valley perched on a rock with a flowing river below in the Principality of Transylvania.

Because Bran Castle is the only castle in all of Transylvania that actually fits Bram Stoker's description of Dracula's Castle, it is known throughout the world as Dracula's Castle.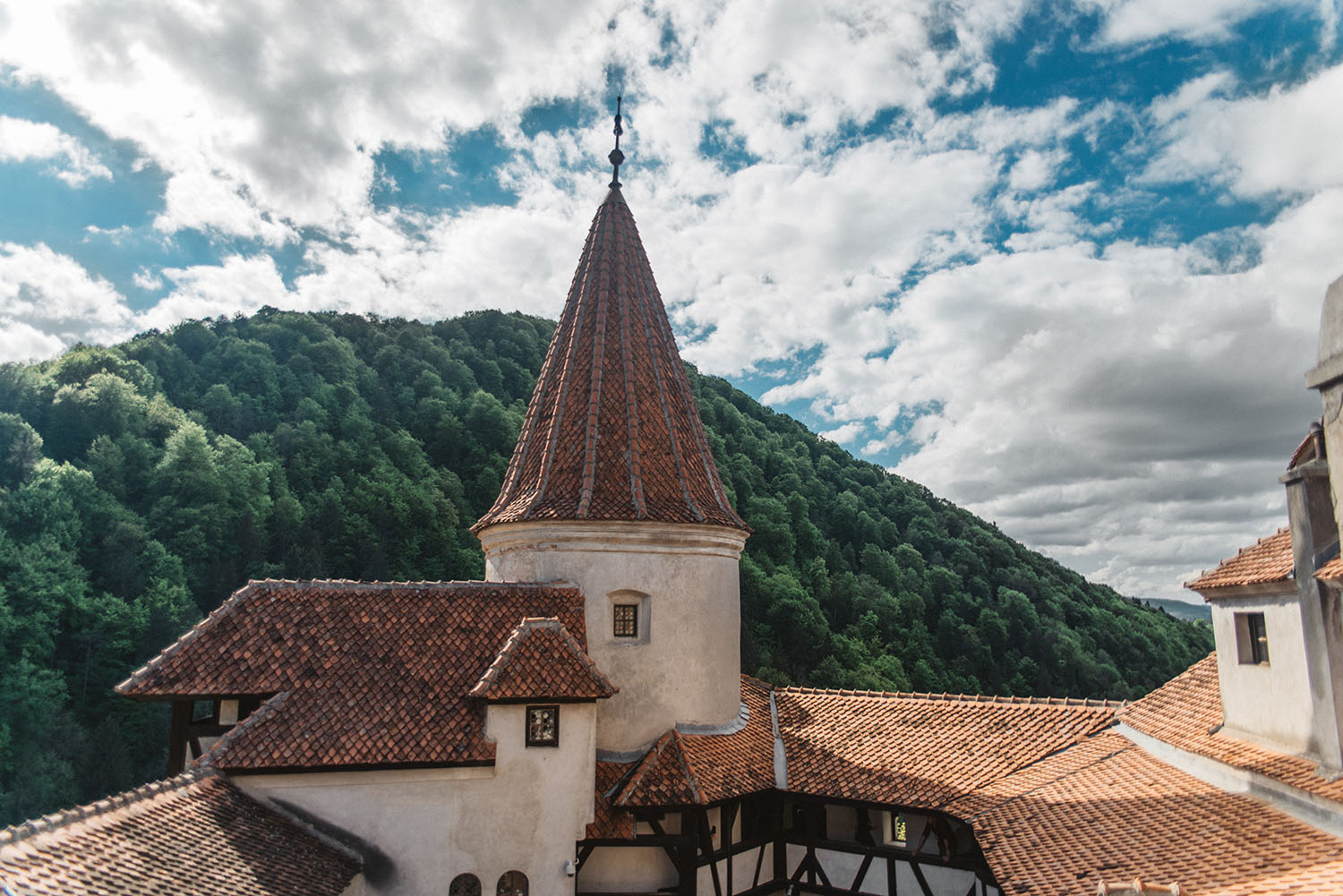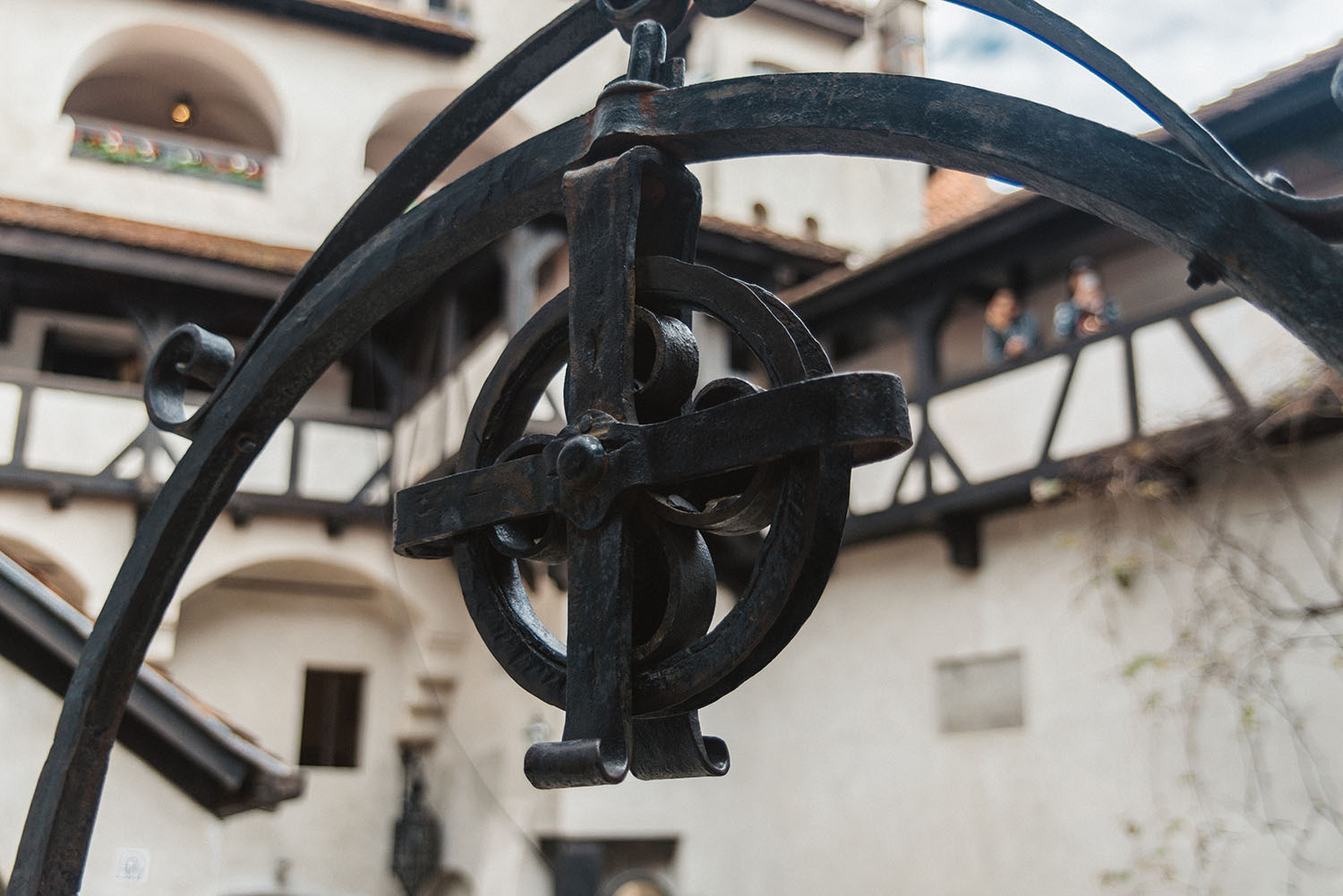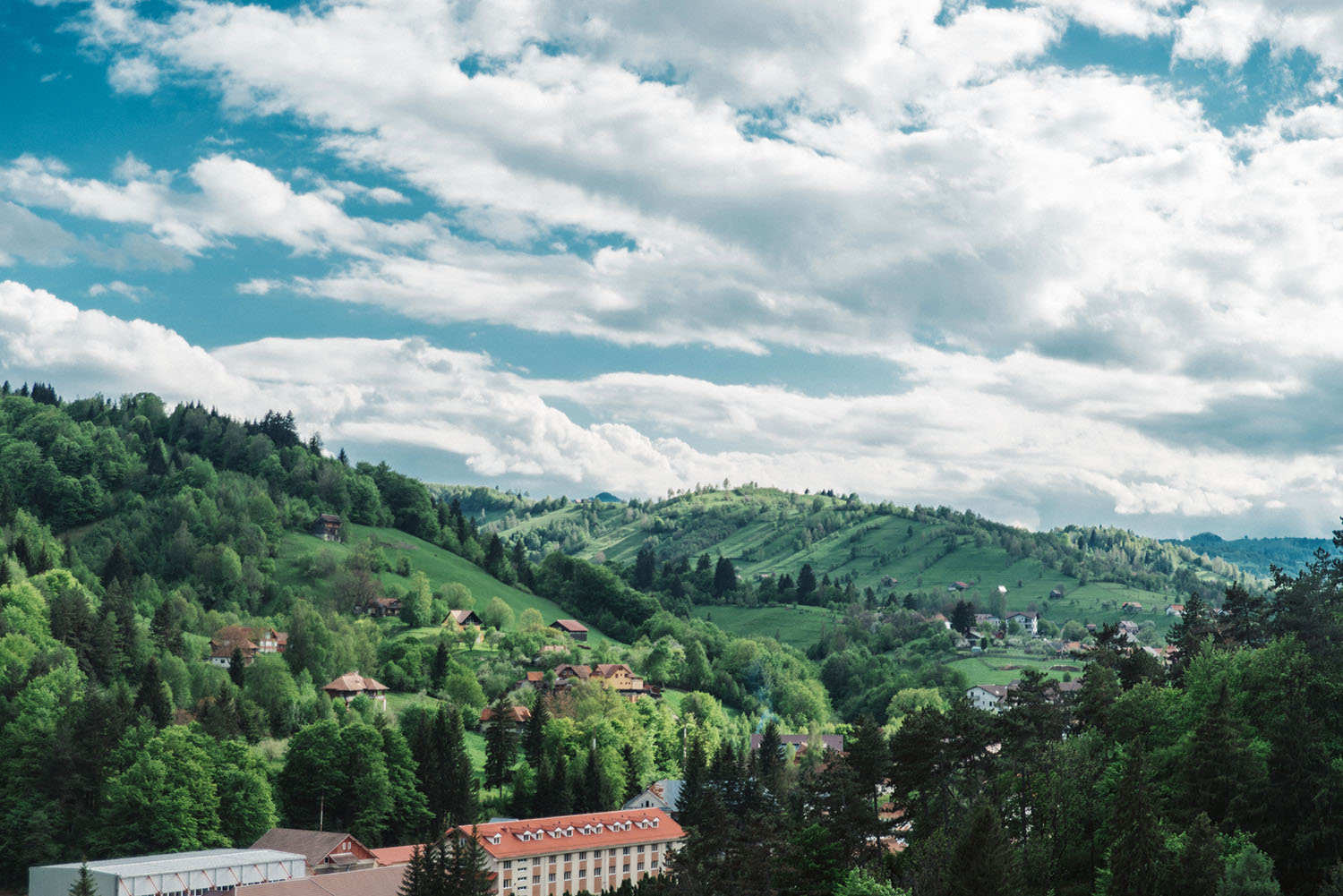 Facts about Transylvania

Transylvania is a historical region located in the central part of Romania.

Population: about 7,3 million
Getting here: From Bucharest you can get to Transylvania by train bus or car. Though I would definately recommend going on a guided tour or renting a car to explore all of these sights.
A day tour to Dracula's Castle with a tour company cost from around 85 €.

Do you want (or rather dare) to stay over? Find hotels in Transylvania here.

You can get great flight deals to Bucharest here.
Book a trip to Transylvania here (compare cheap flights, trains & buses)
Pin it! Save my Guide to Transylvania for later!
Like this post? Please share it on social media using the share buttons below!
---
Disclaimer: I visited Transylvania with Authentic Romania as part of #ExperienceBucharest. As always, all the opinions and tips are my own.