As winter is finally here, you have the perfect excuse to meet the direwolves, try archery in Winterfell, eat freshly baked Jon Snow Cakes, and explore the real-world Westeros, and epic filming locations only Northern Ireland can offer.
For six seasons we have been told winter is coming, and now, as it's finally arrived we can't be more thrilled. We are already three episodes into Season 7, and it looks like it's going to be another unforgettable season (even though it's way too few episodes).
What better way to get into the Game of Thrones (GoT) spirit further than to start planning a trip to Northern Ireland?
Home to more locations from the Seven Kingdoms than anywhere else in the world, Northern Ireland is a Game of Thrones Territory.
In just a weekend you can travel between Winterfell and the Dothraki Sea to the stunning Kings Road, Riverlands, Iron Islands, and The Haunted Forest. It's easy to get around by car, and the incredible green scenery, sparkling seas, magical mountains, and many castles make this the most epic setting for a road trip in Westeros.
---
8 Epic Game of Thrones Locations
in Northern Ireland
---
1. Castle Ward | Winterfell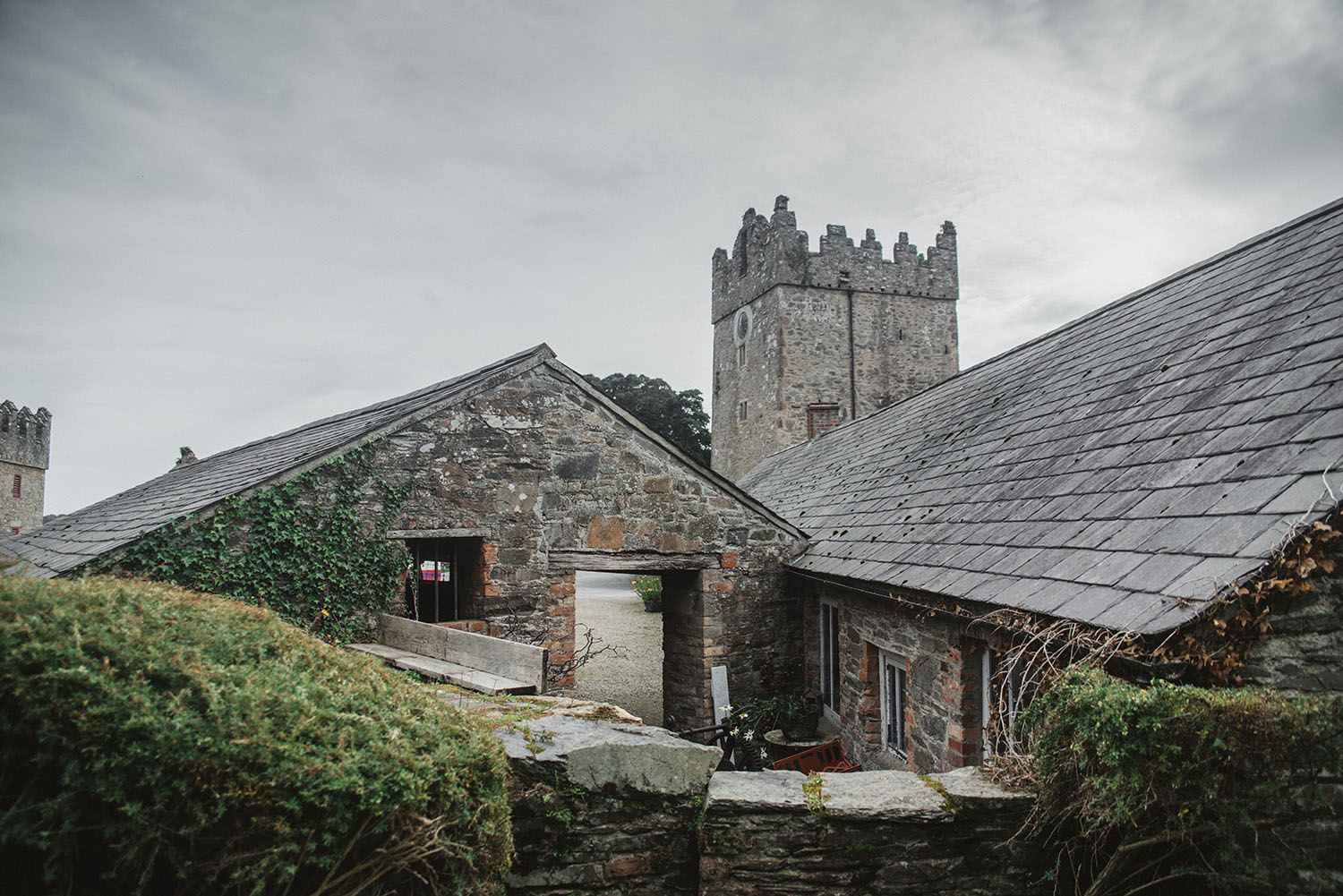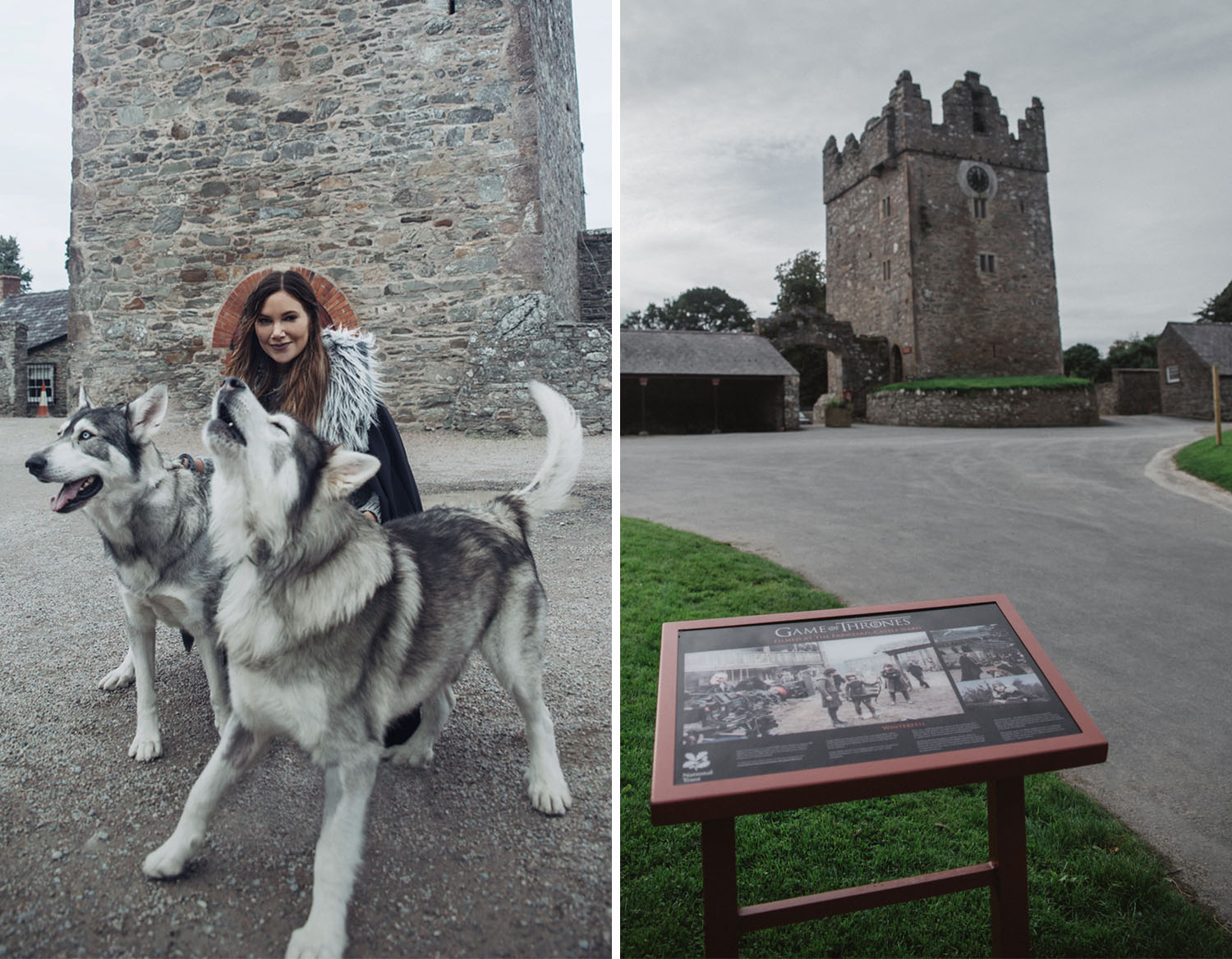 Winterfell, aka Castle Ward, is one of the most iconic locations in the Seven Kingdoms. If you somehow miss visiting Castle Ward on your GoT trip in Northern Ireland, you might as well be sent to the Wall. Or beheaded.
Castle Ward breathes Game of Thrones. This is the traditional home of House Stark and where you can discover the heart of the action. On the 820-acre walled demesne, you can spot 20 key filming locations from both seasons 1 and 2 – as well as Audley's Castle where the unforgettable Red Wedding occurred (Northern Ireland Remembers).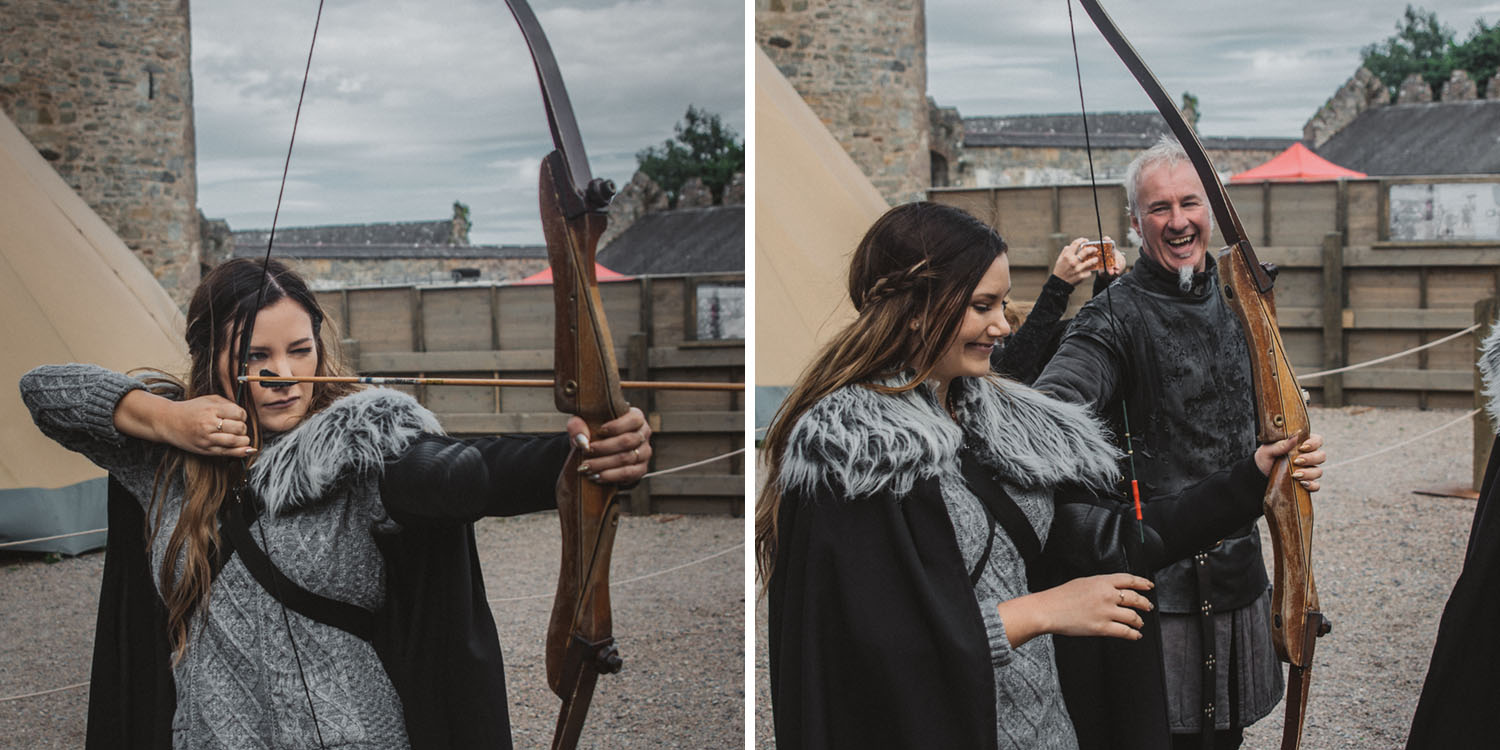 When you put on a cape and step out into the courtyard, it will feel like you've transported straight into Geoge R.R. Martin's world. For the ultimate experience, stand in the exact same spot where Bran Stark practices archery with Jon Snow and fire medieval arrows by the guidance of Winterfell's Master at Arms. If that's not satisfying enough, meet the way too cute direwolves, Grey Wind and Summer, eat like a real northerner and swing a sword like the lord of Winterfell yourself.
To get the most out of the experience here, book a guided tour with Winterfell Tours. Besides all the fantastic activities it's the gossip from all the filming locations that make this adventure extra special.
Prices from £29/person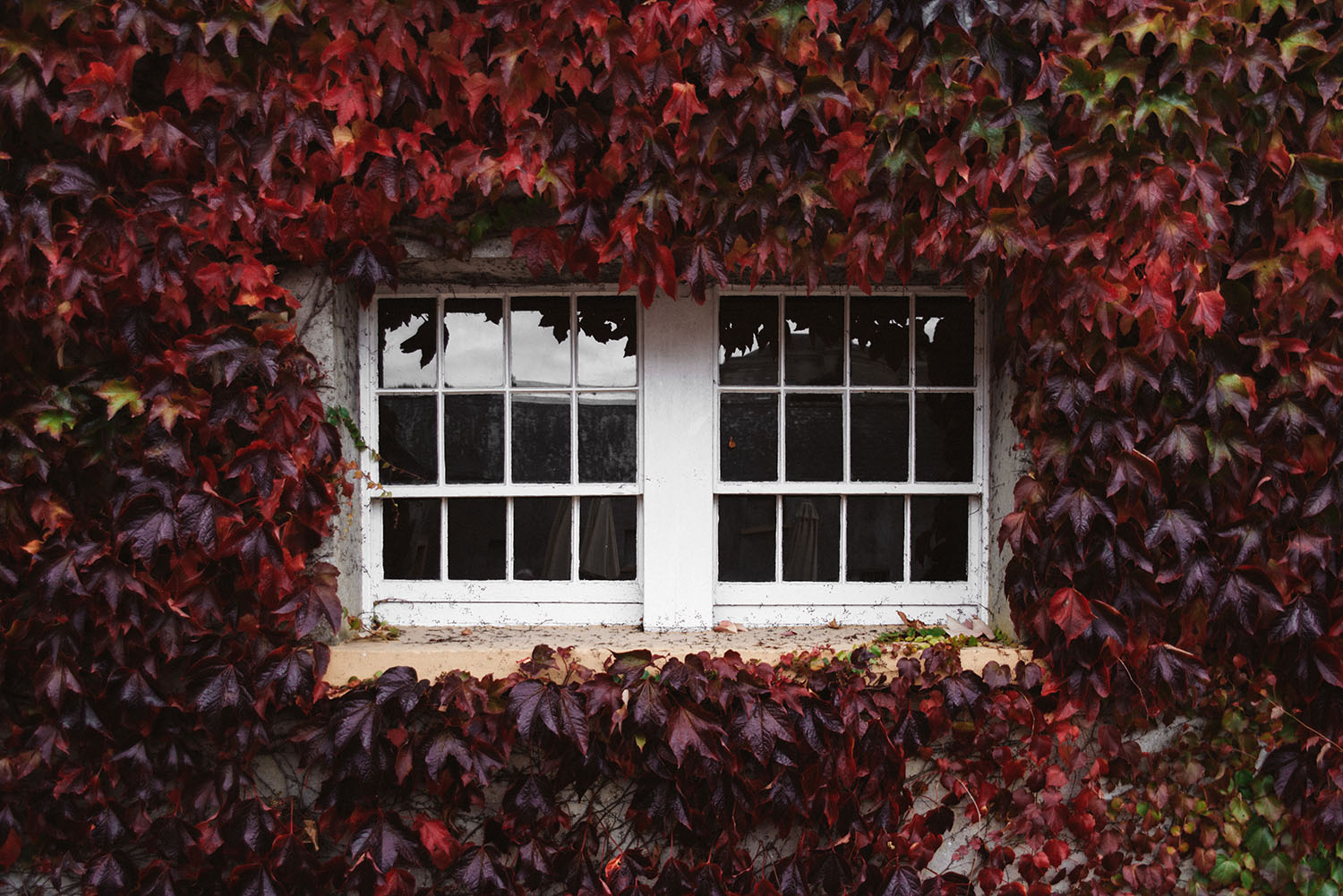 2. Inch Abbey | Riverrun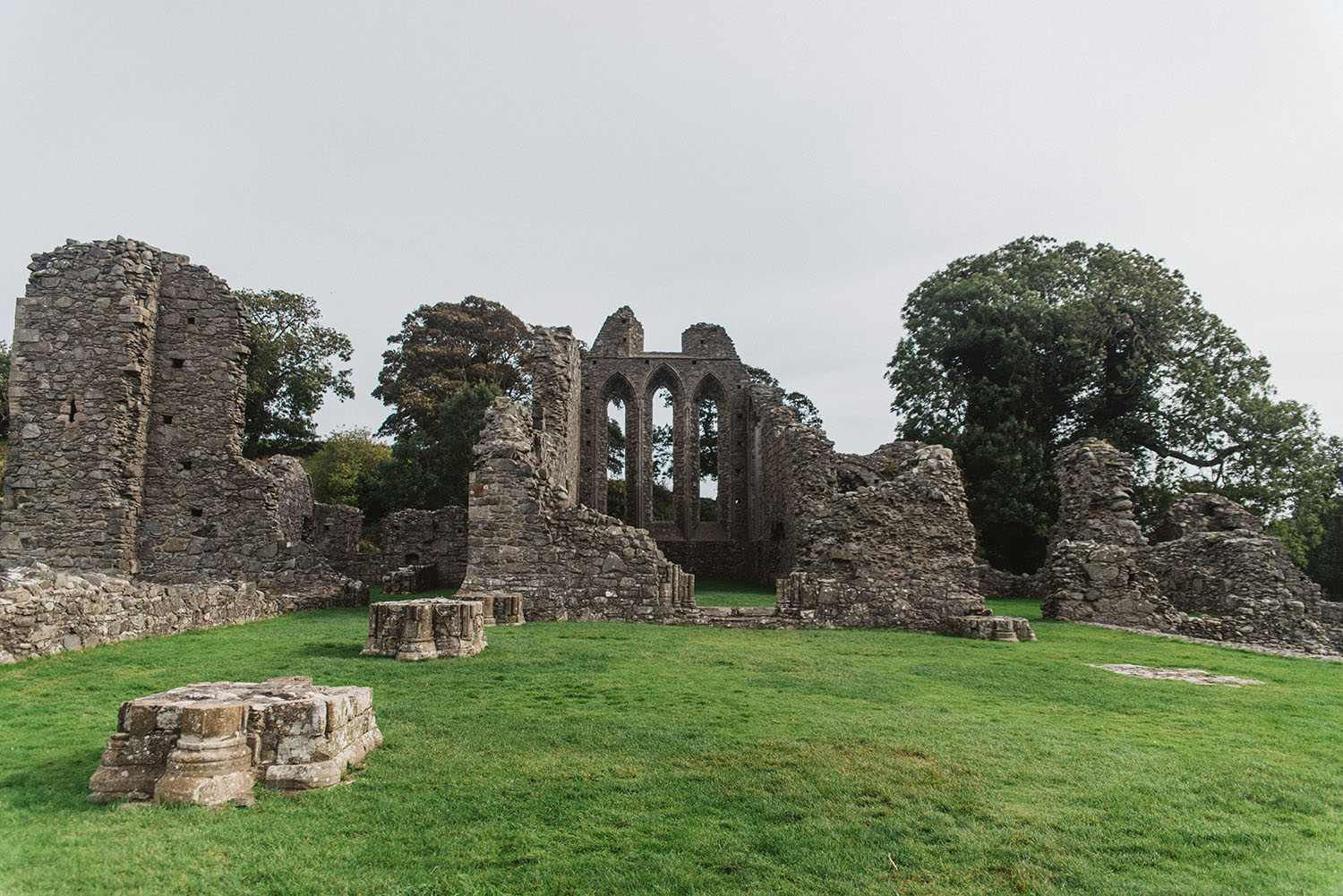 Just next to Castle Ward is another epic location, Inch Abbey. In the ruins of this 12th-century monastery, Robb Stark set up camp and was proclaimed the King of the North.
Price: Free (open access all year round)
3. The Dark Hedges | The Kings Road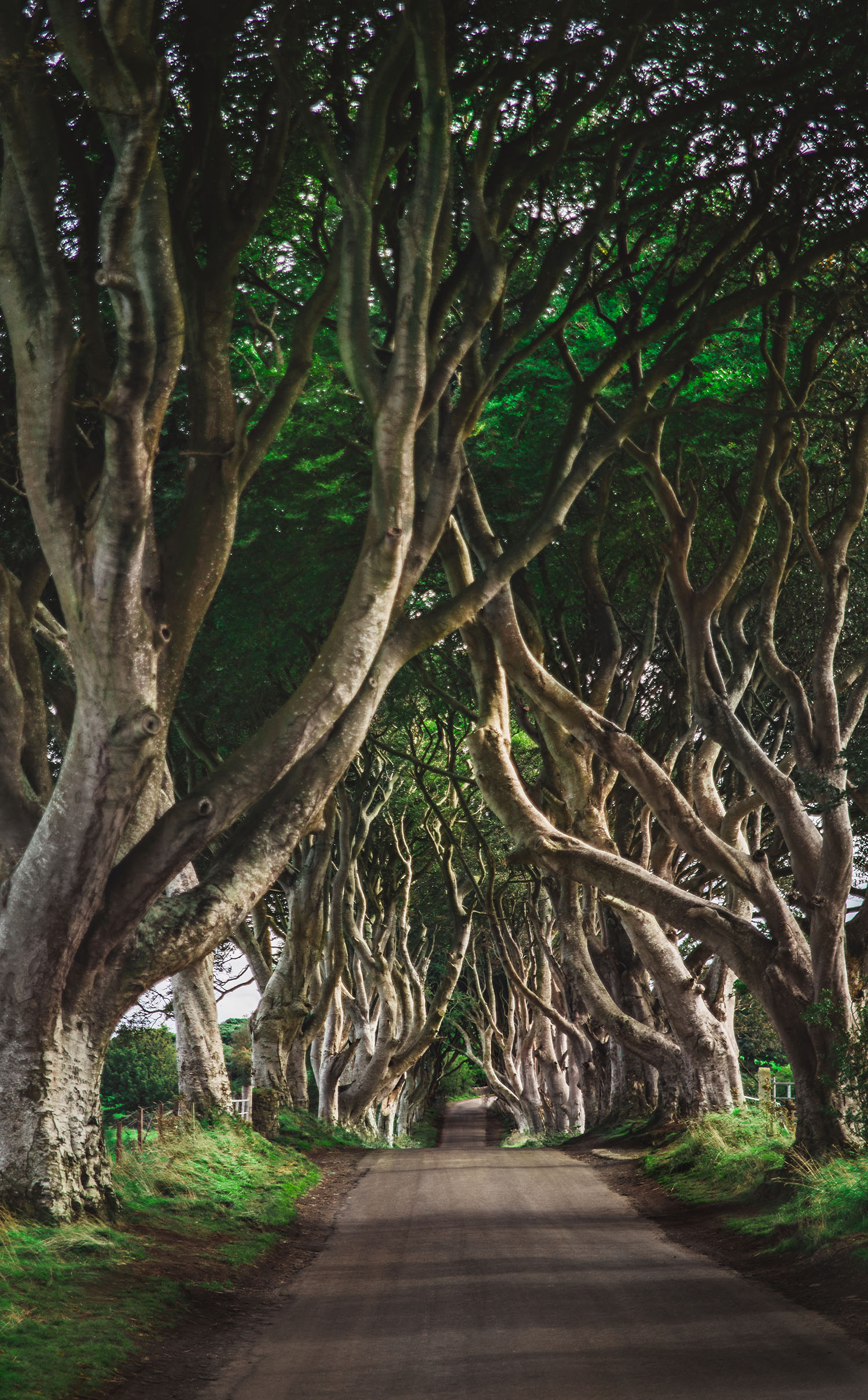 The Dark Hedges is probably one of the world's most atmospheric roads in the world and one of the most photographed places in Northern Ireland.
The magnificent avenue of beech trees was planted by the Stuart family in the late 1700s. It was intended as a compelling entrance for visitors who approached their Georgian mansion, Gracehill House. It certainly makes a powerful impression, but it might be a lot more creepy and ghostly than they intended.
The Dark Hedges doubled as The Kingsroad, north of King's Landing, in Game of Thrones. It was on this road Arya escaped from the city disguised as a boy.
P.S Look out for The Dark Hedges in season 7. It will be featured once more.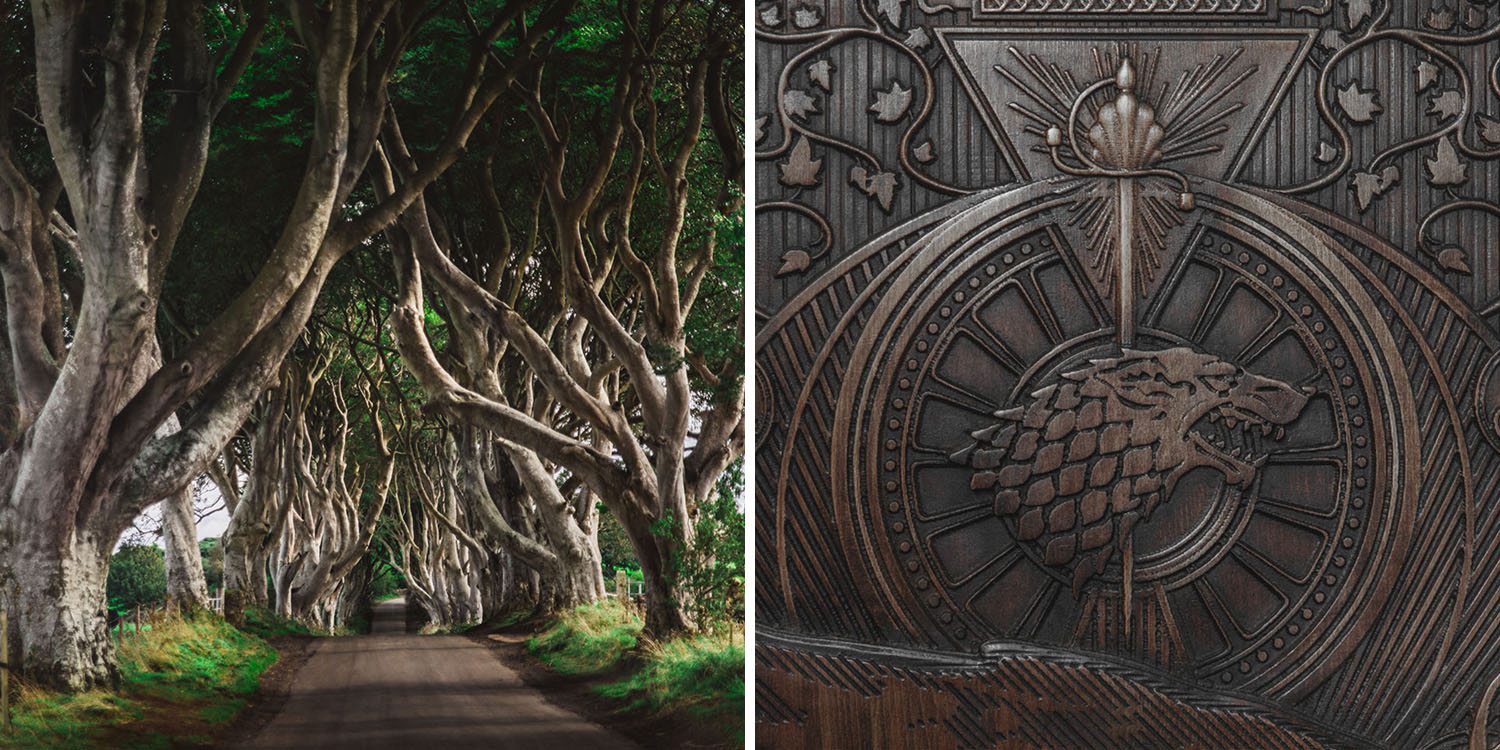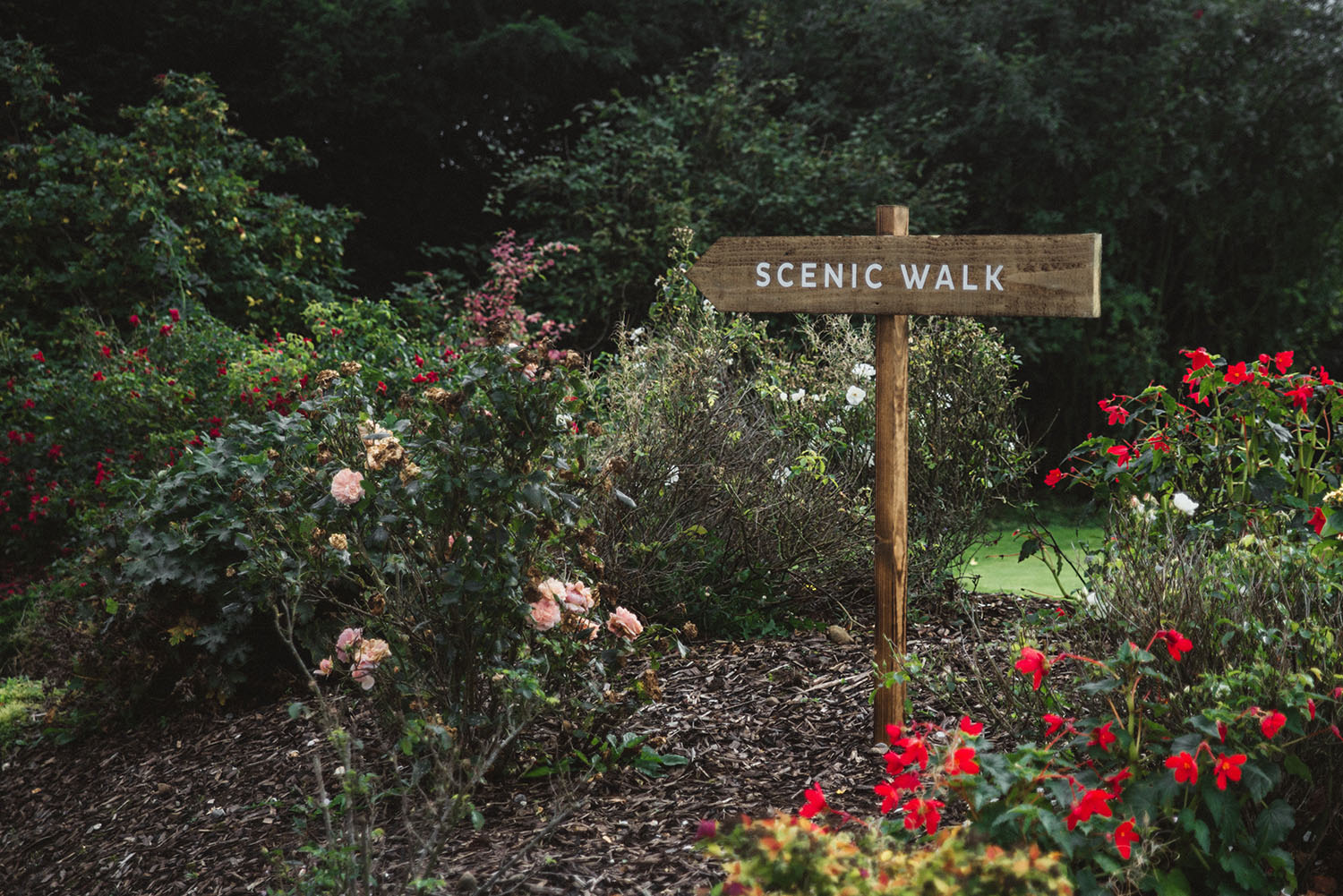 Free parking is available at the nearby Gracehill House. In the house you can also spot one of the Game of Thrones doors carved from the wood of fallen trees from the Dark Hedges.
4. Cushendun Caves | Storms End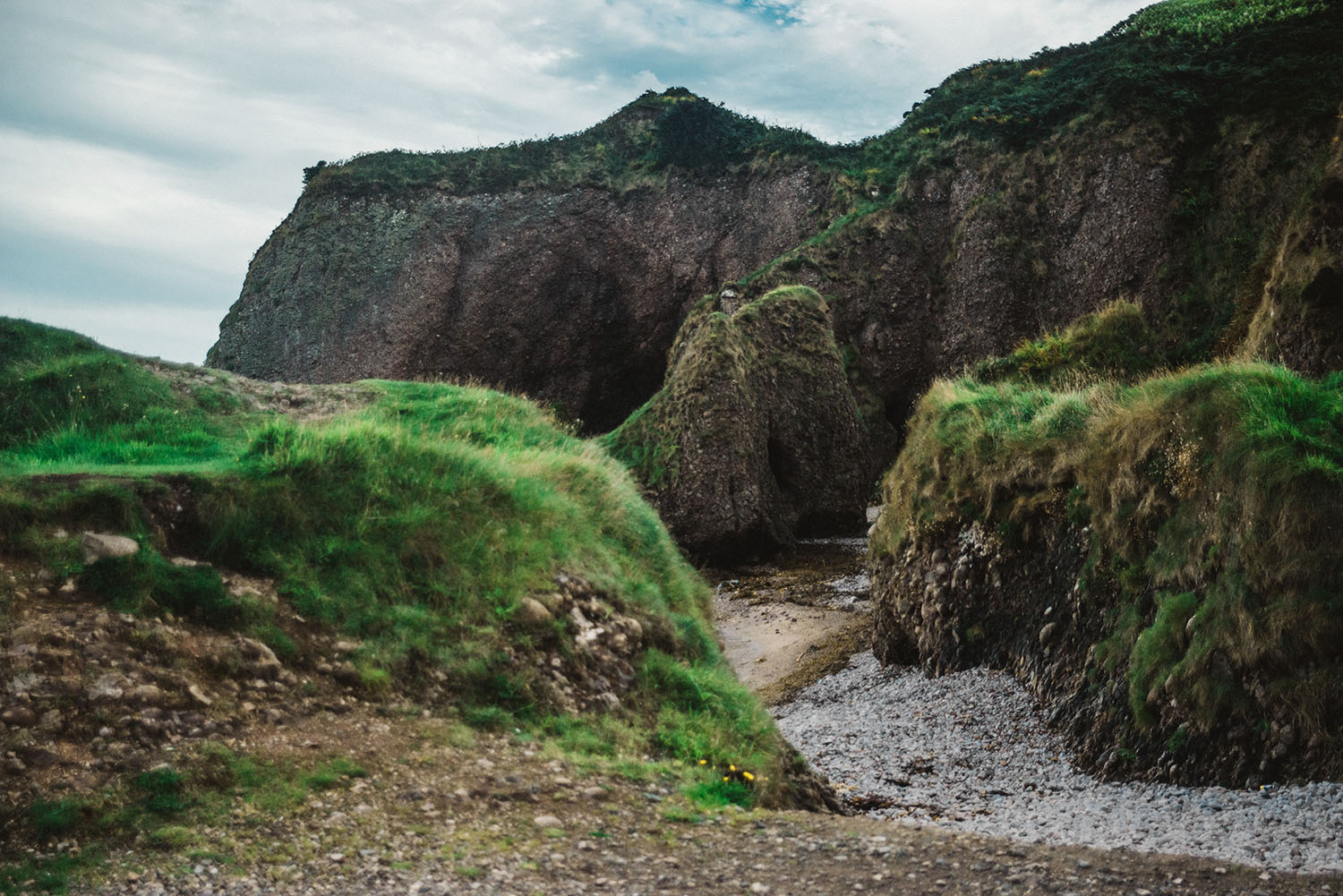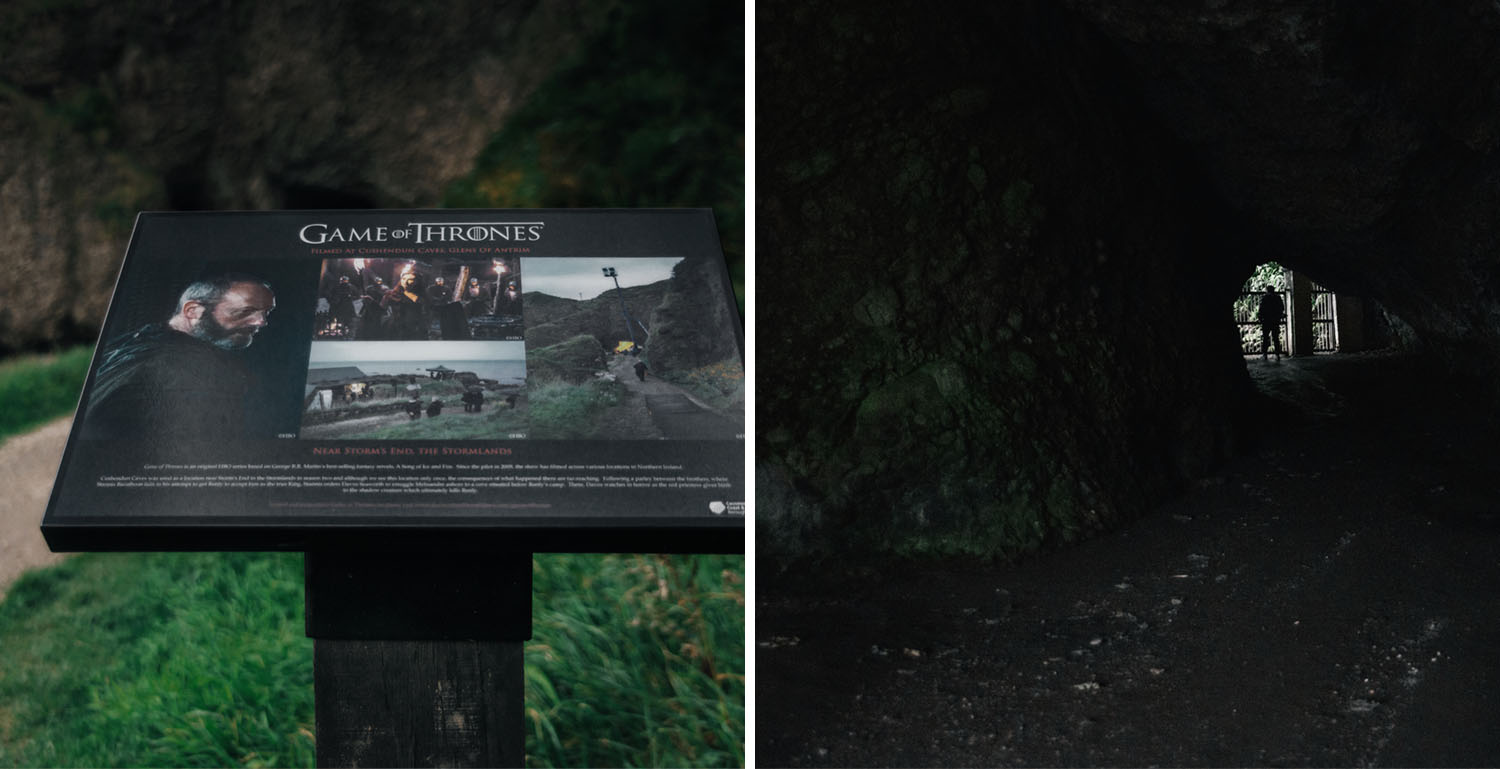 The stunning Cushendun Caves formed over a period of 400 million years. It nestles beneath rocky cliffs by the sea, near a golden beach. Standing in the spooky and dark cave with the wind whipping through, it's easy to understand why the location scouts choose this spot for Melisandre to give birth to her murderous shadow baby in Season 2.
5. Ballygally Castle | Dine like a Lord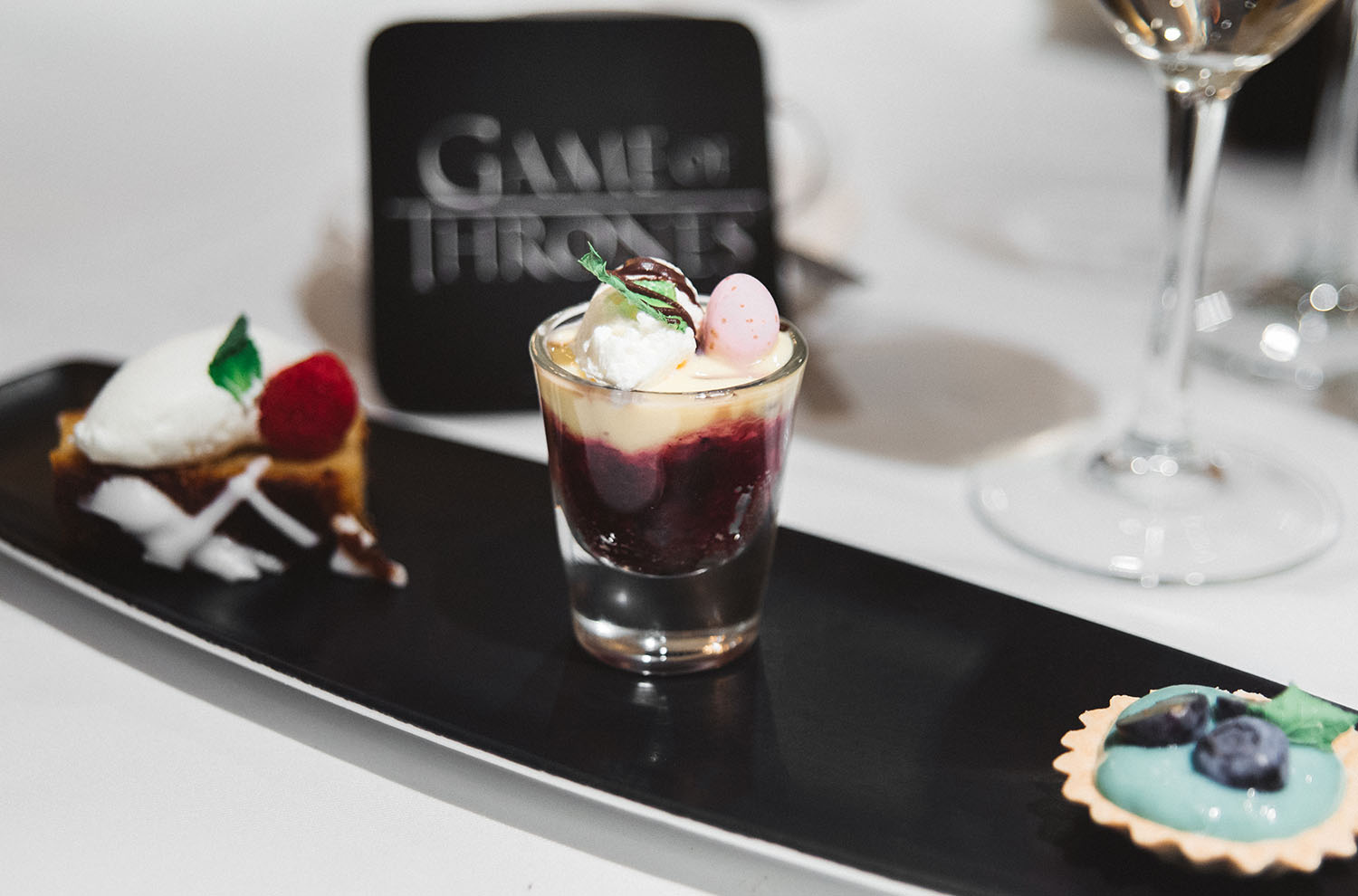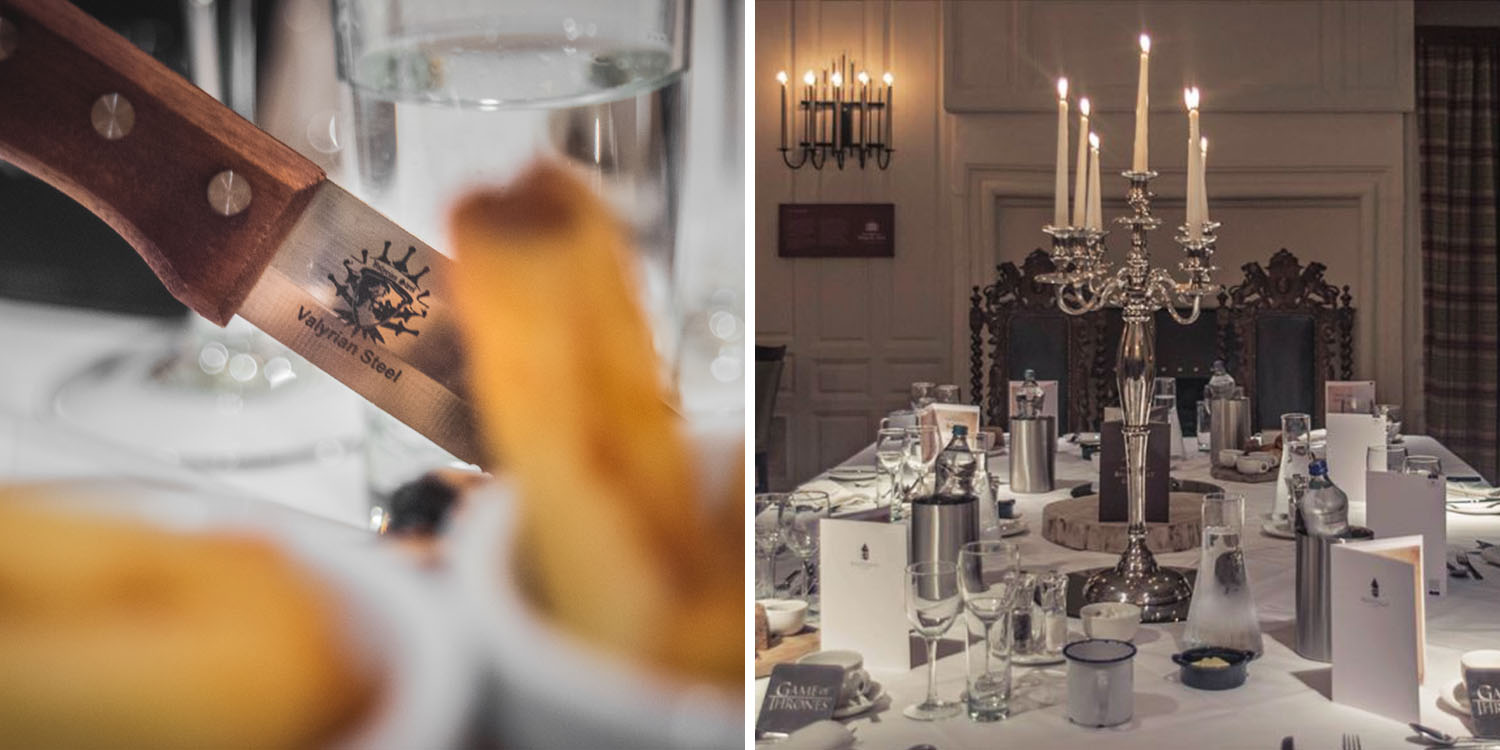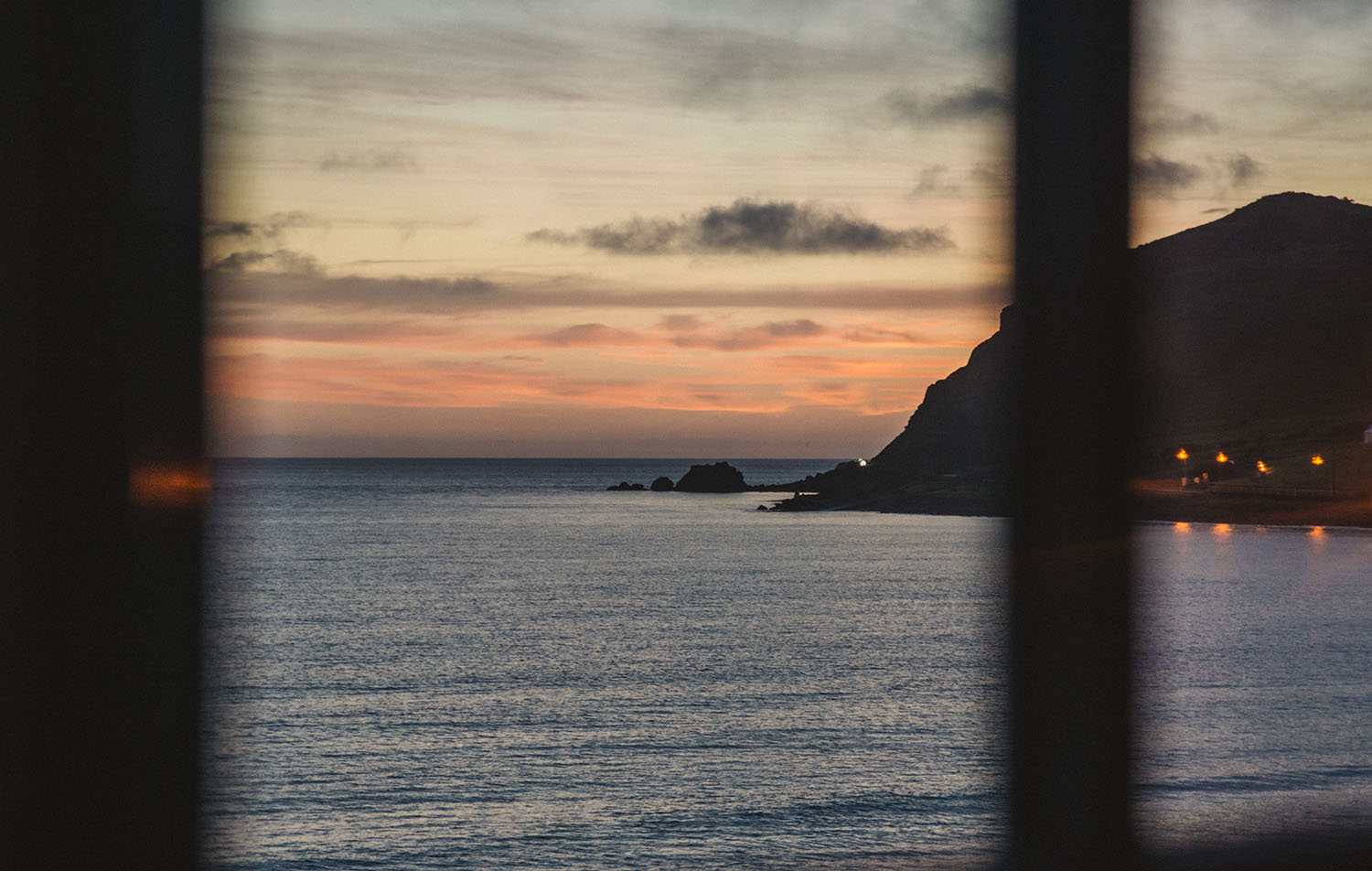 Ever wished you could dine like the lords and ladies in Westeros? Well, this is as good as it's ever gonna get. Try freshly baked Jon Snow Cakes, Sansa's lemon tart or Hodor's Pulled Pork Brioche at Ballygally Castle. Or why not eat a locally produced Westeros Tomahawk steak with Valyrian steel knives?
Don't miss to check out the one of the beautiful Game of Thrones doors which is located inside the castle.
Price: You can enjoy a Game of Thrones Afternoon Tea for £22/person or go all in with a Game of Thrones Banquet, afternoon tea, overnight stay, breakfast and a tour of the filming locations in Antrim for £140/person.
6. Larrybane Quarry | The Stormlands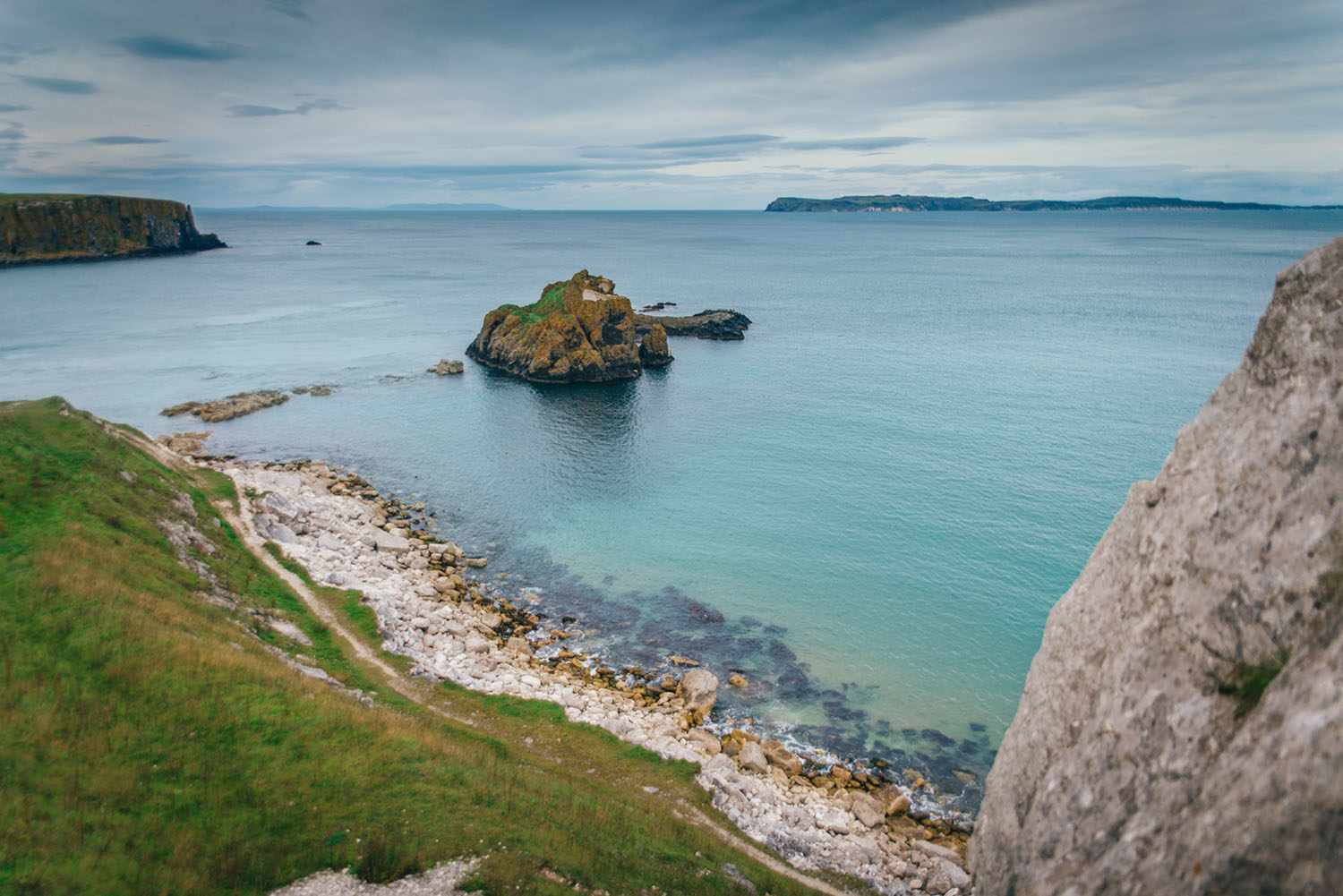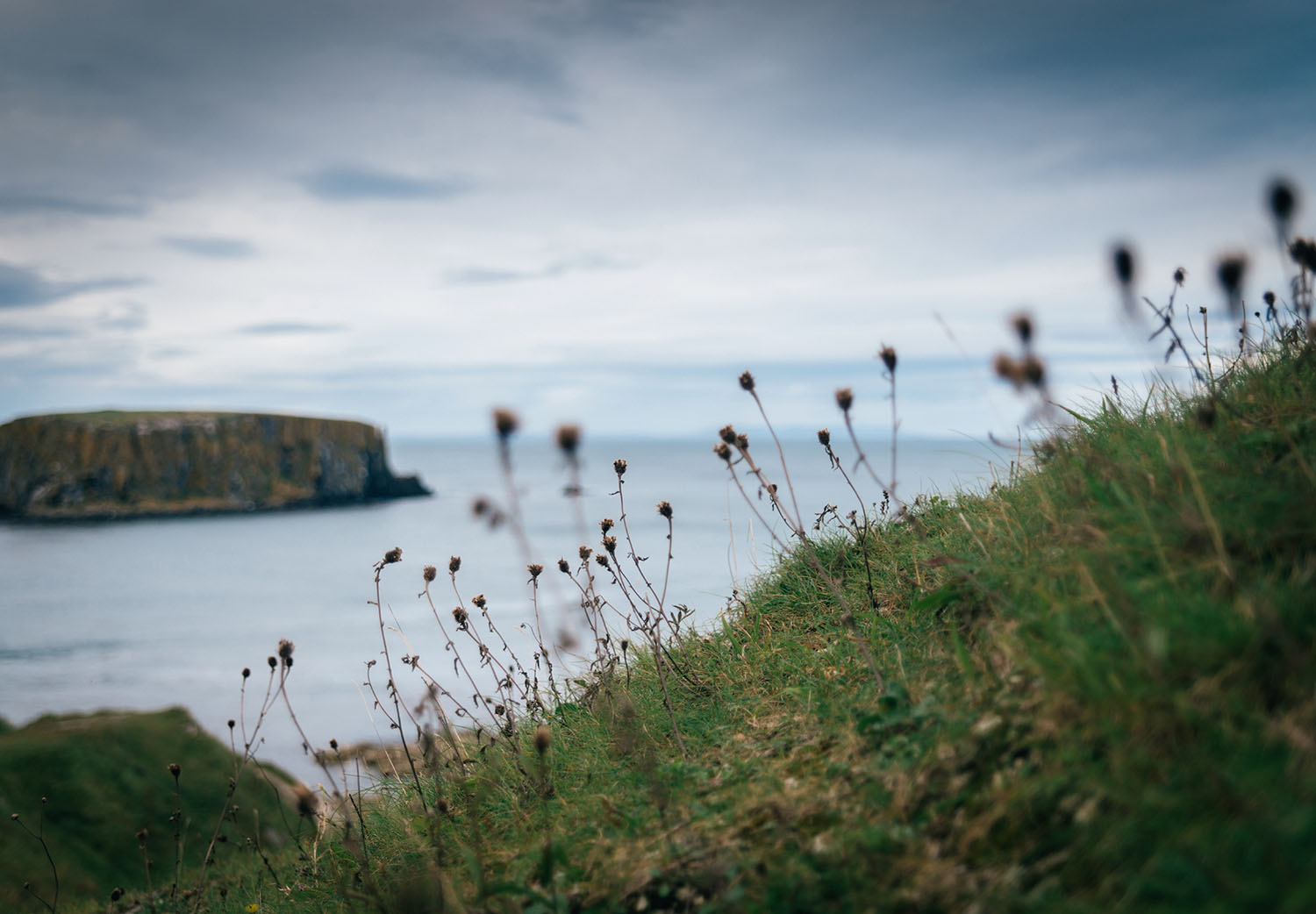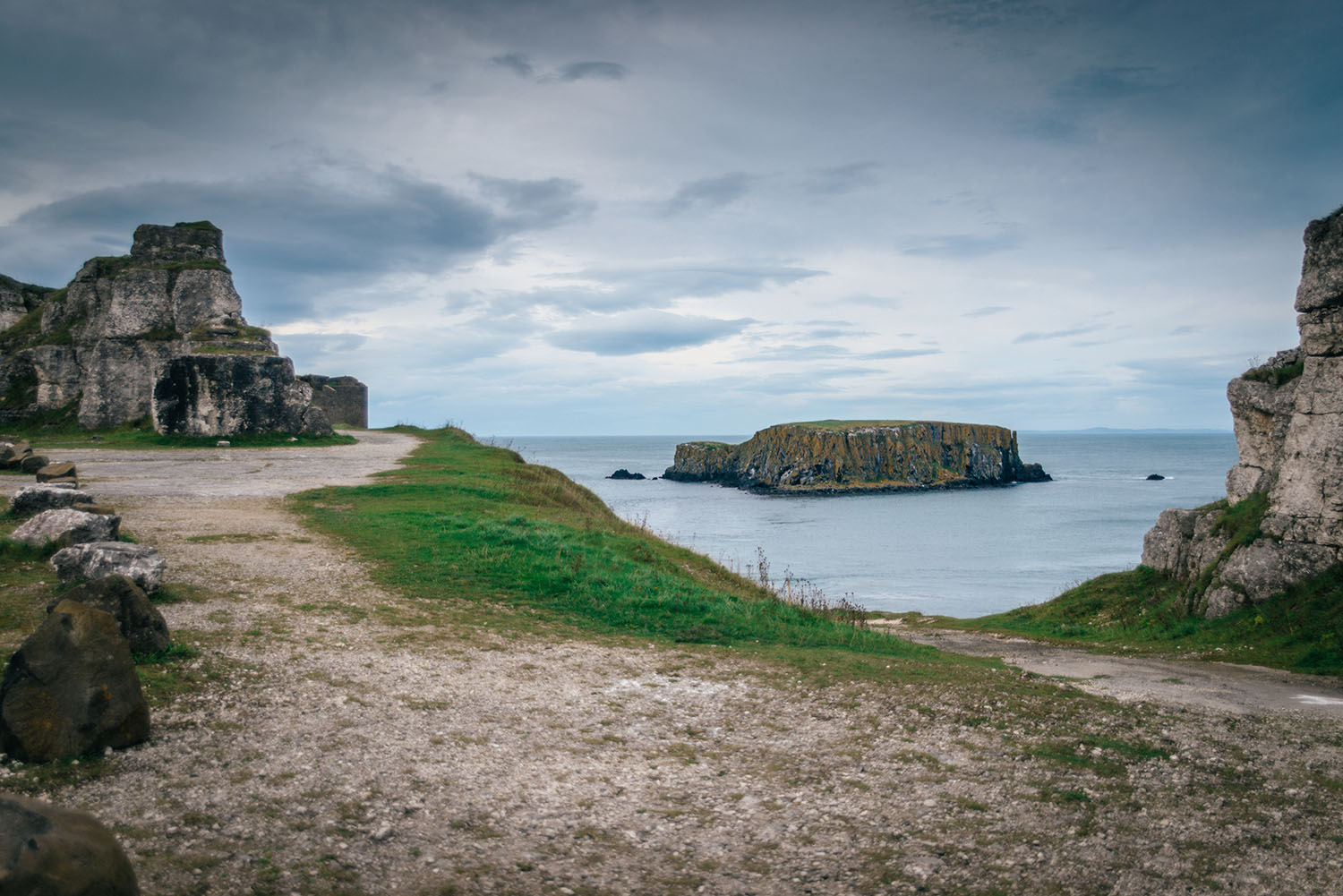 Larrybane Quarry, aka The Stormlands, is the location of King Renley's camp, and where we met Brianne of Tarth for the very first time as she battles in a tournament. This is a perfect place to stop and admire the beautiful Irish sea coast.
7. Ballintoy Harbour | Lordsport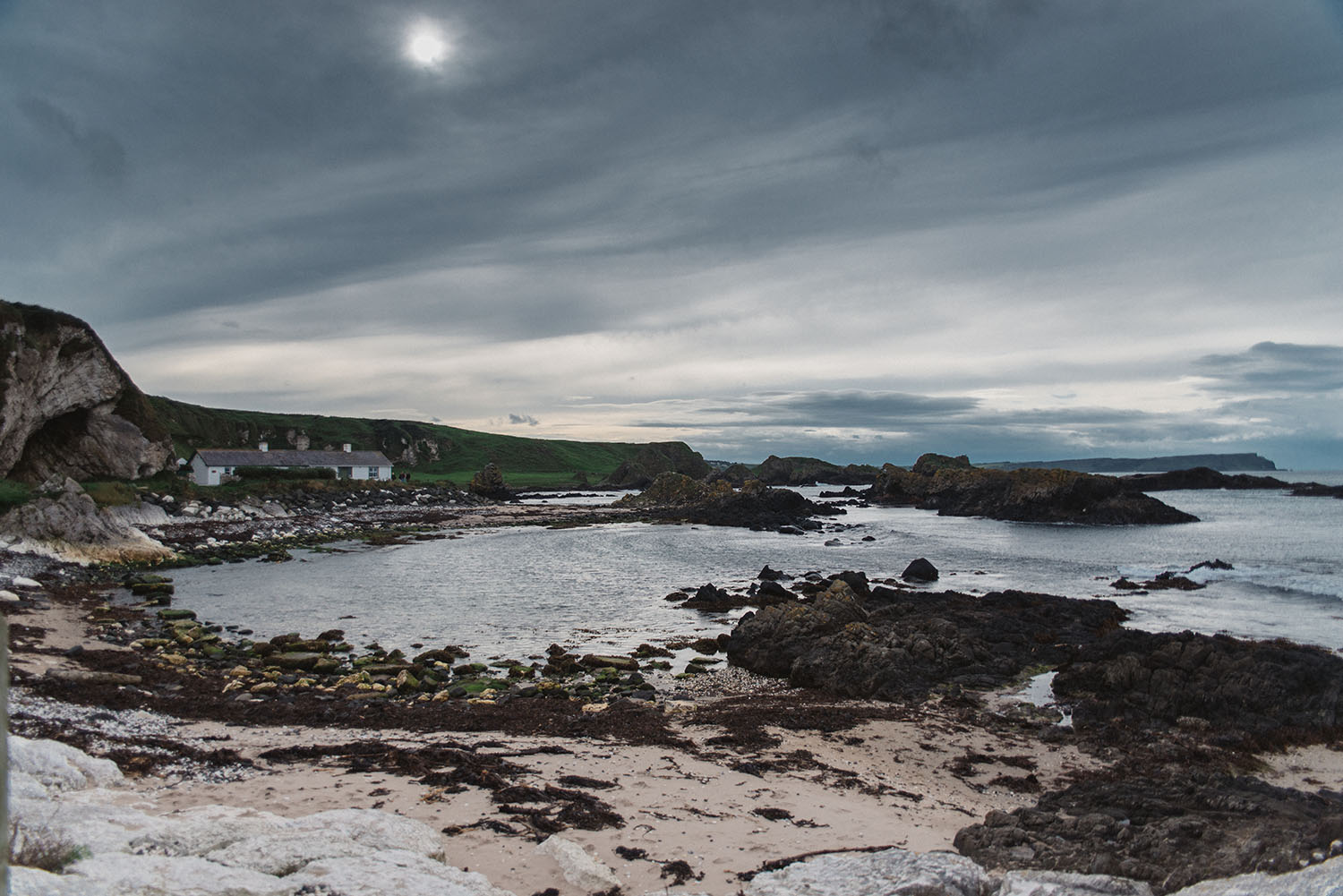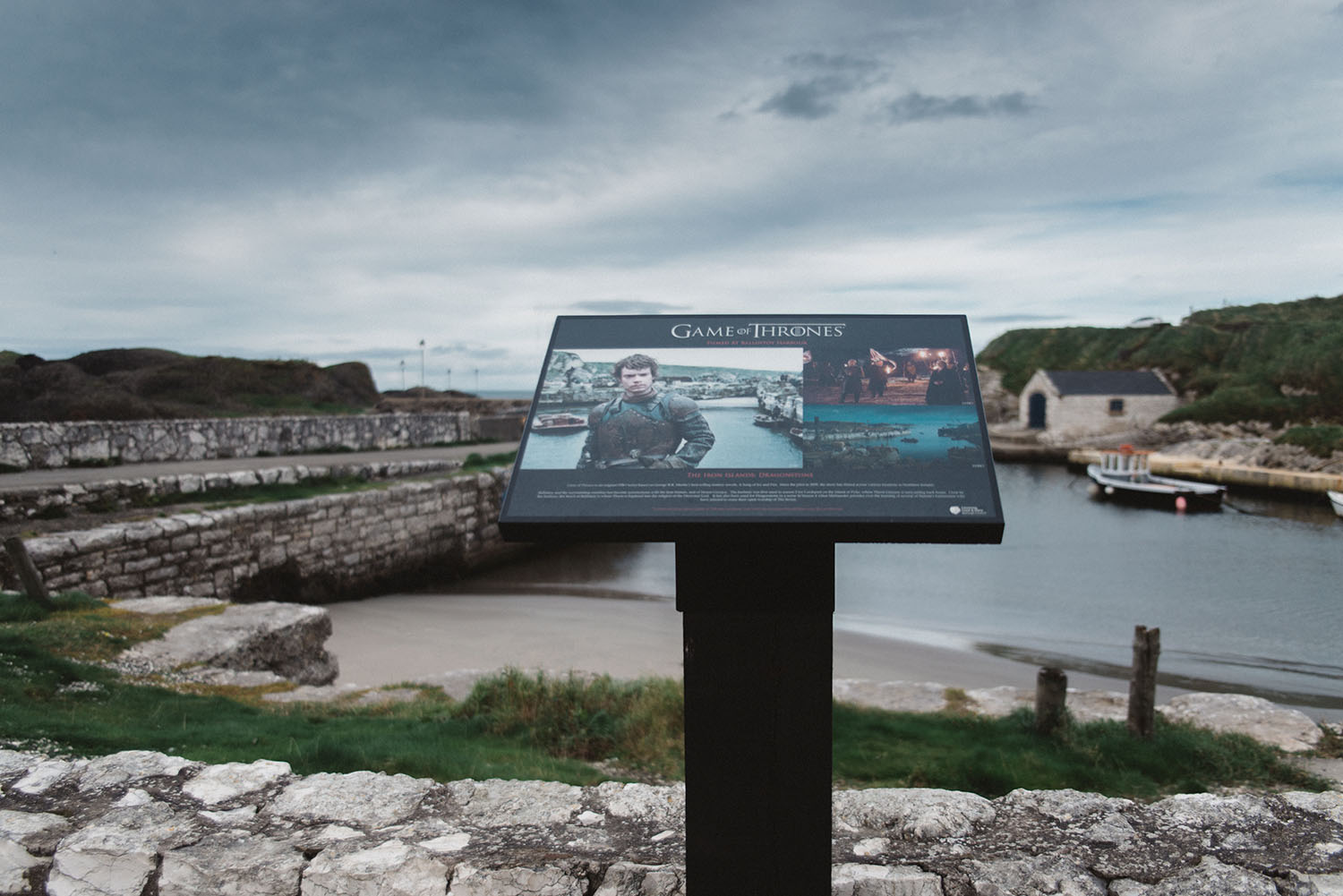 In Game of Thrones, Ballintoy Harbour is known as Lordsport of Pyke. It's the largest city in the Iron Islands and the home to the Greyjoys.
In reality, Ballintoy Harbour is a tiny town, with a population of only 165 people. But it's definitely a beautiful little harbor that you should add to your itinerary. Just a spears throw away you find the famous Giant's Causeway and one of the most famous and dramatic rope bridges in the world: Carrick-a-Rede.
8. Tollymore Forest Park | The Haunted Forest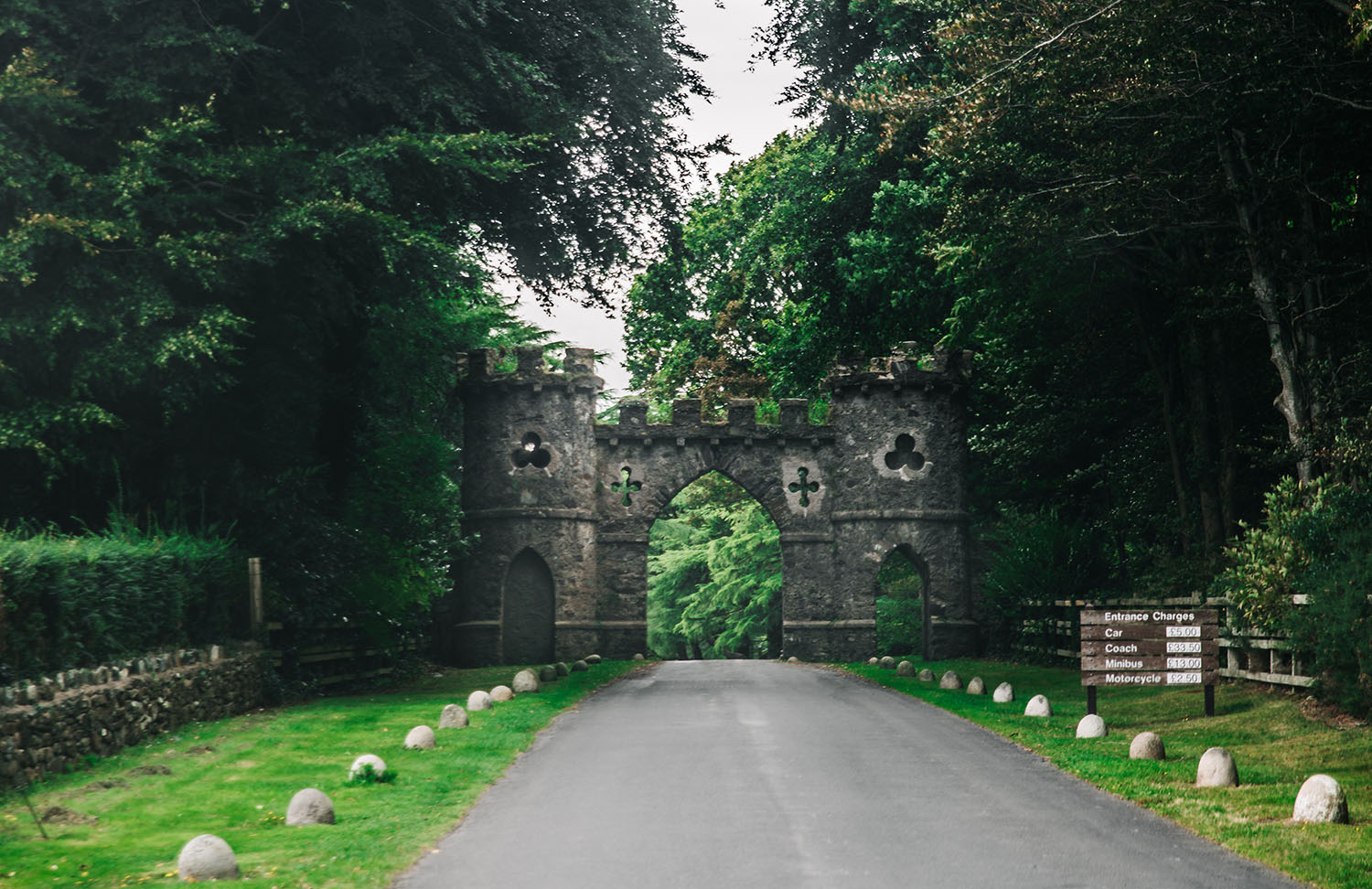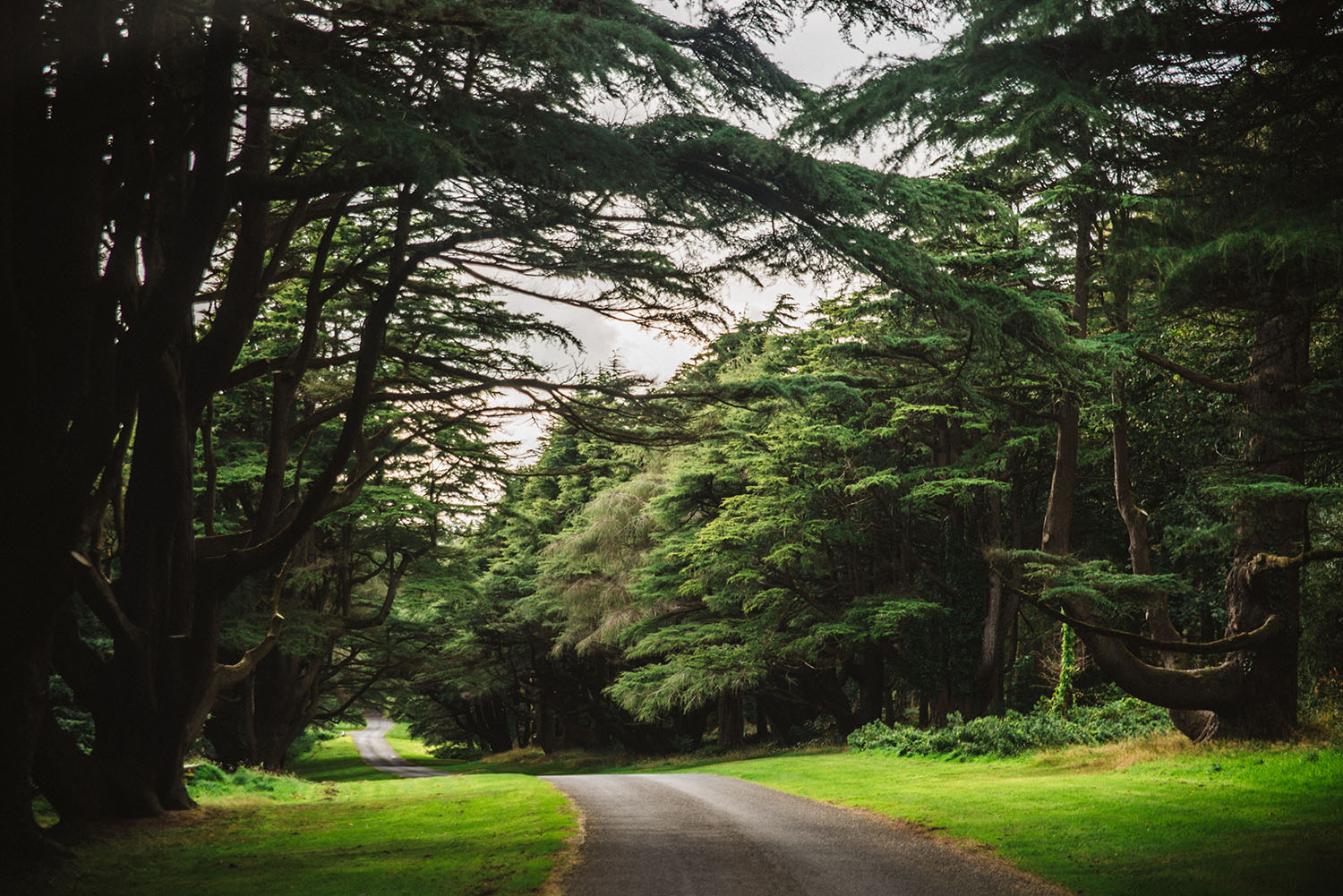 Another mesmerizing filming location in Northern Ireland is Tollymore Forest Park. It opened in 1955 and is Ireland's very first forest park. It's a truly magical park, and it's not strange that it has been featured several times in Game of Thrones as the Haunted Forest.
Enter, and you might find your very own direwolf just like the Stark's did. Or you might end up meeting White Walkers, like the three men from the Night's Watch did in the very first scene of the series.
Entrance fee of £5 for car
Facts about Game of Thrones Season 7

Season 7 premiered on HBO on July 16, 2017, and is scheduled to conclude six weeks later on August 27, 2017

The seventh season consists of only seven episodes

Like season 6, season 7 and 8 are only based on the outline of the author George R. R. Martin's presently-unpublished novels in "A Song of Ice and Fire"

The season was filmed primarily in Northern Ireland, Spain, and Iceland.

The filming of Season 7 began filming on August 31, 2016, at Titanic Studios in Belfast.

New cast members you might recognize in Season 7 is Jim Broadbent aka Professor Horace Slughorn and Ed Sheeran. (even though he's cameo can be discussed).

Season 8 will be the final season and will consist of only six episodes.
Pin it! Save my Game of Thrones Locations Guide for later
Disclaimer: I visited Northern Ireland as part of a press trip organized by Visit Britain.