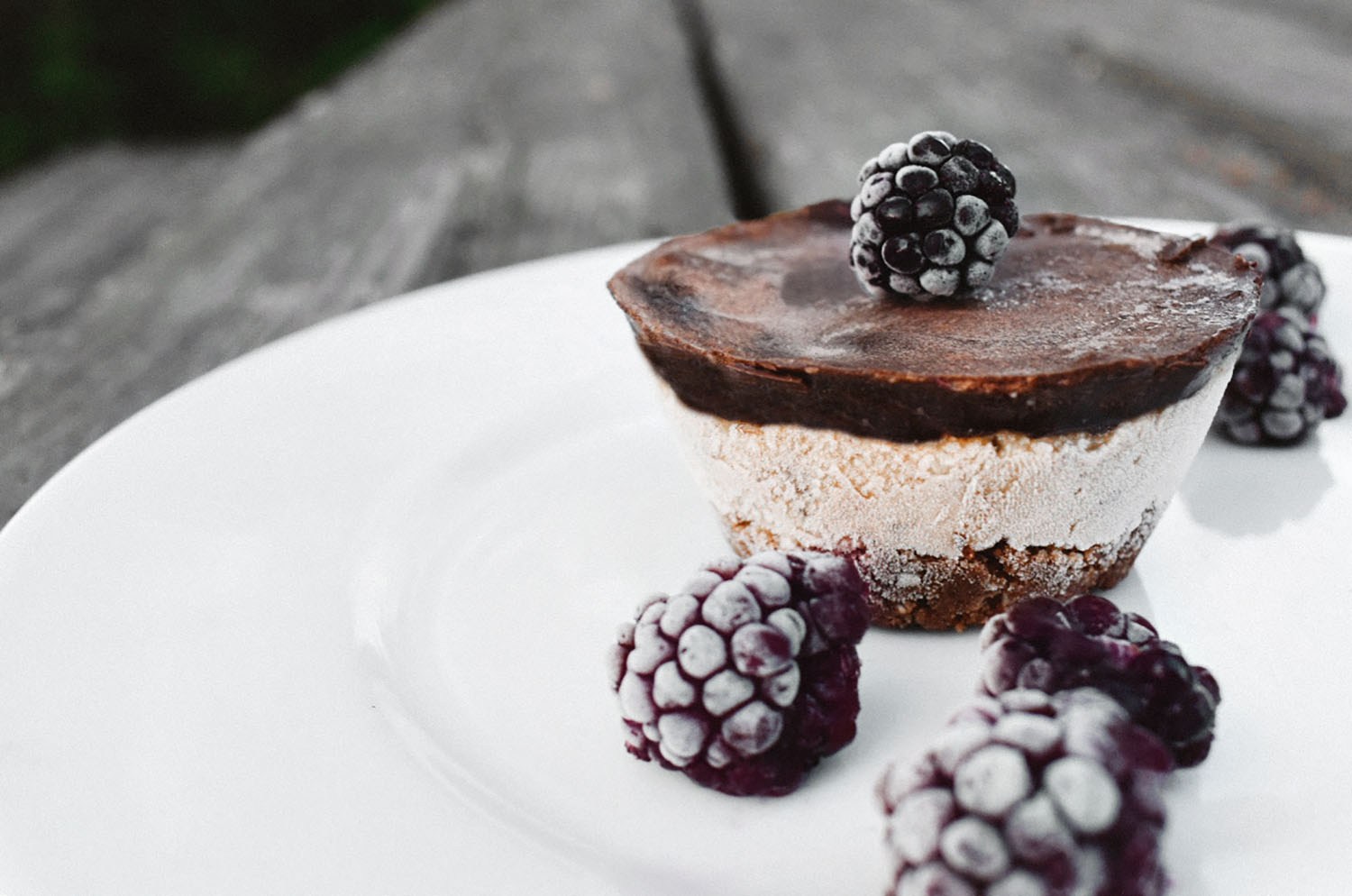 Treat yourself to a creamy and delicious vegan cheesecake with a hint of chai. It's gluten-free and doesn't contain any white sugar.
This raw vegan cheesecake is perfect for any occasion. Instead of refined sugar and dairy products, it's made out of healthy ingredients.
Topped with a layer of dark chocolate it melts in your mouth and makes the taste even better. Plus, this cheesecake requires no oven baking at all! How can it get any better?
Recipe: Raw Vegan Cheesecake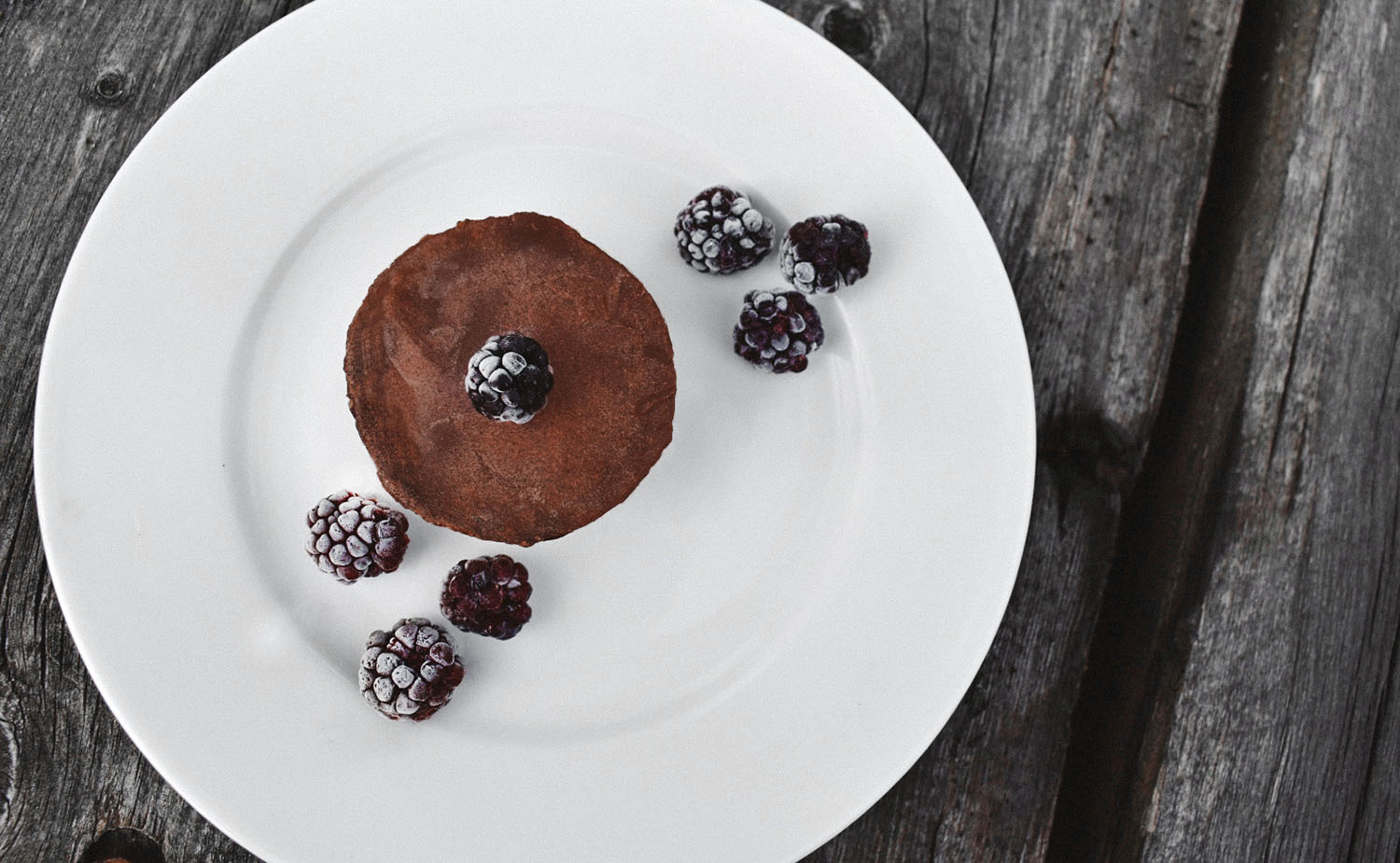 Preparation: 4 h | Total time: 6 h
An easy no-cook vegan cheesecake with a sweet, creamy filling. It's healthier than a classic cheesecake and simply irresistible!
Servings: One big or eight small cakes
Ingredients

Crust:

¼ cup coconut milk

¼ cup almond milk

1 tbsp. raw agave sirap

1 tbsp. cold-pressed coconut oil

2 tbsp. cacao powder

2 tbsp. almond drink or other plant-based drink

Fillning:

1 ¼ cup cashew nuts

150 g fresh dates

3 tbsp. raw agave syrup

3 tbsp. cold-pressed coconut oil

1 tsp. cinnamon

1 tsp. ginger

1 ml. vanilla powder

1 tsp. cardamom

Possible: 3 tsp. chai syrup (

Not raw, but taste very good!)

Chocolate layer:

3 tbsp. cacao powder
3 tbsp. cold-pressed coconut oil
1 tsp. raw agave syrup
0,5 ml. vanilla powder
Instructions
Put the cashew nuts in a bowl, cover them with cold water, and put a kitchen towel over the bowl. Let it stand overnight.

Remove the seeds from the dates and put them in a bowl of water overnight, or at least for 2 hours.

Mix the dates and cashew nuts in a food processor or stick blender until it's smooth.

Add the spices, agave syrup, and coconut oil. Stir and let stand.

Mix all dry ingredients for the crust in a bowl.

Add agave syrup, coconut oil, and almond milk. Stir until thickened.

Press the crumbs into the bottom and up the sides of a pie pan or muffin case.

Pour the filling over the crust.

Put the cheesecake in the freezer for 2 hours.

Mix all ingredients to the chocolate topping right before the cheesecake is ready.

Cover the cake with the chocolate topping and put it in the freezer for two more hours.

Serve with raspberries and blackberries. Bon appetit!

♥
More information about the ingredients
Cashew nuts

If you are skeptical about making a cashew nut-based crust, you're not alone. I was very skeptical until I tried this recipe. Cashew nuts have a lower fat content than most other nuts, and the fat is primarily unsaturated. They also have a high level of magnesium, phosphorus, iron, and protein. Cashew nuts don't count as raw food because they have been heated processed to remove the nut from the toxic shell. Although, you can buy completely raw cashews from different health food stores.
Dates

Dates are digested very easily and give a quick boost of energy which also makes it a perfect pre-workout snack. For the best benefits dates should be soaked overnight in a bowl of water. Dates are especially healthy for people with different heart diseases, according to studies. They are high in potassium which, according to some scientists, lower your LDL cholesterol which decreases the risk of stroke. Dates also contain a lot of C-, A- and B-vitamins and have a high level of calcium, iron, and niacin.
Vanilla powder

Vanilla powder is pure, unadulterated vanilla bean while vanilla sugar is flavored sugar that is synthetically produced from vanillin to emulate real vanilla. One bottle of vanilla powder is often smaller and more expensive than vanilla sugar, but you often need a minimal amount for a great taste. Vanilla powder is very flavorful and doesn't contain any sugar which is perfect.
Agave syrup
Agave syrup is extracted from the heart of the agave plant and has a very low GI. Glycemic index is is a value assigned to foods based on how slowly or quickly those foods cause increases in blood glucose levels. A slow uptake keeps your blood sugar level more stable. Agave nectar also contains some vitamins and minerals. One disadvantage is that agave has a high content of fructose, so you should only eat a small amount.
How to easily update the vegan cheesecake
This easy recipe can be varied in many ways. Instead of chia, you can, for example, use nut butter, berries, lemon, lime, chocolate, caramel, ginger, or why not saffron? Be creative and try different flavoring!