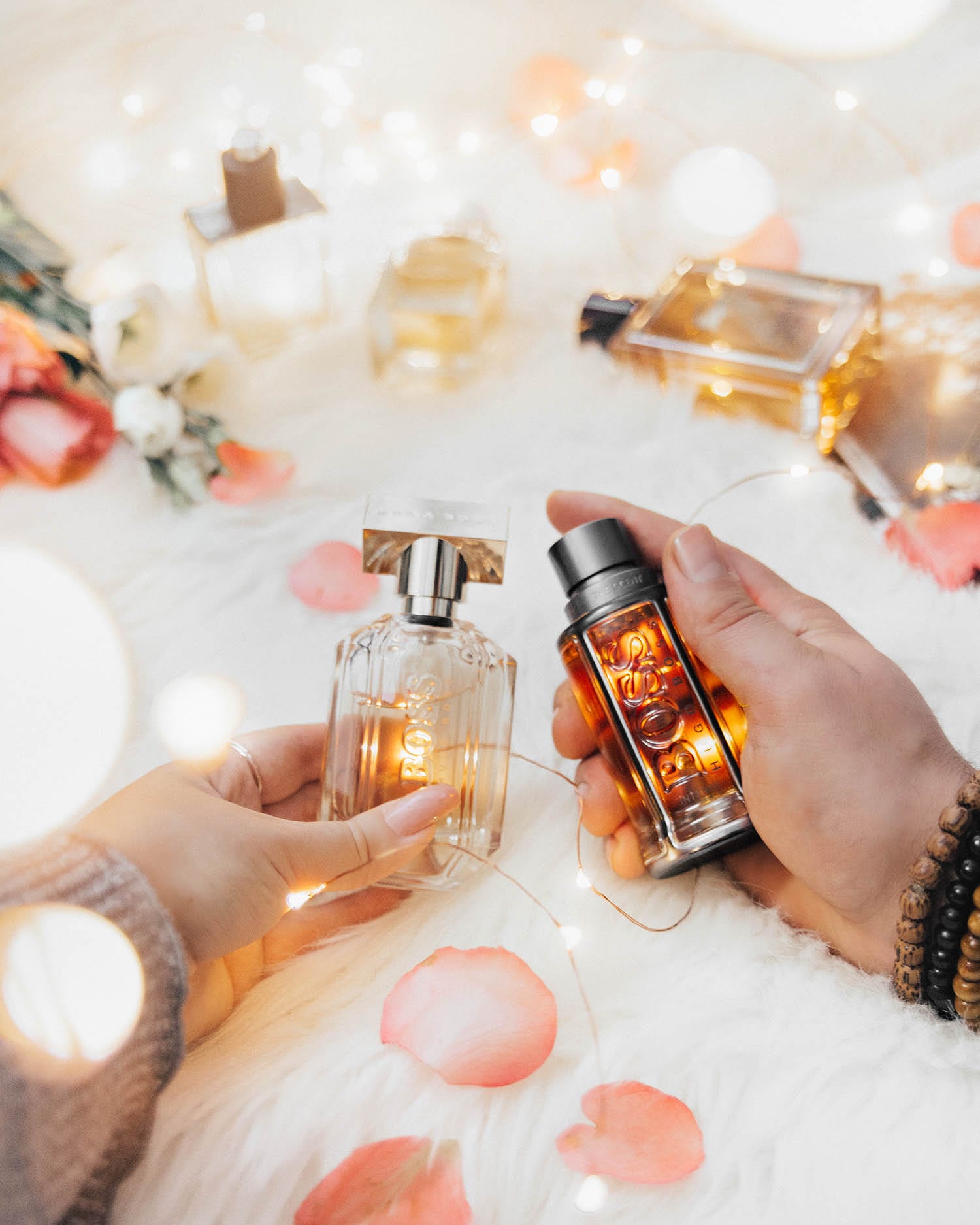 Discover the best his and hers fragrances (at least if Simon and I can choose). We are listing the hottest perfume couples that are just meant to be.
You don't need a particular reason to match the perfume with your partner, but there is something utterly romantic about picking matching scents. It's a secret only you will know. Like a magnet, it's something that brings you together.
Simon and I discovered that we often pick matching perfumes without even thinking about it. We know what fragrance to choose when you want to feel dressed up and sexy, which one is perfect for that dinner date, the one to pick for when you're hanging out with your friends, and which fragrance to choose for a casual day out in the town.
In this list, you'll find nine hot couple fragrances. From fresh floral scents to spicy notes. From luxury to cheap perfumes. There is something to please everyone here.
Our Top List: 9 His & Hers Fragrances that are meant to be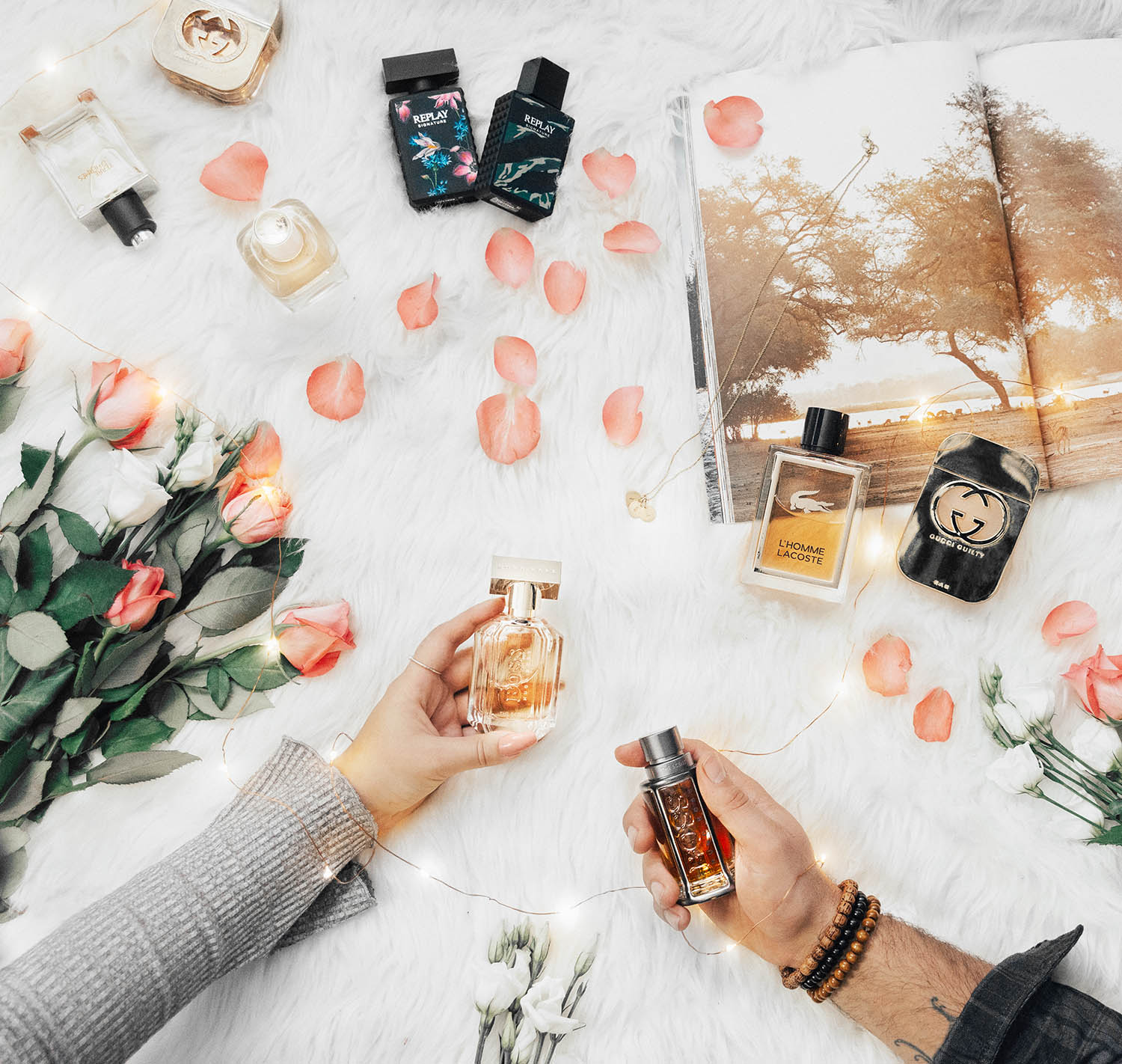 9. Mexx City Breeze for her & him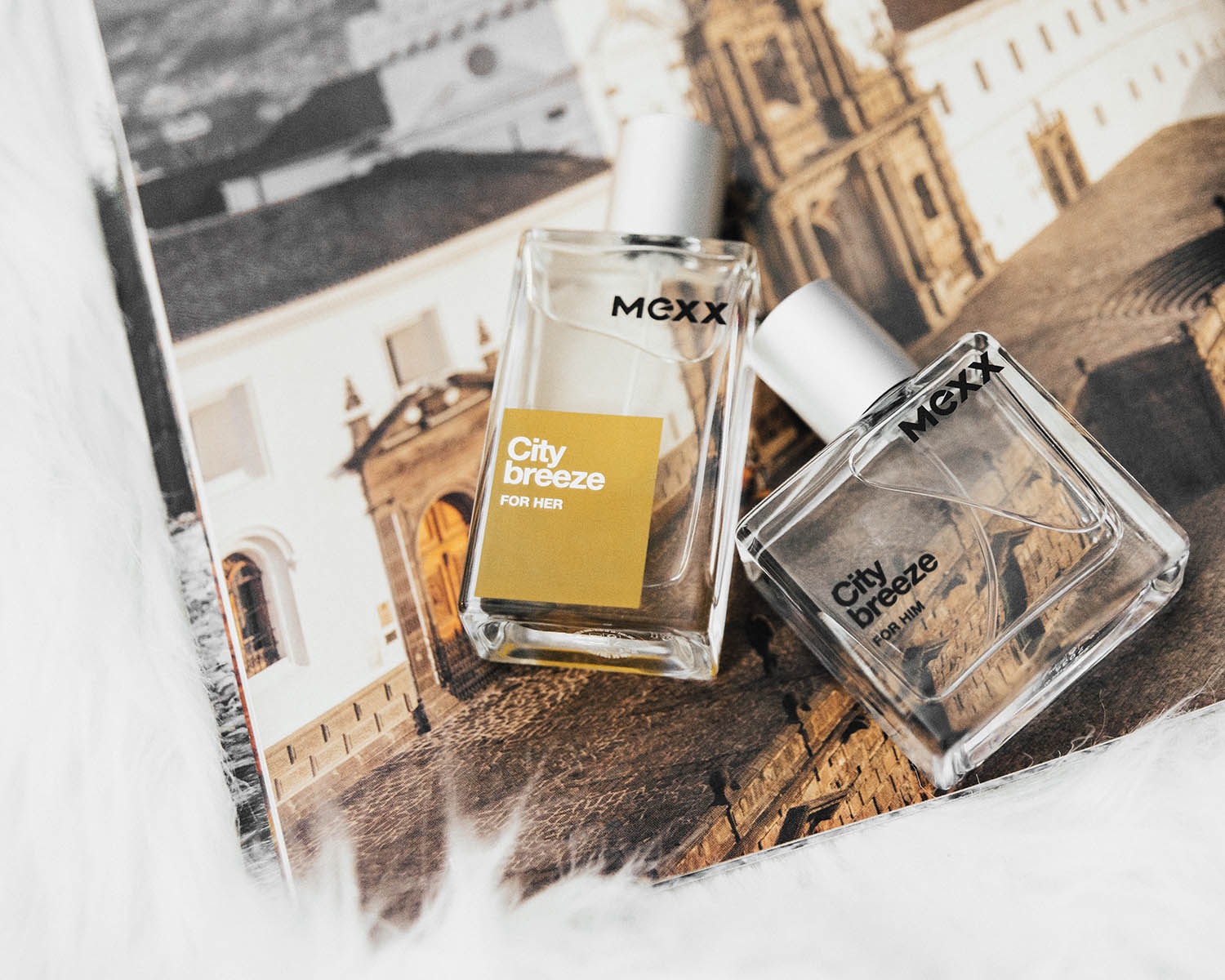 When we want something refreshing and effortless, we turn to the duo Mexx City Breeze for her EdT and Mexx City Breeze for him EdT. Just as the name suggests, it's like a "City Breeze,". Nothing too fancy or too much. Just a breeze of something casual and chic for everyday life.
For her, it's a warm breeze of sweet orange, night-blooming cereus, and sensual base notes of musk, amber, and sandalwood. For him, it's a cool breeze of grapefruit, apple, and basil, combined with violet leaf, marine notes, and base notes of cedarwood, moss, patchouli and, vetiver.
Yum! These fragrances play very well together.
8. Replay Signature for her & him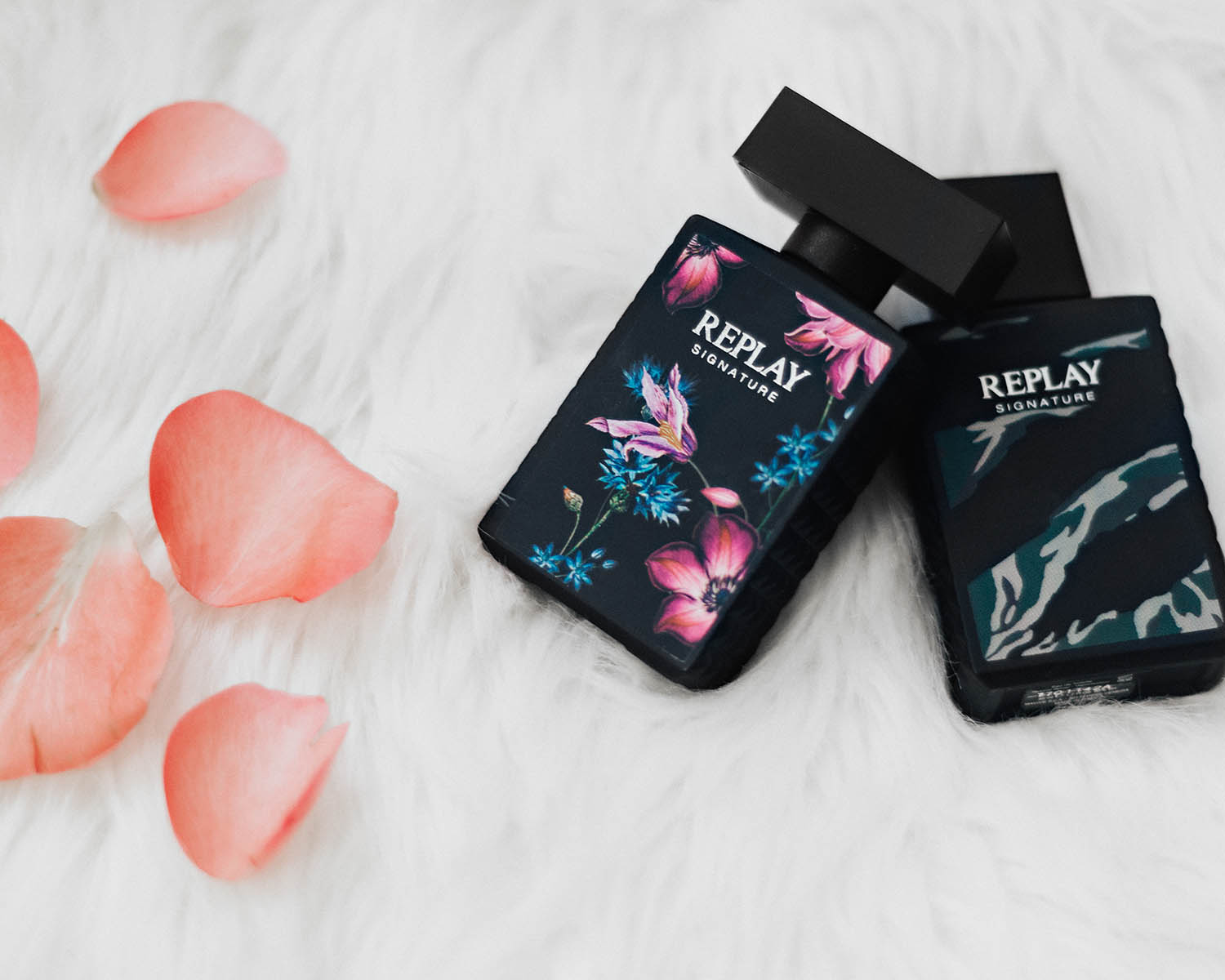 Signature is two pleasant surprises from Replay. From the pretty bottles to the scents itself. These may be the most mature fragrances from the brand. However, they do feel both young and sophisticated at the same time.
The perfume duo shares sensual and seductive base notes of sandalwood, vetiver, and musk. While Replay Signature for her has notes of citruses, sweet flowers, and fruits, is Replay Signature for him a masculine scent with pink pepper, cinnamon, bergamot, mint, nutmeg, and precious wood notes.
7. Zlatan Ibrahimovic Myth & Bloom EdT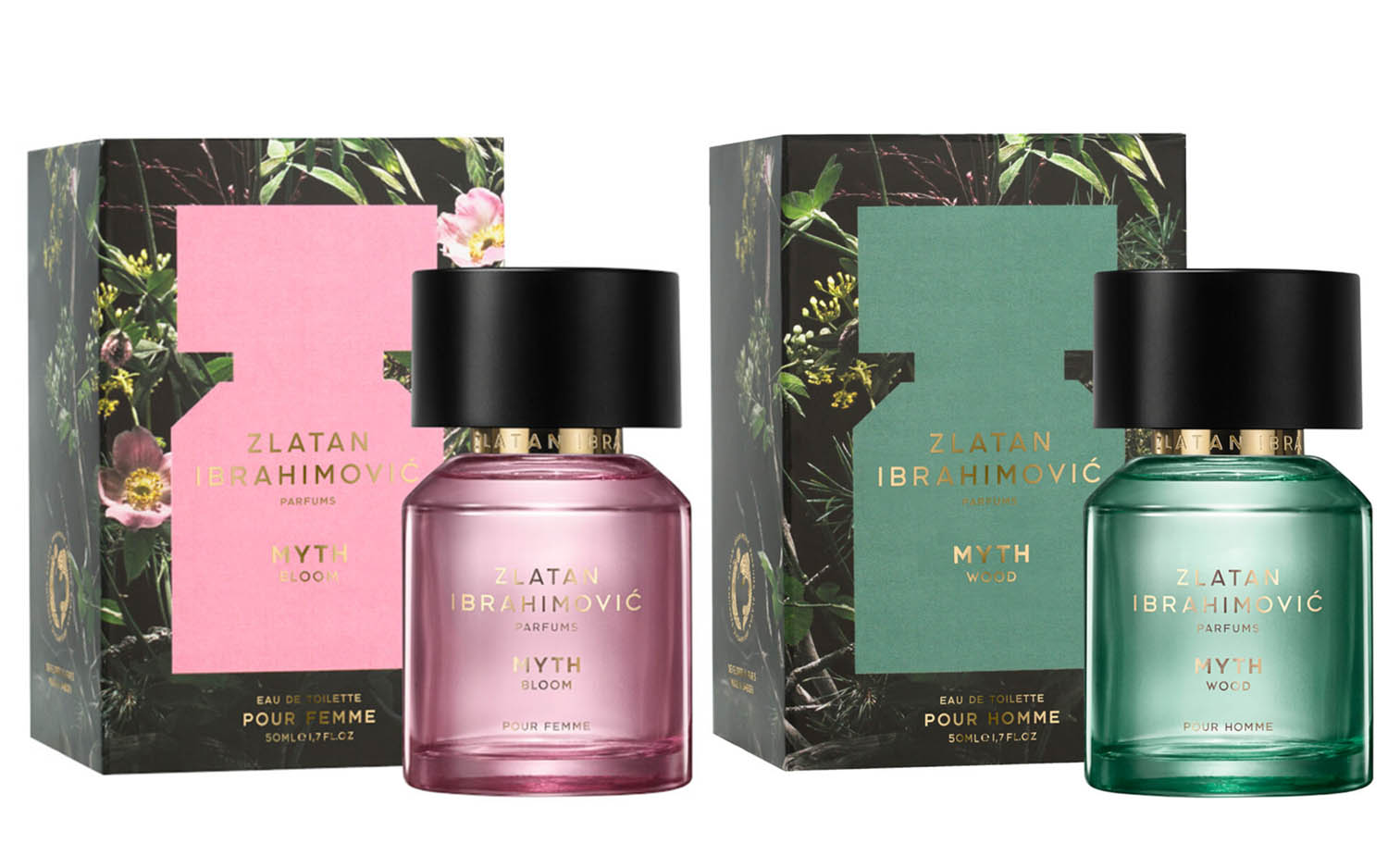 Zlatan's latest fragrance couple is really lovely. It's everyday fragrances inspired by Sweden and Swedish nature. Myth Bloom EdT is a chic, feminine and floral fragrance with lush wild roses, apple blossom, crispy mint, cedar and, white woods. It kind of reminds me of late summer days and wildflower meadows.
Myth Wood EdT is a woody fragrance for men. It captures the scent of a wild forest after a freshly fallen summer rain, combined with grapefruit, lavender, sage, and masculine base notes of driftwood, oak, and moss.
6. Eau de Lacoste L.12.12 Magnetic for her & him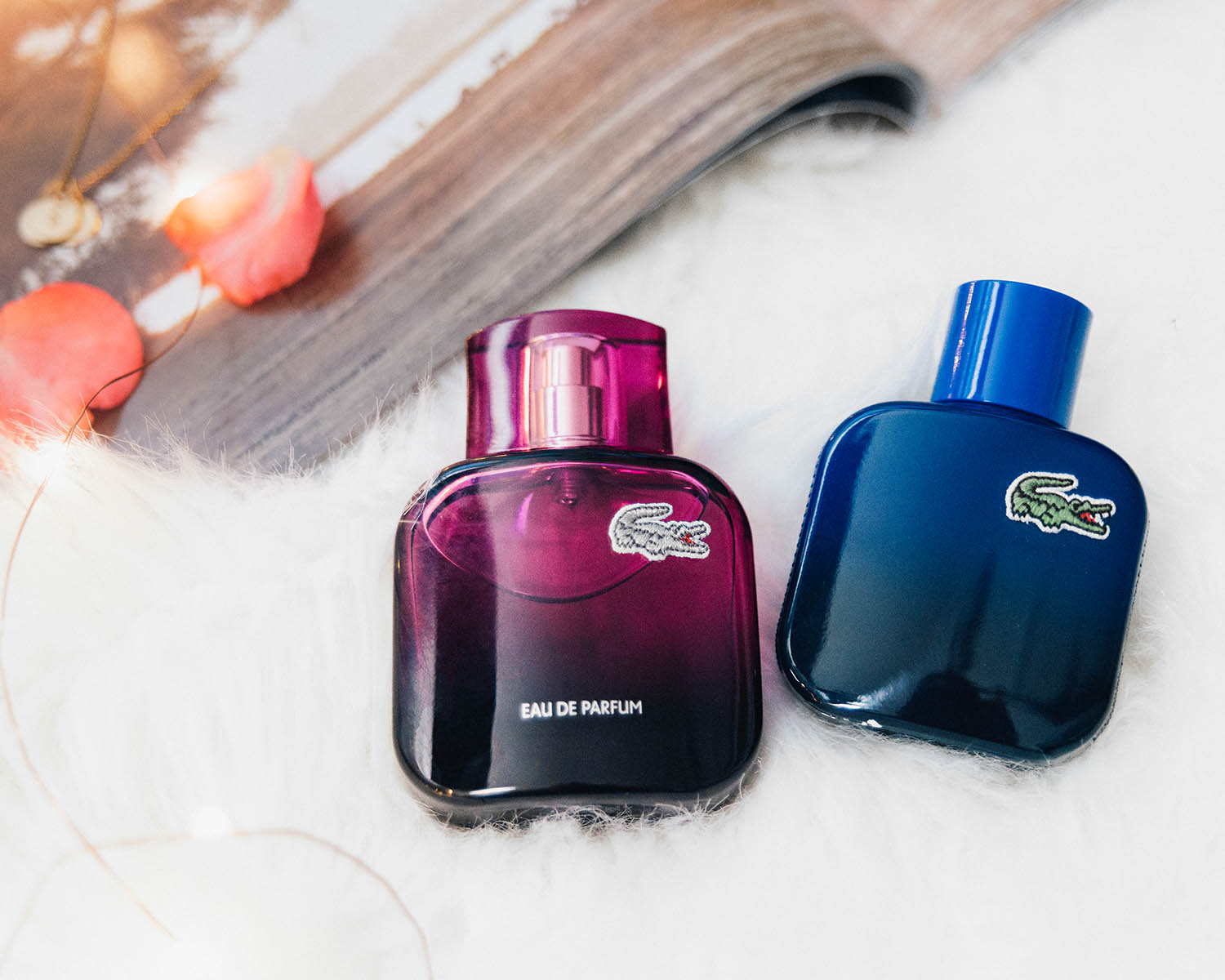 Eau de Lacoste L.12.12 for him and her is perfect for couples seeking matching fragrances for all occasions – that enhance your own allure. Lacoste L.12.12 Elle Magnetic is a sweet and sensual scent with orange, mango, jasmine, rose, violet leaves, and base notes of vanilla, patchouli, and tonka beans.
Lacoste L.12.12 Magnetic Pour Lui is a casual and sophisticated EdT with bamboo accords, juniper, black tea, and seductive base notes of amber, vetiver, and patchouli.
5. Hugo Boss Ma Vie Florale & Boss Bottled Tonic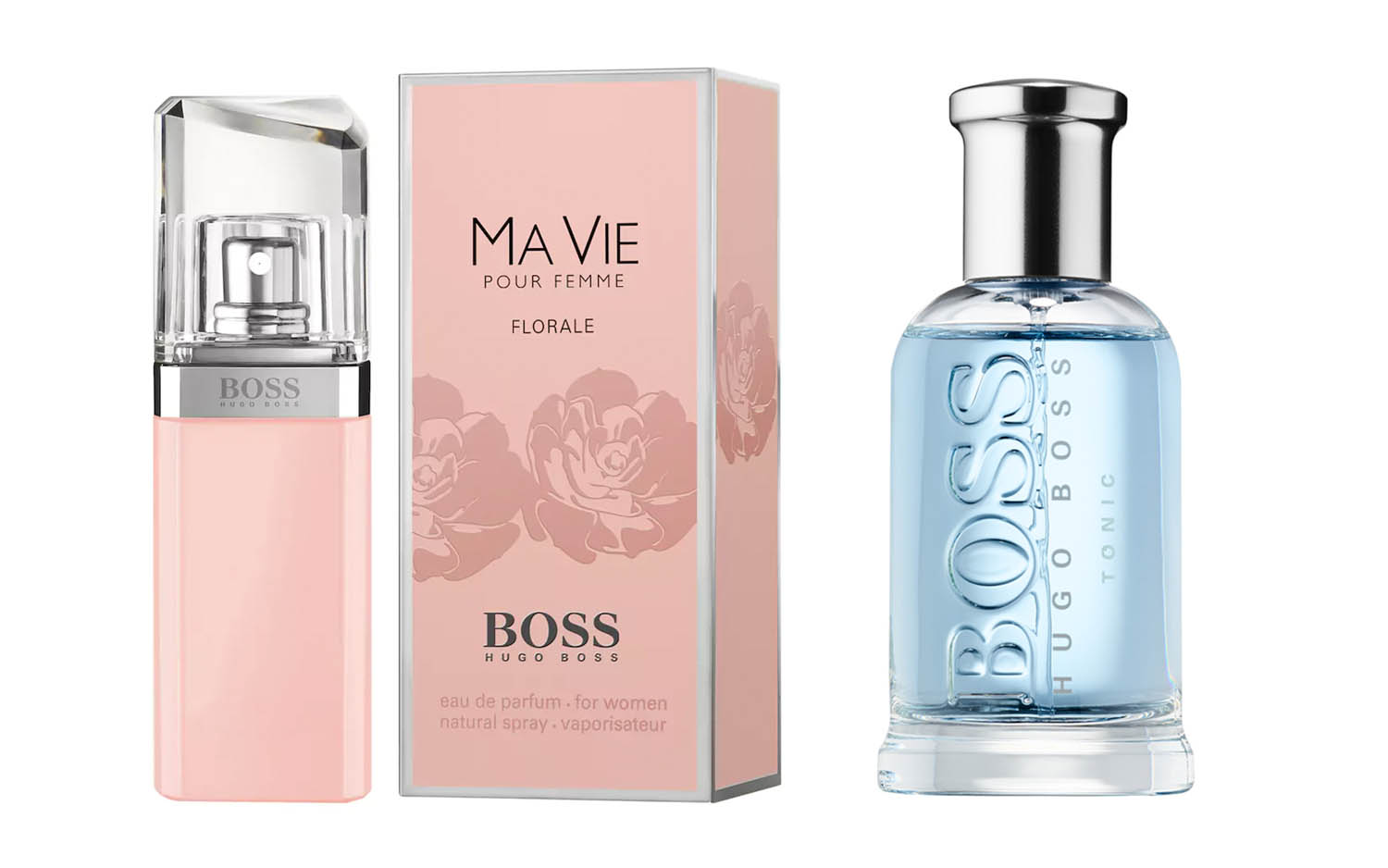 Highlight your natural elegance! Hugo Boss Ma Vie Florale and Boss Bottled Tonic are two amazing scents that make you feel dressed for success and casual at the same time. Also, those Boss fragrances are bound to give you compliments.
Ma Vie Florale is like a well-composed flower bouquet. Soft pink freesia, cactus flowers, and petals from jasmine are combined with rosebuds and base notes of cedar, amber, and sandalwood. It's a wonderful everyday scent.
To this flourishing and feminine scent, Boss Bottled Tonic is a perfect match. It's a refreshing, elegant, and masculine fragrance for everyday occasions. It contains notes of grapefruit, bitter orange, lemon, and apple, combined with a spicy heart of ginger and cinnamon and a woody base of vetiver accords.
4. L'Homme Lacoste & Lacoste Pour Femme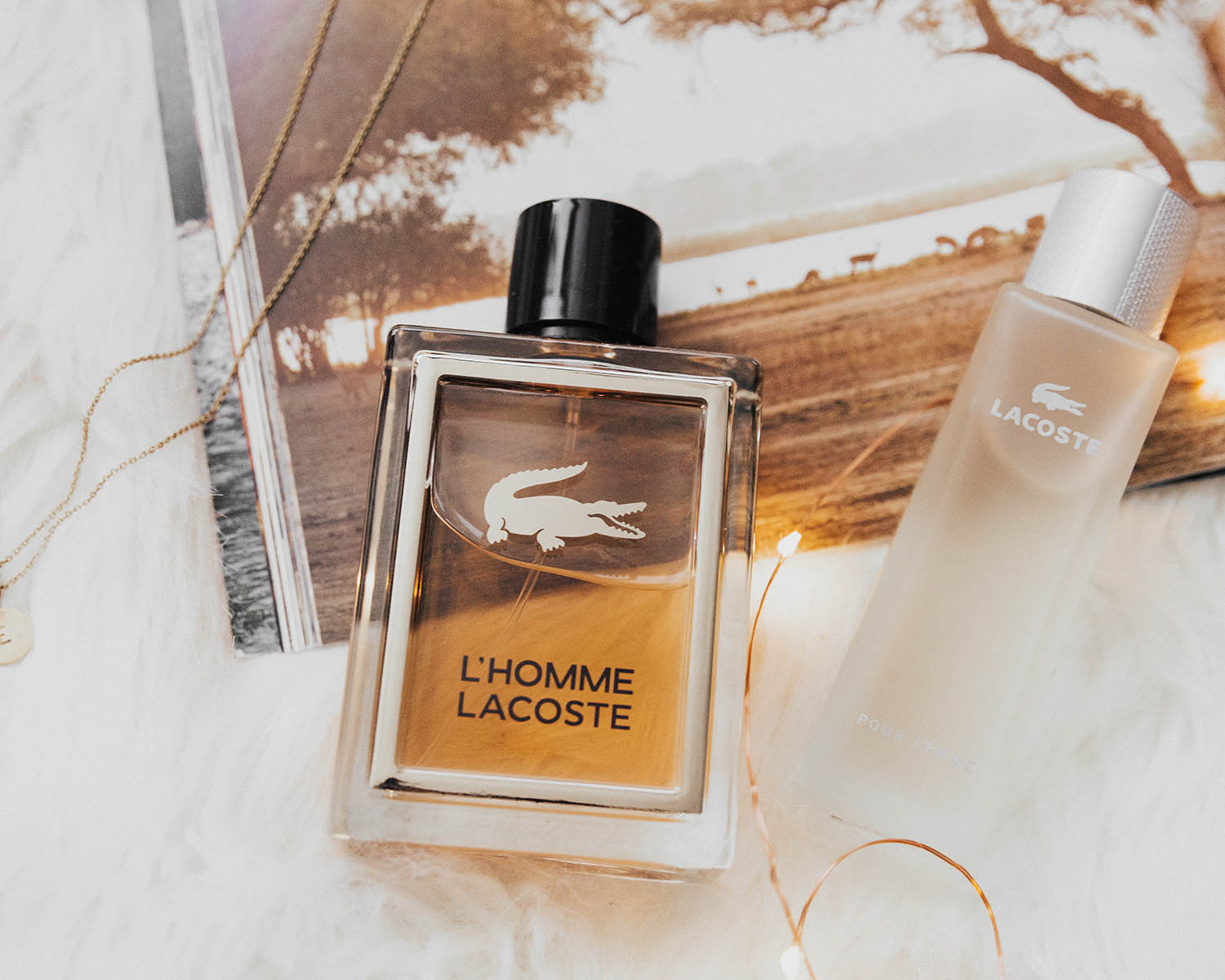 Modern and uplifting are two words that describe the fragrance duo L'Homme Lacoste and Lacoste Pour Femme Légère very well. Wear them day or night. Those are both elegant and playful.
L'Homme Lacoste is a woody and spicy fragrance for men with notes of mandarin, sweet orange, rhubarb, black pepper, ginger, jasmine, and base notes of cedarwood, dry amber and, vanilla.
Lacoste Pour Femme Légère is a dreamy and velvety scent with citruses of bergamot, grapefruit, and mandarin, combined with jasmine petals, hibiscus, and accord of cedar from the Himalayas, vetiver, sandalwood and, musk.
3. Gucci Guilty for her & him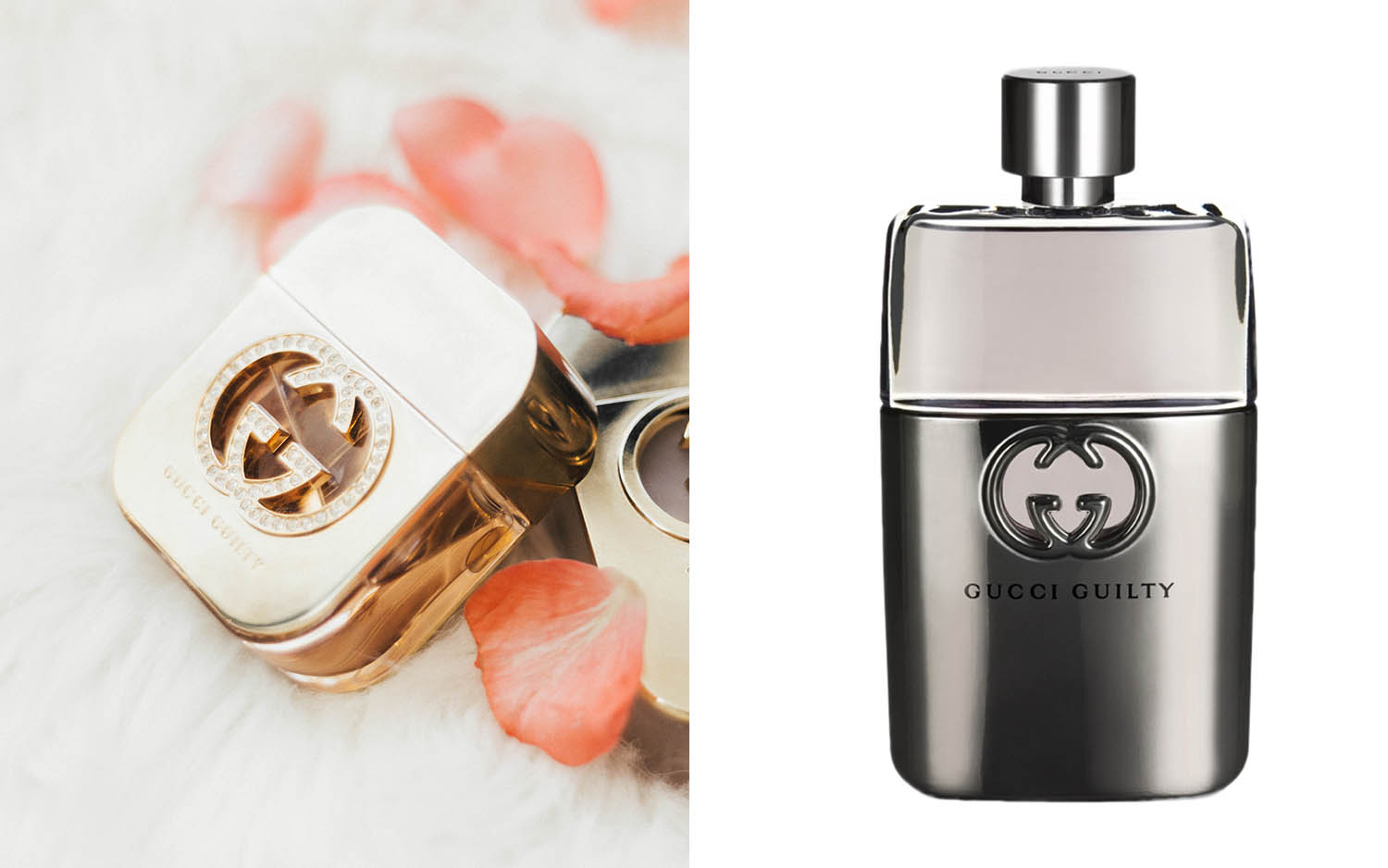 Here are two timeless classics that are just as hot now as 50 years ahead (I bet). Gucci Guilty EdT and Gucci Guilty pour Homme EdT is the cherry on top for hot dates, parties, and glamorous nights. They are luxurious, spicy, and exciting.
Gucci Guilty for her is a warm, romantic, sexy and, oriental floral fragrance where enjoyment is at the center. The fresh notes of mandarin mingle with a cool mix of peach, lilac, pink pepper, amber, and patchouli (the latter is characteristic of Gucci's fragrances).
Gucci Guilty pour Homme is the aromatic companion of the popular female edition. This is a truly sexy, and captivating alpha male scent. Refreshing lemon and orange blossoms are mixed with notes of lavender, crushed green leaves, and warm woody accords of cedar and patchouli.
The fragrances are amazing on their own, but together they will blow you away.
2. Terre d´Hermès & Jour d´Hermès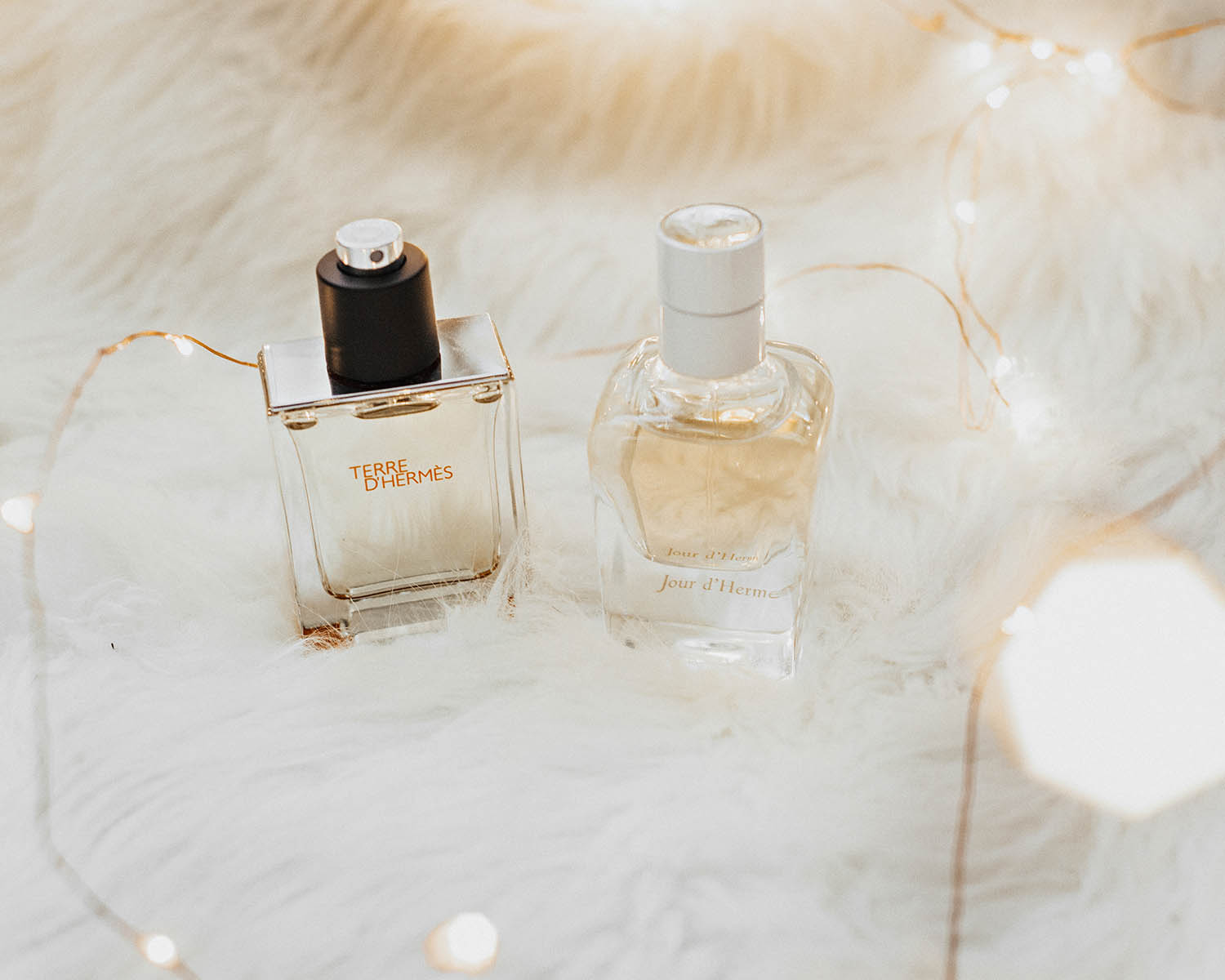 For the couple looking for a VERY masculine and feminine fragrance, Terre d'Hermès EdT and Jour d'Hermès is the answer. It's luxurious, velvety, and sensual scents that enhance your self-confidence.
Terre D'Hermès is a masculine and earthy fragrance, built around wooden notes. It can feel "too much" at first but develops into a cozy and mature scent. Imagine a mix of whiskey nights, crackling fires, rainy fall days, and forest walks – all gathered in a bottle.
Jour d'Hermès is a HEAVENLY floral fragrance for women. It is like a white flower bouquet with sensual gardenia and Arabic jasmine combined with lemon, grapefruit, musk, and woodsy notes.
1. Hugo Boss The Scent Intense for her & him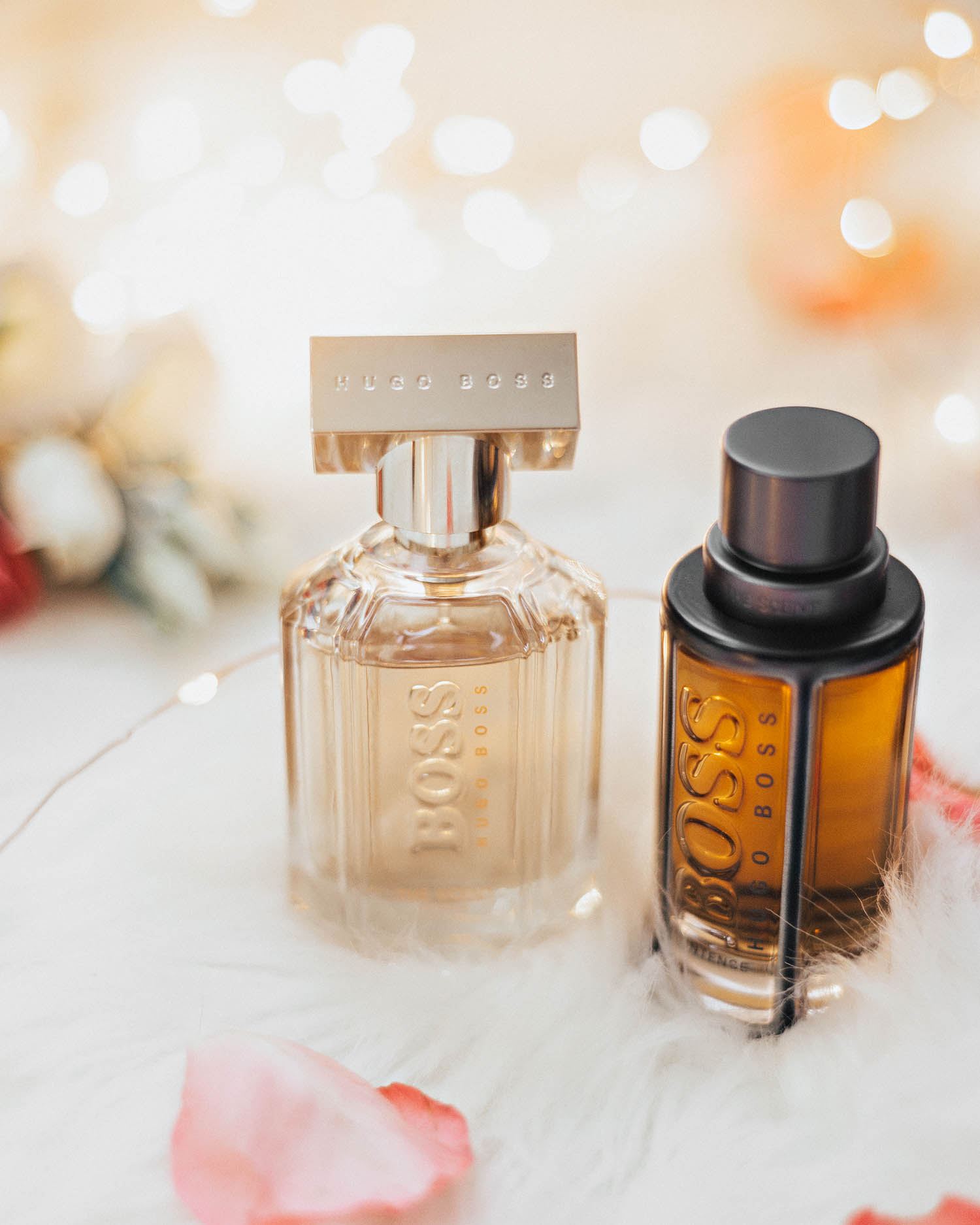 The perfumes we are obsessing most over right now is Hugo Boss The Scent Intense for her and The Scent Intense for him. Intense is an updated and more intense version of our former favorite, The Scent. The fragrances are memorable, seductive, casual, elegant, chic, and sexy at the same time.
What we also love about those fragrances is that they are perfect for ANY occasion. Day as night. Party as a business meeting.City break as a staycation. Summer as winter.
The Scent Intense for Her is a wonderful EdT with honeyed peach, captivating oriental osmanthus absolute, roasted cocoa beans, and vanilla. The Scent Intense for him is an addictive fragrance with spicy notes of green cardamom, combined with exotic Maninka fruit (which reportedly has aphrodisiac powers), leather notes, and vanilla.
Do I need to say more? This is like 50 Shades of Gray in fragrance form.
---
On Pinterest? Pin these for later!
What's your favorite fragrance couple? We would love to know in a comment!
Shop the post