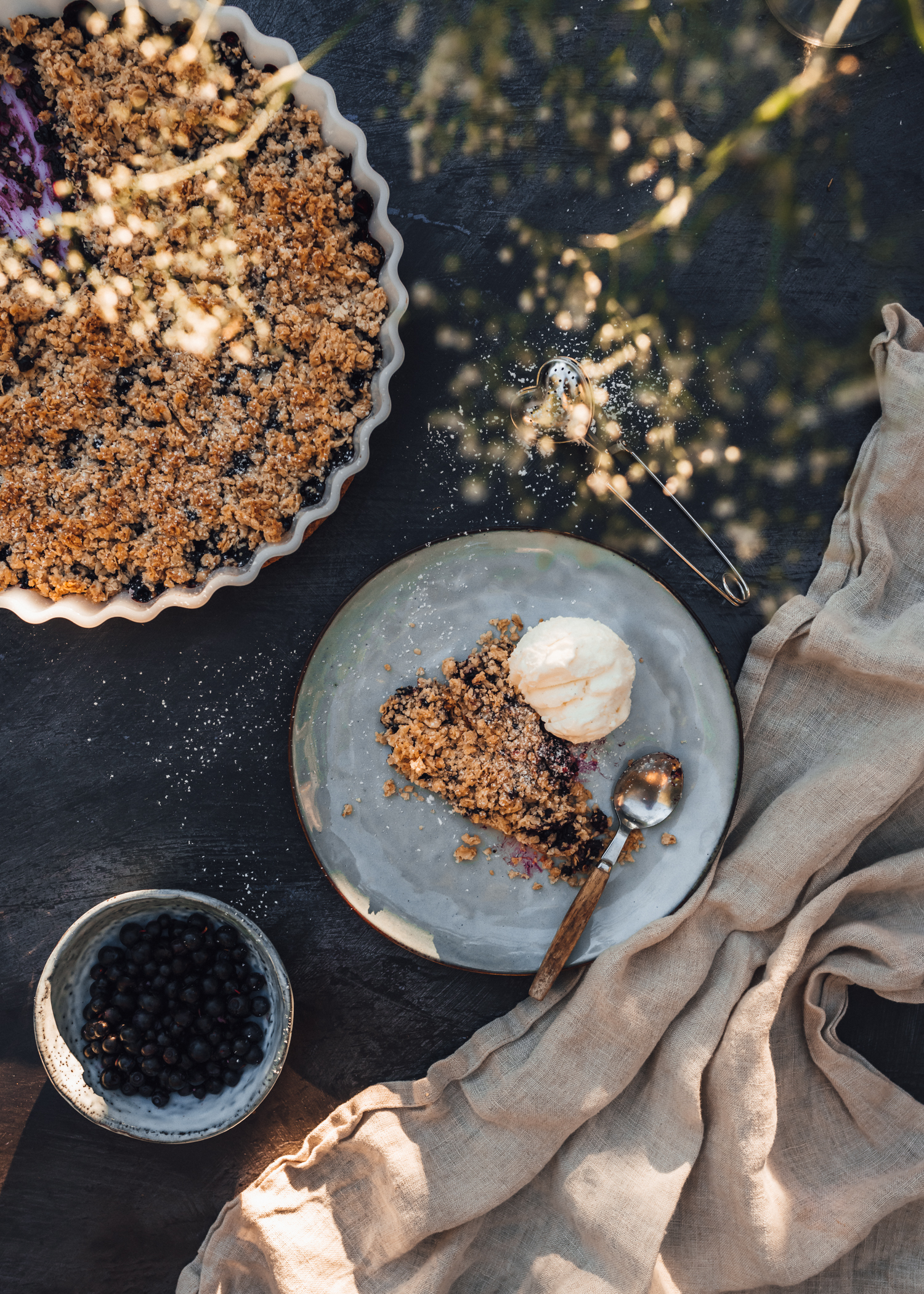 A traditional Swedish recipe with a new vegan twist. This blueberry crumble pie is the perfect "fika." It tastes like summer, is easy to make and insanely delicious.
I've recently moved back to my home city, Umeå, in the north of Sweden. One thing I did every year while growing up was picking berries. Now, when nature is my neighbor again, I took the opportunity to head out into the woods and pick all the cloudberries and bilberries I could find.
This is the first recipe I've made this year with blueberries. I only used ingredients I had in my pantry and think the vegan blueberry crumble pie turned out to be absolutely mouth-watering. So I just have to share this recipe with you.
Serve the blueberry pie lukewarm with a lightly whipped oat cream, vanilla sauce or vanilla ice cream.
About this Vegan Blueberry Crumble Pie
Crumble pie is a typical Swedish summer dessert. We call it "smulpaj," and it's one of the easiest, fastest, and most delicious desserts you can toss together and flavor according to the fruits and berries of the season. If you don't have blueberries at home, you can swap it for seasonal apples, raspberries, rhubarb, or anything else you have at hand.
Traditionally, we use butter or margarine in our crumble pie. You just need to use milk-free margarine to make it vegan. However, I had coconut oil at home and used that instead of butter in this recipe (that is the vegan and not-so-traditional twist). And it was a success! The hint of coconut really makes this recipe even more summery.
The pie is wonderfully juicy, not too sweet, and crunchy on the surface. If you want it to be even more crispy and crunchy, you can add more sugar to the crumble.
I think this one turned out sweet enough, or "lagom," as we say in Sweden (it means not too little, not too much).
The blueberry crumble pie is actually so yummy that it's almost impossible to eat just one serving.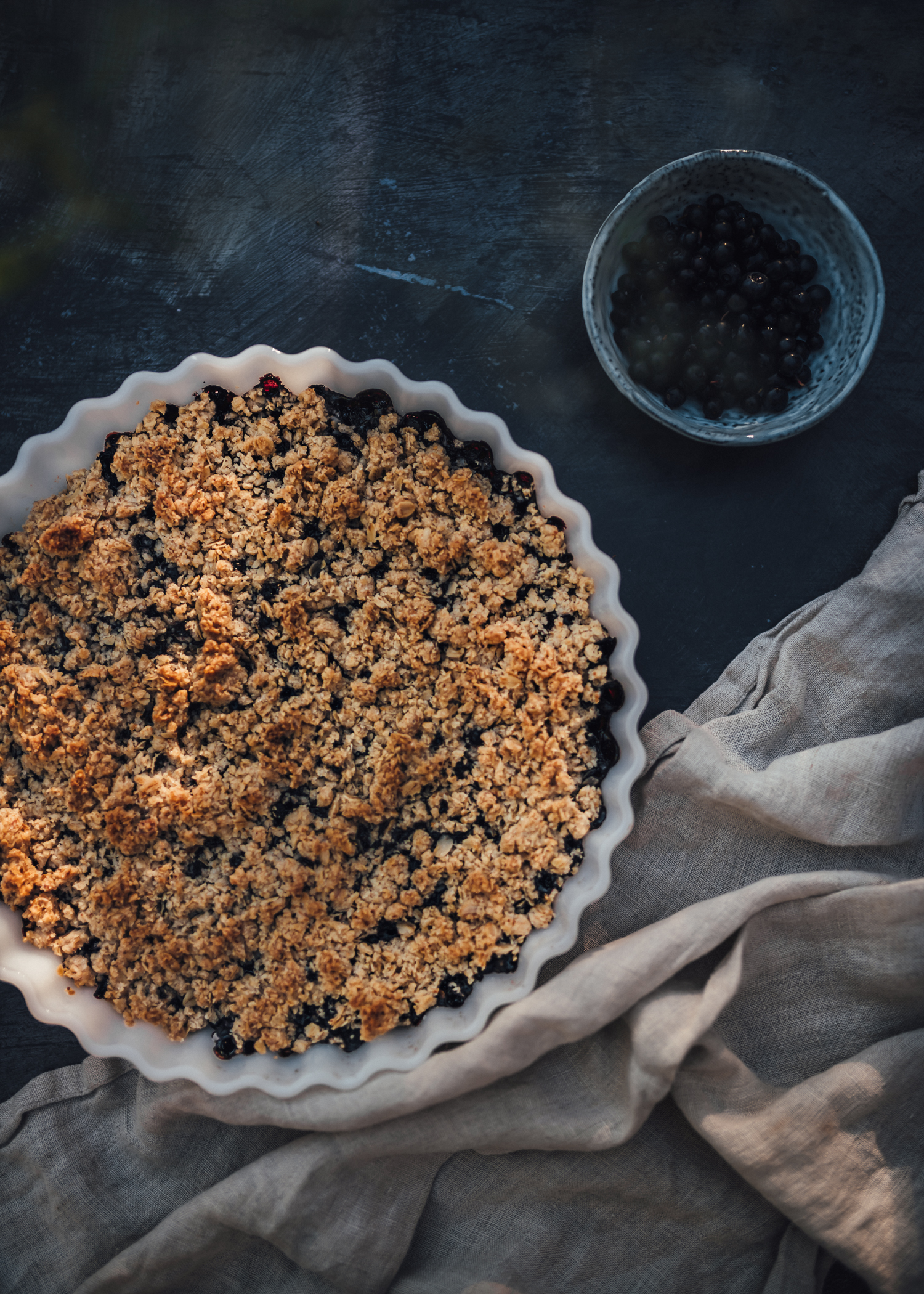 Bilberry vs. Blueberry
If you are in the U.S, you might notice that the blueberries in my photos look slightly different. It's because it's bilberries. The bilberry and the blueberry are closely related cousins and, outside of the U.S, we often refer to the bilberry as a blueberry. Blueberries, however, are native to the United States, whereas bilberries are native to Northern Europe and certain parts of North America and Asia.
But to make it easier, I just call my bilberries blueberries.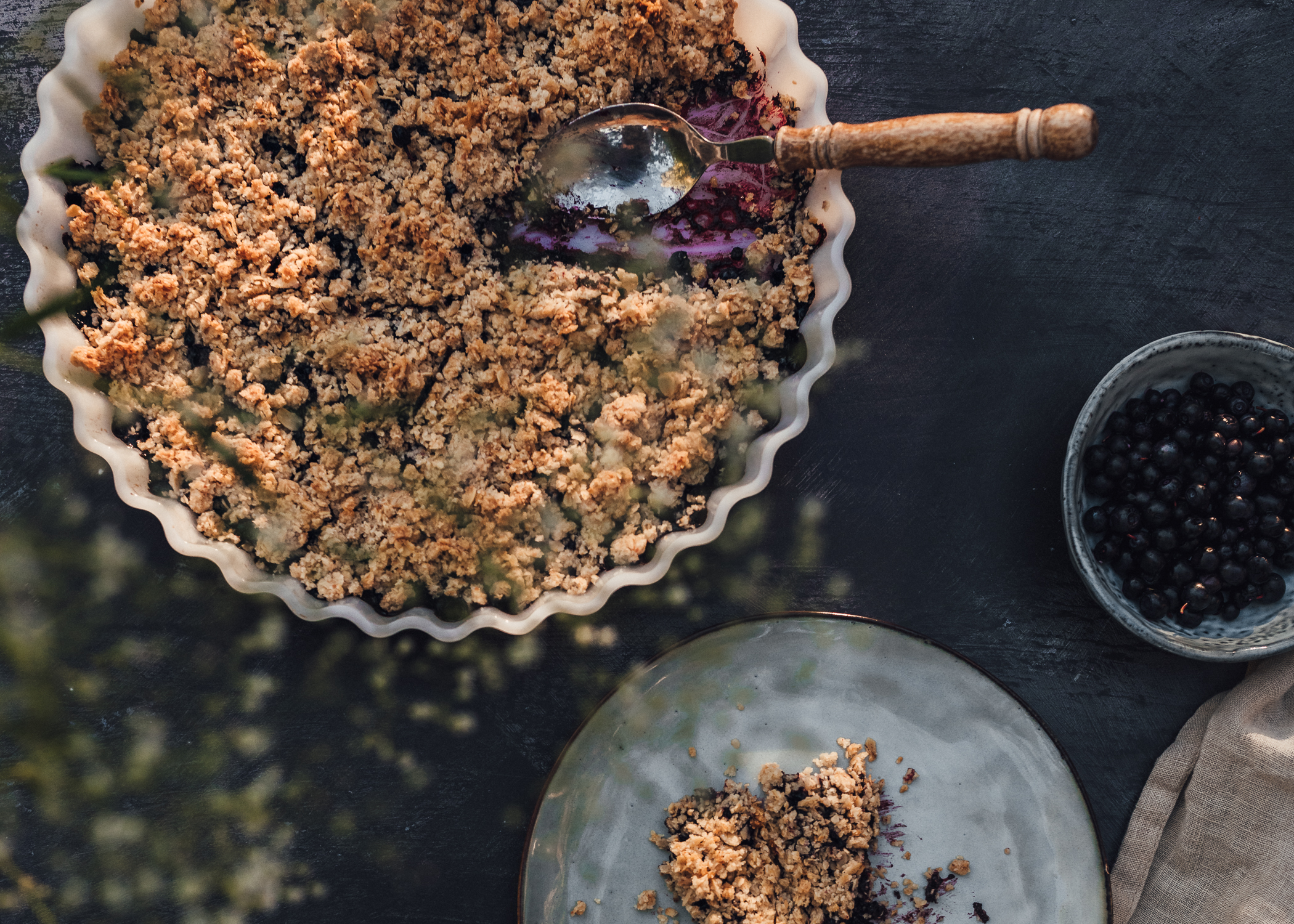 Fresh or Frozen Blueberries?
Obviously, it's most delicious to use fresh blueberries. If you have the opportunity, go out into the woods and pick, rinse and clean the fresh berries before putting this lightly baked pie together. It's so worth it! Especially if you can pick enough to freeze blueberries and enjoy that small piece of summer on a dark and cold winter day.
But you can just as well bake this blueberry pie with frozen blueberries. An important thing to keep in mind, though, is that frozen blueberries release more liquid when they thaw. A tip is to use more potato starch to absorb the excess liquid.
Tips and variations for this vegan blueberry pie
Make the blueberry crumble pie gluten-free by replacing the all-purpose flour with a gluten-free flour mix and the oatmeal with gluten-free oatmeal.
Crumble pie is perfect to serve in small portion forms. It's a cute way to serve the dessert instead of using a pie tin.
Add some lemon juice and lemon zest to the blueberry filling for a fresh touch.
Put in a few pieces of white chocolate just before baking this pie for a dreamy taste combination.
If you don't have blueberries at home or want to mix with other berries, just replace them straight away. Or combine the blueberries with raspberries for a delicious Queen's pie.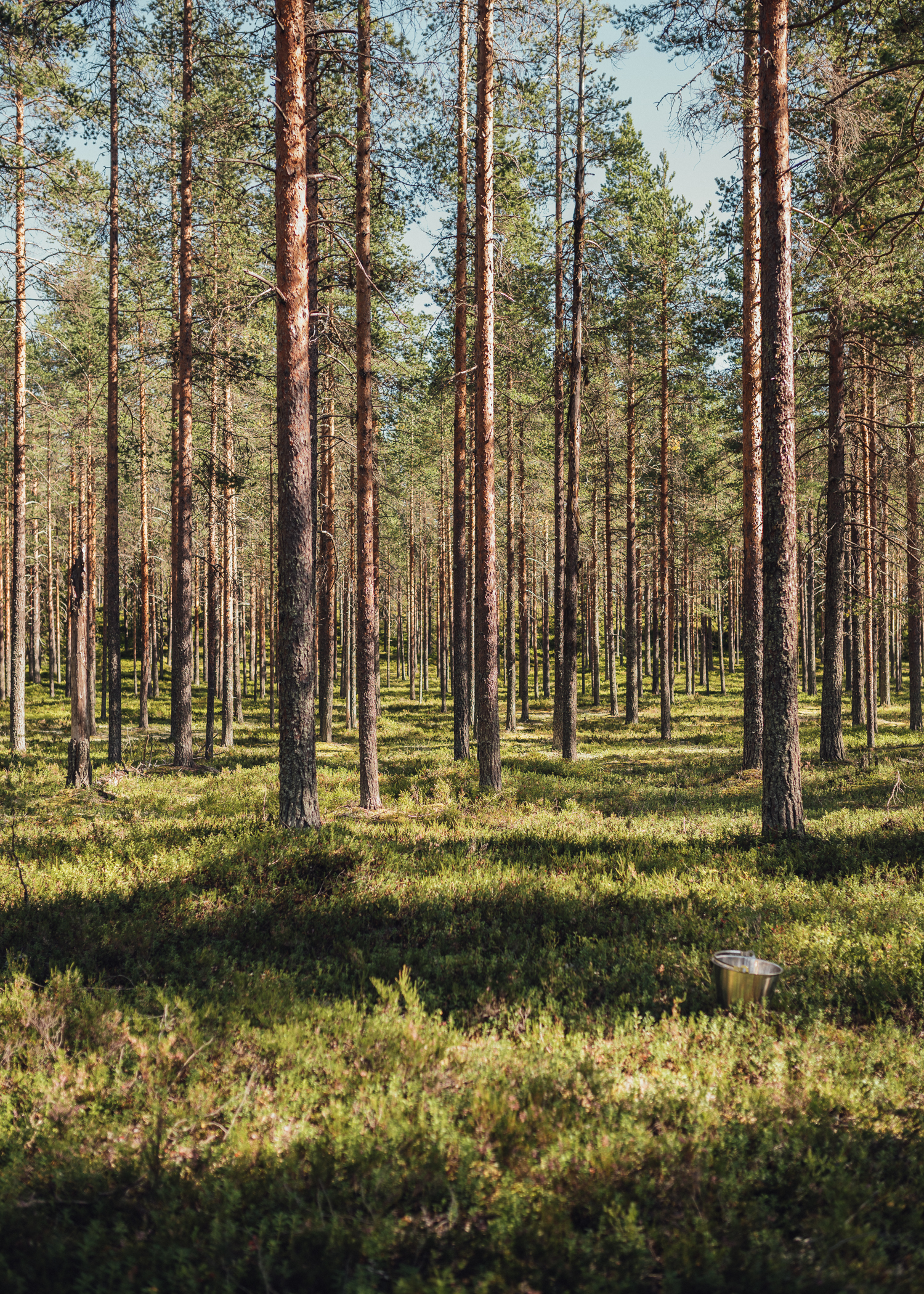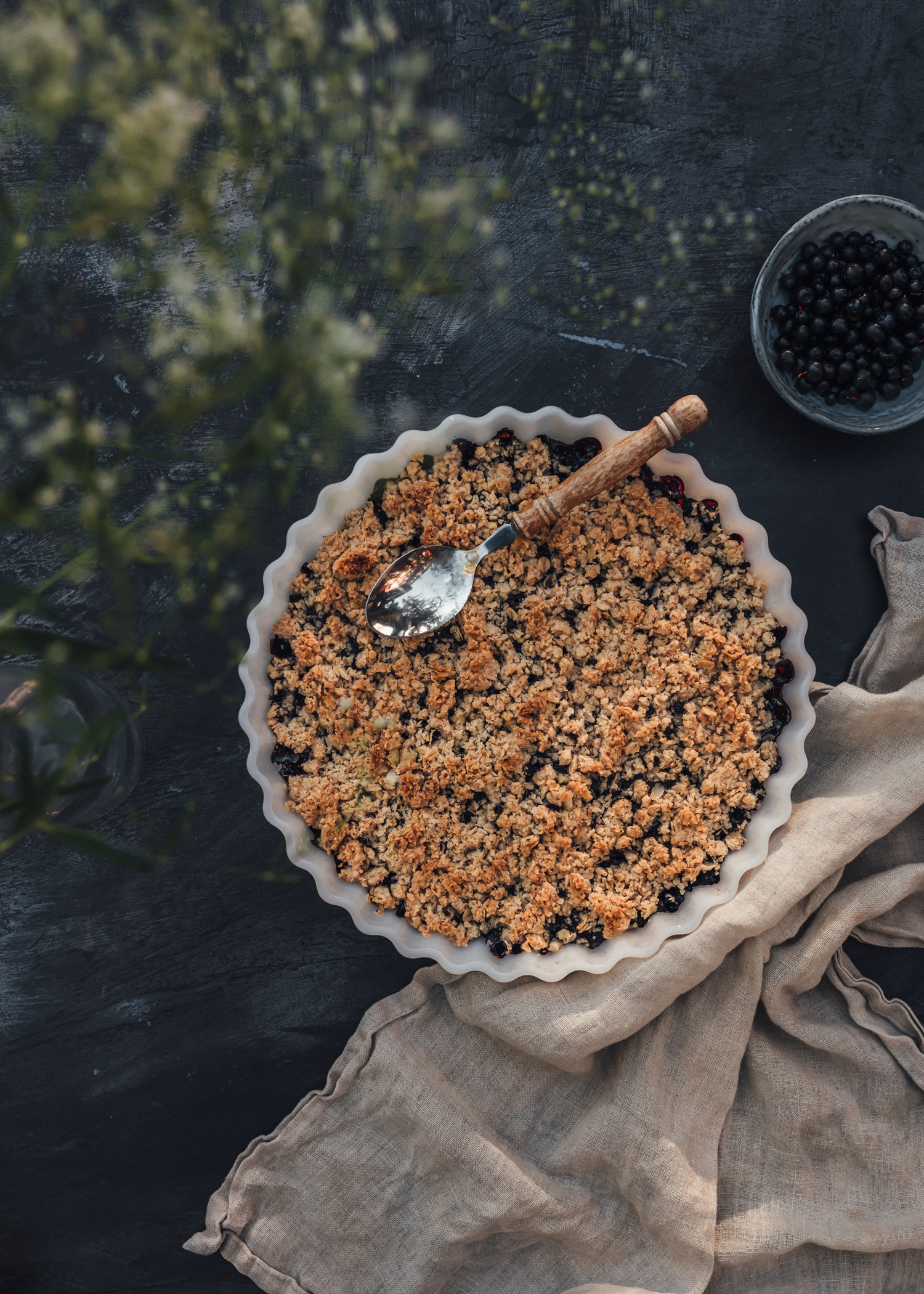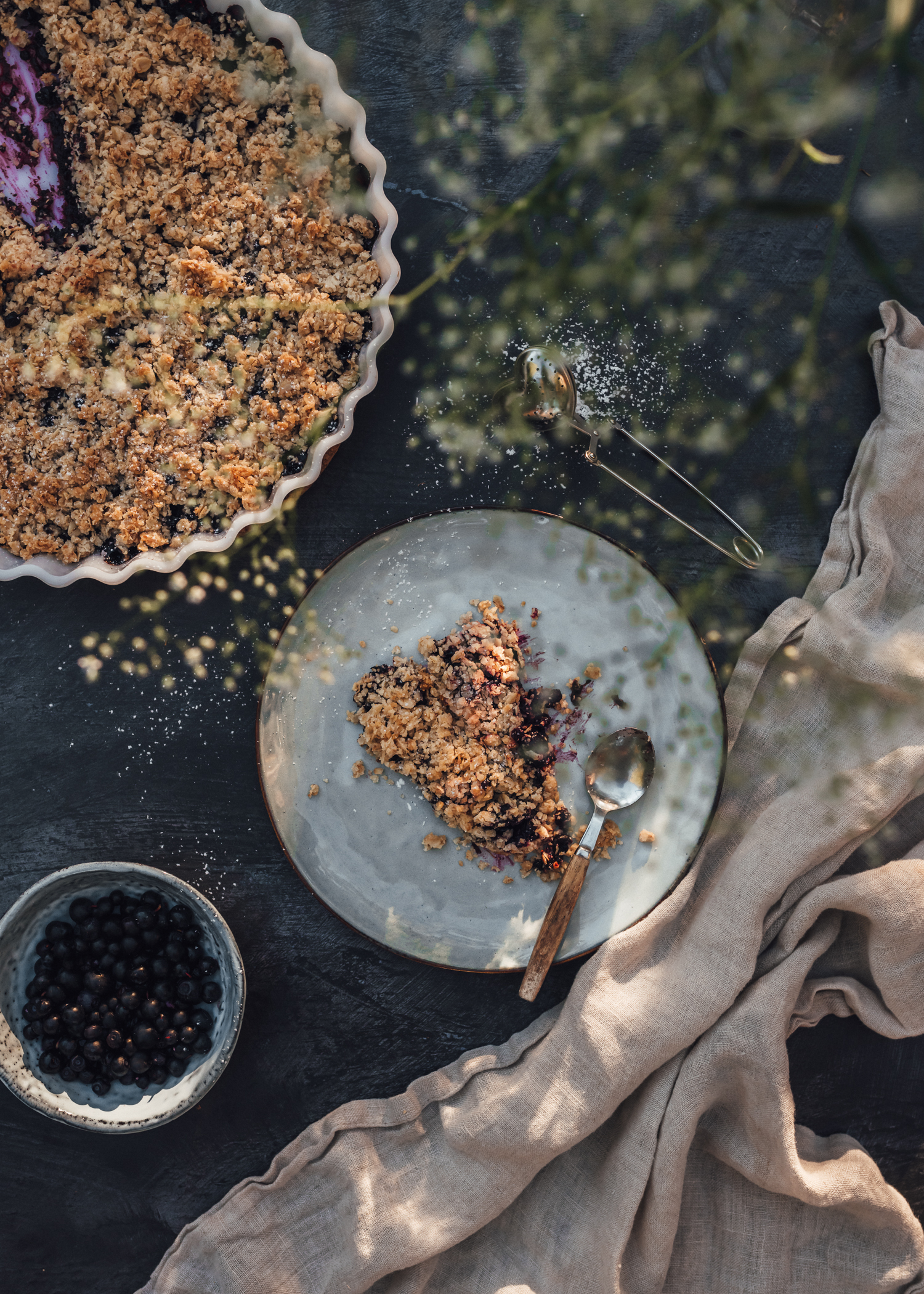 Serving suggestions for the vegan blueberry crumble pie
Traditionally in Sweden, we serve the crumble pie with vanilla sauce, whipped cream, or vanilla ice cream. To this vegan recipe with coconut oil, I also think it would be delicious with some extra shredded coconut on top.
Whipped oat cream with 1 tbsp sugar and 1 tsp vanilla sugar
Vegan vanilla cream or vanilla sauce
Vegan vanilla ice cream
Shredded coconut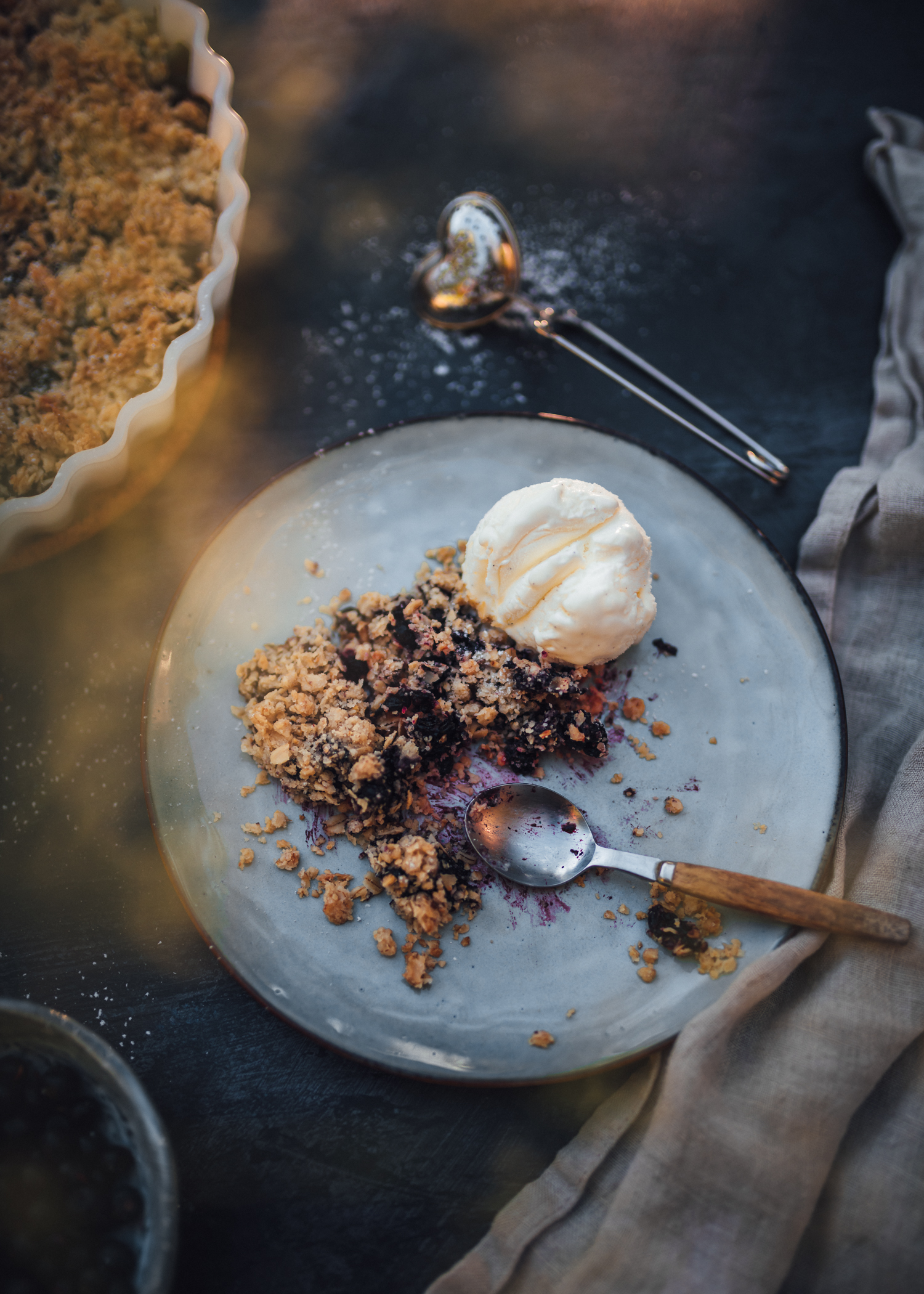 If you can avoid eating everything at once, this blueberry pie is also super delicious after having been a night in the fridge. Try serving it cold with a warm vanilla sauce. Heavenly!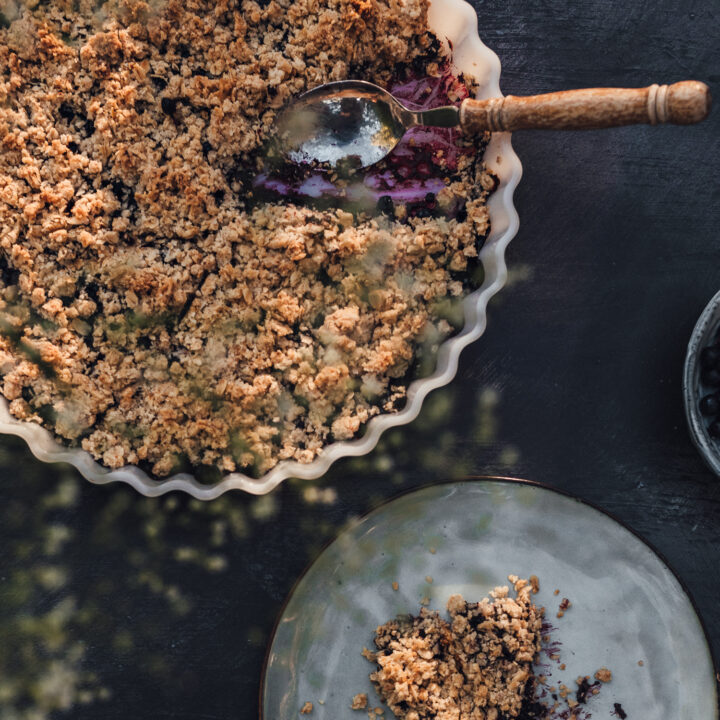 Vegan Blueberry Crumble Pie
Yield: 6-8 portions

Förberedelse: 10 minutes

Tillagningstid: 35 minutes

Total Time: 45 minutes

A traditional Swedish recipe with a vegan twist! This crumble pie has a fresh and juicy blueberry filling and a crisp, flaky crust.
Ingredients
The Blueberry Filling
2 cups blueberries
1 tbsp sugar
1 tbsp potato starch
Crumble Topping
1 ¼ cup oatmeal
½ cup all-purpose flour
⅓ cup sugar
1 tsp vanilla extract
1 tsp baking powder
½ cup coconut oil
Instructions
Preheat the oven to 400°F (200°C).
Spoon the blueberries into a pie tin and mix with potato starch and sugar.
Mix all the dry ingredients to the crumble topping in a bowl. Add the coconut oil and pinch everything together into a crumbly dough.
Spread the crumble topping evenly over the blueberry filling.
Bake in the middle of the oven for 35 minutes or until the pie crust has some golden color.
Store leftovers in the refrigerator.
Nutrition Information:
Yield: 6 Serving Size: 1
Amount Per Serving: Calories: 323Total Fat: 19gSaturated Fat: 15gTrans Fat: 0gUnsaturated Fat: 2gCholesterol: 0mgSodium: 85mgCarbohydrates: 36gFiber: 2gSugar: 18gProtein: 3g

Read also:
In it to pin it? Save this vegan blueberry crumble pie for later!
If you try this vegan blueberry crumble pie, please leave a comment and share your thoughts about this recipe. Also, if you share a photo on Instagram, please tag @adaras and #adarasblogazine so I can give your post some extra love!