These delicately spiced vegan cardamom rolls are a sight to behold. They are excellent for any "fika" and marry perfectly with a cup of coffee or tea.
As you might now, we love to eat cinnamon rolls in Sweden. Traditionally we use cinnamon and sugar in the buns and sprinkle the rolls with pearl sugar. This recipe, however, is a delicious take on our favorite sweet bread.
Enjoy them warm, fresh from the oven, and thank us later! ♥
Recipe: Vegan Swedish Cardamom Rolls
Ingredients

Yield: around 24 rolls

60g lukewarm dairy free butter butter
3 1/4 cups all-purpose flour
1 1/4 cup oat milk (or other plant-based milk*)
1/4 cup sugar
25 g fresh yeast / 8 g instant yeast
flour to the baking
1/2 tsp salt

Cardamom filling

60g dairy free butter
3 tsp cardamom
1/4 cup sugar
1 tsp vanilla sugar

Topping

1/4 cup Oat Cream or melted vegan butter
Powdered sugar

*If you can get your hands on the Swedish oatmilk iKaffe – get it! It's really good.
Instructions:
Warm the vegan milk to 100°F (37°C).
In a bowl, add yeast to the lukewarm milk and stir until the yeast has dissolved.
Next, combine sugar, salt, half of the flour, and add dices of the vegan butter. Use your hands to knead the dough. Add the rest of the flour.
Place a towel over the bowl and allow the dough to rise at room temperature for 30 minutes.
Mix all the ingredients to the cardamom filling in a bowl.
Roll out the dough into a rectangle on a lightly floured surface.
Spread the cardamom filling evenly over the dough. Fold the top third down to the middle and the bottom third up, like a business letter, so you have three layers of dough. Cut the dough in even strips and twist each strip into a bun. You do this by twisting each strip away from the center two or three times, then tie the dough in a knot and tuck the ends underneath the bun.
Place each bun on a baking sheet, and let the buns rise for 30 minutes in room temperature under a towel.
Brush the rolls with oat cream or vegan butter.
Bake the rolls in the middle of the oven at 435°F (225 °C) for about 8 minutes, until the cardamom buns are golden brown.
Let the rolls cool down. Sprinkle with powdered sugar before serving.
Enjoy!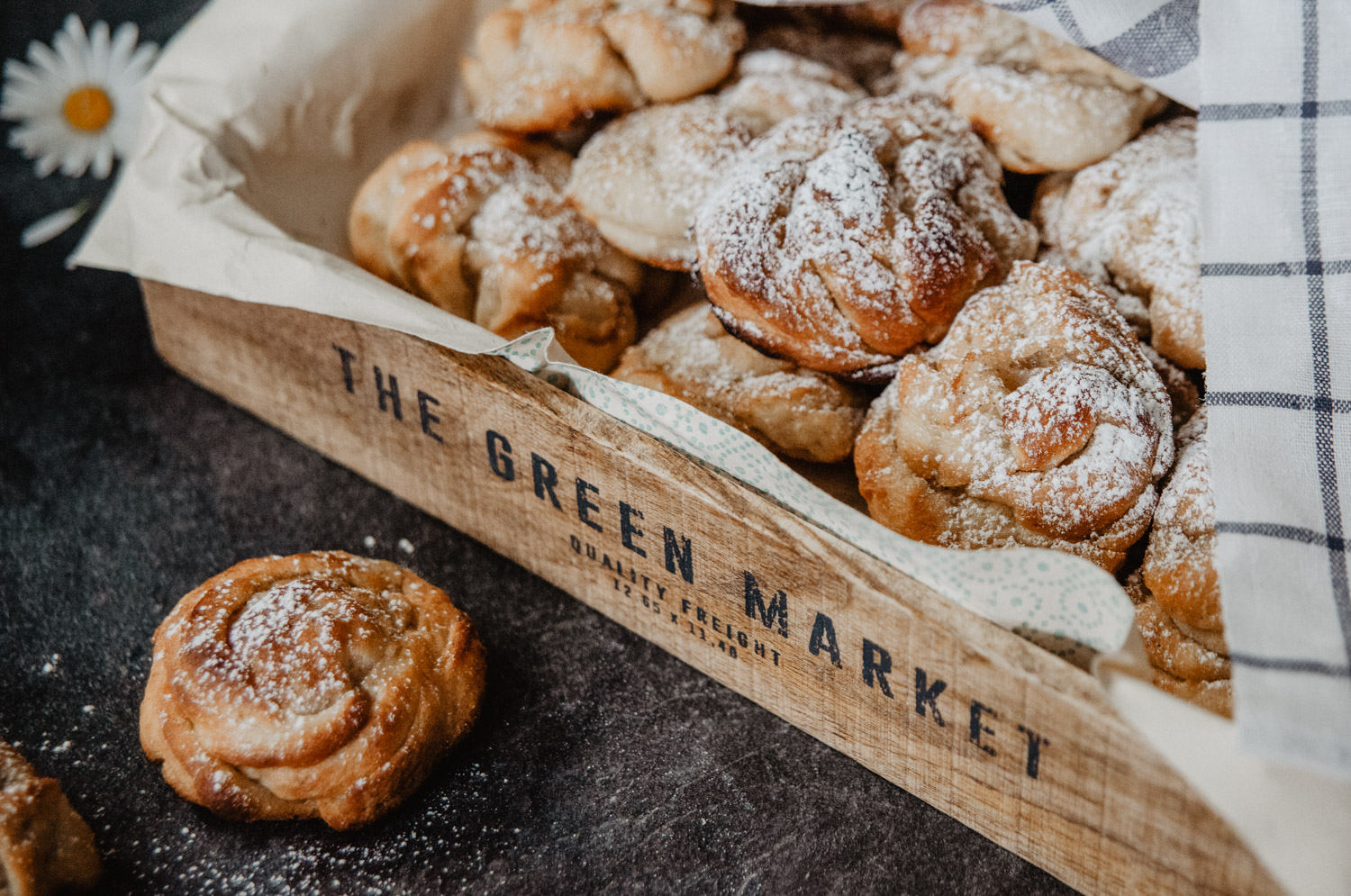 Other vegan recipes you might like: