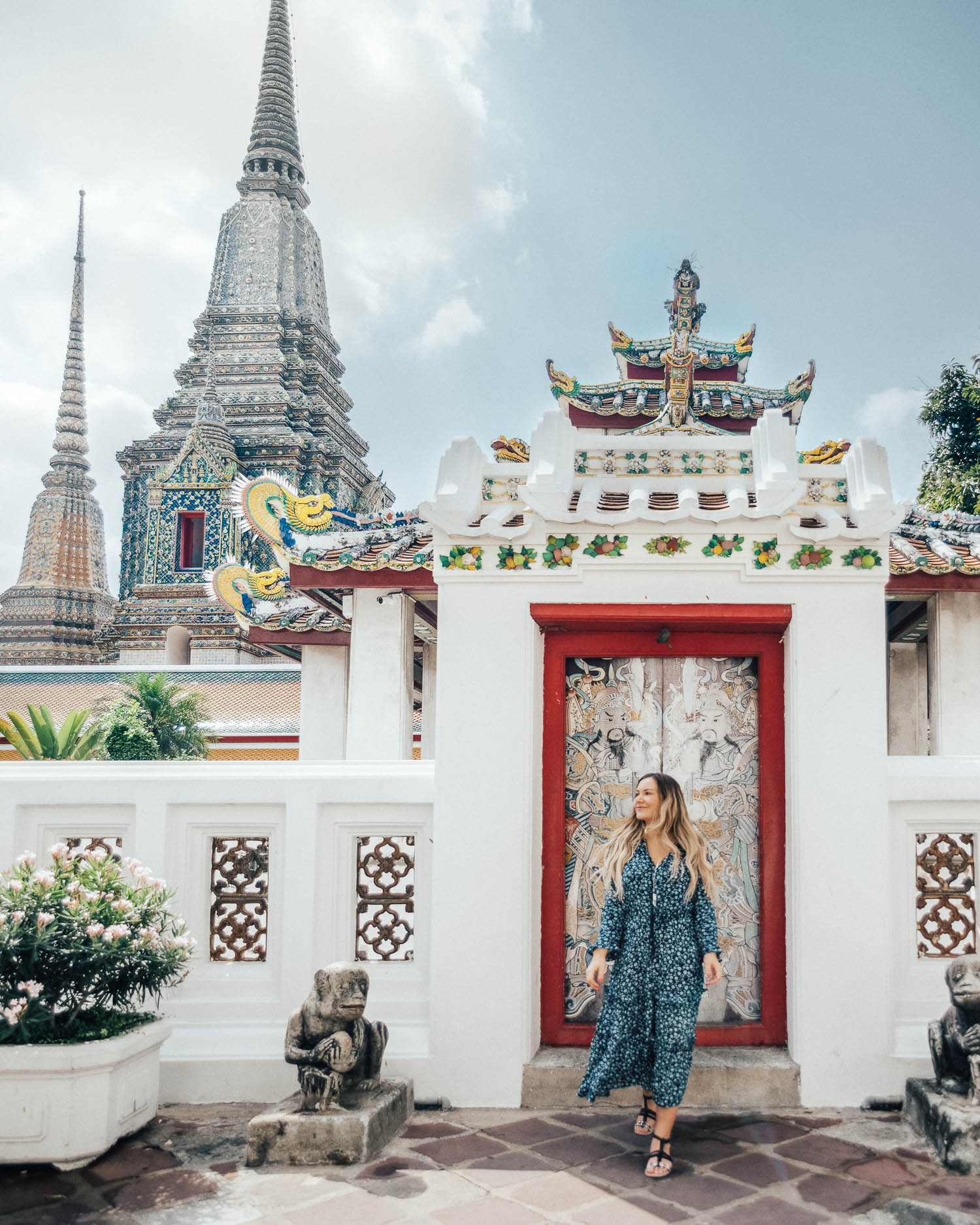 What to wear in Thailand depends on what part of the country you're visiting and what kind of activities you've planned. But here are some general tips for what to pack and how to travel in style.
First of all, don't bring too many clothes to Thailand. It's too fun to shop in Bangkok with all the exciting shopping malls and markets. But do take a pair of comfortable slip in shoes, well-fitting swimwear, lighter-weight maxi dresses and maxi skirts with you.
What should I wear in Thailand?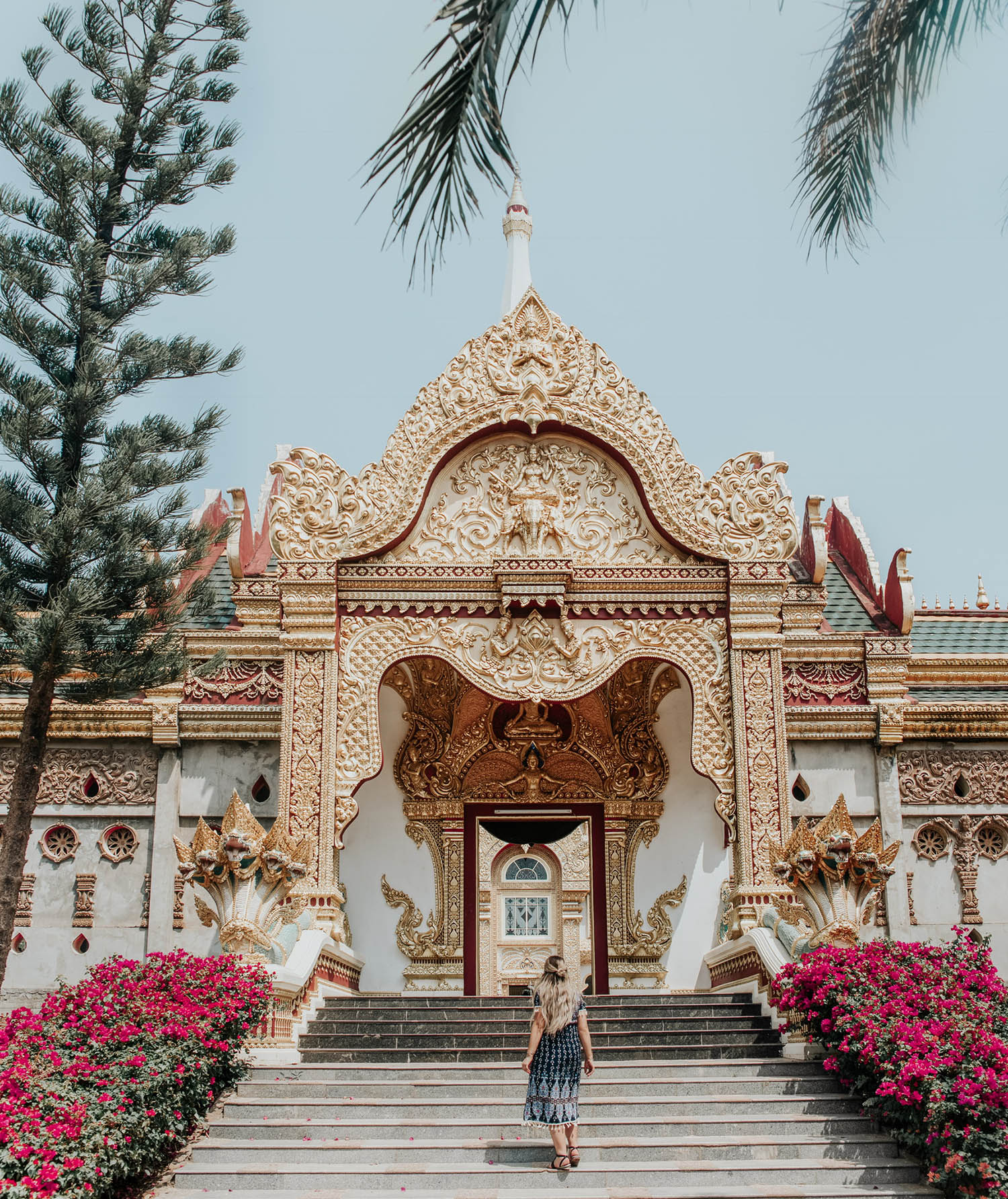 Cover Your Shoulders and Knees When Visiting Temples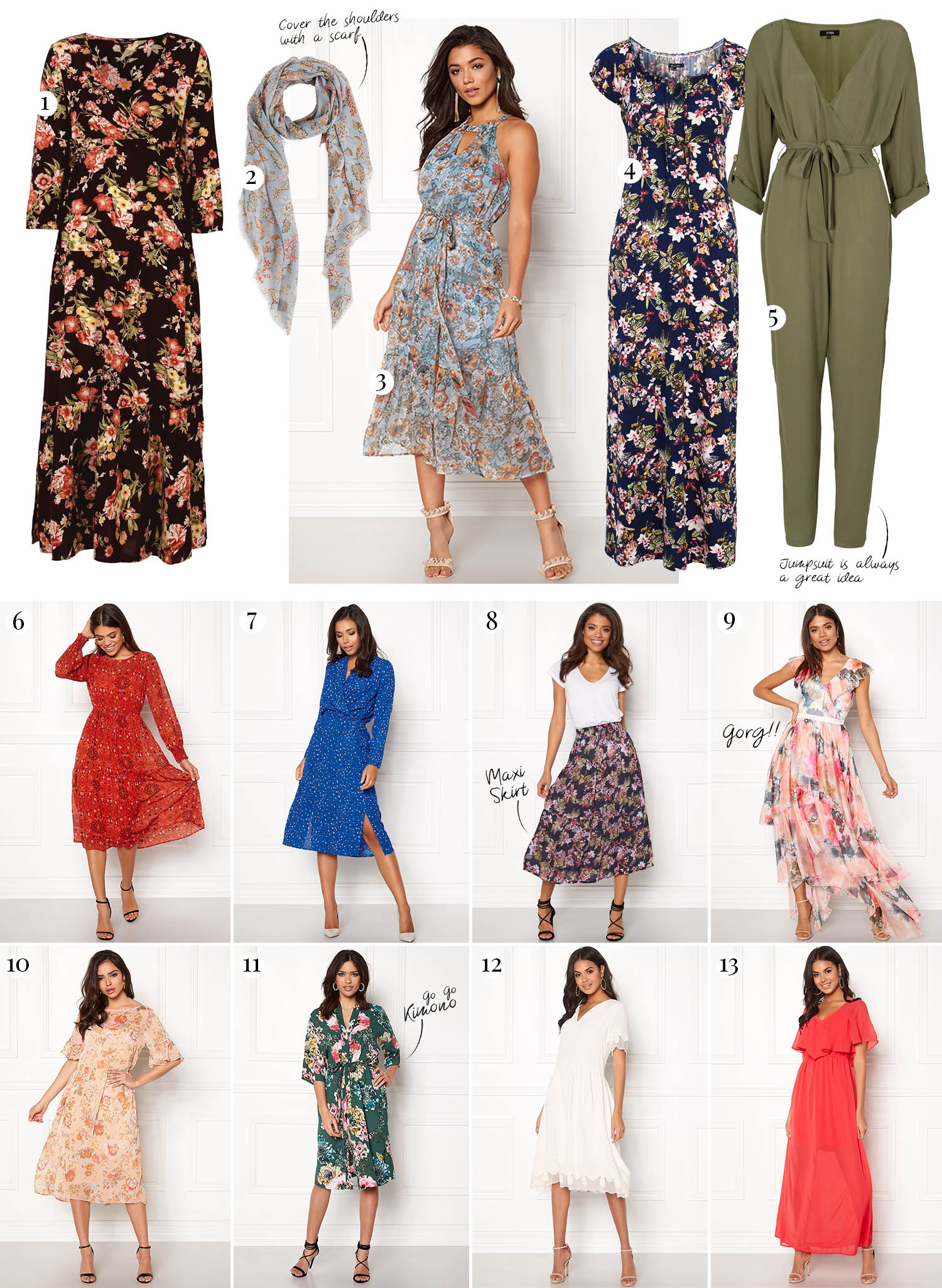 Maxi dresses

1. Floral maxi dress
2. Scarf
3. Floral dress
4. Blue maxi dress
5. Green jumpsuit
6. Red dress
7. Blue dress
8. Maxi dress
9. Romantic maxi dress
10. Peach dress
11. Green kimono
12. White dress
13. Red maxi dress
When visiting temples, religious buildings or government buildings in Thailand, it's compulsory to cover your knees and shoulders. Wear a long-sleeved dress, maxi skirt, and t-shirt, jumpsuit, loose pants or take a sarong with you.
As for me, I can't get enough of maxi dresses. It's not only comfortable but looks so pretty to the many gorgeous temples in Thailand. If you don't have a sleeved maxi dress, you can just bring a scarf and wrap it around your shoulders.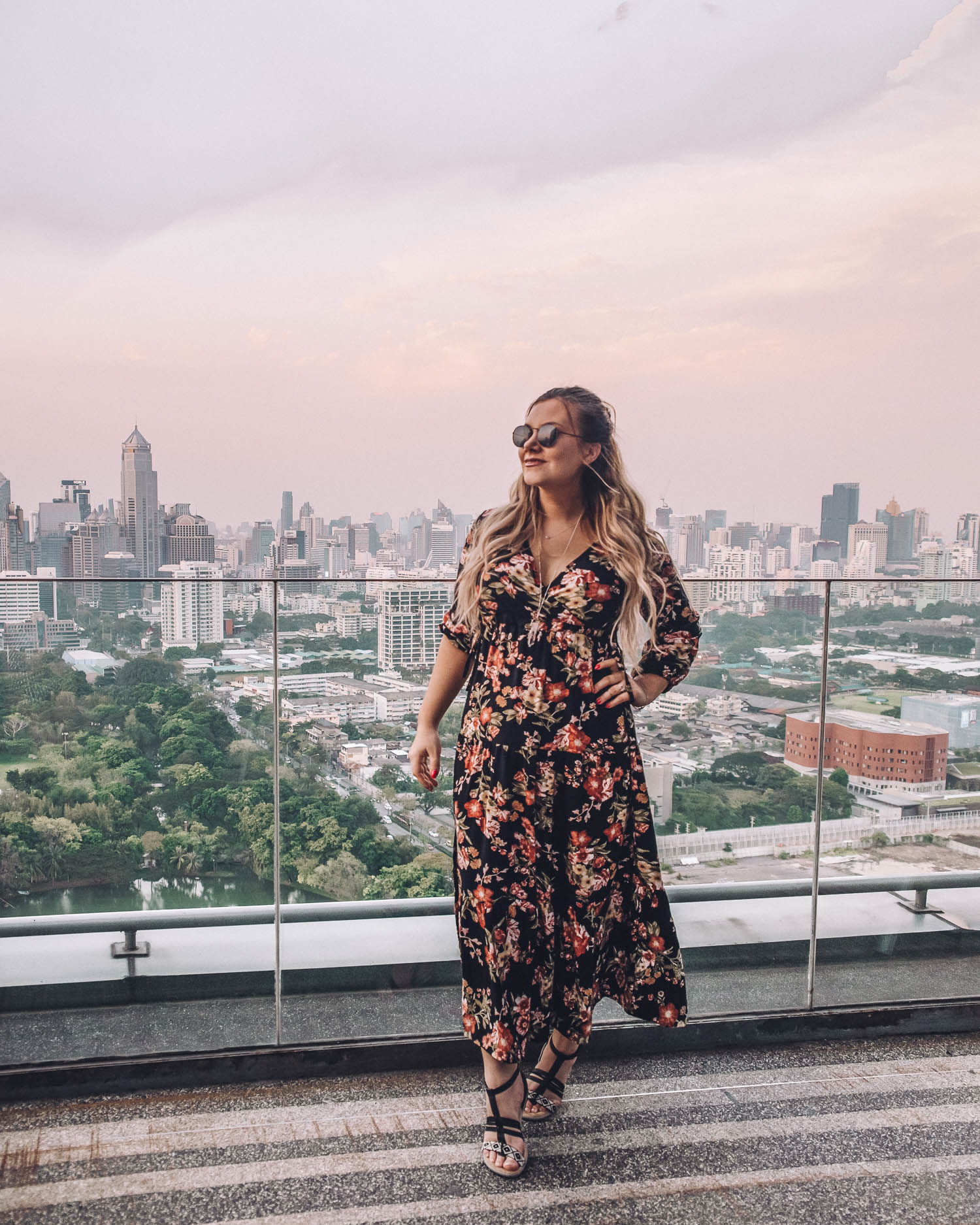 Change Look in Seconds With a Different Kimono
Another great clothing tips for all you Instagram fashionistas is to bring some different colored kimonos. It must be one of the best things you can pack. It doesn't weigh anything and works to everything. Whether you are wearing jeans, a playsuit or shorts – just put on a different kimono and you have an outfit change in seconds (which is fun for photos). On the two photos above I have the same outfit – with the only difference that I switched kimono.
What to Wear on a Fancy Night Out in Bangkok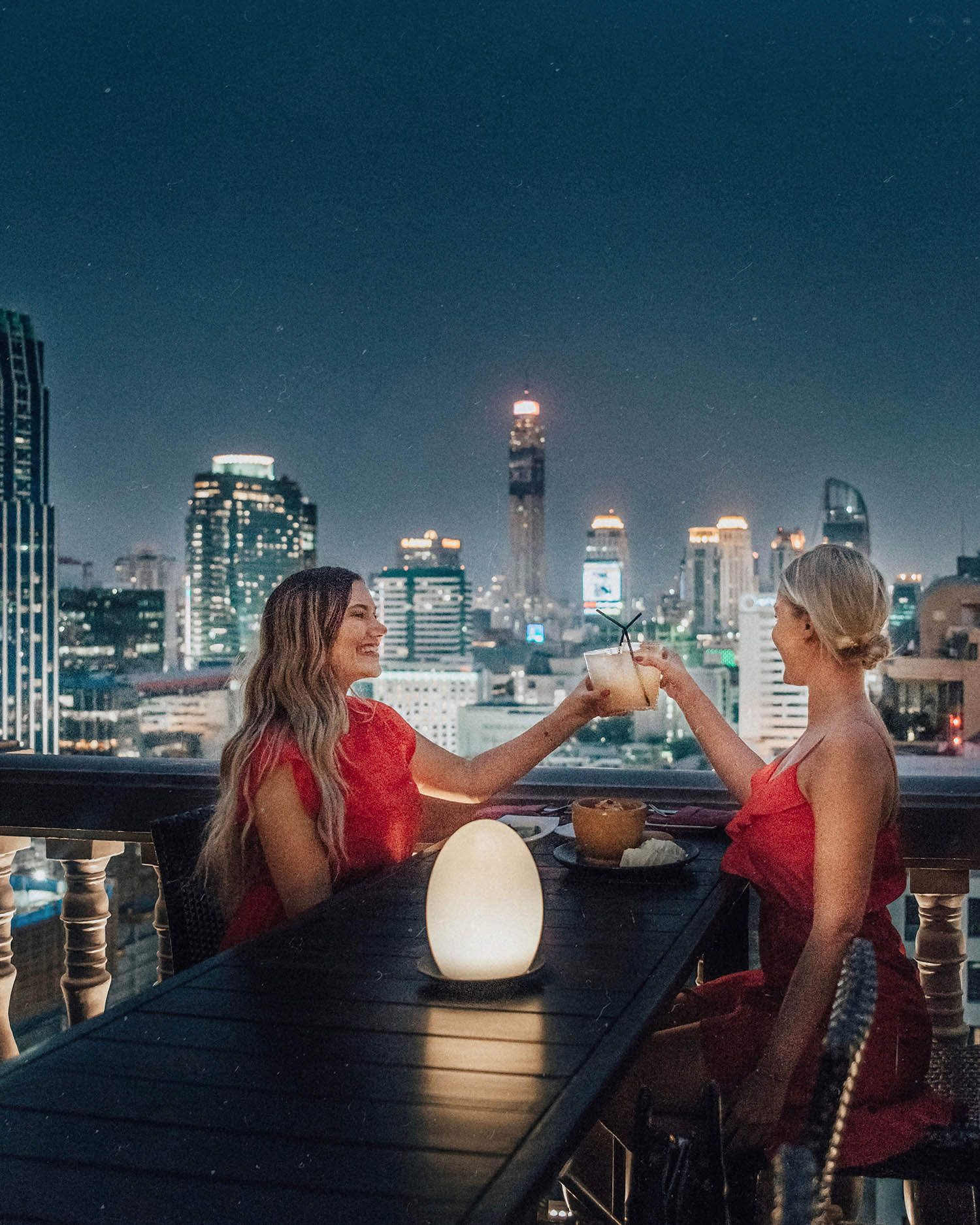 When in Bangkok, I think you need to spend at least one night at an exclusive hotel with a glitzy rooftop bar and fabulous views over the many skyscrapers. As for how to dress, many rooftop bars have a strict dress code. You might not be allowed to wear sleeveless clothes, sneakers or slippers. So make sure to pack for a fancy night out in Bangkok.
It is much appreciated when you put in an effort when fine dining. It shows respect to the owner and personnel.
Explore: Hotels in Bangkok
Bring Shoes That's Easy to Slip-On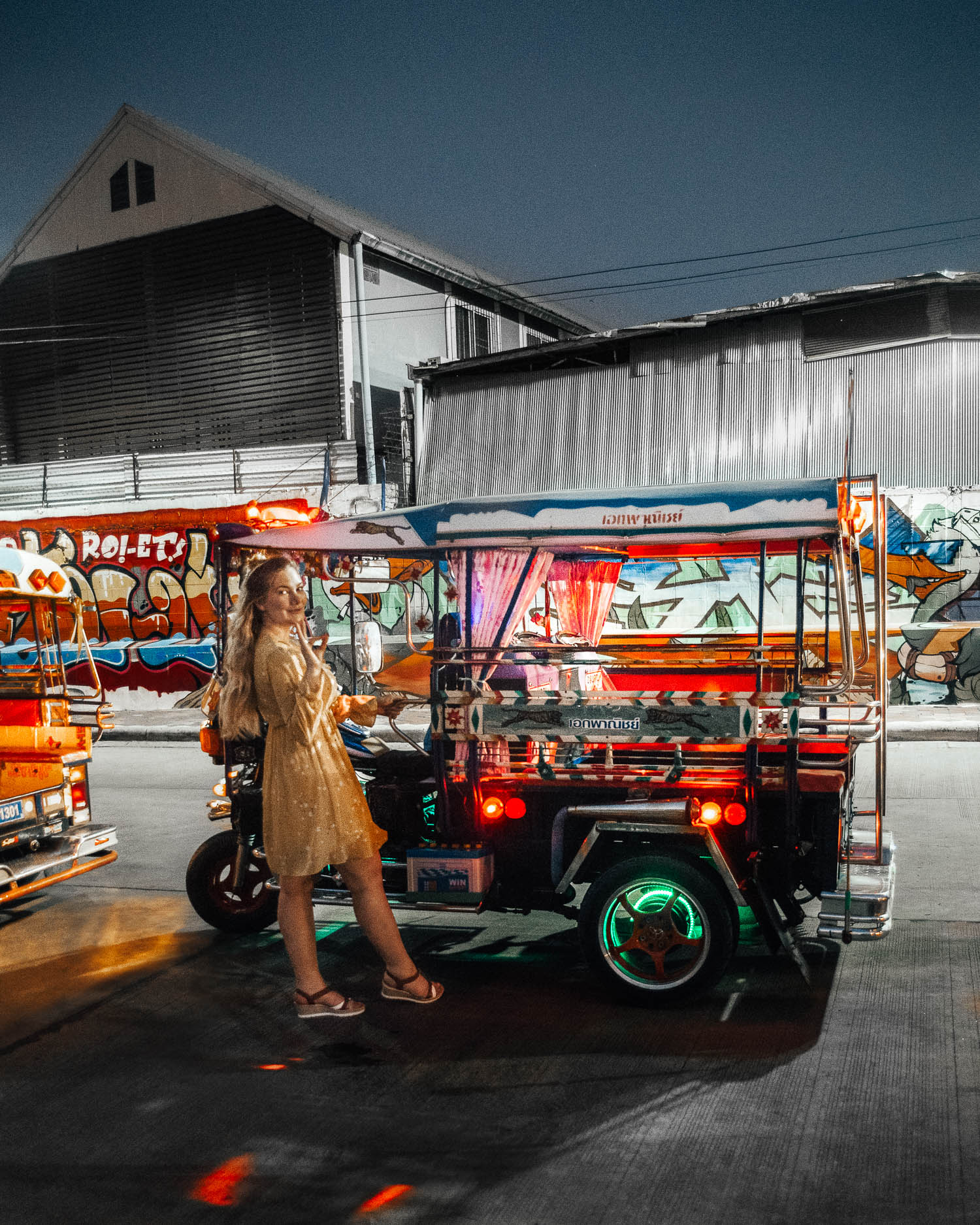 You have to take your shoes off frequently in Thailand, not just for entering a temple or home, but also to go into some cafes, restaurants, shops and massage parlors. Shoes with laces or buckles are not so practical. Opt for at least one pair of slip-ins, loafers, or Havaianas. Shoes that are easy to take on and off are really handy.
I had a pair of strappy boho sandals with me, easy slip-in wedge sandals, slip-on loafers, and heeled sandals for dressier nights out.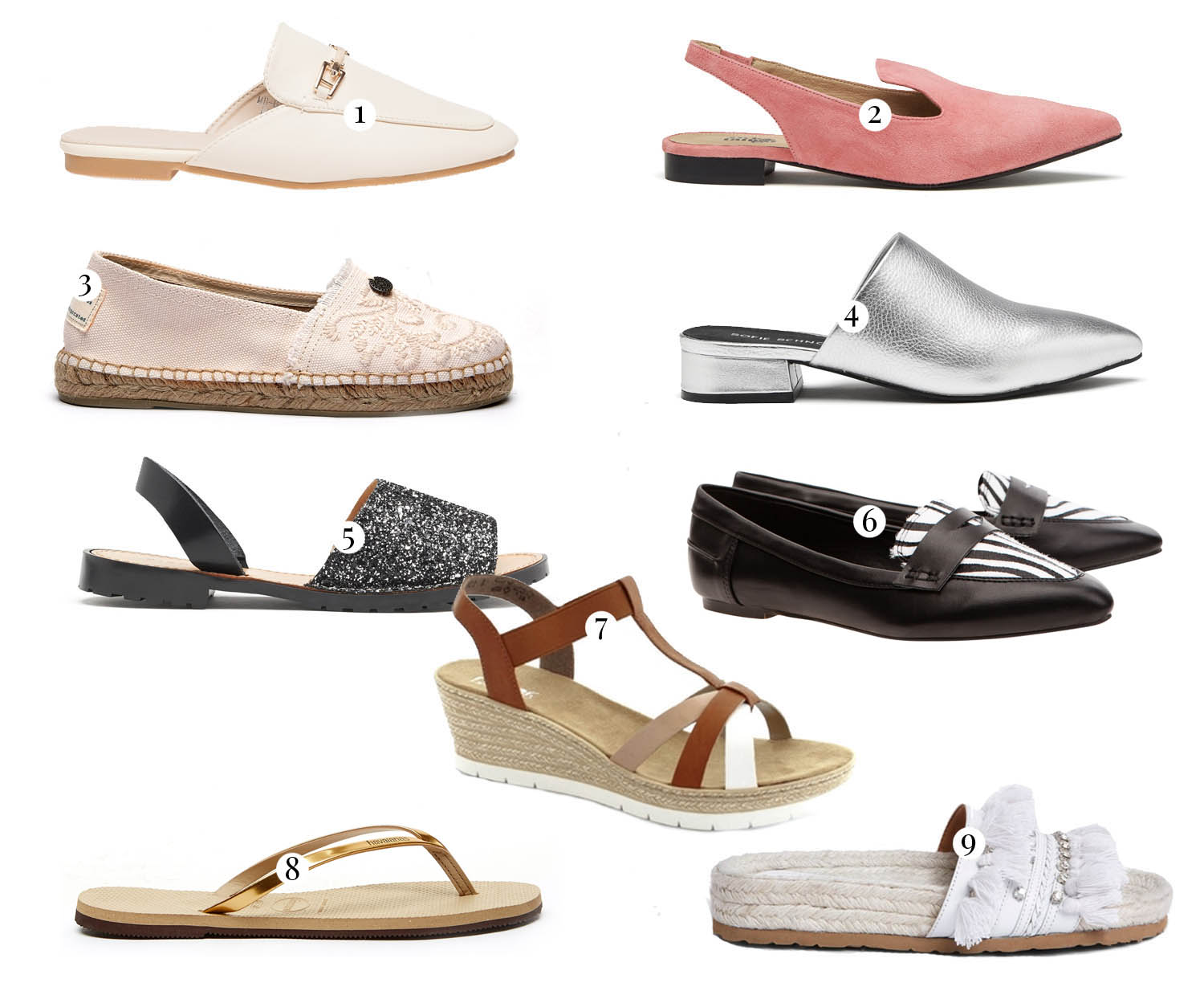 1. Slipin Loafers 2. Pink Slingbacks 3. Espadrilles 4.Silver Slip-ins
5. Glitter Sandal 6. Flat Zebra Shoes 7. Wedge Sandals 8. Flip Flops 9. Tassel Sandal
Bikinis & Swimsuits for Thailand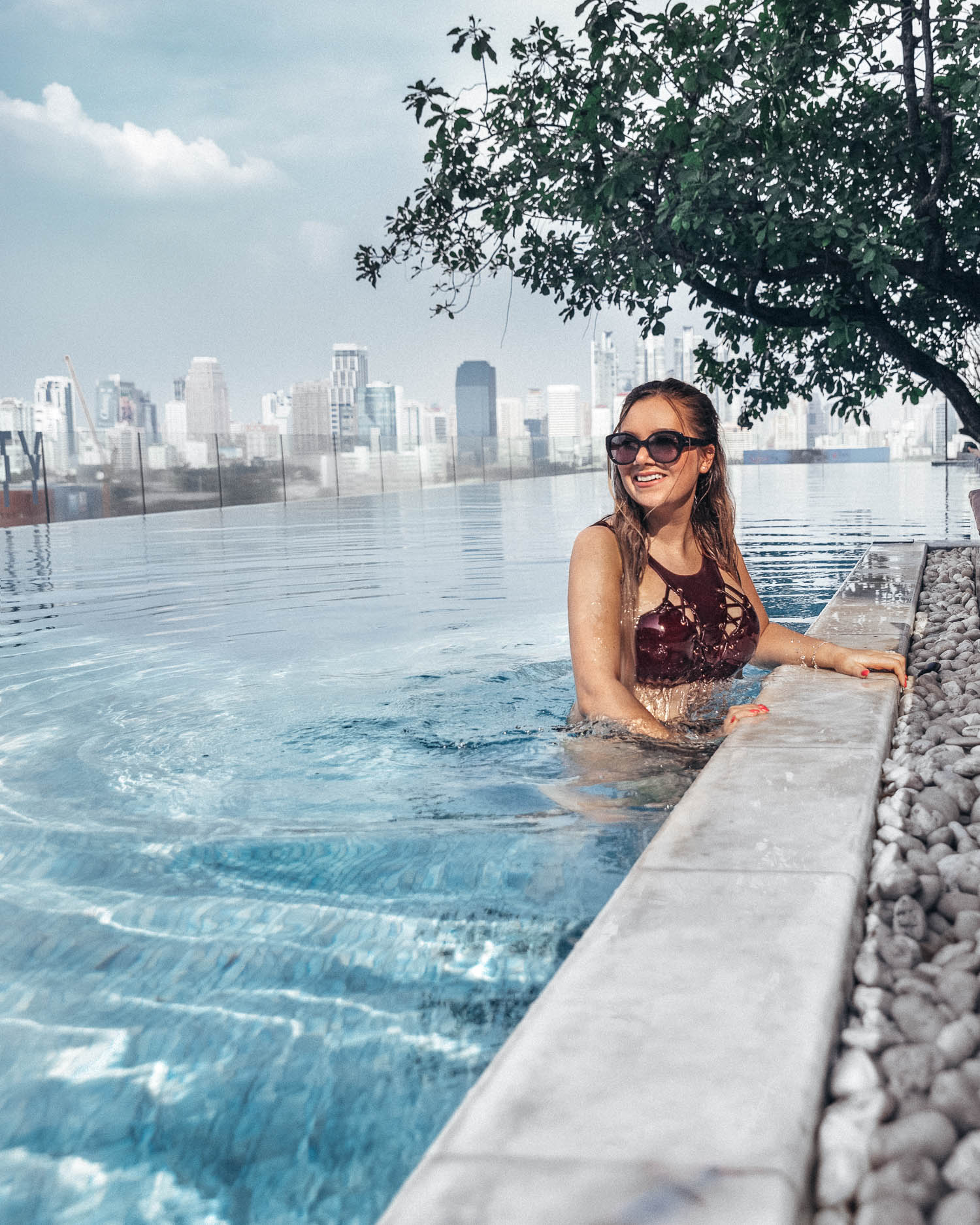 What would a vacation in Thailand be without some beach time (or pool time in Bangkok)? Make sure to pack a couple of pairs of swimwear and bikinis that have a good fit (hey – it's impossible to bring too many!). For a glam look by the pool or beach – match your swimsuit or bikini with a pretty cover-up, sunglasses, a sun hat and cute sandals.
Out of respect, you should also cover up when you leave the beach or pool.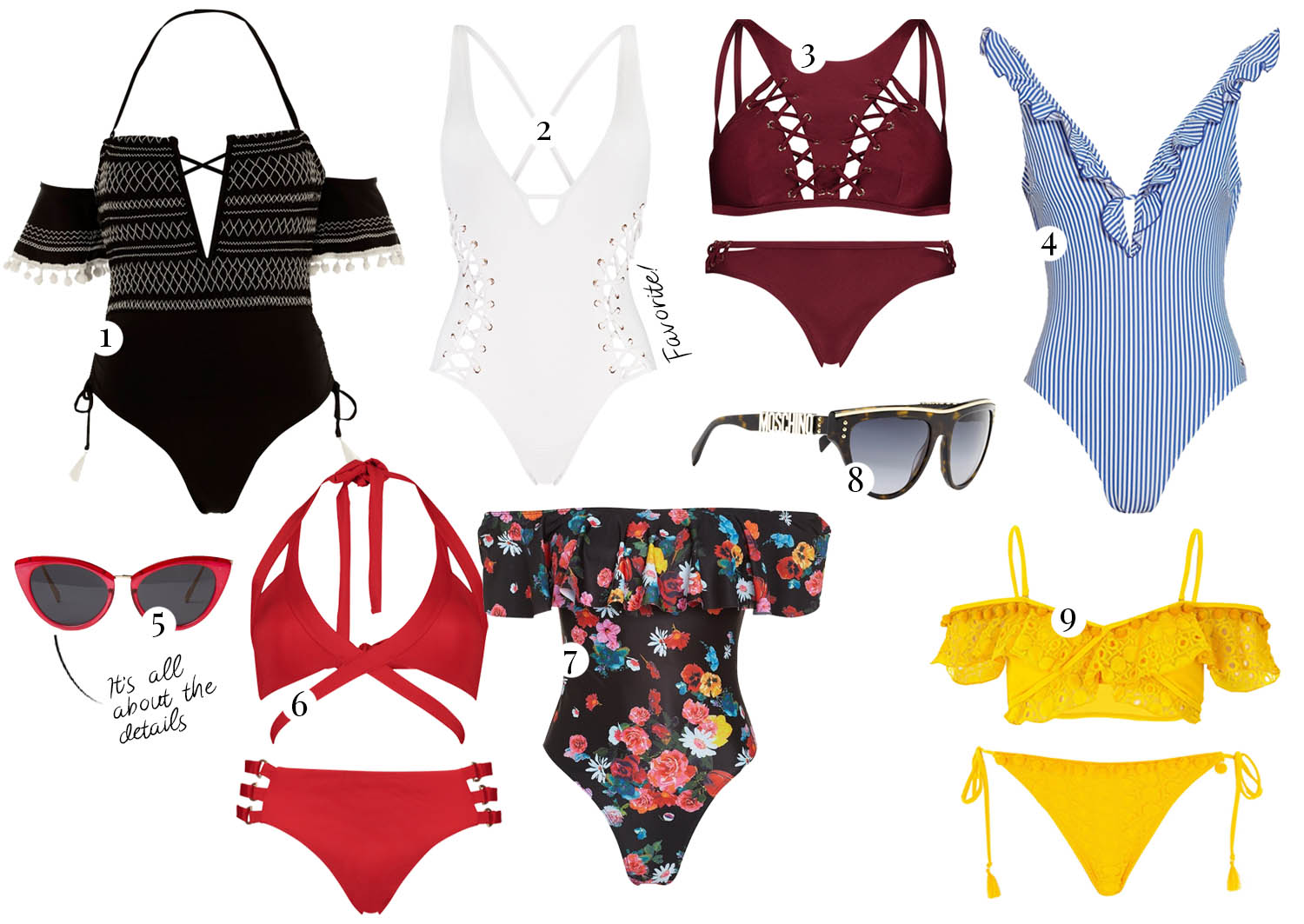 1. Black Swimsuit 2. White Swimsuit 3. Crop Top Bikini 4. Blue Swimsuit
5. Red Sunglasses 6. Red Bikini 7. Off Shoulder-Swimsuit
8. Moschino Sunglasses 9. Yellow Bikini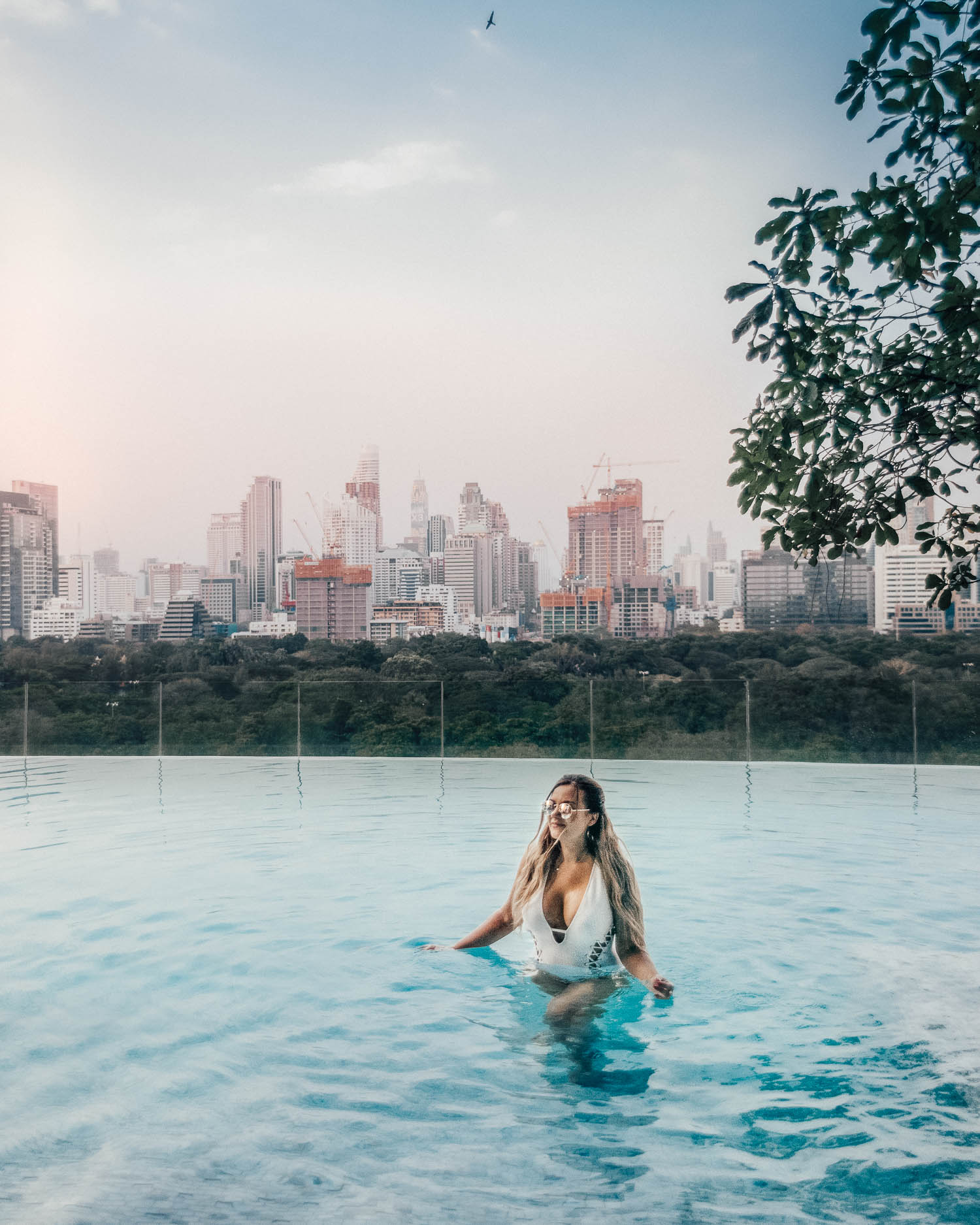 Inspiring Activewear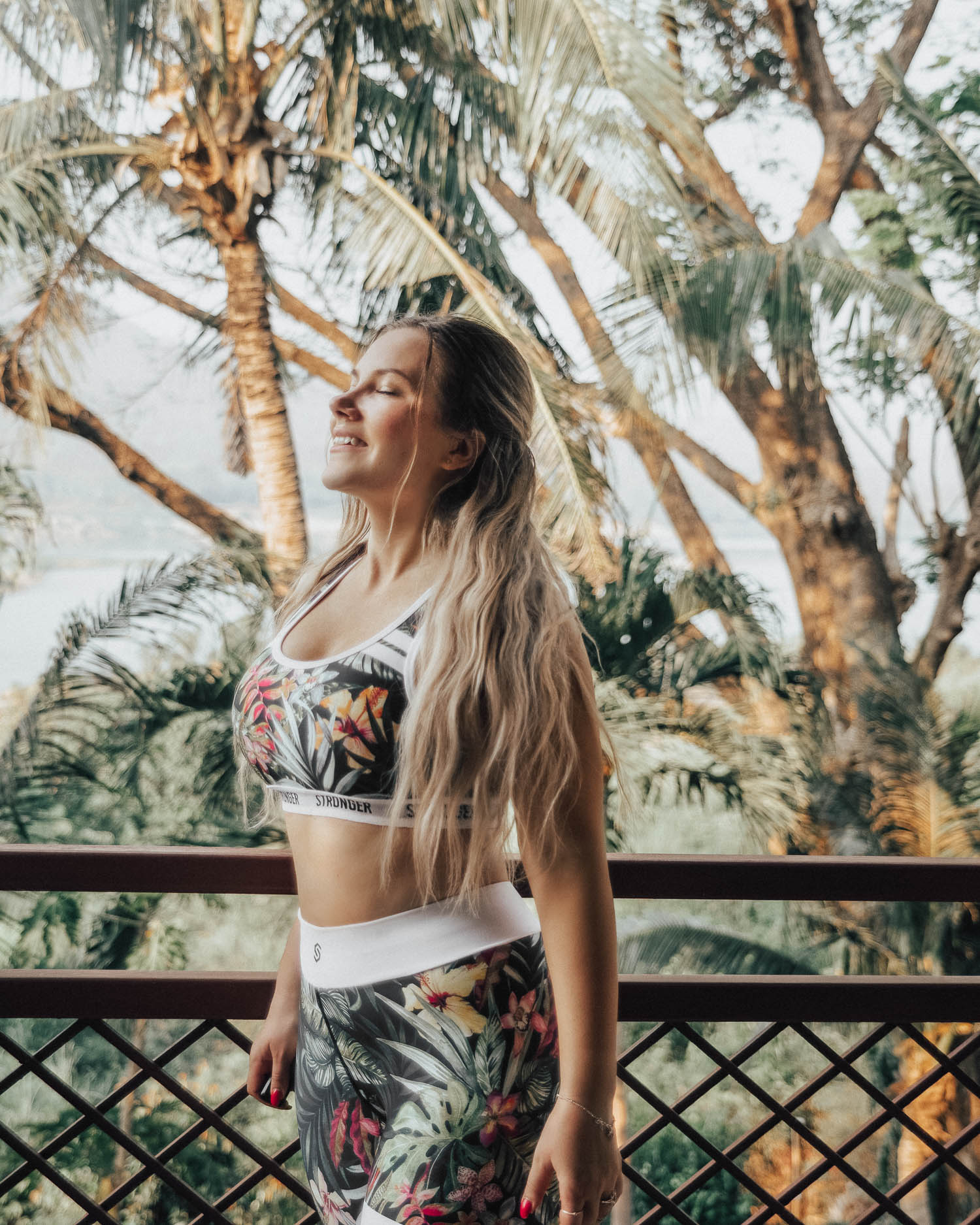 Nothing can motivate me to work out more than inspiring views. When you're surrounded by paradise, it's so fun to burn calories. It's even more encouraging when you have hot workout clothes with you.
The activewear set I have in the picture above is called "Vietnam" and comes from the Swedish brand Stronger. They have a lot of other gorgeous patterns. Just a pair of workout tights and top takes literally no space in the luggage. So there's no excuse not to go for that morning run or try some new yoga challenges.
Comfortable & Chic Clothes to Travel in
Feel comfortable and chic when you travel! A pair of loose pants, a top and kimono/cardigan is my favorite way to go. I also love to have a cap and sunglasses handy when I arrive at the destination (and when I feel like a zombie).
I LOVE this matching floral set from Bubbleroom. It's not just comfortable and cute to wear on the long flight to Thailand, but also perfect for a night out.
1. Floral Kimono 2. Floral Pants 3. Black Peplum Top 4. Loafers 5. Cap 6. Metallic Luggage
More Packing Tips to Thailand
Travel Cubes – This is the best thing to stay organized when you travel is to pack in travel cubes. It saves you a huge amount of time and hassle.
Document Scans – Take photos of your passport, driving license and all your credit cards, insurance info and any other important documents and save them online on iCloud or Gmail. If you lose any of your documents, you have copies of them available anywhere with an internet connection.
Sunscreen & Bug Spray – As you need these things every day, I think it's a good idea to pack it at once. So you don't have to buy it the first thing you do in Thailand.
Tissues – Paper is not always available in toilets, so it's a good idea to always keep tissues and hand sanitizer with you.