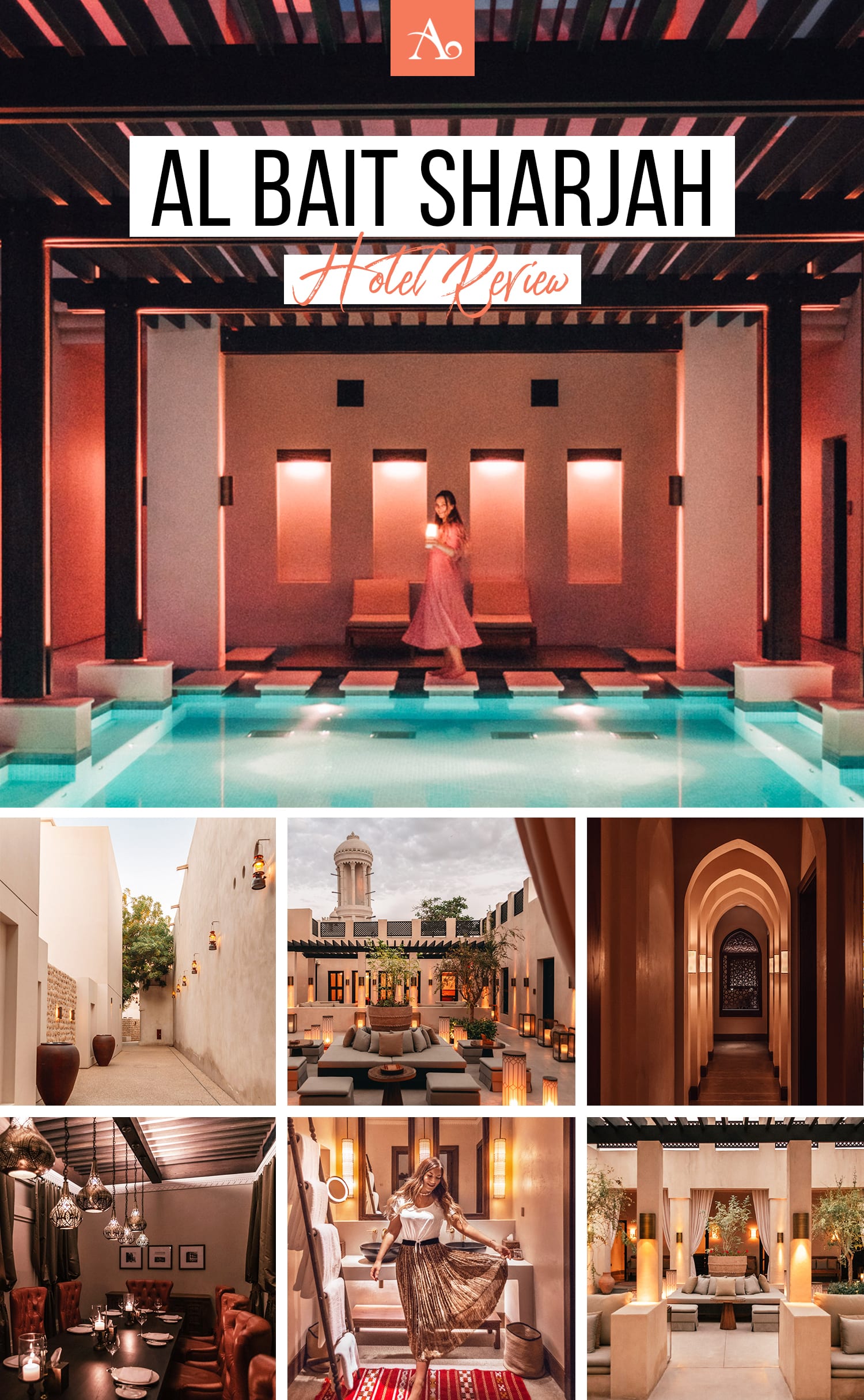 Al Bait Sharjah is one of the UAE's newest and most luxurious resorts. This sustainable five-star hotel is enchanting guests with its magical ambiance, Emirati heritage, and homey feels.
Nestled in the Heart of Sharjah, only half an hour from Dubai is this extraordinary escape you'll have a hard time leaving. Why? Because it's so easy to feel at home.
Fittingly enough, Al Bait is literally translated as 'The Home'.
The AED 100 million hotels is a member of Leading Hotels of the World and launched in 2018 by GHM (General Hotel Management Ltd). In fact, Al Bait Sharjah is one of the United Arab Emirates' largest and most ambitious historic preservation projects.
In collaboration with UNESCO, they have converted and preserved historic manor houses and the authentic look and feel of the area into what it is today – a 53-room Emirati luxury hotel.
Perched proudly above the resort is the iconic 100-year-old barjeel (wind tower), which is the only round wind tower remaining in the UAE.
Plan your trip to Sharjah
Chic Clothing Tips for the UAE (coming soon)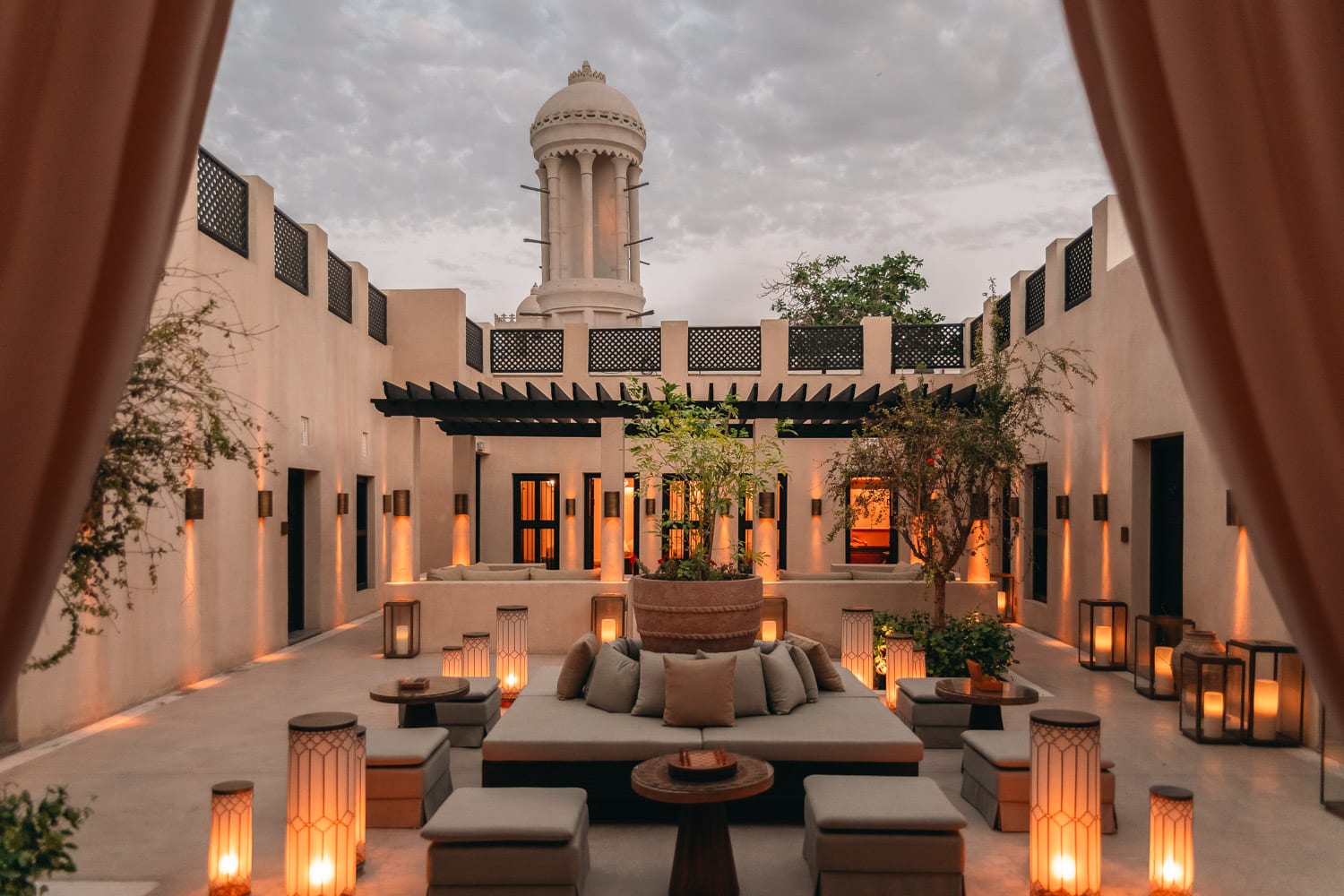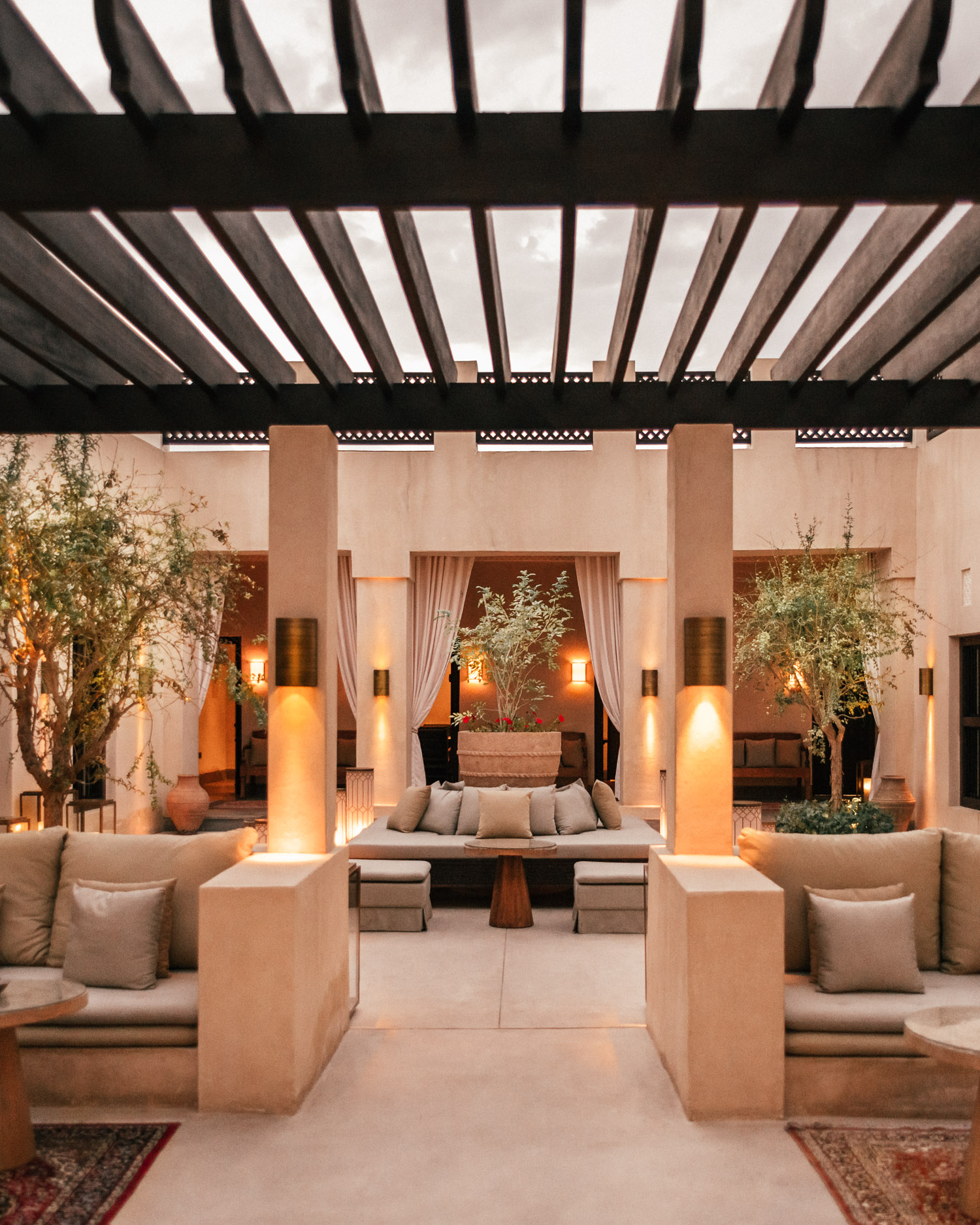 ---
AL BAIT SHARJAH HOTEL REVIEW
First impression
It is the late night when we arrive at Al Bait Sharjah. We are tired and exhausted after having traveled for hours. However, I'm immediately intrigued as we are strolling up the maze-like alleyways, lit only by lanterns and moonlight.
As we arrive at the reception, the stunning decor, and cozy feel blow me away. Raising my expectations further is the warm welcome and extraordinary treats being offered. It's not every day you are served a glittering lavender drink, and something rightly called 'magic chocolate' (which turns out to hide popping candy).
Needless to say, my first impression is not disappointing. I'm in love with the atmosphere, the beautiful lights, soft music playing in the background, and how spoilt and 'at home' the staff makes us feel.
I get a cool Harry Potter-like map of the resort and a personal guide to my hotel room. It's very much needed as I would probably get lost in the resort otherwise. Though I guess I wouldn't mind at all. Being wonderfully lost here.
READ ALSO: 11 Best Things to Do in Sharjah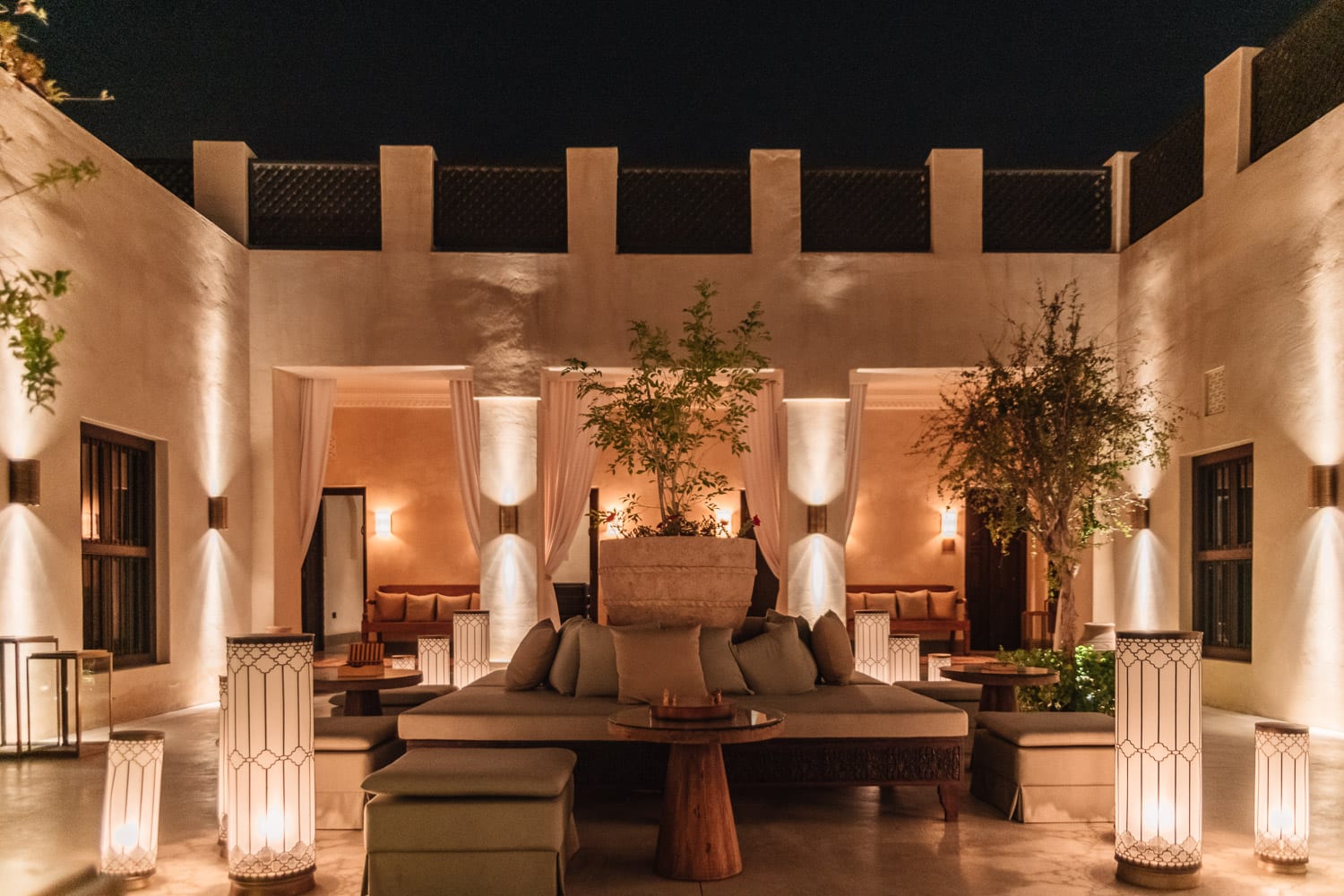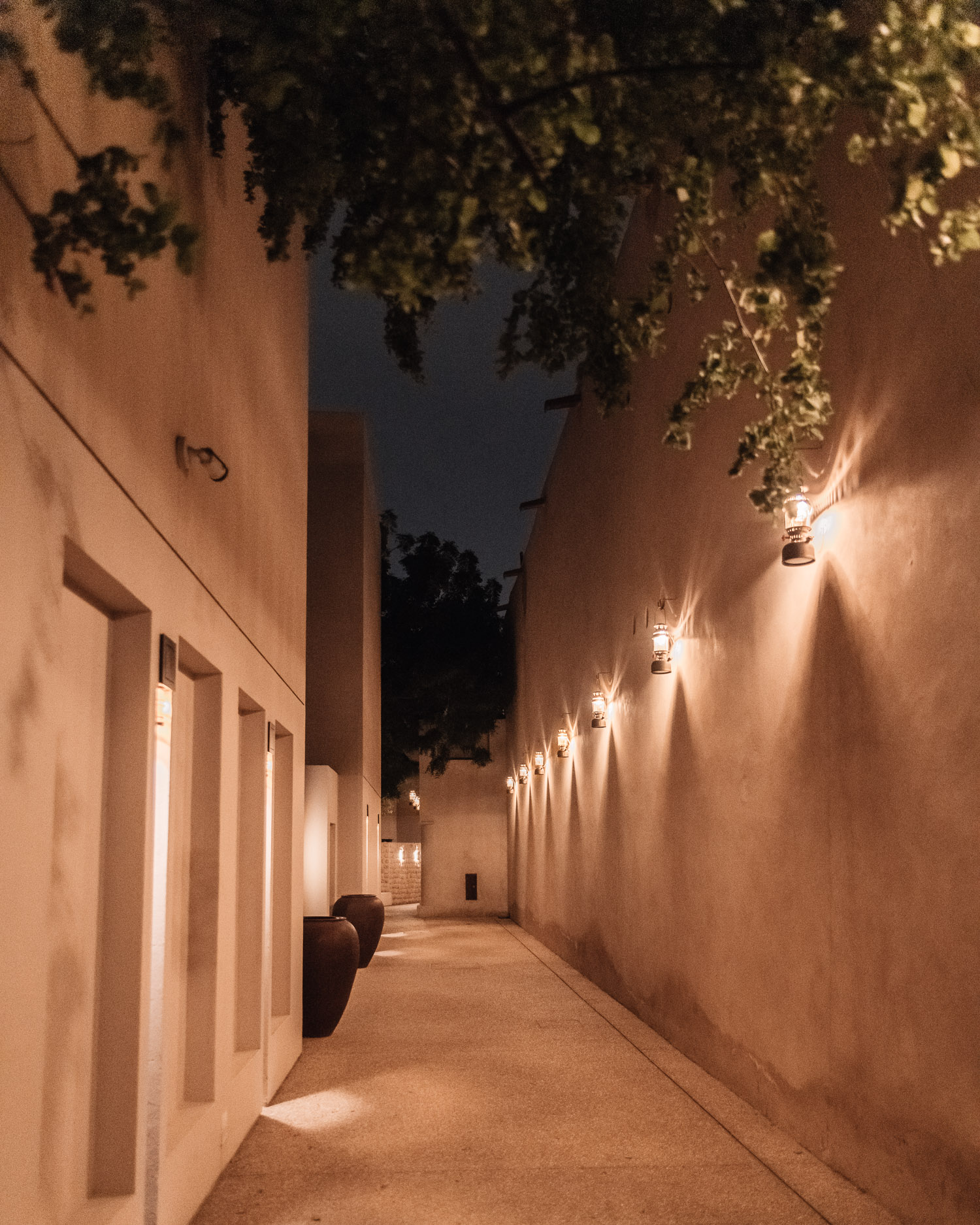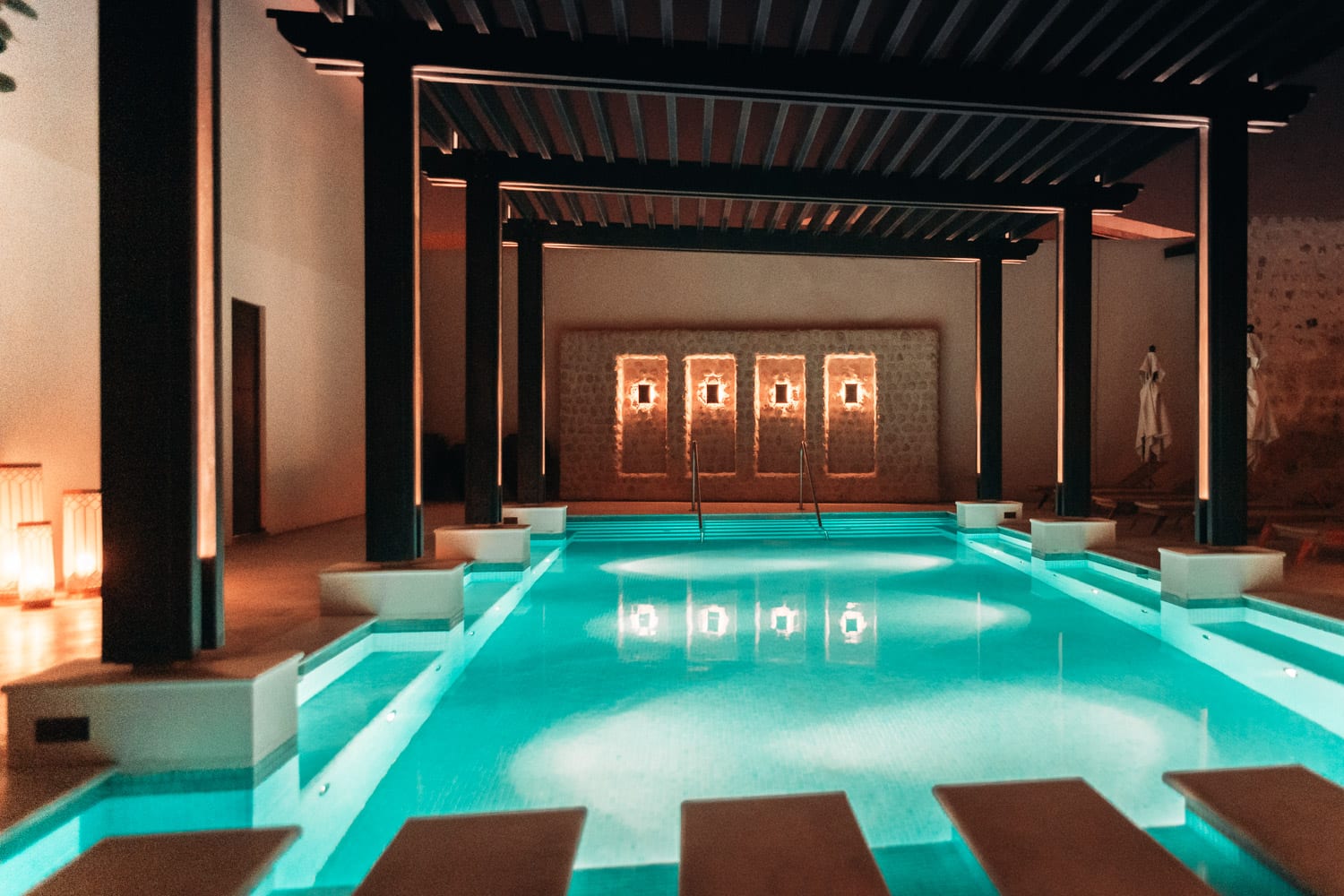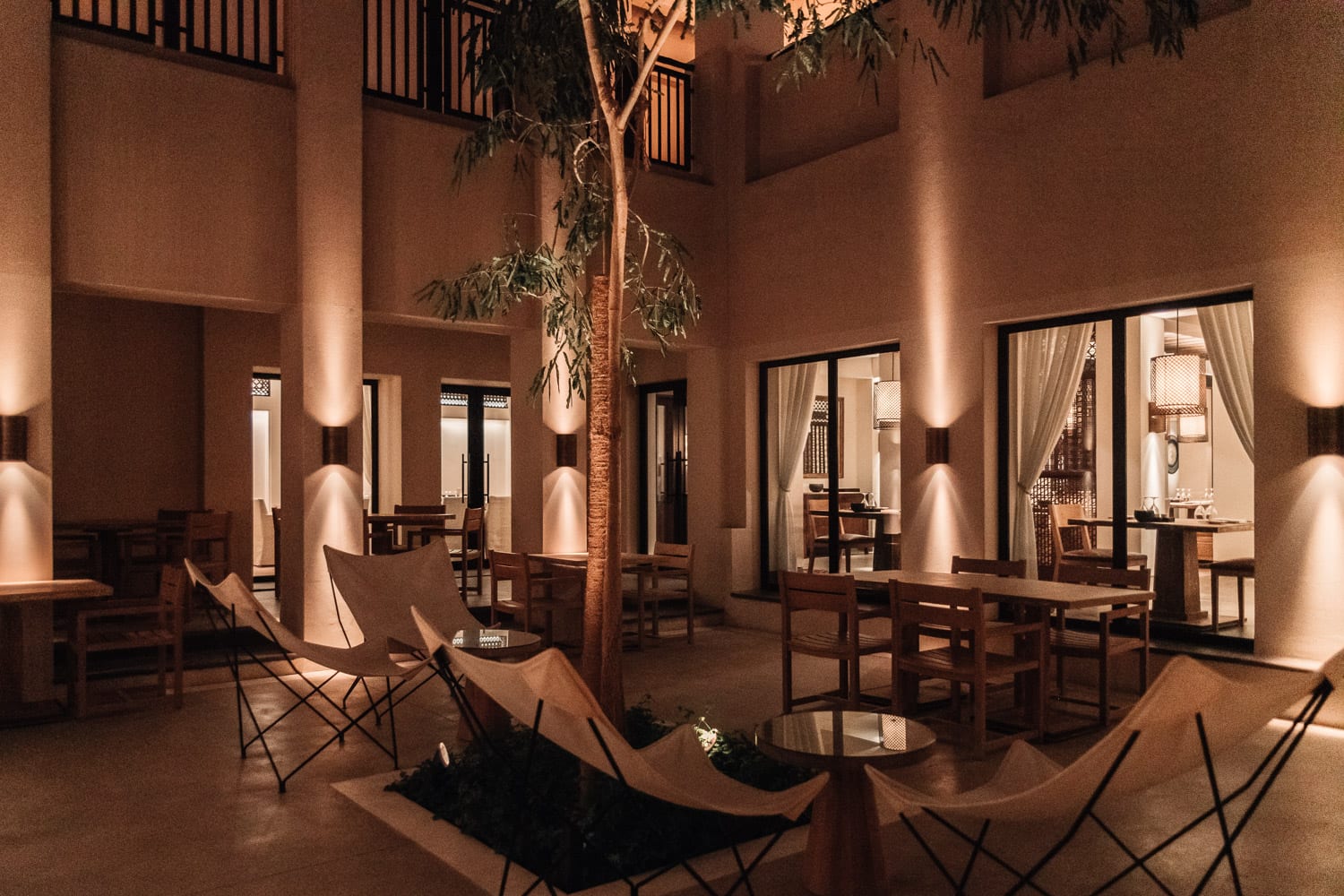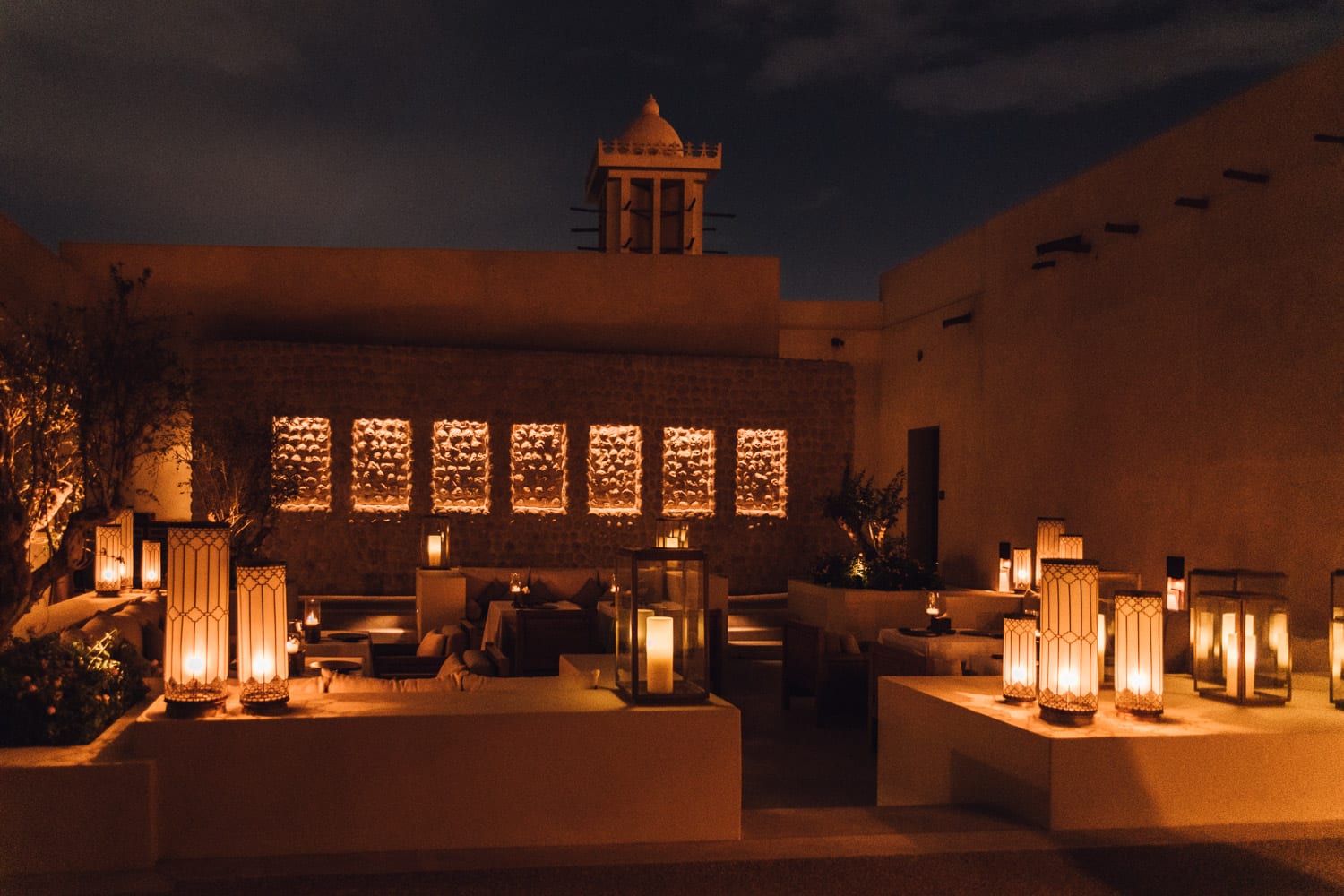 ---
Accommodations at Al Bait Sharjah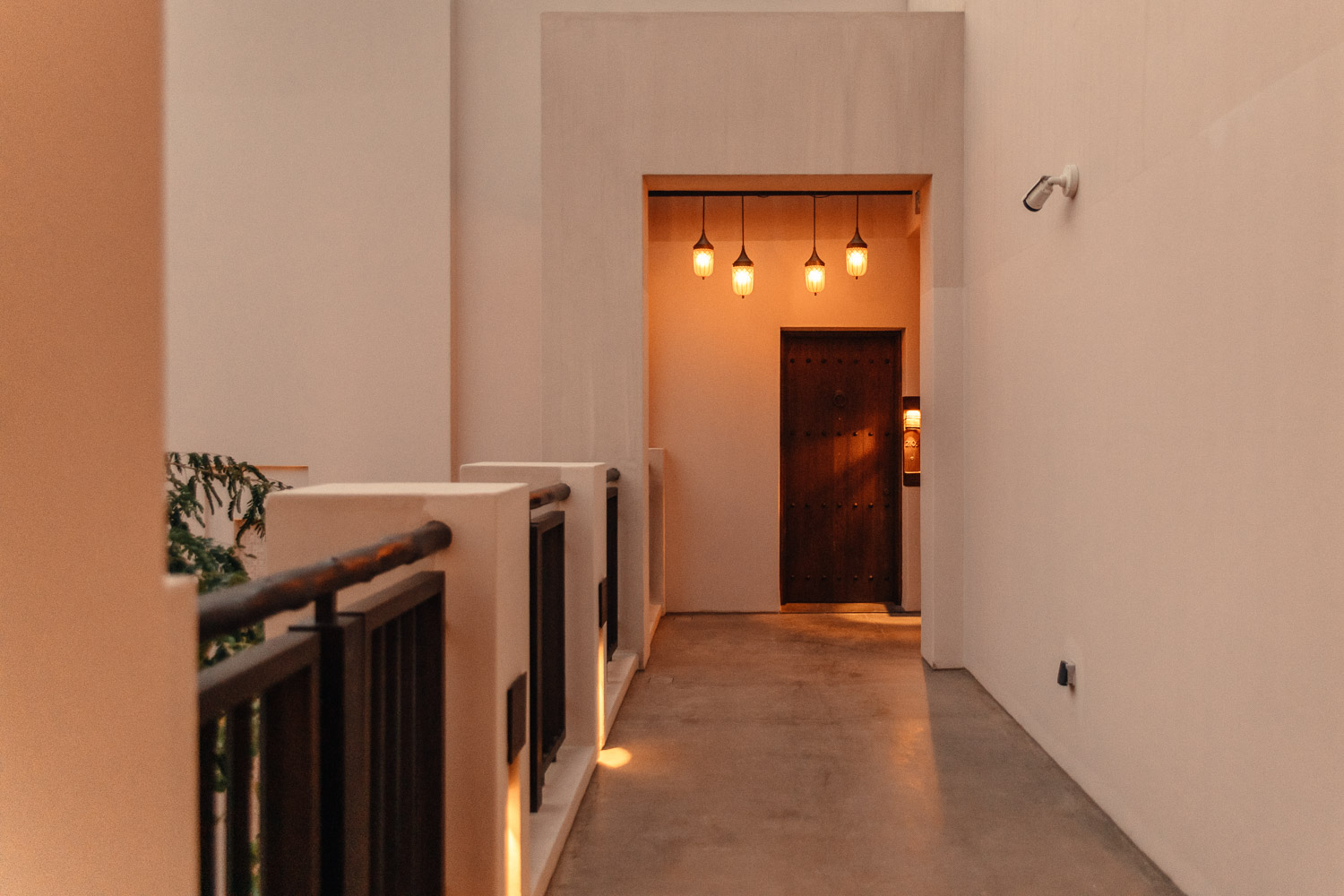 Almost a decade in the making, Al Bait Sharjah is comprised of five heritage houses once owned by esteemed local families. Today these buildings are connected by a maze of alleyways and houses 53 elegant guestrooms and suites.
The design is gorgeous, with an Arabian ambiance and esthetics that mirrors the surrounding buildings in the district. Some rooms give way to outdoor patios and some to the Souq Al Arash.
The soundproofed rooms all feature free WiFi, 24-hour room service, LED TVs, a minibar stocked with free items, and bathrooms with rainfall showerheads, Acqua di Parma toiletries, and bathrobes.
I stayed at the Al Bait Deluxe Patio Room, which is one of the most affordable rooms at the resort. I slept like an angel in my four-poster bed, couldn't get enough of the delicious organic sodas from the mini-fridge, and thought my bathroom was design goals.
Bowls with fresh dates, apricots, and walnuts are just an example of thoughtful details that really make you feel at home at this boutique heritage hotel.
Click here to see the latest prices and availability for accommodation in Sharjah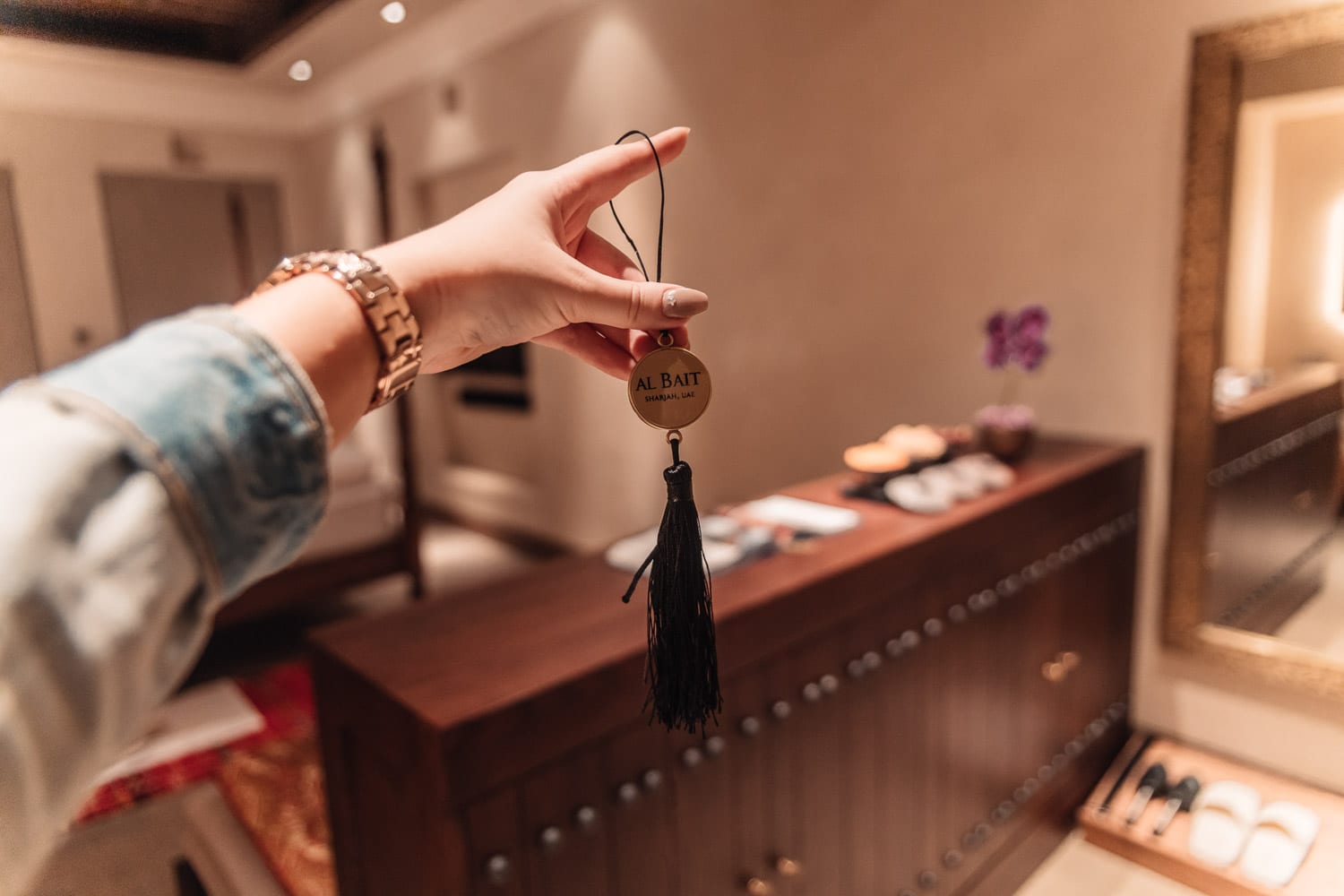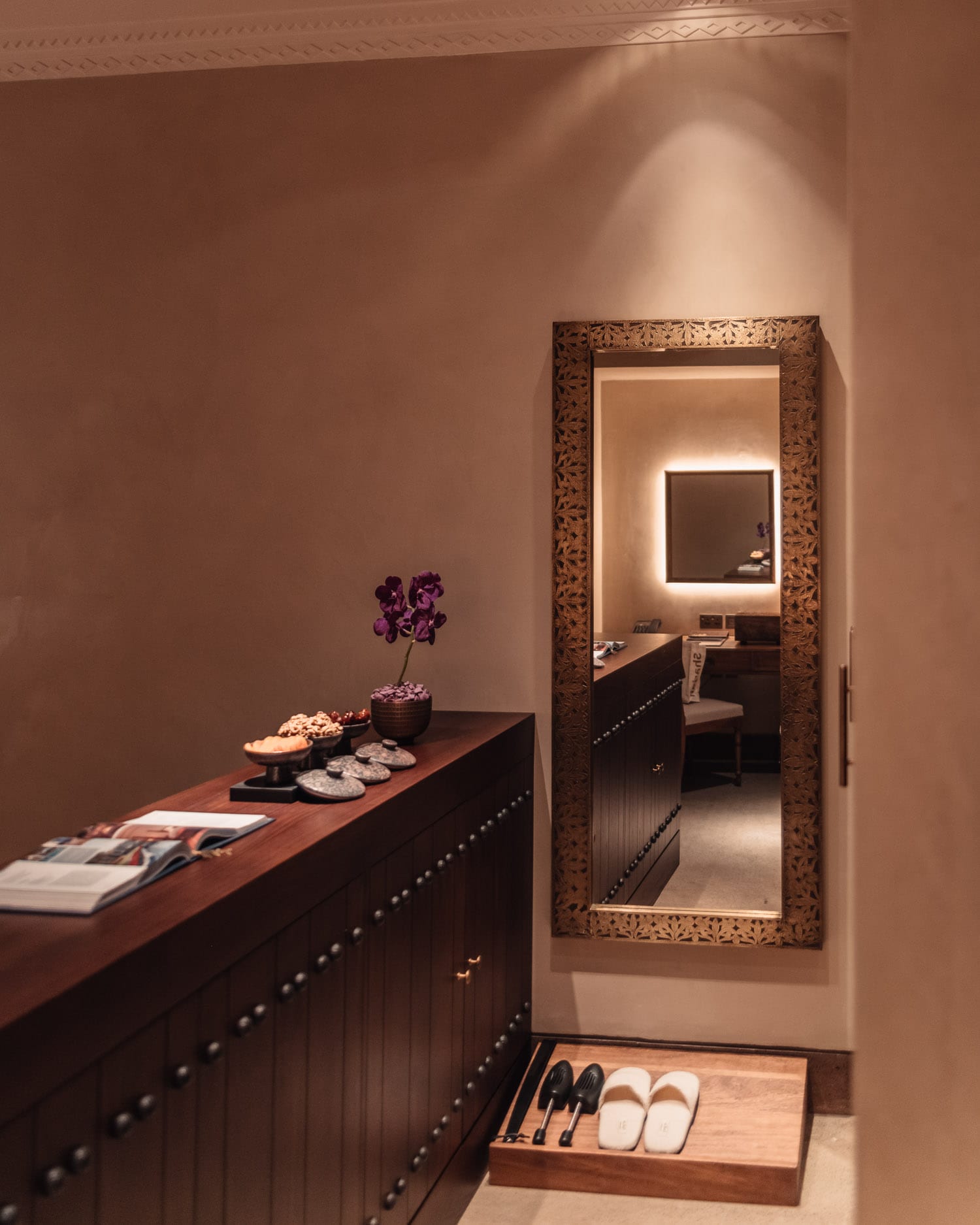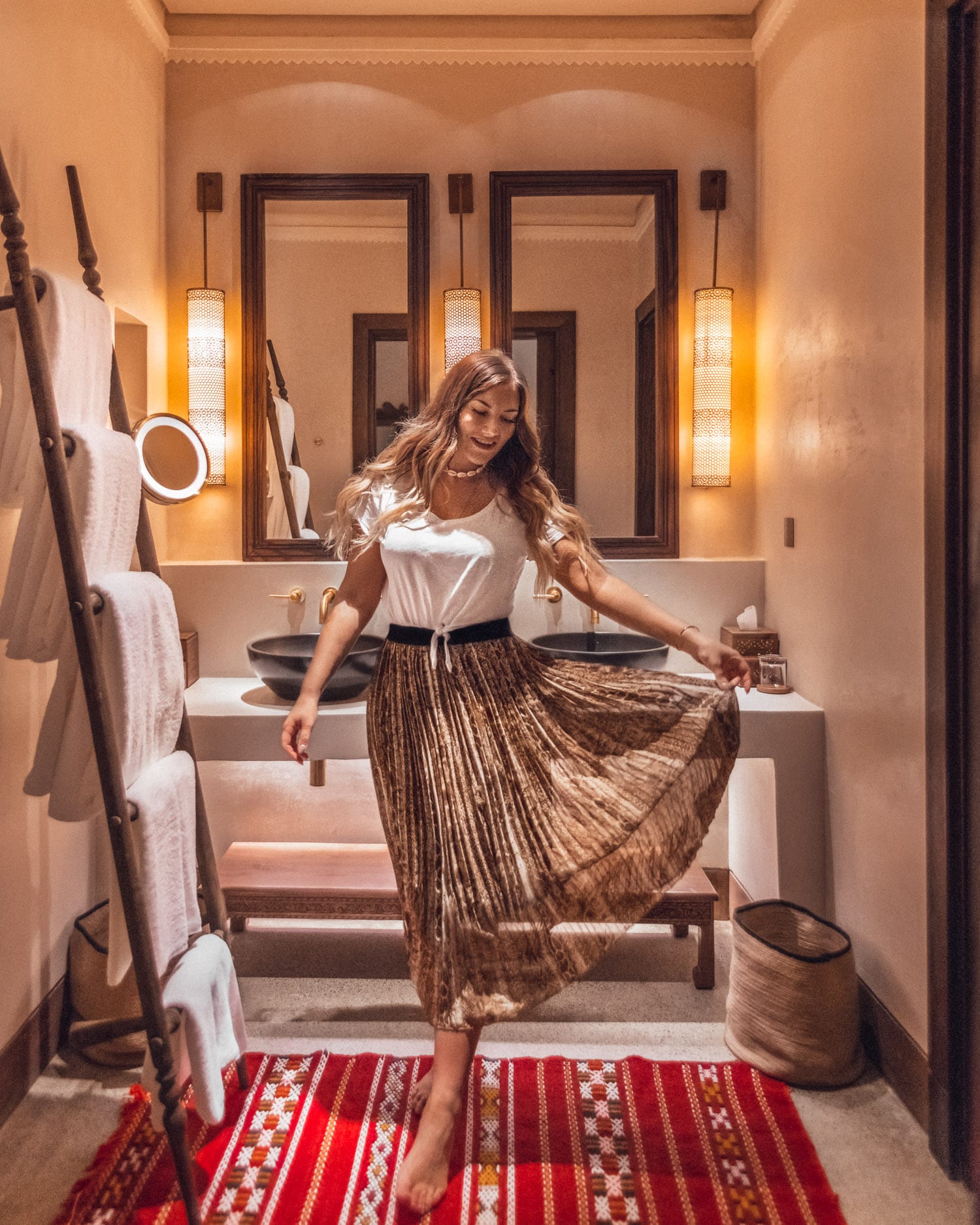 READ ALSO: 14 Things to Do in Ho Chi Minh City, Vietnam
---
Location
One of this hotel's best features is the excellent location. Al Bait Sharjah Resort is in the Heart of Sharjah, which is just perfect. It's a destination in itself. The area will transport you back in time with its preserved heritage, labyrinth alleyways, and picturesque courtyards.
Nearby is Souq Al Arash, which is one of the UAE's oldest souks. Here you can find a lot of exciting stores selling everything from clothes and jewelry to fresh halwa, souvenirs, carpets, and more. The Museum of Islamic Civilization, Central Souq, and Sharjah Arts Area are also close by.
READ ALSO: The Best Luxury Hotels in Jamaica
---
Amenities at Al Bait Sharjah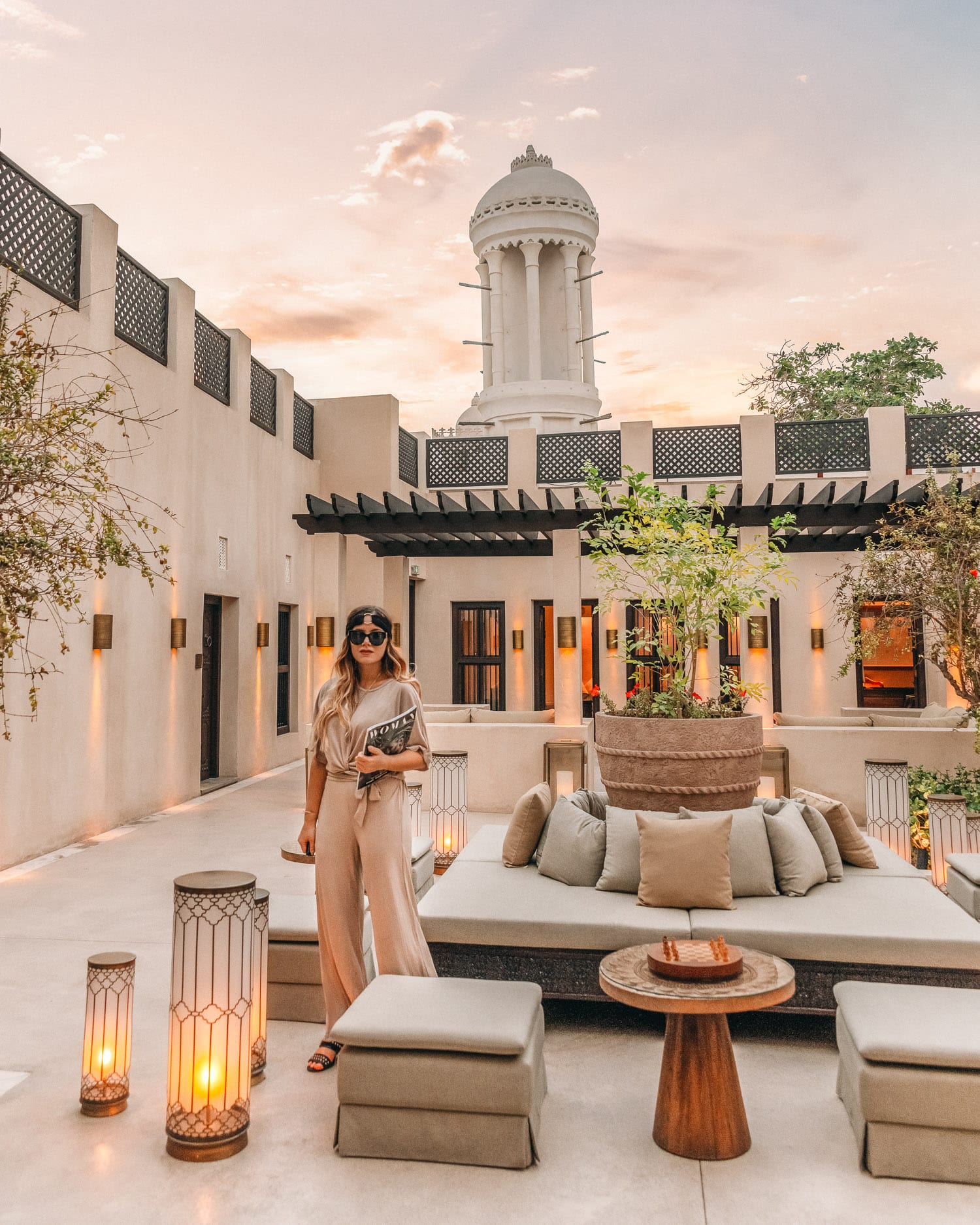 Al Bait Sharjah is home to a full-service spa, a fitness center, an outdoor swimming pool, two restaurants, a café, and an ice cream shop. It also has an on-site library, cigar lounge, jewelry shop, and its very own museum, which houses the decades-old belongings of former residents known as the Al Midfa and Al Naboodah family.
53 smoke-free & soundproofed guestrooms
2 restaurants and 1 coffee shop/café
Full-service spa
Outdoor pool
24-hour gym studio
Business center
Free full breakfast available daily 7:30 am – 10 am
Terrace
24-hour room service
Daily housekeeping
24-hour front desk
Front desk safe
Air conditioning
Free WiFi
Free Parking
Airport shuttle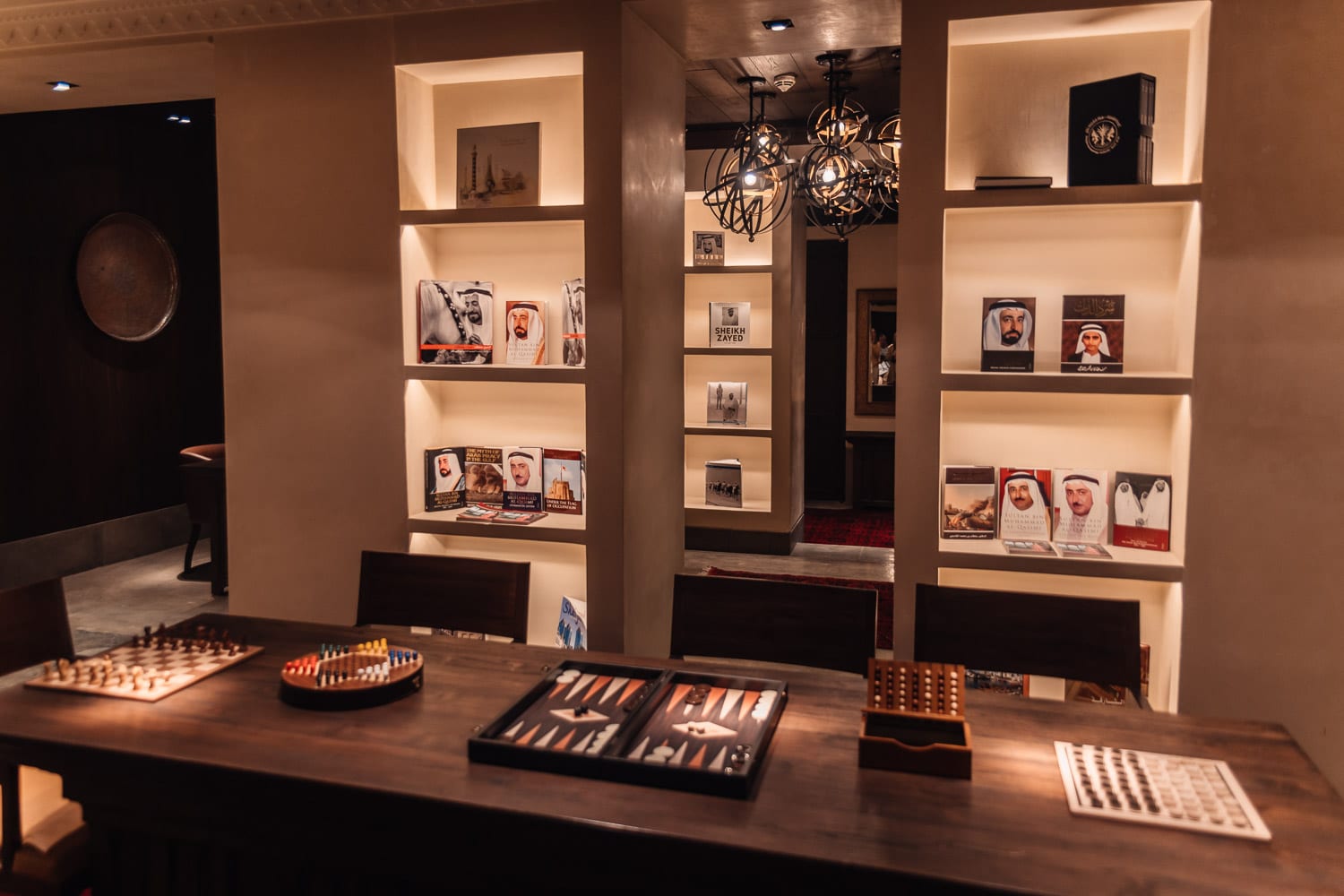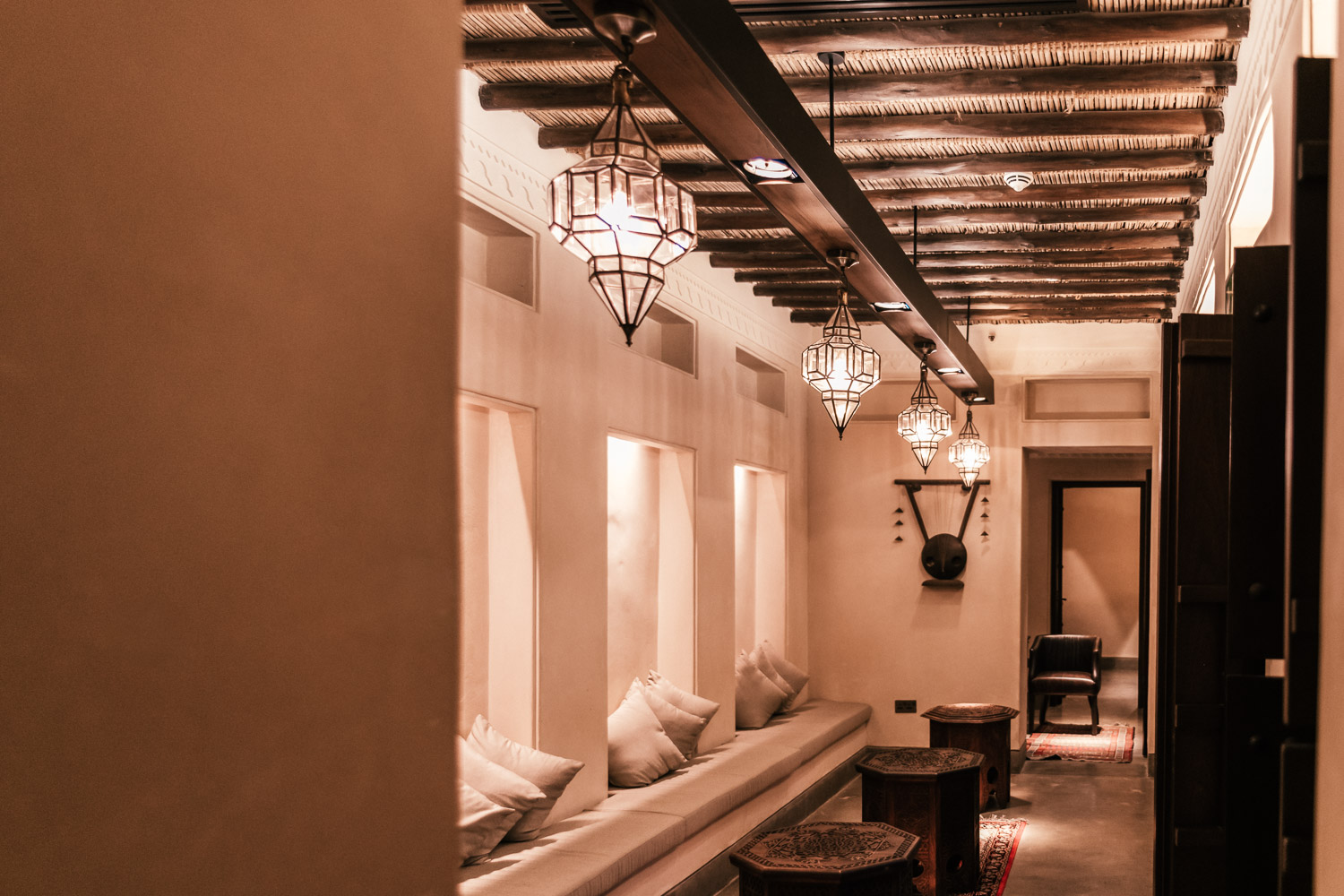 Architecture
The architecture and design are, with no doubt, one of Al Bait's highlights. It's so picture-friendly and easily give you vacation shots worth swooning over. The resort's design remains true to the Arabic culture. From carpets, furniture, patterns, scents, and small details. It all reflects the bygone area – with a modern flare.
Just take a look above at the gorgeous reception, with its elegant sofas and cozy lamps. Here you can just sit and relax, play a chess game or read some magazines.
Book a trip to Sharjah here (compare cheap flights, trains & buses)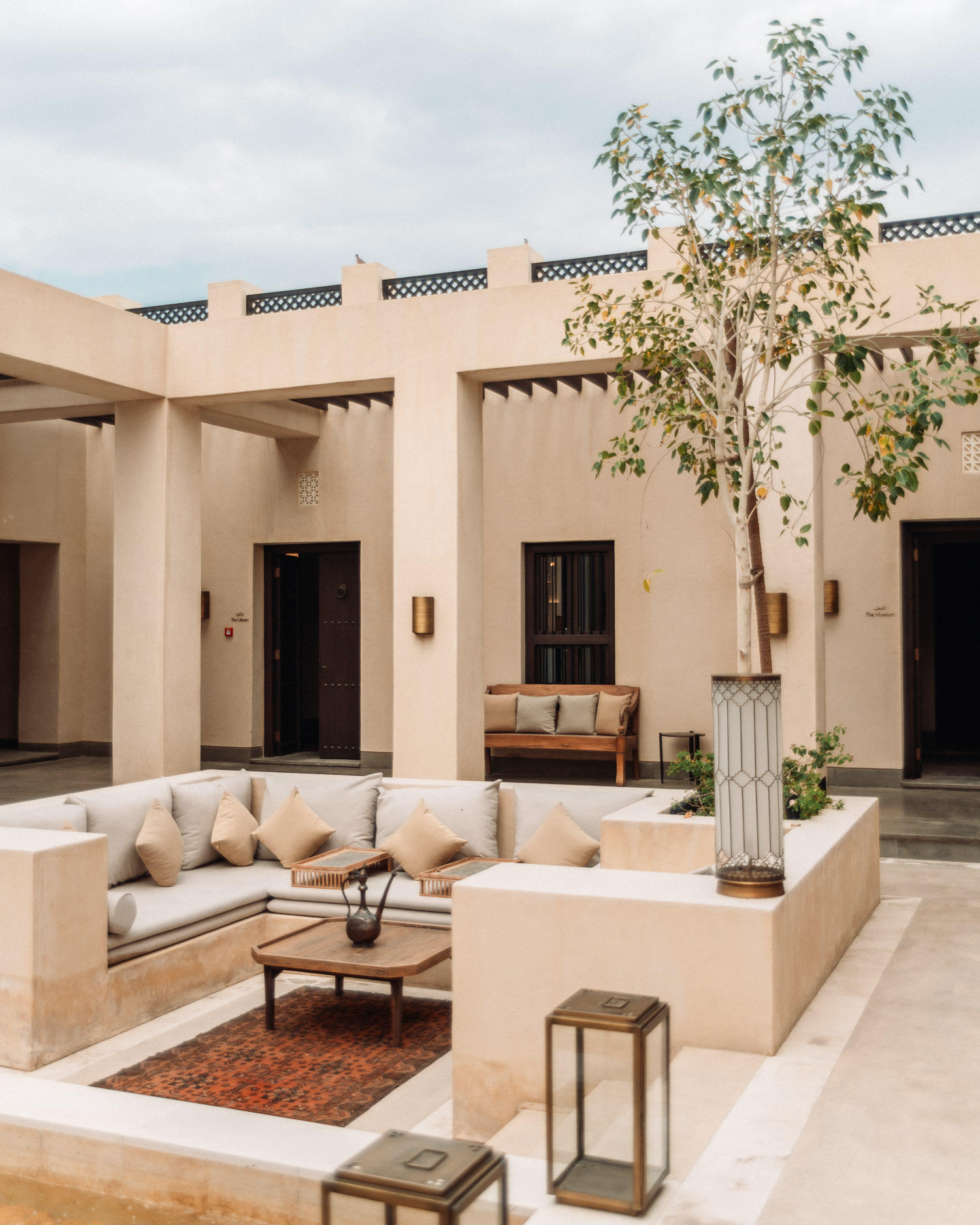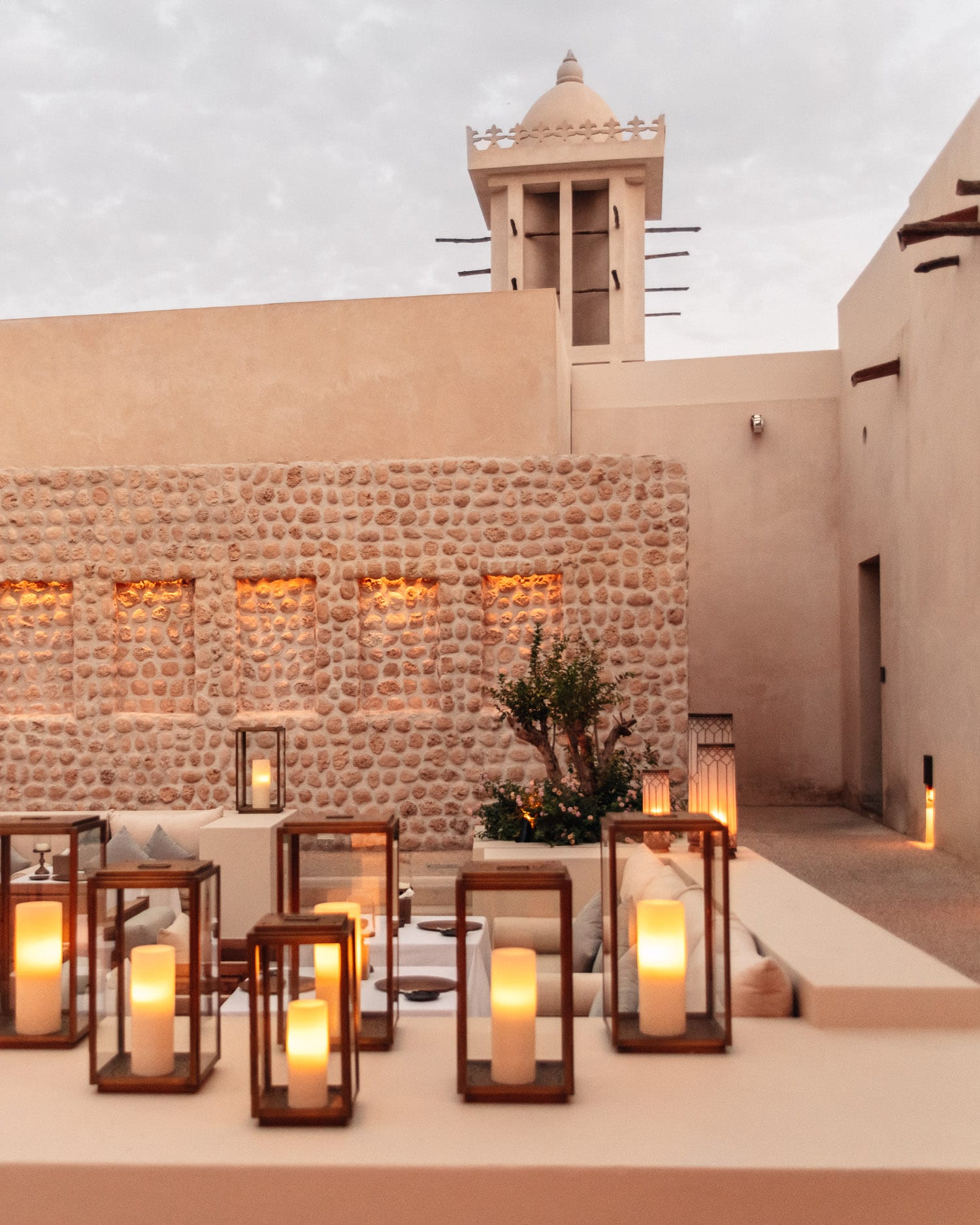 Luxury Spa & Wellness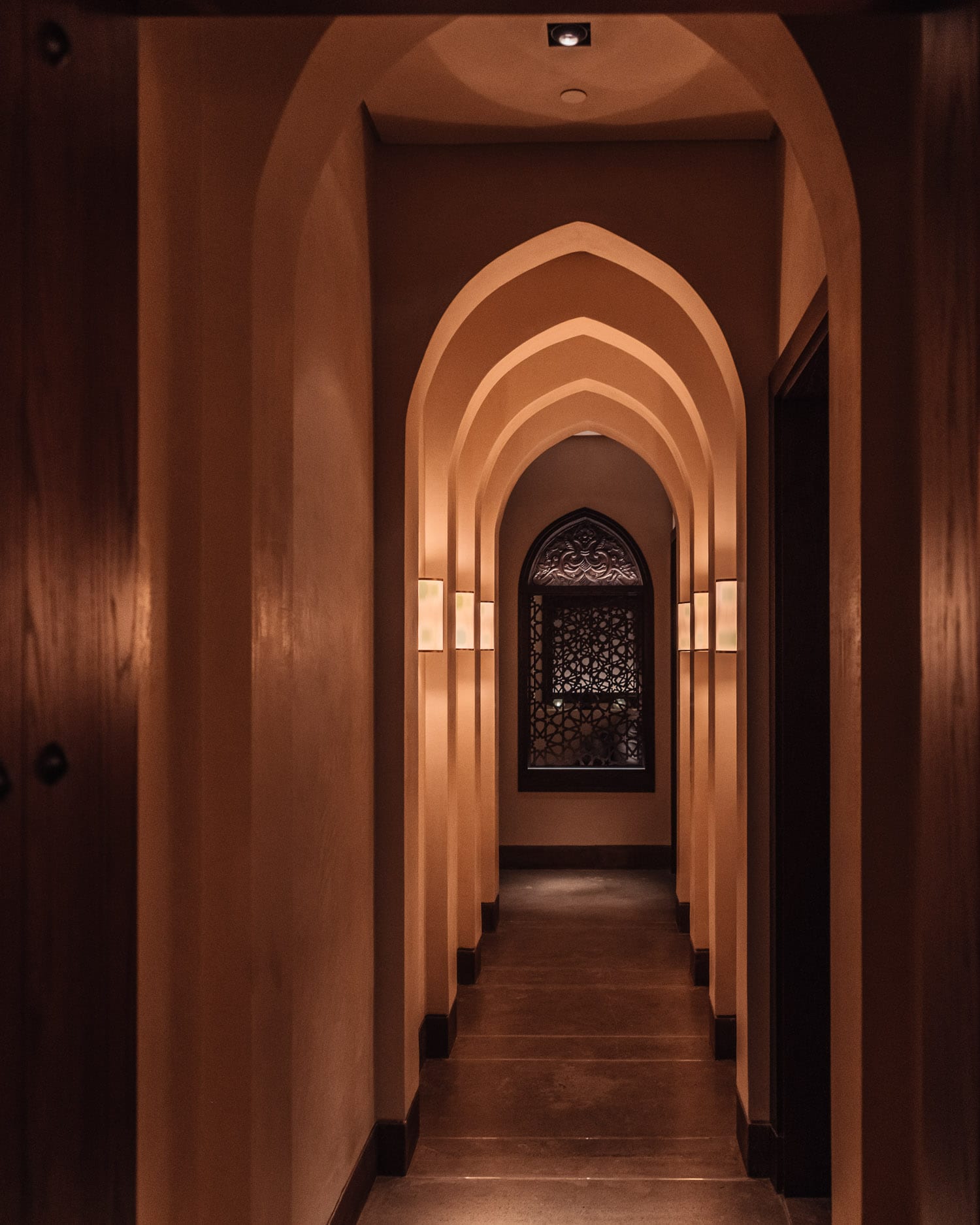 At the full-service spa, you can indulge in pampering treatments like therapeutic massages, oriental rituals, hammam, rejuvenating beauty rituals, and bathing ceremonies. As well as manicure and pedicure.
After a day of exploring a lot of Sharjah by foot, it felt like I was in heaven as my amazing masseur worked her magic on my sore feet. This is everyday luxury at its best.
Once you're sufficiently relaxed, you can get reinvigorated at the 24-hour modern studio gym or unwind by the trellis-shaded outdoor pool. Pool butlers on duty will attend to your food and beverage requests.
Click here for more attractions, tickets, and tours in Sharjah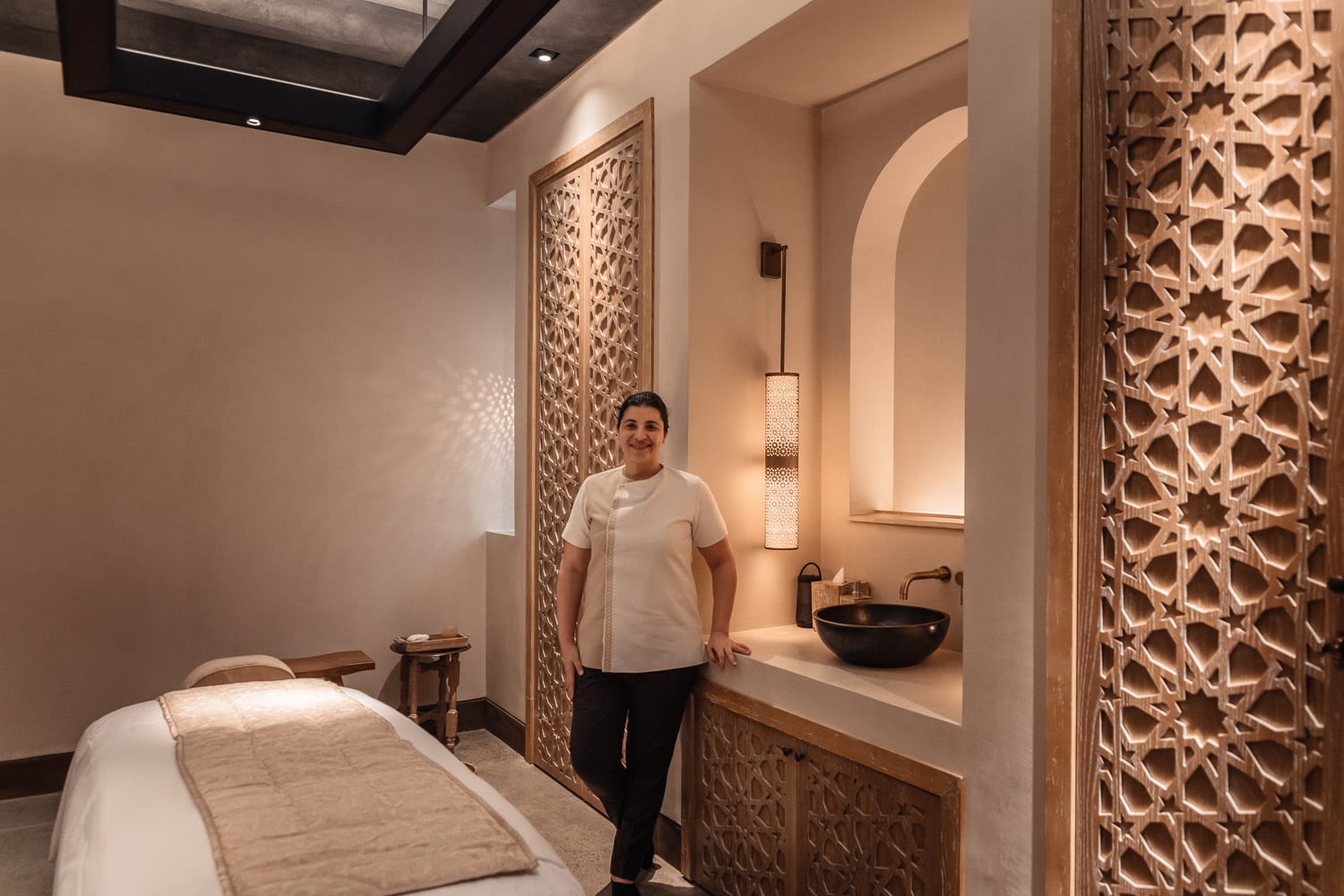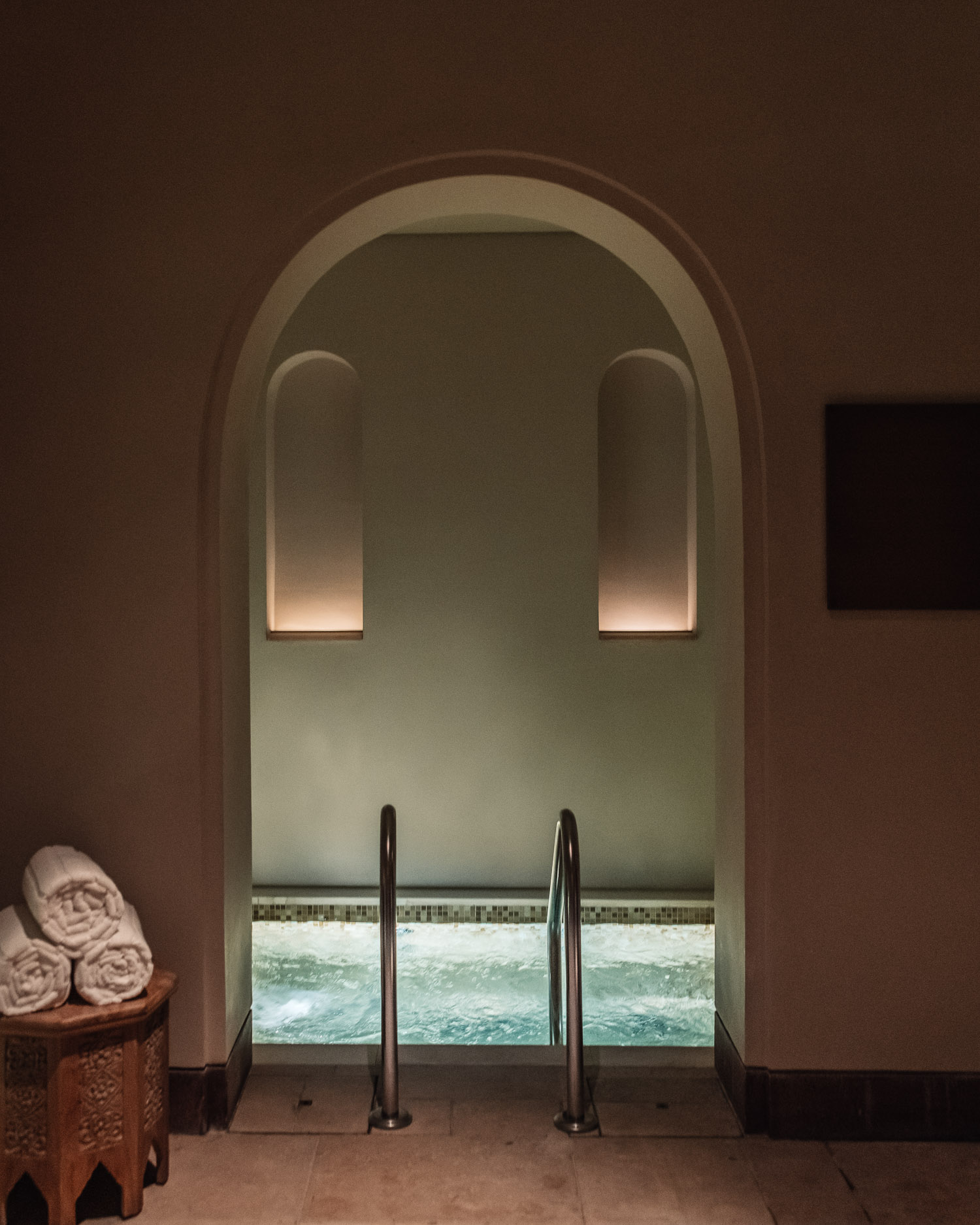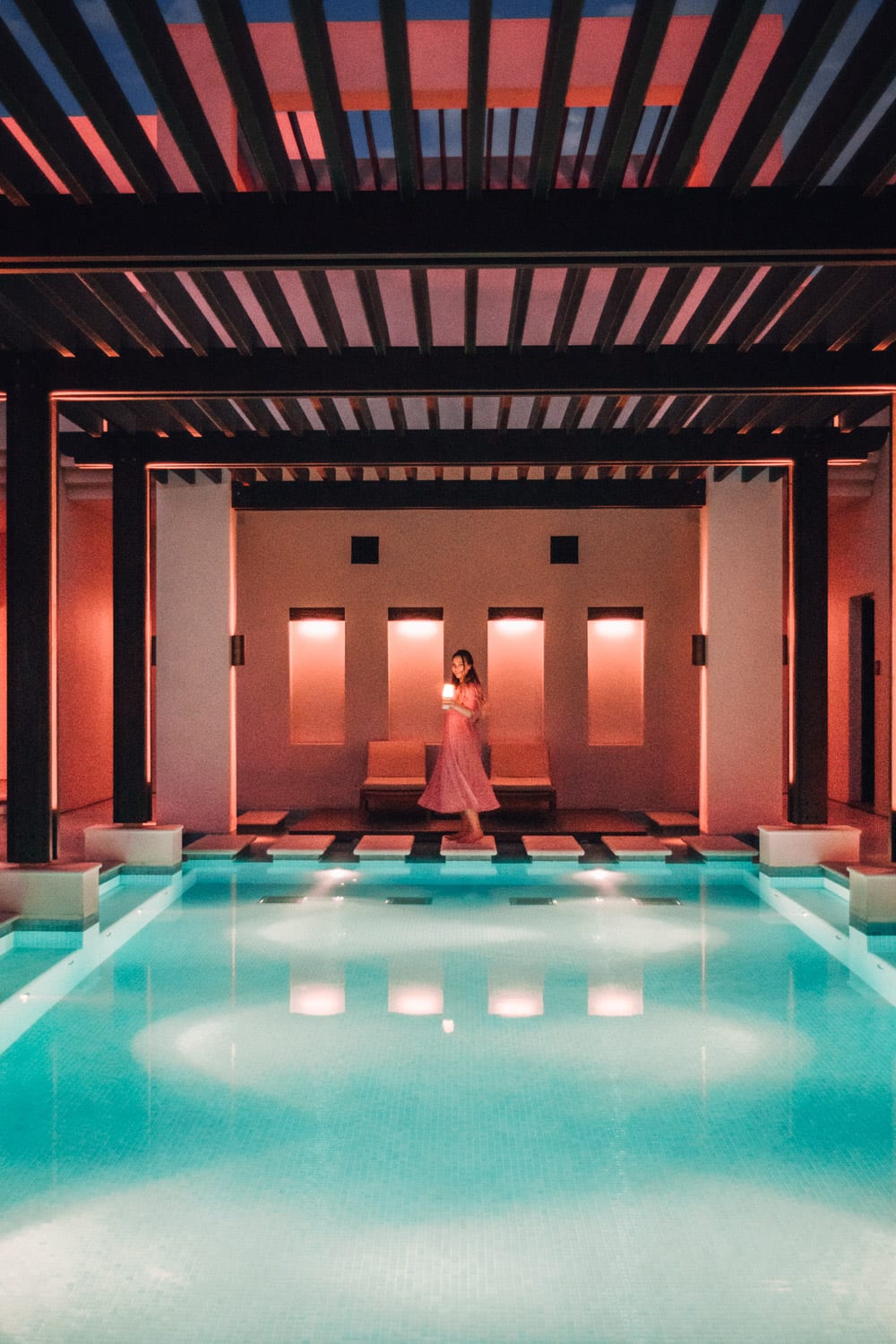 READ ALSO: 14 Awesome Reasons to Visit Phu Yen, Vietnam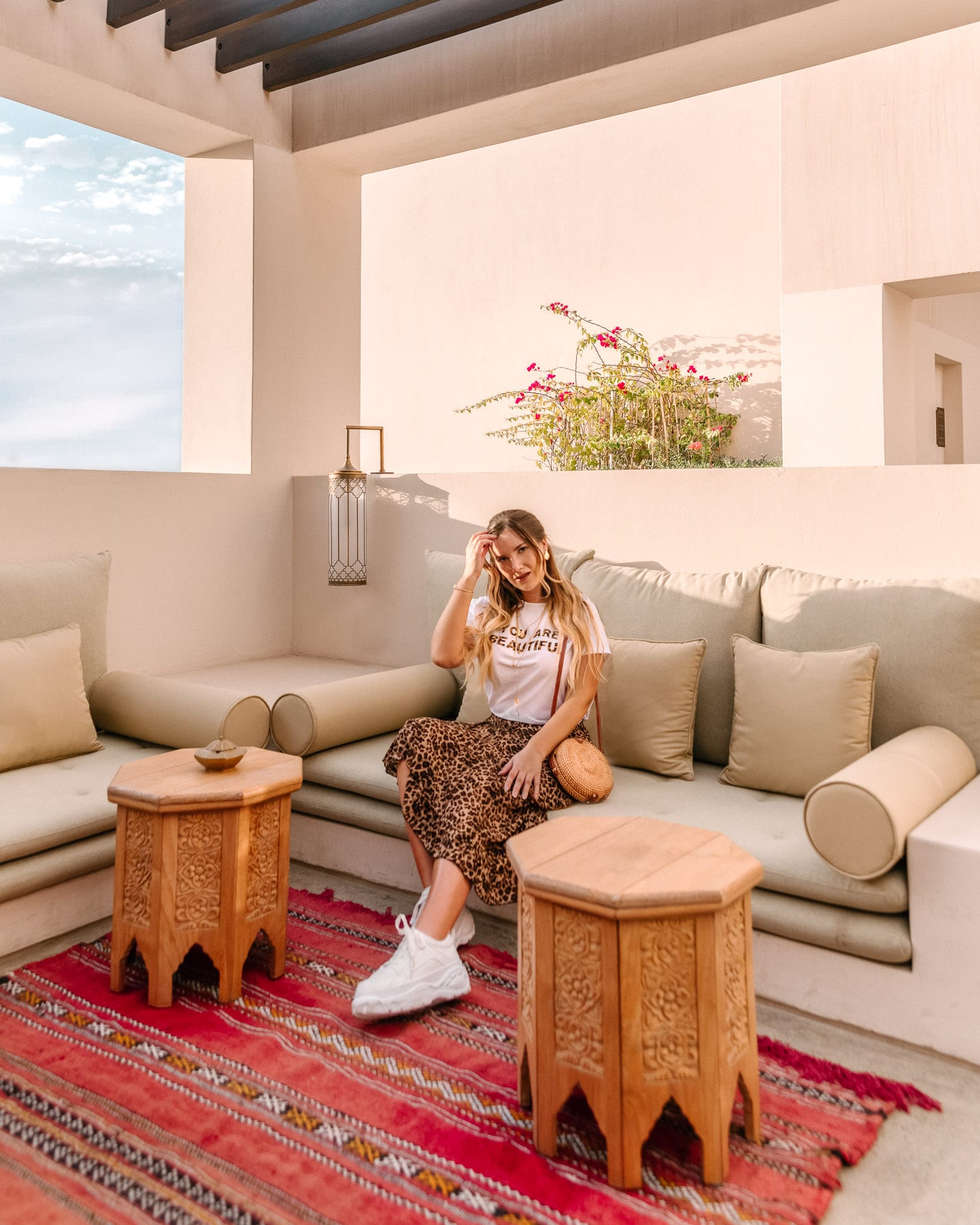 ---
Dining at Al Bait Sharjah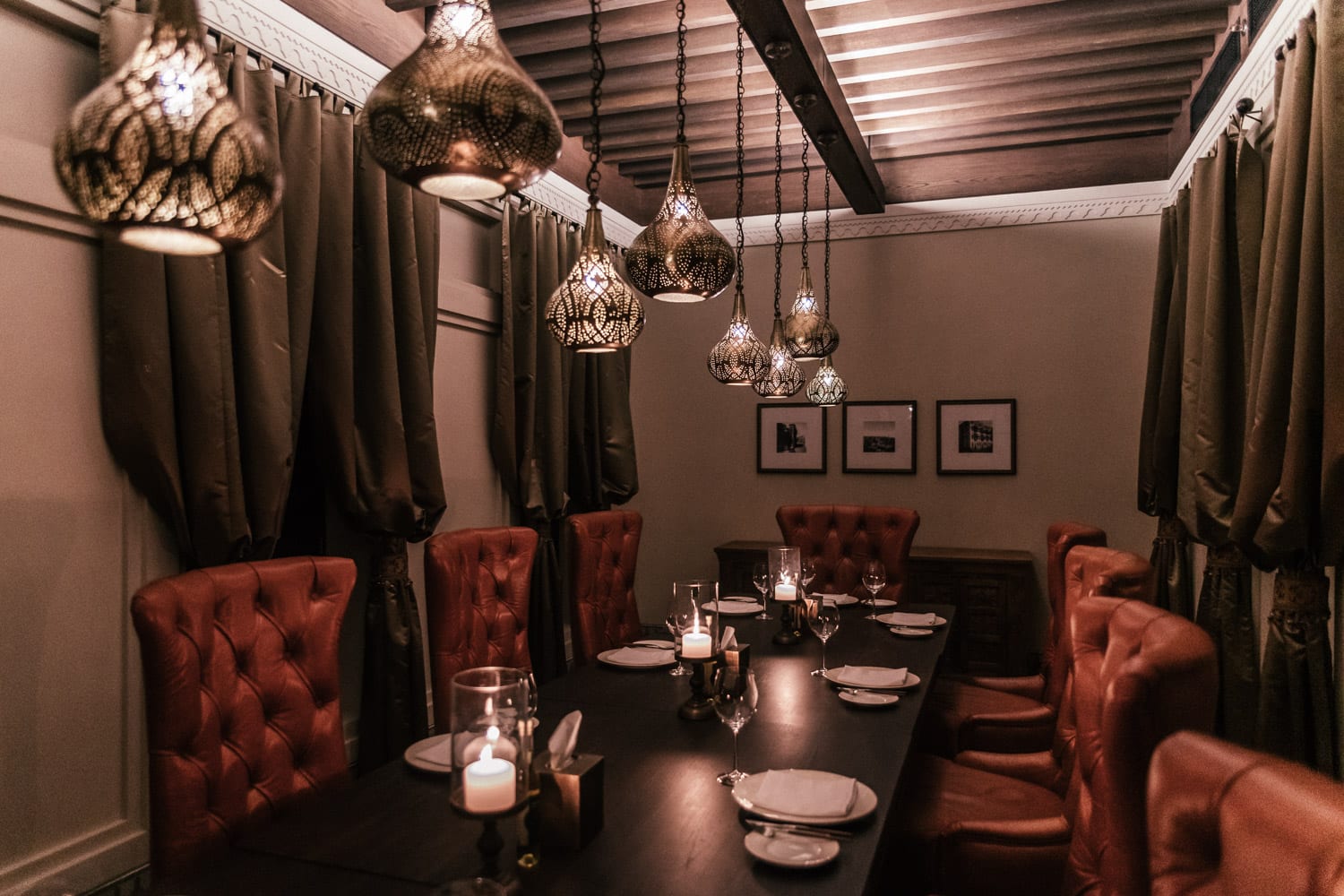 One of the best things to do in Sharjah is probably dining at Al Bait. The hotel has two fabulous restaurants and a popular café and ice cream shop that offer things out of the ordinary.
Share local gourmet favorites served family-style at The Arabic Restaurant. This lovely restaurant has a magical outdoor seating and indoor dining areas with high wood-beamed ceilings, sumptuous textiles, and an overall luxurious Arabesque flair. The talented chefs welcome guests with a fresher take on traditional dishes, making it an experience to remember.
For more international options, The Restaurant offers contemporary, oriental, and far east dishes from morning to evening. With 'a la carte at breakfast, followed by thoughtfully curated menus for lunch and dinner. Take a seat indoors or in the charming open-air courtyard.
Hotel guest or not, The Ice Cream Shop is a hidden gem in Sharjah. Here you can tickle your taste buds with homemade camel milk ice cream and exciting flavors that are far from 'vanilla.' At The Café, you can indulge in homemade pastries and desserts while sipping Arabic or Turkish coffee. Try the "café tray for two" for a real Instagram-friendly treat.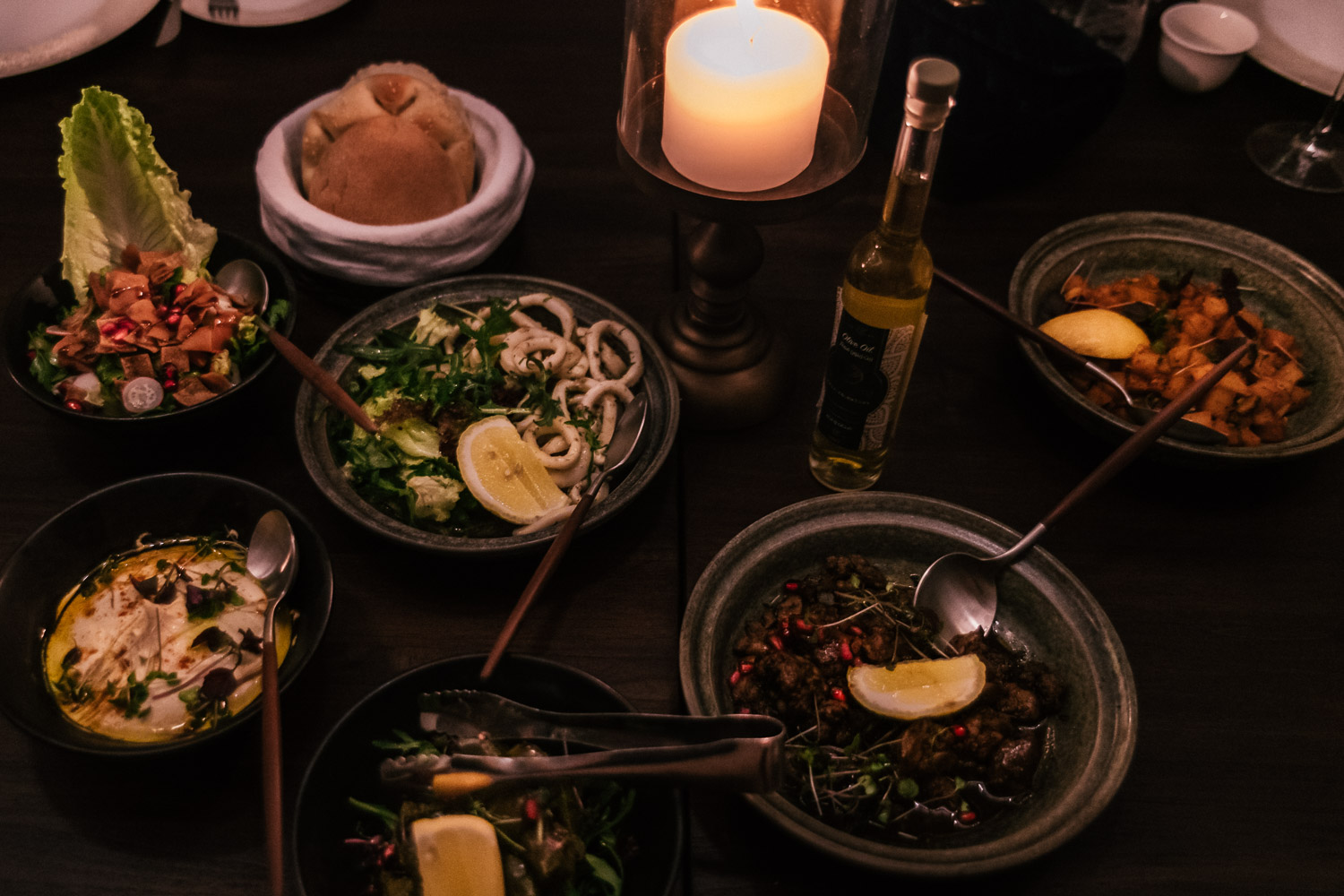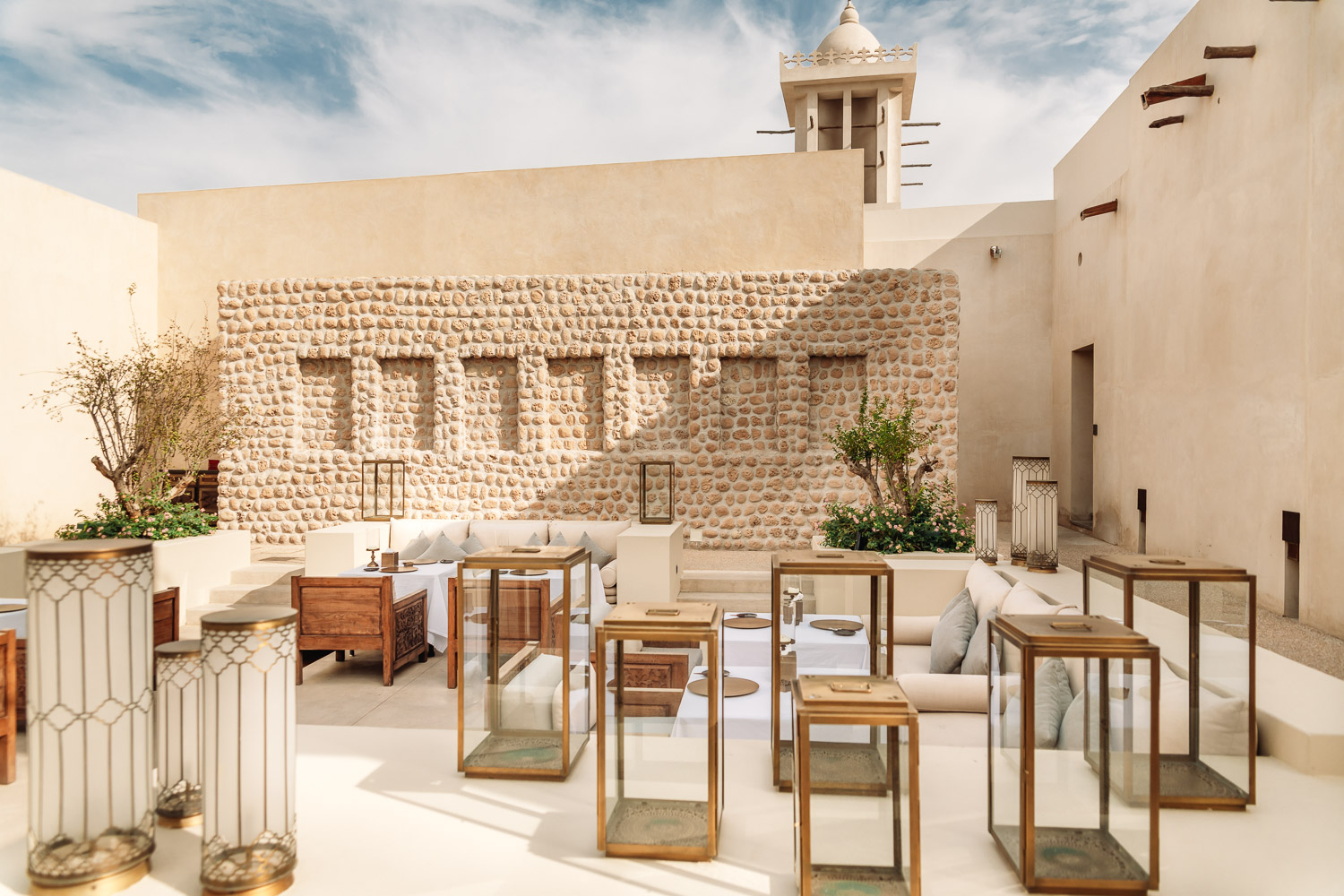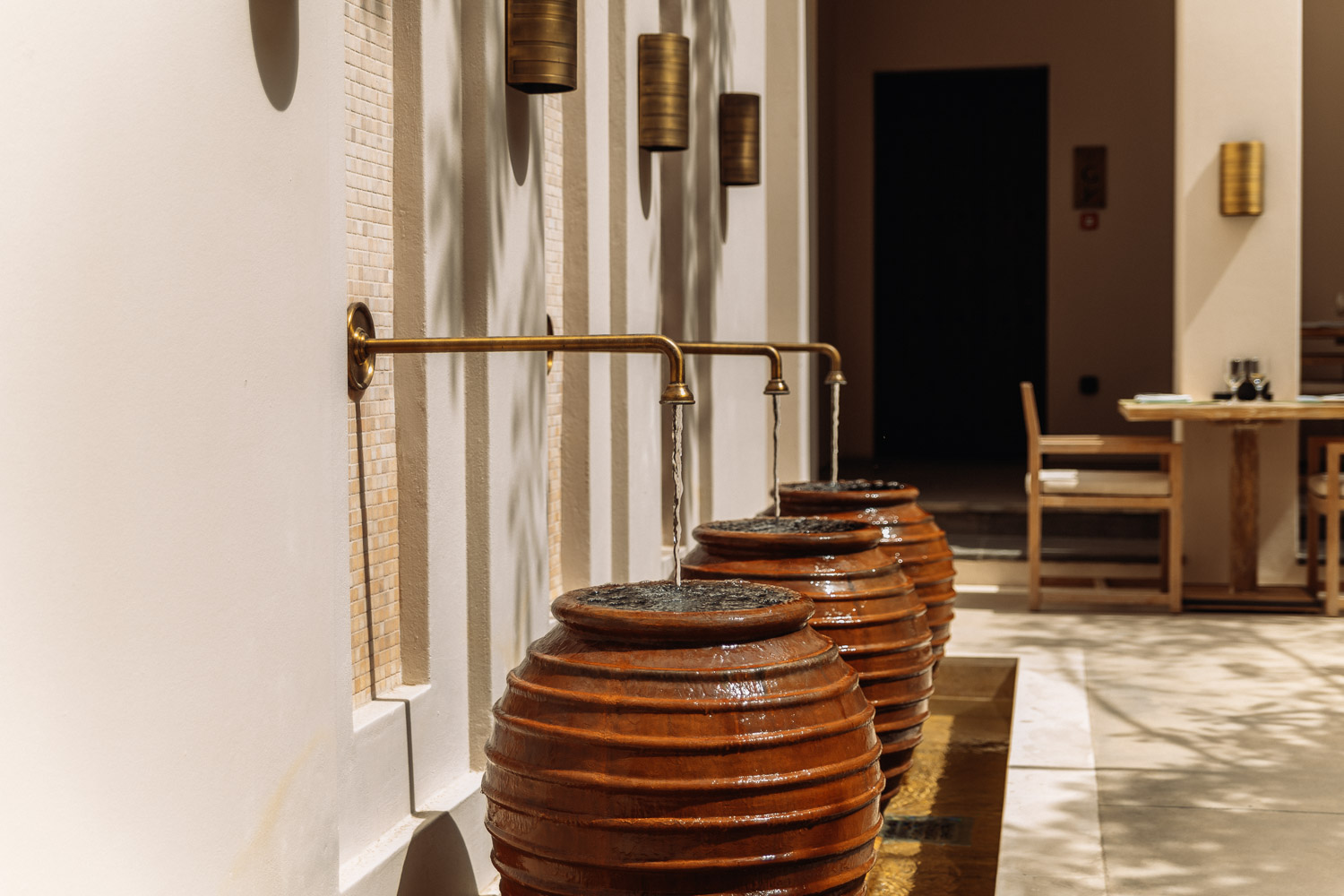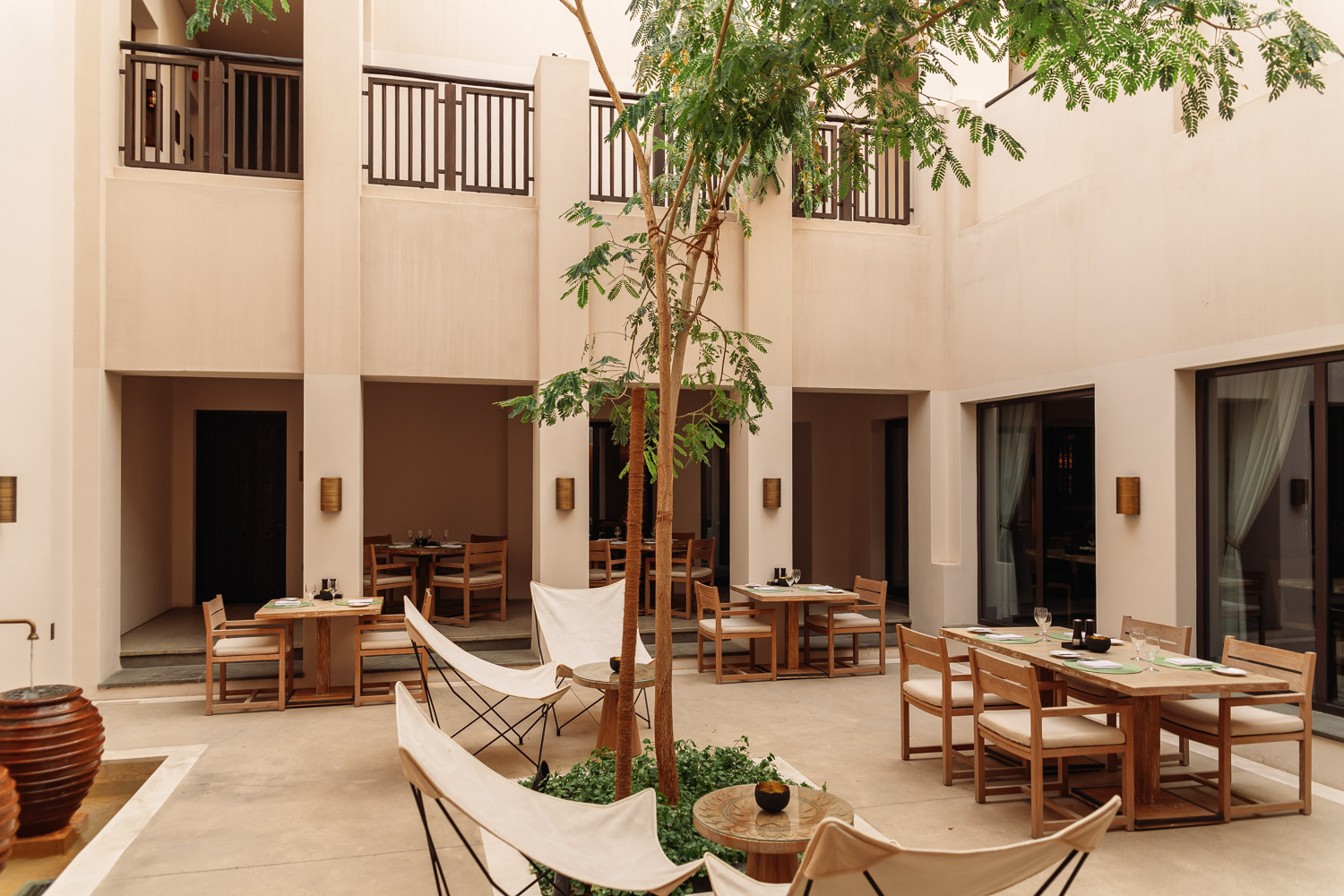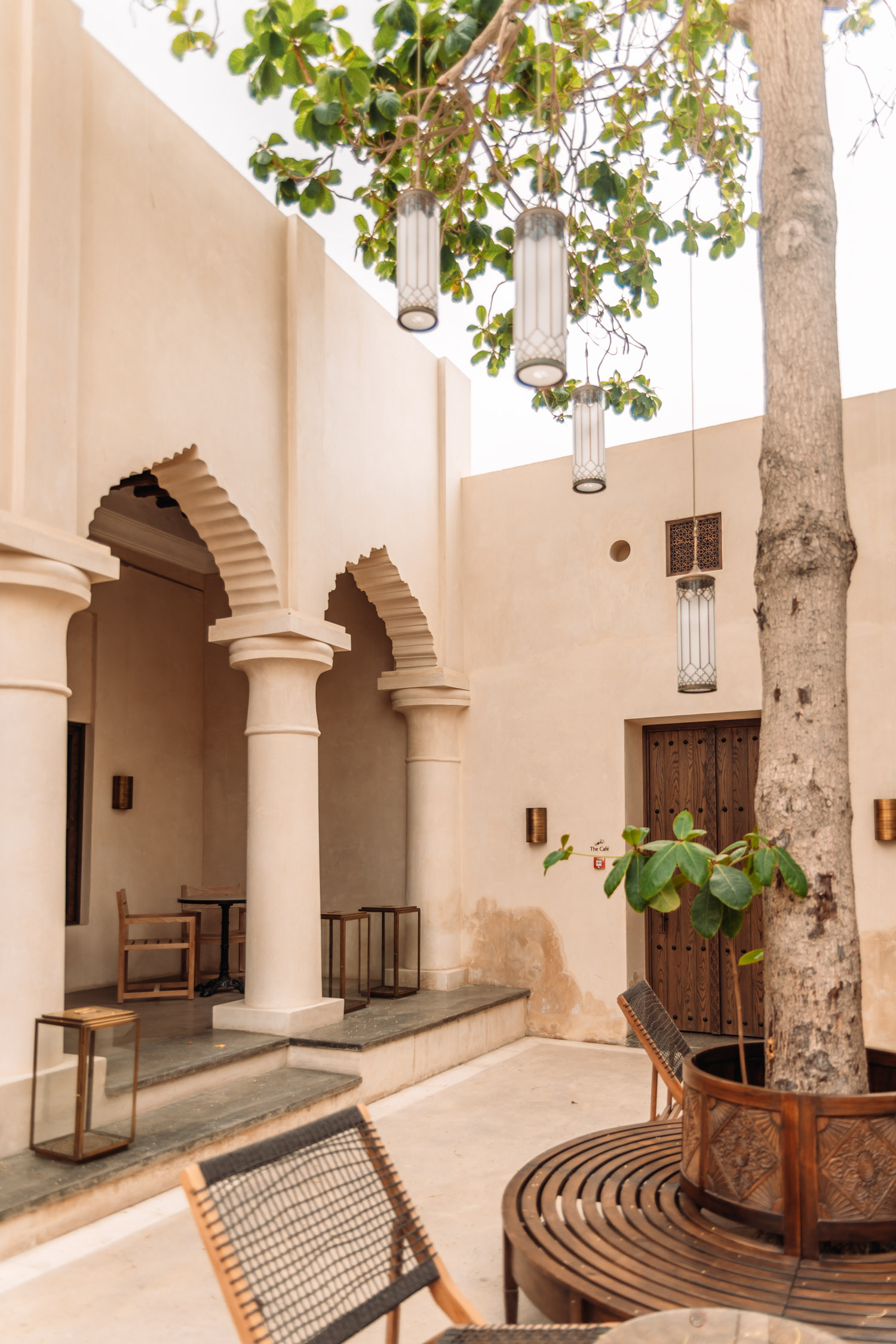 ---
Conclusion
I've stayed in several five-star hotels all over the world, and this is, so far, one of my favorites. Al Bait Sharjah exceeds all expectations. It's a memorable staycation in the Heart of Sharjah that lets you experience genuine Arabic hospitality in its authentic setting.
This resort will impress you with its thoughtful details, exceptional food experiences, spa treatments, impeccable service, and, above all, its magical ambiance, and beautiful historical views.
It's a carefully crafted blend of heritage, comfort, and luxury.
Whether you want to celebrate a special occasion, are traveling for business, or want to spoil yourself or your family, this relaxing resort is a destination in itself.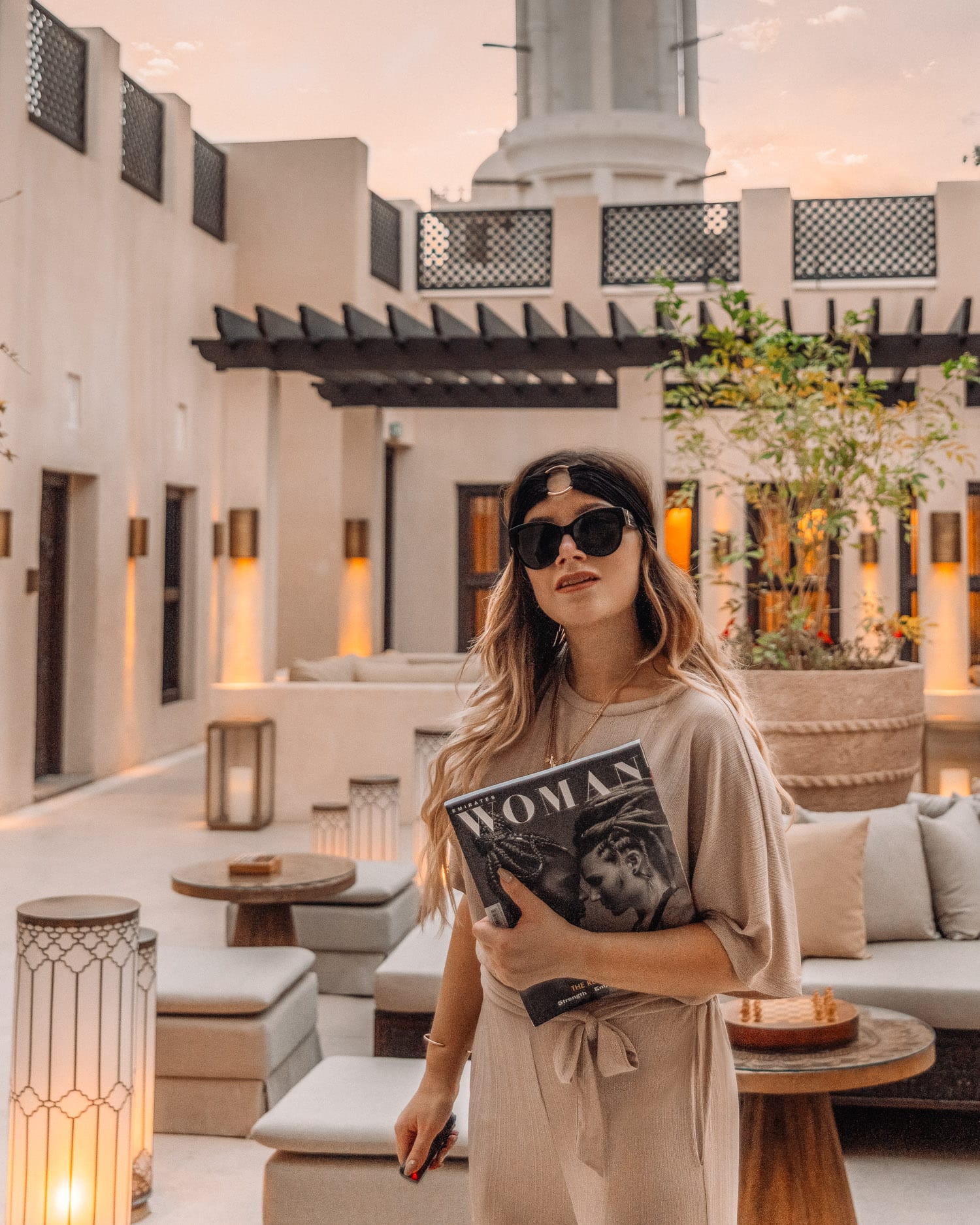 GHM's motto is 'a style to remember,' and this resort is one you'll have a hard time forgetting.
Click here to see the latest prices and availability for accommodation in Sharjah
In it to pin it? Save my Al Bait Sharjah hotel review for later!
Disclaimer

I visited Sharjah on a press trip organized by Sharjah Tourism.
As always, all opinions are my own.