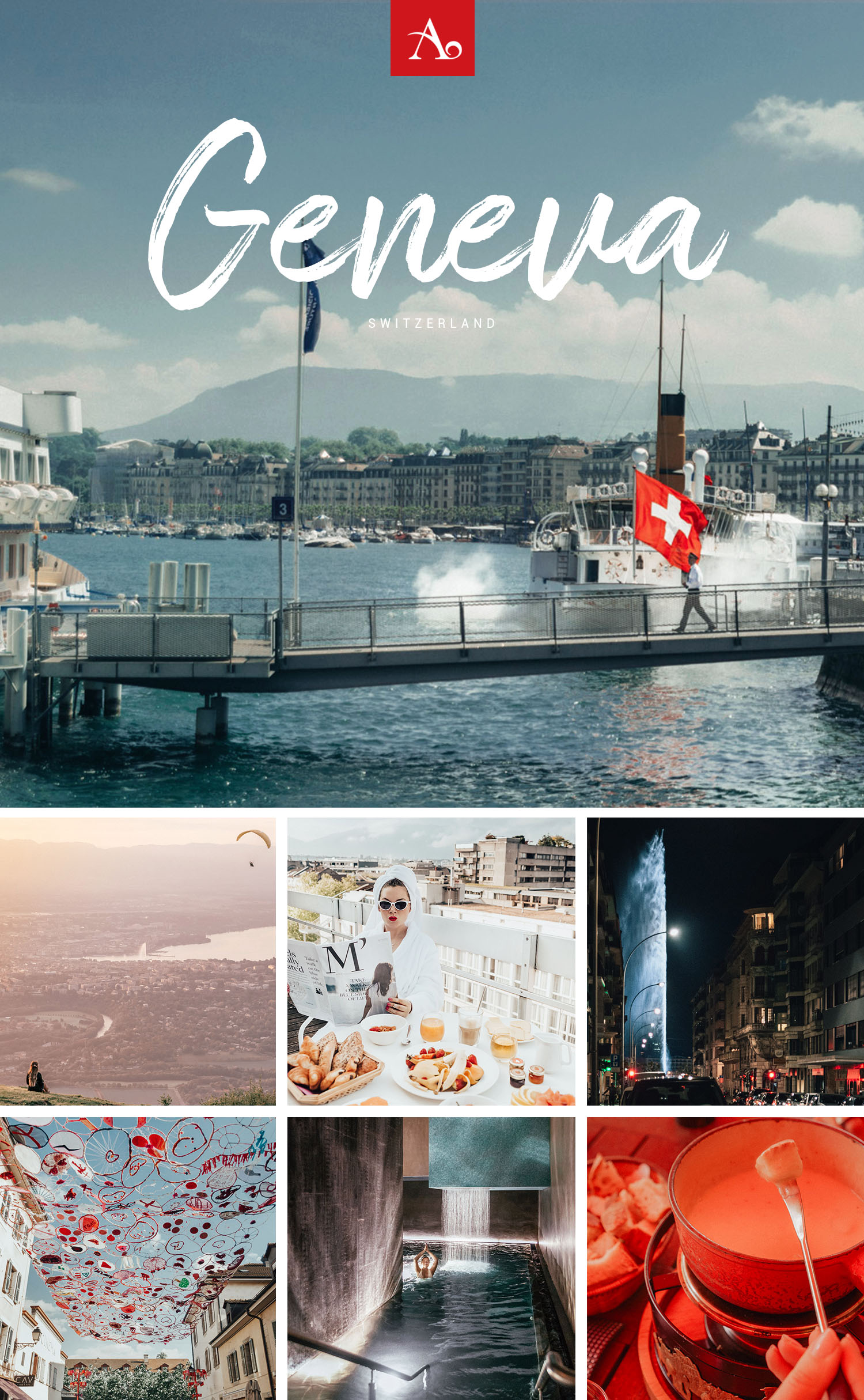 A vacay with relaxing spa experiences, perfect chocolate, cheese, wine, and lovely lake and mountain views? Yes, please! Discover what to do, where to eat and where to stay in this first timer's guide to Geneva, Switzerland.
Switzerland has always been on my bucket list, so I was very excited when Helena Gunnare and I got invited to explore Geneva on our own a weekend in May*. One of the things that surprised me the most is how beautiful and chic the whole city is. Geneva is located alongside the sparkling blue Lake Geneva and surrounded by the striking mountain ranges of Jura Mountains and the Alps (you can even spot Mont Blanc – the highest mountain in the Alps!).
Geneva is the second-largest city in Switzerland and a city with 2000 years of history. It's the birthplace of fine Swiss watchmaking and home to numerous museums and galleries, luxury hotels, jewelers, the UN's European office and the headquarters of the Red Cross.
Also, the city is so clean, the buildings are so pretty and the atmosphere is so relaxing and lovely.
In short, Geneva is a perfect chic getaway! A weekend trip is fine, but I think you too would love to stay longer.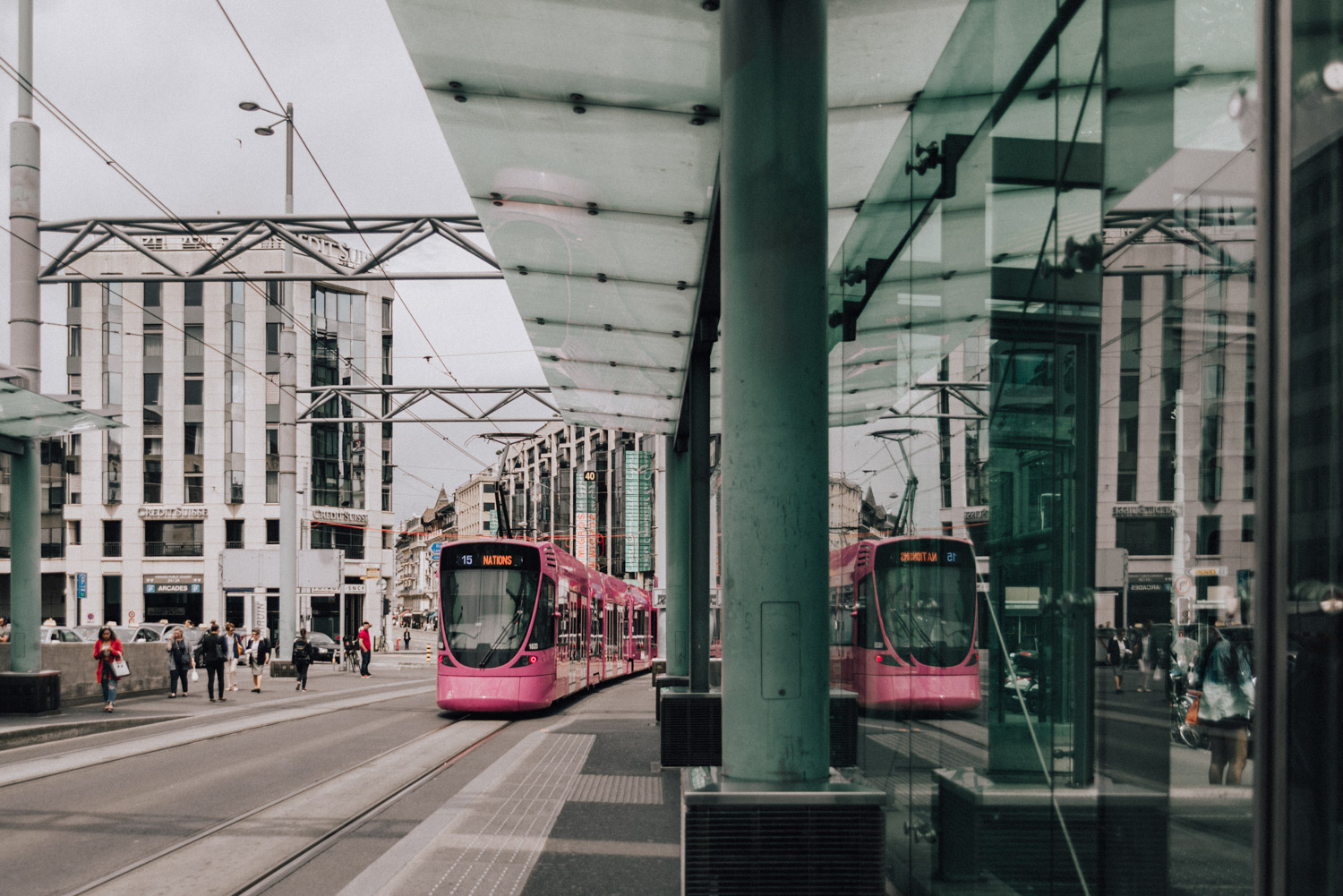 Things to know before your trip
Best time to visit is the summer (June-August) and December-April for winter activities
Geneva is a French-speaking city, but you can get around quite well with English too. However, in some restaurants, for example, you might not get an English menu. So be ready with Google translate in case you don't speak any French.
If you want to do a lot of exploring you can buy a Geneva Pass (for 1, 2 or 3 days) for lots of free and discounted attractions and activities.
The currency used in Switzerland is the Swiss franc.
There's free city wifi
Getting there & Getting around
Once you arrive at Geneva Airport, you can be in the city center in under ten minutes (!). You can get a free train ticket and jump on a 7-minute train ride to the city center (the shortest trip in Europe!). The ticket machines are in the luggage retrieval hall, on the left.
Public transportation is FREE for tourists: When you're staying in a hotel, a youth hostel or a campsite, you will receive a free "Geneva Transport Card" (for bus, train, tram, and boats). It will even do if you want to jump on a "Mouette", a cute yellow taxi boat and get to another side of the lake.
Book a trip to Geneva here (compare cheap flights, trains & buses)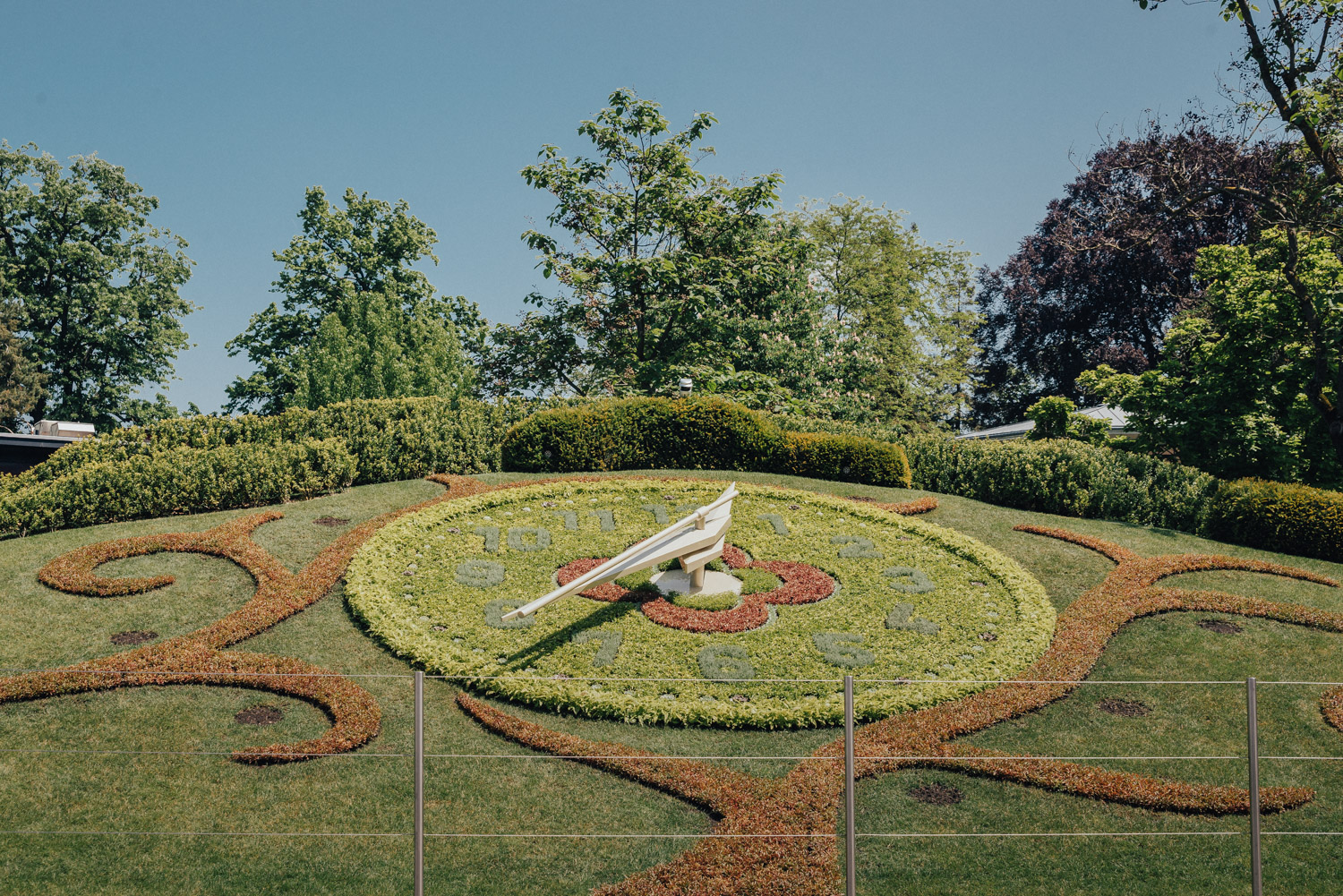 THINGS TO DO IN GENEVA, SWITZERLAND
Admire the Jet d'eau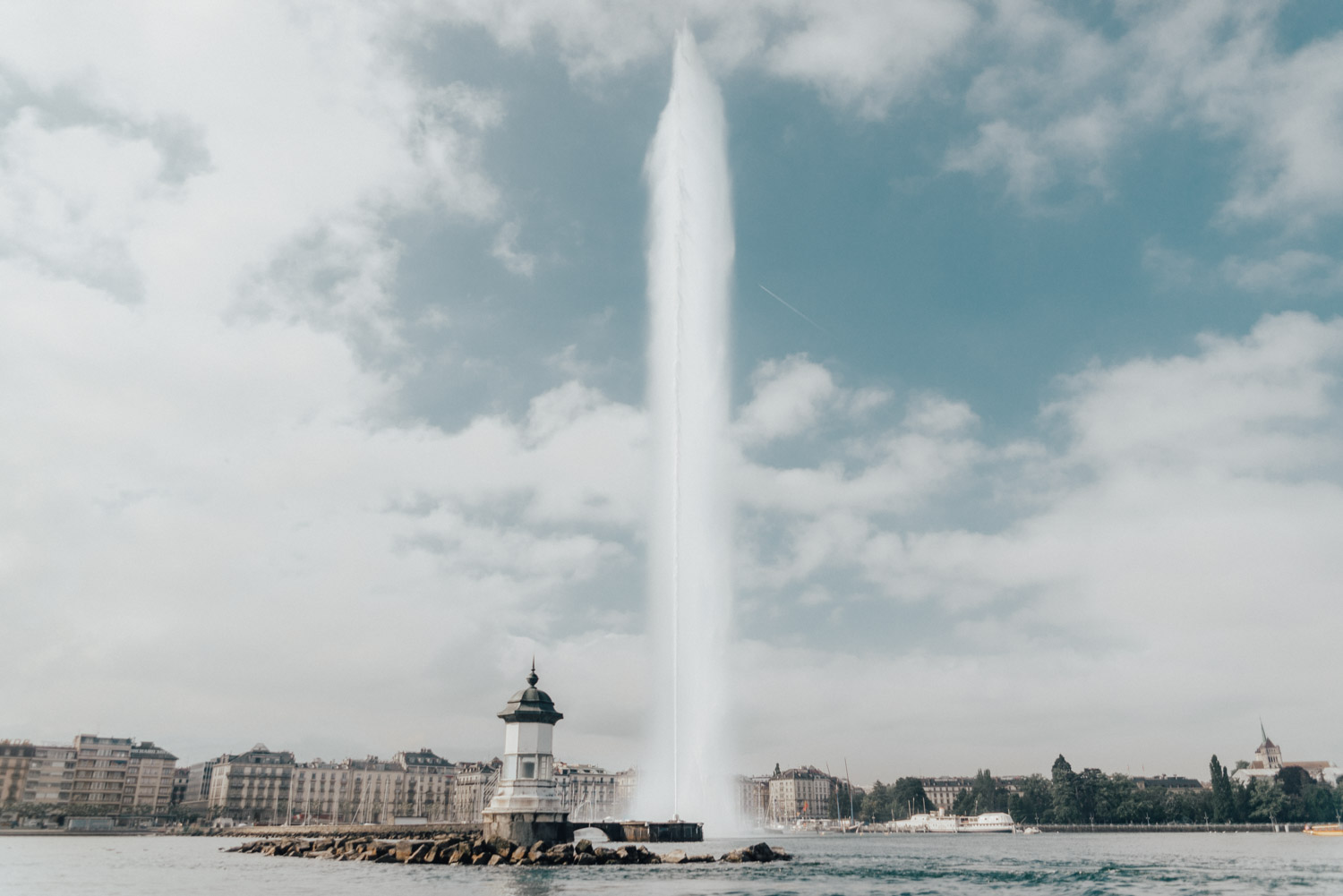 One impossible thing to miss in Geneva (literally) is the famous landmark Jet d'eau. This vast fountain pushes 500 liters of water every second up to an altitude of 140 meters. This at a speed of 200 km per hour.
The huge water beam makes it also very easy to navigate around the city, as you can spot the jet from almost anywhere.
Visit the Bohemian District Carouge
Cute shops, markets, fountains, secret gardens and lots of flowers. The bohemian district Carouge is also known as the "Greenwich Village of Geneva." With 18th century Italian styled houses and Mediterranean ambiance, this is a lovely place to just stroll around.
The many small boutiques, designers, arts and crafts shops also make this an excellent place for more relaxed and unique shopping. This is also where you'll find Instagram-worthy photo places around every corner.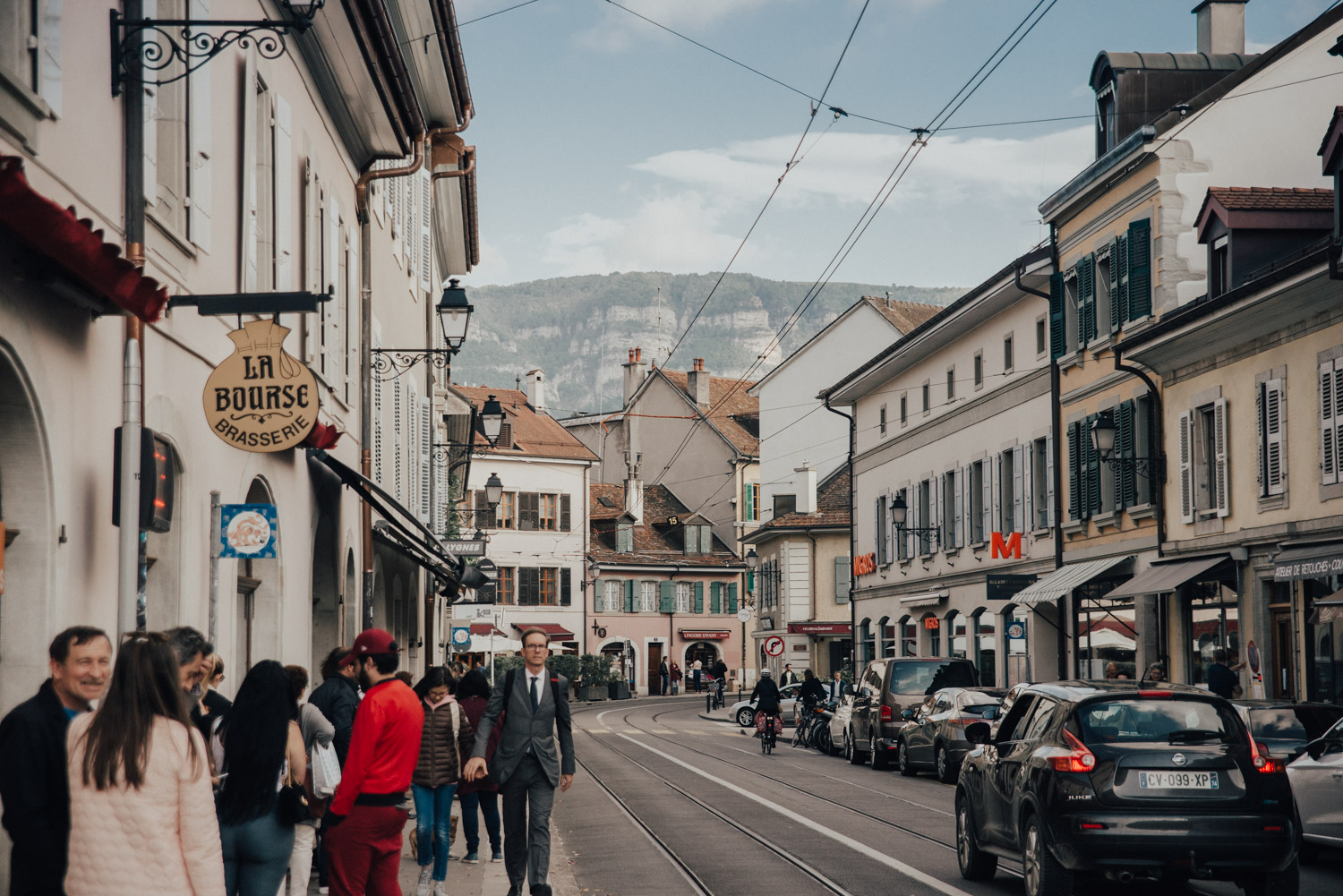 Relax at Bain-Bleu Hammam & Spa Genève-Plage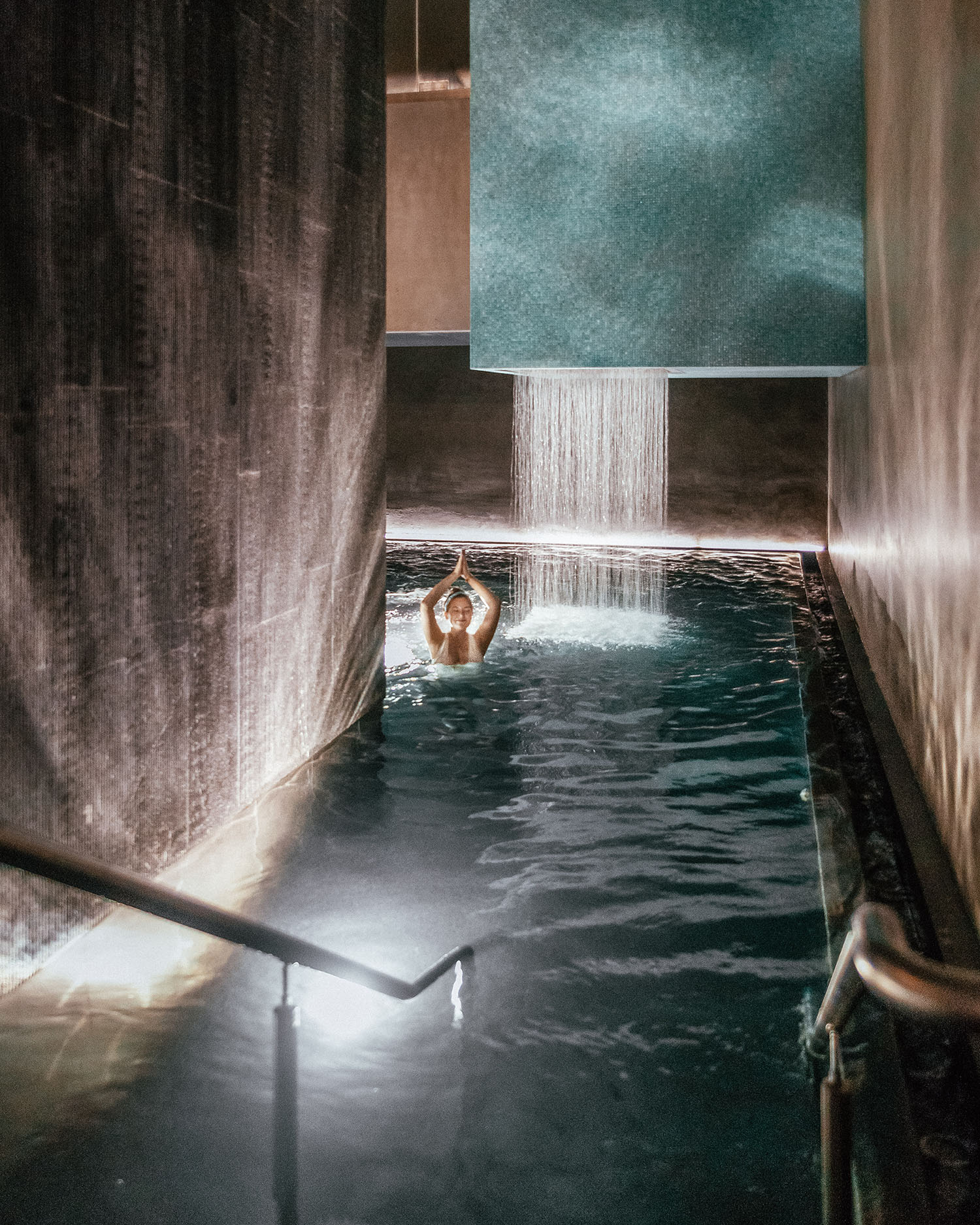 Make the most out of your relaxing holiday by pampering yourself! It was an absolute pleasure to step into Bain-Bleu Hammam & Spa Genève-Plage's relaxing world with jacuzzis, whirlpools, massage jets, and bubble loungers.
Soothe your body and mind with a massage or a 1 1/2 hour hammam session. Or just enjoy the indoor and outdoor pools. I think the dark-tiled indoor pool was so stunning with its waterfall and Eastern lamps that made the light cascade beautifully on the walls.
One thing to keep in mind is that this place can get very busy during the day, so a great tip is to get here when the place opens and enjoy it before the crowds.
See the Sunset from Mont Salève
The Balcony of Geneva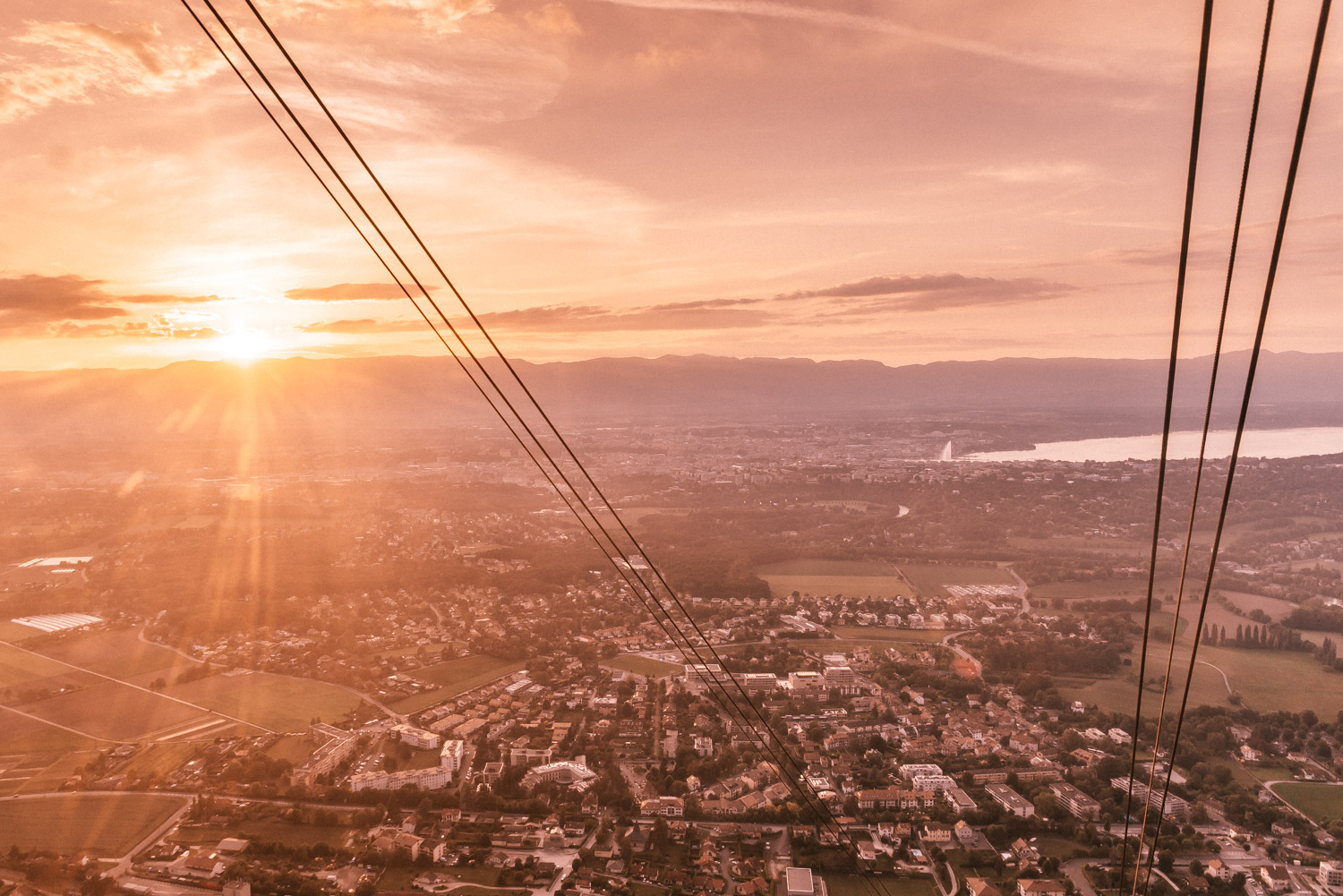 How gorgeous? Just across the French border is Mont Salève, also known as "The Balcony of Geneva." I think it's a MUST to head up here in time for sunset.
You just have to take a 20-minute bus ride with bus no. 8 (direction "Veyvrier) to the terminal stop, walk across the border and get a cable car that carries you to an altitude of 1100 meters in less than five minutes. The views are breathtaking. Mont Salève is also known as a playground for sports lovers. You can go paragliding, mountain biking, climbing, trekking, or cross-country skiing in winter.
When Helena and I were there, we saw many people paragliding. I tried not to be too jealous. It looked beyond romantic to paraglide into the sunset with Jet d'eau dancing in the background.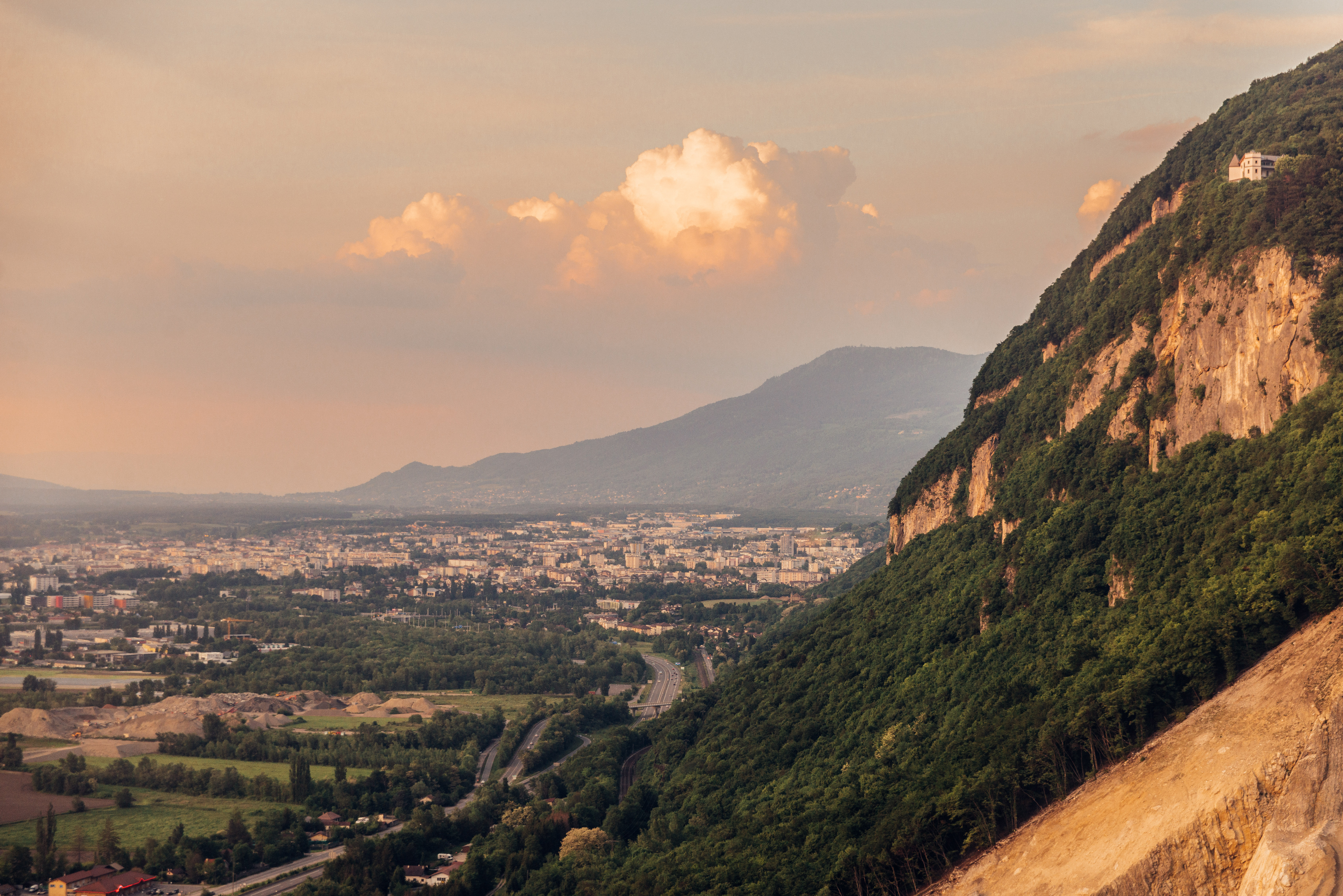 Take a Fishing Boat Trip on Lake Geneva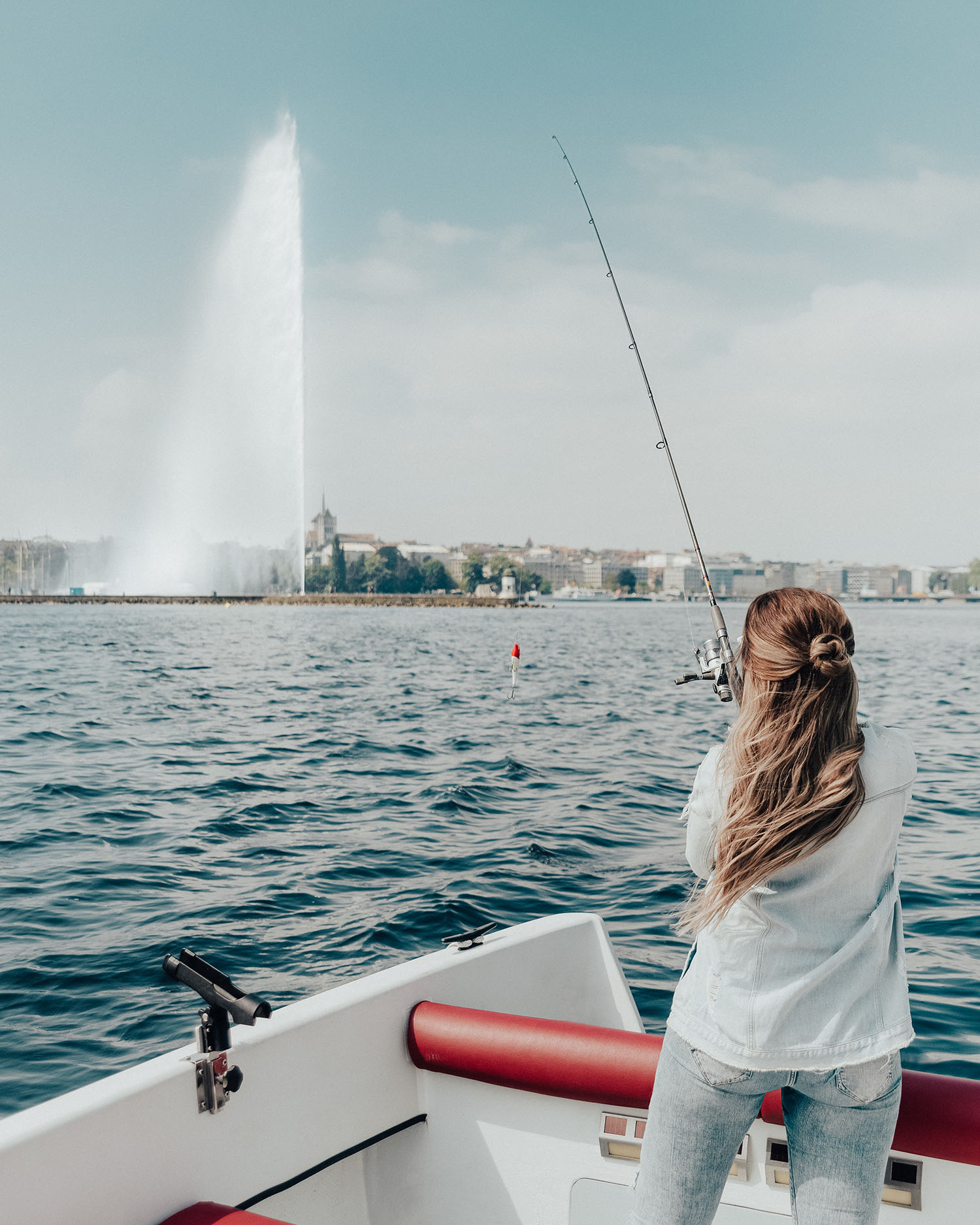 Lake Geneva is one of the largest lakes in Western Europe. I think one of the best things you can do in Geneva is going on a boat trip. Or a private boat fishing trip! It's so cool to explore Geneva from another angle.
Helena and I headed out with Geneva Boats to try to catch some Char, Fera, Perch, Pike or Lake Trout. We actually caught a giant Pike after about 20 minutes of just enjoying the sun and weather (you can just sit back and relax while you are "fishing"). We also saw Jet d'eau up close (it's so impressive), felt the wind in our hairs, took lots of photos, and just had a great time with Balthazar Witzig from Geneva Boats.
Click here for more attractions, tickets, and tours in Geneva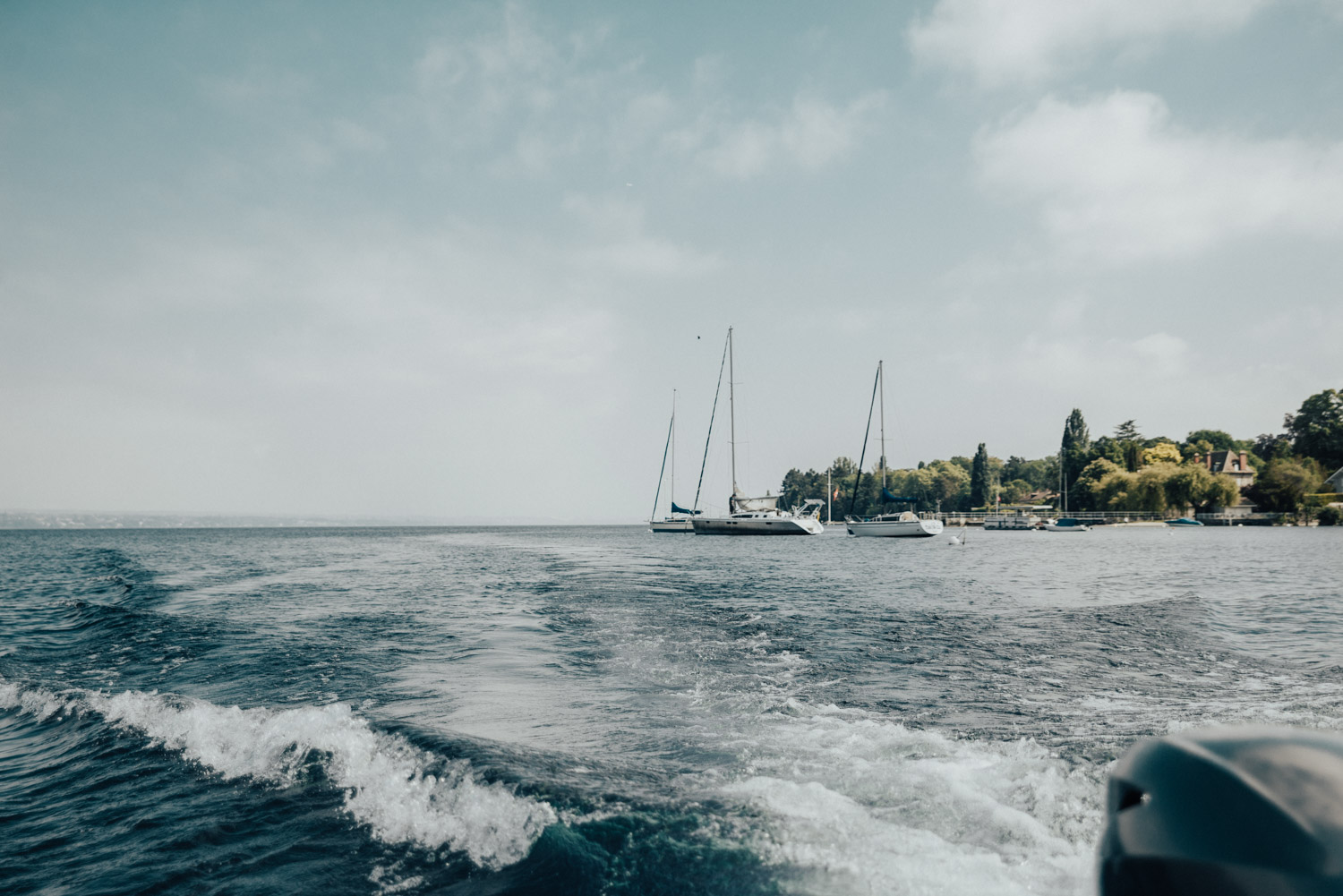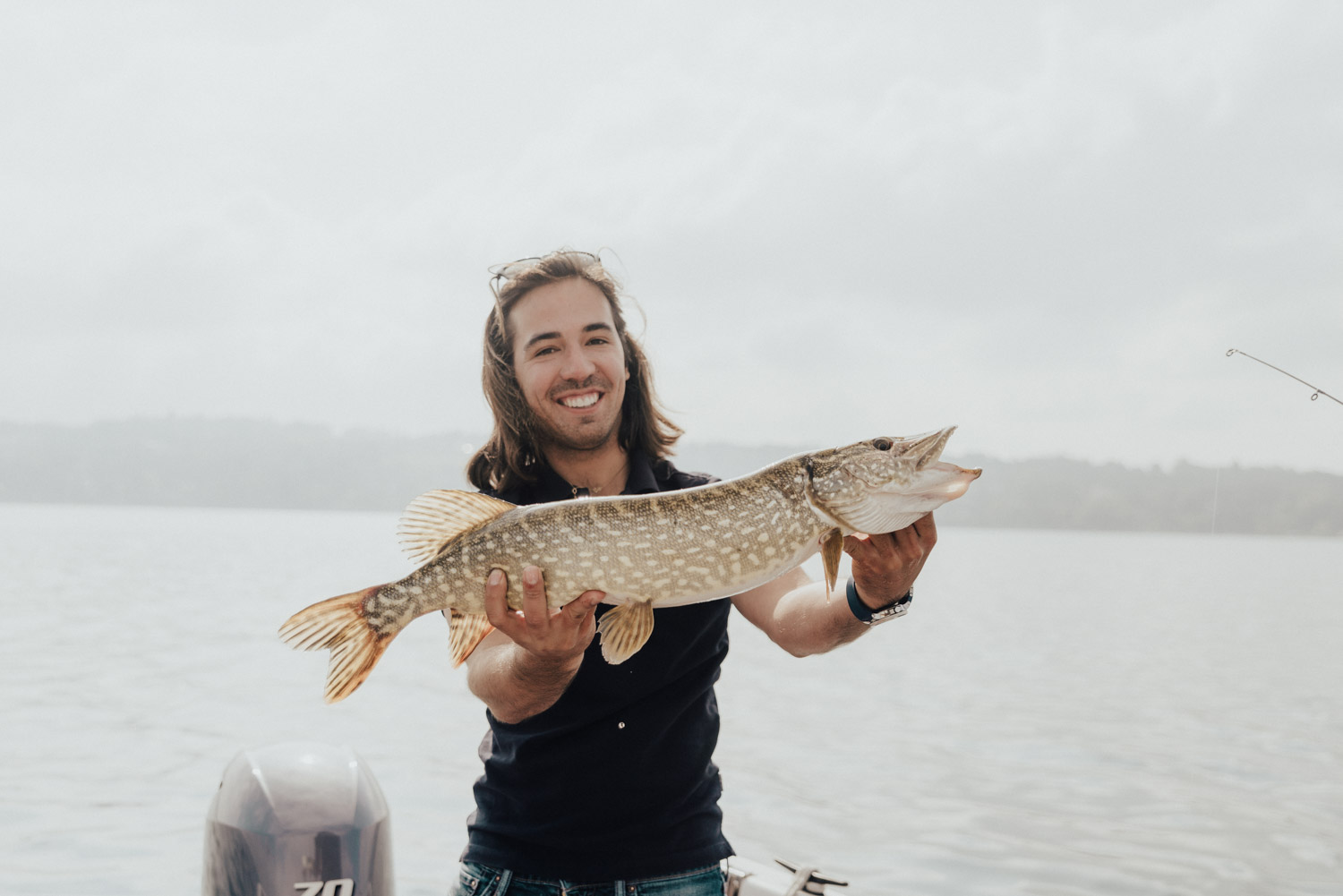 Stroll Through the Old Town