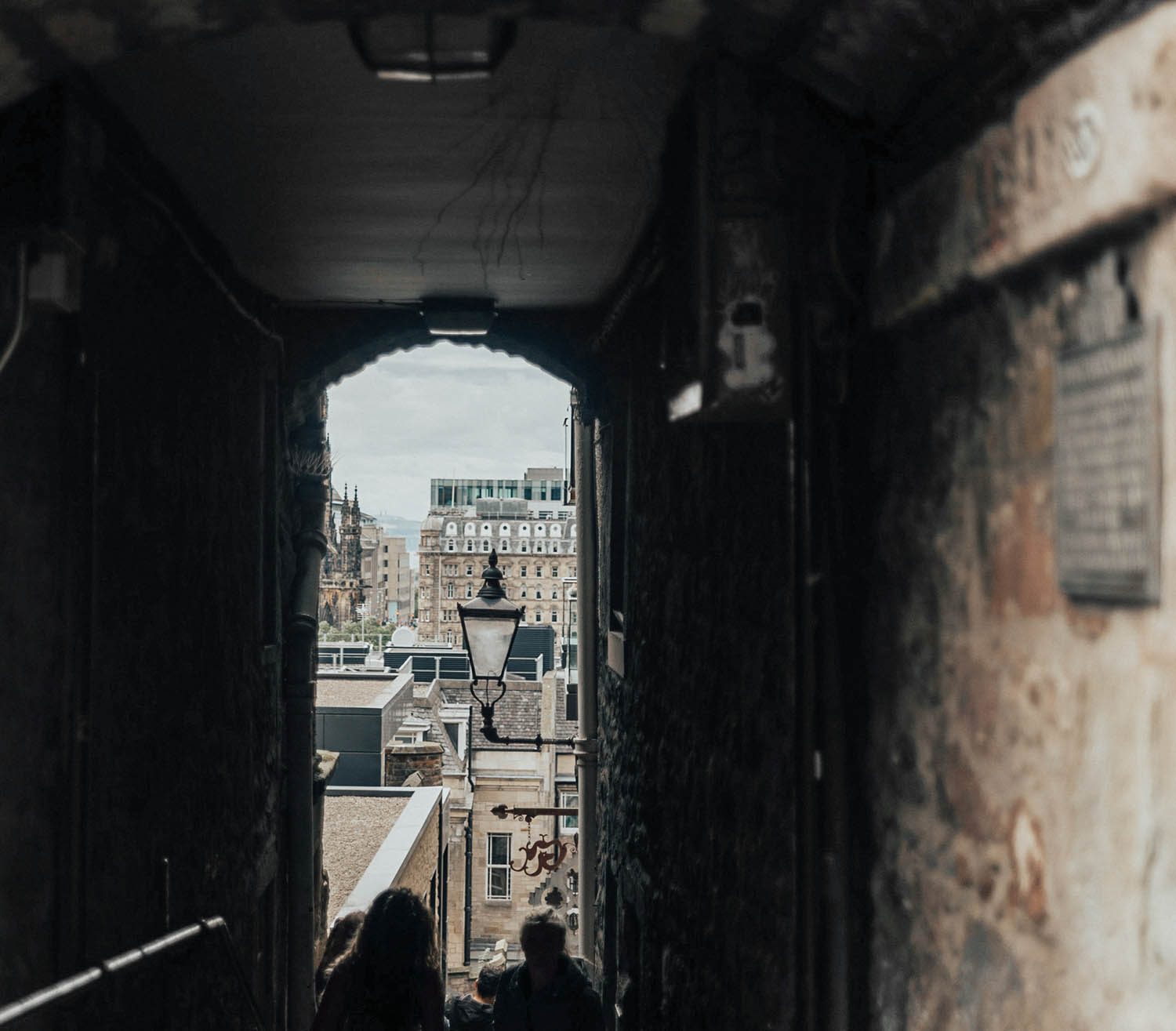 From Hogwarts buildings, Voldemort's grave and real-life Diagon Alley to where it all began – and ended. Here are eight amazing Harry Potter places in Edinburgh that just can't be missed.
First of all, can you believe it's 20 years ago since the first book was published? I grew up with Harry Potter and the first book is what got me into reading. As a huge Harry Potter fan, I, therefore, knew I would fall in love with Edinburgh. I had heard so much about the city before I visited it during Edinburgh Festivals. Little did I know how 'Hogwartsian,' it would feel walking around the city's different levels.
The Old Town brings the Wizarding World of Harry Potter to life with its labyrinth of cobbled streets, narrow alleyways, hidden courtyards, and many medieval turrets. It's easy to see how much this city-inspired J.K. Rowling when she moved to Edinburgh in the 1990s.
From the city's gothic architecture to its now-famous graveyard and cozy atmosphere at the cafes. The Scottish capital is filled with magic. If the magic is still real for you, you will love visiting these places in the city …
Even muggles will enjoy visiting these places.
1. Victoria Street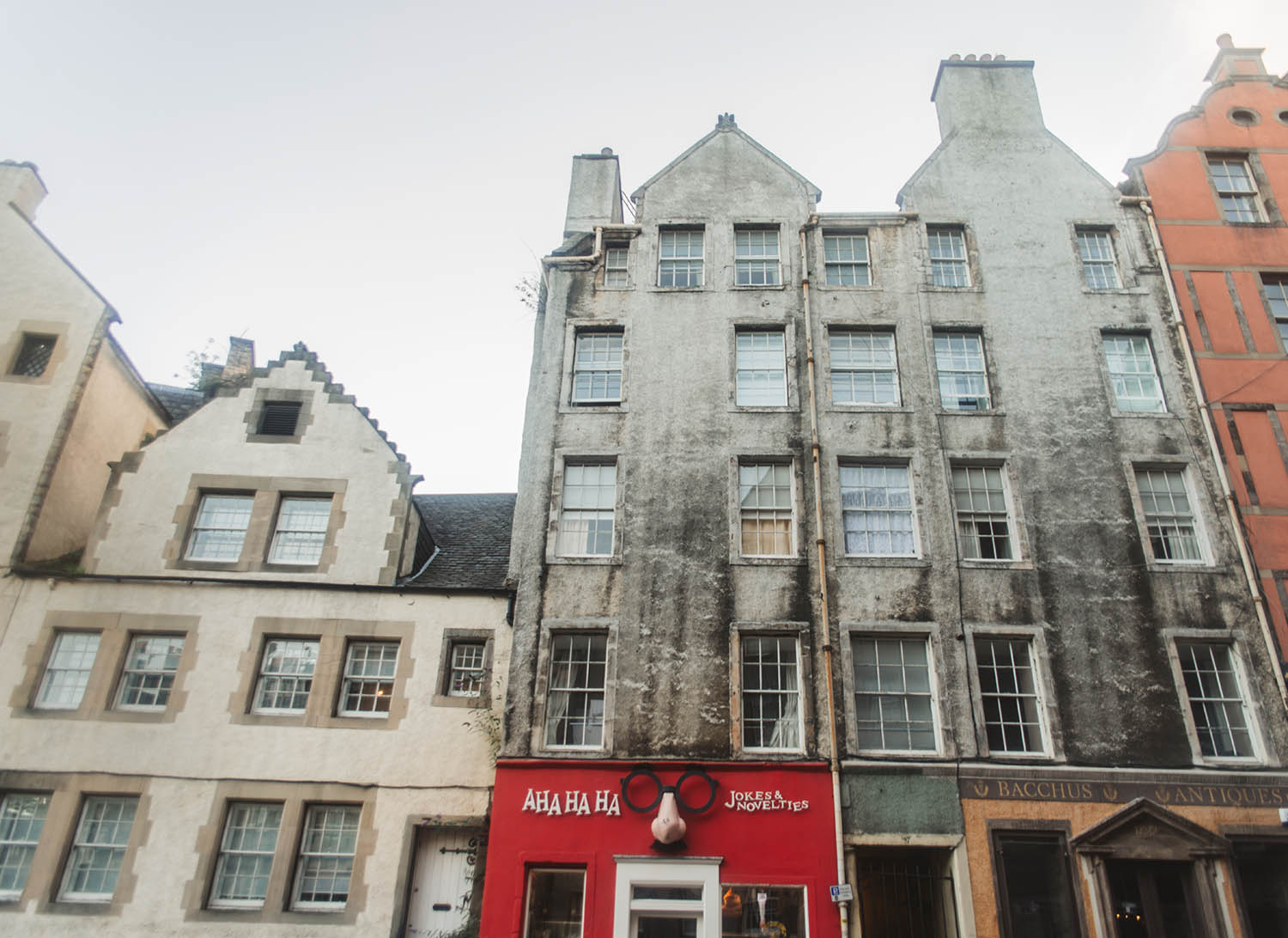 When you arrive in Edinburgh, the first thing you should see is Victoria Street. It might be the most magical street in the world. It's a gorgeous split-level lane with colorful facades and marvelous shops. There is even a joke shop, AHA HA HA Jokes & Novelties, at the bottom of their street. It's sadly not run by Weasley, but you can't get over the feeling that the whole street is like a real-life Diagon Alley.
Click here for more attractions, tickets, and tours in Edinburgh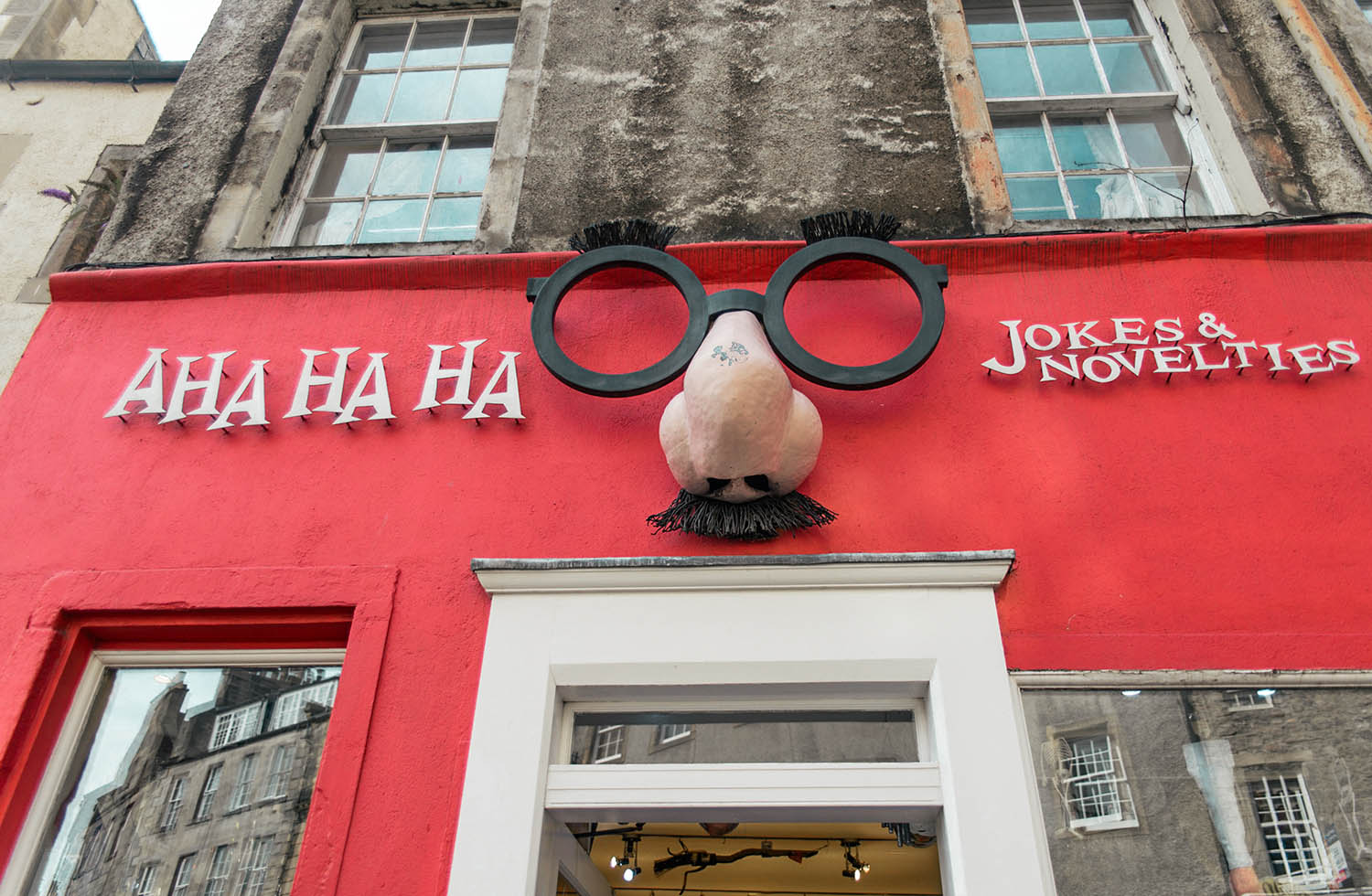 2. Diagon House
As if Victoria Street wasn't magical enough, there is even a magic store called Diagon House located on Victoria Street. I think this store deserves to be named a must-see place of its own in this list. The little shop is packed from floor to ceilings with "all things Potter," and interesting artifacts, old globes, compasses, feather quills, world maps, potion bottles, and vintage suitcases.
It is amazing. I just wanted to say "Accio everything!." The shop is on two levels but is so tiny that you might have to queue outside before getting in.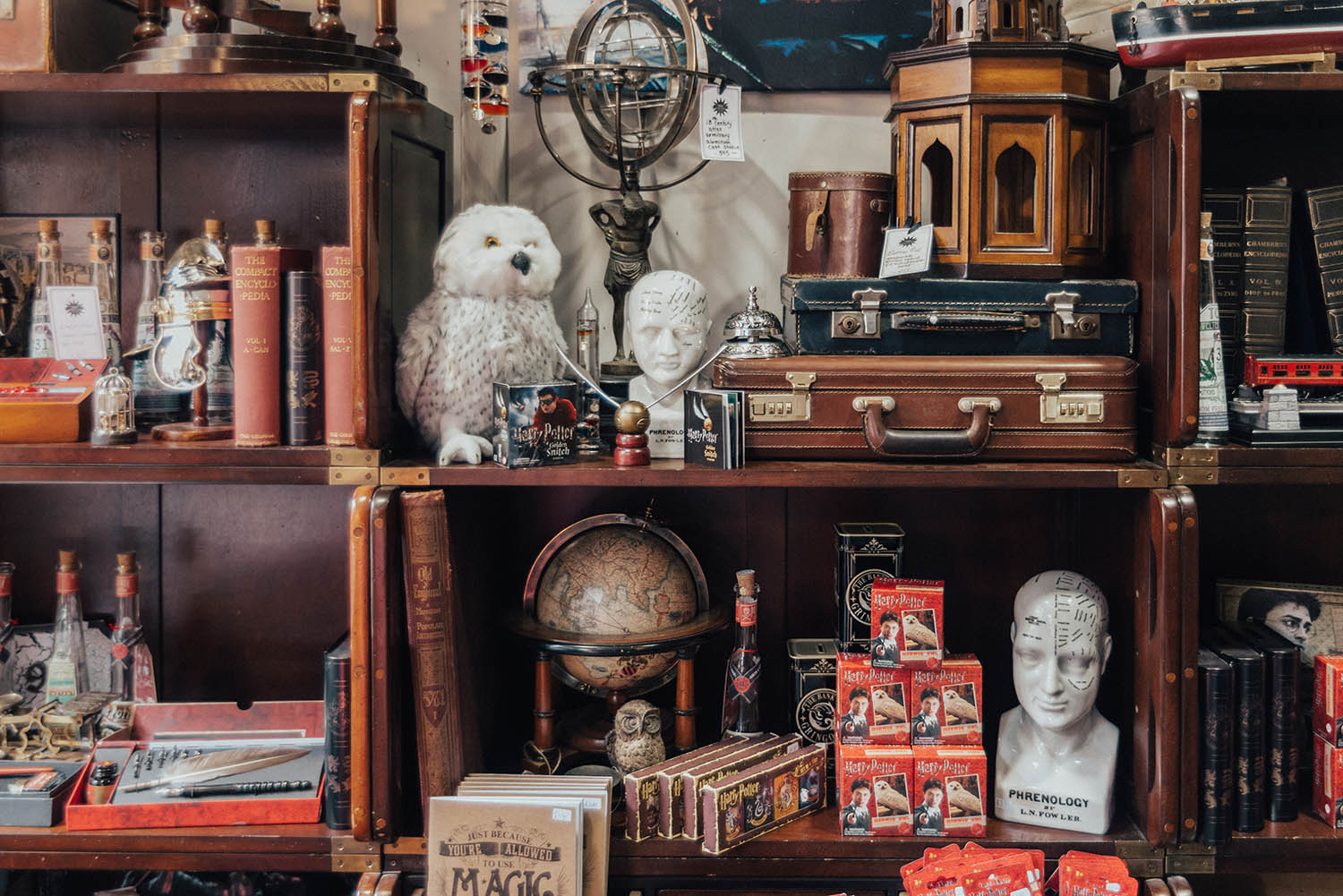 Between chocolate frogs, wand and broomsticks you'll find beautiful vintage artifacts. I wish I had bought that little old globe on the bottom shelf. Isn't it just perfect?
3. The Elephant House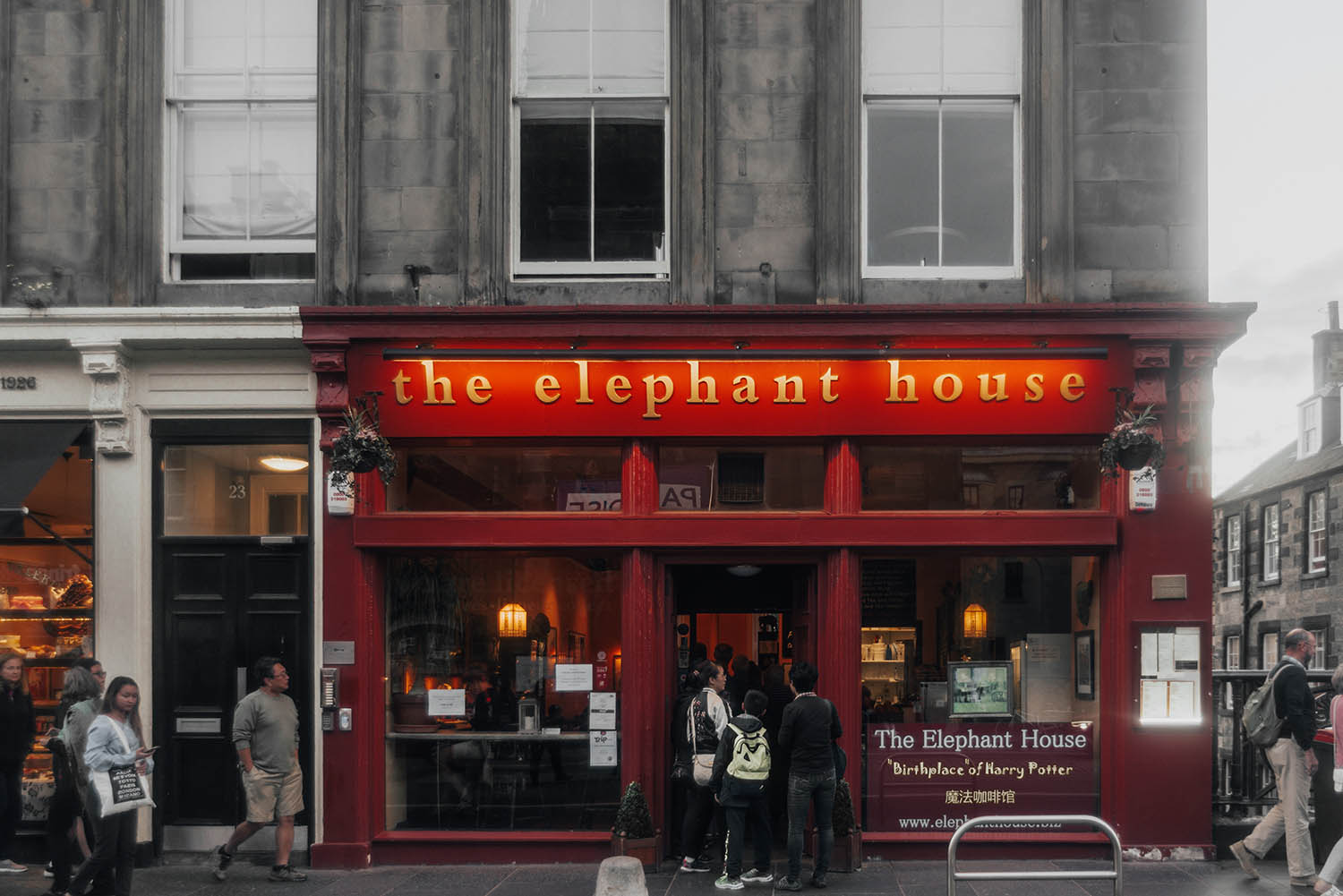 The Elephant House proudly brands itself as 'The Birthplace of Harry Potter.' J.K. Rowling had very little money in the early years living in Edinburgh, and she would often go to write in the city's cafés The price of a cup of coffee was cheaper than heating her apartment. She wrote The Chamber of Secrets and The Prisoner of Azkaban in this cozy café, bringing Harry Potter's world to life while looking out of the window at the view of Greyfriar's Kirkyard and Edinburgh Castle. If you're lucky, you can get a window seat and get inspired by the same view.
A visit isn't complete without a trip to the restrooms. Fans from all over the world have covered the white walls with Harry Potter-themed graffiti. The cafe used to remove these scribblings, but it's now accepted as it can't be stopped.
4. Spoon Cafe Restaurant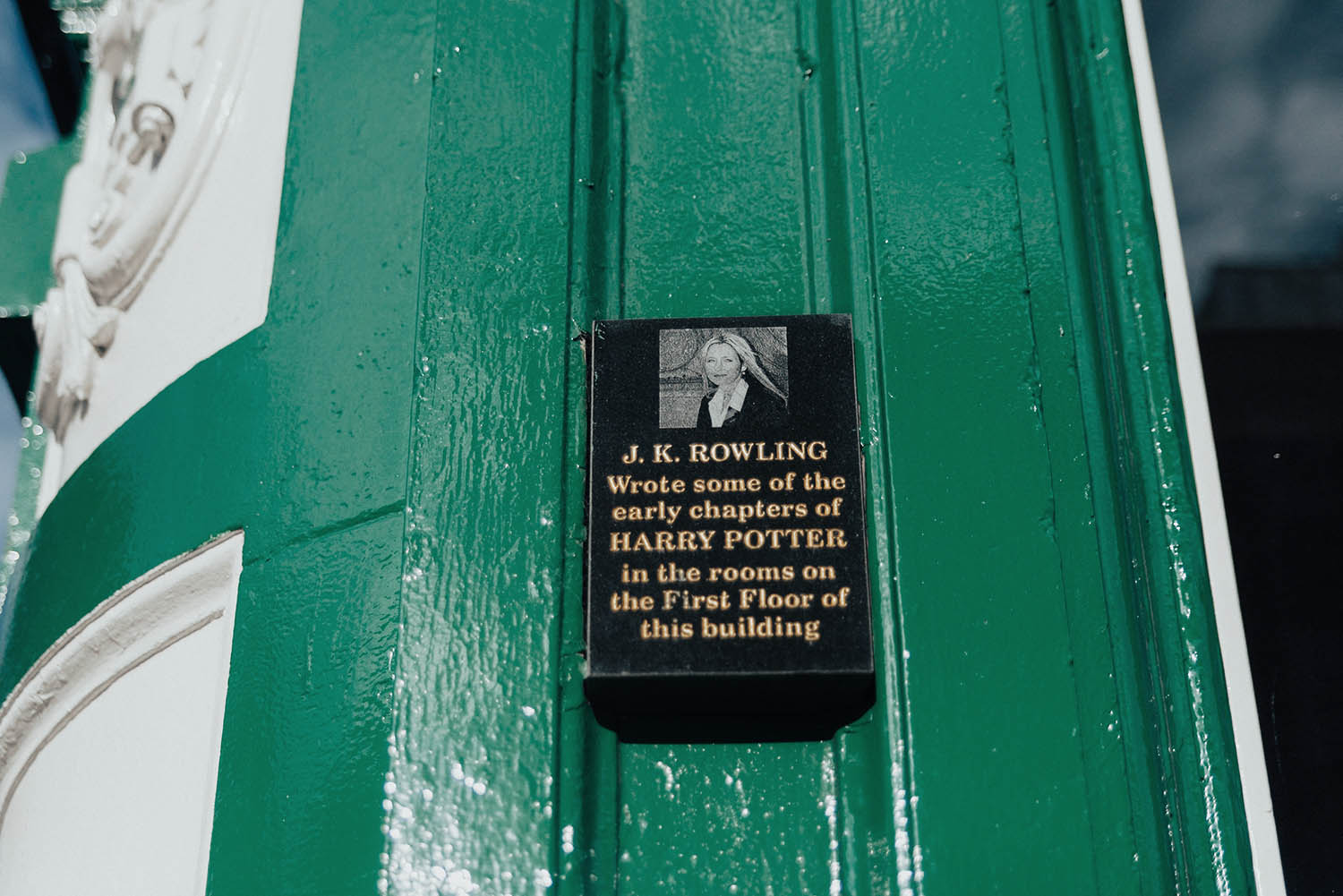 Another of J.K. Rowling's favorite writing spots is Spoon (then known as Nicholson's Café and owned by her brother-in-law). She wrote parts of the first book in the series here while sipping coffee and overlooking Edinburg University's Old College.
I really liked the quirky interior, big windows, and great food. It's a perfect place to stop by for lunch, dinner or afternoon tea.
I ordered a delicious portobello mushroom with fried halloumi, garden peas, and brown rice and a Curiosity Cola.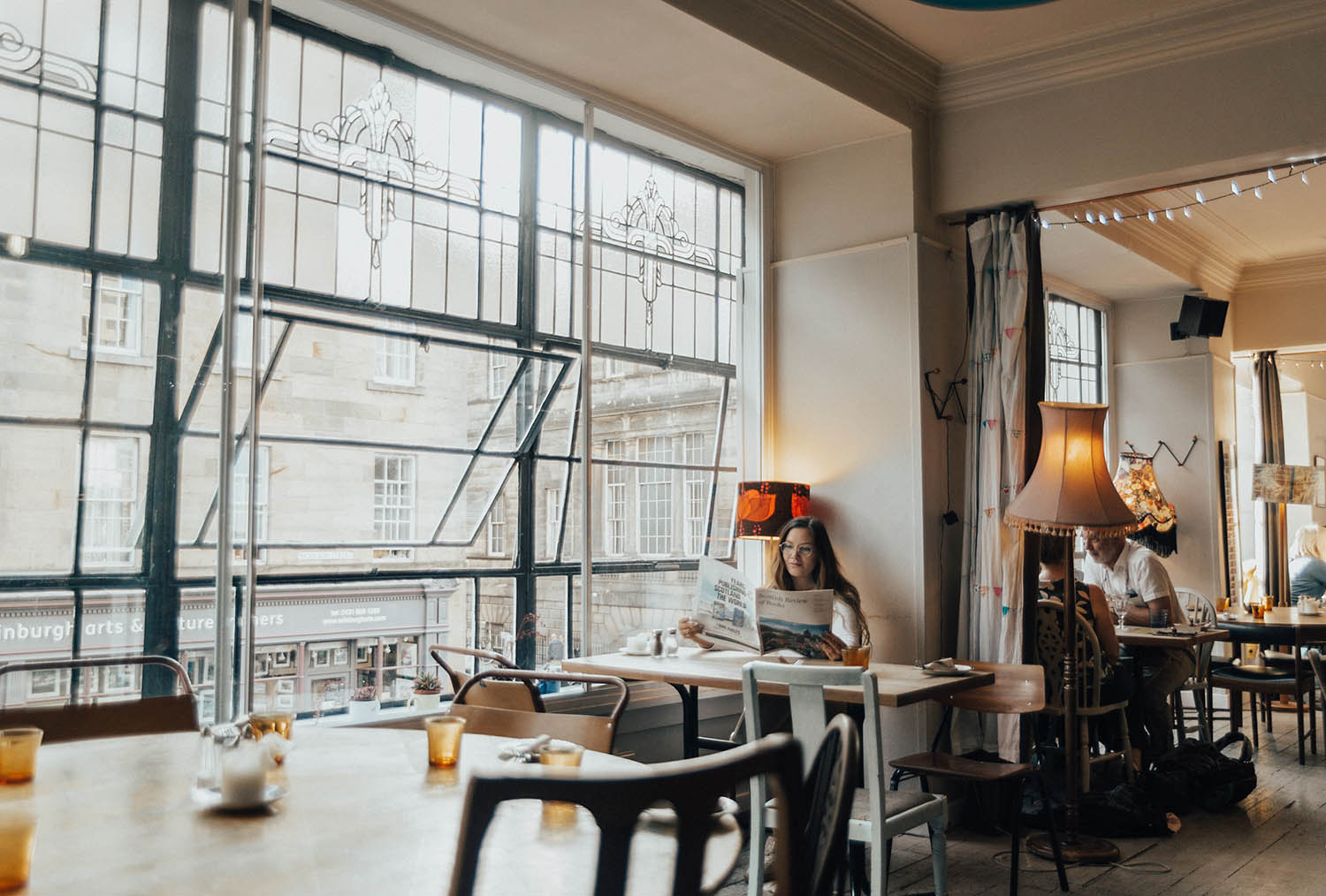 5. Greyfriars Kirkyard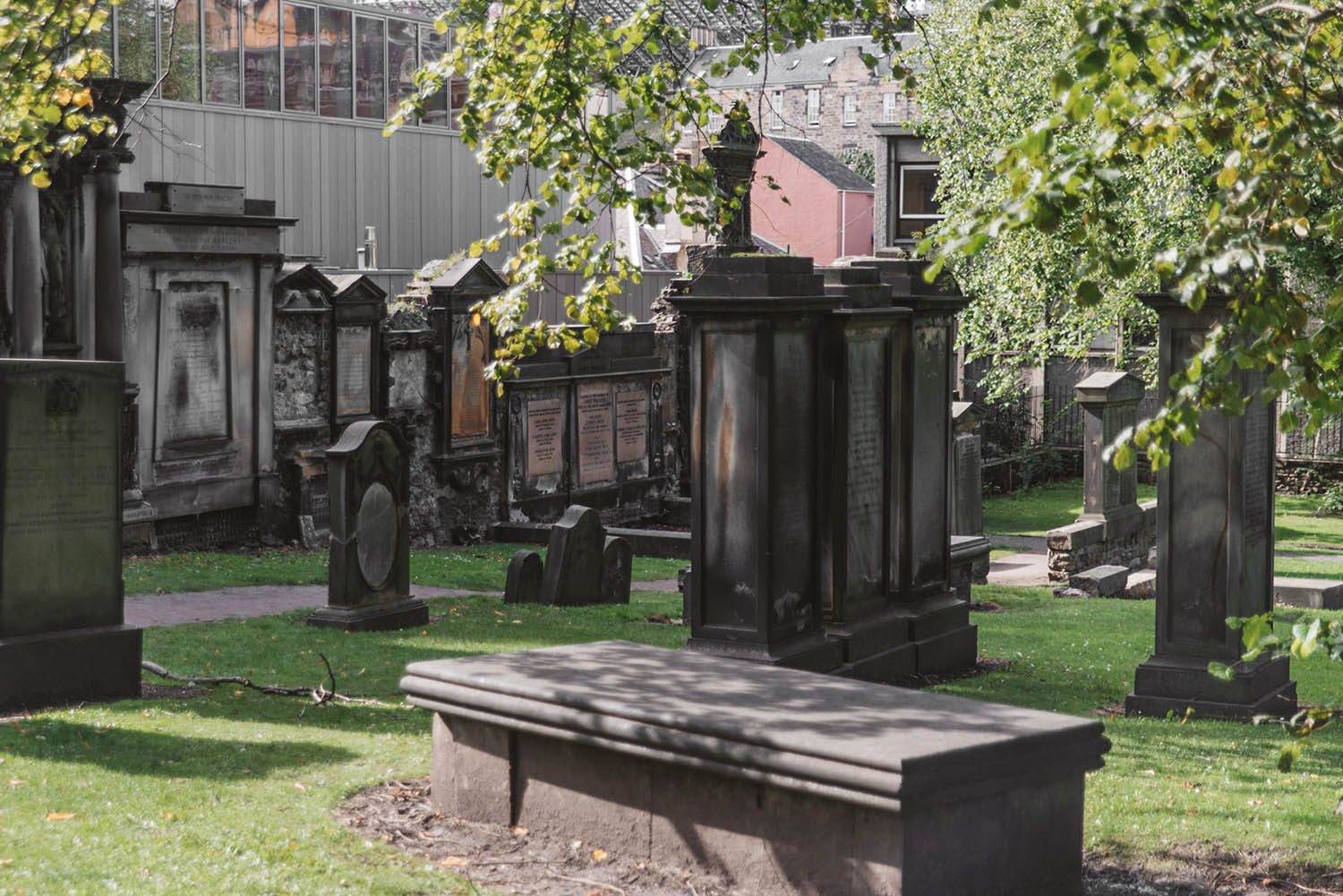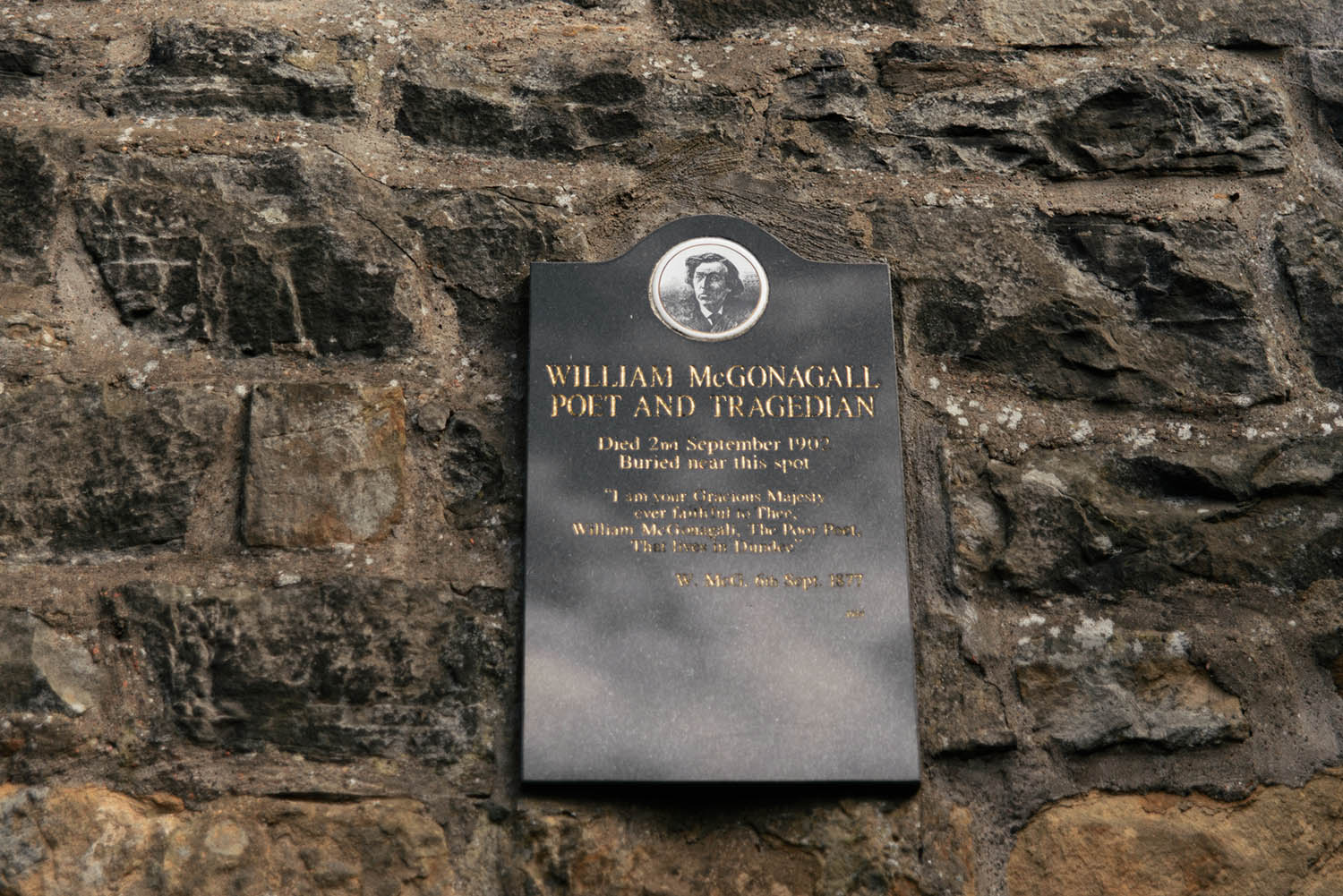 This ancient and atmospheric graveyard Greyfriars Kirkyard, beside the Elephant House, is also a must to visit as a Harry Potter fan. Here you can see what inspired the names of J.K. Rowling's characters.
The most well-known grave is the grave of Thomas Riddell which might have inspired the name of Lord Voldemort (Tom Marvolo Riddle). The graveyard is also the resting place of William McGonagall, a famously bad poet who shares a last name with Professor Minerva McGonagall. Finally, there is the grave of Mrs. Elizabeth Moodie which might have inspired the name of Alastor "Mad-Eye" Moody.
Keep in mind that it might be difficult to find all the graves on your own. But you can keep an eye out for where people are taking pictures (or go on a guided tour).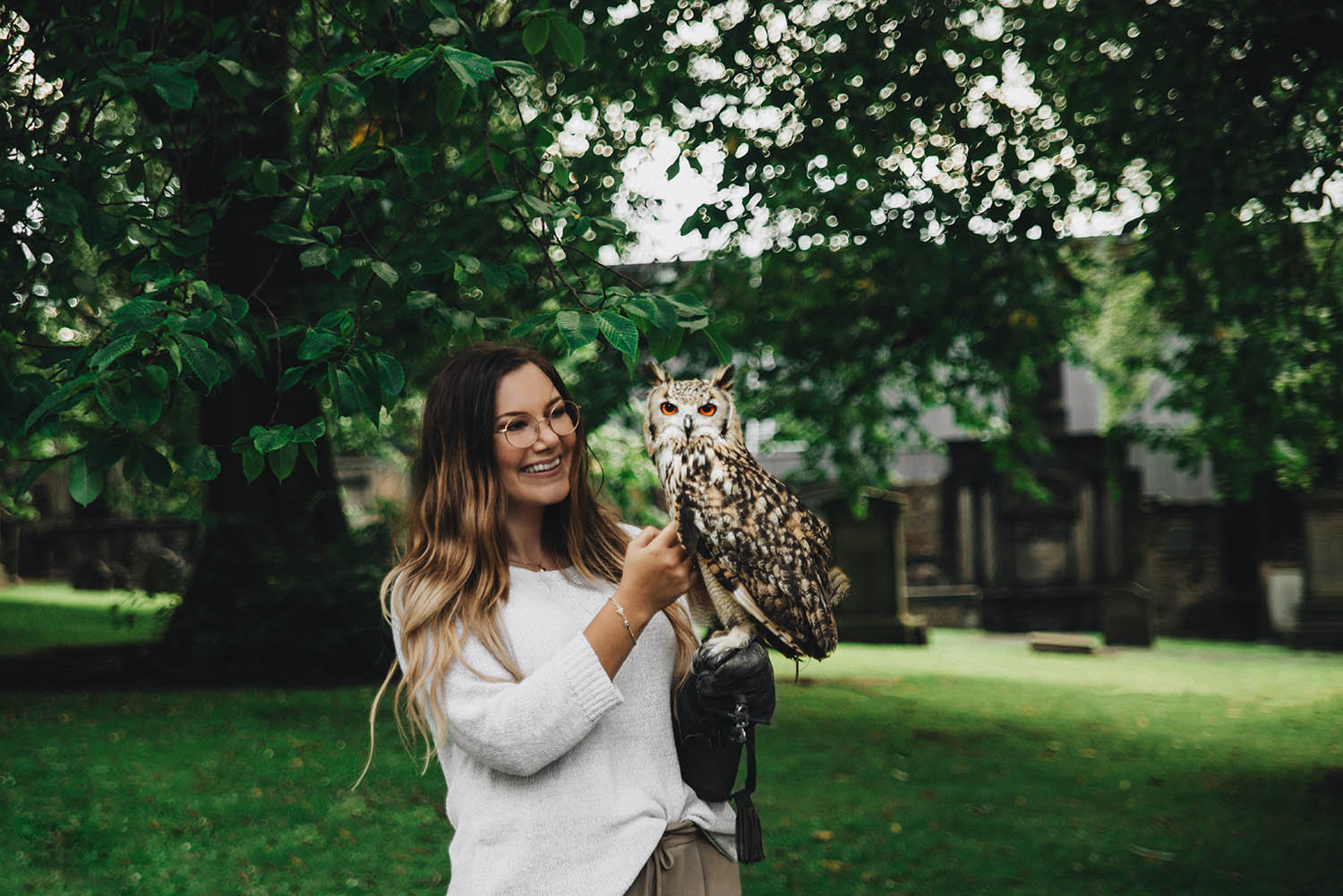 When I entered the graveyard during Edinburgh Festivals, the first thing I saw was a cute owl soaring over a gravestone. Later, by Voldemort's grave, I spotted people with cloaks and wands. It almost felt like I stepped right into a fantasy movie.
6. George Heriot's School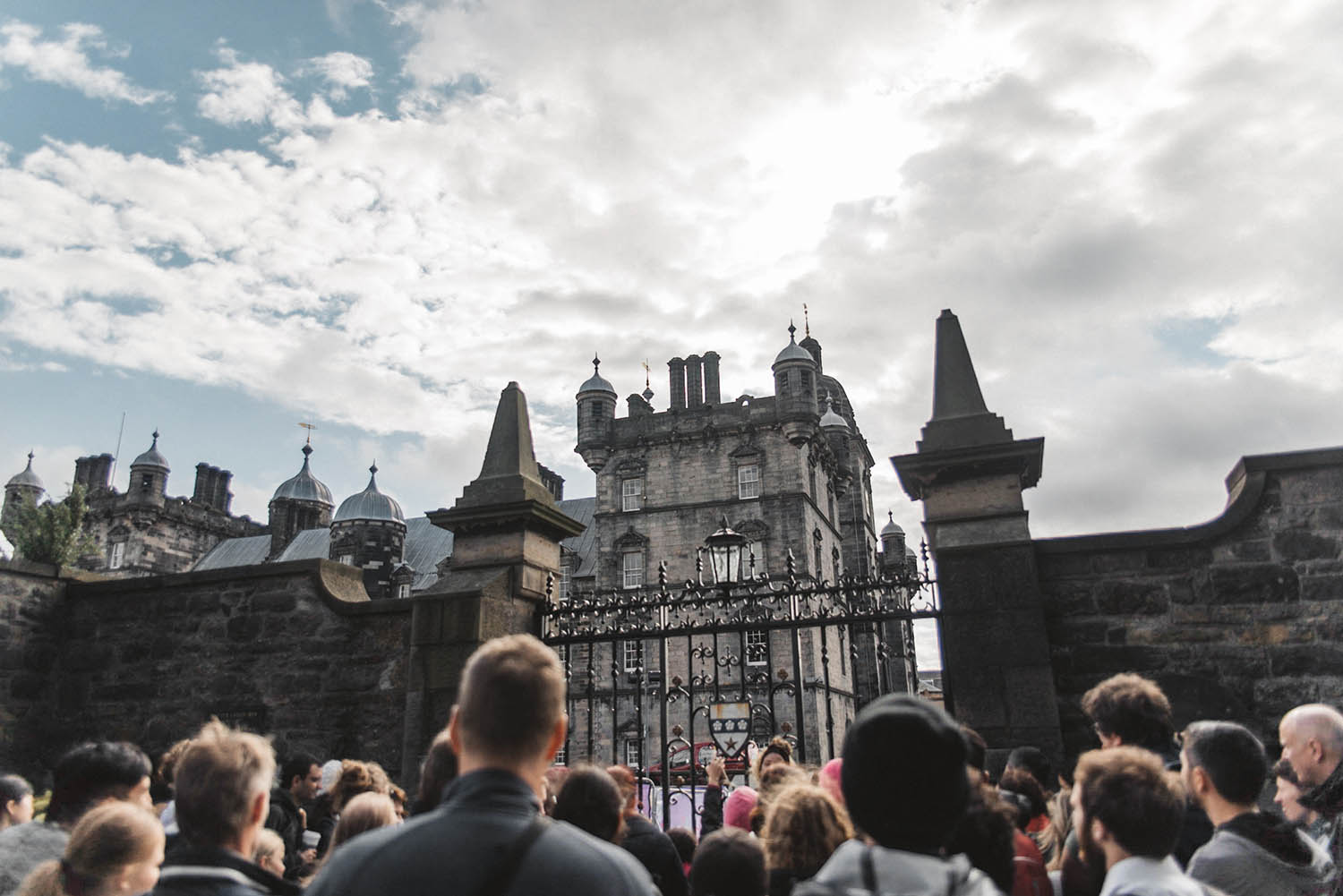 Directly behind Greyfriar's Graveyard stands the prestigious George Heriot's School, built in 1626. With its turreted roof and stone facade, it barely takes a stretch of the imagination to see Hogwarts in the architecture. The castle-like school is also said to be the inspiration for the Hogwarts house system. There is no Gryffindor, Ravenclaw, Hufflepuff or Slytherin, but four other houses: Castle, Lauriston, Raeburn, and Greyfriars.
The school is not usually open to the public, but it does sometimes host events during the Edinburgh Festival in August.
7. The Writer's Museum
The Writer's Museum pays tribute to historical Edinburgh-based writers. But apart from once having a Harry Potter exhibition here, the museum is not explicitly soured as the inspiration for anything in the books or films. That should not stop you though. The exterior in itself is worth a trip. The witchy old building looks like its straight out of Hogsmeade. It's like a hidden gem, tucked away in a quiet courtyard, just seconds from the Royal Mile.
8. The Balmoral Hotel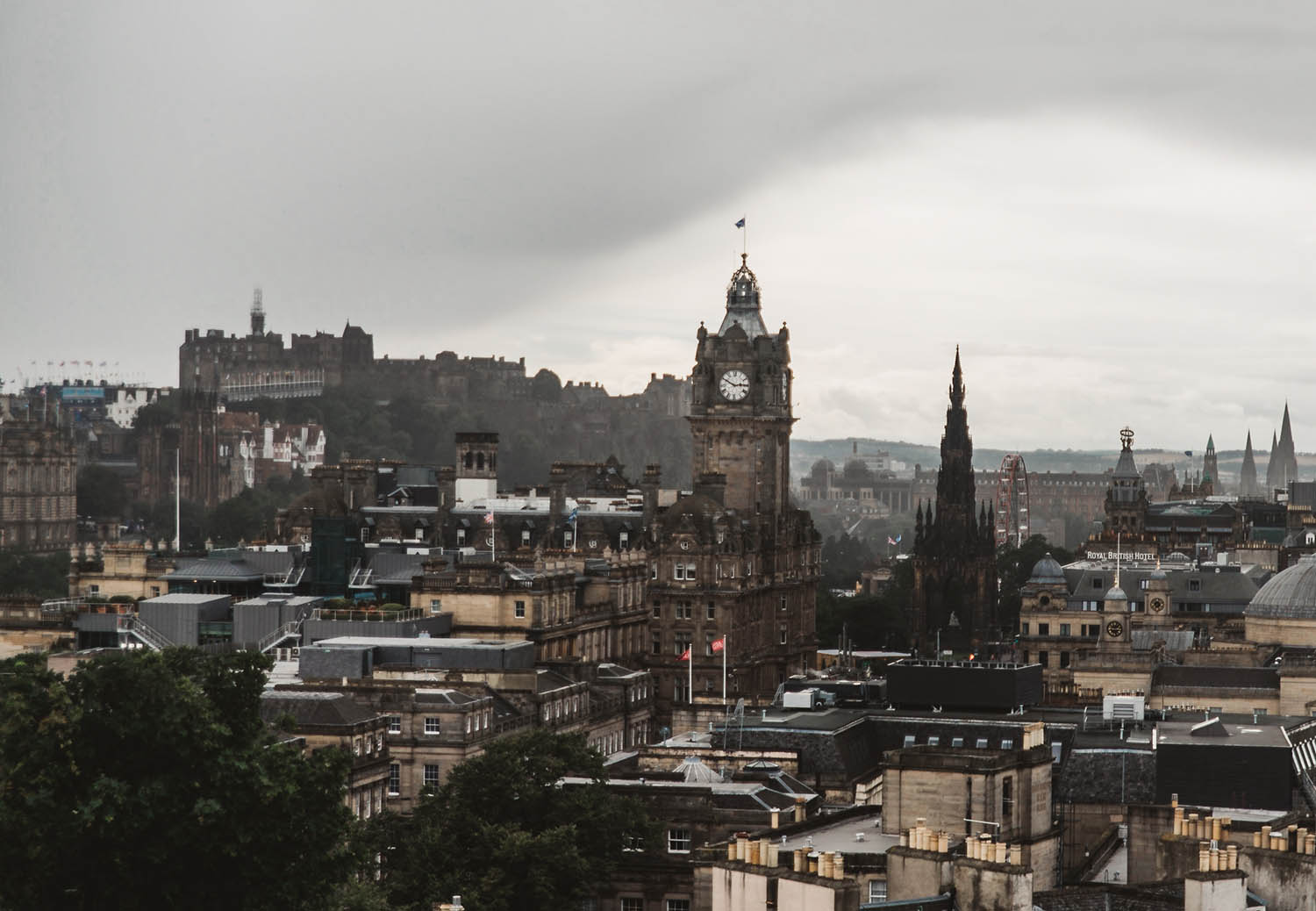 Last but by no means least, we have the place where it all ended: The Balmoral Hotel. It is a 5-star 19th-century hotel, that can easily be spotted in the city's skyline with its iconic clock tower (famously set two minutes fast to ensure travelers not to miss their trains).
It was in this luxury hotel, in room 552 to be exact (now renamed the Rowling Suite), that J.K. Rowling finished writing The Harry Potter series. As the story goes, she cracked open a bottle of champagne, finished its contents and scribbled in black marker pen on a marble bust of the god Hermes:
JK Rowling finished writing Harry Potter and the Deathly Hallows in this room (552) on 11th Jan 2007.
For £1,000 per night, you can check into the same suite. The room is kept in the same condition as J.K. Rowling left it.
Other Harry Potter places in Edinburgh worth visiting
Potterow
Next to Edinburgh University is a street called Potterrow which may have given J.K Rowling inspiration to our beloved hero's last name.
Edinburgh City Chambers
In 2008 J.K. Rowling won the prestigious Edinburgh Award, which means that her hands are immortalized in bronze in this chamber's courtyard.
The Perilous Potions Bar
This pop-up bar with Harry Potter inspired drinks is set to open at a secret location in early 2018.
The Edinburgh International Book Festival
The world's largest celebration of books that have included J.K. Rowling. It was one of the first places Rowling gave a reading from her first Harry Potter novel in 1997. She also attended in 2004 and 2014.
The Dog House
A pub where you can order butterbeer.
On Pinterest? Save this Harry Potter Guide for later
Do you know of more Harry Potter places in Edinburgh? Please tell us in a comment and we'll add them to this list. Also, if you have visited any of these places we would love to know what you think.
Book a trip to Edinburgh here (compare cheap flights, trains & buses)
---
Disclaimer: I visited Edinburgh with Visit Britain, Visit Scotland and Edinburgh Festivals. As always, all opinions are my own.