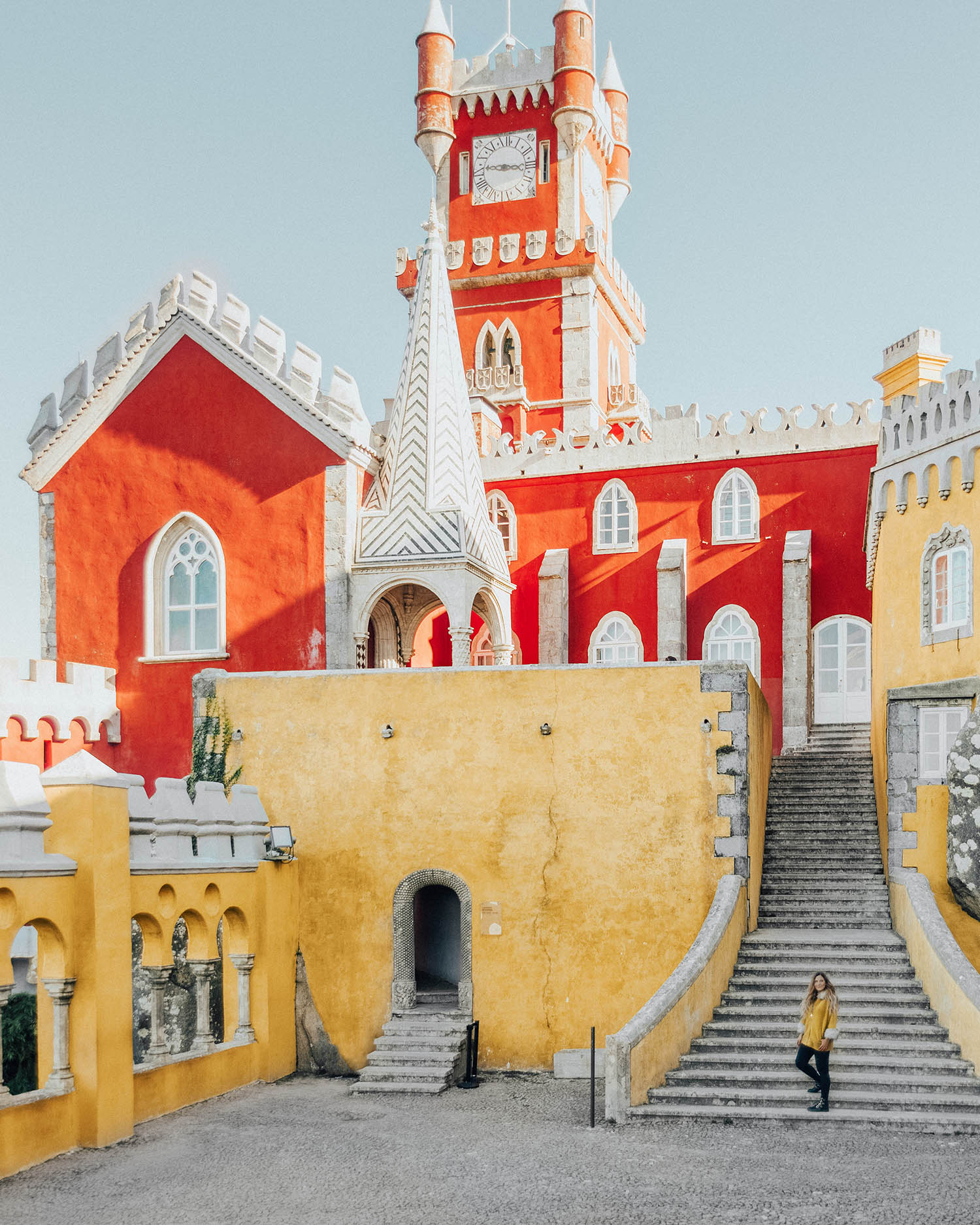 Embrace your inner queen and discover the fairytale town of Sintra in Portugal. It's only 30 minutes from Lisbon but feels like a world away. Set high in the Sintra's mountains are many glittering palaces and m castles that stand proudly amidst enchanting forested hilltops and exotic parks.
Do yourself a favor and explore everything from the must-see, Disney-looking, Pena Palace to the medieval Moorish Castle, the exotic Monserrate Palace, the mysterious Quinta da Regaleira and the easily spotted National Palace of Sintra.
Once upon a time the Celts and Romans worshipped the moon gods here, the Moors built a strategic castle in the mountains and, for five centuries, Sintra attracted Portuguese royalty to live happily ever after (or, at least, sit out the summer in a fabulous palace).
Nowadays, this extraordinary Cultural Landscape of Sintra is protected by UNESCO as a World Heritage Site. Sintra is like a page torn from a fairytale and mesmerizes people from every corner of the world.
I took a day trip to Sintra from Cascais with my fabulous guide Paula from TugaTrips. Probably needless to say, I was absolutely blown away. Sintra is MAGIC! It's such a surreal, fun and very romantic escape.
A day is way too little to explore this magical world. But it is a start, leaving you craving for more. Whether you are going there on a day tour, celebrating your honeymoon or staying for several days: Find out what to see, where to go and lots of general tips in this post.
---
ADARAS Guide to Sintra, Portugal: A Fairytale Town of Palaces & Castles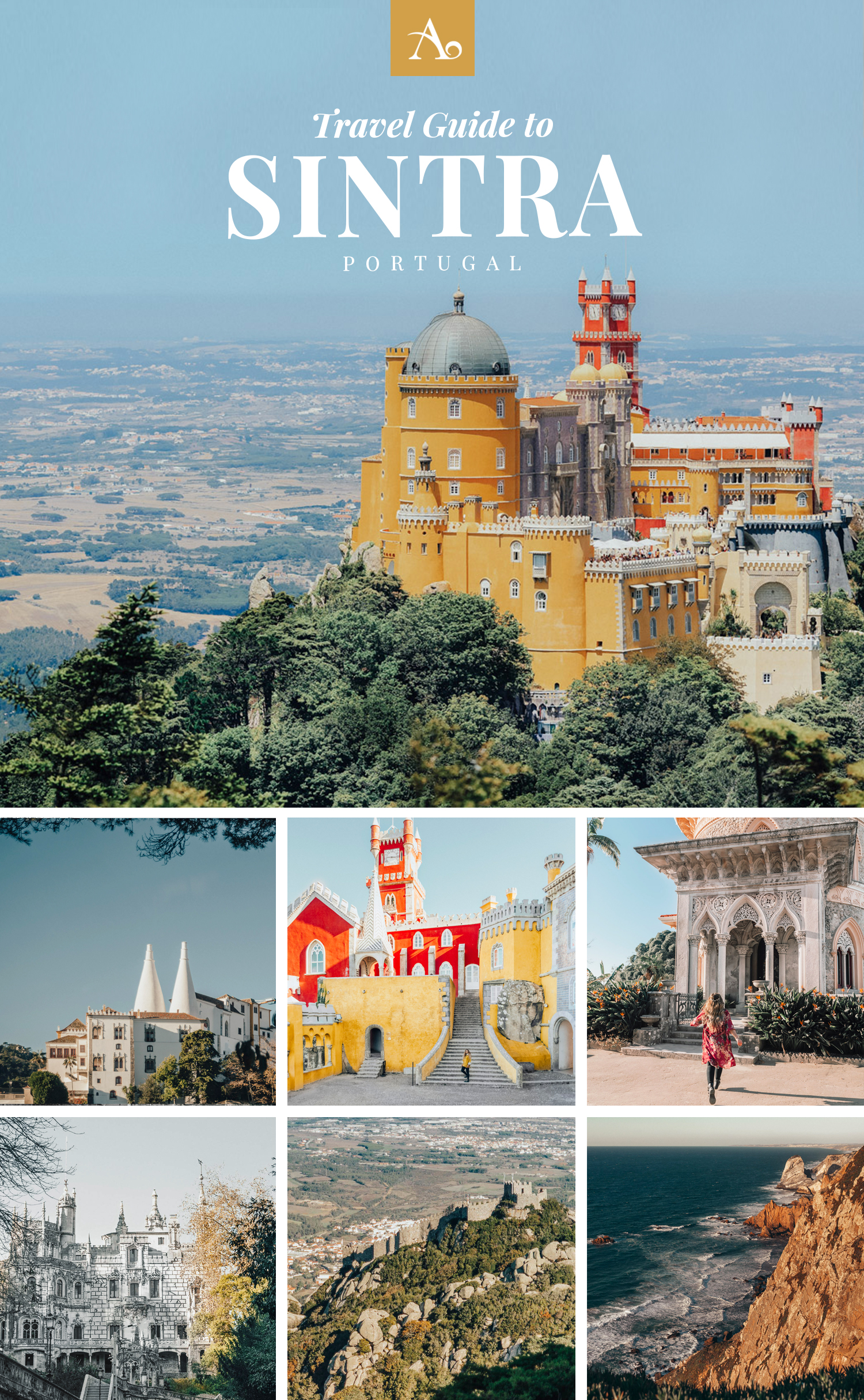 Apart from Cappadocia in Turkey, Sintra is one of the most unreal places I've visited in Europe. The only place that reminds me of this unique treasure is the fantasy village Portmeirion in Wales. But while you can easily discover Portmeirion in a day or afternoon, Sintra is a magical world of its own. A day is not nearly enough to explore all of what Sintra has to offer.
But a day trip is better than nothing. It will leave you craving more. In any case, for whatever reason you are visiting Sintra, I hope my travel guide will provide you with inspiration and tips for what to do, what to see and how to get the best experience possible.
Enjoy my queens and kings! ♥
---
Book a trip to Sintra here (compare cheap flights, trains & buses)
---
Visit the Magical Pena Palace (Palacio Nacional da Pena)
One of the Seven Wonders in Portugal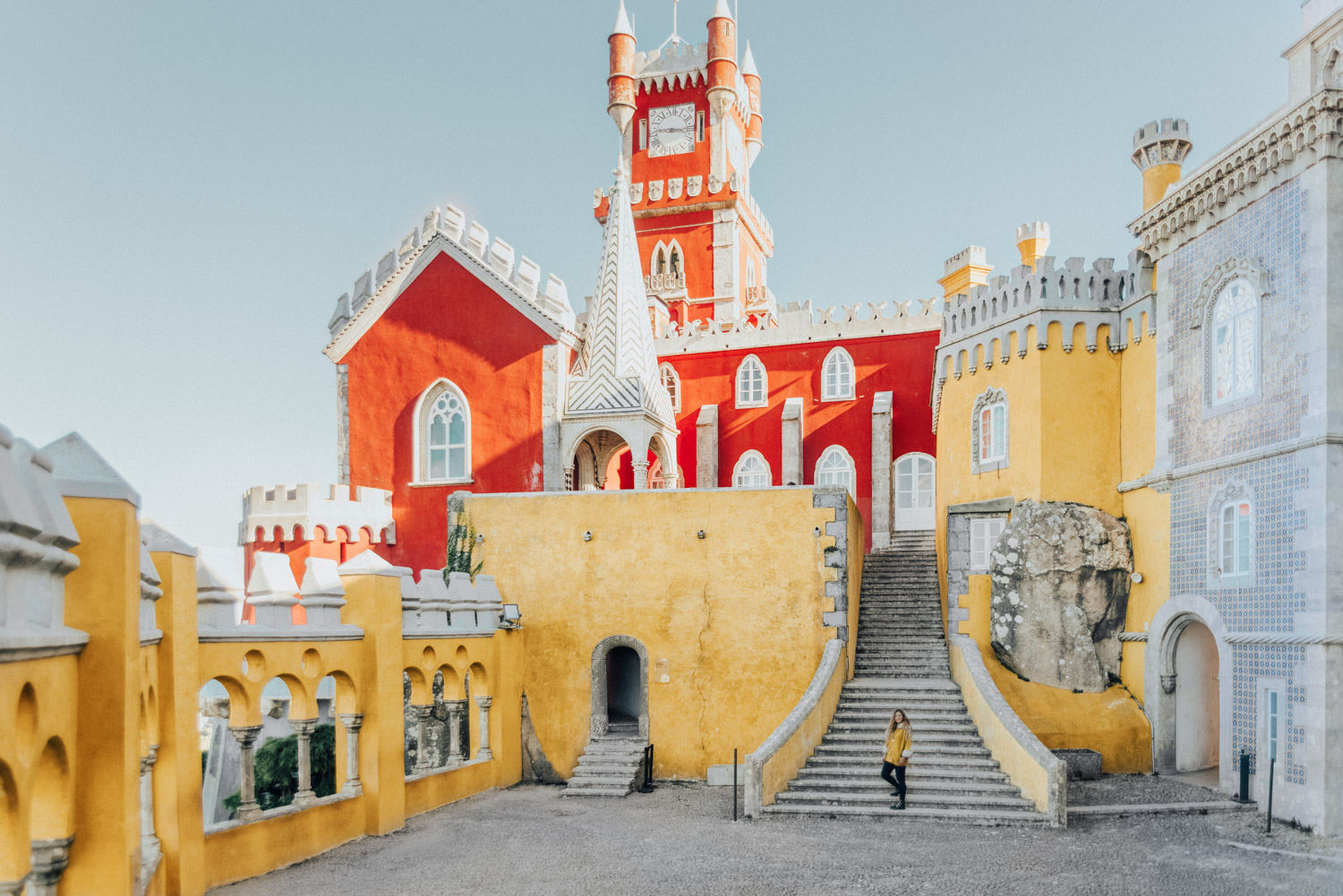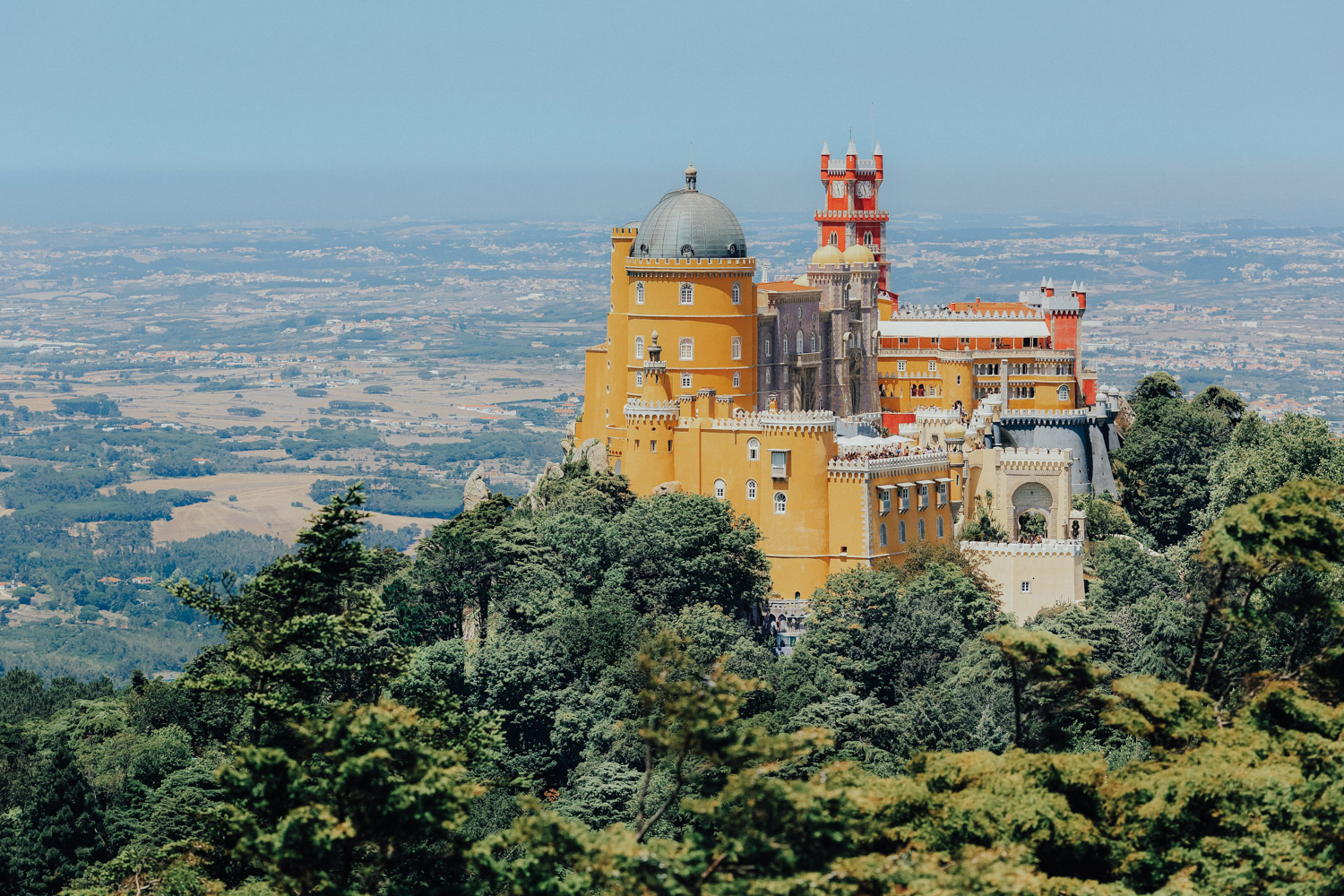 First of all, just WOW! Doesn't this palace look like a Disney movie come to life? Perched on top of a rocky peak in Sintra's Mountains is the striking Pena Palace. It's a masterpiece of romantic architecture and so divine that it's listed as one of the Seven Wonders in Portugal.
Pena Palace was built 1854 by the creative genius King Ferdinand II as a romantic getaway on the ruins of an old monastery. With its yellow and pink towers, small turrets, terraces, golden domes, and an exciting architecture mix which combines Gothic, Moorish, Manueline and Renaissance elements it is a truly dramatic sight.
Second, if Pena Palace is not on your bucket list, it totally should be. Pena Palace is so wonderfully extravagant, fun, quirky and gorgeous. It can make anyone happy with just a look at it. It's a fairytale come true.
Third, don't mind my outfit changes in this post. I took all photos the same day, but I had a yellow jacket with me, a red kimono and a cute sweater (all bought in Cascais), to be able to quickly change my look and step up my Instagram game.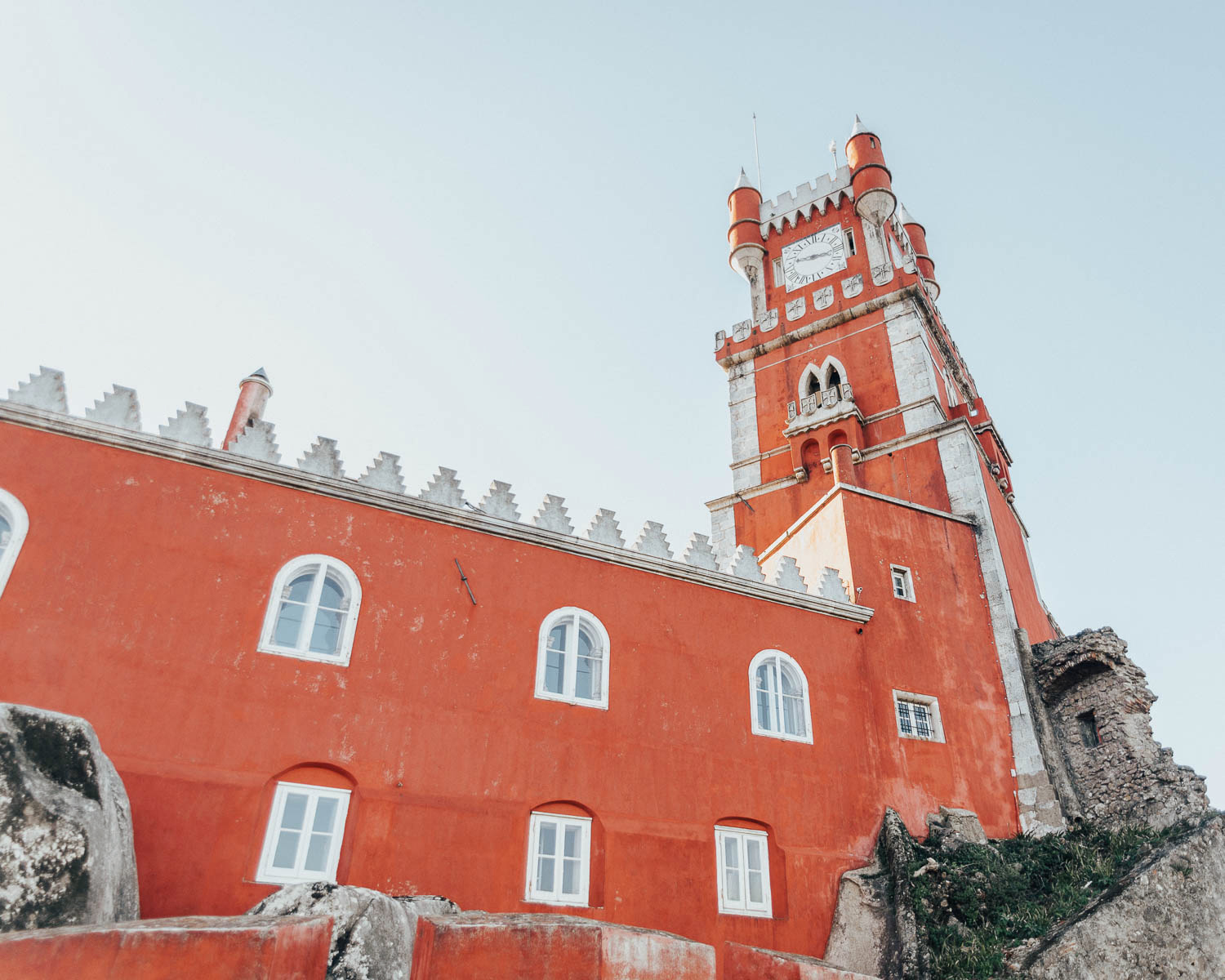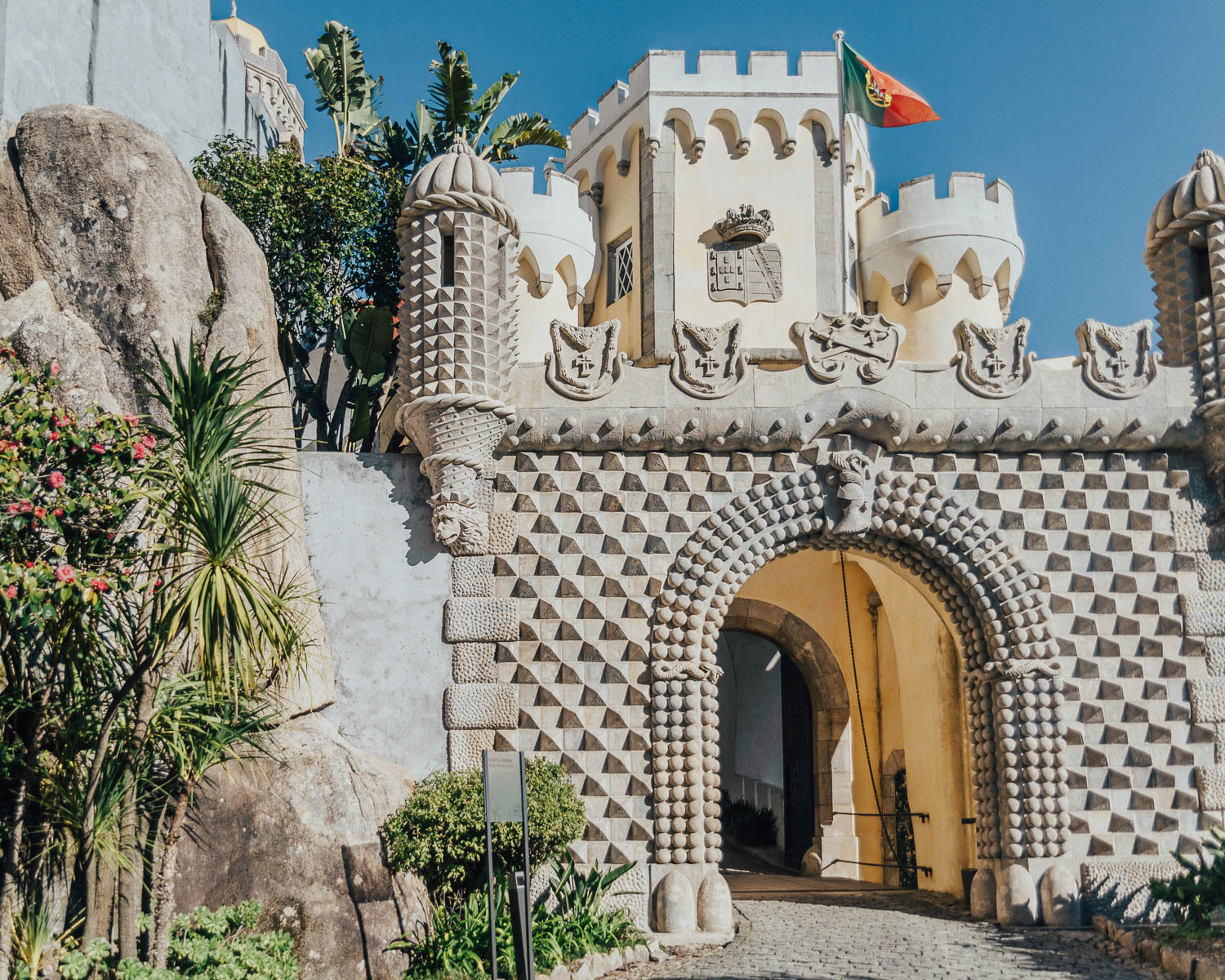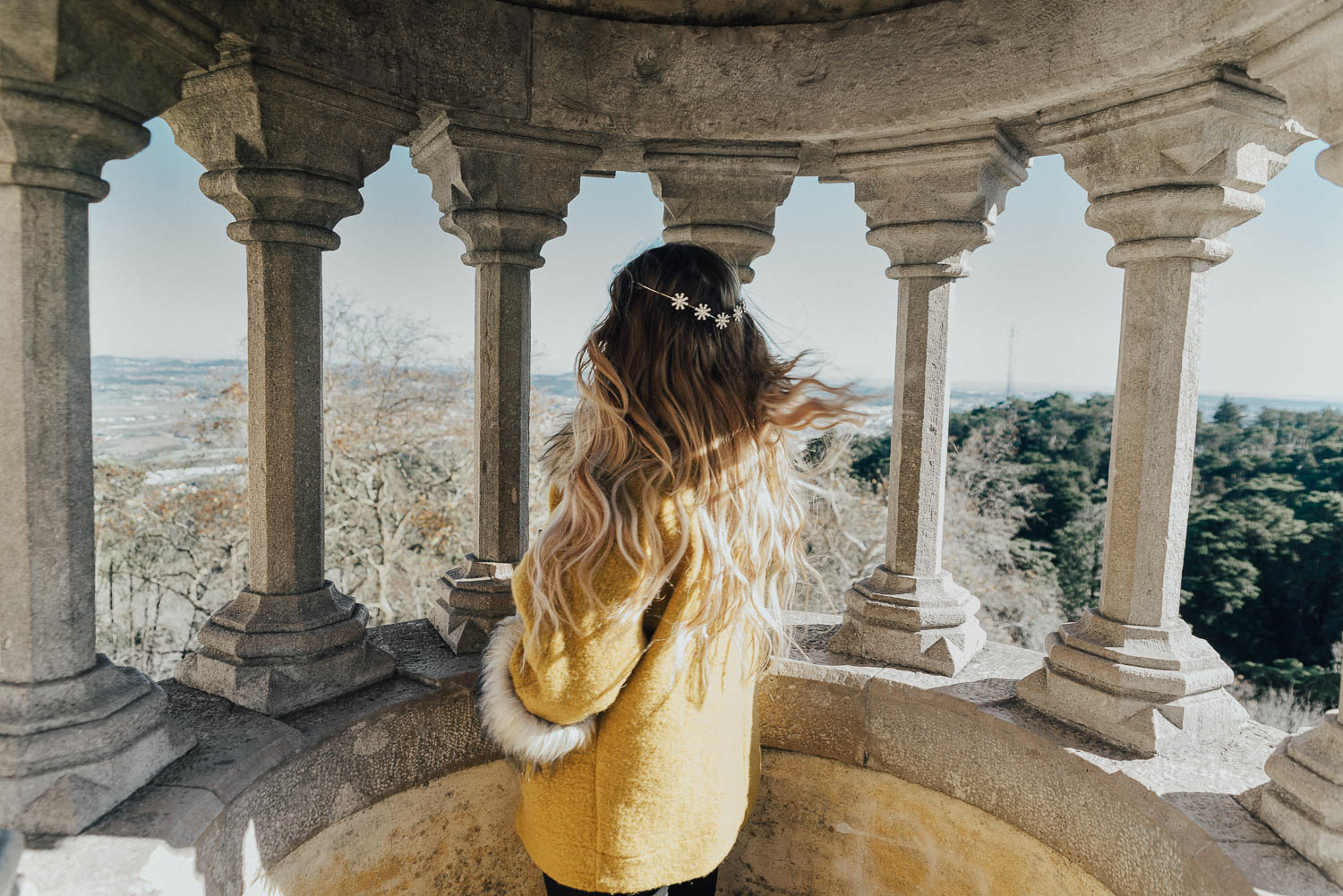 Discover the Majestic Pena Park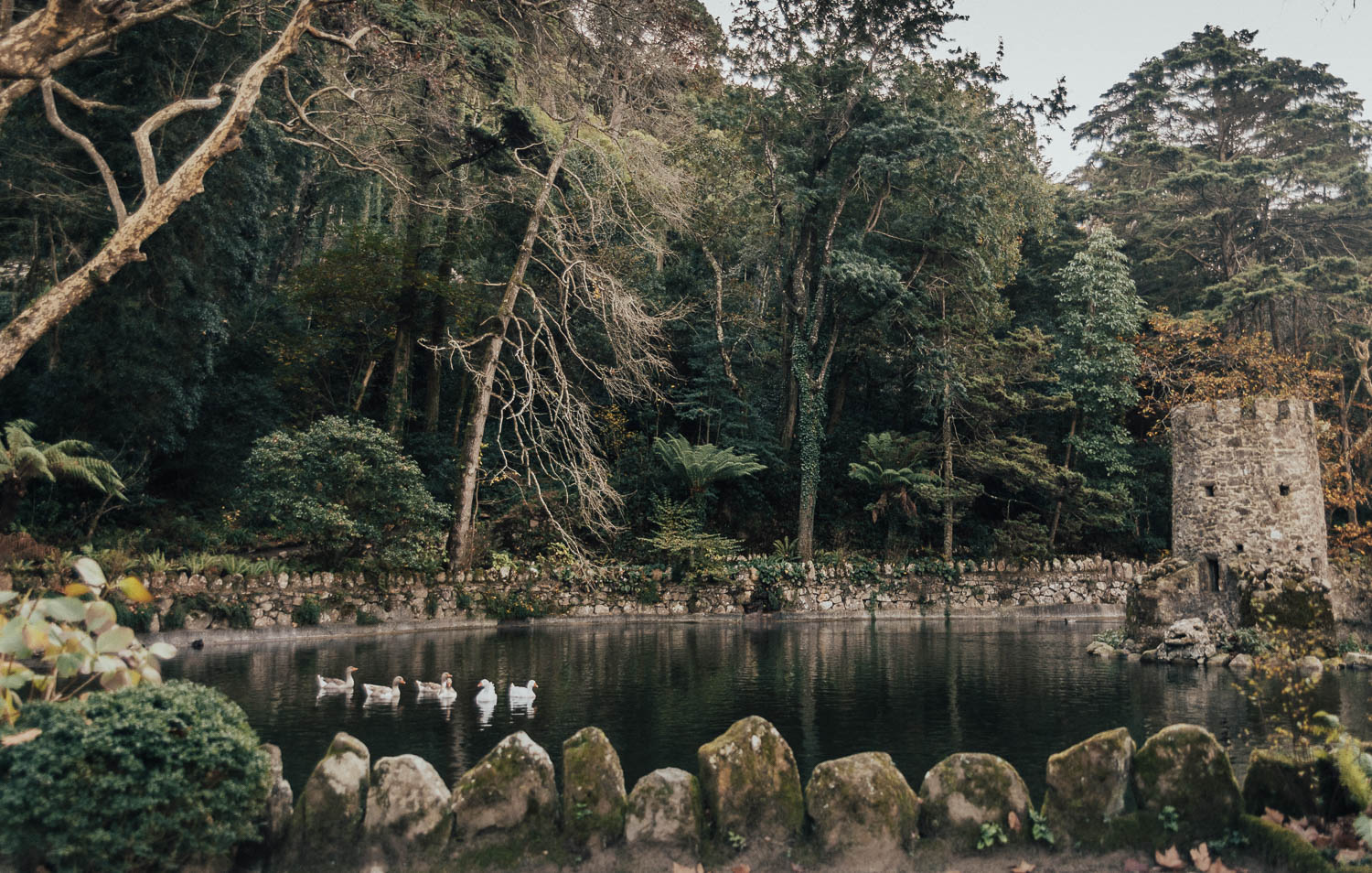 Surrounding Pena Palace is the majestic Pena Park, filled with trees and exotic plants from all around the world. There's palm trees, eucalyptus trees, tall Redwood trees and probably all the different kinds of trees you can name (unless you can name over 500 different species of trees).
Furthermore, the gorgeous park with more than 200 hectares has ponds, fountains, giant statues, waterfalls, and many other surprises. You might even spot the swans circling their castle in the lake.
Pena Palace's Interior is Just as Lavish as the Exterior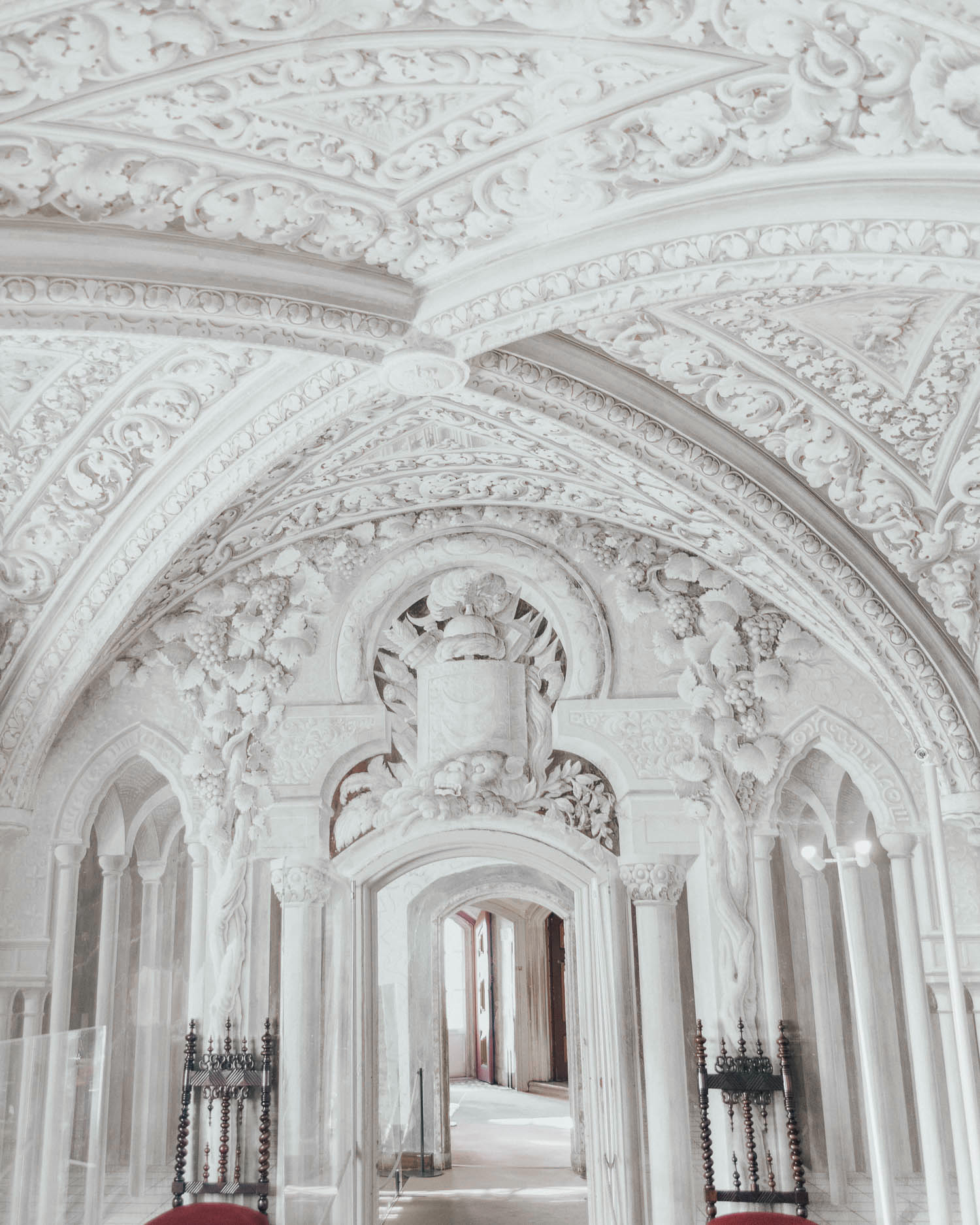 Hello, gorgeousness! Oh, how boring "normal" rooms feel like in comparison to Pena Palace's interior. The details inside the palace are breathtaking. I tried to be quite quick inside as I wanted to explore as much as possible in a day. But really, you could spend hours just admiring all this extravaganza.
The Victorian and Edwardian-style rooms are decorated with precious ornaments, lavish furnishing, and priceless porcelain, preserved just as the royal family left them.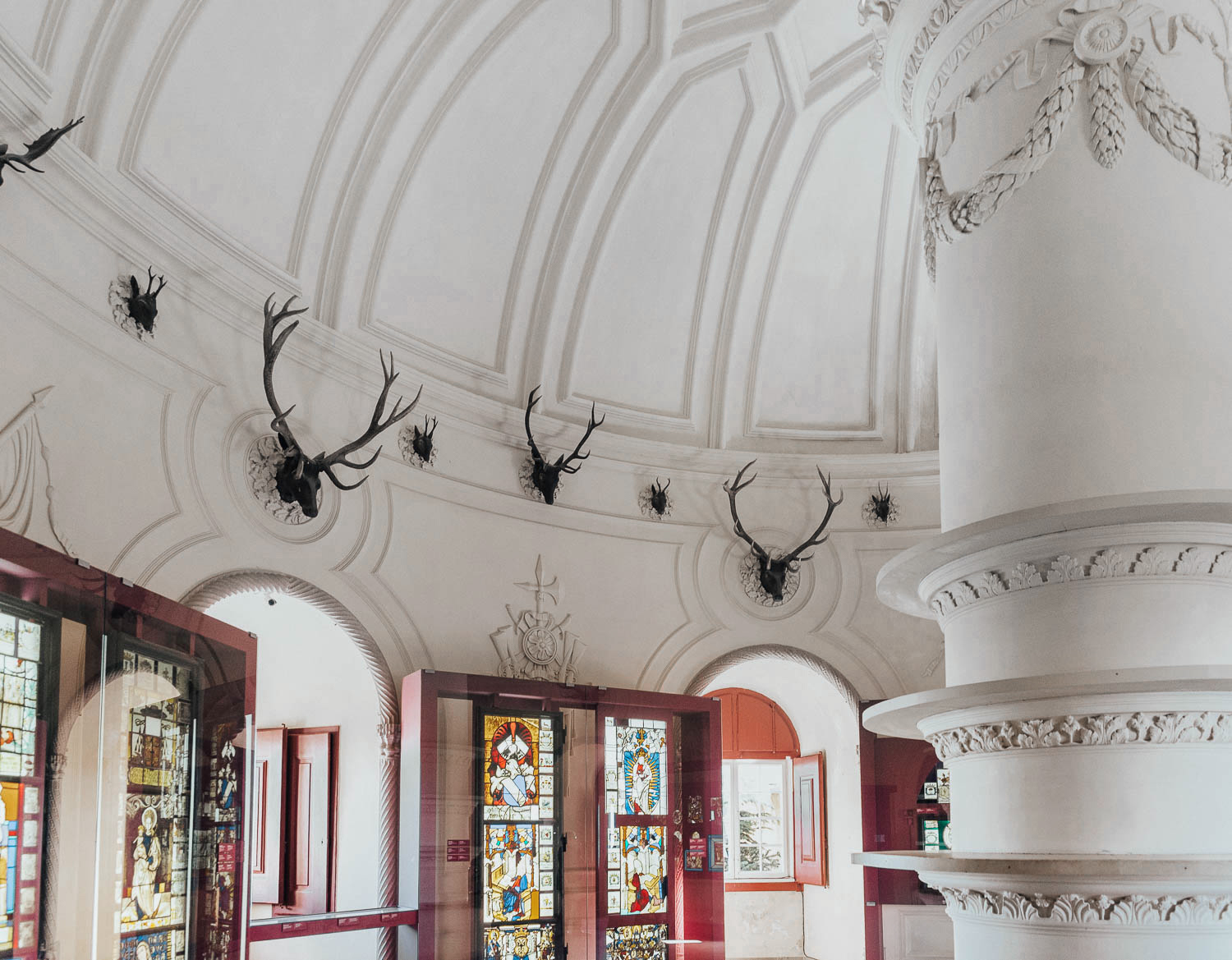 MORE CASTLES & PALACES in SINTRA
Behold, Quinta da Regaleira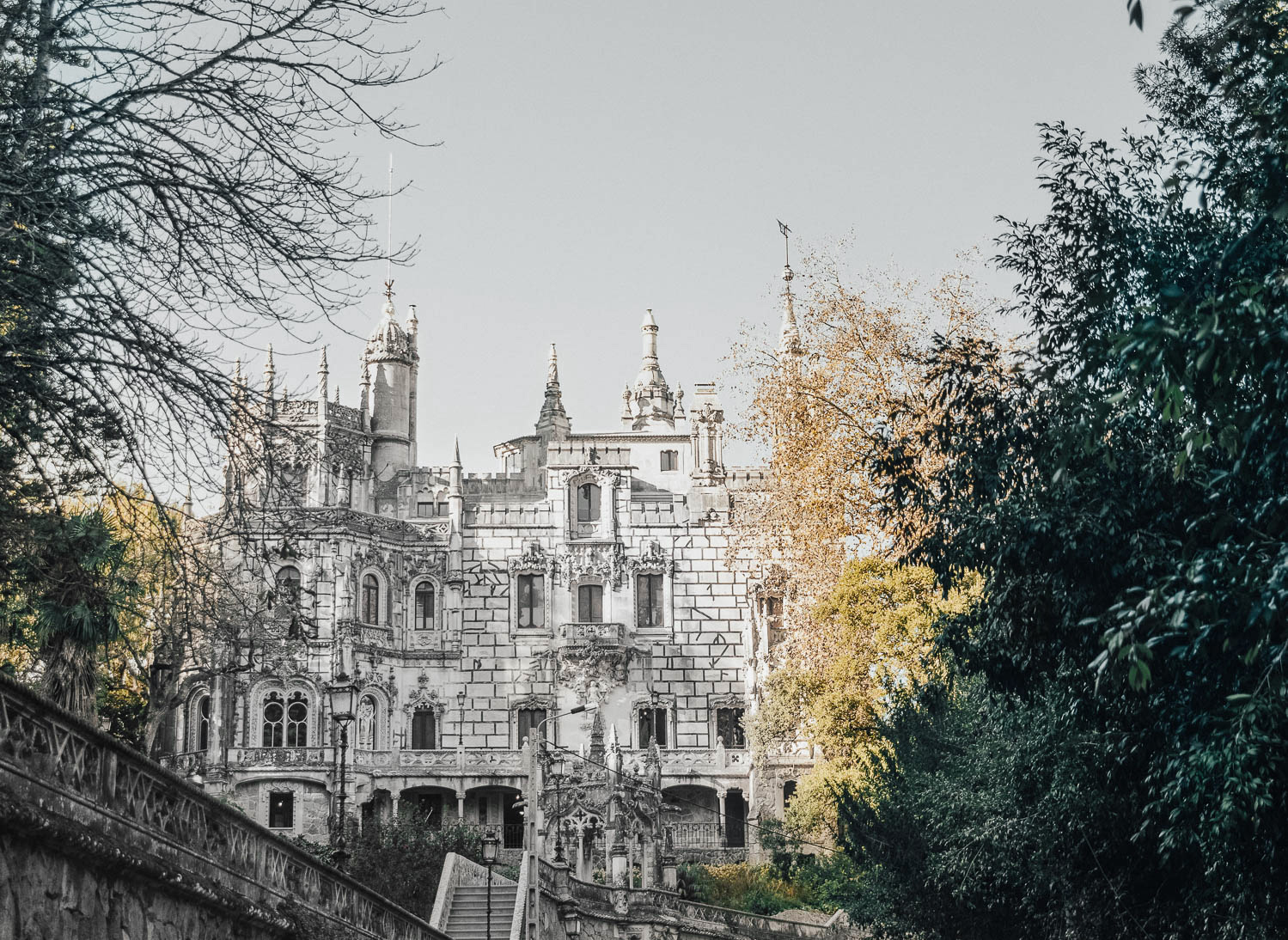 We only drove past Quinta da Regaleira, but even seeing it through the car window took my breath away. This 20th-century estate with gothic turrets, towers, and carved gargoyles is stunning. It was constructed in 1904 by Carvalho Monteiro, a wealthy Portuguese businessman who gave the residence the local name of "Palace of the Monteiro Millionaire."
Surrounding the gothic palace is enchanting luxuriant gardens, tunnels, lakes, hidden caves, fountains and mythological creatures.
Trust me, this will be the first place I visit whenever I get the opportunity to explore Sintra again.
Explore the Exotic Monserrate Palace & Park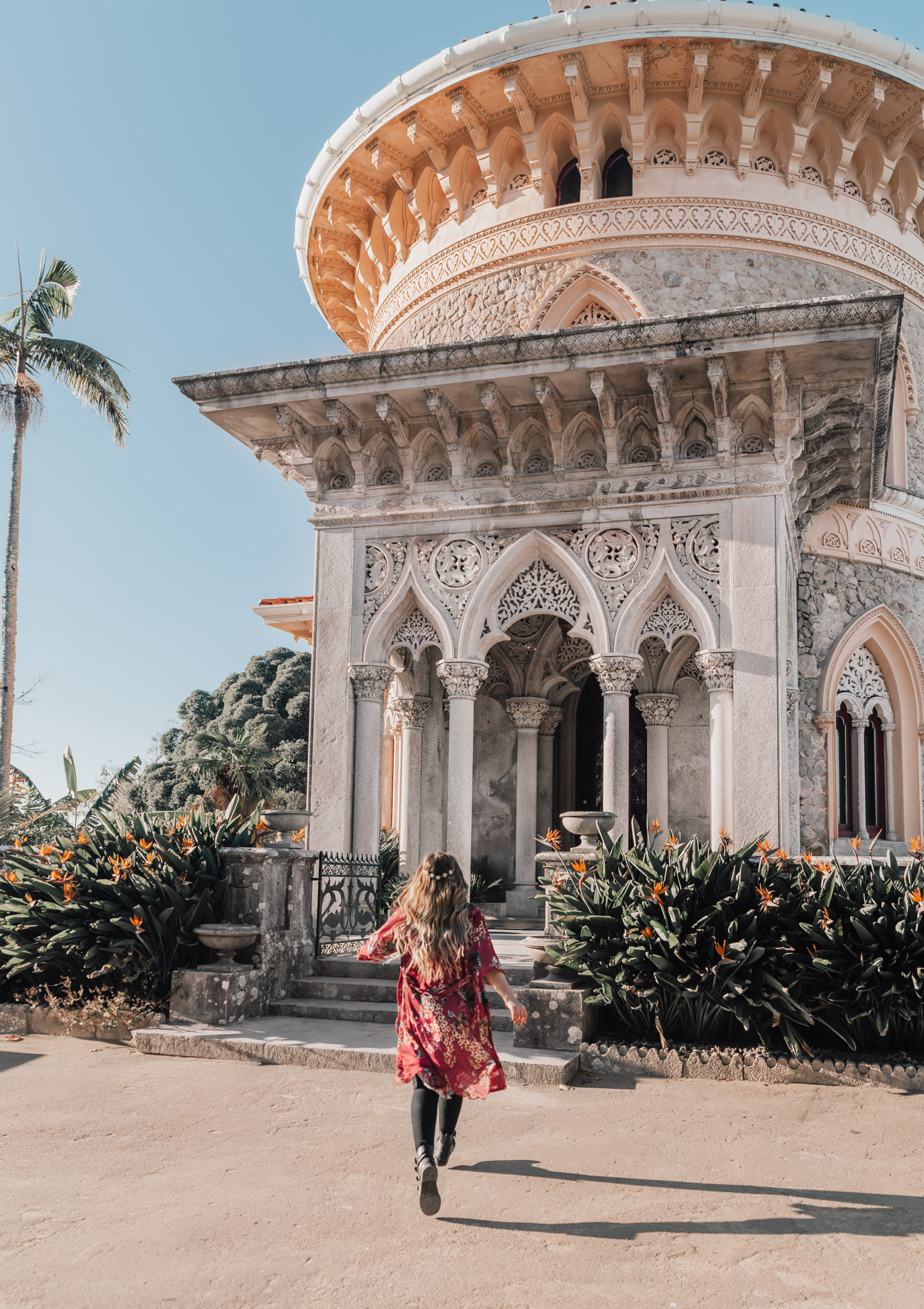 Not very far from Pena Palace and Quinta da Regaleira, is another gorgeous, and entirely different castle. The exotic Monserrate Palace and its rich subtropical gardens.
Once a summer home for Portuguese royalty, the Monserrate Palace now stands as a museum and one of the most beautiful creations of Romantic architecture and landscaping in Portugal. Not only is the gorgeous palace itself worth seeing, but the trail down to the Indian-Moorish-Gothic palácio is stunning. Even in November (when my guide pointed out that it is way more gorgeous in the summer), I found the park and botanical garden absolutely lovely. All the smells, the romantic ruin, waterfalls, and colorful flowers made the afternoon walk incredibly romantic – Even though I was missing my fiance.
The palace interior is equally impressive with all its details.